The BGN News Archive
July 19, 2021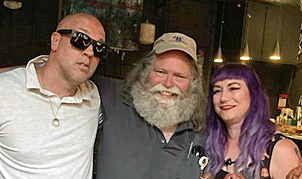 There are some people that are going back to seeing live music and there are some that are still holding back. One guy who is out there is our own Kenne Highland.
The last few weeks he's seen The Skirts, Rick Berlin, the Baabes, M-8, Wyn Doran, and Max Boras. Those are all inside shows and that's not counting his own gig this last Thursday at The Union Tavern with Mad Painter.
Try to keep up the Gizmo, try…here's his Kenne @ Large page.
Thalia Zedek received some coverage in the Boston Herald this week. The writer was Brett Milano. The occasion was the live performance of Thalia's first solo album at the Midway last Saturday.
There was a striking photo of Thalia's latest album cover for Perfect Vision. We have it below in our music review section.
The Boston Herald article of Thalia Zedek.
The Jacklights got a good write up on the contactmusic.com website. They are in a line up with Amyl and the Snifters, the Descendents and Naked Raygun as "Six upcoming punk albums you must not miss" . That's good company! And they got that even with the video just being a static picutre while the song played. They liked them that much.
But The Jacklights went all the way in the filming of the promo video for their new album…they went all the way to the sock draw. They have a sock puppet line up of the band hyping up the goods. See that promo video here.
Naked Raygun got our attention too. They haven't had a record in 31 years. They have a video (see above) that is of the first song released from the album.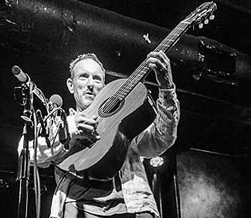 Jonathan Richman revealed in his Bandcamp episodes that he is beginning his next album. It will include players Jerry Harrison and his long time drummer Tommy Larkins as in his last album SA. Richmond will be on the road in October. Cities include Chicago and Minneapolis.

The bill will include Bonne Prince Billy who was on the last tour with Jonathan.
Jonathan Richman Bandcamp

It's like going back in time… The Fixx and The English Beat will be playing the Chevalier Theatre on Saturday Nov 11. Tickets on sale on the Chevalier Theatre website.

There was more press for JJ Gonson and the rebirth of Once at Boynton Yards in the Dig this week. The story on the Dig Website.

If you're going to the Plough & Stars to hear some music be aware that they are requiring a Certificate of Vaccination, or a copy of the vaccination card, to be admitted. With the latest upsurge in cases and the small outbreak in Provincetown over the fourth weekend we may be seeing more of this.

Glowbox, the band that delivers some glorious pop moments, have their first live show post (is it post yet?) pandemic show at the Midway on Tuesday July 20. The Facebook event page.

VIDEOS......

A garage psych group called The Lovely Egg has a song called "I, Moron" that features Iggy Pop. Video of song is above. Actually the Iggy involvement sounds like a clip just thrown in the mix, but it's him alright and they say they worked with him. The video is a fun Claymation job with a photo of Iggy floating around during his parts.

Here's a bit more about the song on the Louder Than War website.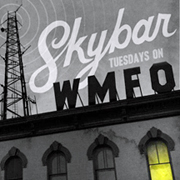 We got a find from Skybar this week on his Rising show (Tuesday 8:30 pm on WMFO). It was the Checkered Hearts doing "I'm Not In Love". It's a cover of the 10CC song. Video of song above.

They chunk along with power chords and don't try to match the airy vocals of the original. They just milk the melody.

Their EP titled Joystick is all covers. They make some good choices. "Precious To Me" - Phil Seymour, "Good Girls Don't" - Knack, "They Don't Know About Us" - Tracy Ullman (Kristy MacColl) and "My Best Friend's Girl" - Cars. Here's the EP on Spotify.

PODCASTS......

Kids Like You & Me again leads us to some uncharted territory. They interview Sam Richardson who runs Feel It Records in Richmond, VA.

Check out the label's page on Bandcamp and dig in. There's loads of garage punk, rock and pop. One album will be hard hitting punk, the next album will be bedroom alternative rock. Sam credits Al Quint for being dedicated for so long doing Sonic Overload , but Sam is very dedicated himself.

One of the labels most successful artists is Sweeping Promises and their album Hunger for a Way Out. Here's Sweeping Promises on Bandcamp.

Both Kids Like You & Me and Sam Richardson are good examples of younger people with DIY attitudes that are carrying the spirit of punk along.

Blowing Smoke with Twisted Rico brings in Thalia Zedek for a talk as she has been drawing attention to her first solo album Been Here and Gone.

Steev begins the show by playing "1926" from that album. That song is a cover by a local group called V. Drummer Matt Burns was in that group. It's a stunner and it's always worth giving it a listen, for your convenience we have it right below.

Steev leads the talk through Thalia's groups in order….White Women, Dangerous Birds, Uzi, Live Skull, Via, Come and then her solo material and her work with the band E. She reveals that Uzi never played out of Boston. She also says all the Come records will be rereleased with extra tracks and a Peel session, in October. They will have a show in NYC in November and maybe Boston if they can get a date.
---
CDs........

Prefab Messiahs album Music for Concerned Citizens review by John Keegan....

Kris Thompson and his psychedelic swirl slingers Prefab Messiahs have reloaded their Dayglo paint-filled squirt guns and come out shooting. It's hard to believe the last disc, Keep Your Stupid Dreams Alive, came out 6 years ago. On that disc the Messiah's applied their glow in the dark skills to more personal and past memories. This time around they take a jaundiced, third-eye view at post-pandemic American culture.

The band looks at pollution from the viewpoint of a Bottle in the ocean of our trash stream. Video below. They dig into which side you'll be on "When Things Fall Apart". Video below. They consider the possibility that Robots may be better stewards of the planet and dig into the downside of living in a "Bubble". PM's sew it all together with a witty litany of our "21st Century Failures".

The band lets a little hope shine through on the fun to compare and contrast "Beautiful Things" parts 1 and 2. Ditto on the music can save us, and or at least distract us, "Mellotron". All the songs are covered in sparkling pop and op art Dayglow sheen. Underneath, the riffs are garage crunchy.

There is never a dull moment on Music for Concerned Citizens. Sounds ping and whoosh and run backwards. It sounds equally good filling up your headspace on headphones or blasting out of the tune box as you cruise the spaceways. It's a soundtrack for dancing on the lip of the Apocalypse. I can't wait to hear it live.

We have "Beautiful Things 2" on our Top Ten Songs.

We talked about the Real Sickies a bit two weeks ago with their song "Communication Breakdown". Since then their record company, Montreal's Stomp Records sent a promo on the album entitles Love is For Lovers.

This group has the knack for writing a pop punk song that hits all the right marks. The songs rock but have some heart too, there's nothing cynical here. They get a fuzzy but bouncy pop punk guitar sound and then add a keyboard here and there that adds some extra depth.

They do a bang-up job on T Rex's "Jeepster" with just enough of a different tone in the vocal to distinguish it as theirs. This is the sort of band we wish would be local. As it is they are from Edmonton and those bands do make the trip to Boston.

"They Don't Know" is one of their songs that have it all. Catch that guitar tone on the solo at the 1:07 mark (the first notes like Blowie's "Heroes") and then the last half minute where everything is just pushed to the max. We have it on our Top Ten Songs too.

This is the week for Thalia Zedek, so let's have one more item about her. Two songs from her new album have been pre-released. The name of the album Perfect Vision is in reference to the year 2020 (20/20 sight).

"Cranes" has the brand of all Thalia's material. It's has gravitas, you have to stop and give it your attention. This is not a song about buildings and food…sorry Talking Heads. There is a steel guitar on this which brings its country associations with it. "Revelation Time" has some crisp guitar chords, and that isn't always the first thing Thalia goes for. It also reveals a clearer voice than some older material.

These two songs reveal that Zedek's writing is not flagging one bit as time goes on.
---
Here's some good shows coming up .....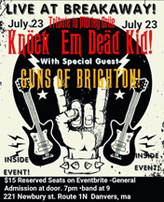 July 23 (Friday) A Rum Bar Records Summer Showcase with Watts, The Dogmatics, The Dents, Stop Calling Me Frank at Once at Boynton Yards. Doors at 5 music at 6. ALL Ages (with parent)
July 23 (Friday) At The Breakaway in Danvers Guns of Brighton as special guest in a Motley Crue tribute show.
July 24 (Saturday) Superjerk, Bad Larrys, Toward Space, Scare City at Ralph's Diner - this is an outside show, music at 8:30.
July 25 (Sunday) Neighborhood Shit, Reason to Fight, Cannibus Crypt, DNZL, Inserrector at The Midway starts at 3PM
July 26 (Monday) Disco Volante, Grasshopper Green, Speedfossil, Will DePiano at The Jungle 7PM
July 30 (Friday) Muck and the Mires, The Hi-End, Modern Day Idols - the First rock and roll show BACK at The Square Root Roslindale!!!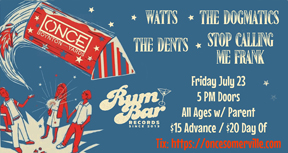 July 30 (Friday) Motel Black, Gene Dante & TFS, M8, The Jacklights are at Ralph's Rock Diner
July 31 (Saturday) Walter Sickert & the Army of Broken Toys (Matinee) 1:00 pm - 4:00 pm - ONCE Somerville @ Boynton Yards.
July 31 (Saturday) Walter Sickert & the Army of Broken Toys - 6:30 pm - 11:59 - ONCE Somerville @ Boynton Yards.
July 31 (Saturday) The Savtones Return with special guest Marco Giovinno on Drums at The Porch in Medford. FB page
August 2 (Tuesday) KCUF, Loser's Circle, Taken By Vultures, Blame It On Whitman at the Midway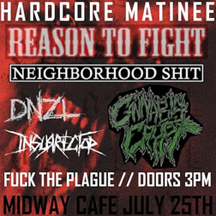 August 5 (Thursday) No Small Children, Thrust Club, Bad Larrys, Tiffy - ONCE Somerville @ Boynton Yards - a 6PM show. FB page
August 6 (Friday) The Furniture, Today Junior, Children of the Flaming Wheel + special guests Garden Party at O'Brien's
August 6 (Friday) End of Summer All ages hardcore show with The Woods, Witchita Hangman, Half Mast, Mont Clair, Rocket Gods and Loser Birds,at the VFW post at 95 Essex St. Whitman, Ma - 6PM. FB page.
August 7 (Saturday) Nice Guys, Zip-Tie Handcuffs, Boston Cream, Rick Rude at Once @ Boynton Yards a 6:30PM show.
August 13 (Friday) Liz Borden (w/Stormtress), Gene Dante & The Future Starlets, Little Billy Lost at Once at Boynton Yards. 6PM Doors, Music at 7PM Tix etc here.
August 14 (Saturday) The Winter Project, A Bunch of Jerks, HIXX, Screwcart at The Jungle, 7:30 doors FB page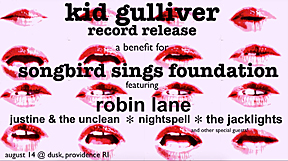 August 14 (Saturday) an evening with legendary rocker Robin Lane in support of her nonprofit Songbird Sings, which helps trauma survivors heal through songwriting and music. Performers include: Kid Gulliver, Justine and The Unclean, Nightspell,
The Jacklights ... and of course Robin Lane! FB page.
August 14 (Saturday) Sidewalk Driver, Freezepop, Worshipper at the Sinclair FB page
August 14 (Saturday) The Mal Thursday Quintet with special guests Tiger Bomb at Sun Tiki Studios Portland, ME FB page.
August 19 (Thursday) Kenne Highland's Air Force is at The Jungle.
August 20 (Friday) Bonecrusher, The Welch Boys, Riotgun at The Midway - doors are at 10PM. FB page
August 21 (Saturday) Mad Painter, Penny Outlaw, Shotgun Waltz, Glowbox at The Midway FB page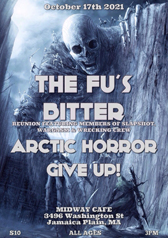 August 22 (Sunday) DNZL, Urban Waste, Controlled Substance, Grip Bite doing a matinee show at The Midway 3-7PM FB page
August 29 (Sunday) Johnnie G & The Royalty, Camelopard, The Stigmatics, Vanishing Point at The Midway MATINEE show.
September 3 (Friday) Rebuilder, Choke Up and Old Soul at the Sinclair - Tickets
September 3 (Friday) The Zulus rescheduled show at The Paradise - doors 8PM, music 9PM. FB event page
September 4 (Saturday) Actor|Observer, Girih, Dreamwell at O'Brien's
September 10 (Friday) The DollyRots at the Middle East Up.
September 11 (Saturday) Rock and Roll Yard Sale, Union Square, Somerville
We see that Tsunami of Sound has a poster for a show at Geno's Rock Club in Portland Me for September 24. We checked Geno's Facebook page and there's no info about the exact date of them starting up, but it must be coming.
September 11 (Saturday) Guided by Voices at the Sinclair. Tickets.
September 12 (Sunday) Mark your calendars! Frank Rowe's 70th Birthday Party featuring Classic Ruins, Unnatural Axe, and friends (more info soon) - at the Midway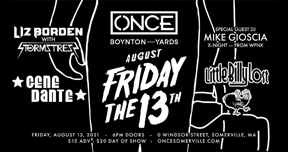 September 16 (Thursday) Bob Mould is at the Paradise - Tickets here
September 17 (Friday) The Dents, Duck and Cover, Fullmoon Vagrants, Deprogrammer Cult at The Jungle FB page
September 18 (Saturday) Martin, Morell, Fredette are having a residency at The Midway. These are early shows - 3-7PM
September 18 (Saturday) The Von Traps with Cathedral Ceilings at Ralph's Diner 8PM
September 19 (Sunday) It's the return of Tubefest -New England Surf/Instro Showcase! Lots of surf and instrumental bands for your enjoyment! Tubefest Facebook page. This will be an afternoon/early evening show
September 24, 25 and 26 The New England Shake Up is back. The rockabilly festival will happen this year in Framingham. The line-up of bands is way long. They also have a picnic record party 11AM-4PM on Saturday the 25th with Barrence Whitfield spinning vinyl. Get more details and ticket info on their website.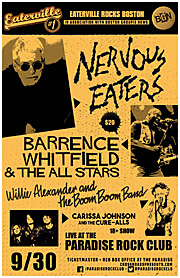 September 30 (Thursday) Nervous Eaters/Barrence Whitfield/Willie Loco and the Boom Boom Band/Carissa Johnson at the Paradise . Get Tickets Here!
October 4 (Monday) Gary Neuman at the Paradise Tickets
October 14 (Thursday) Ministry at the House of Blues. Tickets
October 18 (Sunday) Martin, Morell, Fredette are having a residency at The Midway - 3-7PM
October 22 & 23 (Friday & Saturday) The Town & The City Festival, Lowell. Music by: Tanya Donelly & The Parkington Sisters, Robyn Hitchcock, Screaming Females, Jon Langford & Friends, Will Dailey, Damn Tall Buildings, Evolfo, Hilken Mancini & Chris Colbourn, Alisa Amador, The Chelsea Curve, The Daylilies, The Shirts and Shoes, Daisybones, blindspot, Divine Sweater, The Q-Tip Bandits, The Only Things, oldsoul, and Brian Porter Hinkley. Website for tix & info ... FB Event page.
October 31 (Sunday) Dropkick Murphys At Hogan's Run again 7-11PM...best Tessie costume wins a free drinks bracelet for the night. FB page.
November 13 (Saturday) Field Day (x-Dag Nasty), Moving Targets, Lenny Lashley's Gang of One at the Middle East Up TIX!!
November 19 (Friday) Hardcore Stadium and Grayskull Booking Presents: Slapshot - Celebrating 35 Years of Hardcore Day 1- Stars & Stripes, Noi!se, COA, Patriot, Violent Way at Sonia - (already sold out!!)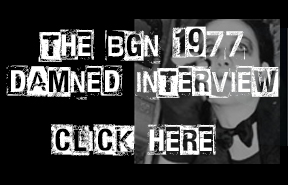 November 19 (Friday) Joan Jet & the Blackhearts will be at the Chevalier Theatre in Medford Square. Tickets.
November 20 (Saturday) Hardcore Stadium and Grayskull Booking Presents: Slapshot - Celebrating 35 Years of Hardcore Day 2 -Slapshot, Sheer Terror, Death Before Dishonor, Pummel, Count Time - at The Middle East Down. (already sold out!!)
November 27 (Saturday) Dinosaur Jr. at the House of Blues on Saturday Nov 27. Tix
March 13, 2022 (Tuesday) Reigning Sound at the Sinclair Tickets: https://www.axs.com/events/402182/reigning-sound-tickets
CONTACT US AT....misslynbgn@yahoo.com Send us your gig listings, your anything else ya got!! You want your CD reviewed?? Contact us for that too.
---