The BGN News Archive
August 2, 2010
OK, it was quite a eventful weekend guys.... we went to the Joe Coughlin Benefit Friday night at the Midway....a night for really good music, everyone there did excellent sets and were the best of Boston music: it was a long list: John Powhida, Chandler Travis, The Philly Roy All-Stars Lenny Lashley, Classic Ruins, Roy Sludge Trio, Johnny & The Jumper Cables, Richee Parsons/Johnny black etal and finally a song sung by Joe himself! Johnny & The Jumper Cables were in rare form, this being their first show in many years!! Kenne Highland was full of energy and delivered big time with all the hits and what a bunch of great musicians. Johnny Black really is pretty damned stellar I must say and Carl Biancucci is honestly Boston's best bass player! Tom Bull was a madman on the skins as well. This set transported me back to the old days...b>Kielbasa, Nervous, Landmine, all the hits...and I must give credit where it is due; Kenne is a really good song writer. All the way from Jailbait Janet to his more recent stuff he has created more than his share of memorable hits.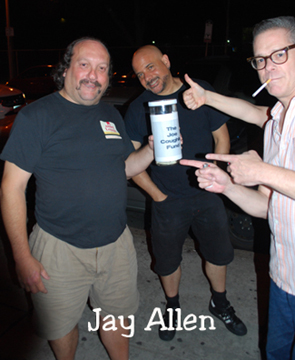 After that set Johnny, Carl and Tom stayed onstage and were joined by Charles Hansen (Rock Bottom & Stinkin' Linkins), Roy Sludge and Richee Parsons for a great set. They ended with Don't Fear the Reaper and wow, it was amazing! Charles Hansen is also an awesome guitarist! And of course it is always a pleasure watching Richee Parsons, he's a great punk performer. With that said he delivered a great softer side for the closing number.
Joe finished off the night with a rousing rendition of the Cher hit The Way of Love, oh yeah!! Joe's got a good voice too! He should have been a singer!
At the end of the night as promised Jay Allen did show up with a jar of cash for Joe, $250 to be exact.

Now, if you would like to show some love in the way of donating $$$ for Joe and help him out with all his frightful hospital bills you can do it!! Just go to Paypal and click on "Send Money" (this link takes you there) you fill in Joe's email which is:
joeradio (at) ix (dot) netcom (dot) com
(put the symbols in for the words in parenthesis, you know the drill) And just like magic Joe will get the dough....don't be embarrassed if you just want to send like 10 or 20, that will definitely help too, it all adds up my friends!! And Joe says Thank You VERY Much!!!
To see pics and read a fabulous write up of the whole evening by Blowfish, scroll down and click on the link below. I was actually socializing out front for much of the evening.


Click for full page on the Coughlin Benefit

and lastly you can also go to Joan Hathaways photos on Facebook of the evening!! Monsters of The Midway

Blowfish also made it out on Saturday night to the Unnatural Axe/Nasties CD Release show at The Beachcomber. Sounds like an awesome night!! The Axe, The F.U.'s, The Dogmatics and Jerry's Kids....pretty unbeatable. ...scroll down to the link below for a page of pics and commentary on this night by Blowfish as well! He's been a busy guy!!


Click for full page on the Beachcomber gig
So, what's coming up, huh? Well, we're into August now and from Marissa Acosta we have the info that Bandwidth TV episode #50 featuring Razors in the Night will be showing all of August on Cambridge Community Television (CCTV) Ch 10 Cambridge and on public access stations in Boston, Somerville, Brookline, Belmont and Malden. You can also watch the full episode here
This weekend has a lot happening!: Thursday Night at TT's there's Triple Thick, Lyres, Satin Kittens and The Pandemics.
on Friday, August 6 at Precinct is The Sprained Ankles, Muck & the Mires, and The Opiods (formerly Black Mosettes)!
then the Somerville Rock'n'Roll Yard Sale 2010 is during the day: Saturday August 7 (in Union Square Somerville) from 3-7 PM:
There'll be tons of vendors selling everything from Vinyl Records and other music memorabilia, Vintage Eyewear and Apparel, to Local DIY Handmade Goods. There will also be local musicians performing throughout the day as well. See you there!!!
Also during the day on Saturday August 7th is an excellent all ages punk matinee at the Middle East , this one has Blood Stained Brindle, Bloodshot Hooligans, Revilers and Word for Word.
Then next the Friday the 13th at Church, Agent Bishop Presents a night of epic mayhem: the Lucky 13 Bash! with an excellent line-up of Liptease, Gene Dante and the Future Starlets and Sidewalk Driver.
Coming up later in August is Mondo Generator, Roadsaw, Cocked N' Loaded and Cult 45 Friday, August 20 at Middle East Upstairs
Saturday , August 21 is a big Nancy Neon Birthday Bash, at the Cantab with Ramones (former members of The Ramoniacs), Sticky Business - A Bubble Gum Tribute, The Arch McDonald Quintet and the Port Charles Quintet (this is their first gig with new guitarist Greg Allen)
And don't forget...the show at Club Lido in Revere on Sunday August 29th at 2PM.
In celebration of the film: xxx ALL AGES xxx and it is also a Gallery East Reunion!
Boston pioneer hardcore punk bands DYS, Jerry's Kids, Gang Green and FUs will perform with New York City's Antidote and guests for a monumental reunion show ...AND the show will be featured in the film xxx ALL AGES xxx.
Rich Mirsky tells us that there is a new CD of The Devotions on Crazy 8 Records! Available now at Newbury Comics and online at CD Baby, Amazon, Itunes and more. Featuring 15 songs of the kind of blistering rock n roll you'd expect from John Felice. We won't let you down!!
And if you haven't ordered yet: Lawless Records Axe & Nasties disc available! Here's the lowdown: a split 45 with Boston punk legends Unnatural Axe and the smoking hot, sexy Nasties from Italy.
Two songs each. A brand new Unnatural Axe song "I Am The Way". Their first newly recorded material in over 28 years!!! The second song they cover the Nasties "Back To L.A.'.
The Nasties side has a Nasties original, "Maybe" and a cover of Unnatural Axe's "The Creeper". There are only 290 pressed on mint julep green vinyl. Hand numbered. AND they are only $8 ppd for the U.S. and Canada. You can pay by paypal - contact Eric Law .......also contact him for paying by check or money order.
OK, that's it....

.....you can email us at: Miss Lyn email......