The BGN News Archive
August 8,2016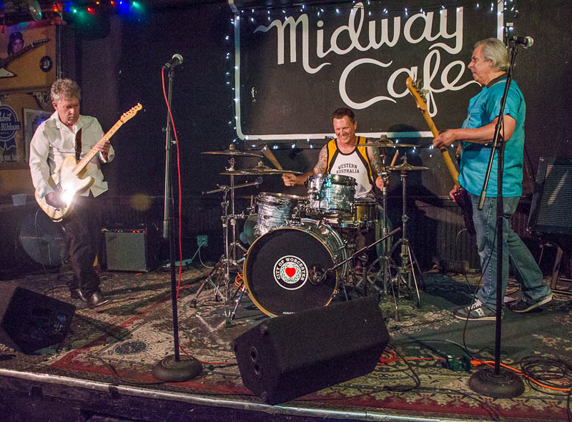 The Classic Ruins
Photo: John Keegan
We were doing our annual duty going to Frank Rowe's Birthday Party at the Midway but what a fun night it was! There's a few things that mark the punk year and this is one of them.
The club was full when we walked in and the Classic Ruins were rockin' the place. It felt like a movie, all eyes and ears were focused on the stage. You know what you're gonna get with the Ruins. At this point it's all in the variables of the mix or who's playing well that night or what Frank's acid asides will be.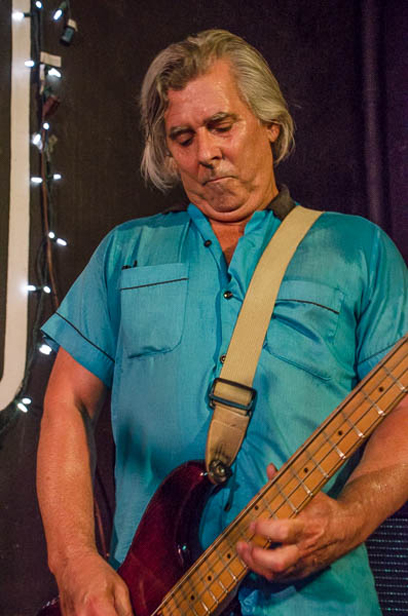 Carl Biancucci
Photo: John Keegan
The mix was favoring Carl Biancucci's bass. You could hear him clearly and in the small club see everything he was doing. Someone should just video him playing one song and then analyze it riff by riff and that would be a lesson that you could study for a month. His playing in one song has more variety than most bass players are capable of playing, period. At the same time he's driving the song along.
Frank had a bout of food sickness earlier in the week but was in good health and sounding sharp this night. The classic Classic riffs were hitting the mark.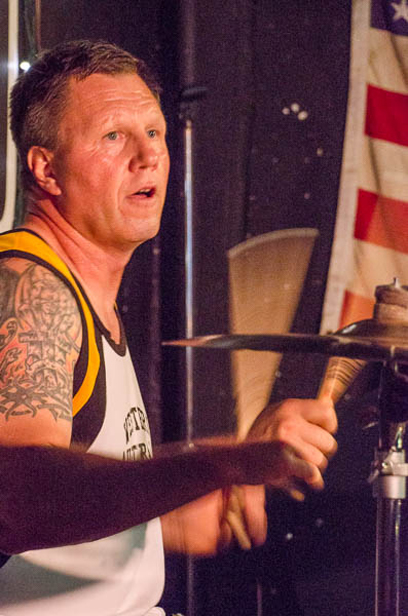 Dave Kowalcek
Photo: John Keegan
Dave Kowalcek has become a dependable favorite. Always hitting hard and looking like he loves it. It was the usual set of Classic Ruins favorites along with covers of Bad Boy and Cream's Tales of Brave Ulysses which they own now.
To our dismay, we missed Richie Parsons earlier set but Doug Harper from the group said that this was the first time he had seen the Ruins!!. See, that's why they have to keep playing – everyone must get to hear the Classic Ruins.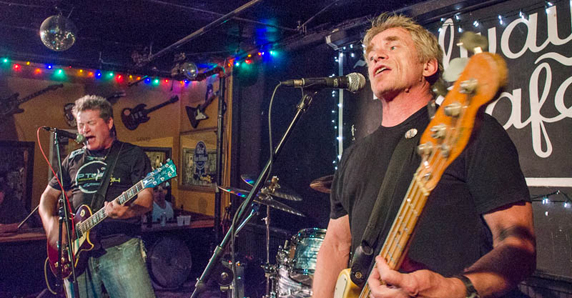 The Dogmatics
Photo: John Keegan
Next up on this nicely put together bill was another old favorite that never fails – The Dogmatics. They had fun on stage and that was contagious. They strung a line of their songs together that define and recall the whole Thayer Street era. Put together their songs along with the Classic Ruins songs and you would have a chunk of what college radio was playing in Boston for years. It was Teenage Lament, King Sized Cigarette, Pussy Whipped (they chastised the audience for cheering a not politically correct song), Gimme the Skakes and Drinking by the Pool...and to top it off was Thayer Street. That never fails to hit the heart.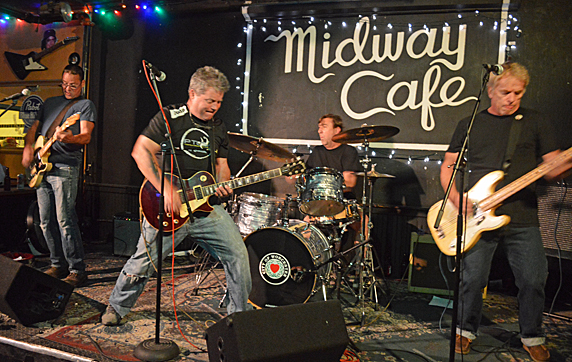 The Dogmatics
Photo: Blowfish
On stage there was the usual fooling around spearheaded by Peter the imp. He switched instruments midway with Jimmy and that's something unusual and interesting to hear.
The songs get the attention but it's also their sound that evokes a lot and much of that falls to Tommy Long on drums to me. His playing is not aggressive or laid back, its somewhere in the middle and its characteristics brand the group, The Del Fuegos had a similar feel.

Stop Calling Me Frank
Photo: Blowfish
For one night only Stop Calling Me Frank became Stop Calling Me Frank Rowe. We've seen these guys a few times these last couple of years but never saw them in their first incarnation back in the eighties. We're getting familiar with their material. They harken back to garage groups from the prepunk era, very straight rock with no pretentions. They reformed less than two years ago and with this gig unveiled three new songs.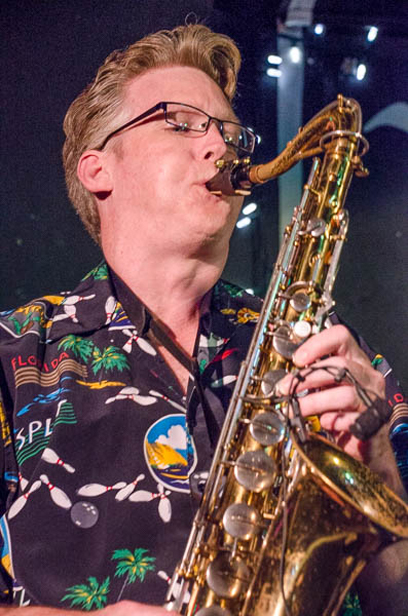 Stop Calling Me Frank
Photo: John Keegan
They began with Every Time I See Her, a song that has a short hook in a sax riff. The sax player does a lot for the group. He will supply a riff that makes the song when he's not beefing up the overall sound. Drinking After Work is another notable song. The background vocals reminded me of Plastic Bertrand's Ca Plane Pour Moi (Kenny Highland later quoted that same vocal outright). They cover and rock up an old Irish folk song called Whiskey in the Jar that adds variety. Their idea of a love song is one called My Girlfriend is an Axe Murderer from Wisconsin. They pick interesting cover songs. This time it was DMZ's Ball Me Out. Very cool.
It was getting later and the crowd was thinning out a bit. The Midway has that late close of 1am. The Hopelessly Obscure is one of a long line of Kenne Highland groups. They all are notable for those Highland songs. The group name may be too true but those songs begin to sound like classics more as each year goes by.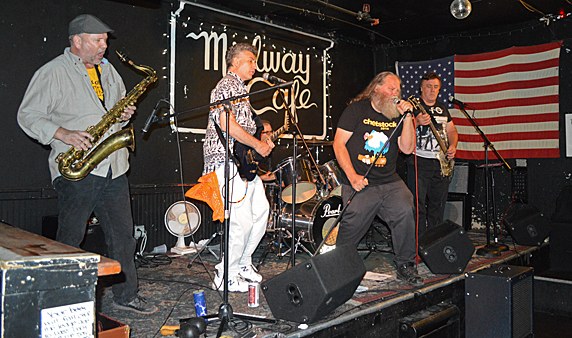 Hopelessly Obscure
Photo: Blowfish
Partner in crime and fellow Africa Corps Kenny Kaiser was on guitar. He's never gotten the credit for the chops he brings to those groups. He doesn't play the clichéd, his guitar work shows he's a thinking musician. I've said that Matt Burns was at his best with The Black Souls but he was stellar with these guys also. Highland references old songs and Matt has all those riffs in his database too which makes things click on a level you might not think of. John Keegan added his sax to the mix not on the original records but welcome. It's odd to give him credit for his Thunder Tube work but we have to!! During Twin Cities of the Mind he plays that simple but strange sounding thing that adds the mysterious overtones to the song that really set the stage. There is a photo of him and the tube at the end of the news section below. Then it's Mike Quirk on bass who hold things together as Kenne goes freeform.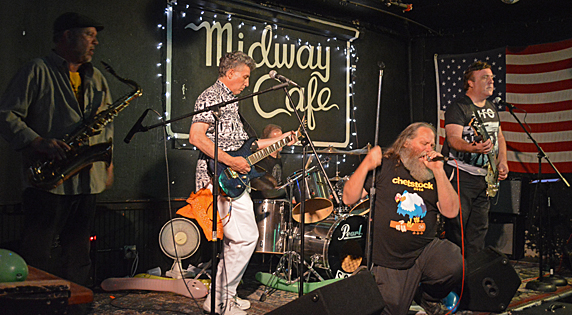 Hopelessly Obscure
Photo: Blowfish
They begin with NY Punk and follow with Quirk's new song called No Sleep Till Geno's. If they can get a few more new ones like that they should think of recording a new CD. They did Jailbait Janet and Best Bette. Linda Garreau, Kenne's ex-wife, died last week and he had a few stories about her and dedicated the song she liked to her. That song was a version of My Girl sung like it was Waiting for the Man maybe the ultimate Kenne mash up. The very dark Death Squad of the Mind was another standout.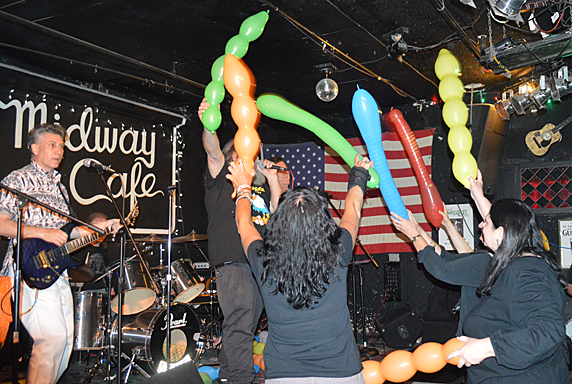 Hopelessly Obscure
Photo: Blowfish
There were even more highlights. One was the swirling psych trip that is Twin Cities of the Mind. Keegan on Thunder Tube and Kaiser's chord work were outstanding. Then it was the ridiculous fun of Kielbasa from the Johnny and the Jumper Cable days. They brought out the balloons that just happened to be very phallic, a representation of the kielbasa, and the crowd waved them about shamelessly. Check out the video below that captures the performance. The night never felt more party like than that, that's for sure. Highland knows how to put on a show.

It was then 1am and time to drive through a few early morning thunderstorms to get home.
Below are alll of John Keegan's photos from the night.
Below are four videos from the night.
| | |
| --- | --- |
| Classic Ruins | Dogmatics |
| Stop Calling Me Frank | Hoplessly Obscure |
In other news.....
And Arthur Freedman reports on the Go-Go's show he went to...."This past Monday Night was a blast with the Go Go's at House of Blue's! Belinda Carlisle prominently mentioned that they had very fond memories of playing the Rat in 79 and really loved hanging out in Boston then and now. I had a tough time getting the photos cuz the place was packed. They played great and a ton of songs from their repertoire along with some songs from their early days as a punk band that were never recorded."
| | |
| --- | --- |
| Belinda Carlisle | Go Go's |
| Charlotte Caffey | Jane Wiedlin |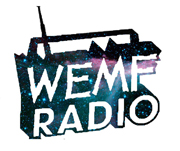 In a band and looking for gigs to play? WEMF has a whole list of available shows needing bands here on Craig's List. How cool is that???

Sue Lamont did the second hour on WMBR's James Dean Death Car Experience on Saturday 8/13. She played some punk, Blue Oyster Cult, surf, new wave and surfy new wave (Peter Dayton's Perfect Wave). You can listen to it here.

Richie Parsons mentioned at the show last night that he is getting the material ready for his next pop
CD after the Honey and the Tears. He has a lot of originals and is deciding on some covers. One is a new Thalia Zedik song. That could be amazing.
Another is the old (1962) Playboy, originally by the Marvelettes. That would be in collaboration with his pal Astrid in Italy.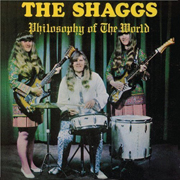 The Shaggs are releasing their remastered 1968 album Philosophy of the World on September 9. The deluxe LP comes on "Shag Carpet" swirl color vinyl and is packaged with a poster and enamel pin. The liner notes are by Lenny Kaye and it also comes with a book featuring previously unreleased photos. The reissue will be celebrated with two events. On September 9, a Shaggs tribute show will take place at Le Poisson Rouge in New York. Members of the B-52's, the Monks, Bush Tetras, Dresden Dolls, and more will perform. On September 17, Dot Wiggin will meet fans and sign CDs and albums at Newbury Comics' Harvard Square location. More info on Pitchfork
Here's a GREAT article (with links for listening) about women in Punk called The Story Of Feminist Punk in 33 Songs on Pitchfork.com (Thanks Theo Greenblatt via Facebook)
Danny Says, a documentary on the life and times of Danny Fields will be in Theaters AND available to download on Amazon and iTunes on September 30th!! Get all the lowdown here.



There are a million punk songs, this is just one.


Punk Rock Radio is from the Drongos For Europe . This English band has a history that goes back to 1979. The band story is here. It's a messed up story and they know it. They are still going and here is their Facebook page to prove it.
I tend to like songs that reference radio anyway and this is a good one. I used it in a promo for the Late Risers Club recently. I can't peg the year this came out. I got it off a compilation CD Loud Fast Rules #6 that came out in 2007.
Drongo is Aussie slang for idiot.

Drongos For Europe
"Punk Rock Radio"
Here's some good shows coming up .....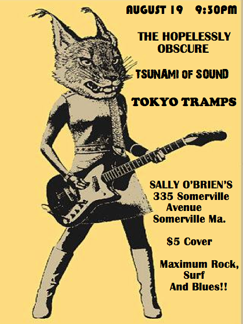 August 19 (Friday) Hopelessly Obscure, Tsunami of Sound and Tokyo Tramps are at Sally O's! cover is only $5!! FB event page
August 19 & 20 (Friday & Saturday) The 4th annual Boston Fuzzstival takes place on August 19/20 at The Middle East Downstairs. Fuzzstival is a celebration of our regional music scene and local music community.
Friday (6PM doors) you have Lyres, The Monsieurs, CREATUROS, Mr. Airplane Man, Dent, NICE GUYS, Patriots, Midriffs, Scully, Kid Mountain, Birthing Hips
Saturday (2 PM doors!) is: Quilt, Doug Tuttle, Mini Dresses, Major Stars, Ghost Box Orchestra, Painted Zeros, Black Beach, BOYTOY, Las Rosas, Ravi Shavi, Sunwatchers, Jaw Gems, Way Out, Zip-Tie Handcuffs, High Pop, Bat House, Weakened Friends, Milk, Beach Toys...check out the FB page for updates etc
August 20 (Saturday) The Road Devils C.C. Boston Massacre Pre-Party!!! featuring The Worried, The Struggle, Watching It Burn, The Hi-End and Hambone Skinny. !!! FB page for more info
August 20 (Saturday) There's a great daytime (4-8PM) show at the Midway with The Lost Riots, The Scrapes, Whoopi Sticks, Go Blank and Point Blank
August 20 (Saturday) The Upper Crust, Devil on Horseback, Watts, Gymnasium at The Middle East Up.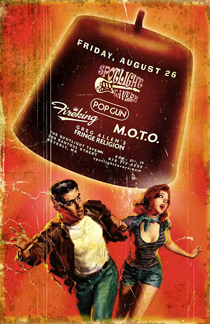 August 20 (Saturday) Warn The Duke, Diablogato Dan Webb & The Spiders and Bundles are at O'Brien's
August 26 (Friday) Jenny Dee & The Deelinquents are at The Plough
August 26 (Friday) Pop Gun, Fireking, Greg Allens Fringe Religion, and MOTO are at The Spotlight Tavern in Beverly
August 27 (Saturday) Idiot Genes, Duck & Cover, Silver Screams and Jack Widows at O'Brien's
August 27 (Saturday) Fuzbrains Presents: The Time Beings, The Hopelessly Obscure, The Flipsides and The Performers at The Hotel Vernon in Wistah!!
September 1 (Thursday) Thalia Zedek Band, Minibeast, Black Helicopter and Positive Negative Man at Great Scott
September 9 (Friday) Worshipper, Zip-Tie Handcuffs and The Devil's Twins are at ONCE
September 9 (Friday) The Black Cheers, See This World, Problems With Dragons and The Dead Simple are at The Midway
September 10 (Saturday) Cheetah Chrome , Unnatural Axe and Crank County Daredevils are at The Middle East Up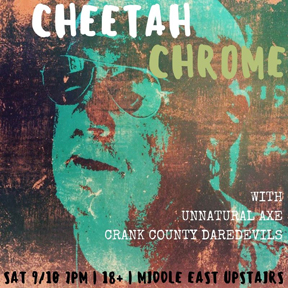 September 10 (Saturday) PowerSlut, Viva Gina, The Land of Enchantment, & The Very are at ONCE Lounge
September 16 (Friday) Cal Cali is bringing the Dictators to Boston!! YAY! Line up: The Dictators, Lyres, Glider and The Modifiers at Once Here's the FB page. and TICKETS!!
September 17 (Saturday) The Swindlers CD Release Party with Centerlink, The Swindlers, The Low Babies and Billy Dodge Moody at The Midway
September 17 (Saturday)
September 17 (Saturday) Huntingtons, Mongorellis, 138, and Profit Margin are at Koto in Salem.
September 18 (Sunday) Another Sunday Night Mess Around at The Plough
September 27 (Tuesday) Buzzcocks at the Royale ...they played this very room back in 1980! And we were there then too!
September 29 (Thursday) Barrence Whitfield & The Savages and Diablogato are at ONCE Ballroom
September 29 (Thursday) through October 1 (Sunday) The "Rat" Beach Party in Hull. Check it out on Facebook for bands and times etc
October 1 (Saturday) 6th Annual Upstart Fest Featuring: The Queers, Svetlanas, The Fantastic Plastics, OC45, Kyle Trocolla - at the MIddle East Up...whew!! That's gonna be a killer show. We saw the Svetlanas at the 2013 Upstart Fest and they were great!! NOTE: this is an EARLY shows doors are at 4PM. FB page
October 3 (Monday) Bob Colby Presents a night at the Once Lounge with Mr Airplane Man and The Land of Enchantment.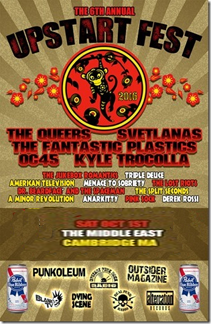 October 8 (Saturday) for those of you who were Ska fans- An Evening with Dancin' Randy's Ska Punk Time Machine at Great Scott
October 14 (Friday) The Time Beings, The Black Souls, Craig Bell (of Rocket From The Tombs/Mirrors/X__X) and Shiny Beasts - this is a show not to be missed!! At the Midway!
October 15 (Saturday) Idiot Genes, Duck & Cover, Chanticlear and Jack Widows are at O'Brien's
October 15 (Saturday) The Upper Crust, Hickoids, The Grannies & Devil On Horseback at Once
October 21, 22 & 23 (Fri., Sat & Sun) The Boston Rock Opera presents Hair at Once Ballroom.
November 3 (Thursday) The Proletariat are at Once: "After a 33 year hiatus, legendary Boston punk rock band The Proletariat has decided to reunite for a few select shows . Original members Richard Brown, Peter Bevilacqua and Tom McKnight will be joined by guitarist Dan Sanders(from the Providence band Idle Rich) and will reunite for a series of shows in Fall 16. The reunion comes on the heels of the vinyl rerelease of the bands groundbreaking debut "Soma Holiday" on SS Records." Tickets!!
November 9 (Wednesday) Illegally Blind and League Podcast Present: Shonen Knife, Shepherdess, and Birthing Hips at the Middle East Up
CONTACT US AT....misslynbgn@yahoo.com - Send us your gig listings, your news and anything else ya got!!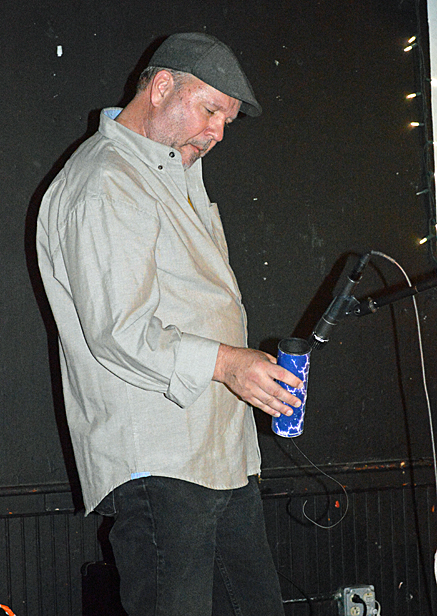 John Keegan playing the Thunder Tube
Photo: Blowfish
Suggestive balloon preparation
Keegan and Kaiser
Photo: Blowfish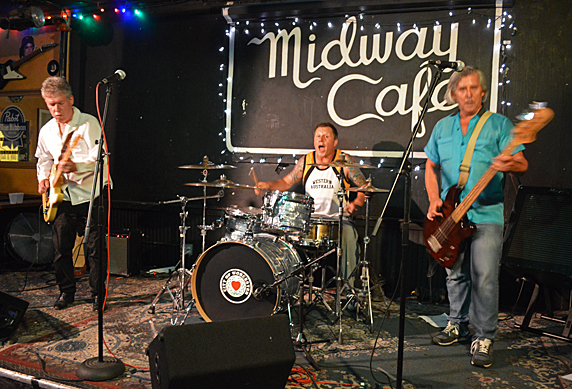 Classic Ruins
Photo: Blowfish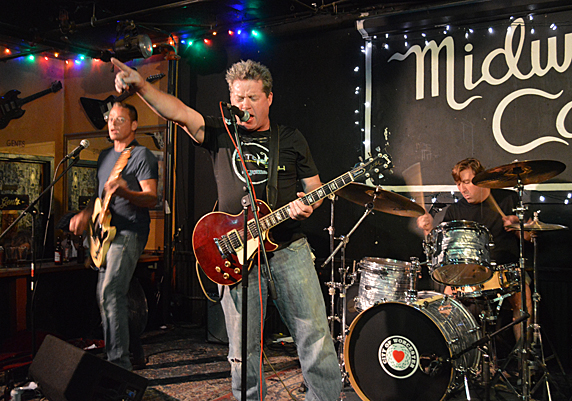 Dogmatics
Photo: Blowfish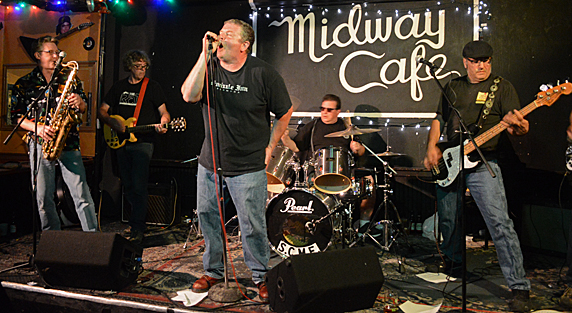 Stop Calling Me Frank
Photo: Blowfish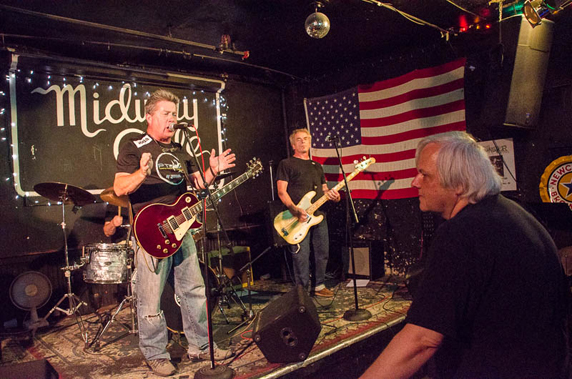 Dogmatics and Bob Colby
Photo: John Keegan