The BGN News Archive
August 22,2016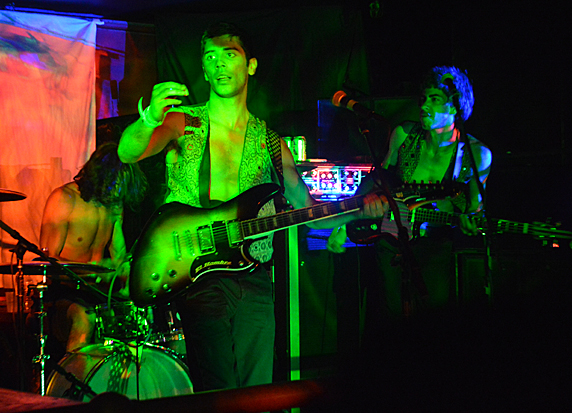 Ravi Shavi at Fuzzstival
Photo: Blowfish
Along with Hasselfest the Boston Fuzzstival is a way to hear a lot of new bands, along with some better known ones, in a short time. Both have two stages that supply non-stop music over several days.
Fuzzstival is changing a bit. The name would tell you it's about psych groups and the light show would confirm that, but there was a lower percentage of psych this year. Last year (our page here) they described the show as "the best bands in the region that make psychedelic/fuzz/garage/surf rock", this year they modified that to a "celebration of local and regional music". To me that's doing something different but the results were still rewarding. We didn't hit the Friday show that was anchored by the Lyres. And had favorites like The Monsieurs, CREATUROS and Mr. Airplane Man.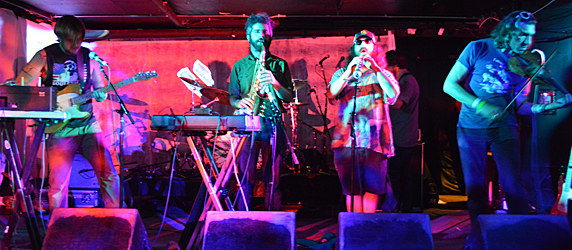 Sunwatchers
Photo: Blowfish
Saturday's show started at 3pm. We arrived after 4pm and saw just a bit of Sunwatchers who had horns and a violin in the mix on the main stage. The light show was going as it did for every act. The music (and light show) moved to the side stage which was set up in the side balcony section.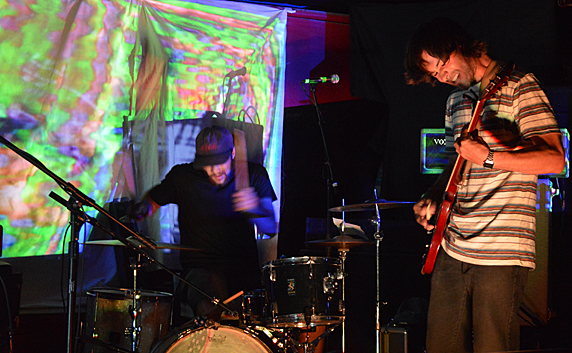 Milk
Photo: Blowfish
We had seen the band Milk last year and remarked about how they jump genres from song to song and they still do that. They sound like Pink Floyd on a song then they go country style with fingerpicking the chords on the next. They do both very well but you'd think they'd pick a style and go with it but that is maybe a record executive talking and not an artist following their creative muse. We did enjoy the set. It was on the raw side with lots of energy.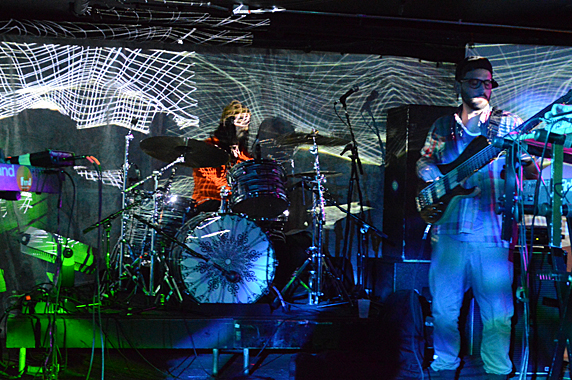 Raw Gems
Photo: Blowfish
It was back to the main stage with JAW GEMS who were more jazz then rock. They did instrumentals with two synthesizers and did have a psych edge. The bass player was notable. Overall they were out of rock purview.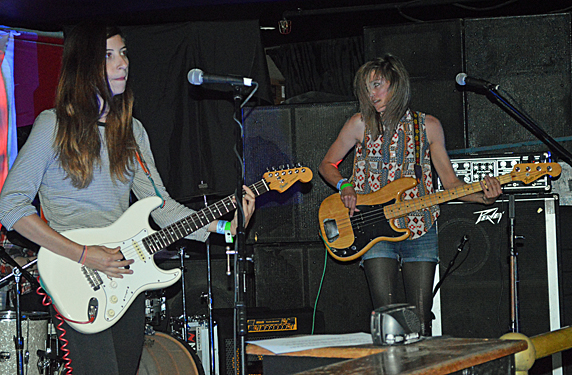 Weakened Friends
Photo: Blowfish
Next on the side stage was Weakened Friends who turned out to be one of the surprises that you look for at these things. They are a rocking indie trio from Maine. The songs were short and had character. The singer sometimes had a fast quaver to her voice but also sang without it. Our ears kept going to the bass player who had a round tone and some lines that defined a few songs. We'll be looking out for this group and more of their gigs in the future!!Weakened Friends Bandcamp page (They are playing Allston Awesome Christmas Sept 10 see listing below)

High Pop
Photo: Blowfish
Then it was off to eat, we left the club about a third full when we came back High Pop was on and the club was half full. They were another trio. They had that raw sound with energy that earmarks a lot of new groups like Black Beach that were to follow them. I found more to like about them by listening to their songs on Bandcamp . They seemed very young so we expect to see them develop as they go along.

Black Beach
Photo: Blowfish
Black Beach took zero time to blast out their brand of surf-psychedelics with such power that they left all previous groups in their wake. Their number one mission is to rock and they've had a lot of experience on the scene doing it. We've seen them many times and have seen them on a journey to the point where now they are one the best on the scene. One of differences from some of the preceding groups is that these guys know their instruments and play with determined power. They are a trio and the sound is a wash of screeching guitar. The songs are bare boned structures with few words. It's the sound that sweeps you up and it all sounds new and fresh. So, it's one more time of telling you to go see these guys. Go see these guys!!

Ravi Shavi
Photo: Blowfish
I wouldn't want to follow Black Beach but we were in for another eye opener in the form of Ravi Shavi. They are from Providence by way of Pakistan and describe themselves as indie and punk but that doesn't begin to explain the show we saw. The focus is on lead singer and band leader Rafay Rashid. If you read the paragraph they have on the Bandcamp page (Ravi Shavi) you can see they harken back to older rockers like Screaming Jay Hawkings, Lou Reed, Iggy and Ziggy (Bowie). This comes through in the more traditional song writing and especially in the stage moves by Rafay.
He's a hypnotic front man. His hand gestures emphasize the lyrics and, along with his mysterious looks, add a certain air to his stage persona. He kicks and shakes his feet in a unique way too. He looks like he has ants in his pants! He's got something going there that works big time. The songs sound like they are influenced by mid-sixties rock.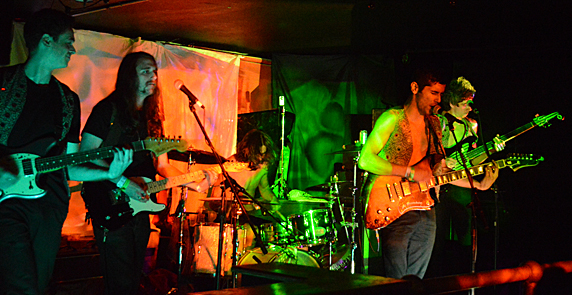 Ravi Shavi
Photo: Blowfish
The group has three guitarists and they play full six string chords. Sometimes they play the same thing giving them the punch and other times they arrange three different voicings giving the songs depth. The initial effect was jaw-dropping. The bass player Matt DeCosta and drummer Nick Iddon are newer members but build a strong and pounding rhythm section as a foundation to the sound. They all wear vests with mirrors on them, a nod to Rafay's country of birth and possibly of some of the other members of the band as well. You get the full show here great to watch and hear!!
You think you've seen it all but this was a new concoction that bowled us over. After Ravi Shavi were some very worthy bands we've seen before like Zip-Tie Handcuffs and Ghost Box Orchestra but after 4 and half hours we called it quits. The club was just getting to the full stage. Meanwhile we talked to Bob Colby who saw all of Friday night and was going to see all of Saturday...he's dedicated and that's what makes him Bob Colby.
| | | |
| --- | --- | --- |
| Black Beach | Ravi Shavi | Weakened Friends |
In other news.....
Here's an interesting article on i-D about Punk women then and now how they age and change...or not....If Punk Never Dies...
HA...here's a preview of who'll you'll see in the Chet's video from this year's Chetstock! Password = Chet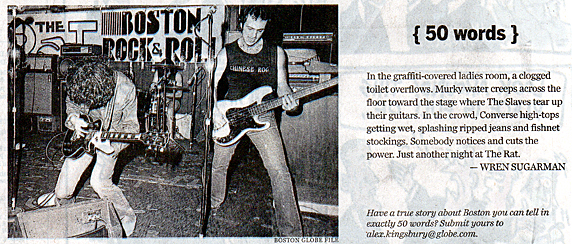 The Sunday Globe had this feature. The Rat will never die!
Great news!! Everyone that was at the Late Risers Club Trivia Party wanted to do it again. Erin Amar of Rocker is looking into it. She's canvassing clubs. It could happen!!!

Stop Calling Me Frank who we saw last week has a gig at the Sinclair opening for Darkbuster on Aug 27. All Darkbuster shows sell out. So do what you have to do. See more info below.
There are a million punk songs, this is just one.

Let's salute the oddballs, the outliers, the irritators. Punk is contrarian to begin with but inside that there are some who stick out. I'm thinking of the Butthole Surfers, the Happy Flowers, Joe Pop-O-Pies. They want to be abrasive. They use excessive repetition, taboo breaking, noise, and whatever they can do or say that will push your buttons.
Flipper is all about that and they give you a laugh at the same time. They had the hit Sex Bomb. Love Canal, Ha Ha Ha also got airplay. And think of that. None of their songs are easy listening. College radio was right there giving them generous air play. That's why we love them.
Brainwash also got airplay. Talk about difficult. The song is 6:44 minutes long but it is cut into sections of 25 seconds that are separated by 6 seconds of silence - an anathema for radio. Any of the silent sections make you feel the song is over. They lyrics never develop. The singer just stutters for a while and then begrudgingly comments, "Never mind. Forget it. You wouldn't understand it anyway." You either get it or you don't but either way I think we should love the way punk embraced oddities like this.
Flipper
"Brainwash"
Here's an article on The Ringer about the Wrecking Ball a punk oriented music festival in Atlanta. The article makes lots of points about the state of festivals today. It goes on to review the groups with 12 worthy song clips to listen to along the way. Check it out here.
And hey!! The BGN is on the radio!! DJ and Emcee Brian Young will be reading some of the gig listings from this page on his WMFO show Crash Course for the Ravers. It's on Saturdays from 1 to 4 pm and the latter shows are archived. He's always got a bunch of good guests on the show too!
Here's some good shows coming up .....

August 26 (Friday) Rock Bottom with special guests The Humanoids and Shiny Beasts are at The Midway
August 26 (Friday) Jenny Dee & The Deelinquents are at The Plough
August 26 (Friday) The Roy Sludge Trio performs at Jack's Sludge Party! upstairs at Once...and it's FREE!!
August 26 (Friday) Pop Gun, Fireking, Greg Allen's Fringe Religion, and MOTO are at The Spotlight Tavern in Beverly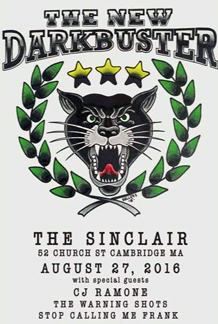 August 27 (Saturday) Idiot Genes, Duck & Cover, Silver Screams and Jack Widows at O'Brien's
August 27 (Saturday) (The New) Darkbuster, CJ Ramone, The Warning Shots and Stop Calling Me Frank are at the Sinclair Tickets!
August 27 (Saturday) Viv'd and Wreckless Wreck Chords present Blanks 77, The Parasitix, Opposition Rising, Mooseknuckle and DestrOi at the Middle east UP for an afternoon Show - 12-5Pm
August 27 (Saturday) Fuzbrains Presents: The Time Beings, The Hopelessly Obscure, The Flipsides and The Performers at The Hotel Vernon in Wistah!!
August 29 (Monday) Crushed Out, Messer Chups (who are from Russia), and the Trabants are at Charlie's Kitchen
September 1 (Thursday) Thalia Zedek Band, Minibeast, Black Helicopter and Positive Negative Man at Great Scott
September 8 (Thursday) Nancy Neon presents Paul Edward Yu, Mike Morrissey, The FACC-Tones and The Downtowners featuring Jeff Kabot of The Venusians and The Superkools and Matt Burns of Black Souls and The Hopelessly Obscure at the Cantab down.
September 9 (Friday) Worshipper, Zip-Tie Handcuffs and The Devil's Twins are at ONCE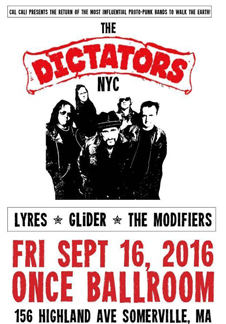 September 9 (Friday) The Black Cheers, See This World, Problems With Dragons and The Dead Simple are at The Midway
September 9 & 10 (Friday & Saturday) There's Allston Awesome Christmas a three day festival of music in Allston. The main event is a block party at Pop Allston 89 Brighton Ave 12Noon til 8PM with The Blake Babies, Doped Up Dollies, Weakened Friends and Dutch Rebelle and its FREE you just have to RSVP at Do617 (HERE!) Also go there for a list of bands playing at O'Brien's and Great Scott on Friday and Saturday nights.
September 10 (Saturday) Cheetah Chrome , Unnatural Axe and Crank County Daredevils are at The Middle East Up
September 10 (Saturday) PowerSlut, Viva Gina, The Land of Enchantment, & The Very are at ONCE Lounge
September 11 (Sunday) Somerville Rock + Roll Yard Sale will be in Union Square Somerville 11AM- 6PM
September 16 (Friday) Cal Cali is bringing the Dictators to Boston!! YAY! Line up: The Dictators, Lyres, Glider and The Modifiers at Once The Stigmatics have just been added to the line up! Here's the FB page. and TICKETS!!
September 17 (Saturday) The Cranktones are doing an early evening show at Atwood's Tavern starting at 4PM Facebook page.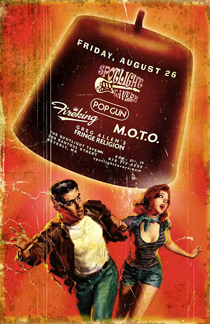 September 17 (Saturday) The Swindlers CD Release Party with Centerlink, The Swindlers, The Low Babies and Billy Dodge Moody at The Midway
September 17 (Saturday) Dot Wiggin of The Shaggs will meet fans and sign CDs and albums at Newbury Comics' Harvard Square location. More info on Pitchfork
September 17 (Saturday) Huntingtons, Mongorellis, 138, and Profit Margin are at Koto in Salem.
September 18 (Sunday) Another Sunday Night Mess Around at The Plough
September 22 (Thursday) Highway Chapel at The Cantab Club Boho!
September 22 (Thursday) Yes on 4 Benefit Show with The Martians, You Scoundrel, Aneurysm, Whoopi Sticks and Limited Freedom at O'Brien's starts at 7Pm
September 27 (Tuesday) Buzzcocks at the Royale ...they played this very room back in 1980! And we were there then too!
September 29 (Thursday) Barrence Whitfield & The Savages and Diablogato are at ONCE Ballroom
September 29 (Thursday) through October 1 (Sunday) The "Rat" Beach Party in Hull. Check it out on Facebook for bands and times etc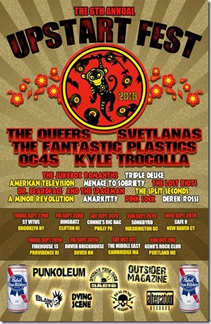 October 1 (Saturday) 6th Annual Upstart Fest Featuring: The Queers, Svetlanas, The Fantastic Plastics, OC45, Kyle Trocolla - at the Middle East Up...whew!! That's gonna be a killer show. We saw the Svetlanas at the 2013 Upstart Fest and they were great!! NOTE: this is an EARLY shows doors are at 4PM. FB page
October 3 (Monday) Bob Colby Presents: Mr Airplane Man and The Land of Enchantment at ONCE Lounge - He will present occasional shows at this venue now...These shows are taking place as part of ONCE's "Taco Monday" series, which means two things: 1) You can have some great food beforehand (starting at 5). 2) The shows have *no cover*, but donations to performers are encouraged (no set amount, whatever you can do). Look for the big silver bucket, every dollar that goes in there goes to the artists!
October 7 (Friday) State Of The Union, Watts, Pop Gun, and The Knock Ups are at Koto in Salem
October 8 (Saturday) for those of you who were Ska fans- An Evening with Dancin' Randy's Ska Punk Time Machine at Great Scott
October 14 (Friday) The Time Beings, The Black Souls, Craig Bell (of Rocket From The Tombs/Mirrors/X__X) and Shiny Beasts - this is a show not to be missed!! At the Midway!
October 15 (Saturday) The Stigmatics (Randall Gibson's new band) will be on the Crash Course for the Ravers with Brian Young on WMFO 91.5FM 1-4PM.
October 15 (Saturday) Idiot Genes, Duck & Cover, Chanticlear and Jack Widows are at O'Brien's
October 15 (Saturday) The Upper Crust, Hickoids, The Grannies & Devil On Horseback at Once
October 21, 22 & 23 (Fri., Sat & Sun) The Boston Rock Opera presents Hair at Once Ballroom.
October 28 (Friday) The Vooduo, (from CA), The Crimson Ghosts, The Skeleton Beats & The Outsiders are at Koto in Salem
November 3 (Thursday) The Proletariat are at Once: "After a 33 year hiatus, legendary Boston punk rock band The Proletariat has decided to reunite for a few select shows . Original members Richard Brown, Peter Bevilacqua and Tom McKnight will be joined by guitarist Dan Sanders(from the Providence band Idle Rich) and will reunite for a series of shows in Fall 16. The reunion comes on the heels of the vinyl rerelease of the bands groundbreaking debut "Soma Holiday" on SS Records." Tickets!!
November 3 (Thursday)Wolfman And The Brimstone Boys, The Evil Streaks, The Devil's Twins and Damnation are at Opus Underground in Salem
November 9 (Wednesday) Illegally Blind and League Podcast Present: Shonen Knife, Shepherdess, and Birthing Hips at the Middle East Up
November 10 (Thursday) The Sonics will be at Fete Music Hall 103 Dike St, Providence, Rhode Island 02909 - Here's the FB page
CONTACT US AT....misslynbgn@yahoo.com - Send us your gig listings, your news and anything else ya got!!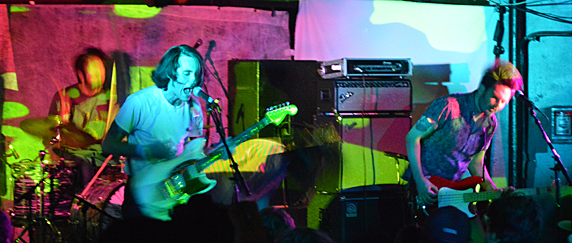 Black Beach
Photo: Blowfish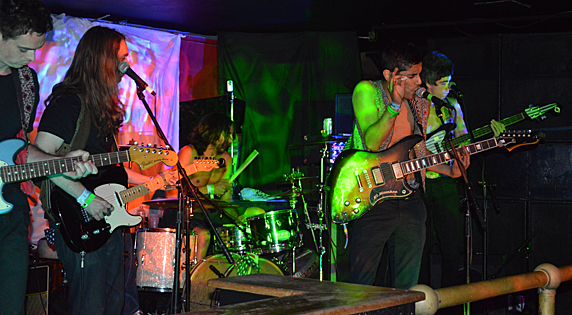 Ravi Shavi
Photo: Blowfish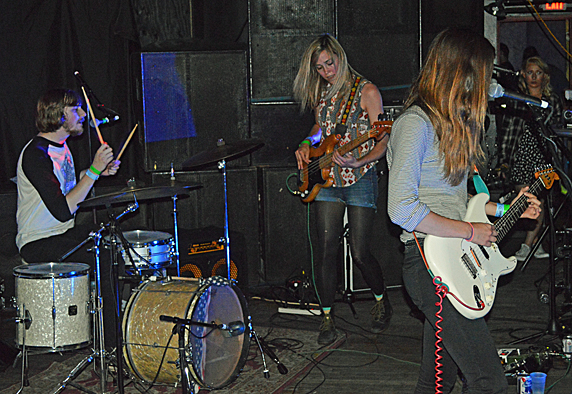 Weakened Friends
Photo: Blowfish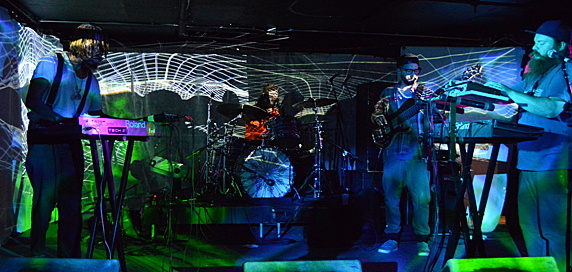 Raw Gems
Photo: Blowfish
Even a light show on the floor at the Fuzzstival
Photo: Blowfish