The BGN News Archive
August 25, 2014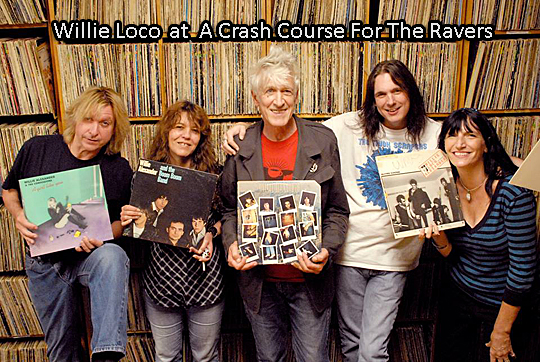 It was a fun time with Willie Loco Alexander on Crash Course for the Ravers on WMFO this Saturday. Willie played Mass Ave and a few other songs live. They played a few recorded songs by the Boom Boom Band and two by The Lost and a way obscure ditty with Dirty Eddie on it called Rhubarb Pie. Willie mentioned the song Stardust by Hoagy Carmichael and Brian Young was ready to play Bowie's Ziggy Stardust. It got wacky. This Saturday show continues to give off a nice local low key vibe with a loose music mix (Three Velvet Underground songs in a row!). The Song list is here.... Photos are on The Crash Course Facebook page. ... They get the best out of their guests. It's another reason to thank college radio. You can check out their website for archived shows hit "Schedule" then Crash Course for the Ravers.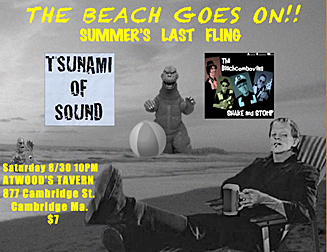 Dont forget to check out Kenne Highland at Large this week. he visits the World's Only Curious George store and reviews the film Rich Hill and sings the praises of Sister Rosetta Tharp!!

In other news:

This THURSDAY Eric Law will be guest dj'ing for an hour or so on Joanie Lindstrom's Late Risers Club show on WMBR. That is this Thursday , August 28th. The show runs from 10 am to noon. Eric will be on around 10:50 playing some killer tunes! So tune in, 88.1 on your FM dial. If for some reason you cannot tune in at that time, you can stream it either live as it goes down or at leisure through the WMBR archives from your computer. you will find both ways, listen live or archive on the WMBR home page under the "Listen" section. But don't delay too long the archives only stay up for two weeks.

Also this Thursday, and through to September 5th, the MFA is showing a film called Exhibition by Joanna Hogg. It's about "two dysfunctional artists" and it's being called a "rich and enigmatic character study takes place in the modernist townhouse of D and H." The character D just happens to be played by Viv Albertine from The Slits. You can watch the trailer here on The Guardian site. And you can see dates times and buy tix on the MFA's site here.

There's a brand new Kickstarter Campaign we want you to know about. It's for the awesome punk photographer Godlis...so he can publish a Limited Edition High Quality Photography Book of his best pictures of NYC's Punk scene on the Bowery at CBGB's 1976-1979. Read about...and pledge! ...here at his Kickstarter page!!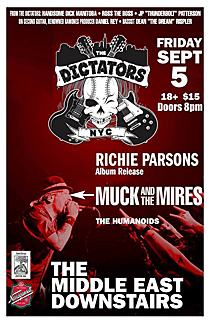 Omnivore Records has put together a recording of previously unreleased Scruffy The Cat recordings. The Good Goodbye: Unreleased Recordings 1984-1990 will be available on September 16th it features "features music from their origin to their final, unissued sessions—recorded at Ardent Studios." You can read more and prepurchase here!!
We heard from our pal Sonny Vincent and his new Spiteful is almost out, available November 17th (Miss Lyn's Birthday) ! We got our hot hands on it and will have a review for you shortly!! This is the one is a special get together of a super group: Sonny ...on screamin' guitar of course....with Rat Scabies (The Damned) on Drums, Glen Matlock (Sex Pistols) on Bass, and Steve Mackay (Stooges) on Sax..wow!! Here's what he has to say about it: "Three years in the making, four RocknRoll bastards get together to fuck shit up. .... The kick ass songs are not playable in police stations, the freedom bell frenzy is banging way too loud. Strap yourself in for a wild ride that takes you from a dark alleyway to a far away planet of Love and mercurial radiance." You can pre-order it at Still Unbeatable records. (just scroll down to find it!!) And you can get a little taste of it here on You Tube
And we recently heard from Martin Newman who was the guitarist for Plumerai...the band has morphed into DRLNG they have released a new Limited Edition 12" record....as in Vinyl (which is also available digitally) called Icarus. You can preorder here. Martin tells us they will be playing Boston shows sometime in October. We we wondering where they'd gone to and are excited to see this new version of the band!
So what's comin' up for gigs?....
This Tuesday at The Midway the Uber Girls are playing...they are on Ace of Hearts records. Does Uber also mean all kindsa?? Will those gilrs shake outta control???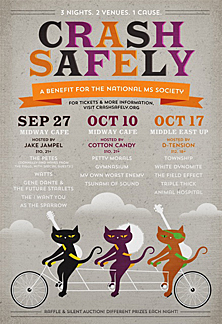 We'll say it again Eric Law is on Late Risers Club as guest DJ at 10:50 AM this Thursday....WMBR - tune in!!
Friday August 29th has a good show at Church with Petty Morals, Tigerman WOAH, When Particles Collide and Miss Geo.
And at The Tavern at the End of the World on Friday the 29th there's "Detroit Night" with Three Great Bands with Detroit Roots : Tiger Bomb features Lynda Mandolyn of Detroit's "Inside Out" band, and San Francisco's "Fabulous Disaster"... and Chris Horne of The Brood Cindy Allison & Andrea Ellis provide the rock-solid rhythm section for a set of all-original pop songs! for a set of all-original pop songs... , from Detroit, are making their Boston debut here tonight... and the following night they will headline the 2014 Power Popaholic Festival in Brooklyn... See them while you can! Fireking features Detroit natives Anthony Kaczynski & Michael Smith of the Sire Records recording group, "Figures On A Beach"... Andrew Morrison on bass rounds out this fantastic power-pop-rock trio.
Over at The Midway this Friday is The Elderly, Old Soldiers (it's their CD Release party), The Weisstronauts and Axemunkee
This should be an interesting evening...at The Cantab, Saturday August 30th....The Sound Down Cellar, Nelson Slater (tentative), Annie Activator and the once a year gig by Love & Flame featuring Danny Rybar, Lady Carolyn and Joe Viglione along with Mike Quirk on bass, Kenne Highland on guitar. (they are on at 9:30) and The Guns of Brighton
The Beachcombovers and Tsunami of Sound are at Atwood's on Saturday August 30th- this double bill ALWAYS promises to be a super fun one!!
OK folks get ready for a crazy, exhausting and exciting couple of months of music in Boston....read on...amazing shows coming up and lots of them.....
Tuesday Sept 2 there's a punk show at The Middle East UP with Bishops Green, Hammer and the Nails, For the Worse, Yellow Stitches, The Damn Garrison *NOTE: its a slightly earlier than usual show with 7:00 PM Doors
Please put this on your calendar and go folks- Viva La Eva Dos...another benefit for Eva Lipton you was in a horrible car crash and remains in a rehab facility....Thursday September 4th starting at 7PM at TT The Bear's ...on the bill are Joe Queer & Friends, The Dogmatics, The Downbeat 5, Classic Ruins, Parlour Bells, Moose & The Mudbugs, and Sonomatics ...see you there!!
Thursday Sept 4 at Tavern at the End of the World is the return of KURT BAKER! This should be a great show - his only 2014 appearance in Boston, it was cancelled and is now back on.....and its a great bill all around with The Kurt Baker Band (11:30) The Connection (10:30) and The Dirty Truckers (9:30) . Get there early folks!!


And you definitely want to hit this show: Richie Parsons performing his Honey & Tears songs along with The Dictators NYC on September 5th at the Middle East down. Added to the bill are Muck & The Mires and The Humanoids...wow- it was already a killer show but now....!!!
You can download Honey and Tears from iTunes for one.....or Bandcamp.....where you can download or order the CD or the vinyl! or hunt Richie down and buy one from him. Or you can get one at this gig if you can wait that long.
Another great all ages 4-9PM show Saturday September 6th at The Midway with The Humanoids, Arctic Horror, In The Shit and a solo Larry Lifeless...the cost?...well priceless as you can imgine but you only have to shell out FIVE dollars for this show folks.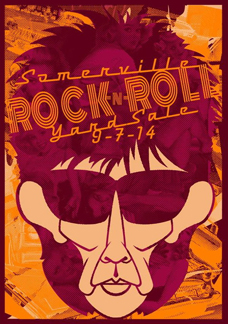 The annual Rock 'n' Roll Yard Sale is happening in Union Square Somerville on Sunday September 7th!!! For the extensive list of vendors and for other info check out their website. There'll be all sorts of Vinyl Records and other Music Memorabilia and Equipment + Vintage and DIY Handmade Goods and there'll also be Live Music all afternoon by Michael Tarbox, Reindeer (ex Swilies / Scarce), the Chris Monti Band, Keith McCurdy of Vudu Sister...always a great event!!
Oh yeah on Tuesday September 9th at the Midway Brian Young hosts a show with Johnny & The Hartebreakers, The Classic Ruins and Tsunami of Sound....so um, this "Johnny and The Hartebreakers" better be good......or Mr. Harte may say "Who needs you" and I hope they make me shake out of control.
Crash Safely is coming up in September/October - night #1 is at The Midway on Saturday September 27th with Pete Donnelly, Pete Hayes and John Powhida (Aka The Petes), Watts, Gene Dante and The Future Starlets, The I Want You and As The Sparrow
The Legendary Shake Shakers are coming to the Middle East down September 12th.
And there's 4 straight nights of awesome shows at the Midway starting with folk/punk show Friday 9/12 with Bryan McPherson, The Old Edison, Marl Lind and Jeff Rowe.
Also on Friday the 12th there's a good show at The Beachcomber in Quincy with Screw Cart (Former members of Kilslug & Upside Down Cross, Toecutter, Ointment, and Noble Rot.) , Deklaration, Truman Highaway and Black Friday...
And Bob Colby's back in business with his shows at Store 54 on Friday the 12th he's got Count Zero, The Vivs and Uranium Daughters
There is a lot going on Saturday Sept 13....first off there's a early evening matinee with 4PM doors at the Midway, it's all ages and only $7.00...on stage is Risk, Class Struggle, Working Poor USA, Aftermath (from CT) and Traces of Empire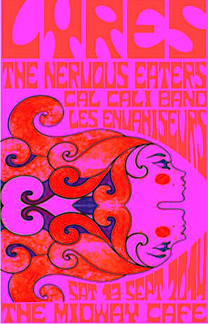 Then that night, at The Midway on Sept 13. Cal Cali brings us Lyres-Nervous Eaters-Cal Cali Band- The Invaders (Les Envahisseurs-from Quebec) - oh mon dieu!!! What an excellent line up!
AND Sept 13th the beginning of the Pipeline shows with Baby's Arm, Berlin Airlift, The Dogmatics, The Neats' Eric Martin & friends, Stranglehold, The Turbines - at Cuisine en Locale wow!!
But don't forget Sat. 9/13 is also Matt Burns' 60th Birthday Party! He's celebrating at The Lizard Lounge. So far the bill includes Litehouse, The Handymen, Kenne Highland, and more bands to come.....
Sunday September 14th --the Midway will bring us the legendary UK band The Members!! also with them are Greg Allen's Fringe Religion and OC45...here's the FB page link
Then on Monday Sept 15th....not to be missed the band you never heard of but want to see in this setting - The Shakes Outta Control, just click their link and see where it brings you) but also on the bill TRiPLE THiCK, Banditas and Jay Allen & The Archcriminals! This should be a great night!
50 Years of Boston Rock, WMBR's Pipeline's 25 year Anniversary is coming up!!! It's at various venues in Boston, Cambridge, Brighton, Somerville and Arlington. Specifically it's going to be 13 shows featuring close to 80 reunited Boston-area bands performing at 5 venues over 5 weekends from September 12 to October 12 - at the Paradise Rock Club in Boston, The Middle East downstairs in Cambridge, the Brighton Music Hall, the Regent Theatre in Arlington, and Cuisine en Locale in Somerville, a new ballroom-like space with a capacity of 425.!! So get ready now. (There are current plans to add a 14th night to the series) Tickets are now available at all venues!
Click to see the insanely long entire list of line ups HERE. And here's the Facebook page
And because we love you here's links to all the clubs to purchase tix:
CUISINE EN LOCALE in Somerville (Sep 13, 19, 20, Oct 10, 11)
Sept 13th (these are all links to tix) who's playing on the 13th: Baby's Arm, Berlin Airlift, The Dogmatics, The Neats' Eric Martin & friends, Stranglehold, The Turbines - wow!!
Sept 19
Sept 20
Oct 10
Oct 11
REGENT THEATRE in Arlington (Sep 12, 26, 27)
Sept 12
Sept 26
Sept 27 Who's playing on the 27th: Barry & The Remains, Cardinal, The Downbeat 5
BRIGHTON MUSIC HALL (Sep 28)
Who's playing on Sept 28: Anastasia Screamed, The Flies, The F.U.'s / Straw Dogs, Men & Volts, The Nervous Eaters, + 2 TBA

MIDDLE EAST RESTAURANT DOWNSTAIRS in Cambridge (Oct 3, 4, 12)
10/3: Who's playing on Oct 3: The Blood Oranges, The Bristols, Buttercup, Fuzzy, Lazy Susan, Robin Lane and The Chartbusters, Tacklebox
Oct 4
PARADISE ROCK CLUB in Boston (Oct 5)
Who's playing Oct 5: Big City Rockers (Atlantics), The Charms, The Dents, High Risk Group, Reddy Teddy, Shake the Faith, Willie Alexander & The Boom Boom Band
Oct 12 Who's playing on the 12th: The Bags, Ed's Redeeming Qualities & The Breeders' Carrie Bradley & friends, The Gizmos (original line up), Kenny Chambers / Electric Ears, The Underachievers, The Voodoo Dolls

whew!!!!!!!!!! what an amazing event this will be Congratulations and THANK YOU! Bob Dubrow for all your work on this!!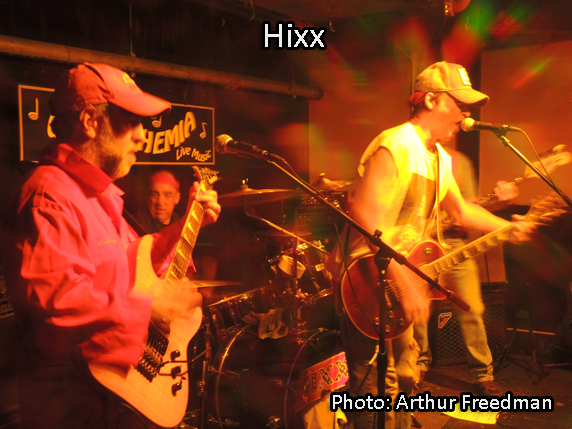 This is from the Hixx CD release party down at the Cantab.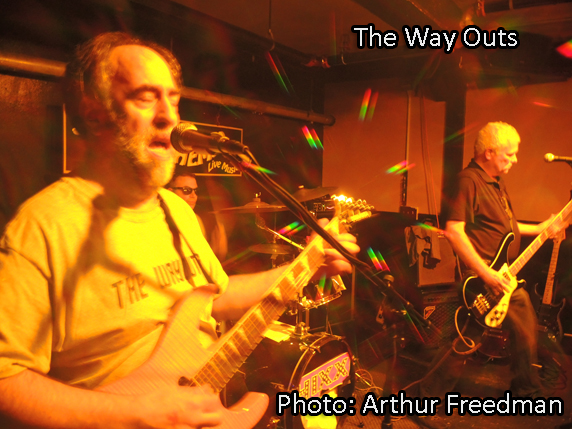 Saturday, September 20 we get to see James Straight & The Wide Stance again!! They are at Copperfield's along with The People's Party, Green Street Station , and Sunrise Showdown...then.....
Sunday Sept 21 at TT The Bear's there's is Queerstock 2014 with Gunpowder Gelatine, Thalia Zedek, The Kitchenettes and Fur Purse .......
And September 22nd at the Middle East up is a great show with Shonen Knife and Petty Morals.
Also at TT's to finish off the week on a definite , awesome actually, punk note Friday the 26th they have The Angry Samoans, Reagan Youth, Burning Streets and The Welsh Boys opening the night.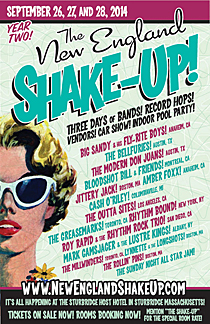 Sept 26, 27 & 28 is The 2nd Annual New England Shake Up it's Three Rockin' days of Bands! Record Hops! Vendors! Car Show! Indoor Pool Party! And More! All taking place at the lovely Sturbridge Host Hotel in Sturbridge, Massachusetts....Boston bands Jittery Jack, The Rollin' Pins and Lynnette and The Longshots will be performing.
The Rat Beach Party set for September 27 & 28 (Sat & Sunday) you get all the info on their Facebook page new bands are being added.
And the Gizmos are playing in Memphis at The Gonerfest on September 27th
Here's a special show on Monday Sept 29th - at The Midway - with the "Surreal Adults" (so are we sure they aren't SurREAL kids????), Richie Parson, The Swindlers and The Connection.
And for The Midway early evening show (4PM doors) this Saturday October 4th - Kenne Highland and Eddie Flowers are at it again with The Rockabilly Yobs (mems of The Gizmos/Afrika Korps), Didn't Planet, Wasted Luck (from Germany) and The New Frustrations
Saturday October 4th O'Brien's has a really good ...and long and early starting show with 3PM doors: DRAGO, The FU's, Black Cheers, Silver Screams, Quiggs and Little Richards ...you can read our write up on the Quiggs and The Black Cheers here from when we saw them at The Midway in March.
October 5th - another amazing Sunday show at The Midway will bring us The Vibrators!!! also on the bill MOTO and The Skeleton Beats.
Friday October 10 is Night 2 for Crash Safely Benefit this one's at the Midway again...and there's a great line up with Petty Morals, Gymnasium, Tsunami of Sound and My Own Worst Enemy.
And O'Brien's got an awesome extended show (with 3PM doors) on October 4th with DRAGO, The FU's, Black Cheers, Silver Screams, Quiggs and Little Richards. THIS is one great bill!! You can read about the Quiggs and Black Cheers here, when we saw them at the Midway a while back.
over at Store 54 Bob Colby Presents The Beachcombovers and Mars on Friday October 10th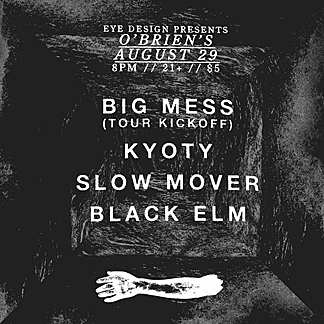 The Gizmos are in Brooklyn at Union Pool on Saturday October 11th this line up will be Kenne Highland, Eddie Flowers, & Ted Niemiec bringing the original 1976/77 Gizmos to NYC w/ assistance from Kenny Kaiser (Afrika Korps), MJ Quirk (Kenne Highland Clan), & Matt Burns (KH Clan) also on the bill: Lame Drivers, Milk Dick, & Liquor Store.
Also on October 11th an all day affair with the 9th Annual Hot Rod Fallout in Glastonbury CT - Bands & Continuous Music All Day
Vendors, Food, Booze, and more.....1963 & Older Traditional Styles Vehicles - Hot Rods, Customs, Stock, Race and Bikes
Monday October 13th there's a special show at Weirdo Records with Eddie Flowers and Kenne Highland , its the day after their Pipeline show at the Middle East Down. Pre Kenne'Eddie there's CTM opening the night around 8pm and Cryostasium middle things out around 8:30-8:45. If you know the album 'Vernietiging', you'll love the set. Triple guitar attack all coming out of tiny l'il amps. Keep in mind that this is a TINY place so if you want to see the sets best to get there earlier than later.

Friday October 17th is Night 3 of Crash Safely Benefit...this time its at the Middle East Up and wow, the line up again is killer with Township, White Dynomite, The Field Effect, Triple Thick and Animal Hospital!!
Also on Oct 17th at The Midway is Sasquatch and the Sick-A-Billys, Tigerman WOAH, Tail Light Rebellion, and The Radiator Rattlers
Saturday October 18th there's a insane bill at The Cantab with Kilslug, Hirudinea, Witch King and David Carradine
Ocrtober 25th we can see The Cranktones at The Midway again kids...it's WMFO's Easy Ed presents:- The Cranktones, Johnny Carlevale & The Rollin' Pins, plus Easy Ed's Record Hop!!! - great night!!!
The Damned are touring this Fall with TSOL. They are playing Halloween in NYC but playing Boston on Saturday October 25th at the Royale...tix here....
CONTACT US AT.......misslynbg@yahoo.com Send us your gig listings, your news and anything else ya got!!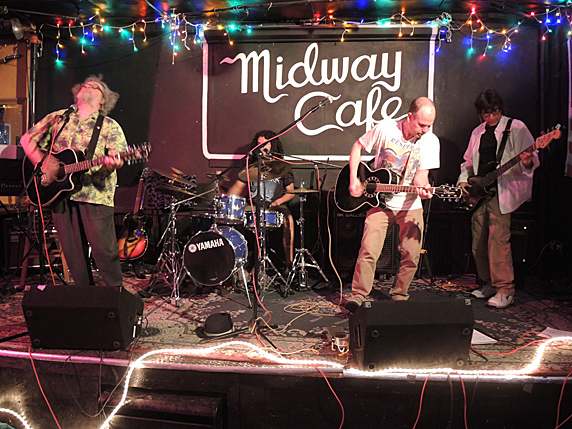 Mr Curt and his new band FUN ERA 50 at the Midway.8/19/14
Photo: Arthur Freedman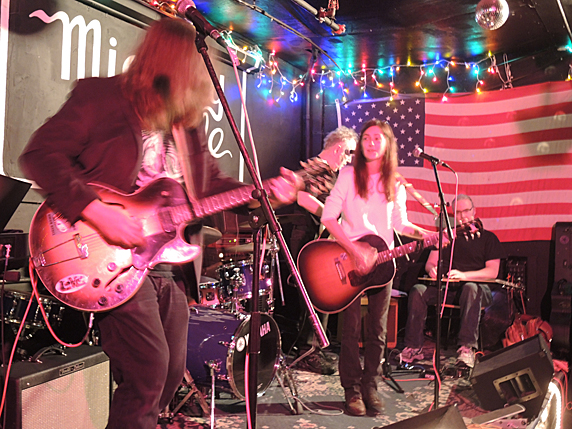 Natalie Flanagan at the Midway 8/19/14
Photo: Arthur Freedman