The BGN News Archive
August 29,2016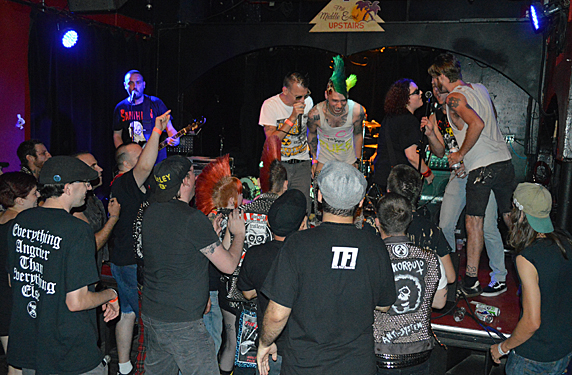 Blanks 77
Photo: Blowfish
We're trying to get out these weeks to beat the student influx. Tuesday at O'Brien's fit the bill.
I walked into a fun scene with Electric Octopus on stage. They were having a ball playing a punky number that had some ska in it. That might have The Happy Song posted here.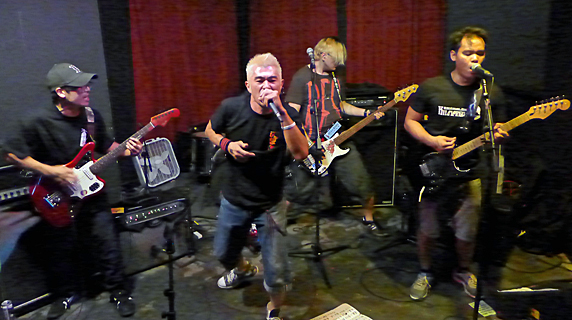 Electric Octopus
Photo: Blowfish
The lyrics are in Japanese and on their Facebook page they label their music J-Punk. My problem was that it was their last song so I didn't get a full picture of what they do. They're based in Cambridge and have been on bills all summer but we've missed them. Going clubbing begets more clubbing. Now, I'll have to check out a full set by them soon.

Electric Octopus and their fun lovin' fans made the whole night a fun one, as Suburban Samurai from Burlington, VT started to play Electric Octopus and fans where right up front and cheering them on.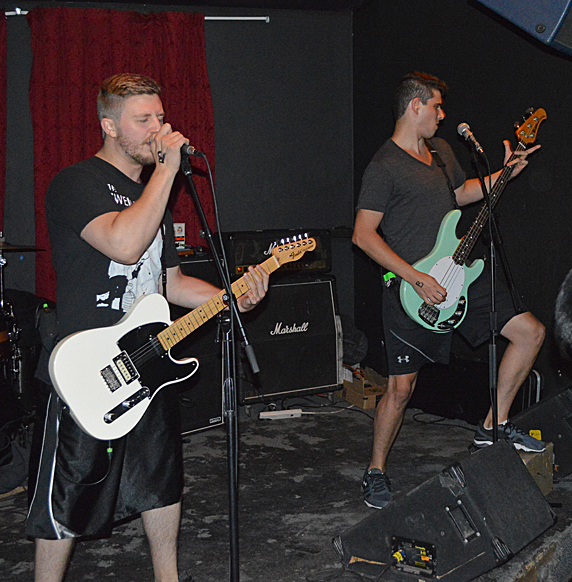 Suburban Samurai
Photo: Blowfish

Suburban Samurai had such a raw attack I thought they were hardcore for half a song but they actually are a pop punk emo hybrid. They describe themselves as melodic pop punk. The hard edge and the emo-ish vocals are the characteristics that stand out. They play with precision, giving their songs some punctuating accents that break up the wall of sound. Over the course of the set I grew to really like them. At the end I wanted more. This is another band I'll have to go out to see again.


Video of Suburban Samurai

During the set the guys from Electric Octopus where going crazy and actually did a Circle pit around the pillar in the middle of the floor. You can see that in the video we have to the right. There were only 25 people in the club but Suburban Samurai said for them this was a good gig.
You can hear their power on the Suburban Samurai Bandcamp page

The party atmosphere continued during In The Meantime's set. They're a punk pop group too. They played well but no song connected with me. Up next was Losers Circle that has members who used to be in Refuse Resist. I've seen them before so I made it a short night.

Pop Allston is an alternative multipurpose space (let's call it) on Brighton Ave that the city has used to promote local start up and small businesses and art events. It's closing after this year's Allston Awesome Christmas - check out the listing below. We think it's been an overwhelming success; an idea that worked. We featured an arty flea market and the Allston Christmas Block Party there.

Friday they had some WMBR jocks spinning and three groups playing. There wasn't a ton of people but enough to make it a good night. It is a nice change of pace to see music in a non-club environment.
From MBR we had Mully, Jeff Breeze and Galen Mook playing some not obvious songs before Today Junior took the stage.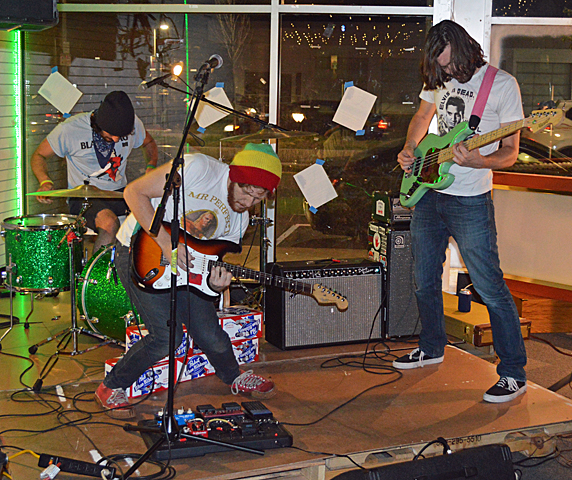 Today Junior
Photo: Blowfish
The news with them is that they have a new bass player. With only a few rehearsals he was a bit tentative but he never hit a bum note that I could hear on the very complicated runs of chords that signal a Today Junior song. The PA was distorting a bit. Maybe not the best set up for the group, despite that, the playing and singing was as intriguing as ever. The PA didn't diminish the drums. Mike had a smile on his face the whole time playing his busy style. Brother Harry on guitar and vocals roamed off the stage a few times too.
| | |
| --- | --- |
| Today Junior | Today Junior |
The Lala Lalas are from Chicago. They started with some strong vocal harmonies and then into some punky indie rock. I didn't stay long because I had plans for Saturday afternoon.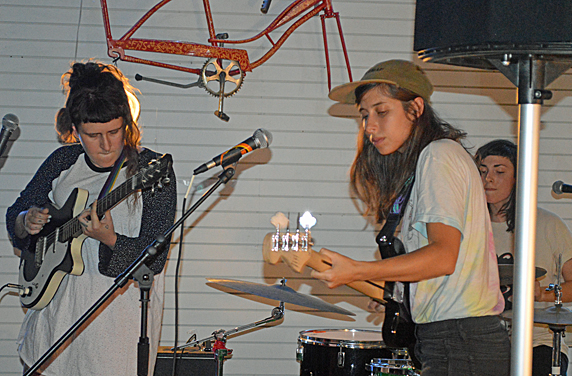 The Lala Lalas
Photo: Blowfish
Saturday afternoon there was the punk show at the ME with headliners Blanks 77. There were six bands and we tried to time it so we could see a few bands and especially Blanks 77. But by the time we arrived there were only two bands left to go. The ME made the first band start at 12:15. WTF!
Luckily Slimedog from Thrash 'n Bang was there from the beginning and he is giving us an idea of the early part of the night: DestrOI who is one of my favorite bands, played a short set first playing Oi music with punk energy, Mooseknuckle next- a great, fun, anarchy loving band that's a mix of hardcore, Oi and punk. Followed by The Murder, a band that hadn't played for five years, doing a rock'n'roll/punk style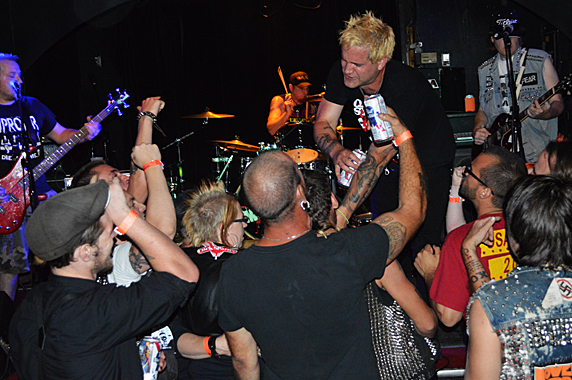 The Parasitix
Photo: Blowfish
We came in on The Parasitix a bare boned old school style punk. There was a lot of "fuck this" and "fuck that' and mentions of alcohol. The club was half full with a crush of spiky jackets and mohawks in the front. This warmed out punk hearts.
Their last song was "So What" by the Anti-Nowhere League. (We heard the League do it at the ME…wild night). That really got the crowd going. The audience knew the songs and there were crowd sing alongs on almost every song.
"So What" along with "Alcohol Withdrawal" are on their Bandcamp page.…and it's a free download!! They have a suitable song for these politically centric days called "Pogo on a Politician".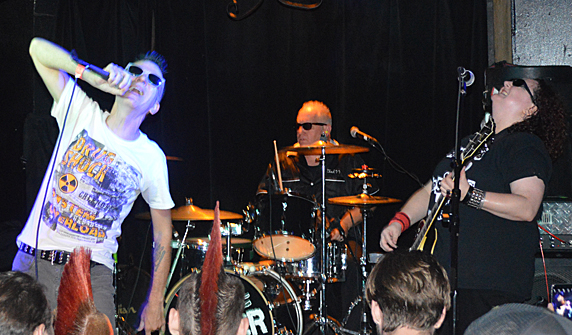 Blanks 77
Photo: Blowfish
Blanks 77 drove 6 hours from New Jersey to get to the gig and they were determined to give us a good show. Word was that the club wanted them to do a half hour set but they did a 45 minute one. It was all high energy causing lots of sweat on stage and off. They play old school punk. The Mike Blank's singing reminded us of Johnny Rotten with the sneers and even the accent intact. The band was cranking out the basics.
There was so many 'fucks' in the lyrics that it became almost comical, but it seemed right too. Their song "Just Another" makes the point that they don't want to be "just another fuck". Those 'fucks' give the songs the anger they need. One of their new songs had a point where it said "hey you" and it made us wonder: "are they mellowing'?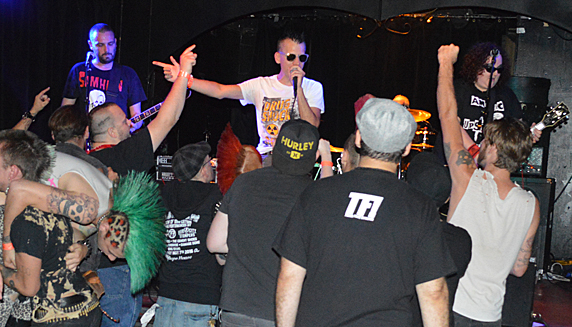 Blanks 77
Photo: Blowfish
There was lots of pogo action. You don't see that at all anymore so this again warmed our punk hearts to the warmest!! This crowd takes the song I Wanna Be A Punk seriously!! They covered the Dead Boy's "Sonic Reducer" Yeah!!! A very welcome long punk set.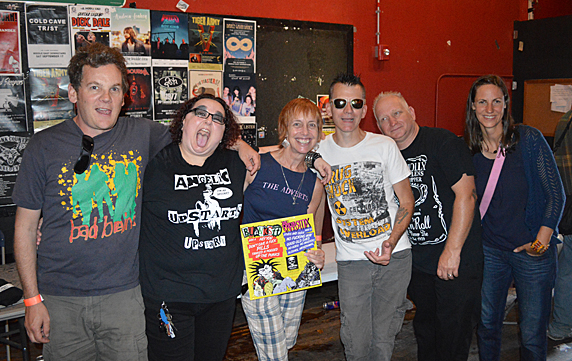 Tom,Renee Wasted, Joanie, Mike Blank, Chad 77 and Victoria
Photo: Blowfish
Blanks 77 was staying at former Spitzz/Showcase Showdown-ers Victoria and Tom ….who brought their three kids, donned with protective earphones.
Showcase Showdown did a split EP Drunk At The Karaoke Bar with Blanks 77 back in 1997.
This bill was put together by Viv'd who's done similar shows these last few years…Turns out Slimedog is the one who actually urged her to start booking shows. Now Viv is working with other women in the scene to get them booking gigs and promoting shows. We like that idea! She also talked about how the roles for women in the scene are changing (About time huh???) and she sees more girls in the pit slamming and thrashing than ever before. Our conversation also ran to how to get more diversity on the scene....that's an on going discussion for sure.
Slimedog also gave us the word that this year's Thrash 'n Bang Christmas Party will be on December 10 at the home base – Midway Café.
In other news.....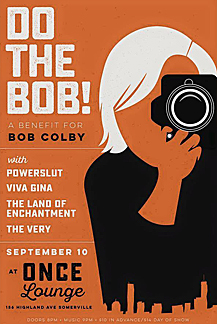 BOB COLBY!!!! He's given so much to the scene over the years, lots of love & devotion, time, money and more...it is time for us to give back to Bob and help him with his move to the south. There's a Benefit for Bob Colby coming up on Saturday Sept 10 at Once featuring PowerSlut, Viva Gina, The Land of Enchantment, & The Very. See you all there!!!! (FB & Tix link below)

Hey YAY!! We get another Rock'n'Roll Trivia Night thanks to Erin Amar of Rockerzine - she and Brett Milano will be hosting Rockerzine's Rock n' Roll Trivia Night at Zuzu on Sunday Sept. 18 8:30-10:30PM.

Check out this great podcast from Little Records.com called Bands That Could Be God with hours of Boston music. (And read the blog too - very good!) You'll "hear from bands who won the Rumble and regularly prowled the stages of the Rat, the Channel, the In-Square Men's Bar, TT's, and Middle East. We'll check out some of the more interesting local artists who released records on Boston labels like Ace of Hearts, Taang!, Modern Method, Arf! Arf!, Harriet, Rykodisc, Propeller, and the awesomely named Throbbing Lobster Records. We'll scour the pages of Boston Rock, Forced Exposure, Conflict, and Suburban Voice for the fiercest noise from Boston's past."

We send out a huge congrats to WTBS/WBCN's Oedipus who has just been inducted into the Massachusetts Broadcasters Hall of Fame
From the story in the Boston Globe!!

We are thrilled to hear that Johnny Wendell Angel is writing a second book!! If it's anything like Looking for Lady Dee we really can't wait!! To refresh your memory ...or if you haven't purchased your own copy read this great write up. And go to Amazon or here at CreateSpace and buy it!! Then you'll be waiting with bated breath for the next book too!! This one is a novel but it looks to be a memoir of sorts as well.




There are a million punk songs, this is just one.


I've Got My Friends was a 1996 compilation that alternated Boston bands with San Francisco bands. Ken Casey helped to put it together. Al Quint does some liner notes. Boston bands are Dropkick Murphys, Outlets, Showcase Showdown, The Freeze, The Ducky Boys The Unseen , and All Systems Stop.
This song Boston Bands is done by Bastard Squad. In it they rail on the horrible bands that make out of towners hate Boston Bands and that makes them pissed. They name Billy Squire, Letters from Cleo, J Geils, Til Tuesday, NKOTB, New Edition, the Cars and the John Butcher Axis.
In the catchy chorus they conclude, "No wonder they hate us. Everyone hates us - Boston Bands, Boston Bands".
It reminds me of the early days when we were defined as much by the music we hated as the music we liked.


Bastard Squad
"Boston Bands"
And hey!! The BGN is on the radio!! DJ and Emcee Brian Young will be reading some of the gig listings from this page on his WMFO show Crash Course for the Ravers. It's on Saturdays from 1 to 4 pm and the later shows are archived. He's always got a bunch of good guests on the show too!
Here's some good shows coming up .....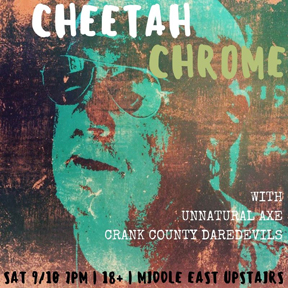 August 29 (Monday) Crushed Out, Messer Chups (who are from Russia), and the Trabants are at Charlie's Kitchen
September 1 (Thursday) Thalia Zedek Band, Minibeast, Black Helicopter and Positive Negative Man at Great Scott - this is a record release show for the TZ band. FB page
September 3 (Saturday) REDDY TEDDY at The Rhumbline, 40 Railroad Ave., Gloucester, MA.....3 sets in an intimate setting and the fun with special guest. Starts at 9:00 PM.
September 8 (Thursday) Nancy Neon presents Paul Edward Yu, Mike Morrissey, The FACC-Tones and The Downtowners featuring Jeff Kabot of The Venusians and The Superkools and Matt Burns of Black Souls and The Hopelessly Obscure at the Cantab down.
September 9 (Friday) Worshipper, Zip-Tie Handcuffs and The Devil's Twins are at ONCE
September 9 (Friday) The Black Cheers, See This World, Problems With Dragons and The Dead Simple are at The Midway
September 9 & 10 (Friday & Saturday) There's Allston Awesome Christmas a three day festival of music in Allston. The main event is a block party at Pop Allston 89 Brighton Ave 12Noon til 8PM with The Blake Babies, Doped Up Dollies, Weakened Friends and Dutch Rebelle and its FREE you just have to RSVP at Do617 (HERE!) Also go there for a list of bands playing at O'Brien's and Great Scott on Friday and Saturday nights.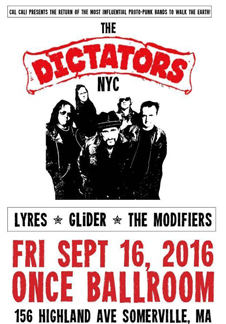 September 9 & 10 (Friday & Saturday) Road Trip!!! The People Who Brought You Upstart Punk Rock Radio, Upstart Fest and Upstart Magazine are at it again! It's The Upstart Antisocial Campout with Svetlanas, Cheetah Chrome and 30 PUNK other bands over the 2 days!! it's at Blackthorne Resort in East Durham NY.....check out the FB page for the list of bands and info for reservations etc....
September 10 (Saturday) Cheetah Chrome , Unnatural Axe and Crank County Daredevils are at The Middle East Up
September 10 (Saturday) PowerSlut, Viva Gina, The Land of Enchantment, & The Very are at ONCE Lounge This is now a Benefit for Bob Colby!! FB page Buy tix here
September 10 (Saturday) Second Annual Coberfest w/ Happy The Clown + Cryostasium & Thor Maillet at The Lily Pad in Inman Square. FB page
September 11 (Sunday) Somerville Rock + Roll Yard Sale will be in Union Square Somerville 11AM- 6PM Here's the FB page for info on vendors etc
September 14 (Wednesday) FREE Roy Sludge Trio outside at the Rockin' the River show at The Cambridge side Galleria Mall...at the Canal Park area. 5:30-7:30PM COol!!
September 16 (Friday) Cal Cali is bringing the Dictators to Boston!! YAY! Line up: The Dictators, Lyres, Glider and The Modifiers at Once The Stigmatics have just been added to the line up! Here's the FB page. and TICKETS!!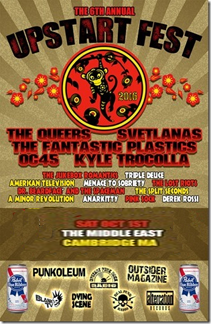 September 17 (Saturday) The Cranktones are doing an early evening show at Atwood's Tavern starting at 4PM Facebook page.
September 17 (Saturday) The Swindlers CD Release Party with Centerlink, The Swindlers, The Low Babies and Billy Dodge Moody at The Midway
September 17 (Saturday) Dot Wiggin of The Shaggs will meet fans and sign CDs and albums at Newbury Comics' Harvard Square location. More info on Pitchfork
September 17 (Saturday) Huntingtons, Mongorellis, 138, and Profit Margin are at Koto in Salem.
September 18 (Sunday) Rockerzine's Rock n' Roll Trivia Night with Erin & Brett at Zuzu. Check the FB page for upcoming details!!
September 18 (Sunday) Another Sunday Night Mess Around at The Plough
September 22 (Thursday) Highway Chapel at The Cantab Club Boho!
September 22 (Thursday) Yes on 4 Benefit Show with The Martians, You Scoundrel, Aneurysm, Whoopi Sticks and Limited Freedom at O'Brien's starts at 7Pm
September 27 (Tuesday) Buzzcocks at the Royale ...they played this very room back in 1980! And we were there then too!
September 29 (Thursday) Barrence Whitfield & The Savages and Diablogato are at ONCE Ballroom
September 29 (Thursday) through October 1 (Sunday) The "Rat" Beach Party in Hull. Check it out on Facebook for bands and times etc
October 1 (Saturday) 6th Annual Upstart Fest Featuring: The Queers, Svetlanas, The Fantastic Plastics, OC45, Kyle Trocolla - at the Middle East Up...whew!! That's gonna be a killer show. We saw the Svetlanas at the 2013 Upstart Fest and they were great!! NOTE: this is an EARLY shows doors are at 4PM. FB page
October 3 (Monday) Bob Colby Presents: Mr Airplane Man and The Land of Enchantment at ONCE Lounge - He will present occasional shows at this venue now...These shows are taking place as part of ONCE's "Taco Monday" series, which means two things: 1) You can have some great food beforehand (starting at 5). 2) The shows have *no cover*, but donations to performers are encouraged (no set amount, whatever you can do). Look for the big silver bucket, every dollar that goes in there goes to the artists!
October 7 (Friday) State Of The Union, Watts, Pop Gun, and The Knock Ups are at Koto in Salem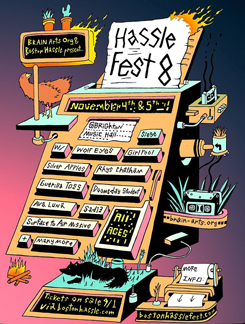 October 8 (Saturday) for those of you who were Ska fans- An Evening with Dancin' Randy's Ska Punk Time Machine at Great Scott
October 14 (Friday) The Time Beings, The Black Souls, Craig Bell (of Rocket From The Tombs/Mirrors/X__X) and Shiny Beasts - this is a show not to be missed!! At the Midway!
October 15 (Saturday) The Stigmatics (Randall Gibson's new band) will be on the Crash Course for the Ravers with Brian Young on WMFO 91.5FM 1-4PM.
October 15 (Saturday) Idiot Genes, Duck & Cover, Chanticlear and Jack Widows are at O'Brien's
October 15 (Saturday) The Upper Crust, Hickoids, The Grannies & Devil On Horseback at Once
October 21, 22 & 23 (Fri., Sat & Sun) The Boston Rock Opera presents Hair at Once Ballroom.
October 21 Friday) Fuzbrains Presents: The Time Beings, Glider and If We Go At All at Ralph's Rock Diner in Worcester!
October 28 (Friday) The Vooduo, (from CA), The Crimson Ghosts, The Skeleton Beats & The Outsiders are at Koto in Salem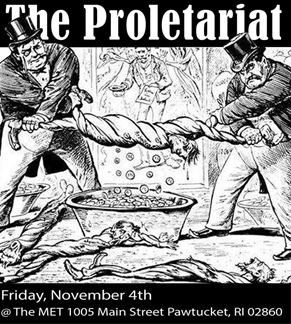 November 3 (Thursday) The Proletariat are at Once: "After a 33 year hiatus, legendary Boston punk rock band The Proletariat has decided to reunite for a few select shows . Original members Richard Brown, Peter Bevilacqua and Tom McKnight will be joined by guitarist Dan Sanders(from the Providence band Idle Rich) and will reunite for a series of shows in Fall 16. The reunion comes on the heels of the vinyl rerelease of the bands groundbreaking debut "Soma Holiday" on SS Records." Tickets!! Friday 11/4 they are in Pawtucket at The Met.
November 3 (Thursday)Wolfman And The Brimstone Boys, The Evil Streaks, The Devil's Twins and Damnation are at Opus Underground in Salem #8 brings together several broad ranging underground legends - Silver Apples, Wolf Eyes, Rhys Chatham, and Massachusetts' own, Siege - with mysterious contemporary underground delights such as Girlpool, Guerrilla Toss, Willis Earl Beale, Ava Luna, Doomsday Student, Sad13, Macula Dog, IAN Sweet and many more!!!!
November 9 (Wednesday) Illegally Blind and League Podcast Present: Shonen Knife, Shepherdess, and Birthing Hips at the Middle East Up
November 10 (Thursday) The Sonics will be at Fete Music Hall 103 Dike St, Providence, Rhode Island 02909 - Here's the FB page
CONTACT US AT....misslynbgn@yahoo.com - Send us your gig listings, your news and anything else ya got!!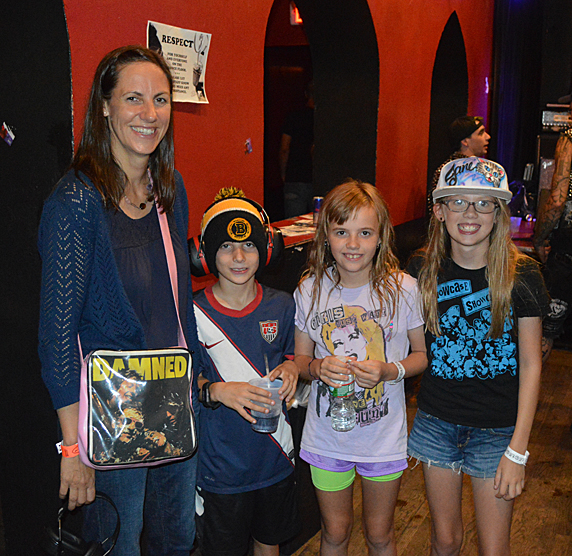 Victoria and children
Photo: Blowfish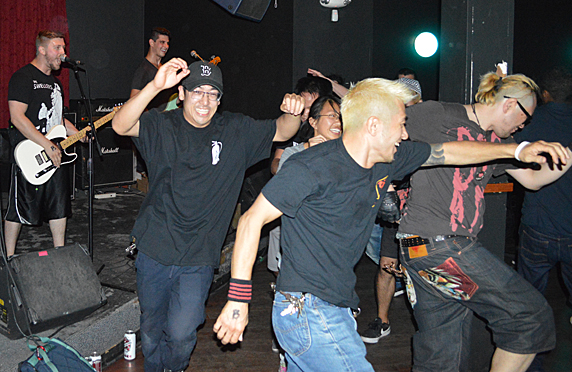 Suburban Samurai
Photo: Blowfish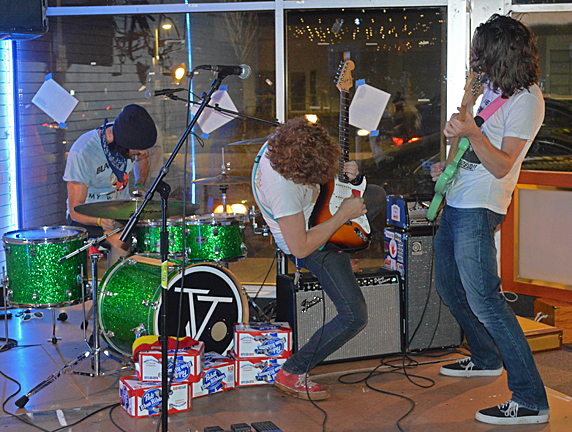 Today Junior
Photo: Blowfish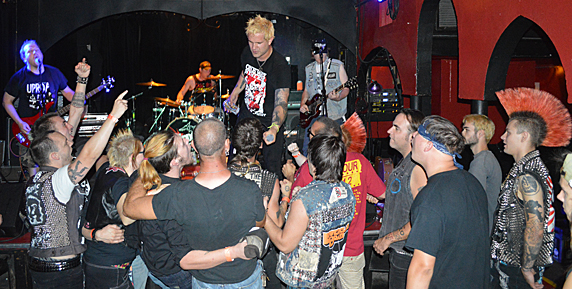 Parasitix
Photo: Blowfish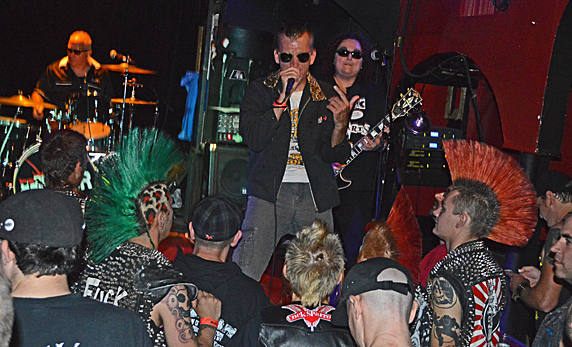 Blanks 77
Photo: Blowfish