The BGN News Archive
September 5,2016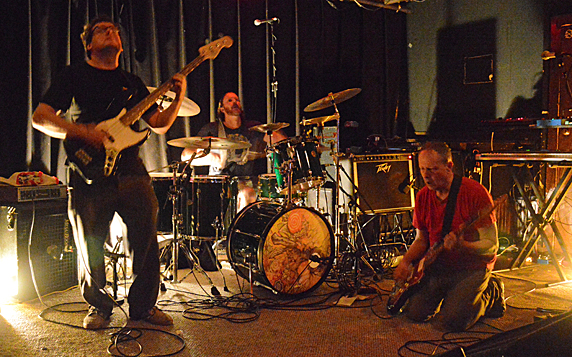 Minibeast
Photo: Blowfish
The Thalia Zedek Band was having their EVE CD release party at Great Scott's on Thursday. The bill also had Minibeast and Black Helicopter so Blowfish was sold on that line up! The club filled up without being crowded...but not with college students as you would expect just because it was September but, as Richie Parsons said on Facebook, parents of college students.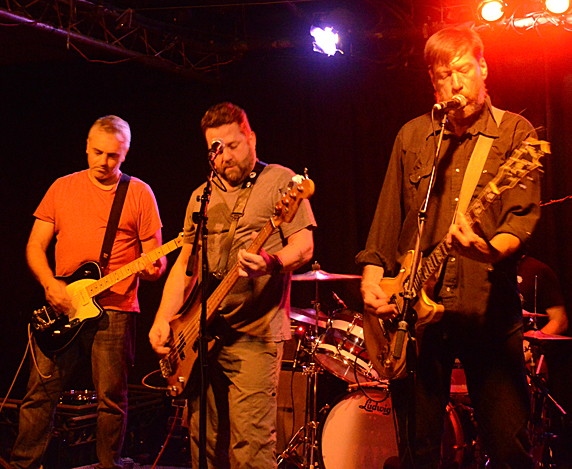 Black Helicopter
Photo: Blowfish
I missed the openers but caught Black Helicopter who I've been dying to see. I've liked the songs I've heard on the radio for a long time now. They turned out to be hard hitting on stage. They have a creative two guitar attack. One guitar was doubling the bass line and also hitting open strings. The other guitarist did some alternate lines on the high strings and also hit open strings. The reinforced bottom end with the ringing upper strings gives a full sound with lots of depth. It's a little dissonant and at times they reinforce that more for effect.
The songwriting as a whole makes sure the overall sound has drama which makes for an interesting set. Half way through they played a new song that will be on their new EP that dropped the open string approach and just played full bar chords and that was one of the best songs of the set. The next song did the same thing before they went back to their signature sound. At that point they played even more intense and ended the set with the energy level way up. It took me a long time to catch them but they did not disappoint.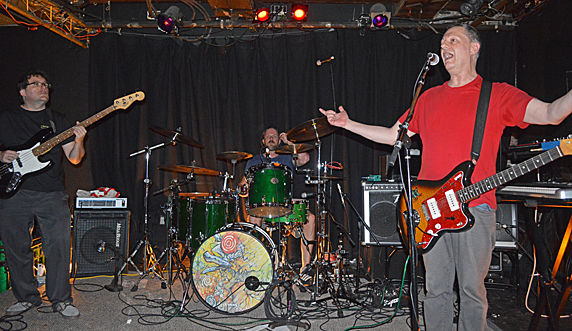 Minibeast
Photo: Blowfish
We've seen Minibeast a twice, both times at Once in the big room and upstairs in the lounge. The last time they were over the top impressive. It would be interesting to see if they could live up to that last intimate show. The good news is that there's a buzz about the group and many people at the show were there to check them out. It turned out that they got a loud response from the audience. This is so inspiring because they are not a cookie cutter group. They are playing in an experimental sound collage style that is challenging.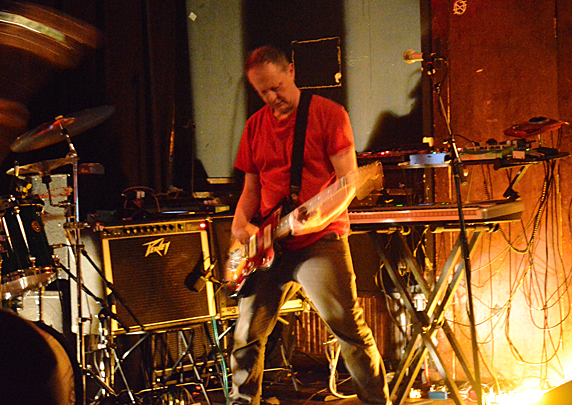 Minibeast
Photo: Blowfish
I was again knocked out by the bass and drums. Individually they are exceptional players but together they are EPIC. Richie Parsons said they reminded him of the Mahavishnu Orchestra and I thought the same. It has a thundering mechanistic feeling that evokes fate or inevitability. Matt Graber, the drummer of Endation is the only other drummer I would compare to this drummer. They build the menacing wave and Peter Prescott does his thing on top. He has a few keyboards that trigger samples and he puts an endless loop on his vocals to create soundscapes. He also is the visual center with some oversized hand gestures. Prescott will let the rhythm section do their thing with hitting that repetitive groove and then finally giving relief with a slash of guitar crunch. It makes you feel good to see a group taking chances and going over so well like this.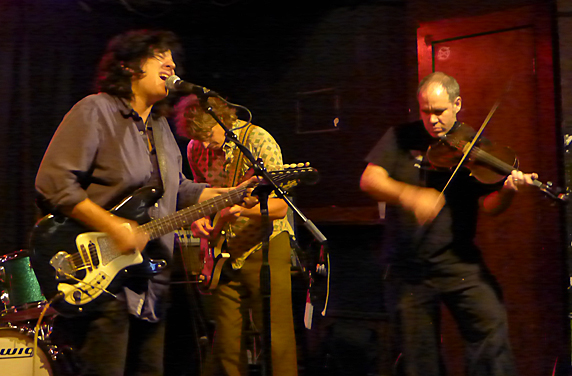 Thalia Zedek
Photo: Blowfish
Zedek's new CD is getting the attention you would think and also from Richie Parsons who heard it early and has already added one of her song to his next song cycle. Thalia has a long history with Dangerous Birds, Uzi, Live Skull, Come and now her solo career since 2001. She also has side projects. We've seen her often and it's always memorable.
After the early years of dissonance she's settled into more conventional sounds and song structures for her solo material. But it hasn't changed is the depth of feeling she puts into the music. Minibeast challenges you sonically Thalia challenges you emotionally. She's playing music for thinking grownups. We like to think that's us.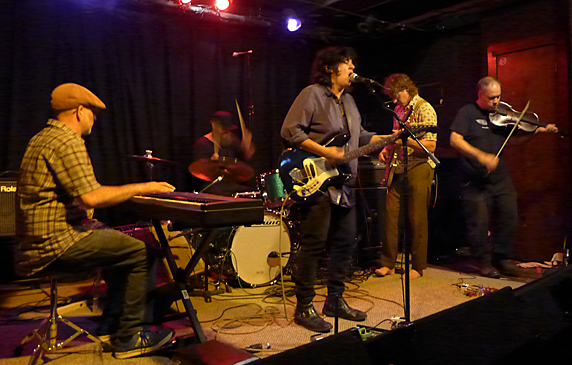 Thalia Zedek
Photo: Blowfish
She had her familiar line up with keyboard and viola added to bass and drums. She plays a Hagstrom guitar that has a distinctive sound if you are tuned into that. Hilken Mancini helped to sing the first song "Afloat" as she does on the CD. The group shifts the dynamics but it's never about blasting it out, it's about delivering the songs. There's always some instrumental fills to focus on even as you are drawn back to Thalia's voice. For an encore they did a change up and played a song with just the guitar and that was a highlight. The song "You Will Wake" is on the CD and is a highlight there too. "All I Need" from the CD hit me hard and that turned out to be the song Parsons is covering. The audience stayed even though it was 1:30 before it was over. This was an excellent bill that lived up to its promise.
Starlabfest
Photo: Blowfish
Saturday was an all-day outside festival near Union Square called Starlabfest. Starlab is a recording studio in Union Square. They do this to get attention we assume and this is the seventh one! How did six of these get by us? There were over 15 groups on two stages. It was mostly local bands but some out of towners like the So So Glows. We hit it around 2 pm by the time we were leaving there was a line a people to get it. It was in large parking lot. They had plenty of things for sale and some bar-b-que to eat.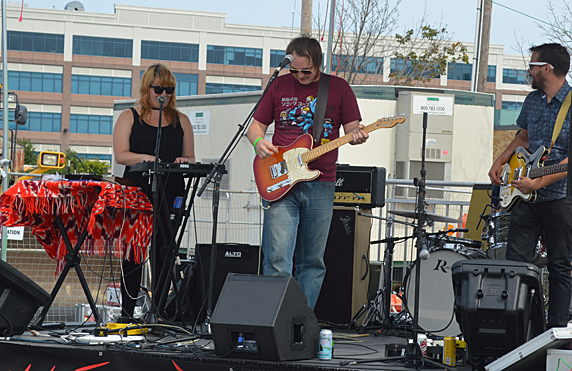 Adam PC
Photo: Blowfish
We caught the first band of the day Adam PC. They were indie pop and very good for what they did. They had a nice guitar crunch and the bass player had some ear catching runs.
The outside is never great for sound but it sounded good enough.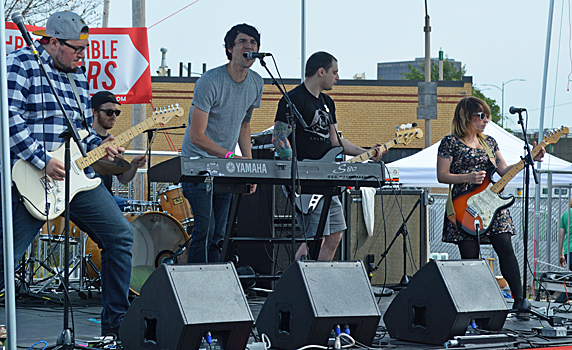 Save Ends
Photo: Blowfish
Save Ends had the indie sound with emo vocals. It was enjoyable enough in this environment. Here's their Bandcamp page.
They had a comedian for a change of pace. We actually saw Sam Ike at a gig in Davis Square a few years ago. We were laughing.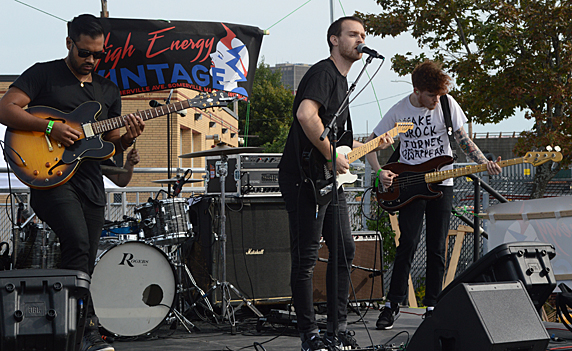 Animal Flag
Photo: Blowfish
Animal Flag had a little more edge than the previous two groups. They got louder also.
We could have stayed longer but there were no must see groups. It was a pleasant way to spend time on a nice day.
In other news.....
This is first song we've heard from The Runouts (They include Andrew from The Digs and formally from The Dead Nuns.) "Feculent Creatures" is punk. Right off the bat we had to look up 'feculent'. The rest of the songs are similar. They sound like they would be good live too. We'll be on the lookout!!!

WMFO's On The Town with Mikey Dee show It's weds 9PM--midnight. Here are some upcoming shows: sept 7 The Salem Wolves live / guest george woods....9/14 Charlie Farran live / guest Bruno from the Boston Swindles ....9/21 What Time is it Mr Fox live...9/28 Violet Nox live....10/5 M 8 live
More news from WMFO this time on Crash Course for the Ravers on Saturday 1-4 pm. They will have two phone interviews before Pop Gun performs on "Crash Course" Saturday. First it's "Handsome Dick" Manitoba from The Dictators then another call from Cheetah Chrome of Dead Boys.
New movie about Morphine...."Journey Of Dreams" Documentary with Mark Shuman and Dana Colley. www.morphinemovie.com
And hey!! The BGN is on the radio!! DJ and Emcee Brian Young will be reading some of the gig listings from this page on his WMFO show Crash Course for the Ravers. It's on Saturdays from 1 to 4 pm and the later shows are archived. He's always got a bunch of good guests on the show too!



There are a million punk songs, this is just one.


One of the highlights of early punk was hearing all the new songs coming out on singles. Being there and aware as those Buzzcocks singles came out one by one - what a joy. A lot of the singles were one-offs; the groups never to be heard of again.
That's the case with Standing Still by The Table. They did have the song Sex Cells after but that didn't get much attention. Talk about breaking the mold, for a while they had no instruments!
The song is subtitled Classics Illustrated. The lyrics mention monsters, thus videos of the song have all monster mags in them.
I always loved it because of the reverse dance craze idea of it. It's the negative answer song to Do The Strand by Roxy Music.
We Bostonians always get critasized for not dancing much (guilty) thus I took this song as a joke answer to the accusers.


The Table
"Do the Standing Still"
Here's some good shows coming up .....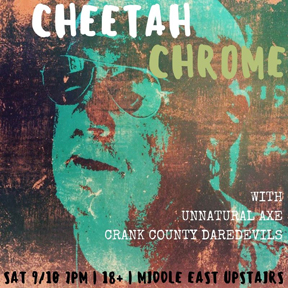 September 6 (Tuesday) Chez-Po - a brilliant and very cool idea!! Join John Powhida and Friends for The First Installment of Chez-Po, a FREE series at The Lizard Lounge. Joining J-Po will be the talented humans that inhabit the departments and environment known as The MFA...Darcy Kuronen Musical instruments Curator will perform as well as Jonathan Bach and Landry Mbenza from Visitor services and Stephen Buckman from Protective Services,.. Music, live painting and drawing from Matthew Zappala and jeffrey ellse .......artists will have works for sale.
September 8 (Thursday) Nancy Neon presents Paul Edward Yu, Mike Morrissey, The FACC-Tones and The Downtowners featuring Jeff Kabot of The Venusians and The Superkools and Matt Burns of Black Souls and The Hopelessly Obscure at the Cantab down.
September 9 (Friday) Worshipper, Zip-Tie Handcuffs and The Devil's Twins are at ONCE
September 9 (Friday) The Black Cheers, See This World, Problems With Dragons and The Dead Simple are at The Midway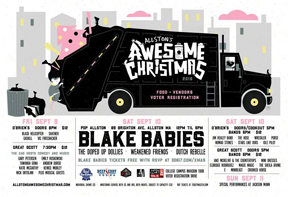 September 9 & 10 (Friday & Saturday) There's Allston Awesome Christmas a three day festival of music in Allston. The main event is a block party at Pop Allston 89 Brighton Ave 12Noon til 8PM with The Blake Babies, Doped Up Dollies, Weakened Friends and Dutch Rebelle and its FREE you just have to RSVP at Do617 (HERE!) Also go there for a list of bands playing at O'Brien's and Great Scott on Friday and Saturday nights.
September 9 & 10 (Friday & Saturday) Road Trip!!! The People Who Brought You Upstart Punk Rock Radio, Upstart Fest and Upstart Magazine are at it again! It's The Upstart Antisocial Campout with Svetlanas, Cheetah Chrome and 30 PUNK other bands over the 2 days!! it's at Blackthorne Resort in East Durham NY.....check out the FB page for the list of bands and info for reservations etc....
September 10 (Saturday) Cheetah Chrome , Unnatural Axe and Crank County Daredevils are at The Middle East Up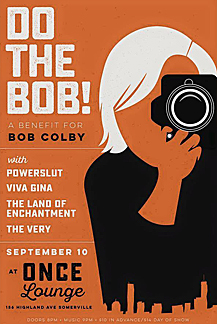 September 10 (Saturday) PowerSlut, Viva Gina, The Land of Enchantment, & The Very are at ONCE Lounge This is now a Benefit for Bob Colby!! FB page BUy tix here
September 10 (Saturday) Second Annual Coberfest w/ Happy The Clown + Cryostasium & Thor Maillet at The Lily Pad in Inman Square. FB page
September 11 (Sunday) Somerville Rock + Roll Yard Sale will be in Union Square Somerville 11AM- 6PM Here's the FB page for info on vendors etc
And further out......
September 14 (Wednesday) FREE Roy Sludge Trio outside at the Rockin' the River show at The Cambridge side Galleria Mall...at the Canal Park area. 5:30-7:30PM COol!!
September 16 (Friday) Cal Cali is bringing the Dictators to Boston!! YAY! Line up: The Dictators, Lyres, Glider and The Modifiers at Once The Stigmatics have just been added to the line up! Here's the FB page. and TICKETS!!
September 17 (Saturday) The Cranktones are doing an early evening show at Atwood's Tavern starting at 4PM Facebook page.
September 17 (Saturday) The Swindlers CD Release Party with Centerlink, The Swindlers, The Low Babies and Billy Dodge Moody at The Midway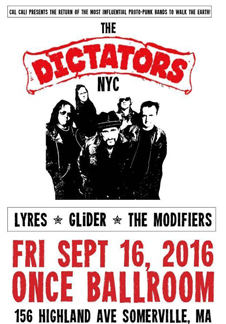 September 17 (Saturday) Dot Wiggin of The Shaggs will meet fans and sign CDs and albums at Newbury Comics' Harvard Square location. More info on Pitchfork
September 17 (Saturday) Huntingtons, Mongorellis, 138, and Profit Margin are at Koto in Salem.
September 18 (Sunday) Rockerzine's Rock n' Roll Trivia Night with Erin & Brett at Zuzu. Check the FB page for upcoming details!!
September 18 (Sunday) Another Sunday Night Mess Around at The Plough
September 22 - 24 (Thurs- Saturday) Fitz Fest II – organized by Fitz Ross, a Boston-based video production and show promotion company – will hold shows at three different venues and feature performances from bands like Funeral Advantage, Black Beach, Saccharine and Rye Pines. the shows will be at Great Scott, O'Brien's and the Middle East Upstairs. For list of all bands each night and where check out Allston Pudding.
September 22 (Thursday) Highway Chapel at The Cantab Club Boho!
September 22 (Thursday) Yes on 4 Benefit Show with The Martians, You Scoundrel, Aneurysm, Whoopi Sticks and Limited Freedom at O'Brien's starts at 7Pm
September 23 (Friday) Morgan Delt, Doug Tuttle, Mass Gothic and Beach Toys at the Middle East Upstairs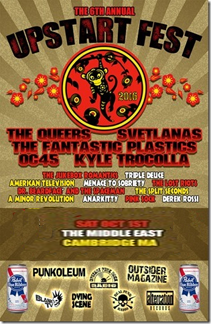 September 24 (Saturday) Boston Dyke March Punk Benefit with Knock Ups, Gravel, C.E. Skidmore and Yooth Decay See more info on their FB page
September 27 (Tuesday) Buzzcocks at the Royale ...they played this very room back in 1980! And we were there then too!
September 29 (Thursday) Barrence Whitfield & The Savages and Diablogato are at ONCE Ballroom
September 29 (Thursday) through October 1 (Sunday) The "Rat" Beach Party in Hull. Check it out on Facebook for bands and times etc
September 30 (Friday) The Barbazons are putting a stop to the band for an indefinite period..to celebrate they are having a final show. Also on the bill Ravi Shavi (gotta see these guys!!) along with Earthquake Party and Bong Wish its at the Middle East Upstairs FB page
October 1 (Saturday) 6th Annual Upstart Fest Featuring: The Queers, Svetlanas, The Fantastic Plastics, OC45, Kyle Trocolla - at the Middle East Up...whew!! That's gonna be a killer show. We saw the Svetlanas at the 2013 Upstart Fest and they were great!! NOTE: this is an EARLY shows doors are at 4PM. FB page
October 2 (Sunday) All Ages MAtinee Show with The Big Sway, Oh The Humanity, Gant, Spillers, Crow Feeder - $10 *NOTE: 1 PM Doors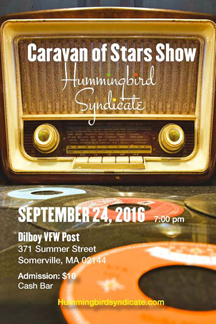 October 3 (Monday) Bob Colby Presents: Mr Airplane Man and The Land of Enchantment at ONCE Lounge - He will present occasional shows at this venue now...These shows are taking place as part of ONCE's "Taco Monday" series, which means two things: 1) You can have some great food beforehand (starting at 5). 2) The shows have *no cover*, but donations to performers are encouraged (no set amount, whatever you can do). Look for the big silver bucket, every dollar that goes in there goes to the artists!
October 7 (Friday) State Of The Union, Watts, Pop Gun, and The Knock Ups are at Koto in Salem
October 8 (Saturday) for those of you who were Ska fans- An Evening with Dancin' Randy's Ska Punk Time Machine at Great Scott
October 14 (Friday) The Time Beings, The Black Souls, Craig Bell (of Rocket From The Tombs/Mirrors/X__X) and Shiny Beasts - this is a show not to be missed!! At the Midway!
October 15 (Saturday) The Stigmatics (Randall Gibson's new band) will be on the Crash Course for the Ravers with Brian Young on WMFO 91.5FM 1-4PM.
October 15 (Saturday) Idiot Genes, Duck & Cover, Chanticlear and Jack Widows are at O'Brien's
October 15 (Saturday) The Upper Crust, Hickoids, The Grannies & Devil On Horseback at Once
October 21, 22 & 23 (Fri., Sat & Sun) The Boston Rock Opera presents Hair at Once Ballroom.
October 21 Friday) Fuzbrains Presents: The Time Beings, The Hopelessly Obscure, Glider and If We Go At All at Ralph's Rock Diner in Worcester!
October 28 (Friday) The Vooduo, (from CA), The Crimson Ghosts, The Skeleton Beats & The Outsiders are at Koto in Salem
November 3 (Thursday) The Proletariat are at Once: "After a 33 year hiatus, legendary Boston punk rock band The Proletariat has decided to reunite for a few select shows . Original members Richard Brown, Peter Bevilacqua and Tom McKnight will be joined by guitarist Dan Sanders(from the Providence band Idle Rich) and will reunite for a series of shows in Fall 16. The reunion comes on the heels of the vinyl rerelease of the bands groundbreaking debut "Soma Holiday" on SS Records." Tickets!! Friday 11/4 they are in Pawtucket at The Met.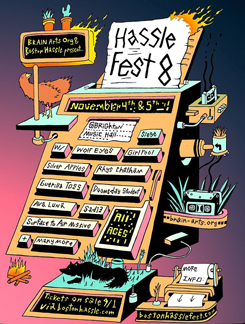 November 3 (Thursday)Wolfman And The Brimstone Boys, The Evil Streaks, The Devil's Twins and Damnation are at Opus Underground in Salem #8 brings together several broad ranging underground legends - Silver Apples, Wolf Eyes, Rhys Chatham, and Massachusetts' own, Siege - with mysterious contemporary underground delights such as Girlpool, Guerrilla Toss, Willis Earl Beale, Ava Luna, Doomsday Student, Sad13, Macula Dog, IAN Sweet and many more!!!!
November 9 (Wednesday) Illegally Blind and League Podcast Present: Shonen Knife, Shepherdess, and Birthing Hips at the Middle East Up
November 10 (Thursday) The Sonics will be at Fete Music Hall 103 Dike St, Providence, Rhode Island 02909 - Here's the FB page
December 10 (Saturday) Thrash'n'Bang Christmas Party at the Midway
CONTACT US AT....misslynbgn@yahoo.com - Send us your gig listings, your news and anything else ya got!!
Thalia Zedek
Photo: Blowfish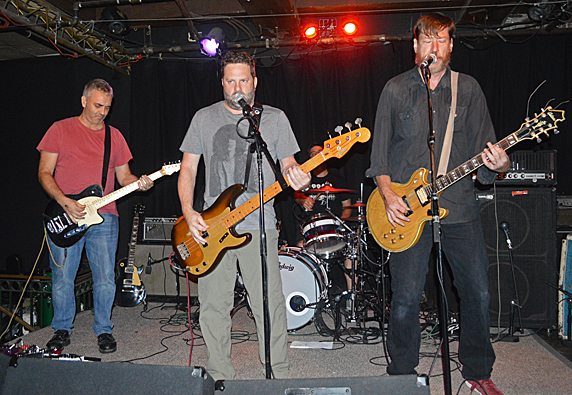 Black Helicopter
Photo: Blowfish