The BGN News Archive
September 14, 2015
The Cry at the Out of the Blue Too Gallery

The Cry Sunday Sept 6:
The Cry were scheduled to play PA's but the show got moved to the new Out of the Blue Too space in Central Square. Why? Something was awry at PA's but we don't know exactly what. Even then it was a long wait for they got to play. The band was hanging outside and then over at the Middle East. Popoholics Eric Law, Vinny Bratty and Brian Mosher were outside and waiting also. We saw The Cry at Great Scott's on a pop bill with Kurt Baker and The Connection. It was the first time we saw all three groups and it was a very memorable night.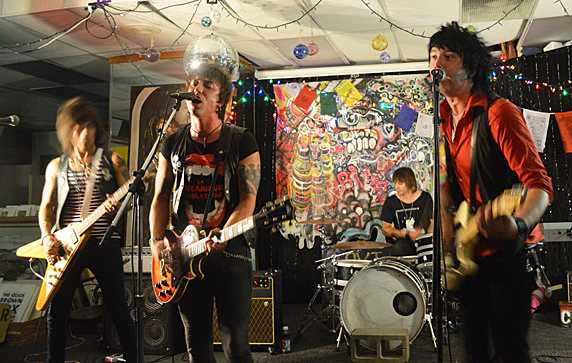 The Cry

When The Cry finally started up it was all worth it. It was an immediate explosion of delicious pop. They seem like they are plugging into a huge excitement source because everything they play is imbibed with that extra indefinable thing that raises the music from ordinary to magic. It's not just something that happens; you can tell they work at this despite their air of punky irresponsibility. Three of the members have changed since that Great Scott's gig and that means they were able to find three more musicians that can play and sing at the level required for this band, proof that they know exactly what it takes to get the sound they make.
The guitars crunch and the vocals, which are two and three part harmonies, are in tune 100% of the time even though there is one small monitor and the PA system is small. These guys are young but they've assimilated a lot of pop influences. You can hear Beach Boys, the Sweet, sixties and seventies pop as well as 50's pop. Add to that the energy of punk and that's one powerful brew.
Listen to anything they do on Reverbnation. Here's a video where they play Louie Louie with the original Kingsmen's guitarist Mike Mitchell.
Allston Christmas Block Party, Monday, Labor Day:
Allston's reputation as Rock City is increasing every year. The Brighton Music Hall (in Allston) seemed to me to be a tipping point. Music is now cropping up in non-club places like Ringer Playground last year. Now on Sunday Do617 had their Allston Christmas Block Party in the back of Pop Allston store on Brighton Ave. The rear parking lot was equipped with a stage, a DJ truck, a food truck (Foxies Cheese Sandwiches) and lots of sweating people. It was way hot and most people stood in the shady spots around the edges. I was there around 2 pm and the crowd was not big but I saw photos of the 5 pm crowd and it seemed like it was full.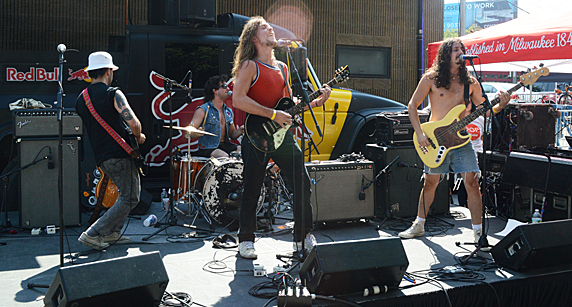 Dirty Fences at the Allston Chrismas Block Party

I was in time to see Dirty Fences from NYC who actually played the Middle East the night before as I was seeing The Cry. Dirty Fences play early seventies rock. They sound like they look. But what you don't see is their playfulness and their catchy songwriting. On stage they have lots of energy and the drummer is throwing out funny comments all the time. The guitarists do synchronized hair flinging now and then and that's funny. I found a lot to like during the set. Repeated listening to the songs are sure to hook you. Here's their Bandcamp page
Do617 is a part of DoStuff a national outfit that has similar websites in 15 other cities. They're working on getting a high profile in town.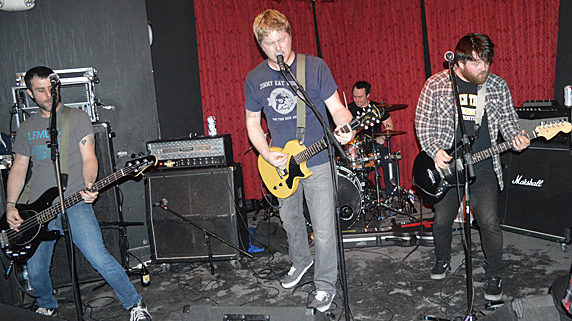 Offseason at O'Briens

POP PUNK at O'Brien's on Thursday:
I've been looking for bookings of Offseason for a while but the drummer started a family and the group hasn't had gigs in a while. Thursday they showed up in a nice pop/punk bill at O'Briens. All three groups I saw were loud and fast.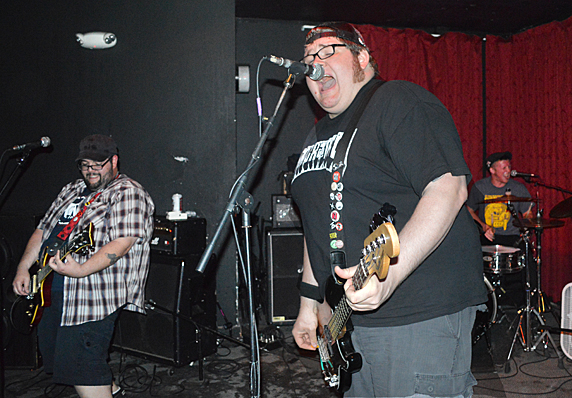 Loser's Circle

Loser's Circle (ex-members of Refuse Resist) had all three people singing. Matt the drummer had a snare sound you couldn't ignore. It was clear and cut through everything. He was a busy player, as well as every other drummer that night. I talked to him a bit later and he told me about getting that snare. He's someone who works on getting just the right equipment. I love players who are into the details like that. Here's their song Black and Blue on Bandcamp.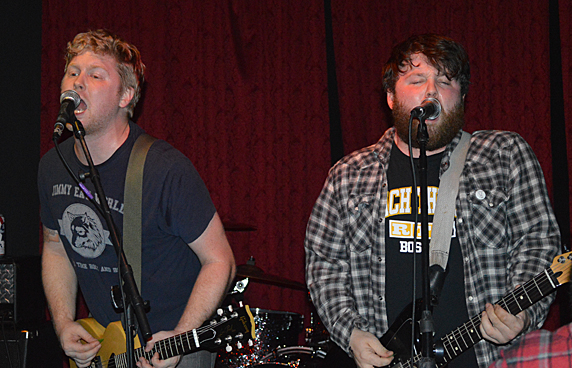 Offseason

Offseason were sounding good, although it would be hard to beat that set at TT's a while ago. Their songs are much more than three chord rockers with tempo changes, and heavy on the confessional lyrics. They ended with my favorite song Living the Dream with the chorus "I just don't want to get old this year". They had the most people listening, still only about 35. It was a slow night with the Patriots season debut going on.
Then I talked to Joey Barron of the now defunct Drunk Nuns. He's getting new material lined up for his next project. He's an unforgettable front man that would do some crazy stunt every show. Once he sang a new song whose lyrics were word for word from a Craigslist ad and he opened his phone up and read straight from the phone. That was a laugh. Another time he wrote on his stomach "This machine kills pizza".
Joe introduced me to the people from Boston Scene Party and Bishop and Rook who are putting on shows and promoting the local scene. Nice people doing the work at street level, never easy. We all benefit from the work they do. Just look at the clubs closing and think where we could end up if there weren't anything working in the opposite direction .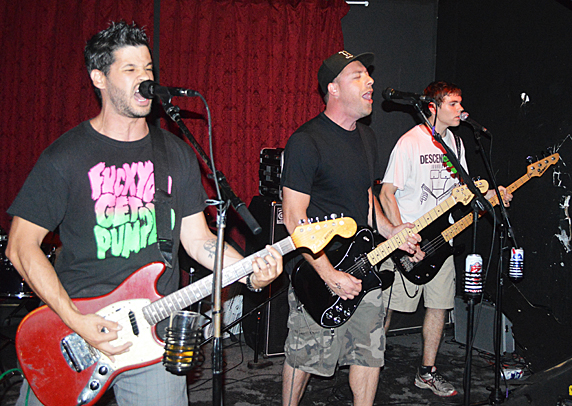 In the Meantime

The last group In the Meantime are from Peabody and they continued in the same vein of energetic pop punk strong on the vocals and drums. They threw in a Green Day cover and have a project where they might do the whole Dookie LP during the Halloween season.
More than any one group it was the whole night of similar bands supplying hours of pop punk that made it such a wonderful night. There should have been more people there!
LYRES Middle East Up, Saturday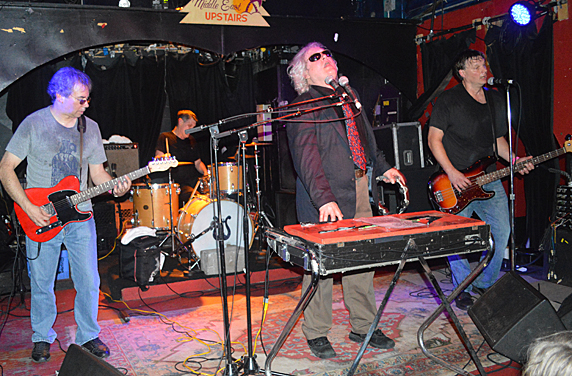 Lyres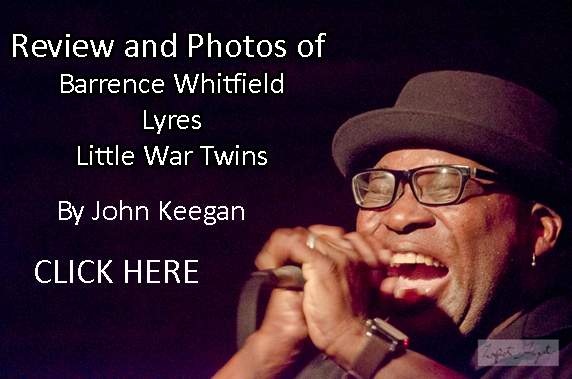 It was a busy Saturday in September with lots of music going on. The JP Music Fest was happening in the afternoon/evening with Upper Crust among others playing. The Lyres had an early show at the Middle East Up, they headlined at 9:15 and people took that clue to club hop over to the Brighton Music Hall and see Barrence Whitfield and the Savages after.
It's been a long time since we've seen the Lyres, I think the last time they played in town was the Standells gig. It was the same line up as that gig. Paul Murphy continues to grab my attention. He plays such classic fills. A lot of the songs begin with him and maybe some guitar. He sets the stage and when the bass and or organ join in it's a glorious feeling and if it's one of the old classics you get that rush.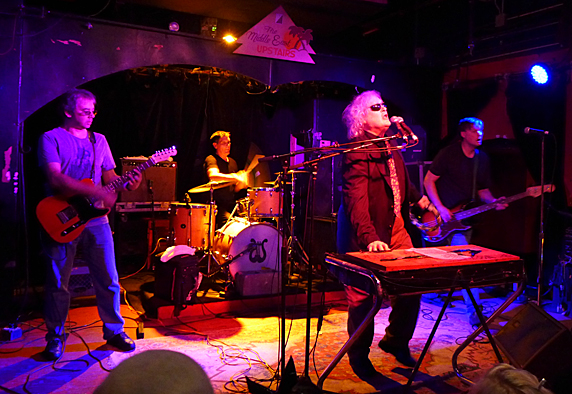 Lyres

There are groups out there trying to do what the Lyres do but there's no comparison. The Lyres have the whole thing down; the songs, the sound and the performance These days I recognize the obvious songs but there are a lot of newer songs too. At one point Jeff held down an organ chord for half a minute, no group - just one chord playing, and I was happy with that.
There were some problems with Jeff's organ and he apologized at the start of the set saying it was only working at about 50%. And it seemed to take a few songs for Jeff's voice to warm up and when it did he was yelling and screaming like crazy. He's still putting lots of energy into the performance. There is constant stage talk about how to start the next song, which they seem to do without any problem, but Jeff likes to talk to the guys about it. In the end maybe not the best Lyres show (Like this Rosebud gig or Church gig) but a good one.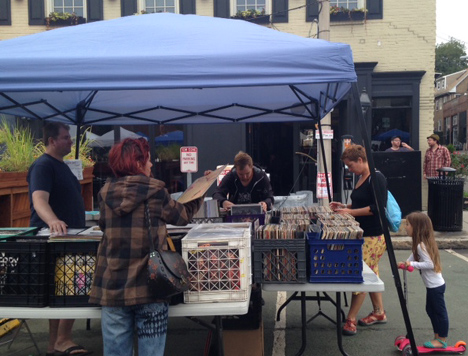 Somerville Rock 'N'Roll Yard Sale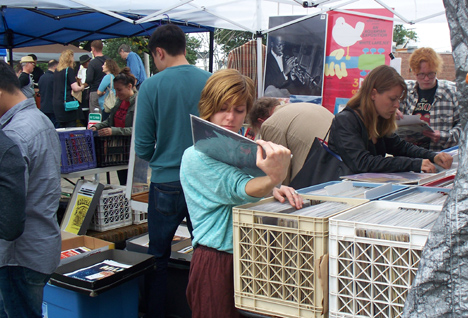 Women buying LP's

Miss Lyn headed out to the Somerville Rock 'N'Roll Yard Sale on Sunday afternoon.
The big surprise this year was the number of women I saw checking out and buying records. I have never noticed so many women being so engrossed with records!! That's so cool! Other than that there was the usual array of Artisans selling jewelry, used clothing, funky assorted vintage stuff and records records records of course! There was a poster vendor with some really nice quality posters many with local bands and themes. When I arrived there was a band called Hot Molasses playing that sounded a lot like the B-52s though something tell me they didn't mean to. I ran into Laura (from Bats In The Belfry on WMBR) with Kris Thompson (of Magic Shoppe and numerous other bands), Carl Biancucci bass player extraordinaire and Jan Collins and Simon Ritt. I also saw a lot of other familiar faces from the bands and clubs. The Rock'N'Roll Yard Sale is put on by What Cheer Records from Providence and we're glad they bring their yard sale concept to Somerville!



Carl Biancucci with a Sweet score





Chris and Laura





Women buying LP's

Here are some shows coming up this week....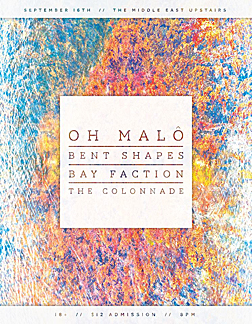 September 16 (Wednesday) Oh Malô, Bent Shapes, Bay Faction, The Colonnade are at the Middle East Up.
September 17 (Thursday) Controversy Films' Real Kids film All Kindsa Girls is being shown at The Regent Theater in Arlington tonight. You can get tix here (save $4!)
September 17 (Thursday) Sham 69 and The Welsh Boys are at Middle East up.
September 17 (Thursday) at The Oberon this should be an amazing experience: Endation has put together a special show "The Chimera" explores musical and artistic dichotomies. Act I features the raw, intense, melodic force of two-piece Endation accompanied by movement and dance. Act II brings the audience into the dreamy, experimental world of Bent Knee as visual artists create pieces inspired by the band in real time. The Chimera invites the audience to seek their own interpretations in the disparate pieces that form one singular evening of performance. Buy tix here. Get more info on the FB event page.
September 18 (Friday) Livver, Tenafly Vipers, Dead Cats Dead Rats and Profit Margin are at Koto in Salem, MA
September 18 (Friday) Mark Lind has his annual Boston's Burning shows lined up at The Midway Show #1 with The Blue Bloods, Energy, Taxi Driver, Iron Chin, the Damn Garrison!!
September 18 (Friday) The NEW Rosebud is having a 1 Year Birthday Party Luau starting at 6PM. Tsunami of Sound will be playing. Tix are way steep at $100 each but loads of stuff comes with them. Happy 1st Rosebud...we'd love to see more bands playing at your place!!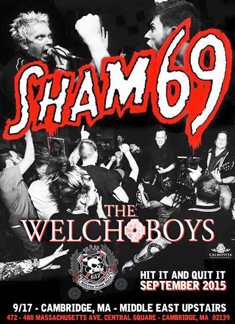 September 19 (Saturday) A Crash Course For The Ravers is featuring The Charms and Rick Barton! Lissen in on WMFO 95.1 from 1-4PM.
September 19 (Saturday) Mark Lind presents Boston's Burning– Show #3 with The Drax, Warning Shots, Duck & Cover, Warn the Duke. This is an Early Show at 4pm
September 19 (Saturday) Mark Lind presents Boston's Burning– Show #2 with Lenny Lashley, Jared Hart (of The Scandals), The Skeleton Beats, Live Nude Girls - This is a Night Show at 9pm
September 19 (Saturday) You can check out the Dorchester Quincy ROCKFest at the Wollaston Yacht Club and see The Richie Parsons Band, The Fathoms, Phill Reynolds and Martin / Morell...more info here.
September 19 (Saturday) The Real Kids and The Nervous Eaters are playing together in Beverly at The Spotlight Tavern. So far this show seems to have been a little under the radar. You might remember last November's gig that, unbeknownst to us (and Terry Brenner!) was canceled by the club's management. No one found out until a day or two before the show!! Everyone was pretty upset over it. The club has mended their bad ways and we are assured the show WILL go on this time. Here's the FB Event page.
September 19 (Saturday) Pop Gun along with Fireking, Classic Ruins and 138 are at Koto in Salem, MA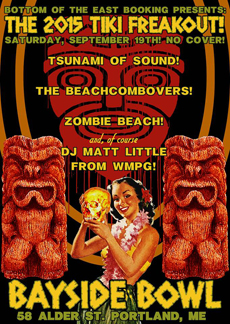 September 19 (Saturday) And even further up north it's Tiki Freakout 2015 at The Bayside Bowl with Tsunami of Sound, The Beachcombovers and Zombie Beach. Also DJ Matt Little from WMPG will be spinnin' platters between sets.
September 20 (Sunday) Mark Lind presents Boston's Burning– Show #4 with Cactus Attack, The Old Edison, time and place, Scrimmy And The Bingo Wings, and Bundles- This is an Early Show at 4pm
And some cool shows into the future....
September 25,26,27 The New England Shake-Up! Keep yourself updated at their FB page
September 25 (Friday) Illegally Blind Presents: Boogie Boy Metal Mouth (EP Release), The Televibes, Black Beach, Esh The Monolith, and Midriffs at The Middle East Up.
September 25 (Friday) At "The Greek's" (Greek American Social Construction Club) in Union Square Somerville are The Evil Streaks, The Black Souls, Silver Mirrors and The Electrolux Combo. Here's the FB page.
September 26 (Saturday) Continental (ft. Rick Barton), The Nervous Eaters, and The Charms are doing a Matinee show (doors at 1) at the Middle East Up.
September 26 (Saturday) Muck & The Mires are back from Japan and they party it up Sugar Blood Jinx and Hambone Skinny at Sally O'Brien's in Union Sq Somerville. FB page here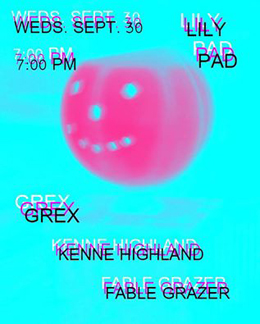 September 30 (Wednesday) Grex, Kenne Highland and Fable Grazer are at The Lily Pad in Inman Square Cambridge. 7-10PM All Ages. FB Event page here.
October 1 (Thursday) Trophy Lungs return to Boston after their triumphant tour of the midwest. Check 'em out at OBrien's
October 3 (Saturday) Fireking is having a Double Trouble VINYL Record release party at The Midway along with guests The Grip Weeds, Watts and John Powhida
October 4 (Sunday) at the Middle East Down: Chameleons Vox (UK) (The Chameleons from the old days continued) playing 'Script of the Bridge', Avoxblue, The Milling Gowns and DJ Matthew Griffin . Doors are a little early - at 7PM.
October 4 (Sunday) Television is together again and touring!! They are at The Wilbur Theater. Buy tix here.
October 4 (Sunday) it's a very special reunion of The Coachmen featuring Jerry Miller, Roy Sludge, and Johnny Sciascia at The Midway. FB page here
October 8-11 The Third Annual Rat Beach Party WILL happen - at the C Note on Nantasket Beach -- October 8th-11th. Check the FB page for updates.
October 11(Sunday) at The Midway: A Benefit in memory of Joe Rutledge with Worm, Spectacle, The Swindlers, Charlie Don't Surf, and Mailman Carl. This is an early show with doors at 4PM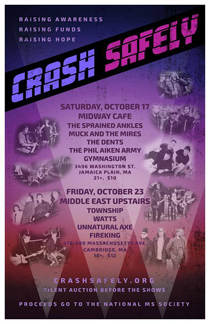 October 10 (Saturday) Patti Smith has a new book out called M Train.She will be reading from the book at the John Hancock Hall in the Back Bay Event Center downtown near Copley Sq. sponsored by the Harvard Bookstore, 7PM (doors at 6). It's $30 but that includes the book as well! For more info and to buy tix go here. Also.... The cable channel Showtime just bought the rights to do a TV series of Patti's book Just Kids!! I can't wait for that one! Read more here.
October 10 (Saturday) The Real Kids made a smart move to change the date they play at The Midway. Here they are on Oct 10 with The Johns.
October 11 (Sunday) The Rev. Joe Fagan has a new band; Highway Chapel and they will be performing at The C Note in Hull for an 8Pm evening show.
October 17 (Saturday) A Crash Course For The Ravers & Brian Young will feature Greg Allen's Fringe Religion! That's WMFO 95.1, 1-4PM
October 17 (Saturday) As part of Crash Safely 2015 a Benefit for MS at The Midway are The Sprained Ankles, The Dents, Muck & the Mires, Phil Aiken Army, Gymnasium
October 25 (Sunday) As part of Crash Safely 2015 A Benefit for the National MS Society the Middle East Up has Township, Watts, Unnatural Axe and Fireking - that's a GREAT show!!
October 25 (Sunday) - TRiPLE THiCK, Pat Todd & The Rankoutsiders (ex-Lazy Cowgirls), Thee Itchies and Hambone Skinny are at The Midway
October 31 (Saturday) a Halloween Show at the Midway with The Satanics, Devil On Horseback, The Drawstring Lamps as Dead Kennedys, Ian Cat & the Crimsons as My Bloody Valentine
CONTACT US AT…….misslynbgn@yahoo.com - Send us your gig listings, your news and anything else ya got!!
Jan and Simon

Funky stuff

Elvis stuff at Somervillie Yard Sale

Getting in the spirit at the Allston Christmas Block Party

Artie Sneiderman, Kenne Gizmo and John Keegan
outside Middle East at Lyres show

Selling Lyres Lps from the stage

In the Meantime

Kenne Gizmo and Joseph Sater