The BGN News Archive
September 14, 2020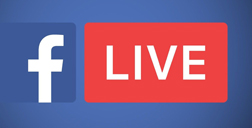 The biggest news this week is that Facebook will ban live stream music as of October 1. There are a lot of articles on this change, here's one on We Rave You. And on Magnetic Magazine. Really?? Bands and their fans are depending on these live streams since no one can play live in a club now, So numerous articles point to Instagram for live streaming and YouTube for videos. This will change the current landscape in a big way.
But you can relax...because NME's latest article clears up one very important statement: "A spokesperson for Facebook has now confirmed to NME that, although new guidelines will come into effect across the site in October, the music guidelines have been in place for some time and will not affect artists using the site to livestream gigs or share their music." Just don't play any covers!!
Ralph's in Worcester is having live outdoor shows....this coming Friday September 18 with The Knock Ups and Damnation. Here's the FB page.

Hilken Mancini's Punk Rock Aerobics got some nice publicity in the Boston Herald. Hilken has successfully transitioned her aerobics to online which makes it perfect for pandemic time. There's even a Punk Rock Aerobics for kids! Brilliant! Good job PRA!!!

The Shang Hi Los (Jen D'Angora, Lee Harrington, Chuck Ferreira and Dan Kopko) will be releasing their first single September 25 on Rum Bar Records (where else!?) . They will also debut the video during their part of the Smitt E Smitty's Virtual Video Atomic Fez Fundraiser for ONCE the next night on Sept 26.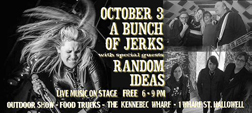 And another outside show - Head to Maine for A Bunch of Jerks…on Saturday, October 3. It's at the HydeOut At The Wharf (1 Wharf St. Hallowell, ME) from 6 -9 pm. Random Ideas is the other band on the bill. It's free and food trucks will be on site and plenty of space to dance and social distance yourself. Facebook page
There's a strong rumor that Rat Scabies will be joining the current version of The Damned since drummer Pinch has left. Did he and the Captain mend some bridges? That sure would be a huge attraction for the live shows. Rat said something hinting to it in an interview with Punktuation magazine website. You can read it here. and here's a longer interview with Rat on Punktuation.
And Captain Sensible's band the Sensible Gray Cells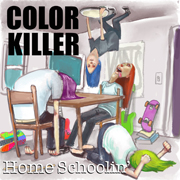 just released a new single & video "I Married a Monster" for their upcoming album Get Back Into the World coming out in November.
Color Killer will be releasing singles with videos every week or two until their upcoming album Home Schoolin' is complete. CD's will be available once all the singles are released for this album. As singles are added, they will be available for immediate download. Expected delivery is late November, early December 2020.continues their streak of recordings. This week's video is the title track and apropos of the times..."Home Schoolin"'
Bob Mould has another powerhouse single out. It's called "Siberian Butterfly" from the album Blue Hearts, out September 25th on Merge Records. Watch the video on YouTube. And the Blue Hearts site.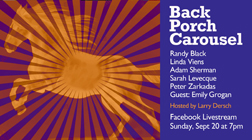 Back Porch Carousel bunch get together to raise money for worthy causes during this pandemic. On Sunday September 20 they are doing their thing for the ACLU. The regular crew is Adam Sherman, Randy Black, Linda Viens, Sarah Levecque and Larry Zarkadas. This show has guest Emily Grogan. Catch it on their Facebook page
The Boston Music Awards will be held online this year. Nominees are announced on September 25. Voting ends on November 1 and the Awards are announced on December 11. The story in Vanyaland The Boston Music Awards website
On the radio......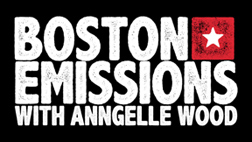 Anngelle Wood's Boston Emissions has started a list the Top 100 Boston Rock Songs of All Time. Well, that's a lot to take on. You have your choices? Go to the Facebook page to get your fave songs on the list. But she mentions songs from the last 20 years. Sorry, but some of the best songs came out WAY before that: Talk To Loretta, Mass Ave, Nyquil Stinger, All Kindsa Girls, Prettiest Girl......not sorry.
The latest Bay State Rock began with "Radio Heart" by Willie Loco, never a bad choice. Carmelita played a new song by The Winter Project called "Scars Above". It's a straight ahead rocker with an appealing sound. We had to listen to it a few times. Here's the video. The Winter Project is playing a live show to celebrate the release of the single with w FREE show at Reunion Tap and Table, 198 Worcester Street, Grafton, MA on Saturday, September 19 from 2:30 to 5:30. Reservations are highly recommended as seating is limited. FB event page.
Carmelita continued "Toy" by Underball, a late 90s band that made a bit of a splash then and seem even better now! Listen to the show here.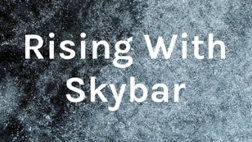 Skybar recorded another short show where he talks up some rock and roll memories of the scene. He tells a story about not being able to get into the Jim Jones show at Church in 2014 because his driver's license was expired. We feel very sorry for him because we were there and that was an amazing show! He also talked about his first time to see The Connection.
Skybar also mentioned that WMFO may broadcast prerecorded shows. He says that could happen soon. Yes please! That would be great! But...until that happens listen to Skybar on the AnchorFM site:
For A Crash Course For the Ravers show this week Brian Young played ONE CD: the new sampler from Otto Records that just happens to have Brian's band The Thigh Scrapers on it. He's on Saturday's from 1 to 4pm and Sundays from 6 to 9pm on the OutbreakDJ's site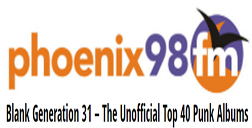 We came across an awesome show called Blank Generation with Steve Green on Phoenix radio 98 FM. The latest broadcast is "Do You Remember Punk Rock "n" Roll Radio?" 35 classic punk songs from 1976 – 1980.....all lined up for your listening pleasure. No commercials. The web interface is very simple, no bull, just click and listen. The song list is on the page. Definitely worth a listen!! Hear it here. There are also a ton of his previous shows, all worth a listen, on the page! Here's one featuring Rat Scabies.
Linda Bean Pardee of Chelsea Curve is starting a new project. She's going to have regular sessions in her garage - hence the name Garagecast. The first episode is a Billy Bragg song called "Accident Waiting to Happen" played by her and Tim Gillis. That can be seen here on Facebook.
Kids Like You And Me strike again. On their podcast they talk with Melanie Bernier of Boston Cream and the old Barbazons. Boston Cream was a creative unit and did a very impressive live show. Will we be able to see them again after this pandemic? Hear it here.
CDs/ Music.....
Muck and the Mires released a video for the song "She Blocked My Number" off the Take Me Back to Planet Earth EP. It's another English Invasion rocker that denies that there is a virus invasion going on now too. They work and transcend the mundane shutdown chores the rest of us do. They're going to rock their way to the other side. Check it out here.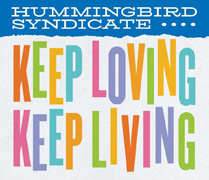 Last week Hummingbird Syndicate released a song and video of "We Want Love" that brought a 60s sensibility into the current political drama. That was a singular accomplishment. Now, they've posted their entire next album Keep Loving, Keep Living on Bandcamp. The recording is clear and balanced as all Hummingbird Syndicate/Macey projects are. There's some sweet pop and Americana amidst the twelve string 60's psych. One of our faves is "Seems To Me". It's a pitch perfect sunshine psych tune.
Then there's "Counting Lightning" which is a different beast altogether. This a a song that reflects a life time of living. Jon takes it slow and steady. The song doesn't build on dynamics as much as drama. It's the lyrics that work their way in to you in this slow burner. It's an epic, yet on a personal scale.
Coming up.....
Virtual/ Streaming.....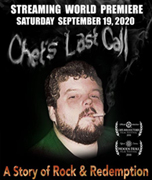 Saturday Sept 19, 7 PM – 9 PM Chet's Last Call doc streaming from The Regent Theater. Link.
Saturday Sept 19, 7 PM – 9 PM Live stream from Midway Cafe with Paper Tigers + more Link to live stream.
Saturday Sept 26, 8PM Virtual Atomic Fez Fundraiser for ONCE in Somerville (Read more in our interview with Smitt E. Smitty.) FB event page.
Saturday Sept 26, @ 12PM and September 27@ 10PM The Boston Local Music Festival on Facebook Live. Hosted by Midway Cafe, TinyOak Booking and Boston Local Music Festival and shot at various locations. Bands will include The Knock Ups, Linnea's Garden, When Particles Collide, Planet Mercury, Walter Sickert, OTP. Here's the Facebook page.
Live shows.....
Friday September 18, 8 PM - The Knock Ups and Damnation at Ralph's Rock Diner in Worcester. Here's the FB page.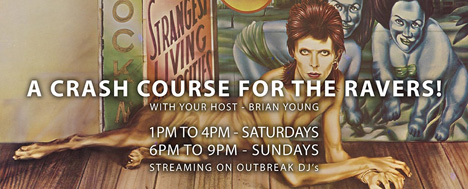 Saturday Sept 19, 7 PM – 9 PM Diablogato and Shore City at Dusk in Providence. All seated show must wear mask etc...read guidelines on FB page.
Saturday September 19, 2:30 to 5:30.- The Winter Project is playing a free live show to celebrate the release of the single at Reunion Tap and Table, 198 Worcester Street, Grafton, MA. Reservations are highly recommended as seating is limited. FB event page.
October 3 (Saturday) A Bunch of Jerks and Random Ideas at the HydeOut At The Wharf (1 Wharf St. Hallowell, ME) from 6 -9 pm. It's free and food trucks will be on site and plenty of space to dance and social distance yourself. Facebook page
October 28 (Wednesday) Einstürzende Neubauten - The Year of the Rat Tour - The Wilbur Theater Facebook Page
Thursday December 17 -7-9:30PM - Talkin' to Dracula and his Crew: Goth subculture and horror, a lecture - Miskatonic Institute of Horror Studies Brooklyn NY FB page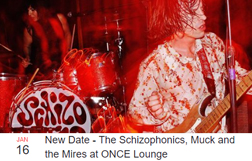 January 16, 2021 (Saturday) New Date - The Schizophonics, Muck and the Mires at ONCE Lounge Early Show: 5:30 PM – 8 PM
February 17, 2021 (Saturday) Rescheduled - Swans w/ Anna von Hausswolff at the Paradise
April 19, 2021 (Monday) Rescheduled - Dead Can Dance at The Wang Theater
April 29, 2021 (Thursday) Circle Jerks Plus Special Guests at the paradise (this is a reskedged show) FB page
CONTACT US AT....misslynbgn@yahoo.com Send us your gig listings, your anything else ya got!! You want your CD reviewed?? Contact us for that too.
---