The BGN News Archive
September 15, 2014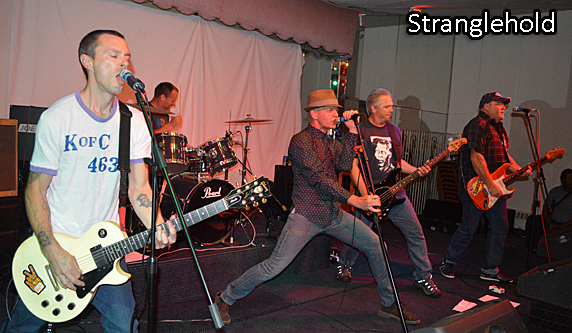 Sorry to be repetitive or maybe not, but I saw the Real Kids this week...ooops I mean Johnny and The Hartebreakers! This week Tsunami of Sound opened which I missed but then did catch a good set by Classic Ruins.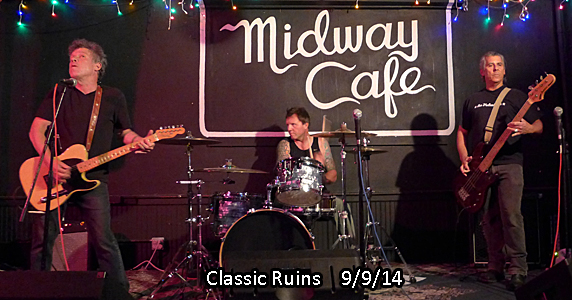 The Ruins playing was sharp and that's by all three. They did their usual songs and added I'm Just a Wimp a song done actually with the Baby's Arm line up in preparation for that reunion during the Pipeline! Anniversary shows. They added a cover of Highway 61 by Dylan with Frank blowing a whistle to reproduce that effect. Frank's wry humor punctuated the set like usual. He did some ribbing about the single they did for Ace of Hearts records with Rick Harte in the room. Rick was laughing.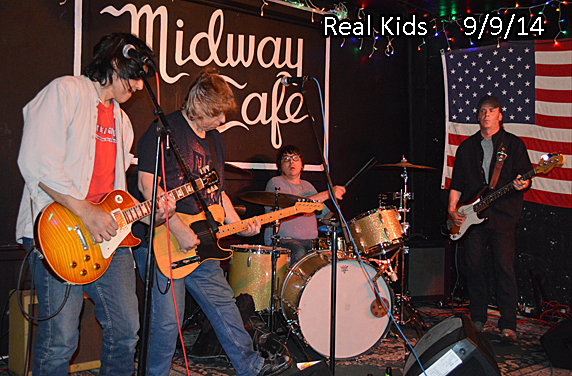 Then it's Real Kids time. They start with She Don't Take It from the new CD. Tonight they will play No Fun No More , Tell Me, That Girl Ain't Right ,Fly Into Mystery, All Night Boppin', Common at Noon (new version), and Shake Outta Control that are all off the CD. These songs stand beside all the great Real Kids songs. We get two songs with the 12 string that have been a highlight with me along with Baby Blue. They end with Reggae Reggae and even knowing from last week that it is a showpiece they rave it and rock it even harder and everyone in the room is energized. There is a small crowd but they do not stop whooping and yelling and the Kids continue on and do three encores now ending with All Kindsa Girls. This set was so good one forgot they didn't play it.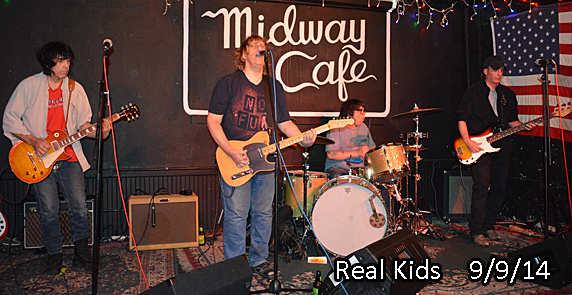 John was doing some good soloing. He plays with lots of bends and double stops. That's miles from most guitar wankery and was a relief from it back in the day and now still.
A lot of gigs I go to, even those I really like, have one common problem, there is no song that sticks in my head. In these Real Kids shows there's a whole set of memorable songs. Last week both the Dictators and Richie Parsons had all memorable songs as did Classic Ruins. That's just a lucky stretch.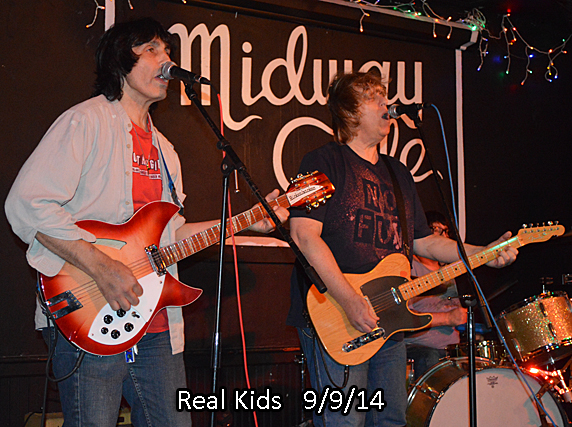 Seeing the group week after week is a different experience. It's like Monet's Haystacks. It's the same thing but different. Rather than an occasion it's a repetitive hearing over time. All very abstract maybe but that's the sort of things you start thinking of as the weeks go by. This continues to be a special chance to see a great Boston group and it's not over yet. Check the news.
Friday was another time to choose. Bob Mould was at the Paradise. Hawkwind was at ME up. The Legendary Shack Shakers were at ME down. Screwcart with Rico Petroleum and Mark Kennedy was premiering at the Beachcomber. In the end I opted for the first Pipeline! show #1 at the Regent Theater.
I saw the end of the set by Cordelia's Dad. It was nicely played Alt Country and straight rock. This is a western Mass group that I never knew about. They got a good reception.
Without much down time O Positive was up and playing. I had seen them at the TT's 40 Anniversary night (you can read about that here) and they were playing like they never had stopped and that's the way it was tonight. David Herlihy's voice sounded very distinct even more so than back in the day it seems to me. I wish every group could see the interaction between this band's three guitarist/keyboard players and they could see how to arrange their music. The three guitars never sound thick and heavy, just the opposite it's all light and airy. Rather than add volume they add interest. Sometimes the music just floats on the atmospheric bed but the drums and bass always keep it pinned down and give it body. Then they play one of their radio hits and you get that wave of recognition. It makes you think of all the Indy radio hits in the eighties and what a great era that was for songs. O Positive represents the best of those times.
After the set much of the audience left. It was getting late and many had been there since 7:30 pm. The last group Freeborne was a group from 1968 a time before most people in the audience were deep into the music. Not me though. I have a page dedicated to the era. The Bosstown Sound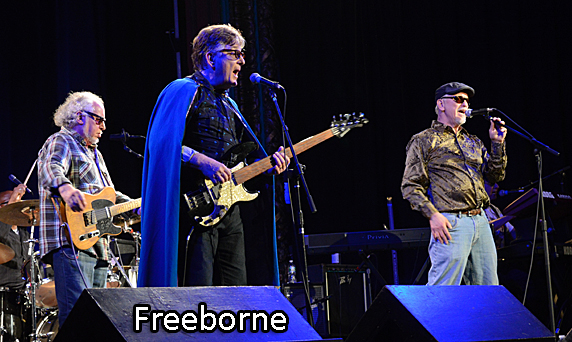 Freeborne are obscure even to the aficionados. They hadn't played together in 47 years. Having them play at all was surprising, to have them play so well was amazing. The sounds coming off the stage reminded me time and time again of shows at the Boston Tea Party. They still had the whole thing going except the psychedelic trappings, that seems to have be left behind. The first night of the Pipeline! was a rousing success.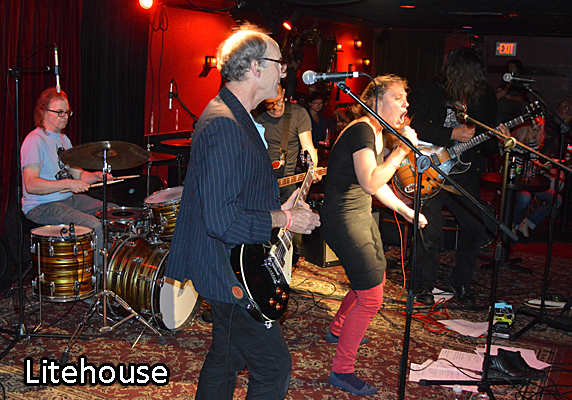 On Saturday longtime scene fixture and drummer Matt Burns had a lively Birthday Party at the Lizard Lounge. Matt has drummed for over a dozen bands since the band V (I think that's his first one.) and has been a heavy club and concert goer for decades. He was playing busy with lots of fills and details in his experienced easy style behind his current group Litehouse with the addition of Tony just as we saw them at Cantab but this time it was real loose and they had guest players.
They were doing all covers with Clara Wellons handling the vocals at first. No one I know can go from a light Baby, You're a Rich Man to scary powerful Search and Destroy like her.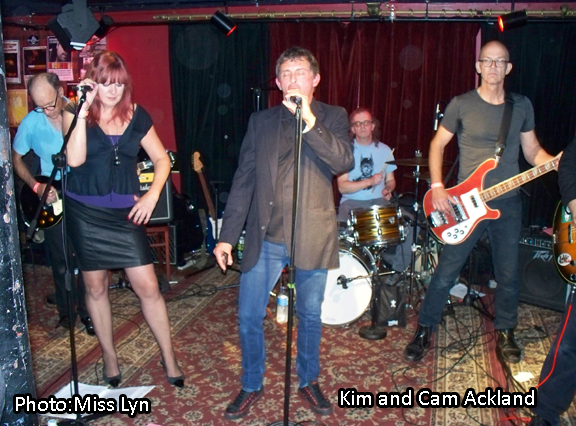 Later Cam Ackland did his thing which is rock garage style. Vocals that all sound like they should be recorded for posterity along with stage moves and antics that make a great show. Then Kim Ackland sang some songs! And wow, what a voice, a real clear Ronnie Spector timber came out. I never knew. We're missing something by not having her out and gigging. That's a talented couple!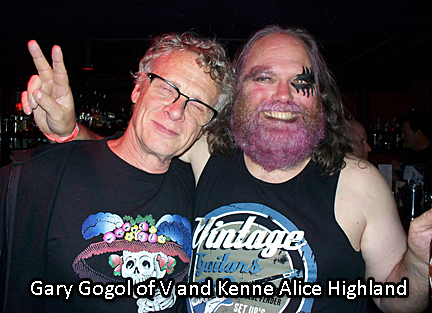 Kenne Highland sang Sweet Jane and then later did the Alice Highland Band thing covering Alice Cooper. That early Alice Cooper is rich material.
The Lizard Lounge is a comfortable club. It's a dark downstairs space that has a comfy vibe. We wanted to stay but that damned Pipeline! Anniversary will not stop.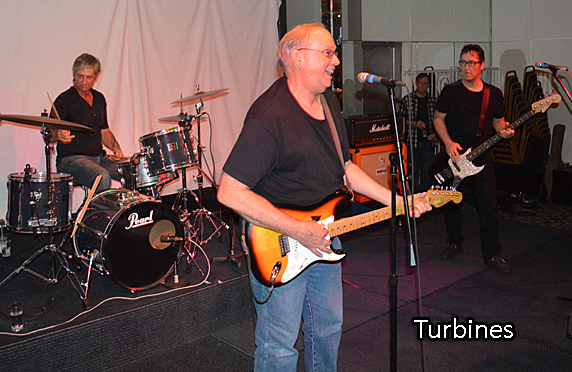 We take off to Cuisine En Locale a new Somerville space. This place is a large open room and nicely decorated as the function room it must have been. There's a good crowd who were all talking about The Dogmatics as we got there. We hear they were on fire. That's one we missed but to salve our wounds the reunited Turbines rev up. It's a wild and wooly set. John Hovorka the unlikely rock star is mid-stage bellowing out the vocals in his unique style. It's that flat declarative wail full of awe…somehow…and somehow it works. It always did and it was magic tonight. Then Jack Hickey is wallpapering every second of every tune with solid gold riffs. The figures on the low strings make his guitar sound like they are strung with rebar rods and he's picking with a hammer which is to say it sounds huge. Fred Nazzaro looked like he was enjoying every moment pounding away and the bass was a good fill in for Dave Shibler who sadly passed away a few years ago.
It seems like it couldn't get better and then Wah Hey explodes and the audience erupts yelling with the Wah-Hey's in the chorus.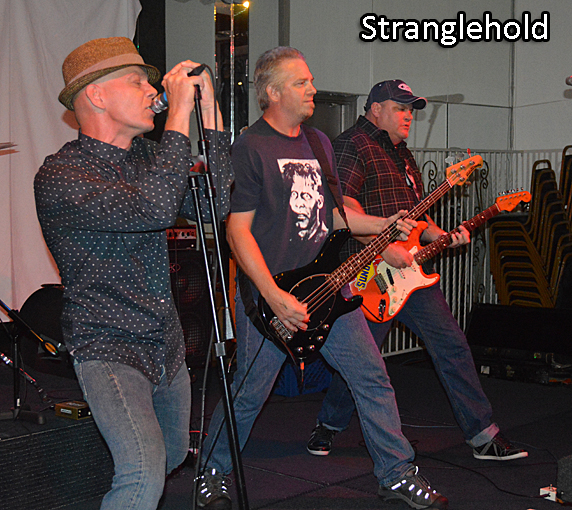 I wouldn't want to follow that but Stranglehold doesn't seem to care as they command the stage immediately and deliver their brand of hardcore. Their music was a sweet spot in hardcore inhabiting a space that had just enough melody and song craft to give it distinction from the rest while still pumping out the power. They were ripping through the set and having fun as was the crowd. Now older the mosh pit was an AARP version. All done in slow mo. Several 'stage dives' were a hoot as the diver slowly stepped off the foot tall riser with their arms out and pretended they were being lifted through the crowd, sort of like playing Superman as a kid. They were just the front end of a crowd who were all enjoying the fun set.
The Pipeline! gaggle of shows is peaking interest and is allowing groups like Turbines and Stranglehold tonight and O Positive last night to have successful reunion shows that draw crowds. This will continue as this is just the second show with 11 more coming. Right now it's got the momentum to carry on right to the end.
In other news:
John Cooper Clarke cancelled his Cantab show because of transportation problems but still has the Church show going on the 22nd…….
I thought a few years ago that I would never buy another vinyl record. Now I find groups are releasing things in vinyl only sometimes. Even when they release the CD sometimes they put out the vinyl and it sounds better than the CD. This is all to say that vinyl still reigns supreme in some quarters. Now there's a movie called Records Collecting Dust by San Diego-based musician and filmmaker Jason Blackmore that documents the record collections of people like Jello Biafra, Chuck Dukowski, Keith Morris, John Reis and over 30 other underground artists. You can watch a clip and read about it here
Seeing the Replacements with David Minehan on Jimmy Fallon gives one an idea how overwhelming they must have been live at Boston Calling there were tons of positive posts on FB about how great the show was. Watch the Fallon Show clip here.
And there's more for your reading pleasure friends!! Kenne Highland talks about his ancestry, George Jones as Thumper Jones!? (Never knew that one!!) ....Jesse Ventura, and Kenne's cuzzin Chelsea McBee!! I always learn a new tidbit or two when I read this column - Check it out here: Kenne Highland At Large
And what's coming up.......
OK folks the hits just keep on comin' ...great gig days- a crazy, exhausting and exciting couple of months of music in Boston....read on...amazing shows coming up and lots of them.....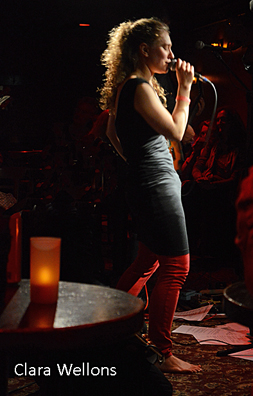 50 Years of Boston Rock, WMBR's Pipeline!'s 25 year Anniversary officially started this Friday Sept 12. Bob Dubrow has 80 reunited Boston-area bands performing at 5 venues over 5 weekends from September 12 to October 12 - at the Paradise Rock Club in Boston, The Middle East downstairs in Cambridge, the Brighton Music Hall, the Regent Theatre in Arlington, and Cuisine en Locale in Somerville, a new ballroom-like space with a capacity of 425.!! So get ready now. (There are current plans to add a 14th night to the series) Tickets are now available at all venues! Click to see the insanely long entire list of line ups on the Facebook page . And read our interview with Bob Dubrow here!!
This Monday Sept 15th....not to be missed the band you never heard of but want to see in this setting - The Shakes Outta Control, just click their link and see where it brings you) but also on the bill TRiPLE THiCK, Banditas and Jay Allen & The Archcriminals! This should be a great night!
Also on Monday night The Dollyrots (L.A.) are at the Middle East Up along with Death Waltz '76, Lucky United and Duck & Cover
Thursday September 18th head over to Church for The Monsieurs, Nice Guys, Boogie Boy Metal Mouth, Ben Katzman's Degreaser


Saturday, September 20 we get to see James Straight & The Wide Stance again!! They are at Copperfield's along with The People's Party, Green Street Station , and Sunrise Showdown...then.....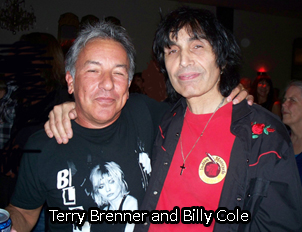 Kurt Baker heads back to Madrid shortly...so there's a Kurt Baker Send off Party show up in Portland, ME at the Bayside Bowl on Sat. Sept 20. It's a special performance by Kurt with Kip Brown check out the FB page
Sunday Sept 21 at TT The Bear's there's is Queerstock 2014 with Gunpowder Gelatine, Thalia Zedek, The Kitchenettes and Fur Purse
And September 22nd at the Middle East up is a great show with Shonen Knife and Petty Morals.
Monday Sept 22 is also on Church's Punk Rock Monday with John Cooper Clarke!!! 5 bucks!!
Tuesday Sept 23rd is another one of those special Midway shows...this one has The Egos, Problems (ha ha that's a good one, see above reference to changes and bad reputations), The Knock Ups and Hambone Skinny
Wednesday 9/24 is yet another excellent show at The Midway with The Savtones, Axemunkee and Mission Creep (it's their Album Release!)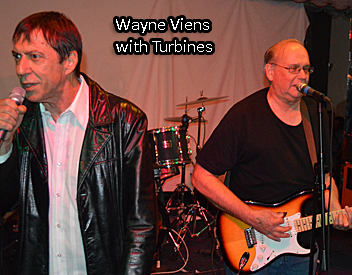 Here is another one of those insane weekends with loads of great stuff going on- but its the norm for Sept/Oct in Boston!! :
It's starting early at TT's on Thursday Sept 25th. FINALLY Endation is playing in Boston again, and this is their CD Release party. Yellabird starts out the night at 9, then Eddie Japan, Endation is on at 10:50 and Do Not Forsake Me Oh My Darling finishes off the night and (this is the ONLY time you will see them for the rest of the year).
at TT's on a definite, awesome actually, punk note Friday the 26th they have The Angry Samoans, Reagan Youth, Burning Streets and The Welsh Boys opening the night.
Also on the 26th Psychic Dog is having a release party for their new CD Big and Lonely at PA's Lounge in Union Square Somerville also on the bill are All Eyes on Me, The Digs, Supersona and Old Hat
REGENT THEATRE in Arlington Sept 27 is yet another amazing Pipeline! Show with: Barry & The Remains, Cardinal, The Downbeat 5
Sept 26, 27 & 28 is The 2nd Annual New England Shake Up it's Three Rockin' days of Bands! Record Hops! Vendors! Car Show! Indoor Pool Party! And More! All taking place at the lovely Sturbridge Host Hotel in Sturbridge, MA....Boston bands Jittery Jack, The Rollin' Pins and Lynnette and The Longshots will be performing.
The Rat Beach Party set for September 27 & 28 (Sat & Sunday) you get all the info on their Facebook page new bands are being added.
Crash Safely is coming up in September/October - night #1 is at The Midway on Saturday September 27th with Pete Donnelly, Pete Hayes and John Powhida (Aka The Petes), Watts, Gene Dante and The Future Starlets, The I Want You and As The Sparrow
And Terry Brenner has a Garage Rock Extravaganza on the North Shore! on Saturday the 27th with The Connection (at 11), The Charms (at 10) and Corolla DeVille ( at 9) and its all happening at The Spotlight Tavern...for only $5!!
And the Gizmos are playing in Memphis at The Gonerfest on September 27th
At BRIGHTON MUSIC HALL on Sunday Sep 28 is Pipeline! super show Anastasia Screamed, The Flies, The F.U.'s / Straw Dogs, Men & Volts, The Nervous Eaters,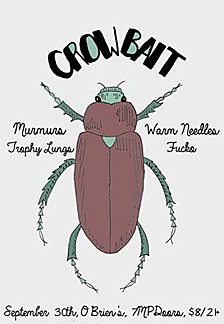 on Friday Oct 3rd at MIDDLE EAST RESTAURANT DOWNSTAIRS we got another amazing Pipeline! Show with : The Blood Oranges, The Bristols, Buttercup, Fuzzy, Lazy Susan, Robin Lane and The Chartbusters, Tacklebox
And for The Midway early evening show (4PM doors) this Saturday October 4th - Kenne Highland and Eddie Flowers are at it again with The Rockabilly Yobs (mems of The Gizmos/Afrika Korps), Didn't Planet, Wasted Luck (from Germany) and The New Frustrations
Saturday October 4th O'Brien's has a really good ...and long and early starting show with 3PM doors: DRAGO, The FU's, Black Cheers, Silver Screams, Quiggs and Little Richards ...you can read our write up on the Quiggs and The Black Cheers here from when we saw them at The Midway in March.
Next night Sunday Oct 5th Pipeline! has something at The PARADISE with Big City Rockers (Atlantics), The Charms, The Dents, High Risk Group, Reddy Teddy, Shake the Faith, Willie Alexander & The Boom Boom Band.
October 5th - another amazing Sunday show at The Midway will bring us The Vibrators!!! also on the bill MOTO and The Skeleton Beats. And the Vibrators have a new record coming out September 16th on Cleopatra Records it's Punk Mania - Back To The Roots: "14 killer reminders (plus 3 more on the CD) as to why Knox, Eddie & Co. have built a long, successful career on their razor sharp riffs and rousing hooks!"....check it out here.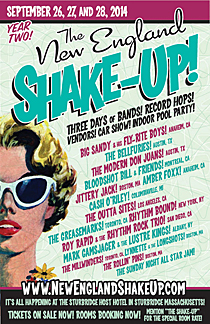 Friday October 10 is Night 2 for Crash Safely Benefit this one's at the Midway again...and there's a great line up with Petty Morals, Gymnasium, Tsunami of Sound and My Own Worst Enemy.
Pipeline! Show #12 - Sat. Oct. 11 at Cuisine en Locale, Somerville: The Cavedogs, Gigolo Aunts, Flying Nuns, The Rising Storm, Drumming on Glass, The Natives, The Dambuilders' Dave Derby & friends You can get TICKETS here.
over at Store 54 Bob Colby Presents The Beachcombovers and Mars on Saturday October 11th
The Gizmos are in Brooklyn at Union Pool on Saturday October 11th this line up will be Kenne Highland, Eddie Flowers, & Ted Niemiec bringing the original 1976/77 Gizmos to NYC w/ assistance from Kenny Kaiser (Afrika Korps), MJ Quirk (Kenne Highland Clan), & Matt Burns (KH Clan) also on the bill: Lame Drivers, Milk Dick, & Liquor Store.
Also on October 11th an all day affair with the 9th Annual Hot Rod Fallout in Glastonbury CT - Bands & Continuous Music All Day
Vendors, Food, Booze, and more.....1963 & Older Traditional Styles Vehicles - Hot Rods, Customs, Stock, Race and Bikes
Pipeline! Show #13 - Sun. Oct. 12 at The Middle East Downstairs, with The Gizmos (original line up of Highland, Flowers, Neimec), The Bags, The Voodoo Dolls, Kenny Chambers / Electric Ears (Moving Targets), The Underachievers, Carrie Bradley (of Ed's Redeeming Qualities, The Breeders, The Buckets) TICKETS can be bought here
In case you've been missing the Roy Sludge Trio as I have, they're back and on a Sunday too October 12th ...at The Midway from 4-8:30PM along with special guest The Calamity Cubes and all for only $5!!
Monday October 13th there's a special show at Weirdo Records with Eddie Flowers and Kenne Highland , its the day after their Pipeline! show at the Middle East Down. Pre Kenne/Eddie there's CTM opening the night around 8pm and Cryostasium middle things out around 8:30-8:45. If you know the album 'Vernietiging', you'll love the set. Triple guitar attack all coming out of tiny l'il amps. Keep in mind that this is a TINY place so if you want to see the sets best to get there earlier than later.
A few weeks ago we mentioned that we missed Plumerai but that they were reforming as DRLNG...well now they are playing out and already have a new EP called Icarus. And they are celebrating with a EP Release Party on Thursday October 16th at The Davis Square Theater. Also on the bill are Video Teeth, Cooling Towers and Funeral Advantage. We are looking forward to seeing this new iteration!!
Friday October 17th is Night 3 of Crash Safely Benefit...this time its at the Middle East Up and wow, the line up again is killer with Township, White Dynomite, The Field Effect, Triple Thick and Animal Hospital!!
Also on Oct 17th at The Midway is Sasquatch and the Sick-A-Billys, Tigerman WOAH, Tail Light Rebellion, and The Radiator Rattlers
Saturday October 18th there's a insane bill at The Cantab with Kilslug, Hirudinea, Witch King and David Carradine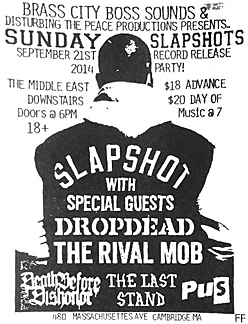 Also n the 18th - out in JP at The Boston Wreck Center are the Hub City Stompers, Brunt of It, Beantown Boozehounds, Disaster Strikes and Neighborhood Shit. All info and map here
October 25th we can see The Cranktones at The Midway again kids...it's WMFO's Easy Ed presents:- The Cranktones, Johnny Carlevale & The Rollin' Pins, plus Easy Ed's Record Hop!!! - great night!!! These are fun gigs with a friendly group prone to dancing….. And Easy Ed doing the DJ thing between sets….Here's a video we took last time they were there….check it out here!
Also on Saturday, October 25, at Copperfields there's compilation CD Release Party for Chris Atwood's radio show The Alternative on WATD featuring: James Straight and the Wide Stance, A Fifth Column, Ruby Rae, and The New Frustrations. That little radio show is getting bigger by the day.
The Damned are touring this Fall with TSOL. They are playing Halloween in NYC but playing Boston on Saturday October 25th at the Royale…tix here….
In November Bob Colby has his Store 54 show with When Particles Collide and Powerslut on Saturday November 8th
Cavestomp ! & King Yum Records Present: Lyres with Special Guests Wicked Cool Recording Artists Cocktail Slippers, The Connection, TRiPLE THiCK on Friday, Nov 14, 2014 at The Middle East - Up. (Tickets here) The Cocktail Slippers, great Norwegian female band: "The band's main musical influences are Blondie, The Shangri-Las, Joan Jett, Foo Fighters, The Ramones, and The Beachboys". Their real good version of the Connie Francis/Ellie Greenwich song "Don't Ever Leave Me":
CONTACT US AT…….misslynbg@yahoo.com Send us your gig listings, your news and anything else ya got!!