The BGN News Archive
September 5,2016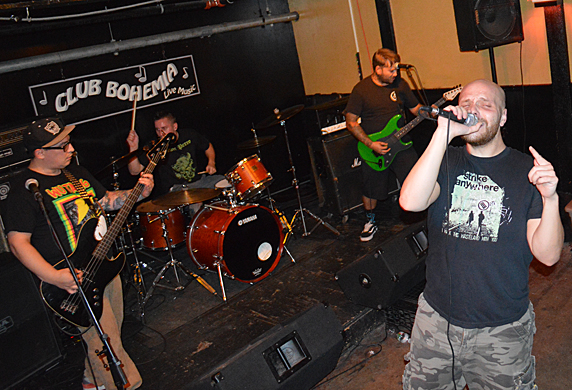 Progress
Photo: Blowfish
Took a while to find a good gig this week but the line up at The Club Bohemia on Thursday looked plenty punk upon inspection. I regret that I missed Whoopie Sticks who were on first because I checked out their music on line and loved the song I Don't Wanna Be a Person that has an early punk sound and a vocal close to Poly Styrene. As a consolation I put that song on our TOP TEN list.
I was lucky enough to catch In The Meantime from Peabody. They played tuneful but fully powered pop punk. This was right in the pocket for me.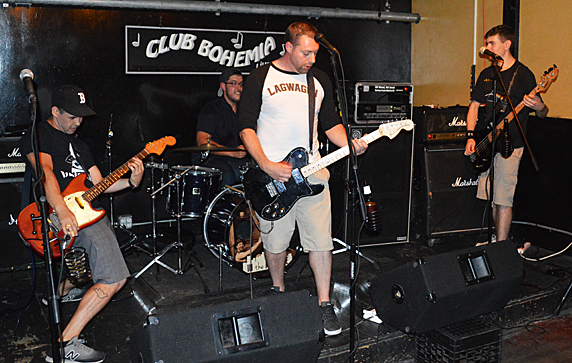 In The Meantime
Photo: Blowfish
Online I see they do some ska but I didn't hear any this show. They had a few stand out songs but the whole set was thoroughly enjoyable. The band was chatty with the audience which was about 35 people. The drummer stole the show with his constantly busy and inventive stlye. Check him out in the video where he gives a severe beating to his set. He does some rapid rolls that inject excitement. Then hear the band playing the song in double time, regular time and then half time. That's the sort attention to songwriting and performance that distinguishes them. Other bands should listen and take the lesson.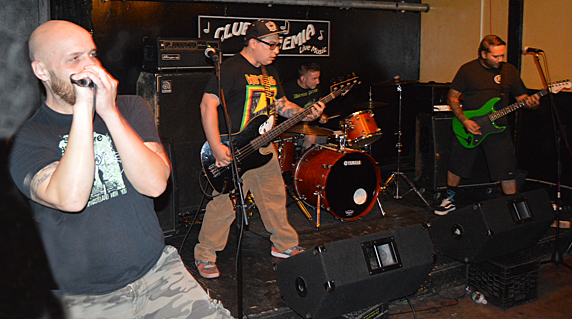 Progress
Photo: Blowfish
Progress was next in the line up from Waterbury CT. They were more hardcore and much more aggressive. The striking lead singer was at the top of his lungs and pacing the floor in front of the stage as the band roared behind him. They were putting a lot of energy into the set. I could see the drummer who was even more busy than the In the Meantime's drummer getting short of breath. I know Bruce the Boss can do 4 hours but a hardcore band gives it all in 20 minutes. Again look at the drummer in the clip. He's rapidly kicking everything in the kit. Fantastic. Progress music on Bandcamp They have a show at the Greek American Club on September 30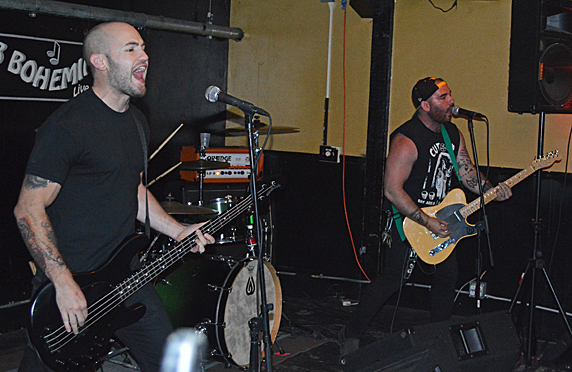 Weaklings
Photo: Blowfish
We saw the Weaklings last March at the show with the Digs. They played a pop punk set much like In the Meantime earlier. They had constant banter between the songs that added to the friendly feelings of the whole night. I liked the whole set although no one song stuck out. I heard three good bands and I missed the openers and left before the last group. it was a well put together bill.
The show also started the music at 8 pm and ended at midnight. I like that idea. I'd love to see more of it especially on mid-week bills.
| | |
| --- | --- |
| In The Meantime | Progress |
It was a whole different kinda Crank this Saturday compared to last Saturday. From sleazy heavy metal with the The Crank County Daredevils to politely sophisticated rockabilly with the Cranktones at Atwood's. We've been hooked on The Cranktones from the first time we saw them. They're not tatted up and they're not dressed up. They get rocking every now and then but mostly they rely on locking into the beat and let that carry you along. They kill you with coolness and it feels so right.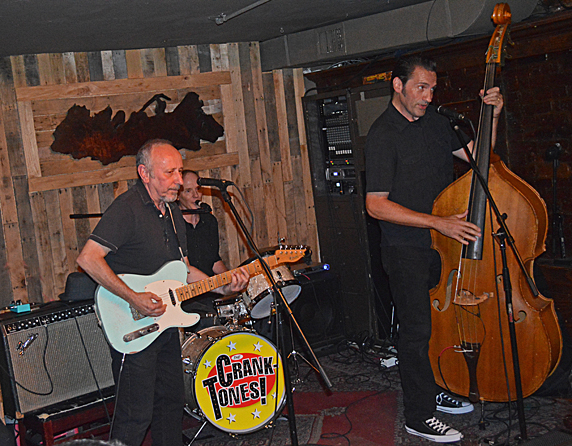 Cranktones
Photo: Blowfish
Frank Blandino's guitar playing is a constant guitar lesson. He plays busy but not intrusive. It's all integrated with the band. All three members sing at different times. One funny thing is that Johnny Sciascia (Roy Sludge Trio) on bass and Stan Kozlowski (The Barley Hoppers) on drums can sing in a high register, and often together, and when you first hear it you look around for the women backup singers but it's them. It's a very country rockabilly sound.
The Cranktones don't play around a lot. When we see them listed as playing somewhere we try to make sure people know here on the BGN.
Atwood's Tavern in East Cambridge is a long corridor affair. The sound is good, and it could be because the music goes straight out with no bouncing around. The whole experience was wonderful; a 4 pm show, very low key, great music....and not to forget the food.
Here's comes a little bit of The Punk Gourmet: After the first set we sat at the open windows with a nice breeze and a meal which was way above and beyond the bar food we were expecting. The Grilled Boneless Pork Chop marinated with ginger, fennel and coriander was the best pork dish we can remember eating anywhere. The 10 oz. Flat Iron Steak marinated with onion, garlic and Herbs de Provence was delicious. Both dishes came with their Crushed potatoes which are boiled then baked so they are all crusty. They're served with lemon aioli and believe us, they were as good as they sound. Blowie also got a creative side of lentils and egg with chimichurri sauce-mmmm!!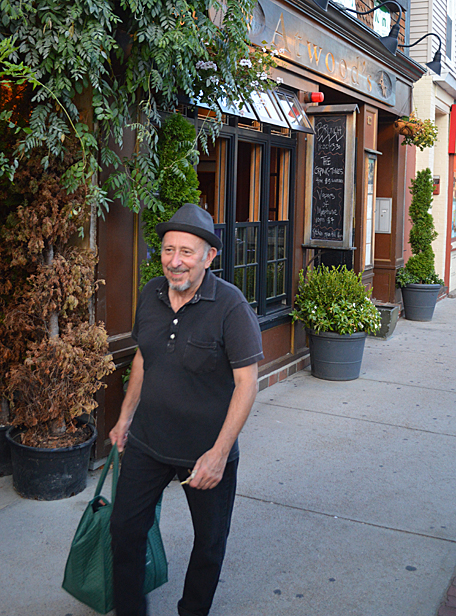 Frank Blandino outside Atwood's Tavern
Photo: Blowfish
After the last Cranktones set we were outside when Cranky Frank Blandino walked out. We talked to him a while,. He knows a lot about the scene from being around for years and his interactions with the musicians. He lived right near Richie Parsons in Dorchester and used to see Richie running around the hood never imagining that he would be Unnatural Axe Richie. He also loves Richie's Honey and Tears CD.
Frank is also in The Fathoms, a surf band we didn't know about or we would have seen them by now. We'll catch them next time. Frank is always looking for better gigs. We'll catch him no matter where he plays.
Consider Atwood's Tavern for a Saturday afternoon (or any day) food/music combo. They have Duke Levine Band on 10/6 and Peter Case on 10/15. And we have more listing below. And October 30 is Corin Ashley 4Pm then Thalia Zedek at 9PM



There are a million punk songs, this is just one.


Travoltas are from Holland they have been described as 'Beach Boys meet the Ramones'. The Ramones had some surf music influences along with the girl group ones. Some punk groups can be so strict in their genre they never let other influences show.
But why when that can be so much fun as it is here. You first hear the pop punk crunch and then you can catch the Beach Boys back ground harmonies, maybe some Green Day in the main melody line.
Then they throw in the garage organ that goes into some triplets near the end that sound like ELP. That's just wacky.
This song is from the Endless Summer album from 2003 which goes for $40 on Ebay.


Travoltas
"Anywhere You Want"
WMFO's On The Town with Mikey Dee show It's weds 9PM--midnight. Here are some upcoming shows:....9/21 What Time is it Mr Fox live...9/28 Violet Nox live....10/5 M 8 live
Here's some good shows coming up this week .....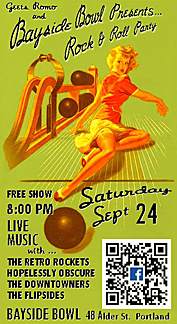 September 19 (Monday) Major Stars, Animal Hospital & Phantom Rides at Charlie's Kitchen
September 20 (Tuesday) Allston Pudding Presents: Pansy Division, Happy Little Clouds, & The Fatal Flaw at ONCE Ballroom
September 22 (Thursday) A Night of Curated Vintage at The Garment District (Kendall Sq) John Funke will be DJing. "Don't miss this rare opportunity to see an amazing collection of unusual and valuable pieces." 6-9PM. FB Page
September 22 - 24 (Thurs- Saturday) Fitz Fest II – organized by Fitz Ross, a Boston-based video production and show promotion company – will hold shows at three different venues and feature performances from bands like Funeral Advantage, Black Beach, Saccharine and Rye Pines. the shows will be at Great Scott, O'Brien's and the Middle East Upstairs. For list of all bands each night and where check out Allston Pudding.
September 22 (Thursday) Highway Chapel at The Cantab Club Boho!
September 22 (Thursday) Yes on 4 Benefit Show with The Martians, You Scoundrel, Aneurysm, Whoopi Sticks and Limited Freedom at O'Brien's starts at 7Pm
September 23 (Friday) Morgan Delt, Doug Tuttle, Mass Gothic and Beach Toys at the Middle East Upstairs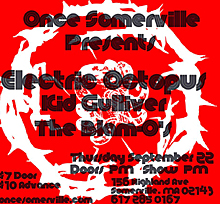 September 23 (Friday)Fitz Fest Day 2 - with Funeral Advantage, Steep Leans, Saccharine , Du Vide & Twen Furs at O'Brien's
September 24 (Saturday) A Crash Course For The Ravers radio show 1pm to 4pm Saturdays featuring The Billy Connors Project broadcast live on 91.5FM WMFO streaming to the world at http://www.wmfo.org/popout_player.php...
September 24 (Saturday) Fitz Ross Productions Presents: Fitz Fest Day 3 Featuring Black Beach, Dirty Dishes, Leaner, Big Boy Club EARLY show at 6:30.
September 24 (Saturday) Boston Dyke March Punk Benefit with Knock Ups, Gravel, C.E. Skidmore and Yooth Decay See more info on their FB page
September 25 (Sunday) The Martians, You Scoundrel , Limited Freedom (CT), Aneurysm & Whoopi Sticks at OBrien's
And further out .......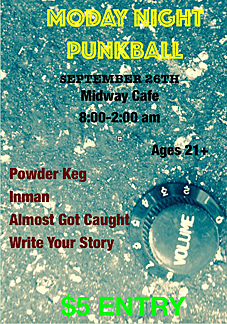 September 27 (Tuesday) Buzzcocks at the Royale ...they played this very room back in 1980! And we were there then too!
September 28 (Wednesday) Wednesday 13 (fr. Murderdolls) "And Bloodshed For All" Tour with One-Eyed Doll, Open Your Eyes, Deprived, and The Evil Streaks on 09/28/16! This is an EARLY show 6pm-Midnight
September 29 (Thursday) Barrence Whitfield & The Savages and Diablogato are at ONCE Ballroom
September 29 (Thursday) through October 1 (Sunday) The "Rat" Beach Party in Hull. Check it out on Facebook for bands and times etc
September 30 (Friday) The Barbazons (final show! Also on the bill Ravi Shavi (gotta see these guys!!) along with Earthquake Party and Bong Wish its at the Middle East Upstairs FB page
September 30 (Friday) The Scenics, Fireking, headband & Life Partners at PA's Lounge
October 1 (Saturday) 6th Annual Upstart Fest Featuring: The Queers, Svetlanas, The Fantastic Plastics, OC45, Kyle Trocolla - at the Middle East Up...whew!! That's gonna be a killer show. We saw the Svetlanas at the 2013 Upstart Fest and they were great!! NOTE: this is an EARLY shows doors are at 4PM. FB page
October 1 (Saturday) Endation (first show in a long time!!) The Daily Pravda, M.G. Lederman, The I Want You at The Midway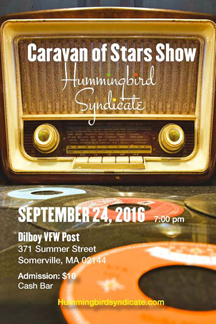 October 2 (Sunday) All Ages Matinee Show with The Big Sway, Oh The Humanity, Gant, Spillers, Crow Feeder - $10 *NOTE: 1 PM Doors Middle East Up
October 2 (Sunday) Neighborhood Shit Odd Signal, Wasted Time, Honest John, Sick Joke, MotherBoys - Matinee Show at The Midway 4PM- 8PM
October 3 (Monday) Bob Colby Presents: Mr Airplane Man and The Land of Enchantment at ONCE Lounge - He will present occasional shows at this venue now...These shows are taking place as part of ONCE's "Taco Monday" series, which means two things: 1) You can have some great food beforehand (starting at 5). 2) The shows have *no cover*, but donations to performers are encouraged (no set amount, whatever you can do). Look for the big silver bucket, every dollar that goes in there goes to the artists!
October 7 (Friday) State Of The Union, Watts, MOTO, and The Knock Ups are at Koto in Salem (Pop Gun who were scheduled for this gig has broken up.)
October 7 (Friday) Quiggs, Diablo Gato and Tom Baker & The Snakes are at Opus in Salem
October 8 (Saturday) for those of you who were Ska fans- An Evening with Dancin' Randy's Ska Punk Time Machine at Great Scott
October 14 (Friday) The Time Beings, The Black Souls, Craig Bell (of Rocket From The Tombs/Mirrors/X__X) and Shiny Beasts - this is a show not to be missed!! At the Midway!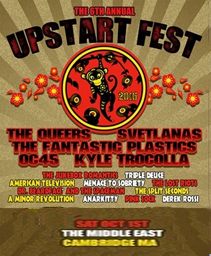 October 15 (Saturday) The Stigmatics (Randall Gibson's new band) will be on the Crash Course for the Ravers with Brian Young on WMFO 91.5FM 1-4PM.
October 15 (Saturday) Nervous Eaters, Fast Times, The FUs, Crimespree, & Kermit's Finger 4PM show at The Midway
October 15 (Saturday) Idiot Genes, Duck & Cover, Chanticlear and Jack Widows are at O'Brien's
October 15 (Saturday) Grieve, Pink Mass (NJ), horrible earth, Psycho and Gorepedo at The Midway
October 15 (Saturday) Panzerbastard, The Crosses (Dan Kubinski of Die Kreuzen), FUs, and The Pragmatics at PA's Lounge
October 15 (Saturday) The Upper Crust, Hickoids, The Grannies & Devil On Horseback at Once
October 15 (Saturday) Trophy Lungs, Choke Up, Bottlecaps , New Warden & Yo Ticonderoga at O'Brien's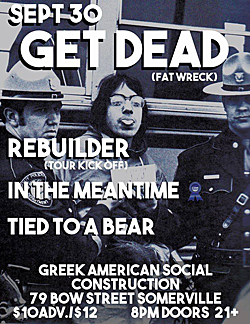 October 16 (Sunday) Trusty Sidekick, Jiblantos (featuring the BGN's John Keegan!!), The First Supper and Last Exit To Palookaville - This is a matinee show 4.30-8.30PM
October 16 (Sunday) Cosmonauts, Magic Shoppe, Rye Pines and Future Spa at O'Brien's
October 21, 22 & 23 (Fri., Sat & Sun) The Boston Rock Opera presents Hair at Once Ballroom.
October 21 (Friday) Fuzbrains Presents: The Time Beings, The Hopelessly Obscure, Glider and If We Go At All at Ralph's Rock Diner in Worcester!
October 22 (Saturday) Burnt Village, The Guilloteenagers, PowerSlut and The Dick Pics - Matinee 4-8PM show at the Midway
October 27 (Thursday) Panzerbastard, Churchburn, Ritual Blade, and Upheaval @ O'Briens
October 28 (Friday) The Vooduo, (from CA), The Crimson Ghosts, The Skeleton Beats & The Outsiders are at Koto in Salem
October 28 (Friday) The Prozacs, BarRoom Heroes, Injury, The Pink Parts and Whoopi Sticks - 4-8PM Matinee Show at The Midway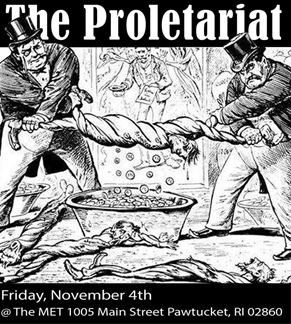 November 3 (Thursday) The Proletariat are at Once: "After a 33 year hiatus, legendary Boston punk rock band The Proletariat has decided to reunite for a few select shows. Original members Richard Brown, Peter Bevilacqua and Tom McKnight will be joined by guitarist Dan Sanders(from the Providence band Idle Rich) and will reunite for a series of shows in Fall 16. The reunion comes on the heels of the vinyl rerelease of the bands groundbreaking debut "Soma Holiday" on SS Records." Tickets!! Friday 11/4 they are in Pawtucket at The Met.
November 4 (Friday) The Upper Crust, Topheavy, Gene Dante & The Future Starlets and The Hi-End at The Midway
November 3 (Thursday)Wolfman And The Brimstone Boys, The Evil Streaks, The Devil's Twins and Damnation are at Opus Underground in Salem #8 brings together several broad ranging underground legends - Silver Apples, Wolf Eyes, Rhys Chatham, and Massachusetts' own, Siege - with mysterious contemporary underground delights such as Girlpool, Guerrilla Toss, Willis Earl Beale, Ava Luna, Doomsday Student, Sad13, Macula Dog, IAN Sweet and many more!!!!
November 9 (Wednesday) Illegally Blind and League Podcast Present: Shonen Knife, Shepherdess, and Birthing Hips at the Middle East Up
November 9 -12 is International Pop Overthrow at PA's Lounge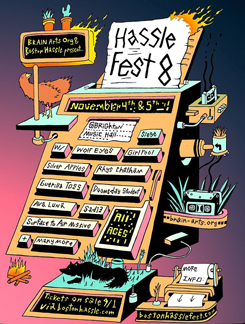 November 10 (Thursday) The Sonics will be at Fete Music Hall 103 Dike St, Providence, Rhode Island 02909 - Here's the FB page
November 10 (Thursday) The Goddamn Gallows, Gallows Bound, Tigerman WOAH, Ten Foot Polecats - Middle East Up
November 11 (Friday) The Sprained Ankles, Stop Calling Me Frank, Spectacle, The Johns at the Midway - This is a benefit for Frank Johnson (FB page for more info)
November 12 (Saturday) Punk Rock Flea Market at Koto in Salem 1-5PM "Come down and buy some records, some band and sports tees, some homemade crafts and jewelry" There's be punk rock music after 8PM. FB page
November 12 (Saturday) The Welch Boys, Penalty Kill, BarRoom Heroes, Zero Rights & Words of Truth a 4-8.30PM show at the Midway
November 23-26 (Weds- Sunday) 4 Nights! Jonathan Richman featuring Tommy Larkins on the drums at the Middle East Up. FB page It was an amazing night when we went in 2014. And for fun read our 1980 interview with Jonathan
December 1 (Thursday) Humanoids, Mam? Ladilla (Spain), Covered in Bees (Maine), Intheshit & Black Friday - O'Brien's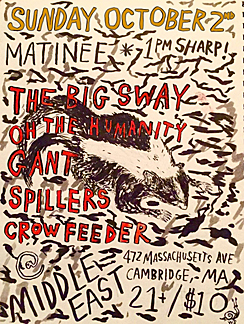 December 3 (Saturday) Muck & The Mires will be on A Crash Course for the Ravers with Brian Young on WMFO 91.5 1-4PM
December 3 (Saturday) Studio Two , The Beatles Tribute w/ Muck and the Mires at The Middle East Up.
December 10 (Saturday) Thrash'n'Bang Christmas Party at the Midway
December 10 (Saturday) Nicole Tamaro Productions Christmas Party with The Silver Mirrors, Legendary Rockin Prophets and + free snacks & swag all at the Greek in Union Sq Somerville.
April 22 (Saturday) The Templars (NYC), Battle Ruins (Boston), Shipwrecked (Norway), Fit for Abuse (Boston), Boston Strangler (Boston) at the Middle East Down And it's ALREADY sold out in September 2016!
CONTACT US AT....misslynbgn@yahoo.com - Send us your gig listings, your news and anything else ya got!!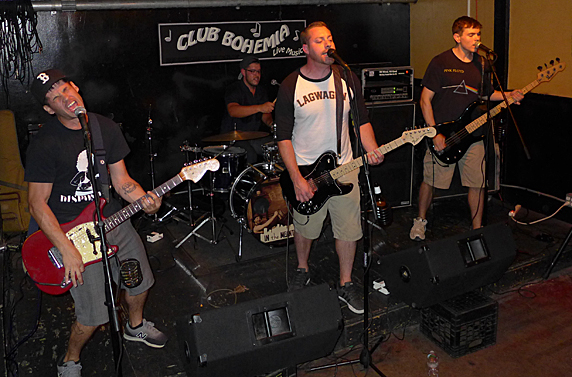 In The Meantime
Photo: Blowfish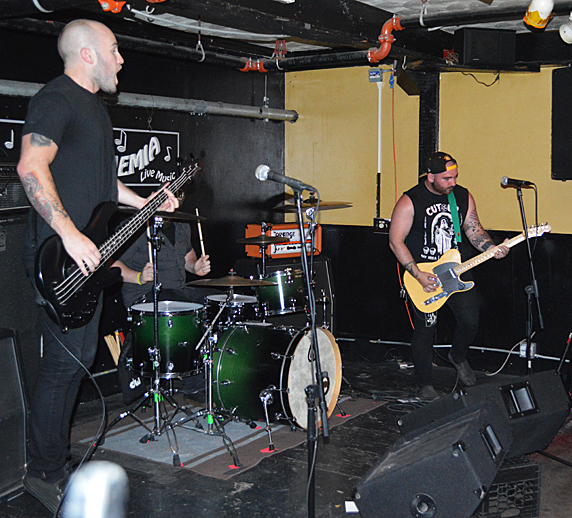 Weaklings
Photo: Blowfish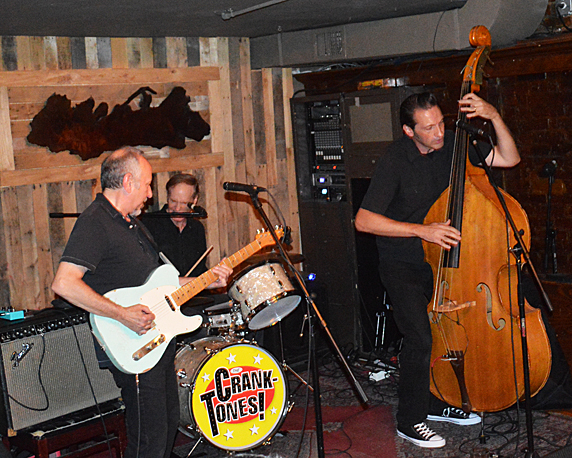 Cranktones
Photo: Blowfish