The BGN News Archive
September 24, 2012
(The full story and more pictures of the LRC Party HERE)
The Late Risers' Club 35th Anniversary party lived up to all its expectations. The LRC fans sold out the club about 10:30 and were treated was great music and food. Where else would a radio show have a celebration except at Radio? It seems so obvious when you think about it.
Between 8 and 9 the station people had a pre-party. Food from City Girl (one of my favorite places) and Emma's Pizza and more was plentiful and the overflow was available for the people coming in afterwards. One notable guest was Greg Reibman one of the original Late Risers from 1977 (now the head of the Newton Chamber of Commerce...so in the Chamber of Commerce and in the Boston Groupie News - does that seem wrong? ) was there with Cindy Bailen. It was good to see Albert O now of WBCN HD because he hasn't been out that much these days. It's always a pleasure to see Peter Gates who was a LRC producer, Natalie and Sue Safton a LRC fill-in through the years. Joanie Lindstrom and all the current LRC people were there of course.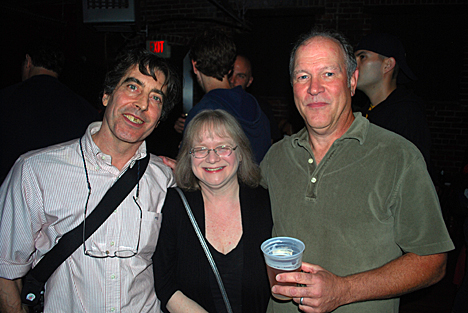 LRCers Peter Gates, Natalie and Albert O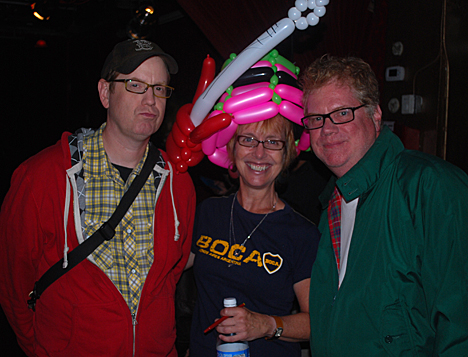 Eric Law, Joanie with the photo op of the night and Richie Parsons
People received a mock LRC membership card when they came in. The originals were used about 1982 or so. It looked like the bar was busy all night. There was some free beer and they made a Joanie Lindstrom drink. Down stairs was a guy making balloon hats and whatever else you can make with balloons. Then the first crisis came when one of the first band members was hung up at another gig down the street. That delayed the live music till about 10:20, not good but everyone hung in there and they were rewarded because when The Shirt Lifters (members of Spitzz and The Tampoffs) cranked up they were tremendous. They had five singers doing punk songs through the years. This reflected the LRC's programing all week which was playing songs the LRC have featured through their (and punk's) 35 year history.
The set sort of went like this......
Troy from Razors in the Night
Troy covered the OI by Cockney Rejects, Blitz and 4 Skins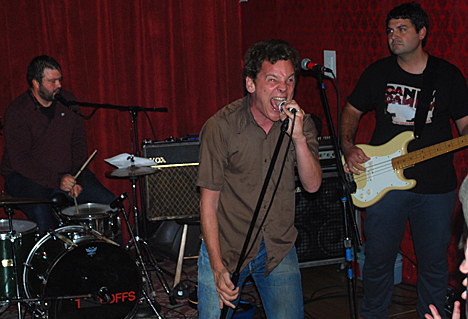 Tom of Spitzz
storted with Weirdos-Solitary Confinement
and Feederz-Jesus Entering from the Rear.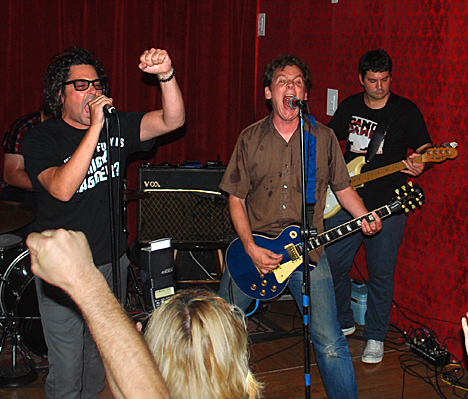 Tommy From the Dirty Truckers
blasted Husker Du-Something I Learned Today, Bags-Spread It Around and Replacements-Kids Don't Follow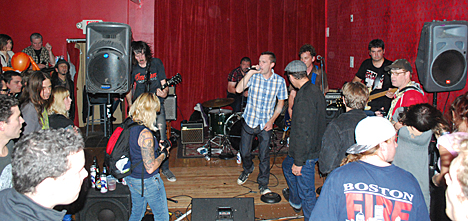 Paul Delano of Mung
did Naked Raygun-Rat Patrol, Circle Jerks-Wild in the Streets and BLV-Dead Wrong
Each singer came up with fresh energy and the band matched it and then exceeded them in sweat. I forgot how much Tom of Spitzz brings to the stage both as a guitar player and leader.
During Paul's set a mosh pit opened up as it seemed to be on the verge a few times. After Paul Delano ended the band was walking off when someone started to play Sex Bomb, an extended jam started. It was a very cool moment. Sex Bomb was the song that the LRC used to have a contest back in 1983 but no room here for that story.
During all this they had films going on downstairs by Arthur Freedman. It didn't take long to realize the treasure chest that Arthur has. New and old, every club, amazing list of bands - it goes on and on. This is great stuff. Harvard will have all this material but it's a treat to be able to see this now. Later he gave a showing of the LRC documentary.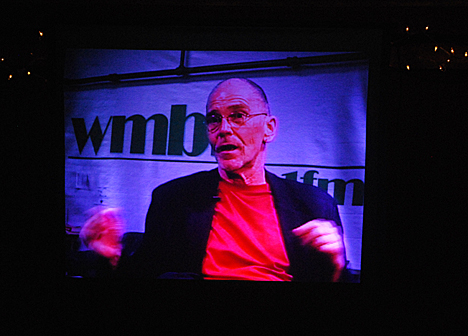 Thom Lane shown from the LRC documentary.
Thom started the whole thing in 1977.
Meanwhile back upstairs Cocked 'n Loaded was tearing up the place with metal cover tunes. Cocked 'n Loaded is getting popular with the success of their live act and tonight they made some more fans. Kyle the lead singer was roaming the crowd while the juggernaut of a band blasted molten metal. They kept everybody there right to the end.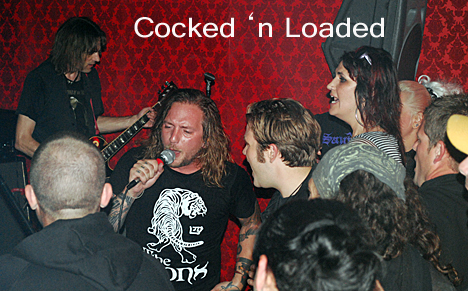 Even after the gig at almost 1 o'clock people were hanging outside.
The LRC is an amazingly long lived phenomenon. Almost nothing else in Boston punk has lasted like them. A few musicians and a few bands have been around as long but most have not been active without a hiatus. The rotating DJ's has been the element that worked for their longevity. Personally I's be lost without the show myself. Others feel the same: the crowd came out for them on this night. (The 30th Anniversary was wild as well.)
Dedicated fans Julie and Tony
Congrats to the LRC. Joanie did a lot of work getting things together and got many thanks from the stage and the rest of the DJ's are a hard working group. We know these things are mostly work and little thanks, well you get some thanks from us at the BGN at least and the appreciative crowd said it with their presence and music loving party spirit.
And Thursday Sept 27, at The Lizard Lounge, Tony Savarino -guitarman extraordinaire- is having a Record Release Party for his new disc: Guitaresque…..this CD was produced by Barry Marshall! Sounds like a pretty amazing combo to me! Tony will also have a stellar belly dancer in the house that night as well!
Now here's a puzzler…for all you Bauhaus/Love & Rockets fans Dark Sky Productions presents David J (yeah, as in Bauhaus & Love & Rockets), Adrian H & the Wounds , Do Not Forsake Me Oh My Darling - this is so odd! Why is David J at The Cantab??? I don't know but it's a show you can't miss!
And into that weekend there's a two night Crash Safely Benefit at The Davis Square Theater (not the Somerville Theater but down the street from it!) Friday 9/28 has The Unholy 3, The Dirty Truckers, The Gentlemen, Jenny Dee and the Deelinquents and The Phil Aiken Army.
When Tsunami of Sound the surf band plays they usually bring dancing girls in bikinis...so ya know, if that may influence you... it's at Precinct Friday the 28.... Graham Parker is at Passim's...must be accoutic.
Saturday 9/29 has The Upper Crust, Sidewalk Driver, TRiPLE THiCK, Thick Shake sand Cotton Candy- that sounds like a totally fun night!! And a worthy cause my friends- help fight MS!! And you can buy your tix here!
Thee Cuban Heels are at Toad on the 29th too...it's just a short walk from Davis to Porter to check them out too! and its FREE!
The same night is a gig at the Right Turn in Arlington with Adam and Eve. ..supierior songwriting and singing...hear the new single.
Oi, there's also another fab show over at The Midway - awesome rockabilly night presented by DJ Easy Ed This night has Jittery Jack, Rick Coyne, Rick Bounty and John Carlevale and The Rolling Pins! Whew!!
And it looks like Nicole Tamaro is having another book release party for yet another book - her third … this one's at Radio on Friday October 5th with Razors in the Night, Full Body Anchor and Jason Bennett & The Resistance - only $5 folks!!...
I just saw Joe Jackson at the Wilber where the seats are spaced for 10 year olds and all the theatres are like that but I almost want to do it for Morrissey at Wang Theatre on Oct 5.
Also at Radio the next weekend there's a lot happening to think about… Thursday and Friday Oct 11 & 12 there are benefits for Barbara Walsh …I don't know her personally but she had a stroke while at the LA Airport and is now headed toward the long haul of rehab...we wish you well Barbara and a speedy recovery!! - this could happen to ANY of us…go and show some support for a fellow rocker:
Thursday Radio UP has the benefit for Barbara with Rule, Jenny Dee & The Delinquents, The Decals, AM Stereo, The Modifiers - Radio Down has: The Charms, Dave Mirabella, Eric Salt & The Electric City.
Friday the 12th is Barbara Walsh benefit at Radio Down with The Dirty Truckers and others - Radio UP has The Dents, Devil On Horseback CD Release, Watts, Gymnasium, Spin Off
And if you can't make it and would like to donate a little dough to the cause go here: Benefit for Babs Donate
And you might as well come back the next night too cause Saturday Oct 13th is Radio's 1 Year Anniversary!!! More info later!
If you are out in the western part of the state there's a Happy Birthday Cheryl Crane/Crybabies Reunion show on Oct 13th at the awesome Hotel Vernon. Also on the bill is Carolla Deville and The Flipsides with Chris Horne from the Brood.
November 3rd The Neighborhoods and Robin Lane and The Chartbusters are at the Blue Ocean Music Hall at Salisbury Beach…they must be like huge rockstars or something coz tix are again overpriced at $25.
News from the Magic Room: Sunday, November 4th it The Halloween Hangover Show ! ANd Butch Patrick aka Eddie Munster, from the original 60s tv program The Munsters ,will be on hand for a "meet and greet " live at the Magic Room Gallery ! Also performing will be the legendary Muck and the Mires , and Tsunami of Sound . Also appearing, will be The King of Pop Culture himself !
And November 9th!!! Roky Erickson is going to be at the new Harvard Square club Sinclair, which will be at 52 Church Street - it would be awesome if it was in the Harvard Square Theater space…it would be like the old days kind of…when there were bands there. But anyway there you have it….Sinclair…Roky.
Finally All Ages- Boston Hardcore the film is available on DVD!!! You can check it out and purchase right here…. This DVD has 30 minutes of extra footage AND The Springa Chronicles…oh yeah!! GOTTA get it just for that…we can never have enough Springa, right?…..
EMAIL US AT…….misslynbgn@yahoo.com