The BGN News Archive
September 26,2016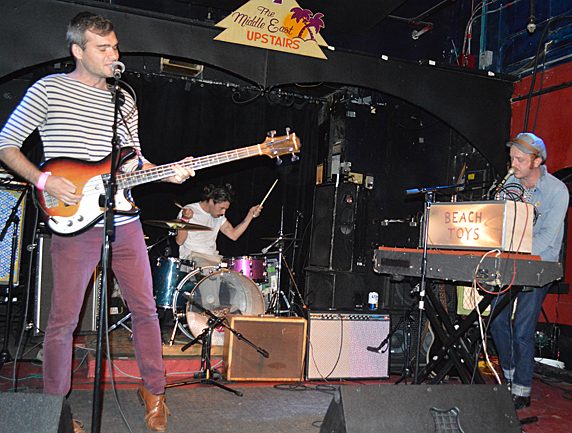 Beach Toys
Photo: Blowfish
Last Sunday night was the debut of Rock and Roll Trivia Night by Rocker Magazine. It was much like what it was modeled after, which was the Joanie Lindstrom run WMBR/Late Risers Club Trivia Night.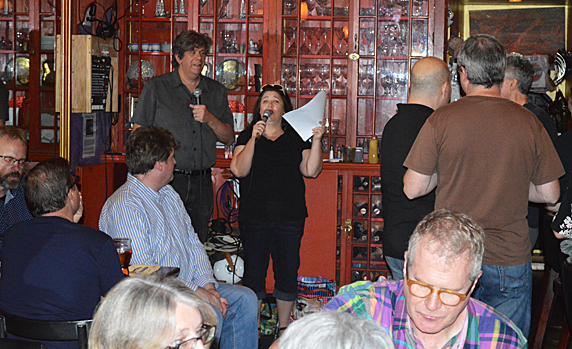 Brett and Erin doing Trivia at Zuzu's
Photo: Blowfish
No one knew how many people would show, but as it turned out it filled ZuZu's!
Erin Amar and Brett Milano ran the night and asked the questions. The questions were wide ranging and of various difficulties. In the end it was challenging and fun for all and a big success for Rocker Magazine. There will be more of these great nights in the future and we'll keep you updated. You can come in a group or alone and there'll always be a team to sit with.

Thursday at the Middle East Down seemed a little rockabilly from what I could gather of the unfamiliar groups. I saw all of Tijuana Panthers, from Long Beach, CA. I was unimpressed for a few songs then they played a song called Creatures of the Night that was like a theme song to a cheesy 1960s horror film that clicked and then a breezy cover of Everybody's Happy Nowadays by the Buzzcocks (playing Tuesday at Royale) and that got me to move up and listen closely. It seemed to me the set got better as they warmed up a bit.
Tijuana Panthers
Photo: Blowfish
As it turns out the Buzzcocks was the only reference to any music after 1963 for the rest of the set. They have this vibe of pre-Beatles pop with some surf tones thrown in. In that vein they had a song extoling crew cuts. For the first half of the set the guitarist sang the songs for the second half the bass player sang.
As that second half of the set moved on the good songs kept coming. The bass player sings a little more soulfully and that fits those 60s style songs. The bass player had an amp that was about 18 inches square and miked and he made it work.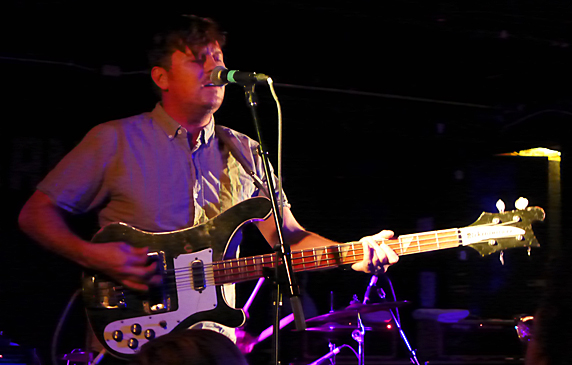 Tijuana Panthers
Photo: Blowfish
A heckler asked the bass player if he got drunk in Tijuana and got a panther tatted on his ass. The bass player replied that no he got a tattoo in Boston and it says 'Infinite Jest, David Foster Wallace'. Does he know that Wallace lived a mile away near Inman Square, or that some of the book takes place in Brighton a few towns away? Cool either way. At the end I felt like I got a generous set of nicely crafted songs in a period garage pop style. I would go to see them next time they swing around.

Tigar Army
Photo: Blowfish
The club got full and you could feel the excitement for Tiger Army's set. When they came on stage the crowd roared and were fist pumping the choruses with the band for the rest of the show. Some moshing broke out here and there with a few stage dives.
They play psychobilly and they have it down. The band had tight tee's and tattoos. The songs were on the simple side but they were also melodic with hooks. Their playing was all pumped up with excitement and the standup bass gave it that rockabilly undercurrent. Nick 13 on guitar was the center of attention.
I wasn't swept away but there was no denying that they were giving a good show. It was a lesson for me. Here was a band I had faintly heard about that could fill the Middle East down with dedicated fans. There are a lot of groups like that, it's a big scene out there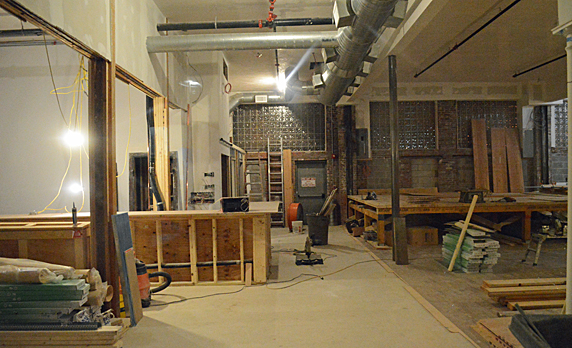 Middle East - old TT's area
Photo: Blowfish
Leaving the club I passed the new construction for Sonia's, the new club that will replace TT the Bears. I could see in and got the photo above. Looks like the bar is on the left but moved back and there is a raised staged at the opposite side of the room from where it used to be and look at that block glass. See that pole in the front corner of the stage? That will be in a lot of my future photos. Still needs a lot of work.

It was back to the Middle East but Up on Friday for another psych bill put on by Illegally Blind.
Beach Toys play pop/psych. Their twist is that they are an organ led trio. The organist sometimes plays guitar but it's the organ stuff that is the most interesting. It's was a low key affair, they were not going to kill you with volume. That made it a very comfortable set.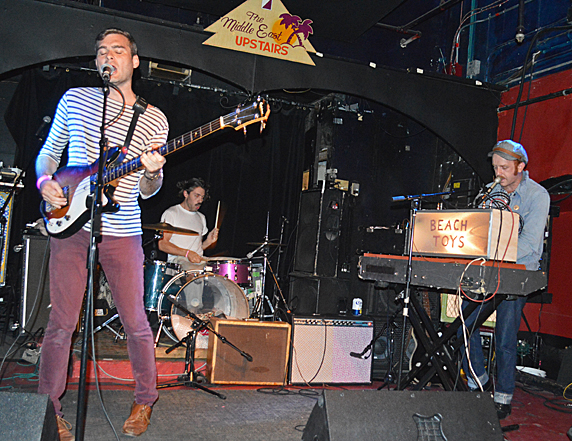 Beach Toys
Photo: Blowfish
Justin Lally on drums we met at our Wayne Viens interview. Justin worked with Wayne at the Store 54. He's a raw drummer. He attacked the drums like a boxer. There was a lot of physical effort, he would even raise himself off the seat to give a wallop. It worked in the context of the sound.
The organ player seemed like a very basic player at the beginning but as the set went on he was showing some chops and the last song I Can't Find It had a cool chromatic calipee run. They got a good reception with a crowd that just filled the main area of the club.
Their Bandcamp postings are very psychedelic but none have the organ sound that characterized the set I heard. I Can't Find It is the song that has the calipee effect at the end of it.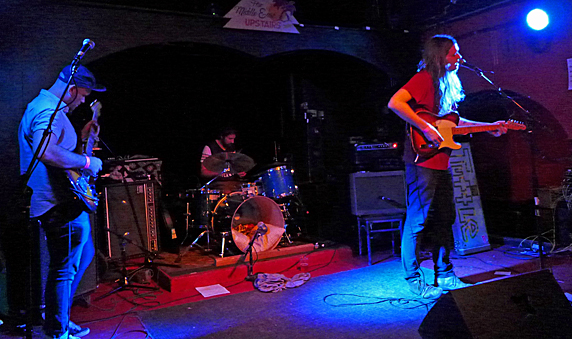 Doug Tuttle
Photo: Blowfish
I first saw Doug Tuttle at Hasselfest and then at TT's (RIP) both times he had a five man group. As I saw him set up in trio format I was a bit wary. I like the elaborate sunshine pop sound he got with the other players. Not to worry, Doug took up the slack. It turns out he's very adroit on guitar, much more than I could discern when he had a five piece.
In this whole local psychedelic redux going on Doug Tuttle stands out. He's obviously studied and assimilated the genre. On top of that his songs are superior and his performances live up to his detailed recordings.
This night the rhythm section was with him every minute as his guitar and voice took everyone for a magic carpet ride. He always sings like he's floating in air in a dream. That creates the atmosphere for the set. On guitar he played a lot of long meandering lines on a single string. Sometimes they aped a sitar and sometimes they had a Baroque feel.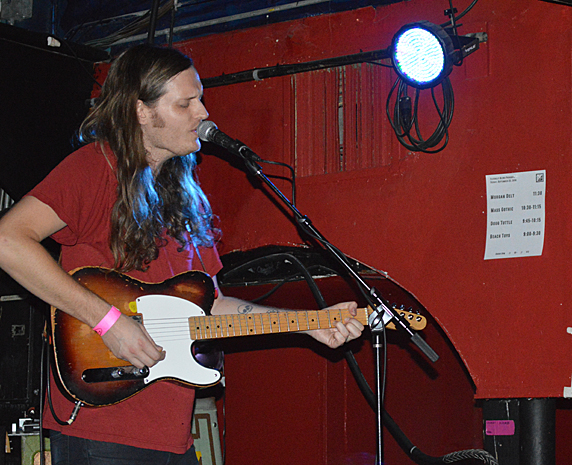 Doug Tuttle
Photo: Blowfish
He used his pedal board for tonal variety which he also got by playing some pinched harmonics. One trick he had was to play the harmonic and then pull the string at the headstock of the guitar to rapidly raise on lower the pitch.
At the end of the set, which seemed very short to me but was probably a half hour, they did a five minute jam with lots of feedback. It was a great set. Doug is the man to catch if you like your psych music.

Not a lot of people at O'Brien's on Saturday but it was a four rockin' bands in a row. I missed the openers Dirty Rotten Revenge from Bloomington, IL who sounded like something I wanted to hear on Bandcamp.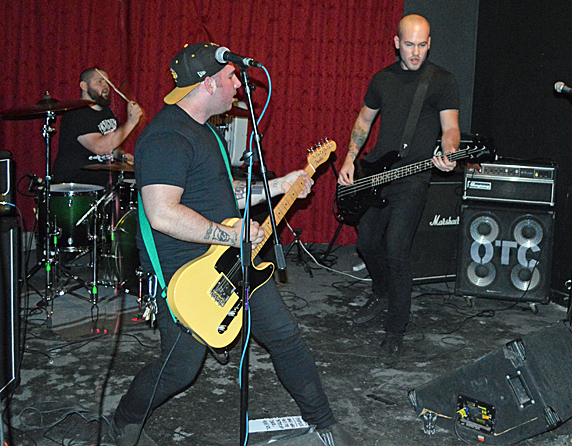 Weaklings
Photo: Blowfish
I got to hear Weaklings, who I saw last Saturday at Club Bohemia. I also saw two of the guys from the band at the Tiger Army show on Thursday. It was a week of Weaklings for me. The band was more revved up at this O'Brien's show. There was more action on stage and a sharper attack on the instruments. The set was nonstop punchy pop punk. That made me feel good because a set like that makes me feel it was worth hitting clubland. I have the feeling these guys never have a bad set.
On the Cinder
Photo: Blowfish
On The Cinder were from Buffalo, NY. They took up where the Weaklings left off. At the beginning it was punk but as the set went along it got increasingly more hardcore. They have an impressive two vocal attack that tops a big group sound. The songs had a few twists to them, enough that it made me want to see them again to catch what they were doing. They've played O'Brien's twice before so they could come back. Bandcamp
The Digs
Photo: Blowfish
We've seen The Digs twice before. In the meantime they did a Rumble but haven't had a lot of shows since then. I was expecting them to be a bit rusty but that was not the case. In fact they were tighter than ever.
They have a lot of influences along with punk that show up in the songwriting. But this set was more punk than what they did before. Much more power chord chunking rather than full chord strumming. The vocals are where they still distinguish themselves. The melodies are much more elaborate than those usually thrown on top of a punk progression. When you've seen people do the same thing the same way like we have, you appreciate the artistic jump some group like this does.
| | | |
| --- | --- | --- |
| Weaklings | On The Cinder | The Digs |
I'm not sure exactly where those vocal/melody line choices come from but I do know it's exciting and opens up the chance for expanding the punk boundaries. The group was hitting some very powerful grooves. They would sing a line and then dig in deep for a few bars then surface for a vocal and then down into the riff groove again. It was a way to have a vocal you could hear and then a power beat to catch you. That's just one of the ways this group works a song. There's a lot to hear with Digs.
That made three bands in a row that were worth going out for. I like these O'Brien's bills with some out of town bands.
In other news......
You can preorder the Morphine movie now go here
Someone posted a Mission of Burma live on WERS from 1980 concert. Check it out here
The Somerville Planning Board is reviewing plans to develop 337 Somerville Avenue into a locally-owned commercial complex incorporating a public market, non-profit offices, restaurant and expanded Sally O'Brien's bar. It's great that Sally O's will expand we'd love to have more room there!
WMFO's On The Town with Mikey Dee show It's Weds 9PM--midnight. Here are some upcoming shows:...9/28 Violet Nox live....10/5 M 8 live



There are a million punk songs, this is just one.


I'm a Poseur, I'm a Cliche, I'm a Wimp. You want a fast idea for a punk song then use the "I'm a ____" template.
Now, is there anything more primarily punk than the 'I'm A Loser' concept? Anything more common than snarling it out like John Lydon?
The Bristles do all that and it becomes something so typically punk that it's almost a caricature. I'm saying it doesn't become that here because they do it with the conviction and energy as if no one ever did it before.
There are three verses where I can't decipher even a single word. Then the "I'm a Loser" chorus. Then there is a drum section that seems to signal the end of the song but no, it's another chorus of "I'm a Loser"
The sentiment and the performance are punk in a nutshell.
This is from the LP Last Years Youth from 1995 on Beer City Records. The group was from New Jersey.



The Bristles
"I'm A Loser"
Here's some good shows coming up .....
September 26 (Monday) It's Brian Young Appreciation Night at Charlie's Kitchen!! Meet up at 7:30 for a meal if you so desire or just have a coupla drinks and hang if you want ! We will be saying "thanks" to DJ Brian Young from WMFO who is one of Boston's biggest supporters of the local music scene. Brian has local bands on regularly playing live and/or interviews them on the air every Saturday afternoon from 1-4 PM on 91.5 FM Boston. wmfo.org stream. After the gathering we will retire to the upstairs for some headbanging young punk bands Coffin Birth, Upheaval and Cosmic Bong Destroyer
September 27 (Tuesday) Buzzcocks at the Royale ...they played this very room back in 1980! And we were there then too!
September 28 (Wednesday) Wednesday 13 (fr. Murderdolls) "And Bloodshed For All" Tour with One-Eyed Doll, Open Your Eyes, Deprived, and The Evil Streaks on 09/28/16! This is an EARLY show 6pm-Midnight
September 29 (Thursday) Barrence Whitfield & The Savages and Diablogato are at ONCE Ballroom
September 29 (Thursday) through October 1 (Sunday) The "Rat" Beach Party in Hull. Check it out on Facebook for bands and times etc
September 30 (Friday) The Barbazons are putting a stop to the band for an indefinite period..to celebrate they are having a final show. Also on the bill Ravi Shavi (gotta see these guys!!) along with Earthquake Party and Bong Wish its at the Middle East Upstairs FB page
September 30 (Friday) The Scenics, Fireking, headband & Life Partners at PA's Lounge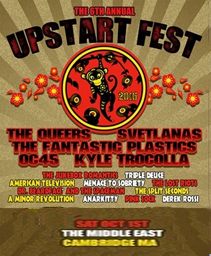 October 1 (Saturday) 6th Annual Upstart Fest Featuring: The Queers, Svetlanas, The Fantastic Plastics, OC45, Kyle Trocolla - at the Middle East Up...whew!! That's gonna be a killer show. We saw the Svetlanas at the 2013 Upstart Fest and they were great!! NOTE: this is an EARLY shows doors are at 4PM. FB page
October 1 (Saturday) Endation (first show in a long time!!) The Daily Pravda, M.G. Lederman, The I Want You at The Midway
October 1 (Saturday) A the Gulu Gulu in Salem - Come and see Rick Wormwood & the Rumbling Proletariat, with very special guest, Greg Allen, of Greg Allen's Fringe Religion, who will perform a rare acoustic set!
October 2 (Sunday) All Ages Matinee Show with The Big Sway, Oh The Humanity, Gant, Spillers, Crow Feeder - $10 *NOTE: 1 PM Doors Middle East Up
October 2 (Sunday) Neighborhood Shit Odd Signal, Wasted Time, Honest John, Sick Joke, MotherBoys - Matinee Show at The Midway 4PM- 8PM
October 2 (Sunday) The Vibrators, Nervous Eaters, Neutral Nation and The Beantown Boozehounds at Firehouse 13 in Providence RI
And further out......
October 3 (Monday) Bob Colby Presents: Mr Airplane Man and The Land of Enchantment at ONCE Lounge - He will present occasional shows at this venue now...These shows are taking place as part of ONCE's "Taco Monday" series, which means two things: 1) You can have some great food beforehand (starting at 5). 2) The shows have *no cover*, but donations to performers are encouraged (no set amount, whatever you can do). Look for the big silver bucket, every dollar that goes in there goes to the artists!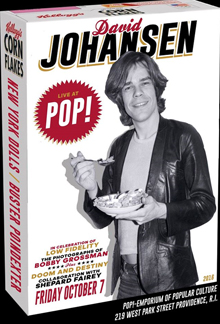 October 7 (Friday) a special event down in Provi....at Darren Hill's store POP, a Book Party for photographer Bobby Grossman's new book Low Fidelity - The Photographs of Bobby Grossman 1975-1983. The book is a trip to the New York Underground through the lens of Bobby Grossman during the exciting time of the emerging Punk/New Wave/No Wave scene. BUT performing for this party is David Johansen!! The book will be on sale. also a Doom & Destiny Collaboration with Shepard Fairey....FB page!! and Pop page for tix etc
October 7 (Friday) State Of The Union, Watts, Pop Gun, and The Knock Ups are at Koto in Salem
October 7 (Friday) Quiggs, Diablo Gato and Tom Baker & The Snakes are at Opus in Salem
October 8 (Saturday) for those of you who were Ska fans- An Evening with Dancin' Randy's Ska Punk Time Machine at Great Scott
October 14 (Friday) The Time Beings, The Black Souls, Craig Bell (of Rocket From The Tombs/Mirrors/X__X) and Shiny Beasts - this is a show not to be missed!! At the Midway!
October 15 (Saturday) The Stigmatics (Randall Gibson's new band) will be on the Crash Course for the Ravers with Brian Young on WMFO 91.5FM 1-4PM.
October 15 (Saturday) Nervous Eaters, Fast Times, The FUs, Crimespree, & Kermit's Finger 4PM show at The Midway
October 15 (Saturday) Panzerbastard, The Crosses (Dan Kubinski of Die Kreuzen), FUs, and The Pragmatics at PA's Lounge
October 15 (Saturday) The Upper Crust, Hickoids, The Grannies & Devil On Horseback at Once
October 15 (Saturday) Grieve, Pink Mass (NJ), horrible earth, Psycho and Gorepedo at The Midway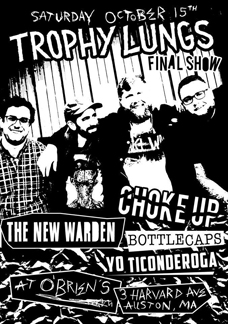 October 15 (Saturday) Trophy Lungs, Choke Up, Bottlecaps , New Warden & Yo Ticonderoga at O'Brien's - This is Trophy Lungs LAST SHOW- Blowfish is sad about this!!
October 16 (Sunday) Trusty Sidekick, Jiblantos (featuring the BGN's John Keegan!!), The First Supper and Last Exit To Palookaville - This is a matinee show 4.30-8.30PM
October 16 (Sunday) Cosmonauts, Magic Shoppe, Rye Pines and Future Spa at O'Brien's
October 21, 22 & 23 (Fri., Sat & Sun) The Boston Rock Opera presents Hair at Once Ballroom.
October 21 (Friday) Fuzbrains Presents: The Time Beings, The Hopelessly Obscure, Glider and If We Go At All at Ralph's Rock Diner in Worcester!
October 22 (Saturday) Burnt Village, The Guilloteenagers, PowerSlut and The Dick Pics - Matinee 4-8PM show at the Midway
October 27 (Thursday) Panzerbastard, Churchburn, Ritual Blade, and Upheaval @ O'Briens
October 28 (Friday) The Vooduo, (from CA), The Crimson Ghosts, The Skeleton Beats & The Outsiders are at Koto in Salem
October 28 (Friday) The Prozacs, BarRoom Heroes, Injury, The Pink Parts and Whoopi Sticks - 4-8PM Matinee Show at The Midway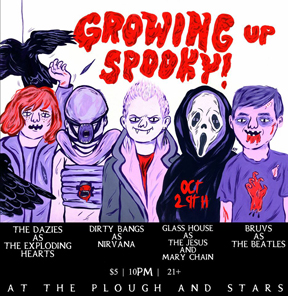 October 29 (Saturday) Cheech 20th Anniversary Show also on the bill Taxi Driver, Reason to Fight, Words of Truth, & Barfight Champs at The Midway
October 29 (Saturday) Growing Up Spooky - Music and movies from the 60s-00's at The Plow and Stars. The Dazies as The Exploding Hearts, Dirty Bangs as Nirvana, Glass House as The Jesus and Mary Chain and Bruvs as The Beatles
November 3 (Thursday) The Proletariat are at Once: "After a 33 year hiatus, legendary Boston punk rock band The Proletariat has decided to reunite for a few select shows . Original members Richard Brown, Peter Bevilacqua and Tom McKnight will be joined by guitarist Dan Sanders(from the Providence band Idle Rich) and will reunite for a series of shows in Fall 16. The reunion comes on the heels of the vinyl rerelease of the bands groundbreaking debut "Soma Holiday" on SS Records." Tickets!! (FB page)
November 3 (Thursday)Wolfman And The Brimstone Boys, The Evil Streaks, The Devil's Twins and Damnation are at Opus Underground in Salem
November 4 (Friday) The Upper Crust, Topheavy, Gene Dante & The Future Starlets and The Hi-End at The Midway
November 4 (Friday) The Proletariat are at The Met in Pawtucket RI (FB page)
November 9 (Wednesday) Illegally Blind and League Podcast Present: Shonen Knife, Shepherdess, and Birthing Hips at the Middle East Up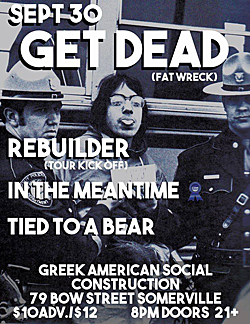 November 9 -12 is International Pop Overthrow at PA's Lounge
November 10 (Thursday) The Goddamn Gallows, Gallows Bound, Tigerman WOAH, Ten Foot Polecats - Middle East Up
November 10 (Thursday) The Sonics will be at Fete Music Hall 103 Dike St, Providence, Rhode Island 02909 - Here's the FB page
November 11 (Friday) The Sprained Ankles, Stop Calling Me Frank, Spectacle, The Johns at the Midway - This is a benefit for Frank Johnson (FB page for more info)
November 12 (Saturday) The Welch Boys, Penalty Kill, BarRoom Heroes, Zero Rights & Words of Truth a 4-8.30PM show at the Midway
November 12 (Saturday) Punk Rock Flea Market at Koto in Salem 1-5PM "Come down and buy some records, some band and sports tees, some homemade crafts and jewelry" There's be punk rock music after 8PM. FB page
November 12 (Saturday) Presented by State Line Records. This is the music after the Flea MArket- The northshore's best punk bands will be playing their second show of the year together. Local favorites The Tenafly Vipers and Quiggs bring down the house. Boston visitors Duck & Cover and The Warning Shots warm you up for the local favorites. Let's have a good time. all at Koto.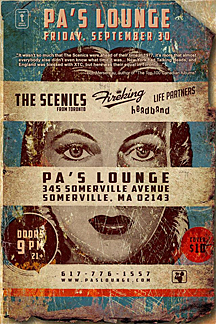 November 23-26 (Weds- Sunday) 4 Nights! Jonathan Richman featuring Tommy Larkins on the drums at the Middle East Up. FB page It was an amazing night when we went in 2014. And for fun read our 1980 interview with Jonathan
December 1 (Thursday) Humanoids, Mam? Ladilla (Spain), Covered in Bees (Maine), Intheshit & Black Friday - O'Brien's
December 3 (Saturday) Muck & The Mires will be on A Crash Course for the Ravers with Brian Young on WMFO 91.5 1-4PM
December 3 (Saturday) Studio Two , The Beatles Tribute w/ Muck and the Mires at The Middle East Up.
December 10 (Saturday) Thrash'n'Bang Christmas Party at the Midway
December 10 (Saturday) Nicole Tamaro Productions Christmas Party with The Silver Mirrors, Legendary Rockin Prophets and + free snacks & swag all at the Greek in Union Sq Somerville.
April 22 (Saturday) The Templars (NYC), Battle Ruins (Boston), Shipwrecked (Norway), Fit for Abuse (Boston), Boston Strangler (Boston) at the Middle East Down And it's ALREADY sold out in September 2016!
December 10 (Saturday) Psychic TV are at The Brighton Music Hall FB page
CONTACT US AT....misslynbgn@yahoo.com - Send us your gig listings, your news and anything else ya got!!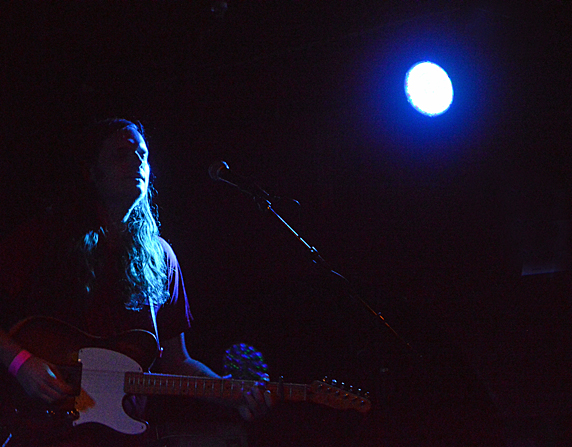 Doug Tuttle
Photo: Blowfish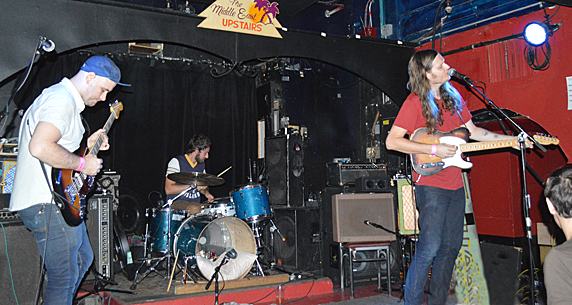 Doug Tuttle
Photo: Blowfish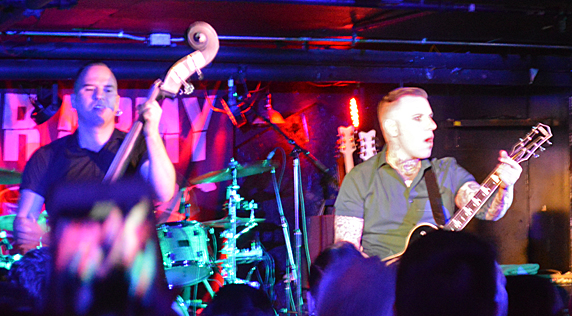 Tigar Army
Photo: Blowfish
Weaklings
Photo: Blowfish
Trivia night at Zuzu's
Photo: Blowfish