The BGN News Archive
October 5, 2020
Great Scott continues to move ahead in their death defying move down Harvard Ave! They've closed the deal!! An article in Vanyaland has them touring the new haunts and imagining the new set up.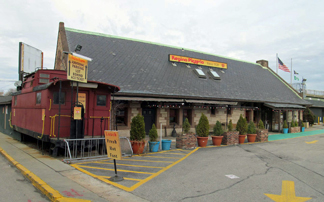 Carl Lavin (of Great Scott) envisions a room capacity of approximately 275 people, a slight bump from Great Scott's 240 capacity, with the stage located in the far left corner of the space, replacing the oversized bar that filled that corner of Regina. The backstage area would be on the Franklin Street side of the room, with the red caboose acting as a green room. Load-in entry would connect that area to the street, and provide parking for bands and touring vehicles.
The space would also include a relocated bar area running along the Mass Pike side of the venue, and an elevated section along the parking lot side for clear sightlines. There would also be 70 parking spaces for show goers, across two parking lots, and designated areas away from the stage, where Regina's dining booths were located, where people could have a drink and a conversation.
When asked about the size of the stage at the new space, Lavin said it's important to try and imitate Great Scott as much as possible: "Everything that we can do to replicate at the size of Great Scott, we want to do," Lavin tells Vanyaland. "I'm all about maintaining that Great Scott intimacy."
Also part of the plans for Great Scott at the Allston Depot include bringing in Allston Rock City Pizza.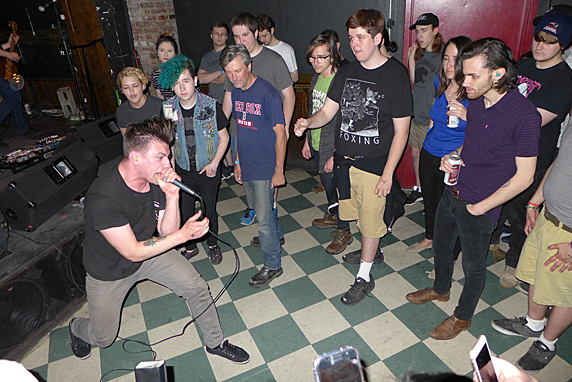 We will see those green and white checkers again.
(Actor/Observer)
The Great Scott story is a spirit lifter and a good story. The Boston Globe did an article on it also. It's mostly the same material as the Vanyaland reporting that came out first. One detail in the Globe caught our eye. "One thing that will definitely make reappearance is the venue's green-and-white-checkered floor, an "iconic" part of the former space, Lavin said." If you don't get stopped at the paywall the Globe Story is here.
Jay Allen's Mess Around has successfully transitioned to the live stream during the quarantine which is a good thing for us.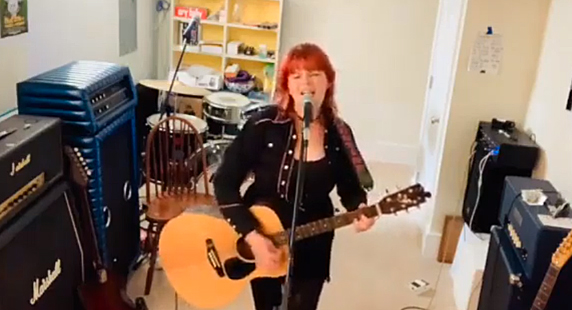 Justine Couvault
Saturday's session started with Justine doing The Unclean's "I'm In Love With You Jackass" then "Be Your Own Reason"
Ken Lafler and Selena Tan did a version of "God Only Knows" by the Beach Boys and a few other songs. Very tasteful singing and impeccable guitar playing.
Tom Baker lip synced a rocker and then played a live country tune.
| | |
| --- | --- |
| Selena Tan & Ken Lafler | Jay Allen & the Archcriminals |
The outside setting for Jay Allen and the Archcriminals gave them a chance to rock it out. No acoustic stuff for Jay this time. That's a switch up from the old days of the Mess Around. He ended his set with "Little Daggers" from his new album which is getting some air play. Little Daggers is on Somebody Out There Is Having A Party Vol 2 from Rum Bar records.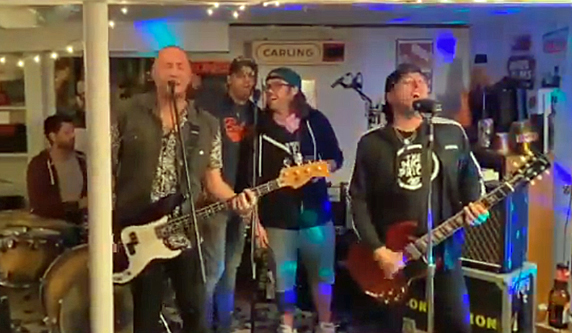 Kurt Baker
Kurt Baker had his whole band in a basement and did up two songs; "I Like Her A Lot" and "Don't Go Fallin' in Love" Both Baker pop gems. As time goes on our admiration for Baker's talent just grows. On top of that he's got the commitment and the work ethic that results in regular new material.
The Boston Local Music Festival was called "The Digi-Fest" this year because of the shutdown. It was two days. The Sunday part went for 10 hours. The Link for the video is HERE.
There was a few things of interest to BGN readers.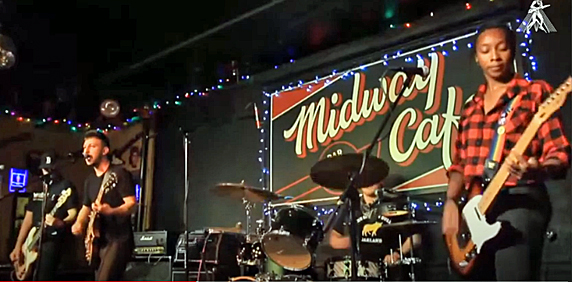 Planet Mercury
Planet Mercury at 3 hour 15 minute mark. We saw them at O'Brien's in January of 2020. They are inspired by early 2000s punk bands. Their Bandcamp page is HERE.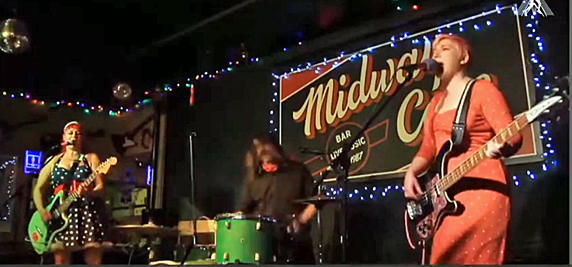 The Knock Ups
The Knock Ups are always looking for a live gig and they got a set at the Midway also. They are on at the 7 hour 31 minute mark. We liked the second song "Chasing Ghosts" a lot. It was a rocking good set.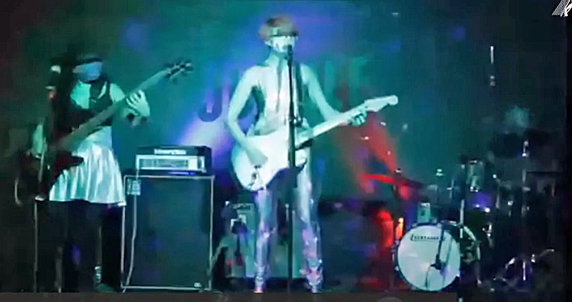 Linnea's Garden
Linnea's Garden did a set from The Jungle. At the beginning of the pandemic quarantine it seemed that Linnea Herzog was single handedly supplying all the live stream music you could take in. Her sets are filled with provocative songs that explore sexuality, politics and religion. No subject is taboo for Linnea and that makes for intriguing music and that's what you get in this set. She's at the 8 hour 16 minute mark.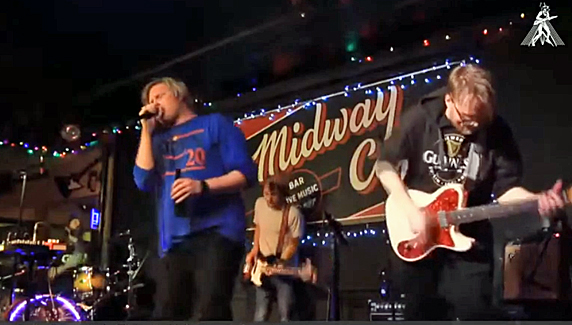 Paper Tigers
We saw Paper Tigers at the Midway live stream a week ago and they were back there closing out the Digi-Fest. They are at the 9 hour 16 minute mark. They play a melodic punk. We can hear songs there that we would live to hear live to get the full impact.
The group KCUF is having an album release live stream party….we guess you would call it. It's at The Midway on October 17. KCUF is a band that breaks the mold a bit. We saw them in 2018. Mike Barone of Loser's Circle is on guitar. We were wanting to see them more but somehow never did, they just didn't play out a lot. Here's a chance to catch up on what they sound like now. Here's the link to the live stream of The Midway Show They have one song streaming on their Bandcamp page now:
CDs/Music.......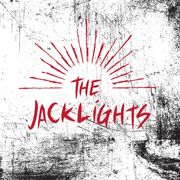 The Jacklights are a new band from Boston. They've got a very basic punk sound. The twist is that the songs are much more wordy than usual for this style. The members of the trio are Steve Patton (drums) who was in The Have Nots, Michael Allen (bass) is currently in the Instamatics, and was in Superkollider, and Friends of Ed and this is the first band for Nilagia McCoy the singer, guitarist.
Some influences are: Jawbreaker, Husker Du, Sugar, Alkaline Trio, Descendents, Pretty Girls Make Graves and Girl in a Coma. The first song "Dump Him" is very straight forward. Dump the guy he's just not into you. It's bluntness is the hook. Nilagia McCoy's singing is not punk bored or snarly ... it's in between. But the attitude comes forward unmistakingly and the lyrics convincingly. You feel her personality and you feel like you are getting a real life story from her.
"1AM Radio" is a late night heatbreak song. It's a slower take and its aim to be moody marks it as a different take on the patented punk blast. We give lots of credit to bands who break the mold like this. We're impressed with this first effort by a new band. So check 'em out!!
Brad Marino's solo album False Alarm came out in March. Now he has another album. This time he's recorded the whole 1983 Ramones album Subterranean Jungle. Great idea we say. There are 100 LPs pressed on yellow vinyl from Pine Hill Records (for info go to Pine Hill Records) The digital version is available on Bandcamp and you can hear two cuts.
Johnny Angel Wendell (Thrills and Blackjacks) has a new album out: Pipes of the Pandemic and he's got the first song "(I'm So Glad I'm Not) 22 (Anymore)"on Bandcamp now. The music is a fun romp but he's serious with the pointed lyrics. The instrumentation is all acoustic. A whole album of this would be very entertaining.
Videos.....Watch & Listen.....
Linda Bean Pardee logs in episode four in her Linda's Garagecast! The song is "LA LA LA" by The Cavedogs. Linda is joined by James Melanson and Smitt E. Smitty!!! Linda's Garagecast Four.
| | | |
| --- | --- | --- |
| The Shang Hi Los | The Damned | Motel Black |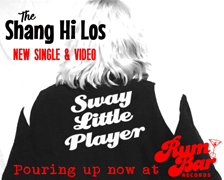 The Shang Hi Los released their first song "Sway Little Player" this week. Lord, we love this song so much we want to do the right thing and marry it and raise its children. And it's not just the song, it's the video too. We've never replayed a video like we have this one.
It all seems so simple we almost feel guilty about it. But as much as the video may seem simple, to do it in the quarantine situation required that they have the right idea and know how to pull it off. It helps they have a very telegenic band. See the video below.
The Damned Show this week stays with the song "Manipulator" off their next EP The Rockfield Files. It features Captain Sensible tinkering with the mix of the song. It's a look into some computer mixing capabilities you don't often get a chance to see. The Captain gives credit to the Allman Brothers at one point. Oh, the horror! EEEEE!!! Well check it out anyway coz it's The Damned. Video above.
Motel Black are promising a song a month during the shutdown. "PPB" is this month's video.
On the radio......Podcasts...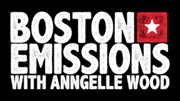 Anngelle Wood knows a good song when she hears it. This week she started Boston Emissions with The Shang Hi Los song "Sway Little Player". She also had a new song by The Von Traps titled "Unhinged". They only have it as a Dropbox file now but OH IS GOOD!!!!!. Listen Here Damn we miss seeing those guys!!!
She also played two songs from Township's new album called Life Starts Tonight on Bandcamp. The album was recorded in 2009 but released just this week.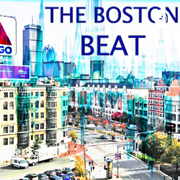 The Boston Beat podcast is back. And they have a two part interview with Frank Rowe. Frank takes out his acoustic guitar (and harmonica) and gives an intimate concert. Those witty songs even hit harder in the simple setting. It's a fast 30 minutes. It's on the Boston Beat AnchorFm site here. (for the interview Part 2 with Rowe - it's listed on the page below, along with many other notable Boston musicians.)
KLYAM!! This week Kids Like You And Me podcast features Carolyn Hawkins who is in a few garage/indie bands (Chook Race, Parsnip and School Damage) in Australia. She talked about life and creating music in lockdown. KLYAM continue to introduce us to new artists. We thank them for that!!
The podcast can be heard on the KLYAM AnchorFM podcast page here. Hawkins' band Parsnip does some low key garage pop. Listen below:
Read.......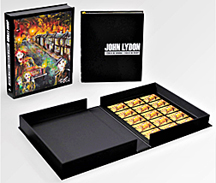 John Lydon's new book I Could Be Wrong, I Could Be Right will be published and available October 15th. He's been promoting for quite a while now. You can preorder and get a signed copy and be eligible for some perks. You will have to order from the UK. Check out the publishing site, it's a hefty 75 quid but should be worth it!! "Beautifully designed and limited to just 10,000 numbered copies, each book includes an original signature from John. In it, Lydon talks about the way he sees life, along with anecdotes from his unique and extraordinary career. Expect a pyrotechnic, one-off read from a true original who has always been one step ahead." PLus there are all kinds of prizes being offered to those who pre-order. I Could Be Wrong, I Could Be Right
---
Coming up.....
Virtual/ Streaming/Online Events.....
Dont forget to check out Linda Bean Pardee's Linda Garagecast every week. https://www.facebook.com/media/set/?vanity=scurvyann&set=a.10157795268977749
The Midway is getting better at getting a full group on stage and letting them blast it out and having the sound be decent. That's what we are looking for now.
Monday October 12, 8-10PM - The Thigh Scrapers and The Stigmatics the have had a gig at the Midway that has been rescheduled a few times. They finally are going to get on the Midway stage with a streaming live show on Monday October 12.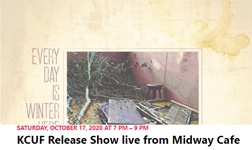 Tuesday October 13, 8-10PM - The Instamatics and The Jacklights will be streaming live from the Midway FB event page
Saturday October 17, 7-9PM - KCUF album release live stream party at The Midway, looks like Michael Kane & the Morning Afters will be joining them too! FB event page.
Thursday October 29, 7:30-9PM - Walter Sickert & the Army of Broken Toys Halloween Happening at the Museum of Science ...special one-night-only virtual Halloween Happening! Kick off your spooky season with a digital edition of our annual evening of music, masquerade, and mayhem. FB event page
Saturday October 31, 9PM-1AM - The ManRay 15 Year Halloween Virtual Reunion on Twitch and Zoom... FB event page.
In Person shows.....
October 28 (Wednesday) Einstürzende Neubauten - The Year of the Rat Tour - The Wilbur Theater Facebook Page
Thursday December 17 -7-9:30PM - Talkin' to Dracula and his Crew: Goth subculture and horror, a lecture - Miskatonic Institute of Horror Studies Brooklyn NY FB page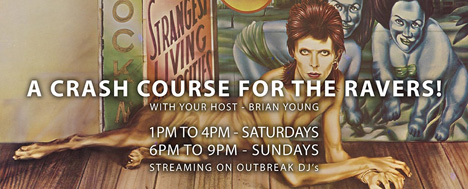 January 16, 2021 (Saturday) New Date - The Schizophonics, Muck and the Mires at ONCE Lounge Early Show: 5:30 PM – 8 PM
February 17, 2021 (Saturday) Rescheduled - Swans w/ Anna von Hausswolff at the Paradise
April 19, 2021 (Monday) Rescheduled - Dead Can Dance at The Wang Theater
April 29, 2021 (Thursday) Circle Jerks Plus Special Guests at the paradise (this is a reskedged show) FB page
CONTACT US AT....misslynbgn@yahoo.com Send us your gig listings, your anything else ya got!! You want your CD reviewed?? Contact us for that too.
---