The BGN News Archive
October 14, 2013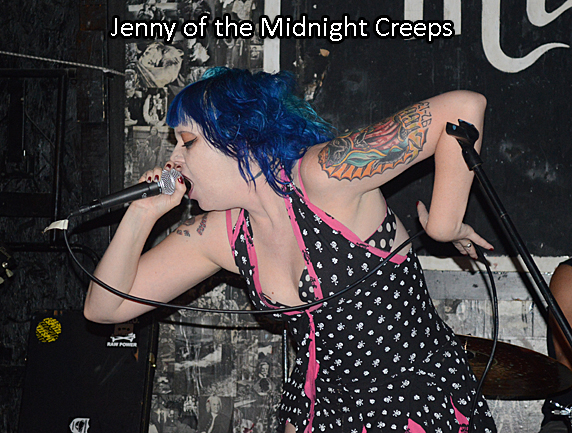 The chance to see the Midnight Creeps drove us to the Midway this past Friday. Not a lot of people at this gig unfortunately because they would be missing some amazing talent and an entertaining show never mind that this was the last the Midnight Creeps gig ever.
First group we saw was Hambone Skinny which was Skinny Mike's new project. Couldn't help the see the White Stripes/Black Keys line up similarity. Music wise Mike was had some dirty swamp rock and blues going on. The guitar was ultra-dirty and buzzing. The drumming was simple stomping. He finished with a version of early Fleetwood Mac's Green Manalishi and made it ooze with voodoo atmosphere.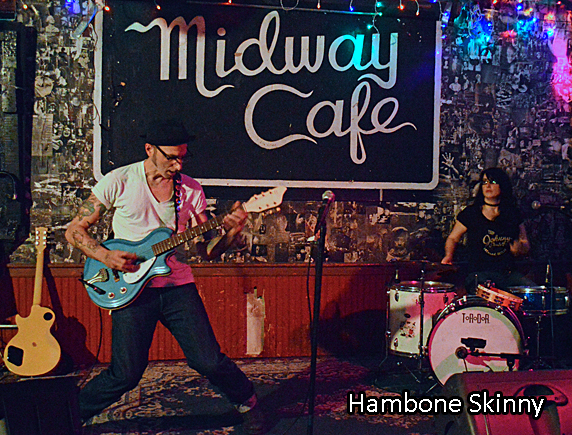 The drama of life is intruding on the usual Midnight Creeps carefree antics but nothing diminishes the music with this group. Jennifer LaHurricane is such a strong singer and front person you have to struggle to remind yourself how very capable the band is ...poor guys, anything less though would seem wussy. They have to be good.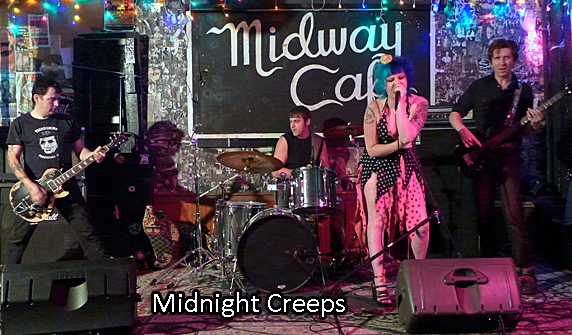 Per usual Jenny wore a note worthy and outrageous outfit along now two tone turquoise hair. She's a natural up there as she crawls on the stage, romances the microphone. During this set she excuses herself to fix a "front wedgie" then pulls up her dress to show us her butt with thong planted squarely 'tween the cheeks. She has funny and pointed stage patter that keeps you listening as well. That is all very entertaining but is secondary to the voice. She can belt out the songs but not without finesse. She will also growl or purr and add a variety of shadings. The songs are well written and allow her to do that.
If you've seen any of Jenny's posts on Facebook or heard her at the show, you know she was recently diagnosed with breast cancer. In fact when they did a cover of the Pistols' Oh You Silly Thing she announced "This is dedicated to my left tit." It turns out Jenny's treatments this week. She's readying herself for the worst she says but we hope in a very huge way she gets through this and comes out the other end with flying colors. Meanwhile she and hubby Jamie just celebrated their first anniversary and we are happy he's there to support her during the upcoming madness. Jenny says this was the last Midnight Creeps show but depending on how things go she most likely will put together a new band with a different focus in the future....either way we know it'll be great! We're thinking 'boutcha Miss Hurricane!!!
Another week, another Classic Ruins gig for us; they had the same line up as the Store 54 gig last week. We stand by our praise of Dave Kowalcek the drummer, he is great for Carl and Frank. We were spoiled by Jeff Crane in the lineup but this trio format is working just fine.
Oh!! The Neighborhoods sue The Neighbourhood!!! As seen in the Boston Globe and on Universal Hub... The Hoods, our Hoods, are sueing Sony because they are pushing a band called The Neighbourhood. Well hell ya that's pretty confusing!!

Ok friends, here's some stuff coming up:

As we mentioned last week the President's Rock Club is Quincy has been having some good shows lately and here's another one: Nashville Pussy, White Dynomite, The Revilers and others...this Saturday Oct 19 - bands start at 8PM!

Also this Saturday Oct 19 out in Worcester its Cheryl Crane's Birthday Bash with the Lyres!! and itís at the Hotel Vernon where they have $1.00 beers...yes one dollar...

October 25th - Friday- Thalia Zedek's band is at The Midway

Sunday October 27th it's Old School Game show night over at The Davis Square Theater OSGS is a live interactive theatre experience done with all the pageantry and analog style of a 1970's television game show. The show combines elements of pub trivia, variety specials, and comedy sketches to produce a completely unique trivia experience that tests players pop culture acumen. With influences as vast as vaudeville, Pee Wee's Playhouse, Andy Kaufman, and Battle of the Network Stars how could you go wrong? The entire show is backed by an amazing live band playing original music....sound pretty cool huh? Tix can be had at Brown Paper Tickets $15...if you want to be a contestant...$30.

And October goes out with a bang at O'Brien's!! Thursday Oct 31 they've got The Sprained Ankles, Squallie and The Chaotix , The Radicals and The Pity Whores

Then the next night Friday November 1st is Penis Flytrap, Kermit's Finger and Padded Hell

We have a Spooktacular!! This one is at The Middle East up on, you guessed it Halloween night Oct 31st its the Satanics...with Aquanutz featuring Michele Paulhaus as they do 80's hard rock send ups and Slim Lizzy which is members of Slim Jim and The Mad Cows doing Thin Lizzy songs...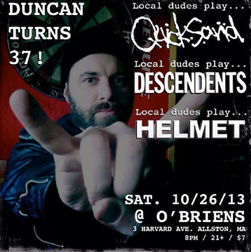 Saturday November 2nd White Dynomite has their Record Release Party at Great Scott...with Hey Zues, The Andrea Gillis Band and Suicide Dolls (who we raved about previously) .
Sunday November 3rd The Dickies are at Middle East up along with Duck & Cover and Burning Streets. November 8th is Baker boys night at Radio down with The Kurt Baker Band and Tom Baker and The Snakes...
And...WHAT??? The Flaming Groovies are at Radio??? Yup- Thursday November 14th and note- since you do not want to miss anything that doors are at 7 and the show starts at 8PM sharp!! I'd say buy tix now for this one!! Andy Shernoff is also on the bill!
November 16th (the day before Miss Lyn's birthday) James Straight is having his birthday bash at Copperfield's...it should be a good party folks - on the bill is the always entertaining James Straight & The Wide Stance (CD review) along with The Derangers, The Guns of Brighton and Nicole Alexander
The Smithereens are playing at The Old Town Hall in Salem on November 23rd...along with Pop Gun and Gyro Lula..... now folks get yr tix for this its very limited seating...
And really far in advance we're letting you know about John Surette's punk opera Tomorrow The World will be performed live at the Middle East, Saturday Dec 14.
EMAIL US AT.......misslynbgn@yahoo.com
Past postings of this news page are in the BGN ARCHIVES