The BGN News Archive
October 17,2016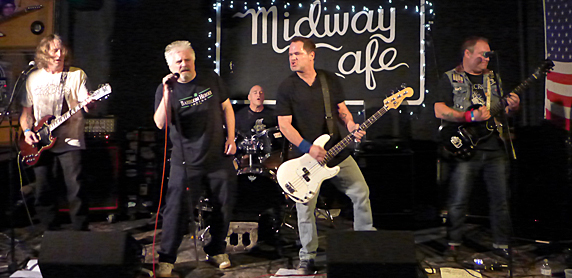 The FU's
Photo: Blowfish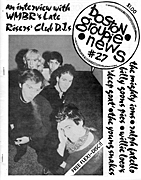 Carla Nolan former DJ of WMBR's Late Risers Club has died. Carla was part of the Mr and Ms Denton duo. The joke was that Albert O was Ms Denton and Carla Mr. Denton. That Late Risers line up was on the cover of our #27 issue. In the interview Tom Lane said the Stranglers were being contrary and that Carla had to chew them out and told them to do a better interview. Carla said, "And they did, they smartened right up." She had a sparkling personality but didn't put up with things that screwed up business. RIP Carla.
For music this week:
Miss Lyn went to the Berklee Performance Center to see Patti Smith in a "conversation" with local author Michael MacDonald. The place was absolutely packed, it must have been a sold out show. We arrived at 5:30 and there were already a few people in line outside the door. It was worth the wait. Patti came across as very personable, friendly, wise, humble and a natural comedian. Dressed in her usually disheveled look; old jeans that look like they'd been worn for at least a week, oversized men's shirt, vest and jacket along with combat boots she looked and seemed very comfortable up there. She was so personable that we felt like we were in a living room with her and Michael, really. Patti Smith lives the life many of us would love; poet, singer, writer photographer all around creative type, she is paid to travel and talk about her life. And its worth reading about and listening to! The premise for this night was Patti's recent book M Train. MacDonald stuck mostly to that topic with a little bit thrown in from her earlier book Just Kids. They talked about Fred and Mapplethorpe , who loom large in her history. They also talked about her children Jesse and Jackson and Patti revealed she has a grandchild too! She's definite a mother, it comes out in her concern for the younger generations.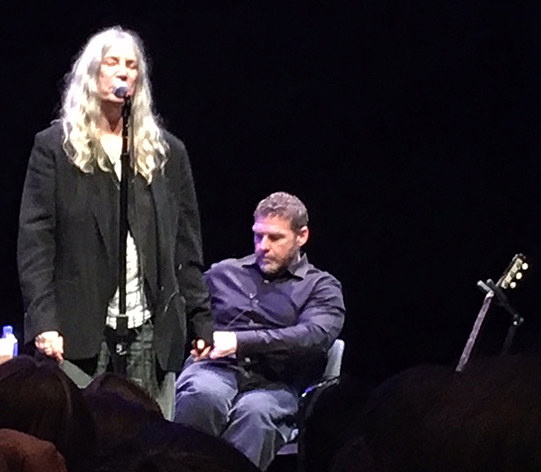 Patti Smith and Mike MacDonald
Photo: Blowfish
I loved M Train and was sad at the end of the book because I didn't want it to end. Funny thing is Patti didn't either. She said she felt seperation anxiety and wanted to continue writing so several additional pages have been added to the paperback version which came with the price of the ticket for this show. I was happy to read those new pages and then start at the beginning again! The one question that I would like to have heard asked was is Patti's life as solitary as she makes it seem in M Train? To me that would be an obvious question and I'd love to know the answer to it.
During the hour talk Patti got up at different times and sang, with the accompaniment of Tony Shanahan. She introduced him saying "Tony is plays the bass and piano in my band, that's why he 's playing guitar." Her first song was the very touching "Wing", it was followed at appropriate times with her big hit Because the Night, a cover of Lou Reed's Perfect Day and then People Have the Power. She can totally pull off the low key acoustic performance, it was great!! The whole night was a wonderful experience and made me love Patti that much more!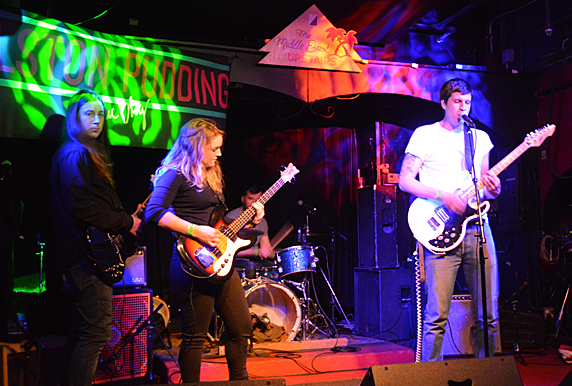 Laika's Orbit
Photo: Blowfish
Wednesday Allston Pudding had a night at the Middle East with five bands. Allston Pudding describes itself as a music blog. I count 33 people on their masthead and they've won three Boston Music Awards and show an impressive amount of advertising. Musically they cast a wider net than we do. I like their Mix Tapes where you get a chance to check new releases and groups.
First group we caught was Laika's Orbit. (Laika was a Russian dog who was the first animal in space.) They were perky punky pop. They were a little nerdy and never got too messy. The songwriting kept the set interesting. One of the songs had a rapid ascending six chord run that stamped it in your mind. There's room to make thing better with some moving bass lines rather than just root notes and added lines from the second guitarist. I'm not complaining too much I loved the whole poppy set. This is a group that should be inserted into the upcoming International Pop Overthrow. They capture their sound well in their recorded material. Their Bandcamp page.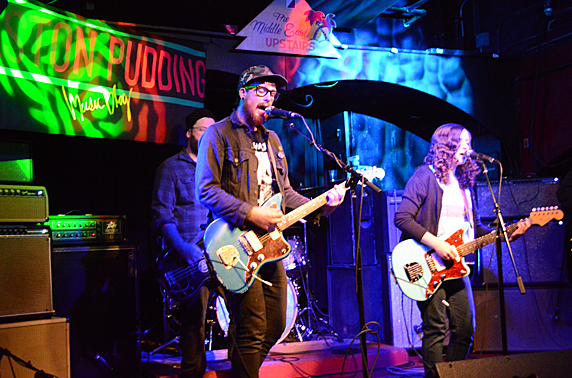 Kindling
Photo: Blowfish
Kindling come from Northampton (which seems to have a lot of new bands these last few years, judging from the groups I've seen). They sound they go for which is low end and fuzzed out with some breathy vocals on top. It reminded me of the Jesus and Mary Chain a lot. It comes across as very dreamy and shoe gaze like. I thought it worked well except the vocals were buried in the mix and it seemed the vocals where important. Still I thought they delivered. Their Bandcamp page.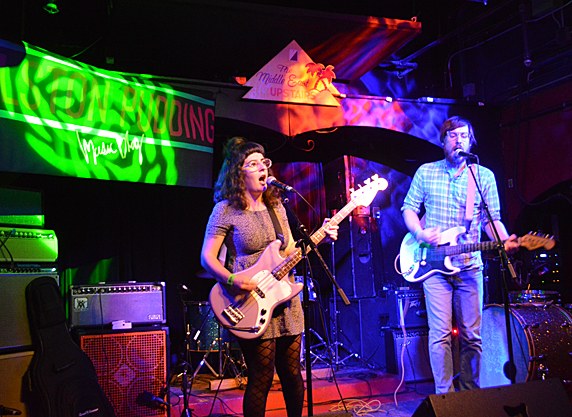 Halfsour
Photo: Blowfish
But the show was for Halfsour to celebrate the release of their new album Charm School. The club was at its fullest for their set. They describe themselves as 'indie pop, power pop, slacker pop". That is going on but the set didn't impress me too much. Again the bass player is sitting on one note per chord and not moving, thus the songs which are well written don't flow like they could. But maybe they are doing that on purpose. I like the recorded versions of the song more than the live ones. They had some good back and forth joking with the audience who were all big fans. Check them out here.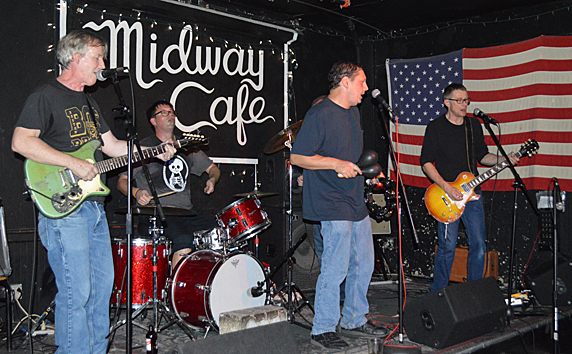 Shiny Beasts
Photo: Blowfish
Wednesday we saw three new groups....Friday at the Midway was three familiar groups. We fell for Shiny Beasts the first time we saw them in January of this year . They're an evolution of Triple Thick. They had a parcel of new songs along with a few that we have come to know and love.
They played Pizza Time then a new one called Calzone. Put those two with Pure Grain Alcohol, which followed, and that's Saturday night diner. They didn't do another fave of ours I Feel Like a Baked Potato. This group makes us hungry!! They did All The Drugs I Can Find which they said was about Big Pharma which may be different than you would think. That makes the song even more pointed as well as a current social comment.
Their sound is garage with a pop jangle. This show had Nick on drums going bonkers. Just watching him was half the show. He's not a classroom taught drummer, he plays like he learned it all in the garage. We love Henry's singing too! We love Mitch's playing which contrasts with the other guitarist.
Like Triple Thick before them they are reliable and refreshingly straight forward and lots of fun. We can't wait to catch 'em again!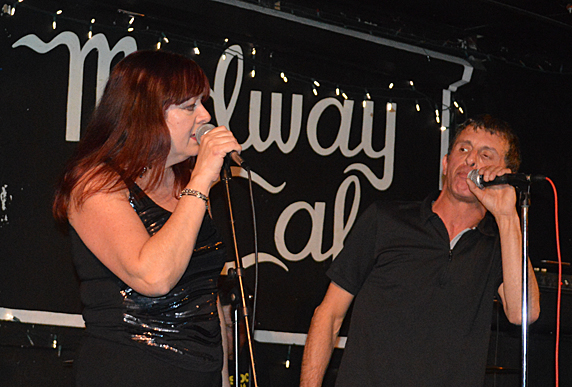 Kim and Cam of the Black Souls
Photo: Blowfish
Black Souls which is Kim and Cam Ackland have separated from the group they started out with and got the Classic Ruins to back them up for a few gigs. It was very shaky at the beginning. Even in the rough spots you could focus on Carl's bass playing. As the set went forward they got things together and by the time they played their last song Watch Dog they had it cooking.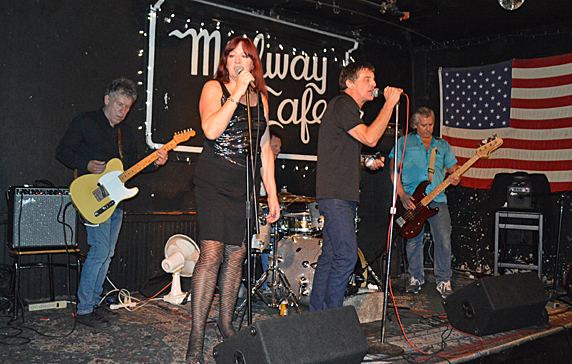 The Black Souls
Photo: Blowfish
They co-opted some Ruins songs like Lights Out, Slow Down and a Bo Diddly song that helped the transition. It was a mind bender to hear the songs not sung by Frank. Kim and Cam have that duo-singer dynamic and it's unique to them in our circles. There are so many groups out there that it's hard to distinguish yourself. Getting that feeling of two singers connected on many levels is a winner.
They Did Sally Go Round the Roses and Frank's chording and the subtle singing captured the mystery that song has at its heart. A smart move with Kim singing was to cover Venus by the Shocking Blue and that was a highlight. Being their first show together, it was far from perfect but nothing more practice can't knock.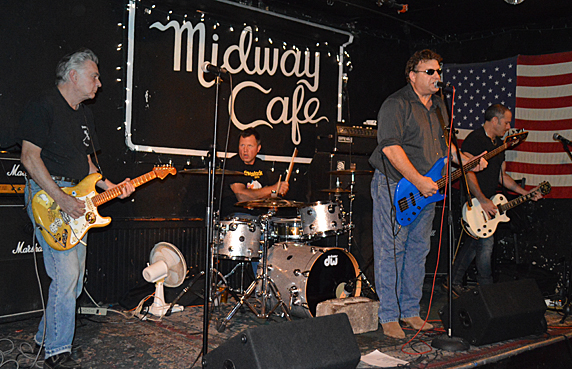 The Time Beings
Photo: Blowfish
We haven't seen a lot of the Time Beings here in Boston. They play around their hometown Worcester. Guitarist Wayne Preston is a legend around there and is in a few other groups also. They fit the bill this night perfectly with their brand of garage/psych. They began with an instrumental. It was an updating of Reveille Rock by Johnny and the Hurricanes. Later they did a similar thing with the Theme from Exodus.
They covered the Rolling Stones with Citadel from the Stones short psych period. They remarked that the Black Souls had played When the Night Falls
by The Eyes an obscure English group. Well, they proceeded to play the FLIP SIDE, I'm Rowed Out, from the same obscure single!!! What the …?
They also did the Fall's Mr. Pharmacist that also linked thematically with the Shiny Beasts' All the Drugs You Can Find.
The Time Beings also have one of our favorite drummers Dave Kowalachek from Classic Ruins, who also played with The Black Souls line up. Jay Martorano had a gravelly voice that was perfect for the material. Wayne was a constant source of wonder on the guitar. He did straight melodies for the instrumentals but could slip into psychedelia at any point and had a stunning control of feedback at his fingertips.
A good set? Oh ya.
| | |
| --- | --- |
| Shiny Beasts | Shiny Beasts |
| The Time Beings | The Time Beings. |
All three bands who played on this night know their rock and roll. That's one of the things they bring to the table that deepens the experience and quality of the music.

Saturday afternoon at the Midway was a replay of the June gig with the Nervous Eaters and Fast Times. It worked the first time, so why not again?
Nick Hebditch (son of Alan of the Eaters) did it one better by having the FU's on the bill. That represented the 80's decade of punk to go along with the 70's and current days.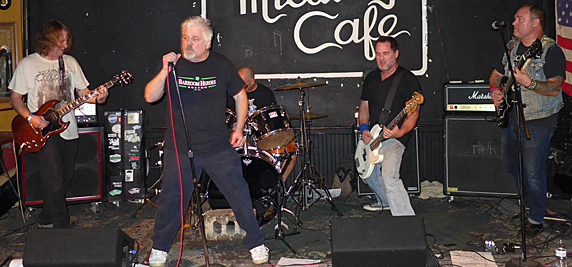 The FU's
Photo: Blowfish
The FU's put in one of the best sets that I can remember. They have been gigging steadily and it's sharpened them. They had two guitarists drilling it out, Ed Lynch playing hard on bass while doing his animal-in-cage rage and the unrelenting drummer who was yelling out the next song title while starting it up, never giving his bandmates a rest. At front and center John Sox is spewing out the lyrics. How can anyone remember so many words and say them that fast? As time goes on and John does his thing year after year he is fixing his place as a great Boston punker and certainly a hardcore legend.
They covered a lot of material with Young, Fast, Iranian being the highlight and Green Berets as the final song. They did a long set for a hardcore band despite the fact that they had another show at PA a few hours later. How they could do another show after all the energy they put in this one, I'll never know.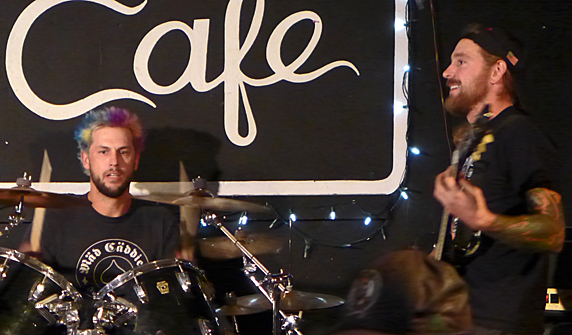 Fast Times
Photo: Blowfish
Nick's band Fast Times was breaking up at that last Midway show in June. He found some guys to fill in and there they were. They were different. They were much more straight ahead hardcore. They definitely had enough rehearsal. The short hard bursts of hardcore brought out the moshers. There were 15 or so who cleared the floor area and half a dozen were women. They covered Bad Religion and that worked. This was a good line up. They should consider solidifying it.
Nervous Eaters
Photo: Blowfish
Bassist Rob Skeen was a no show for the Nervous Eaters which was what happened last time. We heard that Rob has health problems and we love Rob so we wish him the best. Like last time Alan Hebditch went to bass, Dave McLean was on drums and Steve Cataldo had a lot of room to play. Steve had his own issues; last week he had an accident where his car flipped over!!
With all that in the background the Eaters played a row of the familiar songs we love. They came across well, even with the truncated line up.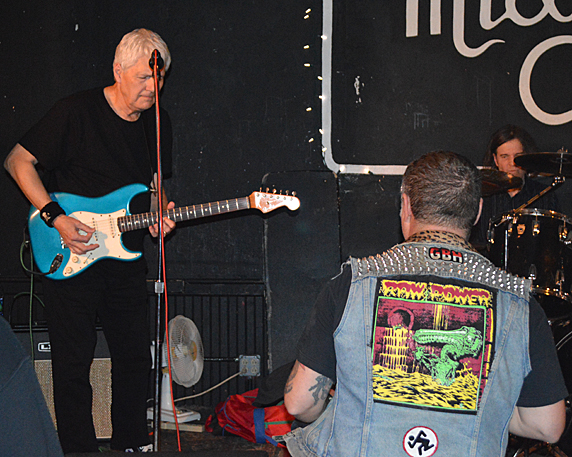 Two Generations
Photo: Blowfish
The real story was in the audience where I saw everyone giving rapt attention and response to every note. This was a mix of old and new fans but mostly newer. I could see the younger fans appreciating it all. I wish there were some more of the older fans there. In the end the Eaters did a set on the short side but they couldn't get off without an encore and that was a rousing Shit For Brains.
Nick Hebditch deserves a lot of praise for bringing this gig together. There should be more of these shows that bring different era of punk or different styles of groups together. We'll wait on that but this was the template for others to follow if they are paying attention.


In other news....
It turned out that someone got hurt at the above PA's show with the FU's later on Saturday. Some piece of crap hit someone on the head with a glass. It was a serious injury. He was taken away in an ambulance and was in the hospital for tests and removal of all the glass, stitches etc etc. This kind of stupid shit is just not acceptable. It was NOT someone associated with PA's, so dont go hating the club, it was another hardcore fan who attacked a fellow hardcore fan. WTF is that about???? Mosh and slam all you want but don't go hurting each other, music is there so we can enjoy it, not be wary of the people around us!!!
Speaking of the punk life...let's make light of this: Maybe you should buy some high fashion punk clothes. Here's another attempt at insanely high priced fake punk clothes. HighSnobiety reports that The Cloths Surgeon and Fashion Time have come out with their "ORDERED ANARCHY" collection which takes punk staples - biker jackets, bombers, tartan trousers etc. - and elevates them to luxe status via next-level fabrics and an expert eye for tailoring.
Hey, we have an idea: What about the real thing? We hear the iconic chain and "rabbit" lock of Sid Vicous' is at auction for $25,000.
How about something more affordable like this Lemmy Kilmister Vinyl Figure from aggronautic? That's about $10.00.
| | | |
| --- | --- | --- |
| High Snobiety | Sid's chain | Lemmy Doll |
.

The FORZ, who we've written about before, just the released their cover of "Psychotic Reaction" the first of four cover song releases they are planning . Stream it here! Their most recent album; "Running From The Past" was just released on June 24th. They have a gig coming up in December at Club Boho The Cantab in December. (see listings)

Here's some good shows coming up .....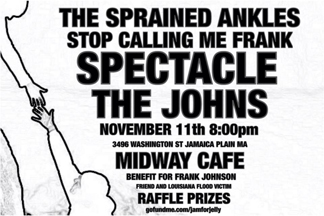 October 21, 22 & 23 (Fri., Sat & Sun) The Boston Rock Opera presents Hair at Once Ballroom.
October 20 (Thursday) Anthony Kaczynski, The Nickel and Dime Band and Trusty Sidekick are at The Tavern at the End of the World.
October 21 (Friday) Skeleton Beats are headlining at PA's lounge. (11:30- 12:15)
October 21 (Friday) Fuzbrains Presents: The Time Beings, The Hopelessly Obscure, Glider and If We Go At All at Ralph's Rock Diner in Worcester!
October 22 (Saturday) Burnt Village, The Guilloteenagers, PowerSlut and The Dick Pics - Matinee 4-8PM show at the Midway
October 22 (Saturday) out in Wormtown it's a Cheryle Birthday Party at Hotel Vernon with The Flipsides, The Last Ones and The Rock & Roll Bastards.
And further out......
October 27 (Thursday) The Dickies, Muck & The Mires and now The Silver Screams are at The Middle East Up. (FB page)
October 27 (Thursday) Panzerbastard, Churchburn, Ritual Blade, and Upheaval @ O'Briens
October 28 (Friday) The Vooduo, (from CA), The Crimson Ghosts, The Skeleton Beats & The Outsiders are at Koto in Salem
October 28 (Friday) The Prozacs, BarRoom Heroes, Injury, The Pink Parts and Whoopi Sticks - 4-8PM Matinee Show at The Midway
October 28 (Friday) Oh Framingham you are in for a treat: Screwcart, Rockin Bob, Gasco and Road Soldier at The Tavern in Framingham (here's the FB page for info)
October 29 (Saturday) Cheech 20th Anniversary Show also on the bill Taxi Driver, Reason to Fight, Words of Truth, & Barfight Champs at The Midway
October 29 (Saturday) Growing Up Spooky - Music and movies from the 60s-00's at The Plow and Stars. The Dazies as The Exploding Hearts, Dirty Bangs as Nirvana, Glass House as The Jesus and Mary Chain and Bruvs as The Beatles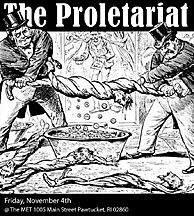 November 3 (Thursday) The Proletariat are at Once: "After a 33 year hiatus, legendary Boston punk rock band The Proletariat has decided to reunite for a few select shows . Original members Richard Brown, Peter Bevilacqua and Tom McKnight will be joined by guitarist Dan Sanders(from the Providence band Idle Rich) and will reunite for a series of shows in Fall 16. The reunion comes on the heels of the vinyl rerelease of the bands groundbreaking debut "Soma Holiday" on SS Records." Tickets!! (FB page)
November 3 (Thursday)Wolfman And The Brimstone Boys, The Evil Streaks, The Devil's Twins and Damnation are at Opus Underground in Salem
November 4 (Friday) The Upper Crust, Topheavy, Gene Dante & The Future Starlets and The Hi-End at The Midway
November 4 (Friday) The Proletariat are at The Met in Pawtucket RI (FB page)
November 4 & 5 (Friday & Saturday) Boston Hassle and Brain Arts Organization presents Hassle Fest 8 is two-day underground and independent music festival that is organized and coordinated entirely by Boston Hassle volunteers. This event will feature both local and touring independent and underground musicians that will lure DIY music-lovers from all corners of New England to the streets of Boston for this annual celebration. It's at the Brighton Music Hall FB page for more info ...and Boston Hassle page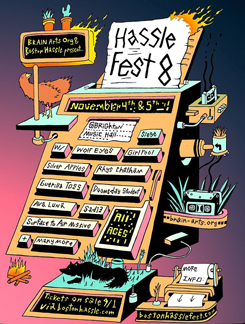 November 5 (Saturday) The Real Kids, Classic Ruins, Andy California, Hambone Skinny at The Midway!!
November 5 (Saturday) Stray Bullets, Duck & Cover, Jumper! and Offwhites are at The Greek club in Union Sq Somerville. FB page
November 9 (Wednesday) Illegally Blind and League Podcast Present: Shonen Knife, Shepherdess, and Birthing Hips at the Middle East Up
November 9 -12 is International Pop Overthrow at PA's Lounge
November 10 (Thursday) The Goddamn Gallows, Gallows Bound, Tigerman WOAH, Ten Foot Polecats - Middle East Up
November 10 (Thursday) The Sonics will be at Fete Music Hall 103 Dike St, Providence, Rhode Island 02909 - Here's the FB page
November 11 (Friday) The Sprained Ankles, Stop Calling Me Frank, Spectacle, The Johns at the Midway - This is a benefit for Frank Johnson (FB page for more info)
November 11 (Friday) Mercury on Mars, The Hose, Psychic Dog and The Digs are at Club Boho at the Cantab
November 12 (Saturday) The Welch Boys, Penalty Kill, BarRoom Heroes, Zero Rights & Words of Truth a 4-8.30PM show at the Midway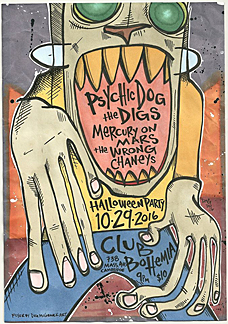 November 12 (Saturday) Punk Rock Flea Market at Koto in Salem 1-5PM "Come down and buy some records, some band and sports tees, some homemade crafts and jewelry" There's be punk rock music after 8PM. FB page
November 12 (Saturday) Presented by State Line Records. This is the music after the Flea Market- The northshore's best punk bands will be playing their second show of the year together. Local favorites The Tenafly Vipers and Quiggs bring down the house. Boston visitors Duck & Cover and The Warning Shots warm you up for the local favorites. Let's have a good time. all at Koto.
November 13 (Sunday) The Spearmint Sea, Uranium Daughters and Cold Expectations are at O'Brien's - Ibeleive this is Steve Prygoda's (My Own Worst Enemy) new band's (Cold Expectations) first gig!!
November 17 (Thursday) Oh The Humanity, Suburban Samurai, The Hideout, Alarms @ PA's Lounge Union Sq Somerville
November 23-26 (Weds- Sunday) 4 Nights! Jonathan Richman featuring Tommy Larkins on the drums at the Middle East Up. FB page It was an amazing night when we went in 2014. And for fun read our 1980 interview with Jonathan
December 1 (Thursday) Humanoids, Mam Ladilla (Spain), Covered in Bees (Maine), Intheshit & Black Friday - O'Brien's
December 3 (Saturday) Muck & The Mires will be on A Crash Course for the Ravers with Brian Young on WMFO 91.5 1-4PM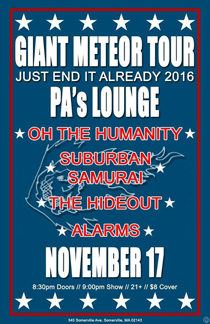 December 3 (Saturday) Studio Two , The Beatles Tribute w/ Muck and the Mires at The Middle East Up.
December 3 (Saturday) The Forz, Young Bull and others TBA are at Club Boho at The Cantab.
December 10 (Saturday) Charlie Don't Surf will be on A Crash Course for the Ravers with Brian Young on WMFO 91.5 1-4PM
December 10 (Saturday) Thrash'n'Bang Christmas Party at the Midway
December 10 (Saturday) Nicole Tamaro Productions Christmas Party with The Silver Mirrors, Legendary Rockin Prophets and + free snacks & swag all at the Greek in Union Sq Somerville.
December 23 (Friday) Raging Teens 20th Anniversary Boston Reunion! at O'Brien's (FB page)
April 22 (Saturday) The Templars (NYC), Battle Ruins (Boston), Shipwrecked (Norway), Fit for Abuse (Boston), Boston Strangler (Boston) at the Middle East Down And it's ALREADY sold out in September 2016!
December 10 (Saturday) Psychic TV are at The Brighton Music Hall FB page
CONTACT US AT....misslynbgn@yahoo.com - Send us your gig listings, your news and anything else ya got!!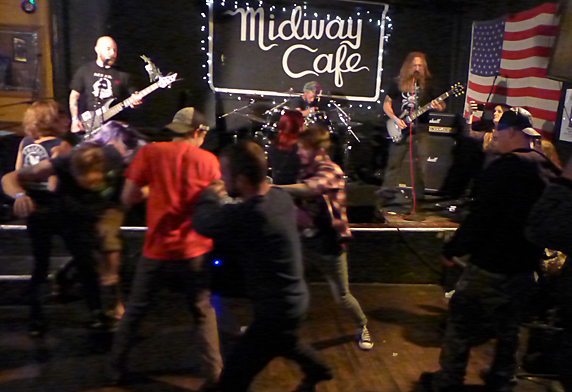 Fast Times
Photo: Blowfish
Shiny Beasts
Photo: Blowfish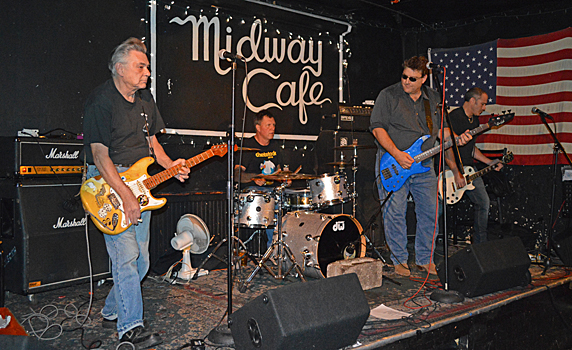 The Time Beings
Photo: Blowfish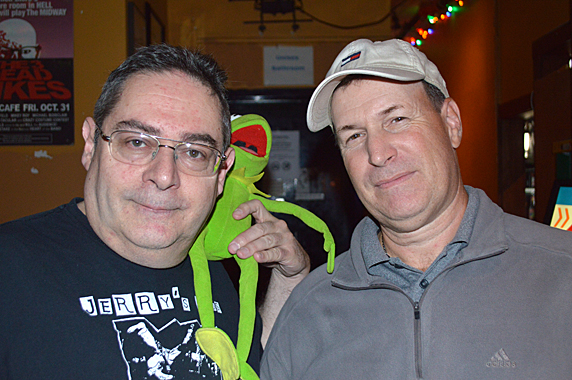 Thrash 'n' Bang Gang
Slimedog, Kermit and Andy
Photo: Blowfish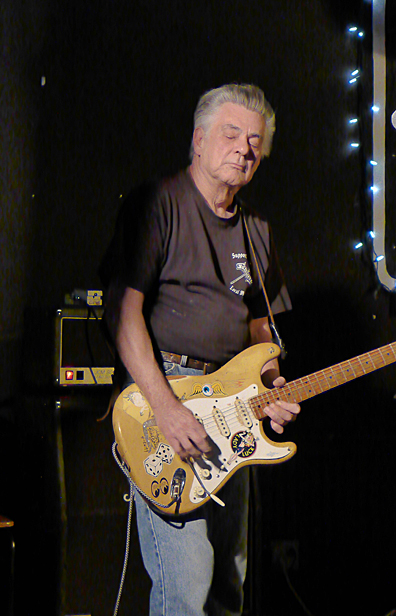 Preston Wayne
Photo: Blowfish