The BGN News Archive
October 31, 2022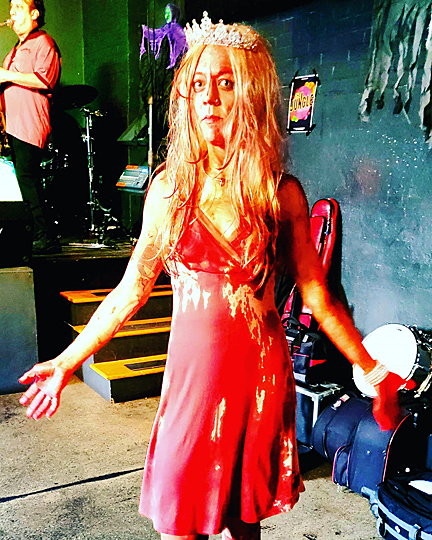 Happy Halloween!
Here's Hammered Saint's Emily Doran as Carrie
The Family of Michael Weddle has set up a GoFundMe page to raise funds for the cremation and travel expenses for the family. The GoFundMe page Plans are already being made for a memorial at the C Note.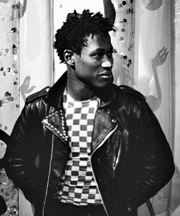 And just before posting this news we found out that D.H. Peligro, the drummer for the Dead Kennedys, died after suffering head injuries sustained in a fall in his home on Oct 28th. The band has been on tour in Europe and he was just with them in Spain on Oct 15th! We imagine the tour will be cancelled or postponed. Sad news.
This week we all got introduced to the blog page Vinyl Lives via a post about the Inn Square Men's Bar. The Inn Square famously hosted the first Rock and Roll Rumble in 1978 and is fondly remembered by many. They had an eclectic booking policy that leaned heavier on rock in the punk era. It was located in the middle of Inman Square next to the S & S Deli. It closed in 1984. You can read the post here.
We also found out this week that the dynamic Emily Doran, formerly the singer for The Gala is now fronting Hammered Saint! Andy Excuse, from Thee Fighting Fish and Kid Gulliver is on bass. Also in the band is Mark Enet (The Imposers) on drums and Jake Treece on guitar. If you want to catch 'em their next gig is at Koto on Friday November 25th.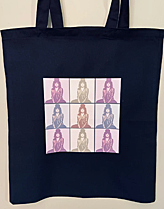 Jen D'Angora of the Shang Hi Los and The Dents has now a new venture: 7zark 7art. She is making tees, totes (photo of Marc Bolan tote to the right) and record bags covered with some various rock images. She's been selling out of Stereo Jacks and now has an Etsy page
In everyone's worst nightmare it was reported this week that several women had their drinks drugged at the MGM Music Hall. There were incidents reported on different days. If you are going out you should be aware of this and that' it's happening all over. Only take a drink directly from the bartender and never leave them unattended. Heads up people.
The news report is here at WCVB.
---
BOOKS......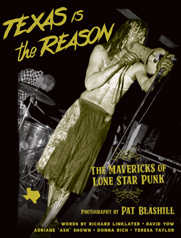 The book Texas is the Reason: The Mavericks of Lone Star Punk, by Pat Blashill, tells the history of Austin's punk scene between 1979 and 1987. Bands include the Butthole Surfers, Poison 13, Scratch Acid and The Dicks. The photos (200 of them) also by Pat Blashill are close up and gritty. There are additional essays by Richard Linklater and David Yow. You can get the book at the Bazillion Points website
The site offers some other interesting books too: NYHC: New York Hardcore 1980–1990, by Tony Rettman ... here's a weird one Hardcore Architecture, by Marc Fischer & Public Collectors. It "... explores the relationship between the architecture of living spaces and the history of underground American hardcore bands in the 1980s." The book includes photos of 66 "band-related" houses ...Band addresses in this booklet were discovered using contact listings found in demo tape and record reviews published from 1982-89 in the magazine MaximumRocknRoll." Now that's fanatical!! But seriously there are a TON of great books, many marked down, offered by Bazillion Points so check out the website.
---
VIDEOS......
It's another new video from the Nervous Eaters. "End of the World Girl" is a fast paced and frantic song and the video mirrors that. Steve Cataldo is sans guitar (!!) as he puts his energy into the singing. He does a few blood curdling screams that we've ever heard him do!
It's a two minute mad rush, black and white video with fast cut ... s and ends with an apocalyptic image which is maybe the only thing to do. What a year The Eaters are having!! And don't forget the Eaters celebrate the release of their album Monsters + Angels w/ Special Guest Carissa Johnson at The Burren this Saturday November 5!
Iggy Pop has a new song/video called "Frenzy." The video is just a few black and while line drawings in a loop for the entire song. Playing on the record is Guns N' Roses bassist Duff McKagan, Red Hot Chili Peppers drummer Chad Smith and guitarist and producer Andrew Watt. Here's a little more about the song and Iggy's current doings
---
RADIO......
Skybar played a few songs from the Von Traps in memory of Skippy (Michael Abraham) who passed last week. Skybar also had a solo track that Skippy had recorded and sent to him. That's something you can only hear on the Rising show!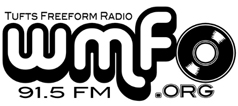 To hear the show go to the WMFO schedule page hit the Rising show at 8pm on Tuesday and then hit the 'archive' button.
On On the Town With Mikey Dee on WMFO on Wednesday had a live set by Mad Painter. They have a vision of an eclectic blend of music that would have fit into of the rock in the early seventies. It's so insular that it comes off as completely normal but it's really decades off. That's the attraction of it. Hear it to believe it. Go to the WMFO schedule page hit the show on Wednesday at 9pm and hit the 'archive' page there.
Mad Painter will be live at Boston Wave Radio on Monday Nov 7th as well. Go to the FB page for info and links.
Another WMFO show, A Crash Course for the Ravers had all Halloween music and included an interview with Hummingbird Syndicate. That's is on the WMFO schedule on Saturday at 1pm.
---
PODCASTS........
Blowing Smoke with Twisted Rico gets another drummer in the interview seat with Jesse Mayer who's currently with Diablogato and in times gone by with The Marvels, Caged Heat, the Kenmores and Shake the Faith.
Jessie has been on the scene for many years and has a sharp wit and a strong opinion. When asked for influential drummers he is quick to spot a drummer he doesn't like, and he names him. Jessie has long list of local drummers that he likes.
He talks about Shake the Faith. He thinks that Guns and Roses and The Cult changed the sound of their group, as well as the direction of the Neighborhoods. We'd never heard that explanation, but it sounds reasonable.
The Life of the Record Podcast does a show for the 40th Anniversary of Mission of Burma's album VS on Ace of Hearts. Clint Conley, Roger Miller and Peter Prescott talk about the 1982 record. They say that VS didn't get reviewed for six months to a year after. It was so novel that it was hard to assimilate, but once it was…well, that changed everything. Roger explains how Martin Swope became the tape loop sound guy.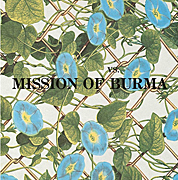 The different music comes from the different way the group thought. They talk about 'contracting and expanding' rather than verse and chorus. Because they had songs without chord changes they talk about the textural changes they used to create drama because of the self-imposed restriction.
The song "Train" is titled that because nothing repeats, it's different modules that are connected. The explanations give you listening points that will allow you to get back to the album and dig in deeper.
Peter talks about how hardcore influenced MOB. All three members of the group have so much to say of substance. They are a true thinking person's group.
It's an hour and 47 minutes long. These guys have a lot to say.
---
NEW MUSIC/CDs......
WarGraves' seven song EP Get Wrecked is out.
The songs are abrasive, short, hard hitting, ripping, cutting, sneering, scathing ... and a lot of other adjectives that we like.
That a song like "Cut Them Off" can gain such traction being only 1:27 minutes long is a testament to how effective this group is. "Ace of None" does the same at 1:13.
Some music just fits the times and Get Wrecked is one of those. A hard and fast release of anger is the way to go these days. When they play it seems like they are all locked into not only the same groove, but the same mindset, that's what gives the music its power.
We love that metallic sound the guitars have all the time. There's twenty seconds in the middle of "Primitive Garbage" that kills us. It's at the 1:10 mark where the band abruptly halts and the guitars hit a purposefully discordant blast and that repeats 12 times. It feels like they are just hammering that abrasive nail into your ears/head.
For a group that has a heavy sound they are as nimble as a sports car. It's a combo that allows them to do all the stops and starts that give character to the songs.
We're posting "Cut Them Off" below but we're adding "On Your Hands" on our Top Ten Songs. There's just so many good songs here.
You can put Oh the Humanity on the list of bands that have come through the pandemic shutdown and are now stronger than ever. Their new song "Worth Nothing" doubles up on personal responsibility in the face of society's screwed up values.
The song begins with a well arranged and played intro. The backing track churns below the emo style singing and lyrics. Some sections are punctuated with some twin leads. The group tends to have wide ranging influences that they compile and make their own.
Like all their material it's worth giving several listenings to appreciate what's going on in the recording.
---
Here's some good shows coming up .....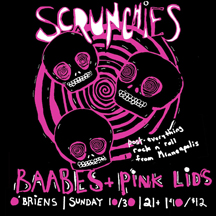 November 2, 2022 (Wednesday) River Of Trees, Black Helicopter, Accidental Caps, Tower Brothers at The Midway
November 5, 2022 (Saturday) Shuriken, State of the Union, Sonic Libido are at The Midway for a 3-7PM matinee
November 5, 2022 (Saturday) Nathan Gray & The Iron Roses, Brix'n Mortar, Baabes are at The Middle East - Upstairs (8PM)
November 5, 2022 (Saturday) The Nervous Eaters celebrate the release of their album Monsters + Angels w/ Special Guest Carissa Johnson at The Burren (7PM) FB page
November 5, 2022 (Saturday) The Mahones, The Pourmen, The Gobshites at Askew in Provi.
November 7, 2022 (Monday)Starcrawler at The Brighton Music Hall - this is all ages and EARLY at 6:30PM TIX.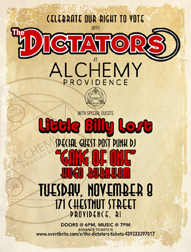 November 8, 2022 (Tuesday) The Dictators, Little Billy Lost are at Alchemy in Provi, RI FB page.
November 9, 2022 (Wednesday) Actor|Observer's record release show they will be joined by Moss Tongue, Kid Disaster, and Life Itself is at The Rockwell - this is a 7-10PM show. Tickets
November 11, 2022 (Friday) Hardcore Stadium Presents: Wound Man, Tinnitus, Robert Siege, Hideous, Shawnie Brando, Strictly Hip Hop, Sinister Wand, Operation Paperclip, Biproduct at The Middle East Down. Doors at 5 PM.
November 11, 2022 (Friday) The Chelsea Curve, Speed Fossil, Canyons & Locust are at Sally O'Brien's
November 11, 2022 (Friday) The Teezers, The JackLights, Phantom Ocean, Key of Caustic at The Jungle
November 11, 2022 (Friday) Ruin the Nite, The Devil's Twins, Erica Mantone at Faces Brewing Co. Malden. FB page.
November 11, 2022 (Friday) Hardcore Stadium Presents : Wound Man, Tinnitus, Robert Siege, Hideous, Shawnie Brando, Strictly Hip Hop, Sinister Wand, Operation Paperclip, Biproduct at The Middle East Down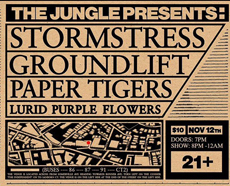 November 12, 2022 (Saturday) Paper Tigers, Groundlift, Lurid Purple Flowers, Stormstress are at The Jungle
November 12, 2022 (Saturday) Dutch Tulips, Bellwire and Jonee Earthquake Band at Faces Brewing Malden
November 12, 2022 (Saturday) Kris Thompson's Birthday! w/ Sunburned Hand of the Man, Matt Lajoie, Dyr Faser at Lilypad, Inman Square Cambridge.
November 12, 2022 (Saturday) SO/CAL Punk Invasion 2022- Black Flag, The Dickies, TSOL, Total Chaos at The Granite State Music Hall Laconia, NH - TIX!
November 13, 2022 (Sunday) Enna King, Blood Drive, Today Is Tomorrow, Bad Idea USA at The Midway for a 3-7PM Matinee FB page
November 14, 2022 (Monday) The Schizophonics, Muck and the Mires, The Chelsea Curve are at Middle East - Upstairs

November 16, 2022 (Wednesday) Youth of Today, Art Thieves, ICU at The Middle East Down TIX!!
November 16, 2022 (Wednesday) International Pop Overthrow starts today at the Union Tavern and runs through Sunday 11/19. Go here to see who is paying when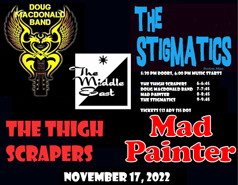 November 17, 2022 (Thursday) The Thigh Scrapers, Mad Painter, Doug MacDonald Band, The Stigmatics at The Middle East Up.
November 18, 2022 (Friday) Walter Sickert & The Army of Broken Toys: 2nd Annual SOMETHING STRANGE a a live music and dance tribute to the Nightmare Before Christmas at the Crystal Ballroom at Somerville Theatre - show is at 8PM. FB page.
November 19, 2022 (Saturday) A Crash Course For The Ravers on WMFO 91.5 FM has Mach Bell as guest. 10AM- 1PM FB page
November 19, 2022 (Saturday) Linnea's Garden, The Lights Out, Emily Grogan Band, Crow Follow at The Jungle
November 19, 2022 (Saturday) Public Speaking, Thalia Zedeck, Luxury Deathtrap, Storax Sedan at O'Briens
November 19, 2022 (Saturday) Men and Volts at The Square Root
November 19, 2022 (Saturday) Classic Ruins, Greg Allen's Fringe Religion, The BickerSins at Alchemy in Provi, RI FB page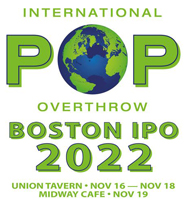 November 20, 2022 (Sunday) Local punk legends Garage Dogs join Scream Along with Billy, Anthony Kaczynski (Magnetic Fields) and Thalia Zedek (Come), for a recreation of the Rolling Stones' 1969 masterpiece. Surprise guests and Stones deep-cuts included at no extra cost. Show is at 6PM! At The Rockwell Davis Sq Somerville. FB page.
November 20, 2022 (Sunday) Hardcore Stadium presents - The Trouble at the Middle East Down (alas this show is sold out)
November 25, 2022 (Friday) Grayskull Booking & Hardcore Stadium present Slapshot, Crown of Thornz, Risk, Neighborhood Shit at The Middle East Down
November 25, 2022 (Friday) The Sheila Divine, Valleyheart, The Rupert Selection at the Paradise Facebook event page Tickets
November 25, 2022 (Friday) Hammered Saint, The Hellbound Hitmen, Shock Corpse, Scumbari are at Koto in Salem.
November 25, 2022 (Friday) Tree are at Alchemy in Provi RI - FB page
November 26, 2022 (Saturday) Stars & Stripes, The Prowlers, Cinderblock, Luger at Sonia
November 26, 2022 (Saturday) Dinosaur Jr., Guided by Voices and Eugene Mirman are at the House of Blues -FB page
November 28, 2022 (Monday) War On Women, Cancer Bats, Spaced at The Middle East - Upstairs
December 2, 2022 (Friday) California's Decent Criminal comes to Boston joined by locals C.E. Skidmore & the Damn Fine Band and KCUF at Faces Brewing Malden.
December 2 & 3, 2022 (Friday & Saturday) America's Hardcore Fest 2022 Friday December 2 - tons of bands check out the Facebook page for bands, times and weekend pass purchases.
December 9, 2022 (Friday) Zip-Tie Handcuffs, One Fall, Blame It On Whitman, at Faces Brewing in Malden. FB page.
December 10, 2022 (Saturday) New England Punk Rock Flea Market presents our inaugural live event, happening here at the historic Hotel Vernon, located in the vibrant and newly revitalized Kelly Square. Join us for a fun day of vendors and bands, a toy drive, and holiday raffles! 11AM - 9PM Music at 7PM -Music 7PM with Michael Kane (solo), Scare City, Sapling, Memory Lame FB page for vendor info etc
December 10, 2022 (Saturday) Magic Room Rock and Roll Holiday Party! with Diablogato, The Shang Hi Lo, Muck and The Mires, Little Billy Lost - this is an early-ish show- music starts at 7:30PM -FB page.
December 10, 2022 (Saturday) Oneida, Martin Bisi, Thalia Zedek at Lilypad Inman Sq Cambridge 7-10PM show.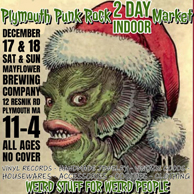 December 14, 2022 (Wednesday) Boston Music Awards - FB page.
December 16, 2022 (Friday) A Very FUNdraising XMAS: featuring rock star heroes of the 90's: Buffalo Tom, Mary Lou Lord, The Bags, members of Fuzzy, Merrie Amsterburg, Scruffy The Cat and more- all playing holiday tunes and some of their infectious 90's hits at the Burren Davis Square, Somerville, MA. Rock the nostalgia, come by, and donate to a great cause https://abortionfunds.org/ - it's sure to be a seasonal treat! FB page

December 17, 2022 (Saturday) Hardcore Stadium Holiday Celebration with Infest, Siege, Citizens Arrest, Dropdead, F.U.'s, Shark Attack, Intent To Injure, Tree, Firewalker, Peace Test, The Lousy, Tossed Aside, Sinister Wand, Burning Lord - at the Middle East - All Ages, $35 Advance / $30 Day of Show, 3:00 PM Doors
December 17, 2022 (Saturday) SCMF, Dogmatics, Jittery Jack & Amy Griffin at Faces in Malden FB page.
December 17, 2022 (Saturday) Murdoch, Lonely Leesa & The Lost Cowboys, Gene Dante & The Future Starlets at The Middle East - Upstairs - (Doors: 6:00 pm )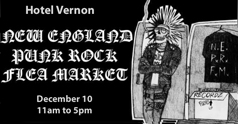 December 17, 2022 (Saturday) The Lemonheads are playing the Paradise
December 18, 2022 (Sunday) The Lemonheads are playing a second show the Paradise - Facebook event page
October 11, 2023 (Wednesday) The Mission UK & The Chameleons: Deja Vu Tour 2022 Rescheduled to 2023!!! also on the bill Theatre of Hate
CONTACT US AT....misslynbgn@yahoo.com Send us your gig listings, your anything else ya got!! You want your CD reviewed?? Contact us for that too.
---
---