The BGN News Archive
November 2, 2020
Justine Covault has released more news about her new label this week. It's called Red on Red. Now we know that The Neighborhoods will be included. That would be a score for an established label!! Other bands in the stable are Nightspell, Kid Gulliver, The Chelsea Curve and Cold Expectations.
The first two releases will be "Half Life" by the Neighborhoods and "Forget About Him" by Kid Gulliver.
Joanie Lindstrom of the Late Risers Club is an avid traveler. The BGN has pages on 33 trips she's taken over the years…You can see those here. On Friday, November 6 at 3pm Joanie will be on Bradley Jay's show Jay Talking to talk about her travels, and specifically her Romania/Bulgaria/Moldova trip. We have the photos to go with that here.
Bradley Jay has traveled widely, so we're guessing that he might have been in those places himself. Here's Bradley's facebook page and YouTube channel.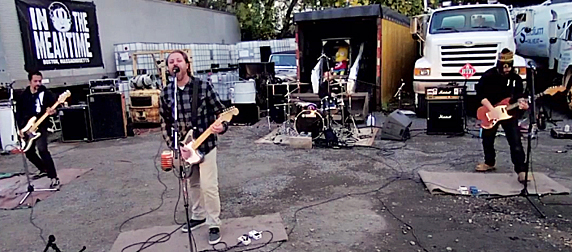 In the Meantime
In the Meantime is a hard working band. They always put in a tight set. We see them as sort of emo-ish although they describe themselves other ways. Their music is not superficial like a pop punk band that rides on catchy riffs. You have to give them time and delve in to get the highs. When they get to a moment like the one at the thirteen minute mark in their live stream last week it hits you hard. They took some time to set up this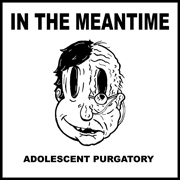 live stream and it sounds loud and full with clear vocals.
They did their new release Adolescent Purgatory in its entirety in the live stream (starting at 15:44). Their vocal harmonies in the songs "Adolescent Purgatory", "Work" and "You're the Worst" were as good live as in the recordings. Kudos on that!!
The drummer often doesn't do the 2-4 thing. He's very busy putting out a constant barrage of drum hits. You can hear that on "Four Year Shelf Life" (at 30:44 on the live feed). They always struck us as a smart group of guys and the lyrics support that. There's some insights and moments captured clearly in the songs. It's worth listening to their Adolescent Purgatory on Bandcamp and read the lyrics as you listen!! In the Meantime FB page.
At 7pm on Halloween night A Bunch of Jerks did a live cast from their practice space. They get a decent sound there. Stabbatha was dressed as Chucky and the rest of the band were dressed in horror gear.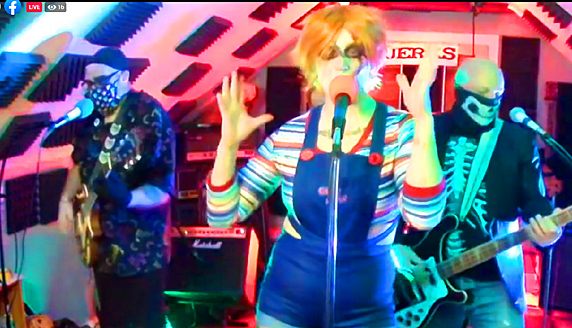 A Bunch of Jerks
It was an hour long set with half Jerk's material we're familiar with and half that was new. That was a lot of material! This band practices a lot. It was a hit of Halloween for us despite the pandemic's effect on the usual holiday outings this year. Watch the Bunch of Jerks Halloween Spectacular here.
Then it was over to Once Virtual Venue to see The Dark Art of BENTMEN production.
Bentmen archivist, Frank Coleman, and J.J. Gonson of Once put together a fine Halloween diversion. Coleman sliced and diced a handful of Bentmen audio and video madness to, if played at a proper volume, give a solid dose of the Bentmen's lysergic sensurround planet. See John Keegan's February 2018 Bentmen review for a taste.
Descriptions almost fail on a regular Bentmen performance never mind a construction like this!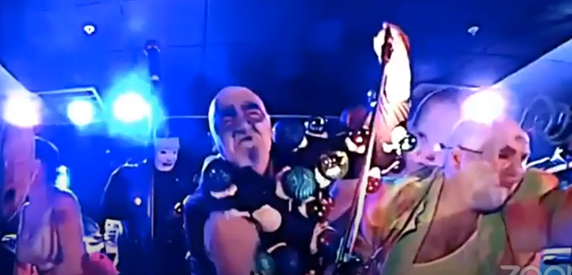 Bentmen
There was a post-show Zoom talk up where Coleman was quite interesting. He discussed a variety of the technical aspects of the video from Microdose VR to editing software. From there he segued into his recent recording project with his band Secret Agent.
Not exactly BGN's thing but if you're prone to the freedom film scores have to leapfrog genres, from lounge to Massive Attack, in this case with a film noir base and the travels of an international secret agent map, you'll get a heady cocktail of Herb Albert, Carl Stalling, Ennio Morricone, Byrne and Eno ..... and, well, Bentmen. I'm sure Secret Agent will swirl through a pair of headphones and get a bunch of rave kids jumping.
The Dark Art of BENTMEN is two and a half hours, and it's packed!! Our world is very much video and audio these days. This virtual carnival freak show is a new high for that. You can watch it here.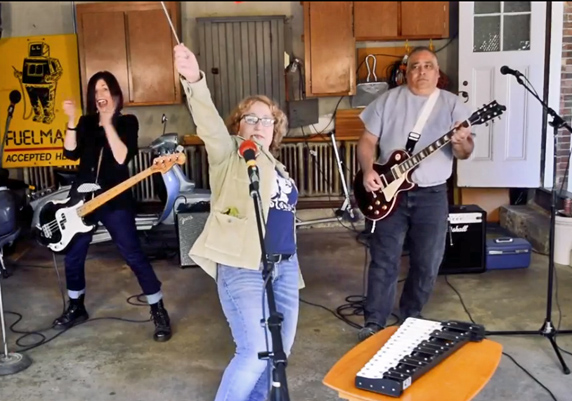 Garagecast with Linda, Simone and David
Episode #8 of Linda Bean Pardee's Garagecast has Linda joined by Kid Gulliver's Simone as vocalist and David on guitar doing "Good Girls Don't" by The Knack. This is the funest series of livestreams ever! We look forward to it every week!! Check out #8 of Linda's Garagecast!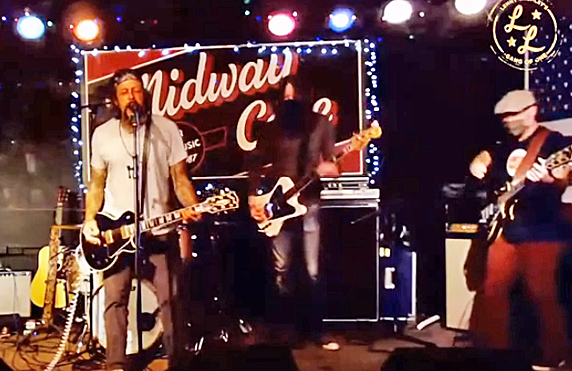 Lenny Lashley
Last Sunday Lenny Lashley did a live stream from The Midway. This on was Lenny with a band. That's the way we like our stuff – all amped up with a band. He did play a few songs with acoustic guitar in the middle but still with the band. John Sheeran (Township, Fireking etc) was on bass.
Lenny is known for his social conscience that infuses his songs but a simple romantic song was our favorite of the night. It probably is called "Judy" it comes at the 5:22 mark. We listened to it multiple times. Lenny has a formatable reputation .... all based on his songs. You can hear in this live stream that the level of songwriting is always superior. Watch and listen here.
The Winter Project released a second song from some sessions recorded at Q Division. The first song "Scars Above" was a winner that we got stuck on. This second one; "Georgia Tech" is in the same ballpark. Both songs have a thick guitar base. "Georgia Tech" ends with a cranked up guitar solo that we really wish was longer. It's about a sexy long distance relationship. We're going to keep a closer look out for all future releases from The Winter Project! Check out "Georgia Tech" on Spotify.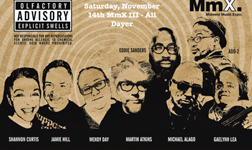 Coming up on November 14th is the Third Midwest New Music Expo (a Music Business conference started by Martin Atkins and his students at Millikin University in 2019). This one is called "The Sweet Smell of Success" comes with a limited edition Scratch and Sniff card that has seven different scent experiences!! The hand screened cards will be mailed via Priortiy Mail and cost 15 dollars. More info and tix here.
Hummingbird Syndicate got written up in the Patriot Ledger this week. They deserve the attention with that new album. You can read it here.
A while back we talked about Mike Howlett's (of A Bunch of Jerks) book The Weird World of Eerie Publications (That's here) Now Cartoonist Kayfabe, which is Ed Piskor and Jim Rugg, have a long video review of the book. They go through the book page by page and discuss some of the highlights. It's a wild story any way you tell it. In the video you get how amazing those Eerie covers are. If you are a horror comic fan you should be all over this. Check it out here.
Tad McKitterick and Sidewalk Driver dropped a new single this week: "Everything's Good". This is a band that knows its way around a killer chorus and "verything's Good" doesn't miss its opportunity. In spite of the huge up-tempo rock dance hook, the tone of the lyrics leaves no doubt that, like a lot of people, the singer is frayed at the edges and in pain. McKitterick is calling out to all the folks who are burning up on the inside but have to keep a stiff upper lip on the outside. His vocal, and that of backup singer and guitarist Kate Murdoch, embody the emotional anxiety that that difficult balance creates - and the toll it takes to maintain. Everyone is rocking out. Jonn Smith's bass, A.J. Locke's drums, and Jared Egan's guitar solo drive up the tension and release. Perhaps that's the message of the shout-along chorus. Drop the smile you put on with pins. Let out everything pent up and ready to pop. Release it for a moment and join Sidewalk Driver for a dance on the edge of the abyss. Props for pointing people to the National Alliance on Mental Illness Helpline. 1-800-273-TALK.
Please Kill Me has a really good and extensive article on The Cramps' Poison Ivy. "Poison Ivy Rorschach,

lead guitarist, songwriter, arranger, producer and sometime vocalist of one of the greatest bands in the universe, the Cramps, which she co-founded with her lifetime partner Lux Interior (RIP), has yet to get her crown. Well, PKM has decided the time is right for her coronation, in the week before Halloween. Ingrid Jensen tells us why this is an altogether fitting and proper thing to do. "Nobody ever talks to me about music or guitar," Poison Ivy Rorschach, the lead guitarist of the Cramps, once said, frustrated by the lack of serious attention given to her musical chops by the pop press. "I'm the Queen of Rock n' Roll and for this to not to be recognized is pure sexism."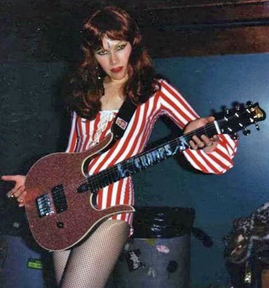 But, despite her position as one of the finest guitarists in rock and roll and the co-founder of perhaps the most fascinating cult band of the 20th century, she was rarely asked questions about music, which was her job, her passion and her life.
Most interviewers spoke directly to her civil partner, Cramps front man Lux Interior, and largely ignored Poison Ivy, whose guitar work on her famous hollow-body Gretsch was the backbone of the Cramps sound. Not only was she the lead guitarist and occasional bassist, she also produced the majority of the band's thirteen studio albums and co-wrote all of the band's original songs.
"She's faceted like a diamond," Lux said admiringly in a 1998 interview with the Independent. "There's a million sides to Ivy and I just love all of them."
This is SO worth the read: Please Kill Me Poison Ivy!!!!!
CDs/ Music....
Brix'n Mortar have released "Till My Heart Stops!" It's a blast of hardcore to satisfy your need plus more. Brix'n Mortar always breaks the mold a bit. One of their things that they did this time too is to add some extra textures in the instrumental sections. In the intro it sounds like there is a synth in there and at the end some piano is added to the mix. The lyrics are a righteous rant that serves the scathing sonic attack.
Popsters Glowbox have done a few things since the pandemic hit. Now they have another single. This one is called "So Far, So Good". It's a quality pop song. They have all the moves they need to put out a classic pop album. And we know they can do it live also. It's too good that they are local. We're not worthy!
War Graves from NH have a new two song release. We were super impressed with their last effort called "Life on the Outside". These two tracks are similar to that. they're super charged hardcore/punk. This group is incapable of playing a song that doesn't have compelling momentum!! The first song "The Taste of Defeat" just sweeps you up and your off for a ride till it's over. The drummer has a lot to do with that, the guitars are distorted but not too distorted. The chordal riffs come across sharp and snappy.
"The Feed" is pounded out with fury. The singer is verging on screaming but you can just about catch the words...he always has intensity. This is a band where every member is bringing the goods. This is very much recommended if you like the hard stuff. On Bandcamp.
Someday the world will realize how good Today Junior is!! Till then we can only keep telling you to give them a listen now. This week they released "Fall Asleep". Their sound is so dreamy that it is appropriate that they sing about falling asleep. We are just sold on this group, if we hear their unique sound we give way and enjoy it all. The song begins with the sound of a cassette player being turned on and ends with the tape hitting the auto off. How come no one else thought of that till now?
Johnny Angel Wendell and the Fabulous Knuckerholes have a new album called Pipes of the Pandemic. Listen to Plagueland on Bandcamp.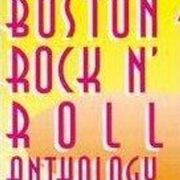 Joe Viglione has got his Boston Rock and Roll Anthology Chapter #21 out and in the mail. It comes with a 21 page booklet. There is no one genre uniting this comp. There never was in Joe's compilations. These are ways for new groups to get a song onto an album and a publicity push by the Count to get airplay. It works and has helped many bands in the past.
We appreciated the finely crafted pop of The Complaints' "Downtime" and there's even has some sophisticated soul on it via Kitoto Sunshine Love with songs "Proud Soul Heritage" and "Love You". and then some funk with Slapback doing "Guardian Angel". The Empty Country Band from western Mass and Joe Black bring the metal/hard rock. Pop Gun's drummer Greg Walsh does well with his own material - "Counting Down to Zero (From 1)" recorded at Wooly Mammoth.
Mad Painter (with Kenne Highland) scores with "The Letter" they prove that their 70s rock party translates into the studio. "Thought About You" by Joe Viglione himself sounds like it was written in the Brill Building in 1963. It has the feel of that era and that feeling is very prominent. That's an amazing writing and recording job.
The whole Anthology album is posted on Mixcloud.
Are you a Bob Mould fan? Are you REALLY a Bob Mould fan? What about splurging for the new 24 CD collection called Distortion 1989-2019? It includes all his regular releases, plus 4 live CD's and two CD's of rarities. There's also a 72 page booklet. Price is $122.99. There are vinyl box sets with different contents available. There's more detailed info here.
Coming up.....
Virtual/ Streaming/Online Events.....
Dont forget to check out Linda Bean Pardee's Linda Garagecast every week.
Saturday November 7 -7-9 PM -Bob Cenci's U-EY at the BUOY and Lower Falls Live stream at The Midway Cafe - Streaming links: Youtube and Facebook
Saturday November 7 @ 8 PM - A "fireside chat" with photographer, JJ Gonson." As founder of ONCE Somerville, JJ Gonson has been in and around the music business since 1985 in Boston and Portland OR. She started as a rock photographer, she's booked tours, made records and managed bands. We will discuss her life and work including her newest photography book release that accompanied a commemorative 25th Anniversary Edition of Elliot Smith's second album." FB page with links and more info.
Thursday November 19 -7-9 PM - Rawstrum will be album release live stream from The Midway. FB event page. Check out their new release Sun to Moon on Bandcamp.
Shows coming up sometime in the future....
Thursday December 17 -7-9:30PM - Talkin' to Dracula and his Crew: Goth subculture and horror, a lecture - Miskatonic Institute of Horror Studies Brooklyn NY FB page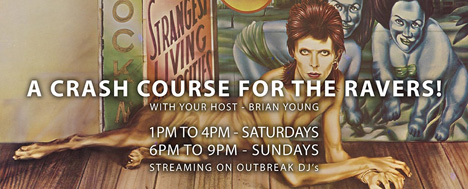 January 16, 2021 (Saturday) New Date - The Schizophonics, Muck and the Mires at ONCE Lounge Early Show: 5:30 PM – 8 PM
February 17, 2021 (Saturday) Rescheduled - Swans w/ Anna von Hausswolff at the Paradise
April 19, 2021 (Monday) Rescheduled - Dead Can Dance at The Wang Theater
April 29, 2021 (Thursday) Circle Jerks Plus Special Guests at the paradise (this is a reskedged show) FB page
CONTACT US AT....misslynbgn@yahoo.com Send us your gig listings, your anything else ya got!! You want your CD reviewed?? Contact us for that too.
---