The BGN News Archive
November 3, 2014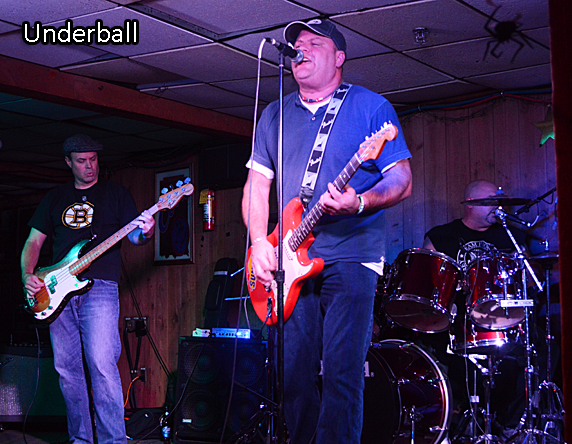 CANCELLED....the big Nervous Eaters, Willie Loco, Real Kids gig at the Spotlight in Beverly has been CANCELLED for tonight SATURDAY NOV 8
Again this week Blowfish was out and about quite a bit while Miss Lyn was boring and stayed home....
Blowfish reports: I was on stage at the ME Up last Wednesday! It was a rainy mid-week night maybe that's why there was almost no one in the restaurant area up front. I've never seen it so empty. There was no one at the door collecting money either so, not looking a gift horse in the mouth, I went in. I wanted to see The Swindlers and Charlie Don't Surf, a Clash cover band. I heard a Clash song so I missed The Swindlers. The music started earlier than a weekend evidently. There was hardly anyone in the club. Charlie Don't Surf were going through all eras of the Clash - amusing. Then the lead singer held up a new white Fender Squire guitar and said "Someone here is going to win this tonight." Say what? I looked around and counted. There were 15 people there. There was nothing to buy. It was just "put your name on a piece of paper" ...then it's a one out of 15 chance. This was part of the Somerville program to get instruments in mainly children's hands. The singer said, "Let's get someone up here to pick the winning name; someone I don't know. What about you?" and pointed to me. That's how I got on stage. I went up and picked the winner - Chris Smith. Sure enough he got the guitar. Wow. He has a son who is learning which is great.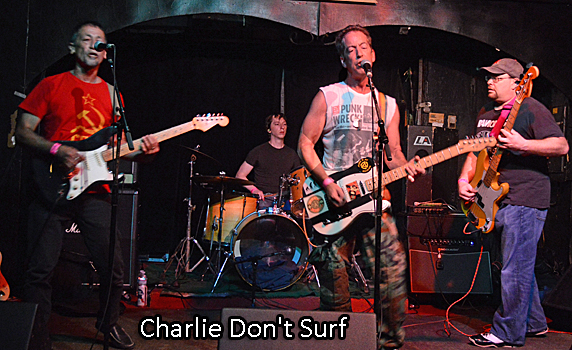 I hit O'Brien's on Thursday in an attempt to get some rock before Halloween craziness kicked in. There was a parcel of costumed customers none the less. I'm in the lamentable position of not knowing what the costumes are supposed to be referring to anymore. I think a few were Game of Thrones oriented although I've only seen ads about the show.
A good crowd was cheering DiabloGato as I came in. We've seen this band before and they have it down. They have a big sound built from the drums up, and on those drums it's our fave, Jesse Meyer. (Who did a Punk Gourmet with us a few years ago) He's hot tonight. Lead man Drew Suxx likes to add a non-guitar element into the lineup and there is an baritone sax. The mix of punk and rockabilly...and whatever...is working like it should. Listen here for two songs from DiabloGato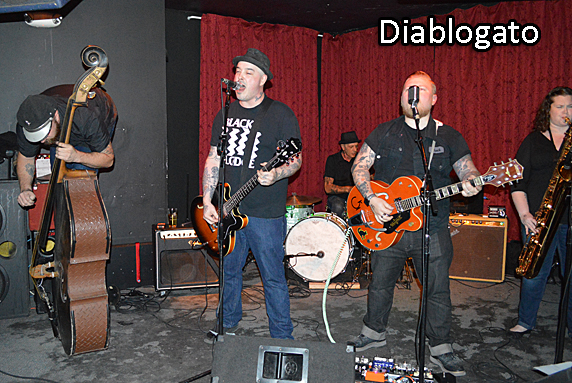 As the Radiator Rattlers from Haverhill line up on stage I see Jonee Earthquake setting up a steel guitar. Gee, that guy gets around. Then I notice they have a banjo and a mandolin. I have a natural aversion to those instruments. Now a guy dons a washboard. It's officially an Earborne Toxic Event for me and I have to flee to safe ground. These guys have gone hillbilly.
Duty holds me and I listen for a few songs. It turns out Jonee Earthquake plays fine steel guitar. He has some sweet licks with crystal clear tone. The drummer is snappy with the best snare sound I've heard in a while and the guitarist has a dirty and down tone. All of this goes out the window for me when the singing with the Appalachian affectations kicks in. I'm willing to admit my limitations but if you don't have them these guys were very good.
I came to see Nick and The Adversaries but will have to catch them next time.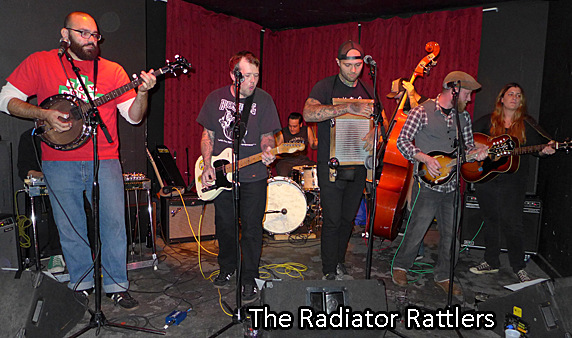 Saturday Nov 1, was windy and rainy but that didn't stop people from filling up the Beachcomber in Quincy. It was a benefit for Juvenile Diabetes. They had four bands one of which was Underball. Underball did their thing in the 90's. They had some of the most out-there lyrics inside a pop/punk covering. They don't play out much now so when I saw them listed I headed out. Lead man Greg Fiore was actually playing with his distinctive Sunoco Strat in Stranglehold when we saw them at Cuisine en Locale during the Pipeline! show. We saw Underball at Jay Allen's 50th Birthday in 2012 and at Church in 2009 and knew what to expect. They delivered again with a strong set and ended with two top faves of Toaster Thrower and Red Ball Jets. (Check out the Red Ball Jets video here). It was a great night: good crowd, good cause and a chance to hear Underball.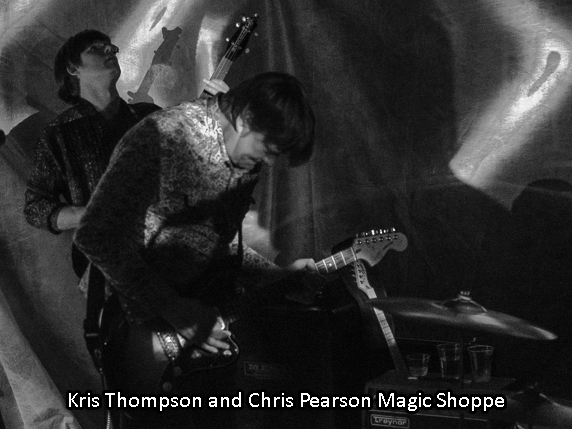 Now for the music coming up:
This weekend, for three nights November 7, 8 and 9th there's the Boston Hassle Fest #6\ This is a great set up of tons of bands all playing short sets back to back. Most of it will be at Cuisine En Locale and Saturday Body/Head is playing - that's Kim Gordon 's band project with Bill Nace! Check out the Facebook page on how to buy tix, if there are any left. Also there's a list of the bands and set times plus lots more info.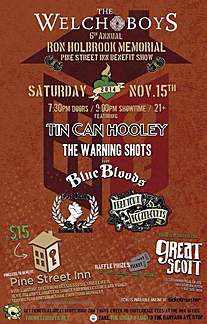 Friday November 7th there's the Cal Cali Band-along with Tsunami of Sound, -The Last Ones-(Ric Corraccio back in Boston!) at Sally O'Briens, Union Sq. Somerville
Also on Friday November 7th - Jenny Dee & The Deelinquents are having a record release party at The Lizard Lounge and they have special guests Township on the bill as well.
Saturday, November 8 -Not only is this totally worth the trip to Beverly but Miss Lyn's gonna celebrate her birthday there too!!: Willie Loco Alexander/ Nervous Eaters/ Real Kids -at The Spotlight Tavern in Beverly, Massachusetts Here's the FB page
Saturday November 8th Bob Colby has his Store 54 show with When Particles Collide and Powerslut
Sunday November 9th - Roy Sludge is doing another Sunday 4-8:30 Pm show on at The Midway!
Friday, Nov 14 - Cavestomp ! & King Yum Records Present: Lyres with Special Guests Cocktail Slippers, The Connection, TRiPLE THiCKat The Middle East - Up. This is one amazing line up!!
Friday, Nov 14 over at The Midway you will find The Upper Crust ,The Weisstronauts, Tim Lee 3 and My Own Worst Enemy - that should be a great show!! And an interesting mix to say the least!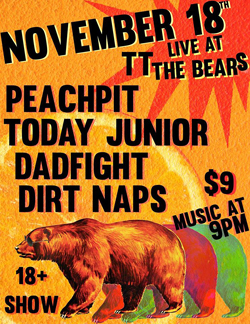 Saturday Nov 14th & 15th- In Portland, ME there's a swingin' time at The Bayside Bowl WILD WEEKEND PARTY PARTY
Friday Nov 14 its WILD WEEKEND PARTY-PARTY Night 1 has the cool & crazy rock sounds of The Love Me Nots- on tour out of Phoenix, AZ... Plus, tear it up with all-girl rockers, Tiger Bomb, and Porland's newest noise makers, The Seasonal Disorders!
Saturday Nov 15 is Night 2 with the cool pop & rock sounds of The Safes - on tour out of Chicago Illinois... plus Providence, RI garage-rock legends, Thee Itchies ... Kicking the night off are The Flipsides... Come join in on a night of great Music & Dancing... Sponsored by The Shipyard Brewing Company..!!FREE SHOW - NO COVER - FOOD - BOWLING - MUSIC - DRINK SPECIALS- I mean really how can you beat all that???
November 16th (Sunday - Day Show) At The Midway - : The Humanoids, Mama Ladilla, The FUs, Chin Strap This is a matinee - it goes from 4- 8 PM and its all ages!! AND only $6 to get in!!!
There's 4 nights of IPO- International Pop Overthrow at O'Brien's this year and its their 12th year!! IPO Boston will feature 26 pop and rock bands from Boston and beyond starting on Weds Nov 19 and going through Saturday Nov 22. See the dates belwo
Wednesday, November 19- International Pop Oerthrow at O'Brien's has 7:30 Trick Wallace Trio, 8:15 Didn't Planet, 9:00 Drunken Logic, 9:45 The Eric Barao Band, 10:30 Modern Day Idols and 11:15 Wizard Farm Music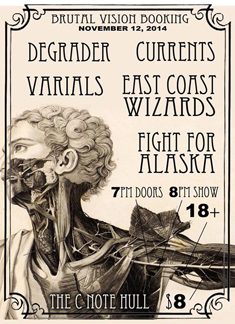 Thursday, November 20- The IPO at O'Brien's has 7:30 Dugway, 8:15 The Stanleys, 9:00 Brian Charles, 9:45 The Tripping Souls, 10:30 Powderhouse and 11:15 Zac Mac Band
Thursday November 20th there's a wild night at the Middle East down with All Cramped Up. Again. All Cramps. All night. All you need. w/ DJ Set by"Kogar the Swingin' Ape", Live Cramps Tribute set by The Egos, Burlesque performances by The Bloodstains, & Live original set from The Skeleton Beats - Here's the FB page
Friday, November 21- The IPO at O'Brien's has - 7:30 Corin Ashley, 8:15 Michael Oliver & The Sacred Band, 9:00 Richie Parsons, 9:45 Sinnet, 10:30 Bedford Davis, 11:15 The Pomps and 12:00 Dave Rave
Saturday, November 22- The IPO at O'Brien's 7:30 Arthur Nasson, 8:15 Lannie Flowers Band, 9:00 Fox Pass, 9:45 The Brigands, 10:30 John Powhida, 11:15 Fireking and 12:00 1.4.5.
Mark yr calendars for this one!!:
December 12th (Friday): The Real Kids , The Titanics, The Nectarines and Rough Francis - at The Midway
Also on Dec 12th its Dial M for MUCK at Church - It's a Muck & The Mires Record Launch Party!! Also on the bill are Daddy Long Legs (Norton Records -NYC), The Dogmatics and Thee Itchies.
December 19th (Friday) there's a exciting show at TT's first off SPiTZZ are playing their first show in 2.5 years!!!, also on the bill are the Blue Bloods, Duck & Cover (having their vinyl release celebration), Quiggs, and Silver Screams - this will be a great show folks!!

CONTACT US AT.......misslynbgn @ yahoo.con Send us your gig listings, your news and anything else ya got!!