The BGN News Archive
November 6, 2017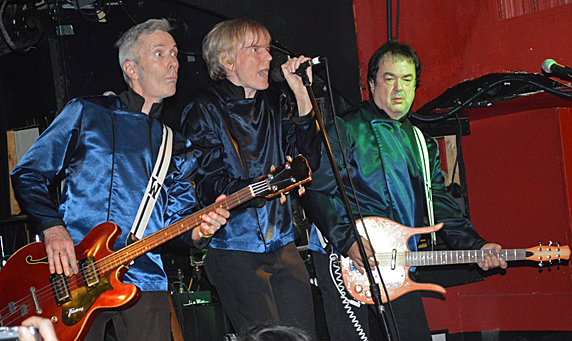 The Woggles
Photo: Blowfish
There was way too much going on this week to keep up with; you had to pick and choose. Our week started on Wednesday at O'Brien's. They have had regular punk bills.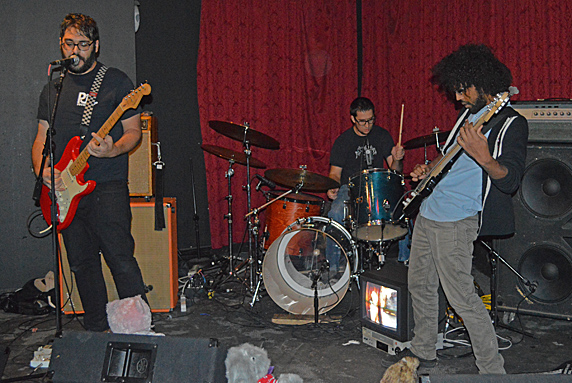 Moist Boy
Photo: Blowfish
We were revisiting Moist Boy after liking them in September. We got that immediate fix of punk with the nasal vocal. That goes a long way with us.
We were able to get into the songs even more. The song "I Want to be A GMO" was still a highlight. They covered "Chinese Rocks". Video below. The guitarist did a few leads while tugging on the whammy bar the whole time which made it sound like it was in an eastern scale. Nice trick. You can hear it in the video below.
In the last two songs the energy levels went up. It seemed like they were just getting warmed up.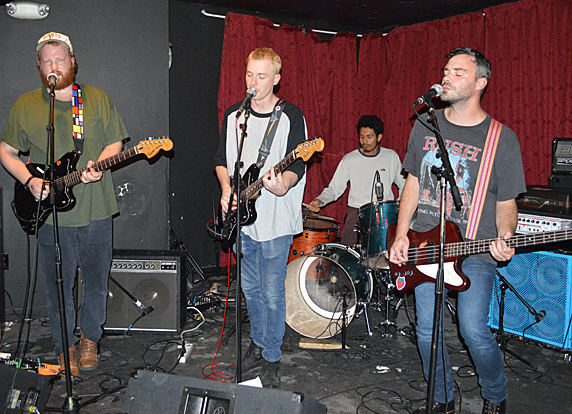 Sex Snobs
Photo: Blowfish
Sex Snobs were more punk in the same vein and that was fine but then they did more. Their first song had the chorus "Staying up all night" and had a simple repetitive riff as a hook. They had our interest right off. That song is called "Ritalin" and it's on their Bandcamp page
Then there was a song about picking strawberries that had a pop feel along with the punk. The lyrics were more positive and light rather than the usual negative punk thing. The lyrics have someone walking through the woods and asking, "Where's my strawberries?" As the songs went on we could see that there were a few things going on. One song called "Pineapples" got to a XTC/Dukes of Stratosphere area. They had a song that might have been called "I Want to Be A TV" which is funny because Moist Boy actually had a TV on stage. The songs went, " I want to be a TV. You can be my VCR and we will be attached."
Listening to their recorded albums you can see they have developed since 2014. Their last album was recorded by Steve Albini. Only "Ritalin" is on their Bandcamp. All the other very interesting songs we heard look like they are not recorded. This is a group to pay attention to.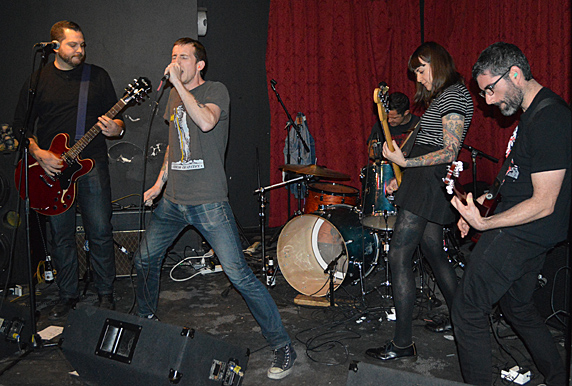 Conmen
Photo: Blowfish
The Conmen had a real bad time on stage. They were plagued with tuning problems. We'll hand it to them, they didn't ignore it; they took the time to fix it but that was a big section of their set. Up to about half the set they were only able to play two Ramone style songs.
We didn't think too much of it and were going to bail when they got things fixed. Then the next five songs were a revelation. We could finally see what they were doing. It was indeed Ramone style punk but just different enough. The first song that hit was "Too Tough to Dance". That's the name of their Demo material but that song isn't on it. They had the power and the background vocals were done well. They proved themselves with those last songs. Their demo on Bandcamp doesn't come up to what we heard live.
And that was a great punk line up for a Wednesday.
Friday: it was the best of days, it was the worst of days. The problem was there was so much going on (best) that you had to choose (worst). There were groups of all kinds at all club levels.
Human Sexual Response and Unnatural Axe at HOB, Woogles and Muck and the Mires at ME UP, Breeders at Sinclair, Badfinger in Arlington, Indonesian Junk and Justine and the Unclean at Tavern at the End of the World, Black Beach and Oslo at O'Briens and good shows at PA's and Cantab. Some people did the club hop from HSR/Axe to Woggles.



human Sexual Response and Unnatural Axe at HOB
Photo: Miss Lyn
Blowfish at Woggles: I wanted to see the whole bill at the ME UP but I thought it would be crowded and hot. It turned out to be not too crowded and not unbearably hot. But then Woggles used every minute right up to 1a.m., so that would have been a long night anyway, although many did it.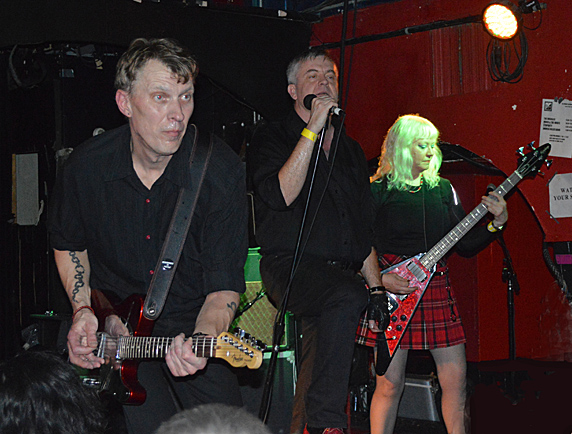 Stupidity
Photo: Blowfish
I walked in while Stupidity from Sweden were near the end of their set. It was excellent garage/punk. I thought I heard a lyric, "it's all shite" which sounded Irish to me via Stiff Little Fingers. They have all the right influences like the Sonics and the Fleshtones. The lead singer was craning off the end of the stage to emphasize the lyrics. It wasn't all fancy but it was forceful.
John Keegan saw them in March of 2016 and was prescient with the line "Put these guys on a bill with the Standells or the Woggles and set the room on fire!". Here they were and the room at this point was hot.
When the music stopped and I talked to people they were quick to say that they loved Andrea Gillis' set. They evidently covered Sweet's "No You Don't" . Andrea can go from gospel to the Sweet, no problem.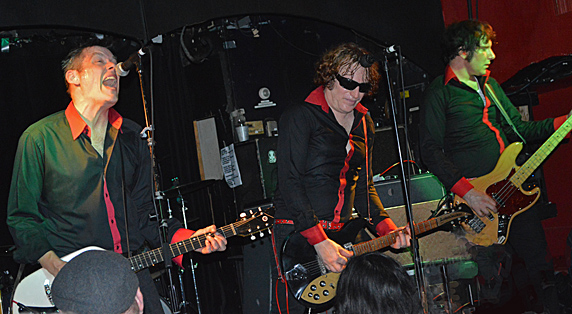 Muck and the Mires
Photo: Blowfish
Having Muck and the Mires coupled with The Woggles was the magic of this bill. You had to mentally strap yourself in as Muck started their rush of tunes. Like usual there was hardly a pause. The excitement level went up and never came down.
We've heard it dozens of times and hopefully will hear it dozens more. If a group from out of town came and put in a set like theirs I'd be jealous as hell for the place they came from. We never take them for granted.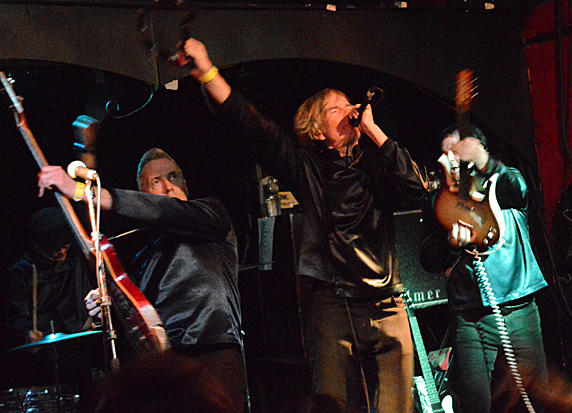 The Woggles
Photo: Blowfish
Then the thing happened that we thought would happen. The Woggles took the stage and continued at the frantic level that Muck and the Mires left at. We didn't know at the time that it would continue for another hour and a half. We've seen The Woggles a few times: 2009 at TT's , and the ME in 2005 . For most people, once you see them you go to every show after that.
The Woggles started in 1987. After seeing the endless energy they put into this show you can imagine those early years. Decibel Dennis (also at the HSR show) was on to these guys from the start. Two knee replacements after he is still front row center and bopping around. The music is garage with a heavy dose of R&B. Like Muck time has given them a huge bank of songs. They seem to go on and on with no end in sight. All the songs are unique enough that you never get the feeling that they are doing the same thing over and over. There always seems to be another variation of a simple five note riff that hooks your mind as a gripping rhythmic drive grips your body. They did one song about The Prisoner TV show. It that song the guitarist played the signature soundtrack theme. That was a cool moment.
Mighty Manfred talks with the lilt of a southern preacher and after 90 minutes of upbeat rock, it felt like a revivalist meeting as much as anything else. Other times he seemed like a carnival barker and you were the gullible hick taking it all in. Manfred jumped into the audience a few times and ended up on the floor. At the end only the drummer was on stage as the other three were down on the dance floor. Buzz Hagstrom the bass player was carried on someone's shoulders back to the stage. Even though the set was long, it was so fast moving that you wished you could go back and replay parts of it so you could digest it better.
These are the gigs we hate to write about because it's all about being there. Those that saw all four bands had one fantastic gig. A few people came after the Human Sexual Response show and saw some of Muck and all of the Woggles. What an amazing night for them too.
There was that excitement about this Friday. People were primed for the Human Sexual Response show and ready to continue the good feelings afterwards. The next day our Facebook feeds looked like the Human Sexual Response home feed with posts about the HOB concert coming from all.
We took the opportunity for an early Saturday with the afternoon Midway show. It was a chance to see Hummingbird Syndicate and Fireking who we haven't' seen in a while.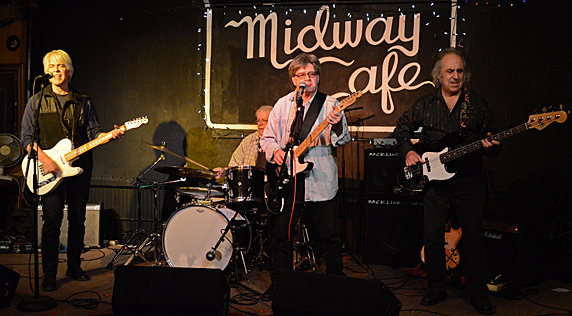 Billy Connors Project
Photo: Blowfish
The Billy Connors Project we've seen, but this time they had a new bass player Larry Newman who proved to be good fit. He played simple lines and was especially effective in the slow songs where he gave them a sense of momentum with the help of veteran drummer Ray Fernandes.
They started with "Stranded" from their latest CD EP. That seems to be everyone's favorite song by consensus. Like a lot of Billy's songs, it's mid-tempo with a chord sequence that has a hook and it hooks you right of the bat. The singing, which more and more is a combo of Billy and Adam Sherman, is working big time.
A lot of people also also mention "Hurry Up Sundown" as a favorite song which they played from the EP. That song has a different feel to it. Lyrically it reminds me of "Paint It Black" where the singer wants everything to stop or die because things are just not going right. They did an old Boize song "Limousine Jean". They played one of our current favorite songs "Knock Down Day". The song was full of feeling and when Adam sings the line, "that last round was a knock out day," you feel the full emotional punch. Video below. Hopefully that will get recorded when they go back into the studio soon. They played a few new songs. One was called "Grace's Hideaway". Billy says they're writing new songs and playing them as fast as they can learn them.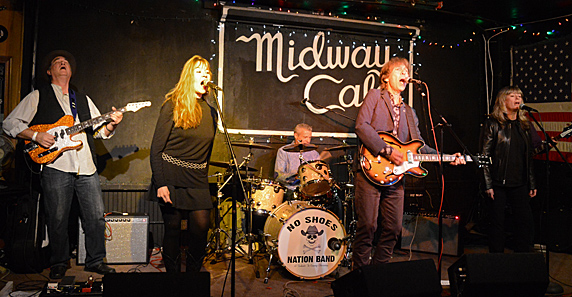 Hummingbird Syndicate
Photo: Blowfish
Hummingbird Syndicate have kept themselves busy with lots of shows. Knowing Jon Macey they are probably recording also. There are six members of the group and they all are top notch players. You just sit back and enjoy how they deliver the songs.
Most of the material came from their excellent new CD Pop Tricks....Macey knows all the pop tricks and you hear them in every song. One revealing moment was from comparing two songs in a row. The first was "Where Were You When I Needed You" the Grassroots hit from 1966. They cover it faithfully and revel in those harmonies with the three vocalists. They then did "Romance" the first cut from the CD. That song compared equally with the Grassroots. In both songs you know you are being moved by the song craft. The sweet vocals sweep you up because the lyrics are worthy and the melody is an earworm. They have a few songs of the same quality like "Sometimes It Just Gets This Way". Video below. That's the level which marks everything Jon does.
They kept things interesting with a cover of Prince's "When You Were Mine" sing by Lynn Shipley. One interesting thing about the Syndicate is that they are capable of handling songs from multiple genres with authority.
We love keeping up with Jon especially since he actually is responsible for creation of the very first Boston Groupie News. He relates the story in our BGN interview with him…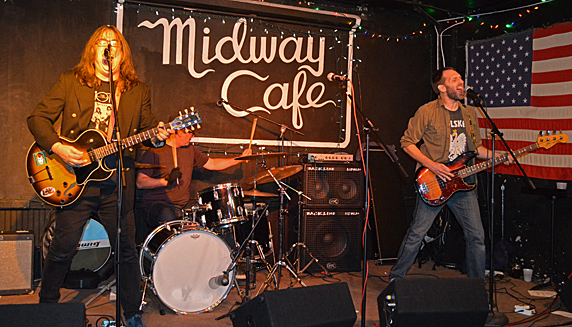 Fireking
Photo: Blowfish
Next we got a chance to see Fireking without Smitt E Smitty. Smitty makes such a visual and aural impression that it took some getting used to the new guy. He's Jonathan Screnci who also plays with Gymnasium and is a general manager of the Blue Man Group. So, qualified? Sure. The bass player Drew was playing out of Larry Newman's bass rig and for the first time we could hear his bass lines clearly. Other times it was lost in the band sound. We're thinking he should upgrade his cabinet! It was like hearing him for the first time.
Tony Kaczynski was in good voice and with him that means a clear higher register that he uses strategically to bring a song home. It's a unique timbre that stamps his material.
About half the songs were from the CD Double Trouble and half from the next CD that will be called Speedway. The're naming their CDs after Elvis Presley movies. We loved Double Trouble when it came out and time has only increased our appreciation. We never can get enough of that material live. They ended the set with "Dressed For the End of the World" from Double Trouble. They threw in a section from the Beatle's "Rain" at the end. The bass and drums pinned that section perfectly.
Tony has been jet setting around the world playing with Magnetic Fields. His last show was in Australia. He's living the rock and roll life.
---
And in other news.....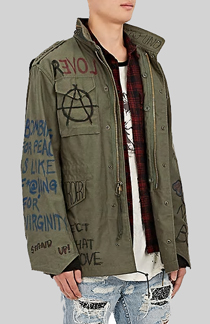 #1- RIP Suzie Phelps - owner and proprietress of Hubba Hubba - um er I remember a night with Suzie and a boy toy on a chain collar there to clean up after us...or else..... but Suzie was a purveyor or punk fashion (and other fun stuff) since way back...we will miss you SUZIE.. and thank you!!! Here is a Vanyaland story on Suzie and the Hubba Hubba fb page.
From, Vanyaland: ""Bought my first pair of Doc's from Suzi, first leather jacket too," writes PanzerBastard's Keith Bennett on Facebook. "And she put a spiked gauntlet on hold for me when I was 14 and didn't bat an eyelid when I paid for it with $19 worth of quarters. A one of a kind lady who ran a one of a kind shop. Boston and Cambridge Headbangers, punks, skins and goths owe her a huge debt of gratitude. Adds comedian and TV Guidance Counselor host Ken Reid on Twitter: "RIP Susan. Without Hubba Hubba I wouldn't have had a place to buy Stooges shirts, studded belts and leather bracelets when I was a teenager."
And that leads us to our "And it's come to this" and the M-65 Anarchy Cotton-Blend Field Jacket for $375.00...not sure about the pants...you can most likley buy those for a hefty sum as well.
Please Kill Me has a decent article on some of the Women in Punk Rock "Punk Rock was not a boys club Women played major roles as musicians, writers, photographers, artists, clothing designers…and still do" Check it out here.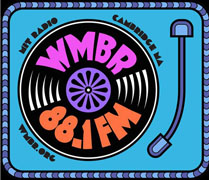 The WMBR yearly fund raiser continues till Wednesday Nov 8. They always have the best incentives to give. CDs, books, shirts and concert passes. You can check that list out & DONATE here. What would life be for some us without the WMBR and the Late Risers Club? We dare not think of it!!! So make sure to listen in and donate.
So City Winery is finally going to open...meaning actually open. But there aren't any punk shows on the list....only thing of interest is a way back machine goodie Ian Hunter on November 18th. Oh well, maybe they will spice things up down the road. Also their prices are through the roof high. Here's their website
Thrash N Bang's 47th Annual Xmas Pizza Party takes place Sun Dec 17 at 4pm at the Midway Cafe in Jamaica Plain MA. It costs 5 dollars, is all-ages, and besides the five great bands you get to hear Crimespree, CAC, The Grommets, The Sewer Buddies and Jenn Lombari - you get to eat all the pizza you can fit into your face at one time.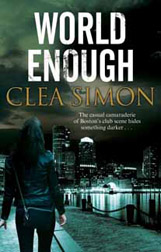 Boston scenester from the day and author Clea Simon's book World Enough is available on Amazon: "This intriguing, hardhitting, intricately-plotted mystery set in Boston's clubland marks an exciting new departure for cozy author Clea Simon. The Boston club scene may be home to a cast of outsiders and misfits, but it's where Tara Winton belongs; the world she's been part of for the past twenty years. Now, one of the old gang is dead, having fallen down the basement stairs at his home." Buy it here!!
The Svetlanas left the Barbed Wire Dolls tour midway through, and right after their Boston show. There was someone with a Nazi symbol either in the audience or in a band and that thoroughly upset Svetlanas. Their most recent statement says: "We don't want and can't continue to support on or off the stage a band that after a long face to face talk says everyone, including nazis, are welcome at their show and that an SS skull patch is just an opinion. .....we are glad to announce the S.Korean band 57 decided to leave this ambiguous tour as well."
What looks to be a gorgeous book on Bauhaus' career is coming out soon: "New Book By Influential Post-Punk Group Bauhaus Entitled Bauhaus Undead - The Visual History and Legacy of Bauhaus Now Available for Special Early Pre-Order, In Both Signed and Unsigned Editions - Written by original founding member Kevin Haskins!" You can read more and pre-order here.
SPECIAL DEAL FOR BGN READERS: We've mentioned Curt Weiss's book about Jerry Nolan of the New York Dolls entitled Stranded in The Jungle and we've mentioned the readings coming up in NYC, Provi and Boston- well you lucky BGN readers can get a SPECIAL BGN DISCOUNT on the book!! Regular price is $24.99 BGN Price is only $14.99!! Just visit The BackWing Store and enter code BGNSTRANDED at checkout to get your copy for just $14.99!
---
Here's some good shows coming up .....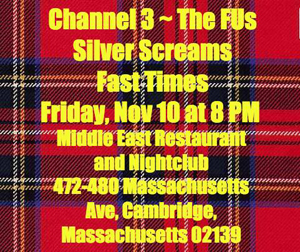 November 9 (Thursday) Randy Black and the Heathcroppers will be performing at Tavern At The End Of The World The band will be doing a set at @ 9:30 followed by a set from the Emily Grogan Band.
November 9 (Thursday) The Proletariat at ONCE Ballroom w/ Siege and Black Beach
November 9 (Thursday) If you are in NYC or can get to NYC Celebrate Stranded in the Jungle: Jerry Nolan's Wild Ride the new book by Curt Weiss that covers 40 years of L.A.M.F. and is A Tale of Drugs, Fashion, the New York Dolls, and Punk Rock. Also there'll be music by with Greg Allen's Fringe Religion, and ...book reading, panels, Q&A, guests, book signing. It's at The Delancey in the Lower East Side 7-10PM FB Page for directions and more info He's at Out of the Blue/Cambridge on the 12! see below.
November 10 (Friday) CH3 (Channel 3), The FUs, Silver Screams, Fast Times Punk at The Middle East Up - 8-Midnight show tix here Read about CH3 here. there's links for tix etc too
November 10 (Friday) The Proletariat are at Narrows Center for the Arts w/ Black Beach in Fall River, MA (FB page for info)
November 11 & 12 (Sat/Sun) 2nd Annual Salem Punk Rock Flea Market at Notch Brewing (283R Derby St, Salem, Massachusetts 01970) 11AM- 5PM This year it's moved to Notch Brewing for a bigger location. There will be indoor and outdoor vendors. No admission charge. check out the FB page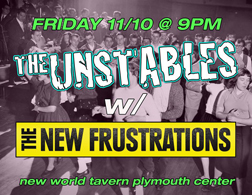 November 11 (Saturday) Fundraiser to Benefit Vernon West's battle with Leukemia is taking place in Danvers, MA at Breakaway. Vernon was in Sass a band around Boston very early on ,,,we had just heard from him a few months back and he was putting together a band with his son. We wish Vernon a winning battle!! If you can get to Danvers please support this benefit. Here's the FB page for directiosn etc. There is also A GoFundMe page for those wanting to donate - that's here
November 11 (Saturday) A Matinee Show - Keith Brooks started the tradition of doing a benefit every year to help out his fellow vets. We are going to keep it going and donate in his name to operation delta dog--an organization that trains service dogs for vets. Come hoist one for a good cause in memory of our buddy. on the bill: The Welch Boys, The Damaged, Held Hostage, Out.Live.Death, Working Poor USA at The Midway 4-8PM show FB Page
November 11 (Saturday) Hasselfest #9 this year has Pere Ubu and a ton of other bands at Once- get the info on the FB page here.
November 12 (Sunday) Curt Weiss covers 40 years of L.A.M.F. and is A Tale of Drugs, Fashion, the New York Dolls, and Punk Rock in his new book Stranded in the Jungle: Jerry Nolan's Wild Ride Also, rock and roll with the Thigh Scrapers, Tiger Bomb, Moto, Glider, and the Lyres starts at 2:15. Here's the FB page Also added to this show Greg Allen & The Fringe Religion who go on right after the reading.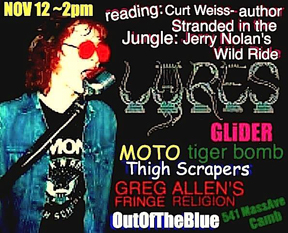 November 12 (Sunday) WOW!!- Jerry's Kids, Straw Dog, The Pist, Ancient Filth, Conscript at Alchemy in Providence RI FB page
And further out we have...
November 15 - 18 (Weds - Sunday) Internati onal Pop Overthrow is at PA's in Union Square Somerville. Check out the website for bands, set times etc.
November 16 (Thursday) Celebrate The Rat with Jim Harold, The Nervous Eaters, The Dogmatics, Willie Loco Alexander and Emily Grogan at The Ballroom at the Hotel COmmonwealth 6PM- midnight
November 17 (Friday) Greg Allen's Fringe Religion, The Stanleys (from Australia), Mercury On Mars and Classic Ruins are at Club Bohemia
November 18 (Saturday) Cheech (EP Release), The McGunks, Steal Reserve (NY), Hopeless (mems of Reason To Fight) at The Midway
November 19 (Sunday) OC45 w/ Diablogato, On the Cinder at Great Scott
November 22 (Wednesday) Stray Bullets, The Radiator Rattlers, Cactus Attack, Art Thieves, Coffin Salesman at OBrien's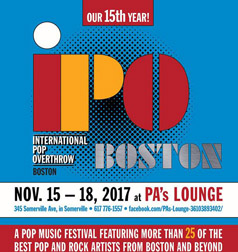 November 25 (Saturday) The Monsieurs will be on Brian Young's A Crash Course for the Ravers 91.5 WMFO 1-4Pm
December 1 (Friday) The Monsieurs (LP Release Show), Nice Guys, Earthquake Party at Great Scott's FB page
December 1 (Friday) The Dream Syndicate, The Richard Lloyd Group and DJ Carbo at Once
December 2 (Saturday) DJ Easy Ed presents: The Cranktones plus Easy Ed's Record Hop! 4-8PM matinee at The Midway...followed by......
December 2 (Saturday) Watts (45 Release), Diablogato, Duck & Cover, A Bunch of Jerks at The Midway
December 8 (Friday) Rumbar records is throwing a HUGE record release party of the new Justine and the Unclean record Get Unclean....It's at Once and there will be bands in the ballroom and in the Lounge. Check out this list!: In the Ballroom- The Upper Crust, Hey Zeus, Tom Baker and the Snakes, Justine and the Unclean ....In the Lounge - Cold Expectations, Roy Sludge Trio, Pinecone Teeth and Jay Allen - doors at 7:30 show starts at 8:15.
December 9 (Saturday) The Raging Teens are turning 21 this year.. and that's "Drinkin' Age!" There's releasing a 45 called "Drinkin' Age" on Swelltune Records to celebrate their 21 years as a band! AND that means The Raging Teens Holiday Shindig Record Release! With The Raging Teens, Nate Gibson, Bloodshot Bill, Sean Mencher at Great Scott. FB page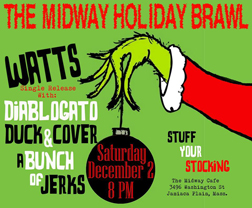 December 9 (Saturday) Radiator Rattlers, Brix'n Mortar,Lipstick Boys, The Grubs at The Chit Chat Lounge in Haverhill FB page
December 10 (Sunday) Horton's Holiday Hayride featuring Reverend Horton Heat & Junior Brown with special guests The Blasters & Big Sandy at The Sincalir (7-11PM show)
December 14-16 (Thurs-Sat) Bowery Boston presents Street Dogs Wreck the Halls Thursday 12/15- with special guests The New Darkbuster & Taxi Driver at The Sinclair - Proceeds benefit Massachusetts Fallen Heroes
December 15 (Friday) Street Dogs Wreck the Halls with special guests The Pinkerton Thugs & The Abductors at The Sinclair
December 15 (Friday) Street Dogs Wreck the Halls with special guests A Wilhelm Scream & Michael Kane & the Morning Afters at The Sinclair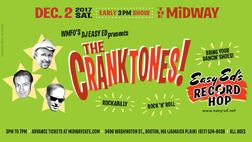 December 16 (Saturday) Bent Shapes with Beware the Dangers of a Ghost Scorpion @ Great Scott- this is Bent Shapes' FINAL SHOW
December 17 (Sunday) Thrash N Bang's Annual Xmas/Pizza Party Show! with Crimespree, CAC, The Grommets, The Sewer Buddies, and Jenn Lombari & special guests (Matinee 4-8PM)
January 6 (Saturday) Nervous Eaters, Watts and David Age & The Regrets at ThunderRoad FB page
January 13 (Saturday) Lyres, Paul Collins Beat, Boston Cream at Thunder Road
CONTACT US AT....misslynbgn@yahoo.com -Send us your gig listings, your news and anything else ya got!! You want your CD reviewed?? Contact us for that too.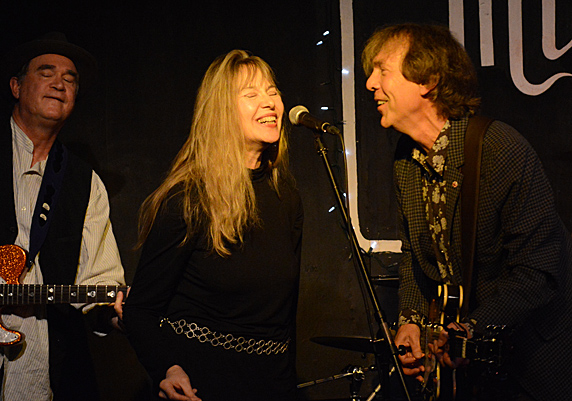 Hummingbird Syndicate
Photo: Blowfish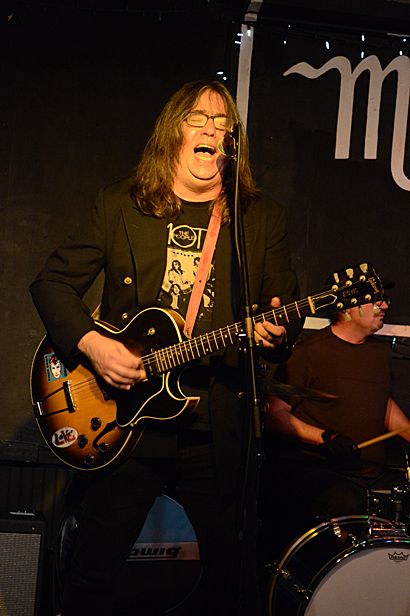 Toni Kaczynski - Fireking
Photo: Blowfish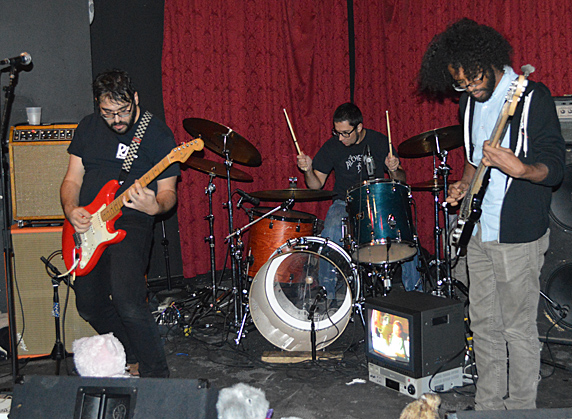 Moist Boy
Photo: Blowfish
Sex Snobs
Photo: Blowfish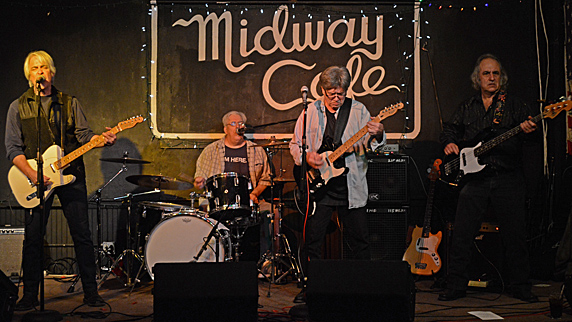 Billy Connors Project
Photo: Blowfish