The BGN News Archive
November 9,2015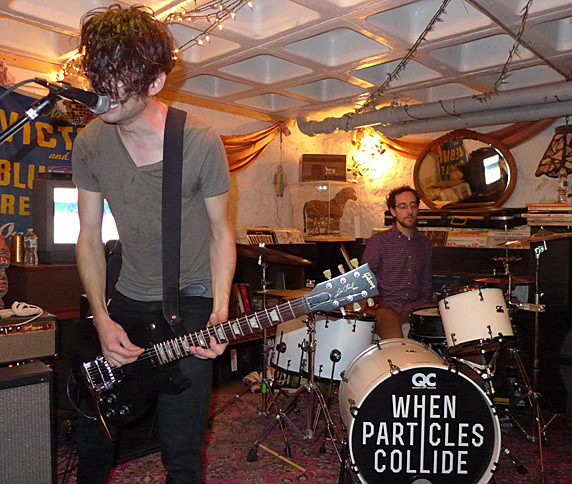 Endation at Store 54
We couldn't pass up seeing one of our favorites, Endation, at one of the coolest places, Store 54, on Friday. This was Bob Colby's last show until the winter is over. He's has had some physical problems and it's affecting his mobility. Vanyaland did a piece on him this past week celebrating his dedication to the scene! He's got 22 months to go until he moves south but he's only getting more famous every day.
Bob did a clever turn with this 2X2 bill; two groups that are duos - Endation and When Particle Collides.
Endation defies easy categorization and their story isn't pat either. Ants and Matt have known each other a long time and have had periods of playing together and not playing together. They have no plan of stopping currently. The way they play is just the way it came out and they never tried to change it to conform to any style.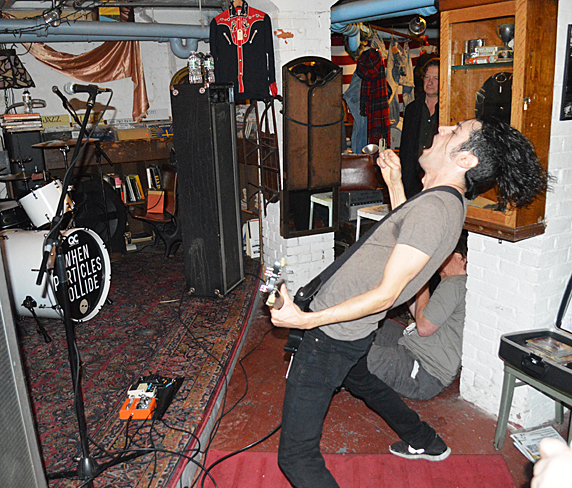 Endation
Matt is a drummer with Berklee credentials. His forceful and precise attack sounds like no other. You would think hitting a drum would sound the same no matter who did it - not true. Overall his drumming produces a feeling of overpowering inevitability. Ants' vocals are eruptions of emotion. The screams are plentiful and visceral. His guitar is ragged but controlled. As a group it's that interplay between Matt's rigid rhythm and Anthony's emotion that makes the magic.
They start the set with four new songs which are in line with their older material, maybe a bit more detailed. At the half way mark they play one of my favorites; Strontium 90. By that time I was totally immersed in their universe. During Fresh Loam there was a point where there was a repeated syncopation between a gasp by Ants, a chord strum and a cymbal hit. I don't even know if it was planned or just happened but it was a captivating moment.
This is all not easy listening; it takes from you if you really give in to it. I always feel a bit drained after their sets. We've told you all this before. In December 2014 we saw them at Radio and in March 2014 at the Midway. Now go check them out next time they play!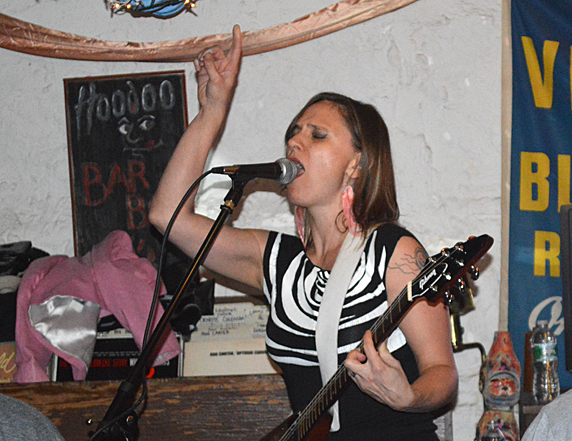 When Particles Collide
When Particles Collide have made a name for themselves. Bob Colby was championing them very early in the game. Then they won the New Artist of the Year at the Boston Music Awards. They have a decent fan base and people on this night were there to hear them and gave them rapt attention. The music is straight ahead rock and appealing. Sasha the lead singer has a winning stage presence. It all makes for a good time.
This was another good bill from our soon to be leaving Bob Colby. Having these shows at the Store 54 makes everything just that much cooler. If I wanted to impress some out of towner I'd bring them to one of these shows. You feel like your 'in' on something but there is zero trendy bullshit. It's just low key and real.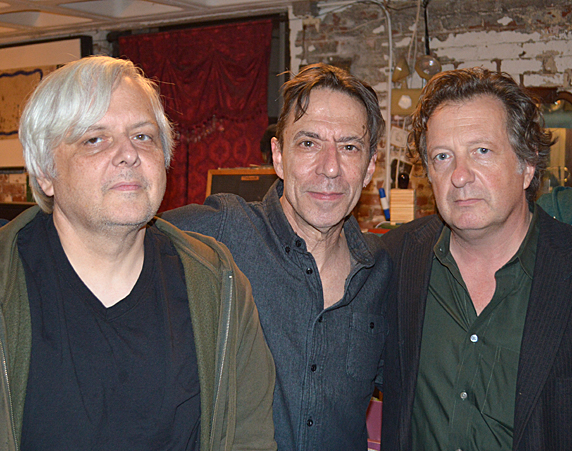 Bob Colby, Wayne Viens and Stona Fitch
The three day Hassle Fest 7started Thursday. It's been going on for a few years now and this is the place to be if you want to see some new and unusual acts that are bubbling up. I went on Saturday afternoon at Brighton Music Hall.
The organizers, Boston Hassle, did a genius move and added a second stage at the opposite end of the floor. The two stage thing is something they did at the Elks Hall in Central Square for Hassle Fest 2013. The resultant continuous music is a big plus. They also had one side of the hall wrapped in aluminum foil. When the second stage was being used they dropped the lights in the hall.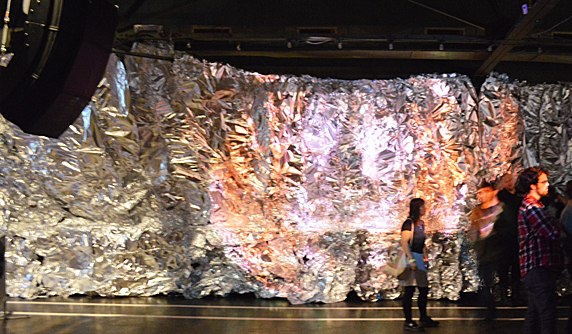 The aluminum wall
When I came in the Italian hardcore/industrial/metal Sadist was on. The place was dark and in the middle of the crowd the small stage had some very small lights and the lead singer wore a hockey mask and was singing throat style. The menacing music was enhanced by the staging. One guy decided to mosh and that happening when you couldn't see was disconcerting; in the end not too bad but wow.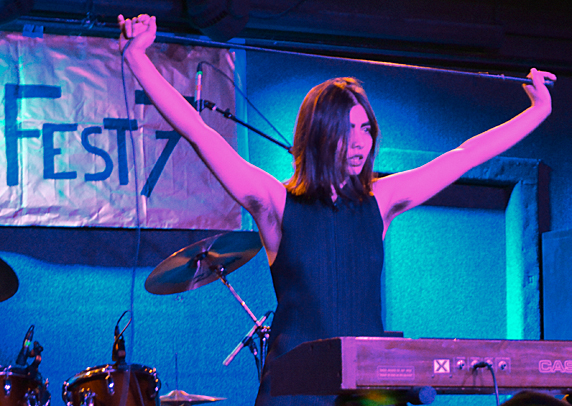 Olivia Neutron-John
Next up was Olivia Neutron-John. Great name. It's just one woman and a synthesizer. Normally I'd run to the hills from an act like that but this held my interest. She started by playing one low note and just staring with a stern face at the audience. Rather than just play the synth ONJ danced and posed. The singing was mostly in the screaming mode. She was mixed to sound tinny and distant. I don't know what she was singing about but she seemed mad about it. The whole thing was odd yet somehow transfixing. Here is a one minute video of Olivia Neutron-John at the Hassle Fest 7 that will give you an idea of what she was doing.
I found it funny that on stage she was dressed in complete black and offstage later she was in complete white. It made you feel that she carries her conceptual persona into real life.
I then saw three acts I didn't get much out of and decided to call it quits. Later they would have Guerilla Toss who have a big buzz going for them. They finish the night with Flipper with David Yow singing.
Hassle Fest 7 is three days, tonight was just one night of that and had 21 acts all together. Total: 49 bands - that's a lot of music!!! John Keegan was also there and we'll be adding his report and pics in the next couple of days.



The Milling Gowns
Photo: Arthur Freedman




Wishbone Zoe
Photo: Arthur Freedman




The Milling Gowns
Photo: Arthur Freedman
Arthur Freedman caught one of his current favorites last Sunday at the Midway, the Milling Gowns. Personnel are: bass player is Brad Emerson, singer is M, guitarist is Kevin Heinold; drummer is Allen Esser.
On the bill was Daniel Ouellette and the Shobijin who Arthur calls a "performance artist extraordinaire".
Also Wishbone Zoe.
In other news...
International Pop Overthrow is coming this week to PA's in Somerville for a four day run on Wed/Thurs/Fri/Sat. We took the oportunity to interview IPO creator David Bash ...DAVID BASH INTERVIEW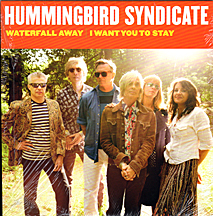 We still care about the vinyl. It's rarer these days but groups still do it and we love it. This week we got Jon Macey's newest project the Hummingbird Syndicate 45 RPM. It's a gorgeous 60's flashback. It's a guitar soundfest. He has two guitars soloing at the same time on I Want You to Stay. The vocals are undeniably great. Waterfall Away has the 12 strings ringing. For info check www.hummingbirdsyndicate.com Jon is having a record release party on Nov 21...see listings below for details.
Trophy Lungs has their newest Day Jobs on a LP too. The recording captures them at their best. The recording was done in Haverhill at Getaway Rcordings. I'm liking it more with each listen. You can hear how they go from loud to soft and how that changes the texture to keep things interesting. I wish I could catch more lyrics especially in the song Tough Calls In Inman Square. More info at antiquerecords.limitedrun.com
Coming up this week....
November 10 (Tuesday) Jonathan Richman with Tommy Larkin on drums will be at the Somerville Theater. Its a 7PM show. Tix are $21. We saw Jonathan and Tommy at the Middle East Up in March last year and it was FANTASTIC!!
November 10 (Tuesday) City Mouse, The Murderburgers, Lucky United, and Mr. Fahrenheit are at O'Brien's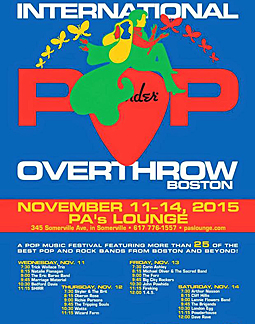 November 11 (Wednesday) International Pop Overthrow is at PA's Nov 11- 15 Day One starts at 7:30 with Trick Wallace Trio, Natalie Flanagan, The Eric Barao Band, Marriage Material, Bedford Davis and SHIRR FB Page for all days
November 12 (Thursday) International Pop Overthrow at PA's Day Two starts at 7:30 with Skyler and The Brit, Oberon Rose, Richie Parsons, The Tripping Souls and Powderhouse
November 13 (Friday) International Pop Overthrow is at PA's Day Three: starting at 7:30 with Corin Ashley then Michael Oliver & The Sacred Band, The Forz, Big City Rockers, John Powhida, Fireking and 1.4.5.
November 13 (Friday) NoBunny, The Monsieurs, Nice Guys and Gym Shorts are at The Middle East Up.
November 13 (Friday) The Furs, Tom Baker and the Snakes, The Blue Ribbons and Peter Buzzelle and The Academy are at The Midway (FB page)
November 14 (Saturday) A Crash Course For The Ravers featuring Mary Lou Lord. Shoud be a good one!! 1-4PM WMFO 95.1FM
November 14 (Saturday) Alternative Ulster, Charlie Don't Surf and Bomb Squad Larry do an afternoon 4PM show at The Midway
November 14 (Saturday) International Pop Overthrow is at PA's Day Four starts at 7 :30 with Arthur Nasson then Cliff Hillis, Lannie Flowers Band, The Brigands, London Egg, Watts and Dave Rave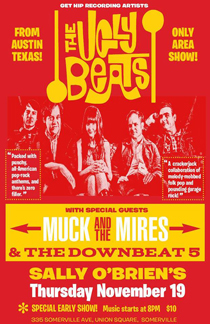 November 14 (Saturday) The Darlings are up in Salem at In a Pigs Eye.
November 14 (Saturday) Watts are at the Dover Brickhouse in Dover, NH.
November 15 (Sunday) at O'Brien's - U.S. Girls, ESCAPE-ISM, Half Sour, Mini Dresses
And out in the the future we have.....
November 19 (Thursday) This is going to be a fun gig - Muck and the Mires along with The Ugly Beats from Austin and then The Downbeat 5 at Sally O'Brien's
November 21 (Saturday) The Uppper Crust return to Store 54!! Opening the night is a band representing the other end of the social spectrum: The Peasants. And here's a hilarious Jib Jab viddy with the Crust.
November 21 (Saturday) Jon Macey's news band The Hummingbird Syndicate is havong a 45 RPM vinyl record Release show: This is the debut show where the East Coast and West Coast band members all perform a 2 hour concert. We will play the new 45 single plus many songs from the upcoming album, POP TRICKS. You will hear an acoustic set in the middle of the show. We will do our own special versions of songs from our influences. This is at Hibernian Hall in Watertown. (Here's the FB Page for the event)
November 21 (Saturday) The Worried, Greg Allen's Fringe Religion, Two Saints and Charlie Don't Surf are at Koto in Salem.
November 25 (Wednesday) It's Thanksgiving Eve...what better time to head over to the Brighton Music Hall for an amazing line up of The Flamin' Groovies, Muck & The Mires, The Connection and Fireking!! WHOA!!Tix here.
November 25 (Wednesday) A Thanksgiving Eve party over at the Sinclair for the The Daykamp Poster and Photo Show featuring The Sheila Divine, Sidewalk Driver and Weakened Friends.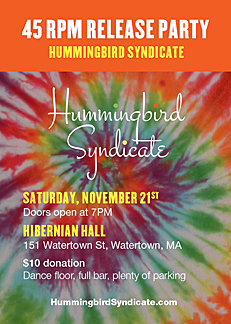 November 25 (Wednesday) A Thanksgiving Eve party at Atwood's with Jittery Jack and the delightful sounds of DJ Easy Ed spinnin' the platters too!
November 27 (Friday) Reddy Teddy returns to their hometown to play at the Unofficial Winchester High School Reunion.Its at the Winchester Elks Lodge 375 Cambridge St. Winchester. This is an early event starting at 7PM.
December 2 (Wednesday) at Great Scott - Brian Carpenter & The Confessions, Thalia Zedek Band, The Wrong Shapes
December 4 (Friday) Kermit's Finger, Penis Fly Trap, Padded Hell and The Unstables at O'Brien's
December 5 (Saturday) Corrosion of Conformity with Brant Bjork, Saviours, Mothership at The Brighton Music Hall
December 5 (Saturday) it's the Weisstronauts' Holiday Show with The Weisstronauts, Tsunami of Sound and special guests at the Midway
December 8 (Tuesday) Rocket From the Tombs is at the Brighton Music Hall!
December 12 (Saturday) its the 4th Annual Punks for Tots show at the Dover Brickhouse in Dover, NH. Bring an unwrapped toy or 2 canned goods and you get in for free! The Guts (reunion), Genuine Rust, Whiskey Kill, Jimmy Jacked, Diablogato FB event page
December 12 (Saturday) The Neighborhoods are down in RI again, this time at The Met in Pawtucket. (Here;s the fb page) (Buy tix here)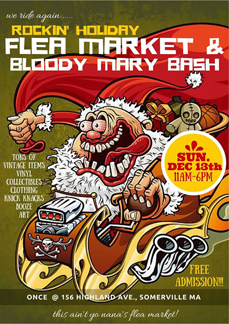 December 13 (Sunday) The Rockin' Holiday Flea Market and Bloody Mary Bash (formerly at TT's) is now at Once (Cuisine en Locale) There'll be Vintage clothing + Collectibles, Tons of rare vinyl records, Knick Knacks, Jewelry, Homemade snacks, Music Memorabilia, Cool Holiday Gift Ideas, If you're looking for it, chances are you'll find it there. ...and of course the Bloody Marys!! It all takes place from 11AM to 6PM
December 18 (Friday) The Rationales, When Particles Collide, The Static Dynamic and Stars Like Ours are at Great Scott
December 19 (Saturday) A Crash Course For The Ravers featuring DiabloGato. That's 1-4PM WMFO 95.1 on your radio dial.
December 19 (Saturday) The Figgs and The Upper Crust are at Great Scott
This year the Might Mighty Bosstones have decided their shows should feature all old school Boston garage and punk bands!! This is a AWESOME and most wonderful idea!! Here are the line ups:
December 26 (Saturday) Hometown Throw Down with the Mighty Mighty Bosstones, The Neighborhoods and The Upper Crust at the House of Blues
December 27 (Sunday) Hometown Throw Down with the Mighty Mighty Bosstones, The Real Kids and The Queers at the House of Blues
December 28 (Monday) Hometown Throw Down with the Mighty Mighty Bosstones, The Outlets and Stranglehold at the House of Blues
January 2 (Saturday) The Petty Morals celebrate their newly released EP Marked Women at Great Scott along with The Organ Beats, Watts, and Stars Like Ours
CONTACT US AT....misslynbgn@yahoo.com - Send us your gig listings, your news and anything else ya got!!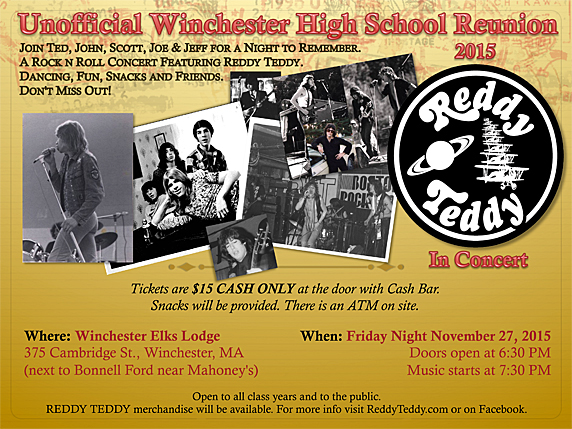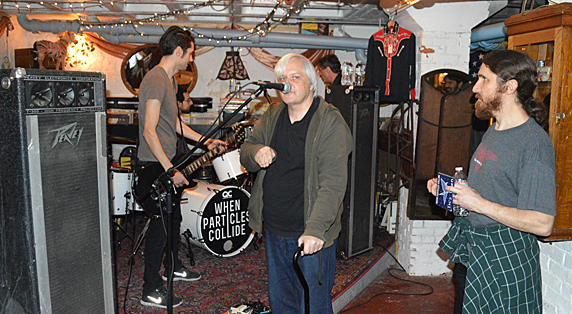 Bob Colby giving the intro to Endation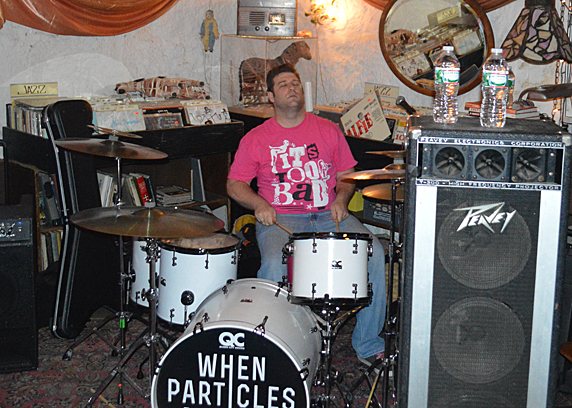 When Particles Collides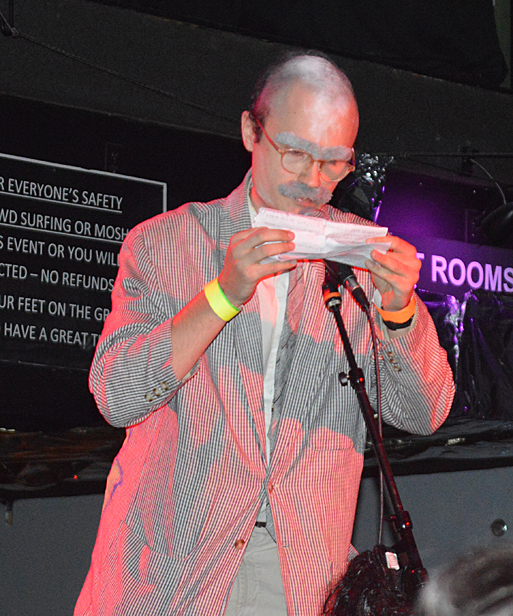 The MC for Hasslefest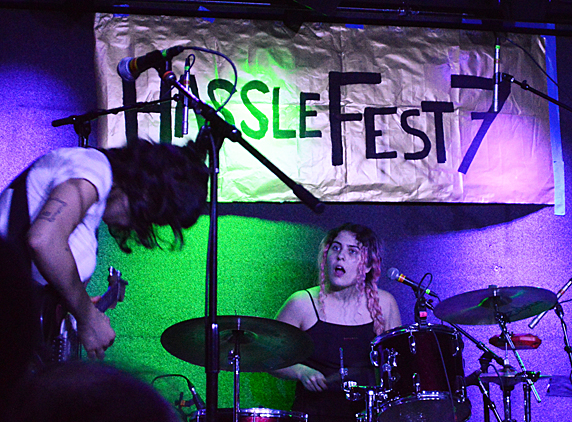 Palberta at Hasslefest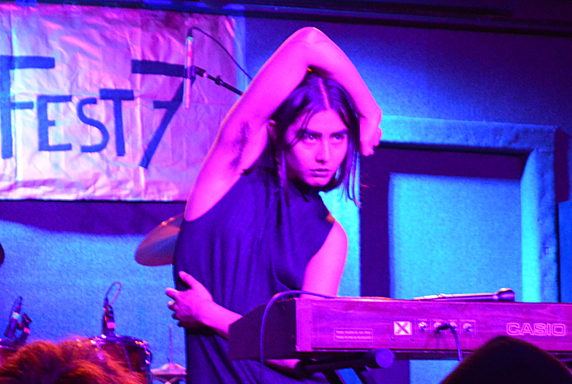 Olivia Neutron-John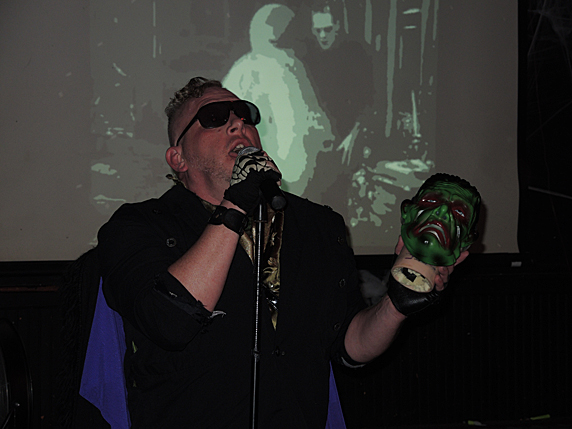 Daniel Ouellette and the Shobijin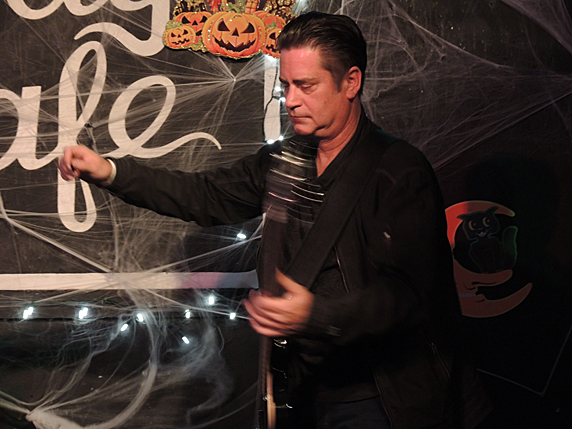 The Milling Gowns