The BGN News Archive
November 14, 2011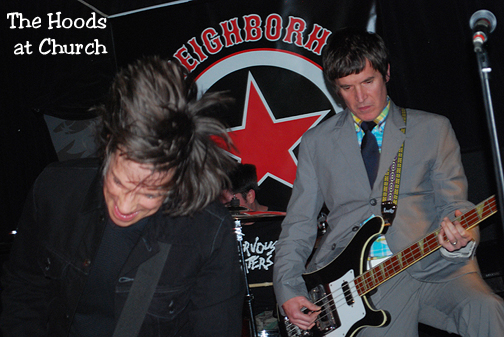 The BGN went out to check out bands a couple nights this past week and Blowfish gives you the story:
I was surprised as I walked in to the Middle East Up and found it full. I was thinking it was a Thursday night but I guess with Friday being a holiday people came out but then again when the Damned played it was full and a Thursday with no holiday the next day. I don't know maybe Thursday's a big night.
I heard some Viva Viva and liked the Velvet Underground influence. The night actually was the Movers and Shakers CD release party. Viva Viva not only have a VU influence but every note seems to be inspired by the sixties. Since we are all about punk it is a little disconcerting to see more and more groups taking from the sixties and completely forgetting about the punk era. There's no getting away from the fact that the punk era is receding into the background a bit. So it goes.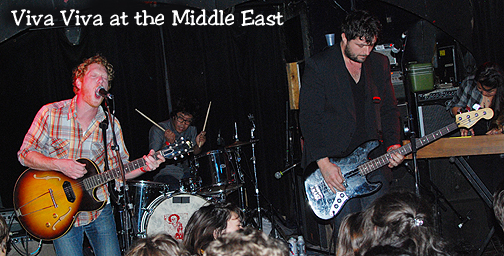 As it turned out the VU was just one part of the Viva Viva arsenal. Everything they did had conviction and energy. One song had a Bo Diddley beat with all the fun kicked out of it and replaced with pile driving power. Here as elsewhere the vocalist is on the verge of yelling making you believe that he cared what he was singing. They did a version of Tobacco Road by the Nashville Teens a song I have loved since 1964 and never heard anyone do live until now. They served it up raw and rockin'. I want to see these guys again.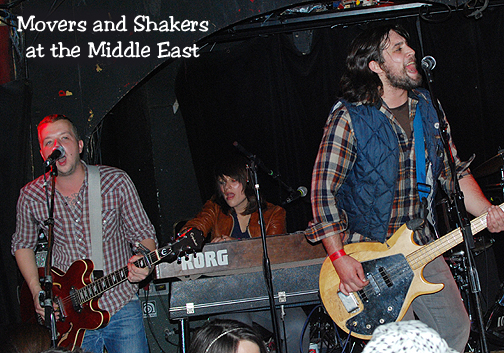 Movers and Shakers had lots of fans and they sounded amazingly clear and strong. It felt like they should have been on stage at the Orpheum or like place. The first three songs had an early Springsteen feel, in a word - epic. Then they started playing their current CD which has an alt country style. They are ready for bigger venues. The sound for both groups this night was the best I've heard in a long time.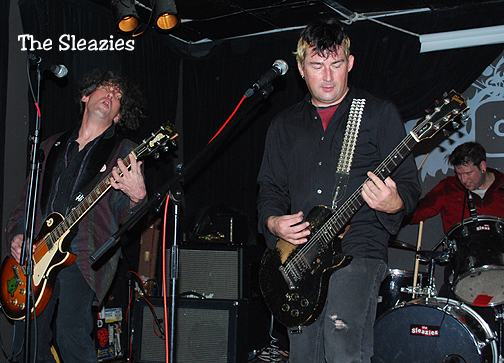 Saturday's gig at Church was a must go. It was The Neighborhoods, Unnatural Axe and The Sleazies. That line up demanded a $20 cover ($25 the day of the show), some were complaining about that. We walked into the very end of the Sleazies. The Providence band has a lot of Boston fans. The club had a respectable amount of people. As the night went on it got full but it didn't look like a sellout.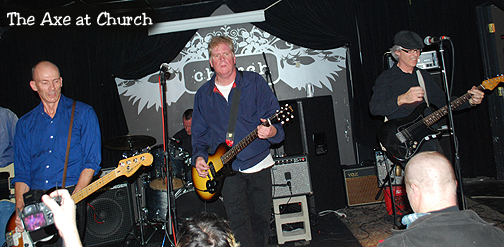 We have missed the last few Unnatural Axe gigs so we were looking forward to seeing them and Richie has had some health issues and we have been thinking of him a lot lately. But he looked fine and the Axe were roaring. My complaint about 60's influenced bands on Thursday got its answer in the Axe's punk set. The power and sonic slam that punk gives you is just not there in the sixties style...case closed.
Tonight it seemed that Frank Dehler especially was all revved up. He did a lot a jumping around and his playing was sharp. Their play list included a wide range of songs new and old with some good covers: one LaPeste and one Nervous Eaters a couple Dead Boys. A great set.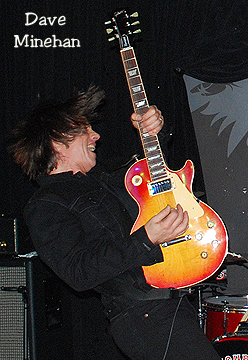 Every Neighborhoods gig is a special occasion. If they have a gig you have to stop and see if you can go. They have an immense reputation to live up to every time they play. They did not disappoint. They have the complete package: songs, sound, and stage presence. They explode on stage. They simply overwhelm. We often complain on this site about the lack of personality of some bands with David Minehan we get personality plus. The same thoughts always run though your mind during a Neighborhoods gig; you can't believe a band this good never was a national hit and how lucky are we that we get to hear these guys regularly.
Jimmy Harold forwarded us a link to the Street Dogs' song "Poor Poor Jimmy", he made no comment about it himself....
....then Richie Parsons sent us the lyrics.....which you can read HERE...
My feeling is that I don't think Jimmy had a chance to do anything but sell The Rat!! BU was edging everyone out and has enough money to buy anything they want! ...Jim Harold gave us so much for so long.....and thanks should still go to him. But I can understand the longing for a place to really belong again...nothing will replace those days and The Rat !! Thanks Jimmy!!!!
We heard from Adventure Set who tell us their gig with James Straight and The Wide Stance at The Magic Room was sold out (Not surprising!). They have just released their new digital disk (soon to be actual CD at Newbury Comics) and you can get it now at places like Amazon and Bandcamp....
There's some cool stuff coming up this week...this Friday the 18th The Rosebud has The Beach Combovers, Cal Cali's New Experience. Eric Martin & The Illyrians and Litehouse and this Beach Combovers set is a special one coz they are going to have belly dancers live on the floor of the Rosebud dancing to their surf music....now that's an interesting concept!! Should be super entertaining!!
Also on Friday, at TT's is Muck & The Mires and a special reunion of The Dents!! That's the original line up : Michelle Paulhus (bass/lead vocals), Jen D'Angora (rhythm guitar/lead vocals), Craig Adams (lead guitar) and Kevin Pickering (drums). To celebrate the upcoming reunion, The Dents have released "Little Red Pill" (they sent it to us so you get to hear it...click to listen to LITTLE RED PILL!!) a previously unreleased track recorded in the late stages of the band's career...this should get you fired up for Friday night!
And of course it is International Pop Overthrow weekend ( Nov 17 thru Nov 19) At the Rosebud and you can go to the Facebook page for the band list and set times....
Then after you hogged it up on loads of turkey on the 25th you can head over to The Plough on the Friday the 26th for a special treat....Sean Coleman who used to front The Bourbonnaires and The Swindells moved to NYC and has been playing around there lately but on the 26th he's back in Boston for one night, with his new band, at The Plough!!! I'm looking forward to some screamin' and some soulful singin' oh yeah!!
December 2nd is an awesome show at The Middle East with The Nervous Eaters and Barrence Whitfield and The Savages who just got back from playing in Europe for the past month and are celebrating their new CD Savage Kings (which you can purchase at Shake It Records). AND Peter Greenberg (yes the one from DMZ) is in the band again and he is playing with Barrence in Boston for the first time since 1986! It's gonna be a hell of a night I can just tell! And as if that wasn't enough, they will be on WFMU playing live on the afternoon of Dec. 3rd so tune in then as well.
December 3rd has a great Marsman Show at The Rosebud - with the Lyres, Watts, My Own Worst Enemy and The New Frustrations......and its sponsored by Narragansett as well
And Dec 8-10 at The Lizard Lounge you get three days of Kingsley Flood doing an extended CD release event.... click here for a list of bands for each night!! And don't forget KickStart Project
And folks we have a new Rick Coraccio Journal Entry for your reading pleasure (and I do mean pleasure because this one is the best yet!!) it's all about the Lyres gig in San Francisco....just scroll down to the box under the news....but no, you're lazy!! CLICK HERE THEN
And don't forget John Nikolai's awesome project on KickStart - Please go pledge some dough!!!: NEVERMIND NOSTALGIA: The Last Book On Punk Rock (Part One)
Eric Law latest project is a split 45 with Kepi Ghoulie and Vic Ruggiero. Find him on Facebook to scoop this limited vinyl.
Every Thursday Andrea from Weirdo Records will be DJing at Occupy Boston between 12pm-1pm or so (across from South Station in Dewey Square) with a battery powered turntable, she will be playing some very angry and musically meaty protest records from different eras and in different genres.
A new Jon Macey SOLO CD has just been released. It's got the stamp of quality that all Jon's material has.... http://www.cdbaby.com/cd/jonmacey3
Email us with your latest news, opinions and all that kinda stuff....misslynbgn@yahoo.com