The BGN News Archive
November 23,2015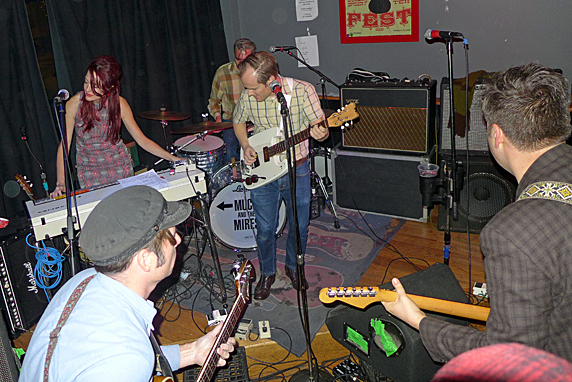 The Ugly Beats
Three days of Boston en Masse promised an array of new and interesting bands. I took up the offer and went to the Middle East on Wednesday.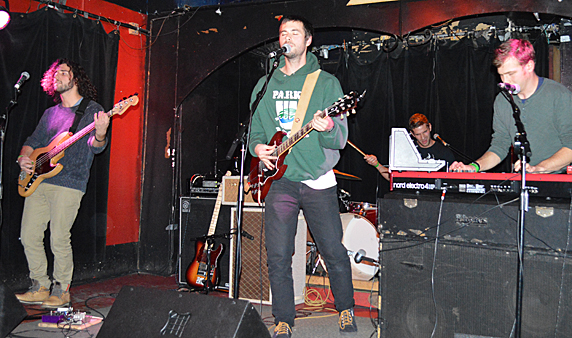 Milk
Milk describe themselves on Milk on Bandcamp as rock, blues, garage, psychedelic, punk and they were all that. They played a psychedelic style song then a dream pop effort, then went on to other things less genre and more general sounding. I loved the dream pop ditty and was hoping for more but that never happened. It was fine playing and the songs showed a lot of effort. Not bad.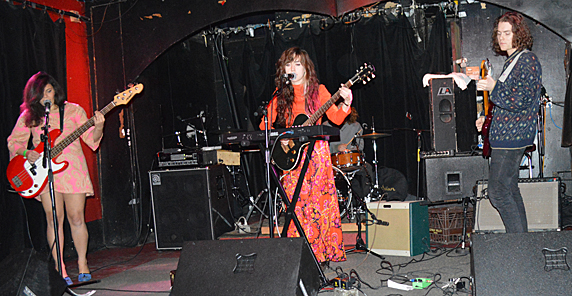 Littlefoot
Littlefoot declares a surf side to their sound and it can be heard on their Bandcamp page . It's a super dreamy version of surf like a beach party with everyone on valium and the ocean too. The overall sound is an arranged delicateness doused in echo. I was surprised to see the guitarist from The Midriffs in the group. I'm used to him playing distorted and at feedback levels. Here he played clean and melodic all the time interacting with the other guitarist. Fitting the instrumental backing the vocalist had an ethereal sounding voice. I like things less polite but I got into it.
There is no doubting the shift in influences of new groups when you see how many list psych and surf as descriptive of their sounds.
There were about 40 people there, not exactly a big success but this was early in the three day showcase.
Muck and the Mires
There was plenty of Facebook posts of people excited about the Thursday night show at Sally O'Brien's with the Ugly Beats.
The show began with the Downbeat 5 which I missed but it was nice to see them with a gig. It's special when they do play. Muck and the Mires seemed physically restrained by the small stage but the sound wasn't restrained. You know if you have your record player on loud and you drop the needle into the middle of a loud song - that jolt you get? That's the feeling you get when Muck starts to play and you keep that feeling until the end. It's an exciting rush of British Invasion.
There's no weak link in this line up. I find myself listening to Linda on drums a lot. She's not just a drummer but a representative of a style of drumming you rarely hear. She's one of the best in town - and she sings too. The set is half songs I know and half I don't know. Every show I shift my favorites to another group of tunes. Evan says they will play a different set when they open for the Flaming Groovies next Wednesday. In a realm where songs are money these guys are billionaires. Here's a video of one song from the set .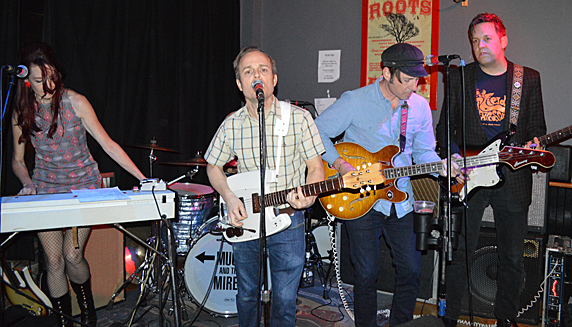 The Ugly Beats
The Ugly Beats from Austin were also song oriented. With five members and a Farfisa they were even more jammed into the stage space. The sound was garage rock through and through with organ riffs catching your ear left and right. They had some guitar problems which I didn't think affected their sound but when they got ironed out, sure enough, they got tighter and had a boost of energy. This last half of the set is where I could see why they get attention. They had one song called Bee Line where the mimicking buzzing riff embedded in a raw pounding rocker became the memorable song of the set. It sounded just like this recorded version BEE LINE I was fully won over but then I learned to love them as they did a three song Real Kids set as a salute to all Boston rock. The launched into Better Be Good, they had all the riffs and gave it all the frenzy they had. Fantastic. Here's a video of Better Be Good and Can't Shake That Girl. They were very appealing on stage. They seemed happy to be in Boston gigging.
I've never seen SOB's full but there was a good crowd for this most comfortable and friendly bar. It was a knowledgeable group who appreciated all the qualities of the Ugly Things. It made for a good feeling evening.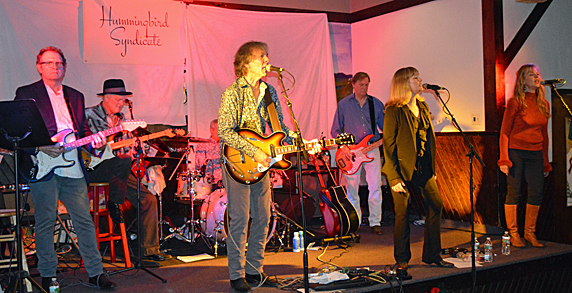 The Hummingbird Sydicate
Jon Macey with Fox Pass was part of the very beginnings of Boston punk back in 1975 now 2015 he's still going strong. His current project is Hummingbird Syndicate which has released a single of sunshine pop already. Saturday he set up a show in a big hall in Watertown as showcase. The hall had 100 to 150 people. The Hummingbird Syndicate had three guitars, two singers, bass and drums. Lynn Shipley turned out to have a masterful voice, so between her and Jon they could handle a wide variety of material and they needed that. Jon was using this night to play things he never did before; songs that influenced him through his life. That was a very disparate group of songs. There was Delta Dawn, Ode to Billy Joe, Poor Side of Town , Dylan's I Want You and songs by Richard Thompson and Gene Parsons. Then there were the country western songs; real oldies from Porter Wagner, Lefty Frizzell and back to 1940 for Get Along Little Doggies by Roy Rogers).
Peppered throughout were the songs from the new CD. One was called Song for Stephen Foster and I thought that was a compelling composition. In all that material the band got a good workout. All had moments to shine. Linda Viens also jumped in for a few songs. The whole night was a look into what makes Jon click. It also made me even more interested to get that new CD.
It's always pays to keep track of what Jon's doing like the time in 1975 when he typed up the gossip sheet that was the original Boston Groupie News. Jon talks about the Boston Groupie News origins.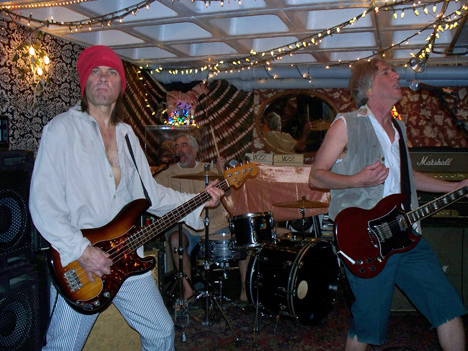 The Peasants
Photo by Miss Lyn
Miss Lyn headed out with Kenne Highland on Saturday to catch The Upper Crust and The Peasants at Store 54. The Peasants dressed the part with tattered clothes and dirtied faces. At that point the Upper Crust was nowhere to be found, I imagine they did not want to be sullied in any way by the likes of these lowly riff raff. The Peasants delivered a strong rockin' set with lots of guitar leads and rangling riffs. Miss Lyn had to leave before the Crust came on. Kenne Highland stayed to the bitter end and you can read his review of the Crust in his Kenne Highland at Large column.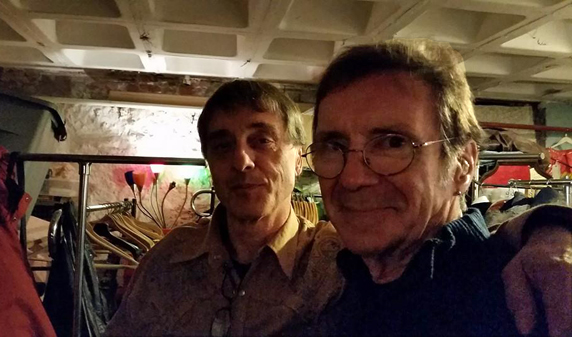 Mark Davis and Jim Ryan
Photo by Jennet Cook
Store 54 mogul Wayne Viens was super dapper in a vintage coat with priestly lapels. And Janice has really kicked the store up a few nice notches with tasteful displays that showcase all the stuff for sale there. I had no idea of all the wondrous and really cool offerings until she came onto the scene here! It's worth a new look if you haven't been there lately!!
A big surprise for the night was the appearance of HooDoo Barbecue's Jimmy Ryan with Jennet Cook!! WOW!! It's been a LONG time since anyone has seen him and it was great to know he's doin' fine. It's always a nice intimate night with friends at a Store 54 gig.
In news...
Andrew Szava-Kovats of True Age Media who brought you Let's Go to the Rat, is at it again....he's just released for his latest doc (and its available on DVD) Women Who Rocked Boston. Check out the trailer here.
In other news...

We just came upon this nifty Bands of Boston Crossword Puzzle Book! There are separate puzzles for each band like The Real Kids, The Cars, Lemonheads, The MIghty Bosstones, The Pixies and a host of others. It's by Music reviewer, podcaster and historian Aaron Joy and he's done a bunch of other music related crossword puzzle books! Awesome!! Check 'em all out here.
And from the Boston Globe - There is finally a Boston Pheonix Archive!!: "Stephen Mindich, owner and publisher of the pioneering publication, has donated the paper's extensive archives to Northeastern University's Snell Library Archives and Special Collections, where they will be available for members of the public to peruse." They plan to digitize it in the future but for now at least all the issues are in one place and avaiable to see!
Coming up this week....
Lots of great stuff happening Thanksgiving Eve!!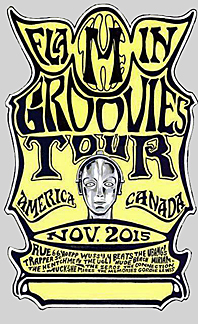 November 25 (Wednesday) It's Thanksgiving Eve...what better time to head over to the Brighton Music Hall for an amazing line up of The Flamin' Groovies, Muck & The Mires, The Connection and Fireking!! WHOA!!Tix here.
November 25 (Wednesday) A Thanksgiving Eve party at Atwood's with Jittery Jack and the delightful sounds of DJ Easy Ed spinnin' the platters too!
November 25 (Wednesday) A Thanksgiving Eve party over at the Sinclair for the The Daykamp Poster and Photo Show featuring The Sheila Divine, Sidewalk Driver and Weakened Friends.
November 27 (Friday) Reddy Teddy returns to their hometown to play at the Unofficial Winchester High School Reunion. Its at the Winchester Elks Lodge 375 Cambridge St. Winchester. This is an early event starting at 7PM.
November 28 (Saturday) Strangeways, The Milling Gowns, & Future Carnivores are at Jacques (FB page)
And out in the future we have.....
December 2 (Wednesday) at Great Scott - Brian Carpenter & The Confessions, Thalia Zedek Band, The Wrong Shapes
December 3 (Thursday) at ONCE - Guitarmy - a celebration of the guitar and its local luminaries - A night of guitar players, vendors, gear raffles, featuring - Lyle Brewer, Marc Pinansky, Alejandro Necochea, Matt Sullivan, Amy Griffin, Russell Chudnofsky, Catherine Capozzi, Charles Hansen, Chris Cote, JJ Rassler, Brian Martin, Tony Savarino, Scott Tarulli, Craig Adams, Eric Salt, and Mike Oram, Melissa Gibbs, Mass Ave Music, Q Division Studios, iZotope and Source Audio LLC. - 20 minutes sets focusing on guitar playing, raffles and more Tix here Starts at 7PM. More info here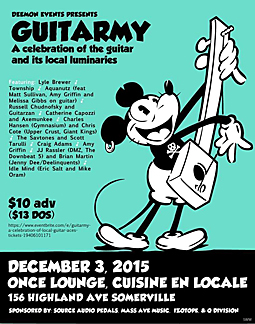 December 4 (Friday) Kermit's Finger, Penis Fly Trap, Padded Hell and The Unstables at O'Brien's
December 4 (Friday) Day One of the America's Hardcore Fest 2015 - at the Hardcore Stadium -The Elks Hall in Cambridge - its sold out- sorry
December 5 (Saturday) Day Two of the America's Hardcore Fest 2015 - Matinee Show at The Middle East Noon - 4:30PM with Freedom, Red Death, Intent, Big Contest, Clear, Barge, Demolition and Wild Side.
December 5 (Saturday) Stingray Body Art is having its 10th Anniversary Holiday Art Show! Featuring works by Walter Sickert, Kristilyn Zombie Romance and Tara Ozella, Sponsored by PBR with beer& wine and DJLotusound. 7-10Pm.
December 5 (Saturday) Day Two of the America's Hardcore Fest 2015 Evening Show (Starts at 5PM!!) at Hardcore Stadium /Elks Hall with Stick Together, Fury, peacebreakers, Chain Rank, Leather Daddy, Pure Disgust, Protester, Hard Stripes and other.... check out the other info here.
December 5 (Saturday) Corrosion of Conformity with Brant Bjork, Saviours, Mothership at The Brighton Music Hall
December 5 (Saturday) it's the Weisstronauts' Holiday Show with The Weisstronauts, Tsunami of Sound and special guests at the Midway
December 7 (Monday) Zip-Tie Handcuffs, Marianne Toilet and the Runs, Mike Woo's Raging Bone and Power Animal at Opus Underground Salem.
December 8 (Tuesday) Rocket From the Tombs is at the Brighton Music Hall!
December 8 (Tuesday) The Modern Voice, VAT, Baylies Band and The Korps featuring Ken Kaiser and Kenne Highland at The Midway
December 11 (Friday) Excellent show with Black Cheers, Silver Screams, and Darker Hues at the Greeks in Union Sq Somerville. FB Page here.
December 12 (Saturday) its the 4th Annual Punks for Tots show at the Dover Brickhouse in Dover, NH. Bring an unwrapped toy or 2 canned goods and you get in for free! The Guts (reunion), Genuine Rust, Whiskey Kill, Jimmy Jacked, Diablogato FB event page
December 12 (Saturday) Fireking and John Powhida at Store 54
December 12 (Saturday) The Neighborhoods are down in RI again, this time at The Met in Pawtucket. (Here;s the fb page) (Buy tix here)
December 13 (Sunday) The Rockin' Holiday Flea Market and Bloody Mary Bash (formerly at TT's) is now at Once (Cuisine en Locale) There'll be Vintage clothing + Collectibles, Tons of rare vinyl records, Knick Knacks, Jewelry, Homemade snacks, Music Memorabilia, Cool Holiday Gift Ideas, If you're looking for it, chances are you'll find it there. ...and of course the Bloody Marys!! It all takes place from 11AM to 6PM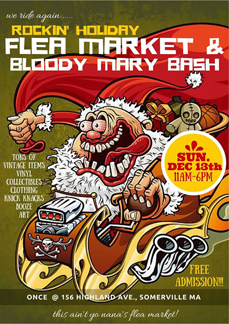 December 13 (Sunday) and then there were two!! another Holiday Flea Market - this one Black Market, is by Boston Hassle: everything from secondhand to handmade including artwork, zines, records, body care, baked goods, books, patches, pins, T-shirts, leather goods, knits, woodwork, pottery, vintage clothing, jewelry, tea, astrology readings & MORE!! 11AM- 5PM at the Cambridge Community Center. More info here.
December 16 (Wednesday) at Once Lounge in Somerville there's a festive night of music and merriment. They are collecting unwrapped gifts for children currently in foster care. They're looking for range from toys, books, art supplies, sporting goods, electronics, personal care items, clothing, coats, gloves, hats, and gift cards. Please enjoy the bands and bring a gift: Walter Sickert & the Army of Broken Toys, Lemon Merchant Allstars, Goddamn Glenn and His Red Cup Ensemble, Parlour Bells, Johnny Blazes and the Pretty Boys, The Static Dynamic, Los Texicanos, Axemunkee and The Knock Ups
December 18 (Friday) The Rationales, When Particles Collide, The Static Dynamic and Stars Like Ours are at Great Scott
December 18 (Friday) Diablogato's CD Release Party at Opus Underground Salem also on the bill The Devil's Twins and Salem Wolves - and its FREE!
December 19 (Saturday) A Crash Course For The Ravers featuring DiabloGato. That's 1-4PM WMFO 95.1 on your radio dial.
December 19 (Saturday) The Figgs and The Upper Crust are at Great Scott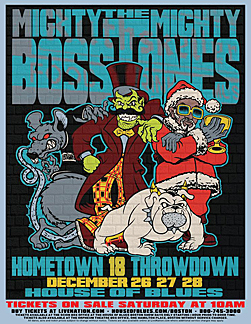 This year the Might Mighty Bosstones have decided their shows should feature all old school Boston garage and punk bands!! This is a AWESOME and most wonderful idea!! Here are the line ups:
December 26 (Saturday) Hometown Throw Down with the Mighty Mighty Bosstones, The Neighborhoods and The Upper Crust at the House of Blues
December 27 (Sunday) Hometown Throw Down with the Mighty Mighty Bosstones, The Real Kids and The Queers at the House of Blues
December 28 (Monday) Hometown Throw Down with the Mighty Mighty Bosstones, The Outlets and Stranglehold at the House of Blues
December 28 (Monday) Shiny Beasts, Dippin' Sauce and Classic Ruins are at The Midway
January 2 (Saturday) The Petty Morals celebrate their newly released EP Marked Women at Great Scott along with The Organ Beats, Watts, and Stars Like Ours
January 16 (Saturday) OC45, Point Blank, Meat Depressed, The FUs at Koto in Salem.
January 29 (Friday) The Dictators NYC - NATUR - Neutral Nation are at The Parlor Newport, Newport RI (FB page for mroe info)
January 30 (Saturday) The Dictators NYC - Lenny Lashley's Gang of One - Nick and the Adversaries - Neutral Nation are at Great Scotts BUY TIX here
CONTACT US AT....misslynbgn@yahoo.com - Send us your gig listings, your news and anything else ya got!!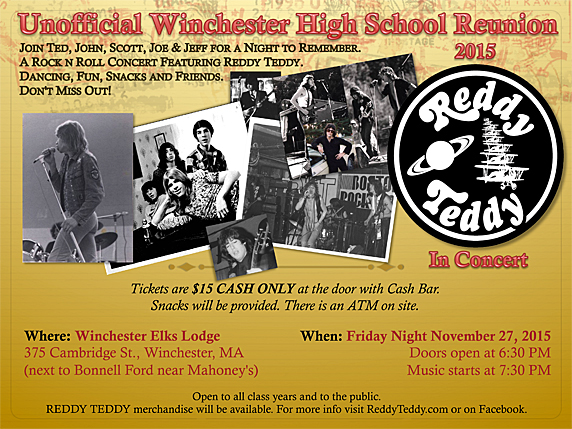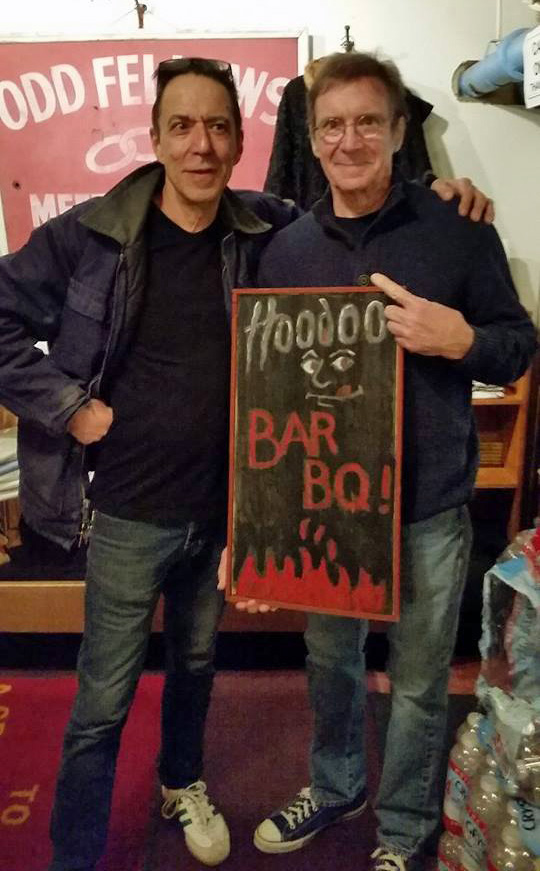 Wayne and Jim Ryan
Photo by Jennet Cook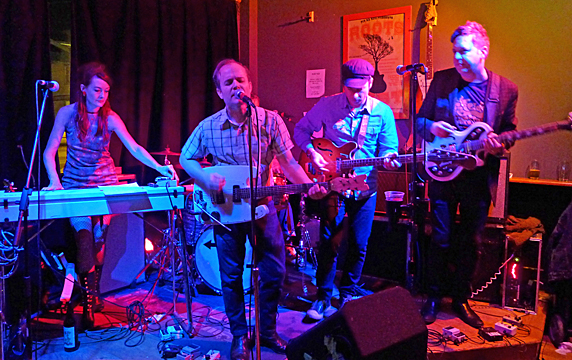 Ugly Beats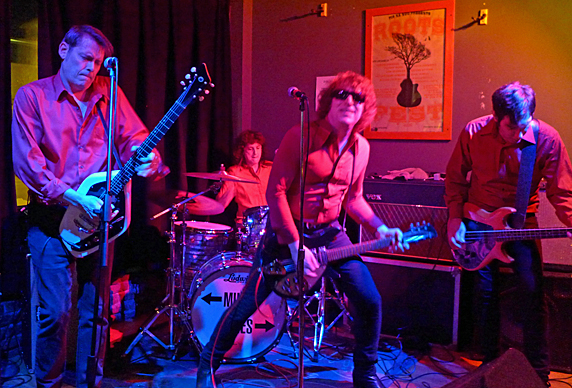 Muck and the Mires