The BGN News Archive
December 5, 2011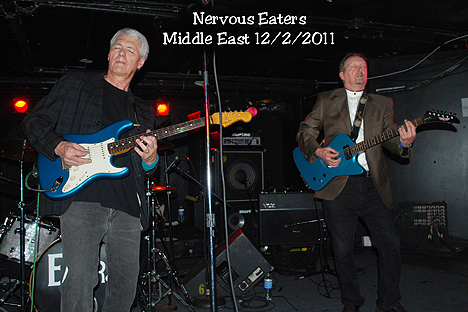 The glory days were back with the Nervous Eaters and Barrence Whitfield and the Savages at the Middle East down. I've missed the last couple of Eaters gigs. There were raves about their date at the Beachcomber in Quincy. They were on fire tonight. This version had Alan Hebditch on guitar and Lou Cataldo drums and a new young bass player who was great.
They started with Today and Tomorrow from EAT THIS! their CD from 2002 . They also did 528, the song about the Rat, from that CD. (It also has Call Kevin on it, another good one. Eater fans should pick it up.) Then it was mostly the old classics. I'm a Degenerate, Last Chance, Loretta, Get Stuffed, et al.
Through it all was Cataldo's stinging, searing leads. They're a hot poker in your ear but in a good way. Steve's guitar was best captured on their Ace of Heart's release and the man himself, Rick Hart, was on stage and looked like he was doing sound work for the night which would explain the amazing sound coming off the stage.
You go to these gigs hoping that the group plays in a way that makes you know that your memories of them are not exaggerated and they bring some of that old magic with them. That's what they accomplished with this gig.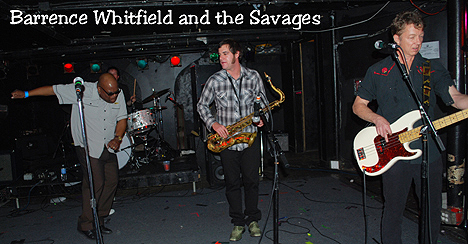 Barrence Whitfield has been around since 1984. His debut LP is released on CD now. And he has a new CD called Savage Kings that he's touring on recently.
The crowd seemed to double up when the Savages came on. Barrence did his thing and what a thing it is. The voice covers soul and rock and then those plentiful screams. How does he do it? He can be soulful or nutty like Screaming Jay Hawkins.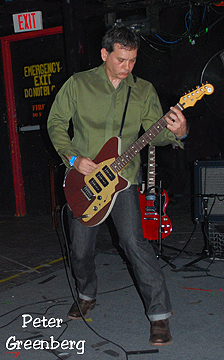 The line up pledged the original Savages which included Peter Greenberg on guitar. Greenberg reminds me of fellow ex-DMZer JJ Rassler. Both have extensive musical roots in old rock and soul. Both play without flash, just solid riffs and single note leads. When Barrence introduced Peter the crowd gave him a big roar. Wow, you mean there's a big club full of people who know and appreciate a local rocker like that who's not even a lead singer? Fantastic. My hat's off to this crowd.
I never distinguished between songs in the Savages catalog. I throw a LP on let it go, it's all good. Tonight they did many songs from the new CD and lots of older songs and again to me - they're all good.
They created a roaring rocking dance party. People were dancing in the front and rear of the club. Several times Barrence talked to their number one fan Decibel Dennis who was upfront. Dennis almost didn't come because he has bad knees which he says comes from his wild dancing days when he would jump up and land on his knees. Such are the tribulations of the older rock and roller.
The Dammed 35th Anniversary show at the Middle East is still fresh in our memory but if you missed it or that wasn't enough there is a show at MIT now showing the band on tour. Ya gotta love that MIT....and it's 24/7 and free...well, it gets better and better. .....It's at the MIT Stratton Student Center, 84 Massachusetts Ave., Cambridge. 617-253-3913. www.johnnikolai.com..... through Dec. 17 (Dec. 16 reception from 7-9 p.m.).
And next Sunday Dec 11th (11AM - 4PM) there's The Rock'n'Roll Flea Market Part II (The Bad Santa edition!) at TT's- what a perfect way to find something cool for holiday gifts!! Vintage Clothing & Knick Knacks, Tons of Vinyl, Collectables & Kitsch, Handcrafted GIft Items, Jewelry, Rock and Roll memorabilia, Musical Items & more! I mean really is there any other choice!? Check out the link to their FB page with info and pics of some of the stuff available!
Also on December 11th Exusamwa will be playing at Great Scott along with Debo Band, Needy Visions, Fat History Month and loads of other bands ....they are on a novel new button/album....that's right, it'a a button AND an album...somehow you wear it and play it!!...it's called the 'Boston Hassle' compilation ... you can get it that night at the show....or at Weirdo Records.
Oh oh oh!! Here's a killer Ho Ho Ho show not to be missed: A Beantown Holiday Bop on Friday, Dec 16 at TT's- with The Raging Teens, Port Charles Quintet and The Roy Sludge Trio- wow, that's a great line up!!
down the street that night the 16th is also a Heavy Sirip show at The Cantab!
And again on the 16th The Scrooges are doing their annual Stooges in Santa costumes thing at Radio and they are at Great Scott with Cult 45 on the 22nd.
Alas there is also a cool Cal Cali Show at Rosebud the same night: Titanics, Jetset and Cal Cali's New Experience with The Hartt Attack GoGo Chicks, and the Doug MacDonald Band
And really is it that time already??? The Upper Crust bless us all with a royal evening to usher in a new year at Church.....yup it's that time and this year's show is a spectacular line up with The Upper Crust, Sidewalk Driver and Gene Dante & the Future Starlets - wow!!
But the Middle East is giving them a run for their money this NYE with an awesome show downstairs: Mellow Bravo, Township, Planetoid, Cocked N Loaded and The Grinds - and this show is 12 bucks instead of a hefty and hoggish $25 you'll have to cough up yet again at Church
I'm sorry I don't want to even get in to next year yet except to say: two night of MOB at The Brighton Music Hall in January (20 & 21st)....whew!!
Email us with your latest news, opinions and all that kinda stuff....misslynbgn@yahoo.com
| | |
| --- | --- |
| Steve Cataldo | Barrence Whitfield |