The BGN News Archive
December 14, 2020
The Boston Music Awards announced their winners this week. Quite different from their usual high profile showcase night it was just an online post, Still.....
Rock Act of the Year was Powerslut. 2020 has been the year for Linnea, before and after the virus. Great Scott won Best Intimate Live Music Venue...we look forward to being in the new Great Scott at some point down the line....and congrats to Q Division who won Recording Studio of the Year!! A complete list of winners is online here.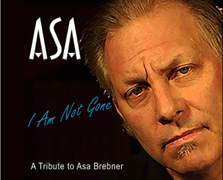 Larry Newman was responsible for the I Am Not Gone Asa Brener tribute album. That was a big success and Larry is now starting up a Vol 2 album. If you are a musician and want to contribute a song on the album Larry gave instructions on his Facebook page (https://www.facebook.com/deltaljn ).
He says: "If you are interested in submitting a recording of one of Asa's songs that was not on the first CD, contact me. You will record the song yourself and we will take care of the mastering, in some cases we will provide a recording facility. Any further questions PM me on Facebook. All submissions need to be in WAV format."
Boston main stream press gave some attention to a few music projects this week.

Daniel Gewertz had a write up in the Boston Globe 12/4/20 on the Back Porch Carousel project. The link is here if you can get past the paywall. The article captures all the positive things about the Carousel that we like too. They also praise Larry Dersch for his hosting job. We think Larry's got a whole new career going with this.
Bret Milano had a write up in the Boston Herald on the Red on Red Record label. The article is here: Boston Herald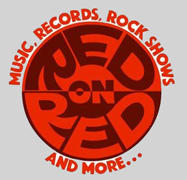 And speaking of Red On Red...You know you want to keep up with all their latest info. They've got a YouTube channel and you can subscribe!!
There's a BIG Virtual Mess-Around on Dec 20 from 6 to 7:30. The Mess Around is combining forces with the Rum Bar and Red on Red labels. Whew!!! The lineup is...(take a deep breath)... Andrea Gillis and Marc Pinanski, Johnny Carnevale, Danny the K Kopko, Lee Harrington, Linda Bean Pardee and Tim Gillis, Brad Marino, Amy Griffin, Simone Berk and David Amilotti , John Magee, A Bunch of Jerks, Justine Covault, Tom Baker, and of course Jay Allen.
The great thing about the virtual Mess-Arounds is they don't waste time. The shows move along at a good pace with tight production. Watch it on their Facebook page here.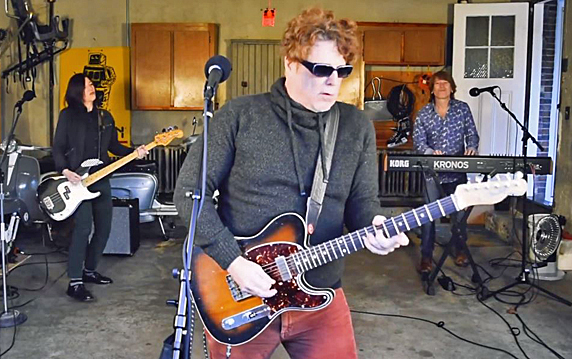 Garagecast
Our mid-week love affair with Linda's Garagecast goes on with Episode 14. Another superlative song choice: "Is That Love" by Squeeze. Linda recruited Jimmy Lepler and the man with the all the keys to the secrets of pop songs – Corin Ashley. With that line up they capture many of the quirky Squeeze trademarks. Watch it here!!!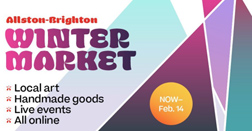 DO617 has a page on Christmas markets. it includes the Somerville Farmers Market (at the Armory) there are outside things like the Union Square Holiday Stroll, the SOWA South End Holiday Stroll, and the Starlight Square (Central Square) Winter Market. Check out the page here.
The Allston-Brighton Winter Market is better yet being online. They have many accomplished artists on that site. Lots of Christmas gift ideas there and you support an artist and musicians (it includes the Allston Pudding Music Blog)! That web site is here.
We never thought of Lenny Lashley as a Kris Kringle sort of guy but maybe we should because this year he's the spirit of Christmas at the Midway Cafe. On Sunday December 20 at 6:30 PM Lenny Lashley's Gang of One is doing a live stream called the Christmas Gaggle. There'll be merch giveaways, fan fave song polls and more!! A portion of the proceeds go to The Pine Street Inn.
Santa Lenny is also doing a Toys for Tots toy drive! Please don't forget that. When we were clubbing you would see the Toys for Tots box and would be reminded to give, now that we are locked in we need to step up a bit. You can drop off toys at The Midway every day from 11 to 4:30. People and places like the Midway inspire us to give and think of others. We never feel better than when we are giving.
CHRISTMAS GIFTS!!!!
Buy Me Cool is a music oriented gift site.....they have Amp throw pillows, amp knobs face masks and various items that you can customize with your band name on them...there's something for every musician! Check out their stuff here.
Society 6 has Dennis Purcell's stuff...lots of items made from a 1980's Vintage Punk Flyers graphic, that incloudes, pillow cases, coffee tables, wall art, backpacks, wicked cool leggins and a ton more and they are on sale this week. Check it out here.

Chaos In The Kitchen - Punk Rock Cookbook: Recipes From All Your Favorite Punk Bands - By Willy Jak (Dayglo Abortions bassist) and Chad Persley - 125 Pages - Includes a host of great food & drink recipes contributed by members of various great Punk, Alternative and Metal bands such as: The Accüsed - Adolesents - Agnostic Front - Angry Samoans - Black Flag - Broken Bones - Circle Jerks - Cock Sparrer - The Damned - Dayglo Abortions - Dead Kennedys - Descendents - DOA - DRI - Poison Idea - Gwar - The Offspring - The Meatmen - Municipal Waste and many more! You can get it on Amazon.
Here'a a good gift for you Heavy Metal fan – Mosh Potatoes: Recipes, Anecdotes, and Mayhem from the Heavyweights of Heavy Metal. Divided into "Opening Acts"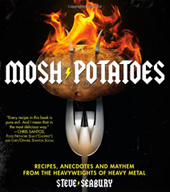 (appetizers), "Headliners" (entrees), and "Encores" (desserts), Mosh Potatoes features 147 recipes that every rock 'n' roll fan will want to devour—including some super-charged Spicy Turkey Vegetable Chipotle Chili from Ron Thal of Guns N' Roses, Orange Tequila Shrimp from Joey Belladonna of Anthrax (complete with margarita instructions), Italian Spaghetti Sauce and Meatballs from Zakk Wylde of Black Label Society (a homemade family dish), Krakatoa Surprise from Lemmy of Motörhead (those who don't really like surprises may want to keep a fire extinguisher handy), and Star Cookies from Dave Ellefson of Megadeth.
Mosh Potatoes comes with a monster serving of backstage stories and liner notes, making this ideal for young headbangers, those who still maintain a viselike grip on the first Black Sabbath album, and everyone who likes to eat. Get it on Amazon.

Then there's the Dark Side of the Spoon, that's more main stream rock acts recipes: thirty recipes inspired by some of the most renowned rock acts of today and yesteryear. The dishes are accompanied by exclusive artworks from thirty top illustrators. Catering for cooks of all abilities and tastes, this book will help you master a wide range of appetizers, entrées, and desserts—including Smashing Pumpkin Pie, Fleetwood Mac and Cheese, and Primal Bream. Get it on Amazon.
This all reminds us of Monica Bolino's The Boston Rock and Roll Cookbook from 1987. That's a gem if you can find it!!
Please Kill Me also has an awesome Christmas Gift list with some pretty cool stuff with Go Punk or Go Home.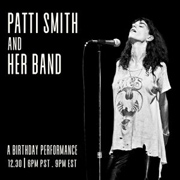 Patti Smith usually does a live concert on December 30 (9PM), her birthday. This year she's doing a live stream on the Veeps website. it will be here and her band in a studio. Tickets are $10.00 before and $15.00 the day of the show. You can purchase tickets here on Veeps. In an article with Rolling Stone Patti says: ""I feel a little emotional talking about this, But all of a sudden I realize I'm going to see all my people again; see my son. Even though I'm not going to see the people watching us, I know them. I know their energy and what they bring for me during a concert. They bring me so much energy; let's all be there for each other so I can have a happy birthday." And Patti did a Black Friday live stream that we talked about here.
So.... It's nearing the end of the year so it's time for Little Stevens's Underground Garage Coolest Song in the World 2020. Vote Here.
This year Kurt Baker has TWO songs on the list and Kris Rodgers and the Dirty Gems have"She Likes to Party" up for vote. The Rum Bar group The Yum Yums have their song "Bubblegum Baby " also in contention. You can hear all 48 songs on a Spotify list here.
Lily Black did a live stream show on the ONCE Virtual Venue on Dec. 12 with Paper Tigers,
| | |
| --- | --- |
| Paper Tigers | Lily Black |
We've only seen Paper Tigers in live stream and we've become big fans. That's a first for us!! Somehow this group's power comes through the feeds like few others. In this show they had one song with a chorus of "We are not afraid to be alone" that hit home especially now. They are proving that you can make an impression even now under the most limiting circumstances.
We regret not having seen Lily Black pre-Covid. They were on our radar but we never made it to a gig. On the OVV live stream they had clips of them playing at several clubs. It was like virtual club hopping from O'Brien's to Thunder Road to Sally O'Brien's. They did a cover of "Leave Me Alone" by the Cavedogs. That would win us over right there, if we needed to be won over. We love when a young band like this delves into some older local material and picks a gem like that.
The after show interview by Bob Voges was good too. Paper Tigers revealed a lot of varied influences which they have managed to mix up to get their singular sound. You could see that both groups are busy and are working on material that is forthcoming. The pandemic isn't stopping everybody. Watch the video here.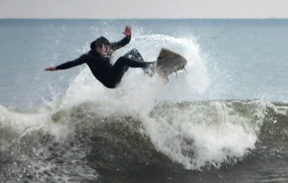 Ralph Fatello has another New Hampshire surf video up. The music is all Nervous Eaters and The Nor'Eaters. It's surf from Oct/Nov/Dec 2020. How do those guys surf in those frigid waters? It's kinda inspirational. Ralph's videos are the only place you get surf and the local music combined. Watch it here
Here's a diversion – Moby singing "Search and Destroy" with the Punk Rock Karaoke group. Link.
Ambient artist Harold Budd (84) died from Covid 19 this week. He collaborated with Brian Eno, the Cocteau Twins and Andy Partridge among others. This article on the NPR site does a nice job describing the music and giving his history. They also have songs in an embedded audio link. Those songs are so calming, airy and yet substantial, they are perfect to listen to now as we all feel stressed and boxed in. Check it out here.
CDs/ Music.......
The Runouts have a new four song EP. They always have well written material and the group just keeps getting tighter and more adroit in the studio. The recording on this EP is clean and punchy. They have spots where they let an acoustic guitar lead the song in but soon enough it's a pop punk sound that takes up the song with some Buzzcock style lead lines that always do it for us.
The songwriting elevates this group beyond its peers. It's word heavy, they have something to say and they do it with an urgency that captivates. "Spare Change" has some background vocals that add a lot to the song. That's also true with "Garbage People". The Runouts are an underrated thinking man's punk band. This EP is another notch in their belt.
Dave Tree's group See This World released a single entitled "Reality". it's from their forth coming album The Future is 2020 which is funny right there. "Reality" could be See This World's signature tune. It's bursts with Dave Tree's voice and persona. The lyrics are halfway between insightful and crazed. "Whose to say whose gone insane" is the insistent refrain sung in an in-you-face inquiry and accusation.
There's no denying this volcanic outburst.
Richie Parsons posted"Christmas is Gonna Suck" on Bandcamp. It was part of a cassette only release in 1993. With that title you know he had to post it in 2020. Perfect!! It's a sad downer, just the way we feel. Here it is on Bandcamp.
We were enthralled by The Forz in 2015/16. We saw them in 2016. They're from Brockton and played British Invasion pop. They disappeared or disbanded around 2016 though. Now somehow they have released a seven song EP called Somewhere in Time that is right up to par, or better than, their previous releases. It looks like it might have been recorded back in 2015 and released now. There's some super Cavern era Beatle style tunes but they are smart enough to have variety in their too.
Our fave tune is "Words For Me". We have it on our Top Ten Tunes.
Before Rum Bar Records Lou Mansdorf was part of Melted Records from 1995 to 2001. They released punk pop and what Melted called 'greaser rock'. This week Lou has a 33 cut compilation of Melted Records called If it Ain't Tasty it Ain't Melted?.?.?. The Melted Records Years. True to their promo write up it all pumps hard. You should dip in and listen to say The Young Hasselhoffs doing "Not Ugly Enough To Be a Ramone" which sounds pretty much as you would expect, or
Some cuts we like are: 30 Amp Fuse – "No Rhyme or Reason:, The Darlington – "Karen Elson", The Morning Skakes – Thunderbird ESQ and Thee Impossibles – "That's What She Said" , but the whole compilation is a raging romp.
Radio Shows….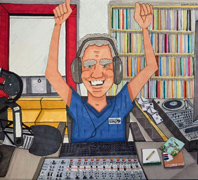 Skybar is going to play the entire Runouts EP (above) on his show The Rising on this Tuesday. He's on WMFO on Tuesdays from 8 to 9. The show is on archive on the WMFO site also. You can listen online here.
At that same address you can go the 'schedule' page – hit the Rising show listing and it will take you to the archive show page.
Coming up.....
Virtual/ Streaming/Online Events.....

Dont forget to check out Linda Bean Pardee's Linda Garagecast every week.

Thursday December 17 -7-8 PM - John Havorka is doing Solo Acoustic Songs At Home - Part 3 Here's the FB event page.
Thursday December 17 -7-9:30 PM - Talkin' to Dracula and his Crew: Goth subculture and horror, a lecture - Miskatonic Institute of Horror Studies Brooklyn NY FB page

Saturday December 19 -7 PM - Stubborn Hearts and Paper Tigers Live from Midway Cafe Live Stream. FB page with link.
Sunday December 20 -6:30 PM Lenny Lashley's Gang of One is doing a live stream called The Christmas Gaggle. There'll be merch giveaways, fan fave song polls and more!! A portion of the proceeds go to The Pine Street Inn. FB page for link.
CONTACT US AT....misslynbgn@yahoo.com Send us your gig listings, your anything else ya got!! You want your CD reviewed?? Contact us for that too.
---