The BGN News Archive
December 16, 2013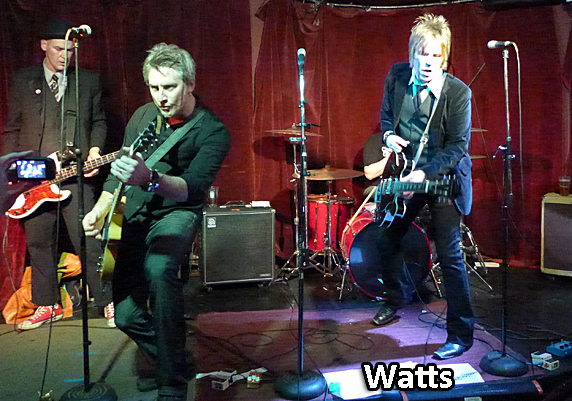 This past weekend's plans were blown to bits by the snow on Saturday...but Blowfish did get out to Precinct during the week:
Free is always an enticing proposition and Watts was offering a free holiday gig at Precinct. On top of that it was going to start early at 8 and be over at 10:30. Opening was Bluebirds who had some members of Watts involved and they played some well done No Depression style alt-country. It was a tasty warm up for Watts.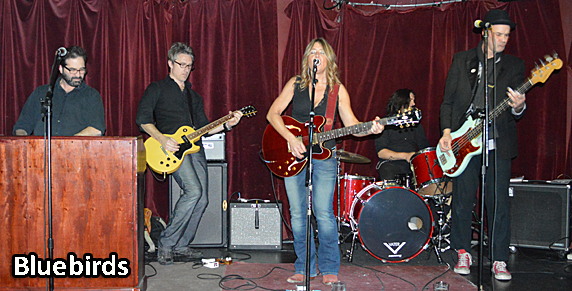 It seems to me Watts has two major styles of songs. One is the mid-tempo emotional burner like One Below and Everybody Wants You; the second is the upbeat anthem like Radio and a new one called something like Glittering Guitars (I can't remember the title) which is another rocking success for them. I love them both and got a full dose as they steam though a whole set. I felt lucky hearing the set in the intimate Precinct realizing one of their last gigs was opening for Cheap Trick.
The set ended at 10:30 and they said now they were going to just play and then began a free-for-all jam. Jay Allen and Malibu Lou sang some Ramones. Tom Baker the guitarist for the Dirty Truckers helped to play several Stone's songs including Jumping Jack Flash and Honky Tonk Woman. John Blout's brother Jeff sang Neil Young's Rockin' in the Free World. It's 11:30 before it's all over. Not one holiday song though.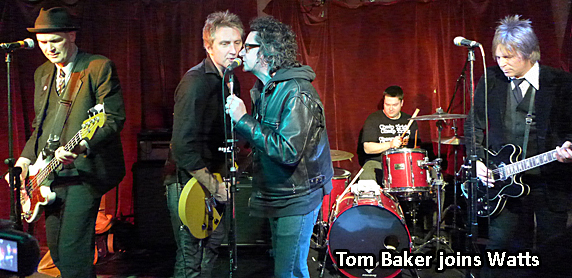 Rumors are flying that Precinct may stop having rock music. We wait and see.
Hey first off we have a new (or returning actually) addition to the BGN ....Kenne Highland is back on the staff here and will be having a weekly column: Kenne Highland At Large...filled with his Kenne style ramblings about things he's done while out and about......you can try as best as you can to decipher what he actually did....CLICK HERE for Kenne Highland At Large column #1...
Now.....some stuff coming up....
This Thursday December 19th there's a very interesting show at O'Brien's with The Wrong Shapes, Black Fortress of Opium, Endation and The Easy Reasons
also The Upper Crust are at Precinct on Thursday the 19th also....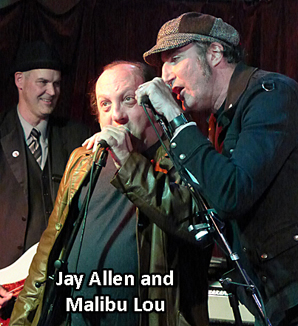 And Thalia Zedek is at TT's
Yet more on Thursday at the Tavern at the End of the World with M.O.T.O. and Natalie Flanagan from 8 to 11pm.
This Saturday 12/21 listen in to Crash Course of the Ravers on WMFO 91.5FM from 1-4PM...coz they have Rick Barton (Outlets, DK Murphys, Continental etc) on at some point during the show!!!
There's a couple more Holiday shows coming up this ...Saturday 12/21 :
at the Midwayit's the Weisstronauts' 15th Annual Holiday Jubilee with M.O.T.O., The Weisstronauts, Eddie Japan and Lars Vegas
And at Church on 12/21 (FINALLY A DECENT SHOW THERE!!) …you can celebrate the holidays with The Drunk Nuns, OTP, Duck & Cover, and The Ramparts... and here's an interview with Joe Barron of the Drunk Nuns on the blog site Run Don't Walk....
Still more music on Saturday the 21st with JJ & Thee Cuban Heels at TOAD, Porter Sq, Cambridge. JJ always promises YOU are on the guestlist.
And on 12/24 Christmas Eve there's the traditional (and 6th annual) performance of The Slutcracker at the Somerville Theater...this year its even more of a holiday spectacular as Walter Sickert and His Army of Broken Toys starts the evening off...you can buy tix here.
And of course the much anticipated show...The Real Kids, The Nervous Eaters and The Connection December 28th at the Middle East Down ....you know there wasn't a lot of talk on Social Media about the Real Kids show in NYC....I was wondering what the hell was going on...but here 's a great video of them doing All Kinds Girls at the Bowery Electric 11/23/13
I pity the poor fools who book a show anywhere else on 12/28 and it turns out the Kenne Highland/Greg Allen show at Club Bohemia gig has been postponed... they are thinking about some time in February. But Mente is at the Plough this night too.
You have probably heard that Patti Smith is playing the Hynes Convention Center New Year's Eve for the First Night event...this would be a great way to bring in the new year...
And you can go Honky Tonkin' for New Year's Eve with Girls Guns and Glory doing Hank Williams tunes 12/31 at The Lizard Lounge!! they are also performing on 1/1/14
and Yikes we're now into the new year...and on Saturday January 4th there's a show at Great Scott's with a brilliant theme..We Got The Beat - A Boston Lady Drummer Showcase with The Monsieurs , Petty Morals, Apple Betty, Post Modern Authors and Thrust Club
Put this event in your calendar now folks - Monday March 3rd…Gail C. and Babysitting Calamity Booking present The Sheckies, The Pity Whores, Jimmy Jacked, The Labor Pains....not only is it a great bill but Gail C will be having one of her fabulous bake sales so arrive hungry, see a great show and leave with a wicked sugar high!!
Brian Young, Crash Course for Ravers, who has a whole career going on as a 'host' will be the host at the Cracker/Camper von Beethoven show at the Middle East on Friday January 17.
Hey here's some releases that'll be awesome on their own but also make great holiday gifts:
Richie Parsons has a new CD coming out this week...its Richie's band The Chord Rockers...with his Italian contingent...Astrid Dante (Miss Chain singer) and Alex Vargiu....along with Frank Dehler of Unnatural Axe on Bass and Jack Clark of Jerry's Kids and Unnatural Axe on Drums...this is an international effort recorded in part in the US and in Italy...check it out here and buy it!! And you could get one of 50 collector's edition pressed on colored vinyl!! And you can preview a song on You Tube!
The Herald is still good for something. They give some space to My Own Worst Enemy's new single. Herald Review of MOWE. ...and we have it on top of our Top Ten also.
The Let's Go To The Rat DVD is now in stock at Newbury Comics' Boston stores and Amazon.com, in addition to www.LetsGoToTheRat.com
Willie Alexander is the big story on the latest issue of The Noise...and The Darlings are in there too!
Lizzie Borden posted some cool Christmas songs on ReverbNation.
EMAIL US AT.....misslynbgn@yahoo.com