The BGN News Archive
December 18, 2017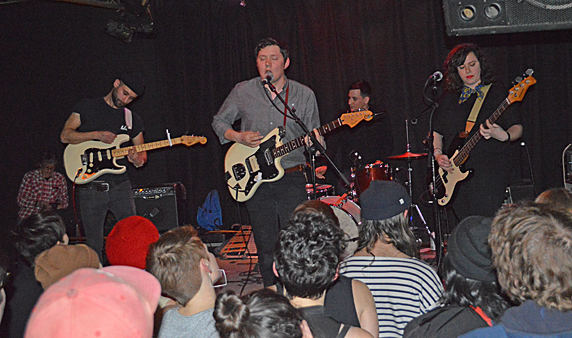 The last show for Bent Shapes at Great Scott
Photo: Blowfish
We hadn't seen Zip Tie Handcuffs in a while so it was off to Great Scott on Tuesday.
Rye Pines
Photo: Blowfish
First on the bill was Rye Pines, odd name there. They were a very loose combo but still got into some grooves. They had a combination of attributes that we have come to recognize from many other new groups: psych and surf influences. They went into jams a lot and the vocals were heavy with echo. The band after them Sun Voyager also was of this kind. This is actually a genre at this point that is unnamed. I would call it psychjam to put a label on it.
Rye Pines Bandcamp page has their last recorded album from 2015. It seems like they have changed from that a bit. They have a lot of lyrics in their Bandcamp material but live they were instrumental heavy. The singer had a cool look with tight white chinos and a white dress shirt. A simple outfit but he looked different from everyone else in the club.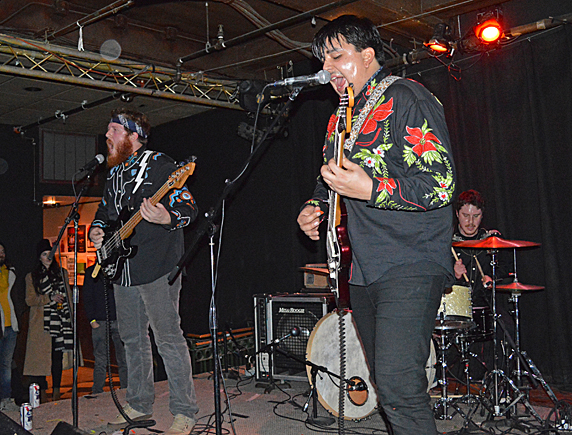 Sun Voyager
Photo: Blowfish
Sun Voyager were from New York. They did the 'psychjam' thing with a much heavier groove. The same rhythm would run through the whole song and they would dig deep with it. The echoed vocals were high pitched (a la Zip Tie Handcuffs). They made it all work. It seemed like most of the people at the half-filled club had come to see them as everyone was up front for them. We were drawn into the raw grooves more than a few times.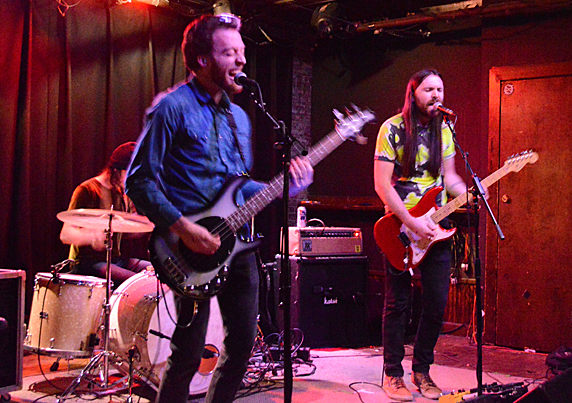 Zip Tie Handcuffs
Photo: Blowfish
There were a bit less people for hometown Rumble winners Zip Tie Handcuffs but in reality they did the tightest set. They have the same sound as the other two bands but they have well-constructed songs with plenty of details to them. The other bands could be described as loose but there's nothing loose about Zip Tie. It seemed like there were a few new songs. They were in the same mold as their previous material. They have two people singing those high vocals that are a trademark of the group. If you had to show someone from out of town a group that would represent the scene we suggest this group. They have the songs, the spirit and the stage presence that mark them as a must-see Boston band.
A fine line up and on a Tuesday.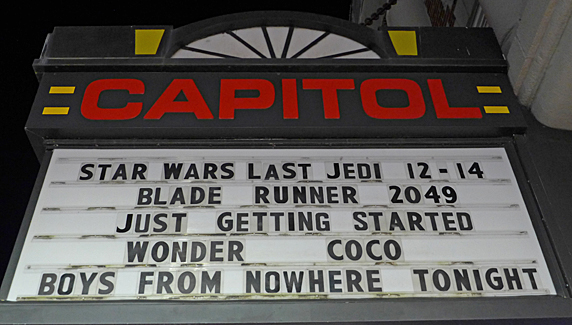 Arlington showing of Boys From Nowhere
Photo: Blowfish
Boys From Nowhere finally got a viewing in a big cinema -the Capitol in Arlington on Wednesday. We got interviewed in June of 2011; that's how long it has taken to get the debut. There was a good amount of people there dispite there being very little advance notice.
There have been a few times you could catch it on YouTube but nothing compares to the big screen. It looked and sounded like the quality documentary that it is. The editing makes some sections explode off the screen. They are like the promos that have been online. One big disappointment with other Boston documentaries has been the music. In The Boys From Nowhere the classic Boston tracks are on the soundtrack almost all the way through.
The film looks at five early Boston punk bands:Willie Loco and the Boom Boom Band, DMZ, The Real Kids, The Nervous Eaters and the Neighborhoods. They smartly focus on one or two turning points in each band's history, like a bad album or missed contract that botched a possible national breakout.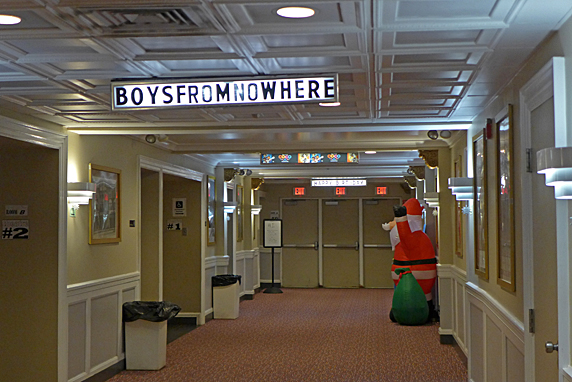 Boys From Nowhere
Photo: Blowfish
Three of the bands have albums on Ace of Hearts so there's a lot of and from Rick Harte. No doubt about it, he's the man!
The movie captured the music and the personalities of early Boston punk like nothing else. It's a document that will only become more important as time goes on. We are promised more screening ahead.
It was Bent Shapes last show ever at Great Scotts on Saturday. We walked in to some dreamy psych coming off the stage. Laika's Orbit was booked but they ended up not playing. This band was called something like Ian Doerr and Friends. Ian Doerr is from Beach Toys. We recognized the guitarist from the Barbazons.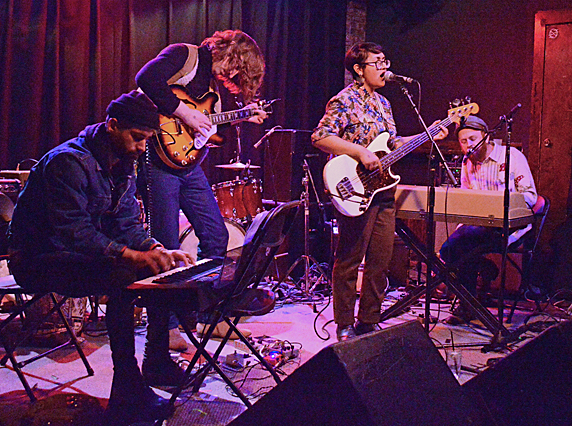 Ian Doerr and Friends
Photo: Blowfish
They had two keyboards that kept the textures changing as well as interesting. The guitar, often fuzzed up, was always in there keeping it just noisy enough. The songs were well written. The vocals were pitched to enhance the dreaminess. It all went down very easy and was a perfect respite to the cold night. The psych scene is healthy now and this group will fit in nicely.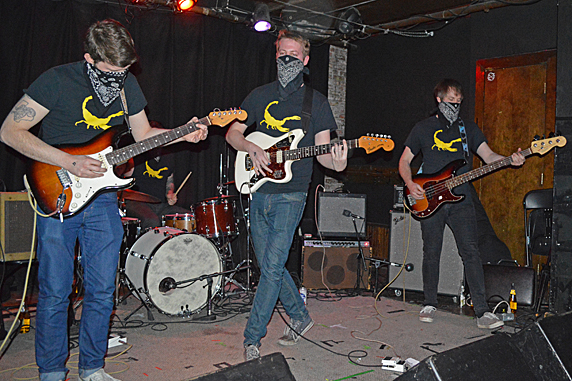 Dangers of a Ghost Scorpion
Photo: Blowfish
We are big fans of the instrumental group Beware the Dangers of a Ghost Scorpion. They took the stage in their signature bandannas covering their face and scorpion shirts. They have the sound of a surf band but switch things up with their compositions. They eschewed all simple progressions; they let the melodies push the songs wherever they wanted to go. There were lots of chords that went in unexpected directions. The overall tone had a mysterious aura. It's not a sunny day at the beach with these guys - more like a run in a scary cave. They kept the tempos brisk. Despite all having small amps they had a punch and everything was balanced. The whole club was up front and completely into the set. It's been a long time since an instrumental group was so accepted.




Bent Shapes
Photo: Blowfish

Bent Shapes has always done well in Great Scott's and that remained true as they had a full club when they went on stage. We saw them at Great Scott's in March 2016, at the Middle East in April 2015, at TT's in May 2015 and finally in Ringer Park in Brighton in June 2015. To quote ourselves, "they are everything good about indie rock". They never let things get wimpy; they put an edge into the sound. The songs were quirky, but in the music and lyrics, main songwriter Ben zeroed in on social and political situations. It's worth reading the lyrics on their Bandcamp page to get an idea of how he puts content into lyrics in their last album Wolves of Want. And while you're there, check out their cover of "Bridgeport Lathe". That's another reason we loved this band. They connected to the Boston scene before them. They showed that again by covering "New England" by Jonathan Richman during their encore.

Just like these final shows usually go, they sounded better than ever. The audience proved they had a following. Some of the fans were extra intense responding to the final rendering of the songs. Just before the encores the drummer gave going away gifts to his bandmates. A classy ending to a classy group.

Dig Magazine did a short interview with Bent Shapes.

Saturday John Keegan was at and playing at the Garage Night Christmas at the Granite Street Cafe. Bands that he captured were Club Linehan a Go Go, Tokyo Tramps and the Doug MacDonald Band. Click photo below for the whole set of photos.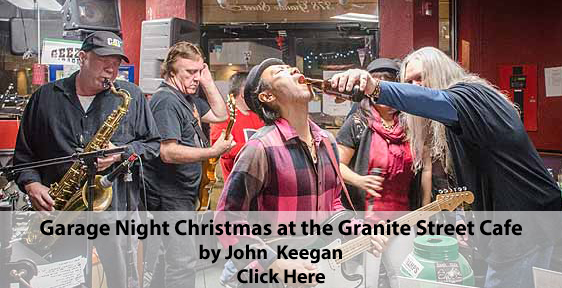 On Wednesday Arthur Freedman went to the 13th Annual Boston Christmas Cavalcade for the Homeless at ONCE Ballroom. It was tons of bands and all for a good cause. For all the photos go to Arthur Freedman's page.
Once is doing a lot of things right. THey have the straight ahead concerts in all genres and they have community events like the Cavalcade.
13th Annual Cavalcade for the Homeless at Once 12/13/17
All photos by Arthur Freedman



Asa Brebner and George Hall





Simon Ritt and Kelly Knapp
of the Darlings




Kelly Knapp




Chandler Travis Philharmonic




Classic Ruins




Frank Rowe
More band photos below the show listings.
---
And in other news.....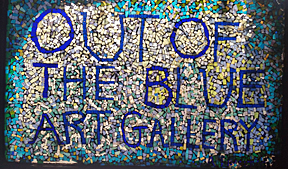 The Out of the Blue Gallery is kaput. They were warning us this would happen and they had benefits to help them pay the rent.....but no go. It was a one of a kind space. It had the art for sale all around. They had a lot of alternative low key bands play. We were at some memorable shows there. Just in November it was the Cal Cali promoted all day show ending with Lyres. That was the last show we saw there. We saw the super poppy Cry back in 2015 and they haven't been back since; that was the time to hear them.
The Out of the Blue Benefit show was another all-day event. People didn't take advantage of it but back in September is was a great opportunity to see the Nervous Eaters in a comfortable setting.
Pat DiNizio of the Smithereens died this week. Boston connection: in the early 1980s someone filmed a pilot for a sort of rock talk/variety show. It was done in a Thayer Street loft. The Smithereens were the musical guest. Nothing became of it but that film is hanging around somewhere.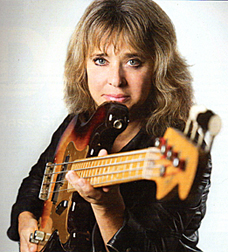 The January issue of Bass Player Magazine has an article on Suzi Quatro. Wearing leather and leading the band, Suzi was aninspiration to Chrissie Hynde, Tina Weymouth and Joan Jett. It's nice she got the attention but the interview is not probing, just general talk. Not worth going out of your way for, better to listen to "48 Crash" or "Can the Can".
Check out this trailer for David Bowie Documentary coming up on HBO.
If you're not following us on Facebook you are missing a few things we posted lately like: A photo of Digney Fignus at the door at Cantones, the Punk Past which is the goings on 5, 10, 40 years ago, and a link to info on the XTC documentary coming up on Showtime. . Check it out here.
---
Here's some good shows coming up .....
December 18 (Monday) Rum Bar Records Happy Hanukkah Mess-Around it's an all Rum Bar Records cast tonight. Free Admission with latkes. Jay Allen (Jay Allen and The Archcriminals) Justine Covault (Justine and The Unclean) Tom Baker (Tom Baker and The Snakes) With Special Guests Dan Kopko (Watts) Kris Rodgers (Kris Rodgers and The Dirty Gems) Josh Buckley, Tad Overbaugh (Tad Overbaugh and The Late Arrivals) Admission is free but they'll pass the hat around 7pm Doors/7:30pm Showtime
December 18 (Monday) First Edit Photo Show Opening - 29 original prints of punk and rock musicians and fans, from the late 80's and early 90's by JJ Gonson at the Diesel Cafe in Union Square Somerville. FB page
December 20 (Wednesday) Solstice Party 2K17: Gizzards, Coralcola, Full Color, Totaled at O'Brien's
December 20 (Wednesday) Mr Airplane Man at Atwoods
December 20 (Wednesday) Primitive Sounds DJ Night with Stacy Thornton and Easy Ed! at Brass Union Somerville Here's the FB page
December 20 (Wednesday) Crimespree, Worm, Parkinglot at the C Note in Hull
December 21 (Thursday) Barrence Whitfield & The Messengers at the Lizard Lounge
And further out we have...
December 26 (Tuesday) KCUF, Loser's Circle, The Essays at O'Brien's Pub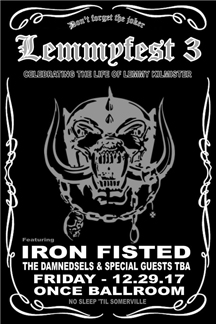 December 28 (Thursday) The Knock Ups, Gene Dante And The Future Starlets, Godmouth, Set Fire at O'Brien's Pub

December 30 (Saturday) The Hi End are on Crash Course For The Ravers on WMFO 91.5 1PM-4PM with Brian Young

December 30 (Saturday) When Particles Collide, Old Jack, Petty Morals at The Lizard Lounge

December 30 (Saturday) 3 Parts Dead, Z28, Test Meat at Koto in Salem

December 31 (Sunday) NYE BASH with Today Junior, The Way Ways, Salem Wolves and DJ sets by Johnny Stevens + Champagne toast at midnight at The Automatic - new restaurant in Kendall Square. FB page here. Get there early this place is small!

January 6 (Saturday) Skytigers, Whoopi Sticks, Crowfeeder, Rarig's Kid at UnChARTed in Lowell FB page for directions etc

January 6 (Saturday) Nervous Eaters, Watts and David Age & The Regrets at ThunderRoad FB page

January 6 (Saturday) Fur Purse Album Release Party with Whore Paint, Shepherdess, sister at The Midway

January 9 (Tuesday) The Hi-End, Ski Bunny and Monty's Lobster at OBrien';s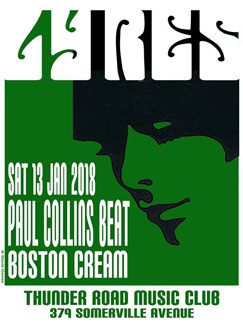 January 13 (Saturday) Stop Calling Me Frank, State of The Union, The Johns, Angel Martins at The Midway for a ear;ly show at 4:00 PM
January 13 (Saturday) Lyres, Paul Collins Beat, Boston Cream at Thunder Road FB PAge
January 13 (Saturday) Pop Nite w/ Greg Allen's Fringe Religion, Tiger Bomb, Pop Gun - at Bayside Bowl Portland, ME. FREE SHOW!
January 14 (Sunday) The Black Souls, Crunch Time, I Wish I Could Skateboard, Vanishing Point at The MIdweay for a early show at 4Pm
January 20 (Saturday) Muck & The Mires, Tiger Bomb, Duck & Cover at The Dover Brick House, New Hampshire. 8:30 PM
January 20 (Saturday) Punk Rock at the Chit Chat with Jonee earthquake, The Radiator Rattlers, The Grubs, The Imposers and The Lipstick Boys at the Chit Chat in Haverhill.
January 2i (Sunday) Punk Benefit Show for American Cancer Society with Electric Street Queens, DNZL, Jerry's Got Jokes, Color Killer, Whoopi Sticks at The Midway 4PM matinee show....check out the FB page for info on the Benefit!!
January 22 (Monday) U.S. Bombs, Wimpy Rutherford & The Cryptics, The FUs - at the Dover Brickhouse Dover, NH - Here's the FB page
January 27 (Saturday) Red Mantis, Silver Screams, Wrought Iron Hex & Greylock at O'Brien's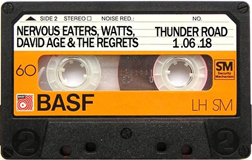 January 27 (Saturday) Il Mostro, Mercury On Mars, Uncomfortables, Silver Screams at O'Brien's Pub
February 2 (Friday) It's a double shot of The Dirty Truckers with Michael Kane & the Morning Afters, The Dirty Truckers (first shot), Tad Overbaugh, The Dirty Truckers (2nd shot) at O'Brien's
February 3 (Saturday) Isolations, Rictus Grin, WIMP, Ratz, Whoopi Sticks at Club Bohemia at The Cantab
February 10 (Saturday) The Classic Ruins, TJ Wheeler, Black Cat Road at Bayside Bowl, Portland ME. Free Show! Starts 8:30 Sharp!
February 11 (Sunday) The Thigh Scrapers, State of The Union, Pop Gun, Lily Black for a early show at 4PM at The Midway
February 15 (Thursday) Major Stars, Black Helicopter & Henry Owings at Once Ballroom
February 17 (Saturday) Crunchtime, State of the Union, Little Billy Lost & the Cocks of the Walk at Tavern at the End of the World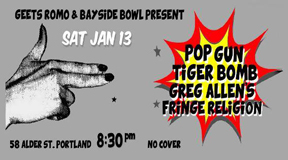 February 23 (Friday) The Dirty Truckers "Best of" double shot release party with very special guests: Tad Overbaugh & The Late Arrivals and Michael Kane & the Morning Afters
February 24 (Saturday) A Bunch of Jerks, Muck & the Mires, Jay Allen & The Archcriminals, Hambone Skinny at The Midway 9PM show
March 2 (Friday) Damon & Naomi, Thalia Zedek and Kevin Robert Thomson at The Lily Pad Inman Square 7-10PM
March 2 (Friday) Fat Togue Music presents! .Black Helicopter, Blackletter and more TBA- check the FB page for updates.
March 10 (Saturday) Carissa Johnson Talk Talk Talk Album Release at Great Scott also onteh bill: The Organ Beats, Lady Pills, and Watts!
March 23 (Friday) Barrence Whitfield & the Savages at the Middle East!! FB page and tix link here.
CONTACT US AT....misslynbgn@yahoo.com -Send us your gig listings, your news and anything else ya got!! You want your CD reviewed?? Contact us for that too.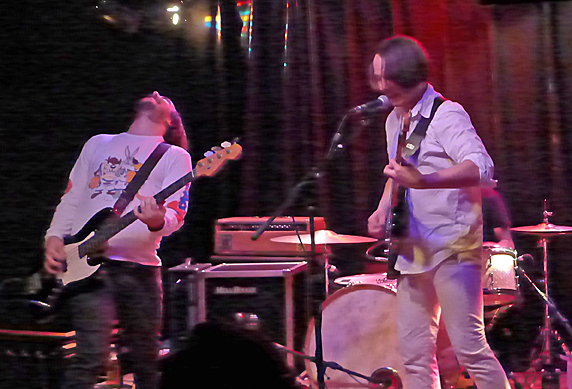 Rye Pines
Photo: Blowfish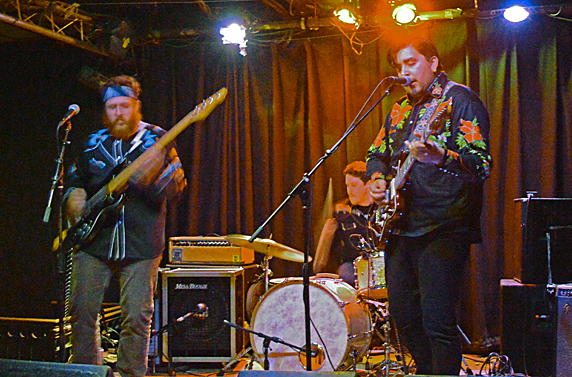 Sun Voyager
Photo: Blowfish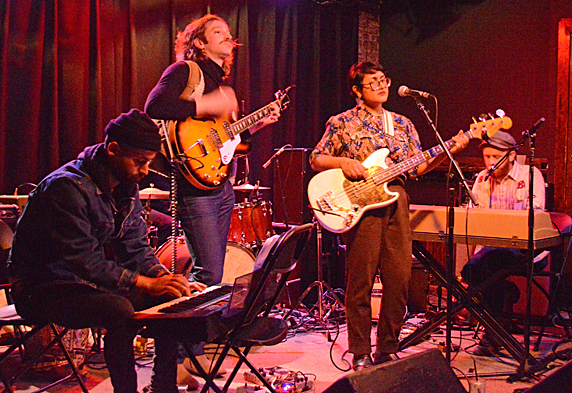 Ian Doerr and Friends
Photo: Blowfish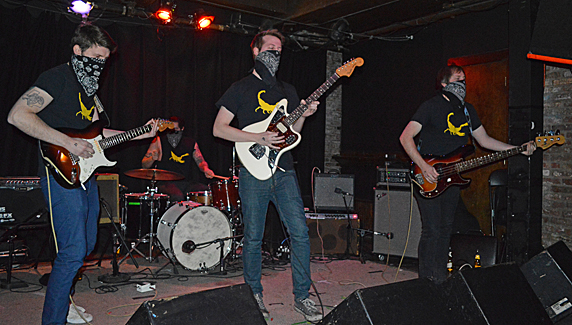 Dangers of a Ghost Scorpion
Photo: Blowfish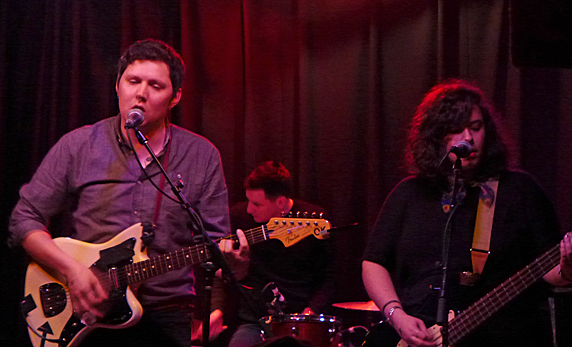 Bent Shapes
Photo: Blowfish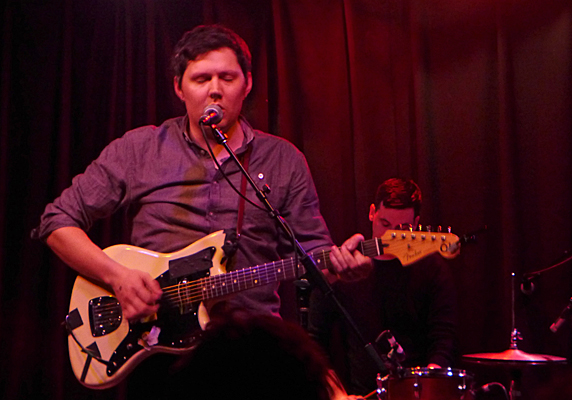 Bent Shapes
Photo: Blowfish