The BGN News Archive
December 21,2015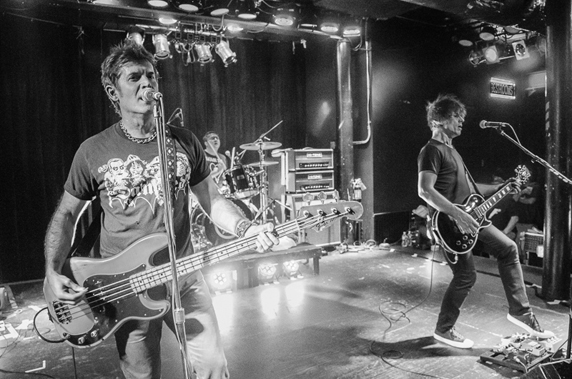 Neighborhoods at the MET
Photo: John Keegan
Saturday (Dec 12) John Keegan hit that Neighborhoods show at the Met. John said the crowd was wound up really tight even before the Hoods got on stage and when they did it all broke loose. He came back with the usual great photos. Also some on Neutral Nation who opened up the show.
On Monday the BGN got an invite to the Middle East Holiday Party. We always knew they had one but never made it. It turned out to be a warm gathering. Nice people, some we knew and lots we didn't, and plentiful food. The Sater brothers were there greeting everyone. John Keegan was like a professional society photographer and took photos of anyone who got near him. There are lots of photos of people we don't know and we are looking for names to caption the photos. So, check out our page on that. If you are in their or know someone in there shoot us an email at MissLynBGN@yahoo.com.
Later in week Blowfish hit the Middle East Up to hear some new bands: Phantom Rides is a post-punk riot grrl outfit from Easthampton, MA. The music was raw. I liked their punk spirit. One song had the lyrics: "My body is a black hole, I have babies by State control" that put their politics right out there. I think they did well in the studio listening to the songs on their Bandcamp page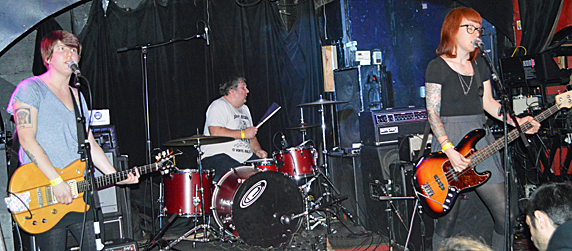 Phantom Rides
I knew nothing about the Big Ups. They are from NY, NY and describe themselves as Punctual Punk, Nerdcore, and Post-Ponk and I think they are right. Generally it's art rock.
The thing that got me though was the lead singer. He was an attention grabbing front man. He was a thin nerdy guy who was all over the stage. There were no usual rock star moves he was more loose and rubbery, then sometimes jerky. All the while he would be mugging. There was a little Jerry Lewis there.
It never got too jokey because many of the songs kicked into displays of anger. As a singer he would half talk, sing and then scream all in the same song. The trio behind him could dish out the crunch or set up a math/art rock backdrop. They often stopped on a dime after building an intricate structure; very impressive. This song is a good representative of them:JUSTICE. Now I want to see them again. A good find.
The Big Ups
In other news.....
When he's not playing in the Brigands Mike Stewart is also now part of the team on WMFO's On the Town with Mikey Dee. (91.5 FM)
Store 54 has a HUGE vinyl sale until the end of 2015.....December 31st that is...and you know how cool vinyl is.....so get one over there! Check out the FB event page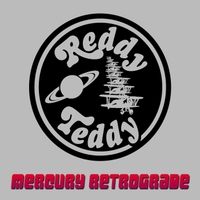 Here's some exciting news!!! New Reddy Teddy Release - the "lost" album from 1974 "MERCURY RETROGRADE" (downloadable from CD Baby - soon on Itunes)...read on.....
In 1972 Boston's Reddy Teddy was brought to New York City's Mercury Records Studios by A/R man Paul Nelson to record a demo and play a few showcase gigs at the Village's Mercer Arts Center. Ultimately the demo led to this heretofore unreleased 1974 full album recording now titled "Mercury Retrograde" - a hindsight reference to the experience. And what an experience it was. Nelson had just signed the New York Dolls and his eye went to the talented Matthew Mackenzie and Reddy Teddy. In comes the Left Banke's Michael Brown (hits "Don't Walk Away Renee", "Pretty Ballerina") at the production helm. Brown's cameo keyboard ("Novelty Shoes") and his uncle and father playing strings on "Crazy Jane" connect Reddy Teddy and the Left Banke in a special way. Yes, the father and uncle played on the Left Banke hits too - there is some rock n roll trivia for you! Anyway, the story goes that perhaps the Dolls were not bringing home the bacon ($) for Paul Nelson (a good guy) and Mercury as well as other excuses (cost of petroleum and vinyl shortage?!!!**#). Perhaps they were afraid Reddy Teddy would sell too many records? No matter, you have it now. Reddy Teddy headed back to home sweet home in Boston to continue open playing steady weekend gigs at the Boston rock clubs...so now you can hear these awesome tunes!!: http://www.cdbaby.com/cd/reddyteddy5
Here's some good shows coming up this week.....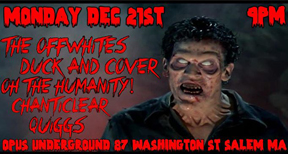 December 21 (Monday) Chanticlear, Duck and Cover, Quiggs, Oh The Humanity and The Offwhites are at Opus Underground in Salem. (FB Page)
December 22 (Tuesday) Duke Levine is playing at Atwood's and Wayne Viens is celebrating his birthday there!! Happy Bday WAYNE!!!
This year the Might Mighty Bosstones have decided their shows should feature all old school Boston garage and punk bands!! This is a AWESOME and most wonderful idea!! Here are the line ups:
December 26 (Saturday) Hometown Throw Down with the Mighty Mighty Bosstones, The Neighborhoods and The Upper Crust at the House of Blues
December 26 (Saturday) 4 PM to 6 PM - Randy Black and the Heathcroppers will be performing at the Plough and Stars in Central Square, Cambridge.

December 27 (Sunday) Hometown Throw Down with the Mighty Mighty Bosstones, The Real Kids and The Queers at the House of Blues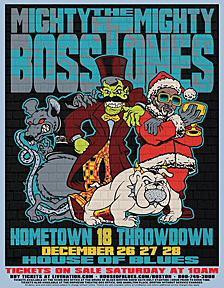 And out in the future we have.....
December 28 (Monday) Hometown Throw Down with the Mighty Mighty Bosstones, The Outlets and Stranglehold at the House of Blues
December 28 (Monday) Shiny Beasts, Dippin' Sauce and Classic Ruins are at The Midway
December 31 (Thursday) New Year's Eve Party at The Plough and Stars with Today Junior
December 31 (Thursday) New Year's Eve at O'Briens with The Scrooges, Quiggs and Gaskco.
December 31 (Thursday) New Years Eve Celebration with Hallelujah The Hills, The Barbazons and Milk at Great Scott
December 31 (Thursday) At The Midway they are staying true to their QUEERAOKE!!! Women's Dance Night - All are welcome - ring in the new year with The Midway folks!
January 2 (Saturday) The Petty Morals celebrate their newly released EP Marked Women at Great Scott along with The Organ Beats, Watts, and Stars Like Ours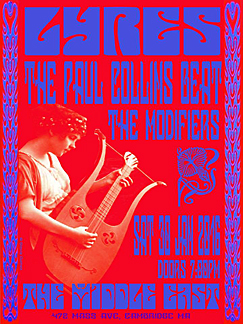 January 2 (Saturday) Tsunami of Sound, Black Souls and Shiny Beasts are at Sally O'Brien's
January 3 (Sunday) Roy Sludge is at State Park in Kendall Square this is a regular evening show.
January 8 (Friday) My Own Worst Enemy, When Particles Collide, Overlake and Gene Dante and The Future Starlets are at the Midway
January 9 (Saturday) Mr Airplane Man and Vapors of Morphine are at Atwoods
January 15(Friday) Thee Sonomatics and The Black Souls are at Beatnik's, Worcester (433 Park Ave)
January 16 (Saturday) The Fathoms, Tsunami of Sound and Richie Parsons at the Midway
January 16 (Saturday) Roy Sludge is at Sally O'Brien's - this is a 6PM show.
January 16 (Saturday) OC45, Point Blank, Meat Depressed, The FUs at Koto in Salem.
January 17 (Sunday) an afternoon show 4- 8 PM at The Midway with Trusty Sidekick, Black Souls, The First Supper and The Jiblantos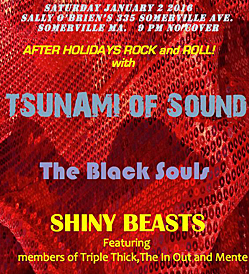 January 22 (Friday) Goddamn Draculas, Red Sky Mary and Watts are at Johnny D's
January 23 (Saturday) Brian Young's A Crash Course for The Ravers with feature Nancy Neon and Friends. 91.5 1-4PM
January 29 (Friday) The Dictators - NATUR - Neutral Nation are at The Parlor Newport, Newport RI (FB page for more info)
January 30 (Saturday) The Dictators - Lenny Lashley's Gang of One - Nick and the Adversaries - Neutral Nation are at Great Scotts
January 30 (Saturday) Lyres, The Paul Collins Beat and the modifierS are at The Middle East Up. BUY TIX here
January 30 (Saturday) Reddy Teddy is playing at a 10 Jam for Ink Jam Tattoo in Arlington . 6-10 PM at the Knights of Columbus, Arlington MA. Check out the FB page for more info.
February 17 (Wednesday) Poison Idea, Child Bite, The FUs, LIVVER and Profit Margin at The Midway
CONTACT US AT....misslynbgn@yahoo.com - Send us your gig listings, your news and anything else ya got!!
The Big Ups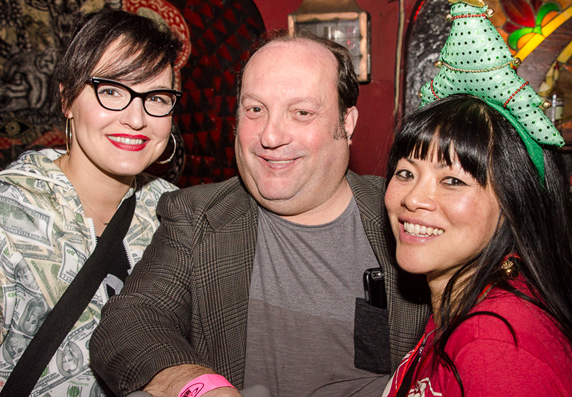 Angela Marinus, Jay Allen and Cyndy Doll
Photo: John Keegan