The BGN News Archive
December 22, 2014

There's a micro scene of pop punk bands centered around O'Briens, a small bunch of bands rotate on a bill. Sunday last I checked out one of those shows with Trophy Lungs, a fave of mine. They are a hard working band that tours a lot. They have a very personable stage presence and talk straight to friends in the audience. One problem for them is that there is a tradition of throwing beer cans at them. That's unfortunate.
The night was a celebrating a release of a split EP by Losing Streak from NJ and Offseason, a Boston band. Losing Streak has an impressive lead singer. He sung well and had some style at the mic. Pop punk has strong conventions like most genres but Losing Streak did some small tweaks to the formula with some change ups in the intros and that all worked. I left after Losing Steak, but listening to Offseason's 2013's EP Pastimes make me wish I had stayed for them. I've been playing that EP a few times and it has lots of energy and a few songs that are sticking with me. I liked them the last time I saw them when they did a fine Pet Cemetery.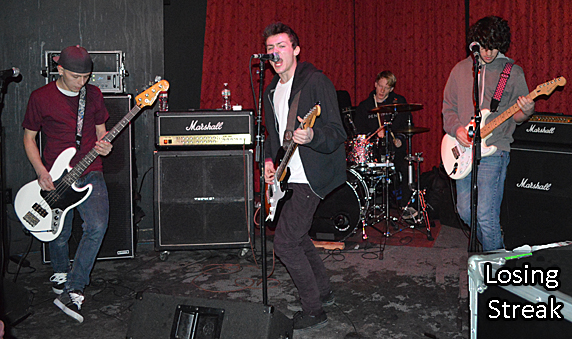 There weren't many people at the gig. Other nights with these same bands had some slamming. But for me I felt like I heard some good music.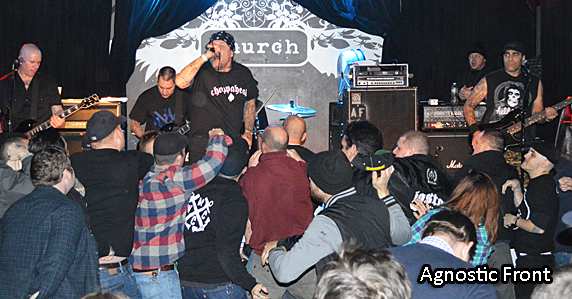 You knew what you were getting on Wednesday at Church. A hardcore bill was topped by Agnostic Front, the early 80's originators from the CBGB's scene. The crowd was so primed for the group that the moshing actually started before the music by about 10 or 15 seconds. Roger Miret the singer said from the beginning that it was going to be a night of Old School hardcore and that's what they dished up. Even beyond the group, what hit me was that the Boston hardcore fans came out like they always seem to do for the notable acts new and old. Church was sold out and the club was full right to the end.
Can we just say that if the old school punks came out for their notable acts maybe there would have been more than 10 people to see The Members at The Midway a while ago!!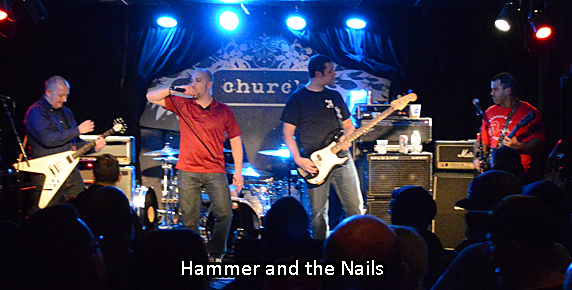 I only caught a little of Hammer and the Nails. The crowd seemed like they were just waiting for Agnostic Front for the most part. But I've never seen Church so crowded.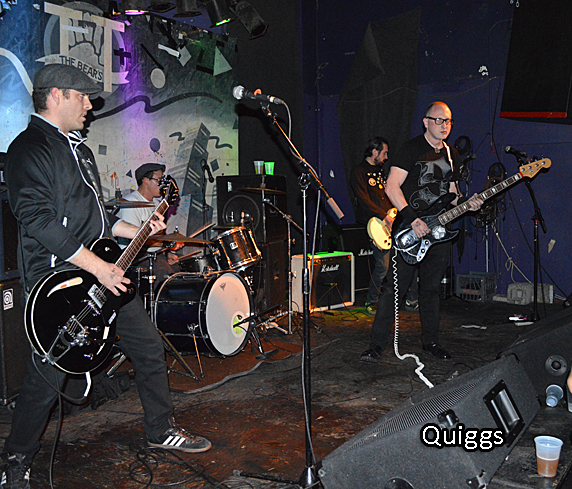 The punks did come out to make a full-ish club for the punk lineup at TT's on this past Friday. The Quiggs, who we last saw in March, have improved. They play with more confidence and the songs are developing. I have an urge to catch the whole set again!
We're a broken record (a skipping CD? - a stuttering mp3? ) on this but Swid's bass playing is a big draw for us. His playing on this night was a key element that made the songs click. He looked a little calmer than we're used to; the glasses gave him a positively professorial look.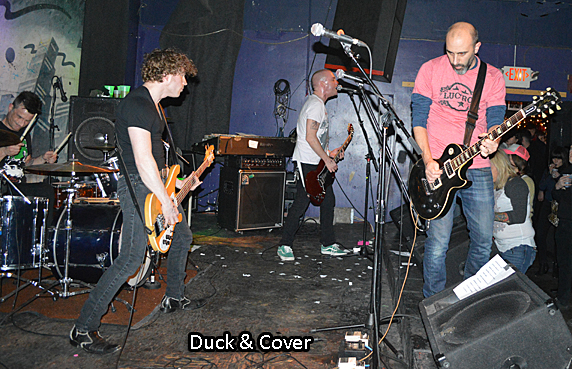 That same night back in March when we saw The Quiggs we also saw Duck & Cover, this night they are celebrating a vinyl release of an EP. One of the reasons we like Duck & Cover and the other groups Chris has been in is that they add some new elements into the old punk mold. This gig they are adding keyboards to half the set which are also present on the EP. That gives a more pronounced pop sound to the material. I liked it especially since it's underplayed, there's no denying the punk base. They were playing better than the last few times I've seen them. Chris complained of a sore throat but he sounded alright to me. The character of his voice stamps all his material, another element we like. The background vocals added a lot.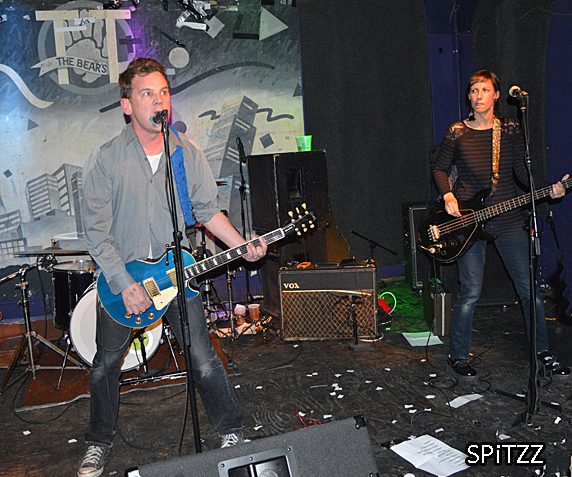 They are still around if not playing with any regularity, SPiTZZ was a welcome addition to the bill. It felt like going home to get a good dose of punk. Notable front man Tom was punk-tuating the lyrics like Johnny Rotten. I was eating it up. They did a medley of Christmas songs done up punk style. It was both seasonal and snarly, perfect. For a very short bit he played a clarinet....that was a scare.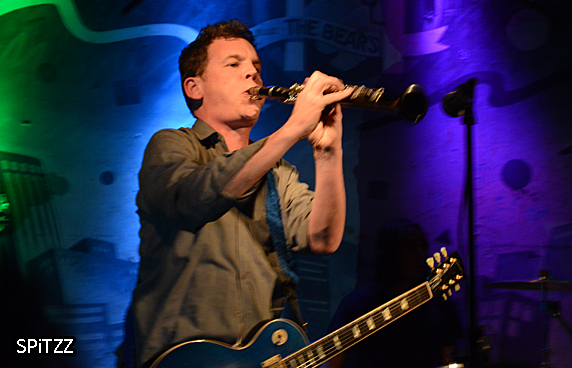 They were stymied by a few equipment problems but soldiered on and the audience stuck with them. I enjoyed that set immensely and had a lot of music to digest and I had to give Bluebloods a pass.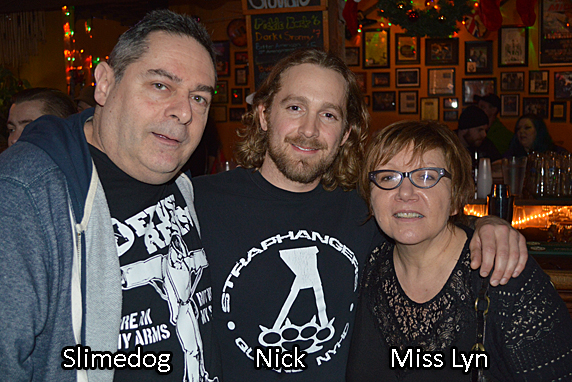 There was one more show before the week ended and winter officially began and that was the Thrash n' Bang Christmas party at the Midway. Thrash n' Bang has been a great addition to the Boston scene both as a website and a generator of shows at the Midway. It's run by Slimedog and Andy who we meet at the door. There were more people than usual for a early Saturday gig (4-8 pm).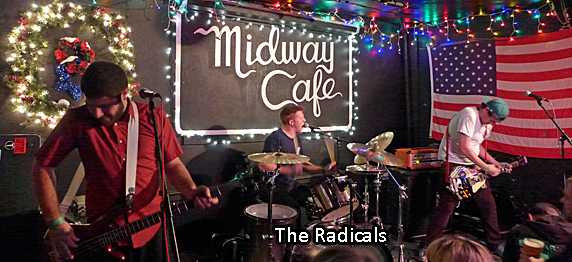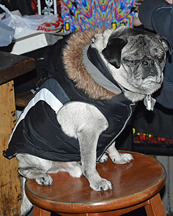 As we walked in we were captured by Six Foot Serenade the last song by The Radicals. (here it is on Bandcamp ) The melody had a hook and they repeated the line, "we all line up to go six feet underground" over and over.....and that made the thought sink in. Their Bandcamp page reveals a good punk band and we look forward to checking out a whole set by them soon.
The crowd was in a merry mood with a few Santa hats and roving (free) pizza eaters. Even the Midway mascot pooch was dressed up in a Parkerůsee photo.
Next up was the Pity Whores, on stage the lead singer was cracking a few wise acre remarks about other acts and Slimedog, who couldn't let it go by and answered him in turn. The Pity Whores were a perfect act for the day. Straight ahead punk with melody and hooks and a jokey bent to the lyrics.
At one point the snare broke and the drummer went looking for a replacement and the guitarist and bass player were left on stage and they sang a song that revealed what tuneful tight vocals they put out. You can miss that when they are cranking but it's part of what makes them good. You'll never get a more enjoyable set of punk than what these guys put out.
During the afternoon Slimedog introduced us to Nick Hebditch from Fast Times, the opening band we unfortunately missed. The catch was that Nick is the son of Nervous Eaters guitarist Allen Hebditch. We talked to Nick about growing up with a Nervous Eater, and a musician, for a Dad. Allen bought him various instruments to try out along the way but we were very disappointed to hear that Dad Hebditch has not gone to see his son's band!! Hey what's that about Allen!!?? Nick has gone to see the Eaters many times and enjoys them, we'd love to see the favor returned and hear what Dad thinks.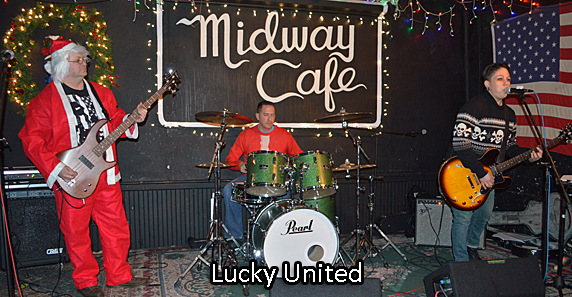 Miss Lyn was talking to Jenn Lombardi from Providence who we were impressed by when we caught her at the Rosebud a few years ago. We were struck by her up personality and strong stage presence. Tonight she had a new band called Lucky United but did some of the similar things she did last time which was to add older rock elements into the songwriting. The base is punk but the singing and playing will suddenly sound like a traditional ballad. One song ended on a decidedly unpunkish sixth chord like an English Invasion song would. Everything is stamped with her lively personality and outlook. The band did a cover of Mariah Carey's All I want for Christmas is You! The crowd appreciated the humor in that and had a good time dancing to it. It took us a long time to catch Jenn a second time but she and Lucky United are worth checking out whenever they come to Boston again.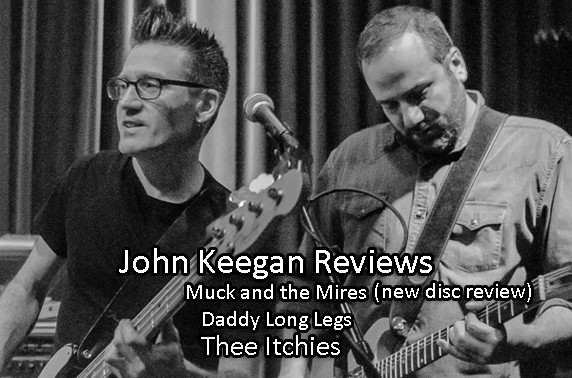 And that's it for this week. Christmas will eat into the chances to see live music this coming week and on that note...Merry Christmas, punkers!!
In other news: YEE YEE!!! Captain PJ benefit is THIS Saturday December 27th...see below for particulars.
And videographer extraordinaire and former Billy Goon the infamous Jan Crocker is up to his old tricks and has put together, for our viewing and listening pleasure, a new La Peste DVD!!! You can catch a preview of it here. La Peste v.2.0 is now available for pre-orders, it will ship out 7 to 10 days after you order. Details on the DVD content and ordering information can be viewed from this link: La Peste v2.0 DVD!!!
There's lot's of good stuff on this DVD, it features a dynamic live performance filmed at the Bradford Hotel Ballroom where the band opened for the Buzzcocks in 1980. Ten additional videos are included in the Muzak Video and Jukebox Gallery Sections. The DVD contains 16 videos in all, with footage from the Bradford Hotel show and Cantones, along with photos from The Rat, Cantones, and the Peppermint Lounge in NYC. And it's a great selection of songs and performances - WOW!! Order yours now my friends!
Here's a listing upcoming shows we think are pretty damn worthy:
THIS (Tuesday) December 23rd - It's TT's Christmas Party with Aquanutz, (at midnight), Mike the Considerate and the Interns (11PM) Keytar Bear (TT's staff house band!,) and others.
THIS (Friday) December 26th yeah some live music after everything was closed yesterday - Moon Tower, The Freeways, Anda Volley at the Plough and Stars.
THIS (Saturday) December 27th In Wistah, at Ralph's it's the Captain PJ Benefit!! So far on the bill are Musclecah, M.O.T.O., Classic Ruins (with Jeff Crane on guitar for this show!!) , Bottlefight and Kenne Highland, Dumpster Fire, The Performers and The Time Beings. Please put this in your calendar and attend, PJ will need some help. For more info see the FB Page for this event!!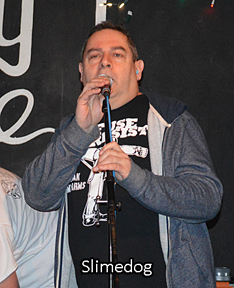 THIS (Saturday) December 27th - Charlie Don't Surf, Grenades In The Archives and Garbage Point are doing an afternoon show at The Midway (4-8PM) all ages.
THIS (Saturday) December 27th there's a very cool Holiday Music and Comedy Benefit to help puppsters as in doggies!! besides that Endation is playing the show! At the Davis Square Theater there's a benefit to help Last Hope K9 Rescue: for music you get Darling Pet Munkee, Endation, and The Easy Reasons and for comedy you get Sam Ike, Conor Allen, Kaitlin Buckley, Kenice Mobley and Josh Gondelman...and there'll be prizes too win too.
December 29th (Monday) Up in Salem at Opus Underground - Things are gonna get weird presents a great show with Ladymob, The Knock Ups, Gene Dante, The Skeleton Beats and Four Point Restraints.
December 31st, Wednesday NYE!!! - THE MIDWAY NEW YEAR'S EVE P-A-R-T-Y!!! with Marianne Toilet And The Runs, The Knock Ups, Looker, Fur Purse and Night Slice!!!
January 2nd (Friday)- Sasquatch & The Sick-a-billys, The Radiator Rattlers and Diablogato are up in Salem at Opus Underground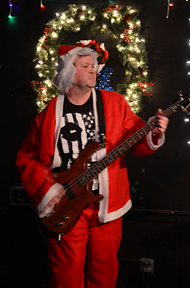 January 2nd (Friday) Sprained Ankles, Bunch of Jerks and Muck & The Mires are at the Plough
January 3rd (Saturday) its special show at the Midway when The Old Edison Burns Out in a Blaze of Glory...yeah they are doing what they figure to be there last show for a very very long time.....their special guests for this special night are The Pity Whores, The Radicals, Jared Hart (of The Scandals), Miketone Graton from Down to the Well. Tix are $8 ahead of time $10 night of the show.
January 9th (Friday) -M.O.T.O. , Jay Allen & The Archcriminals, Hambone Skinny, Classic Ruins and Andy California at The Midway
January 11th (Sunday) Spend your early evening (5pm showtime) with the fabulous Roy Sludge Trio at The Midway -only $5!!!
January 12th (Monday) Punk Rock Burlesque at The Midway!!!
January 15th (Thursday) Powerslut, Fur Purse, Hammer and Snake and Axemunkee at O'Brien's
January 24th (Saturday) A great punk hardcore oi matinee show (4-8PM) at The Midway with Rat Trap, Blastmat, Barfight Champs, Pus and Aftermath. this is an all ages show.
January 29th (Thursday) We has a lot of fun at The Late Risers Summer Party playing trivia a year and a half ago. They are going to do it again at The Independent . The BGN team got trampled last time and we're looking to save face this time.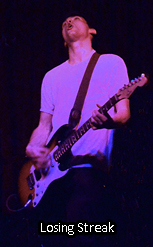 January 30th (Friday) - Here's another Endation gig in town again!! We were blown away by them the last two times we saw them. Here's some info from the last time we got to catch them. So, at O'Brien's we have Bent Knee, Something Like A Monument, Left Hand Does and Endation - don't miss these guys they are amazing!
January 31st (Saturday) there's a killer ALL DAY show at The Midway...Mark Lind presents Boston's Burning 2. So Show One- 4PM All Ages features: The Welch Boys, Hudson Falcons, Burning Streets, Diablogato and Live Nude Girls playing between sets. Show Two - 9PM 21+ features: Stray Bullets, Hudson Falcons, OC45, New Red Scare and Art Thieves. It's $16 for an all day pass or $10 for a single show.
January 31st (Saturday) at Sally O'Brien's conveniently located in fabulous Union Sq Somerville - Muck and the Mires, Tsunami of Sound and The Shambolics.
February 7 (Saturday)- The Middle East has The Drax (Goddamn Draculas) Record Release Show along with Aquanutz, Township, Planetoid, and Party Bois
February 13th (Friday)- Nice Friday the thirteenth show!!: The Cretins, Duck and Cover, Scrapes, and The Quins are at The Middle East Up this is a LeaguePodcast show
February 13th (Friday)- Tim Catz' 50th Birthday Party featuring White Dynomite, The Humanoids, Muck And The Mires, Worshipper and DJ sets by DJ Slim Jim at Great Scott's
March 8th (Sunday) Mark your calendars! Gail Corcoran is putting on an all ages show at the Midway Cafe featuring... The Sheckies, The FUs, Jimmy Jacked, and Jagger Holly (members of the Hollywood Blondes and The Johnie 3!) And she's having a bake sale too!
March 28th (Saturday) - Township is at the Midway.
May 22 (Friday)- You have been warned - Book the flight now: Sleep Chamber!! Doing their only show in 34 years in Tel Aviv, Israel at UTC+02. Not only is this their first show in 34 years - its their LAST SHOW ever.
CONTACT US AT.......misslynbgn @ yahoo.con Send us your gig listings, your news and anything else ya got!!