The BGN News Archive
December 25, 2017
Sunday is BGN workday for us but we were able to find time last week to hit the Thrash n' Bang 7th Annual Christmas Party. This was our third. First ... Second.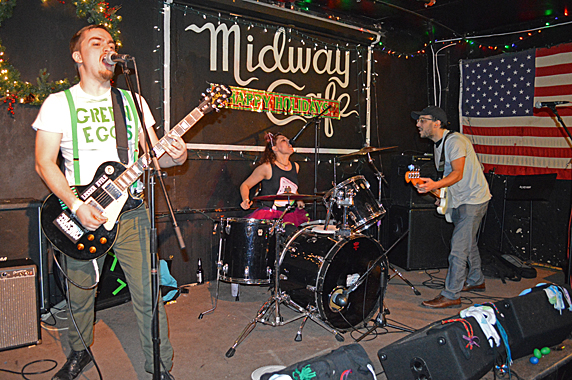 Sewer Buddies
Photo: Blowfish
Plenty of people including children at the club. Sewer Buddies is a side project of Lindsey Lauren WarNot of Whoopi Sticks. They play punk for kids. What a concept! Indoctrinate them early! We got to hear Lindsey's Poly Styrene style singing which we love and also learned how to do the "Doggy Dance". This could catch on like "Do The Mouse" by Soupy Sales .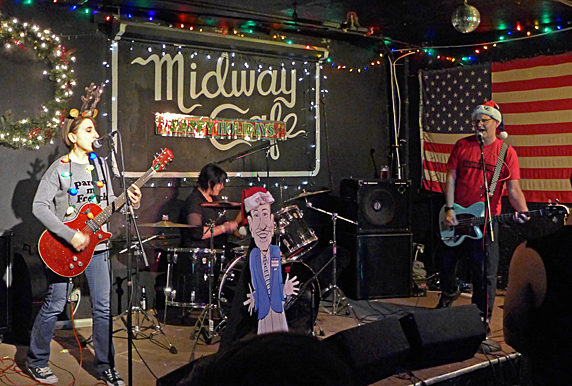 The Grommets
Photo: Blowfish
Next up The Grommets. They had the whole family there; parents on stage and kids in the audience. The Grommets play simple punk with the spirit and sound of the groups that played Cantones and The Space back in the day. There's so few of these type of groups now that we appreciate when we get to hear it. They got noisy and they did some yelling on a few tunes. What must the kids think when they see mommy screaming like crazy? They also covered The Dogmatics song "Sure Don't Feel like Christmas Time".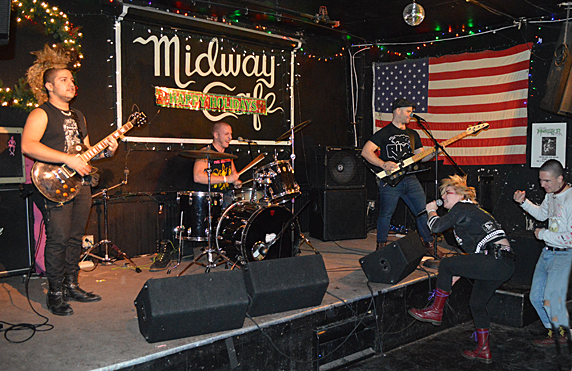 CAC
Photo: Blowfish
CAC were all dressed up like English punks. Up to now things were sort of low key and family friendly. CAC warned everyone that things were going to change and they got serious as they upped the volume and intensity. It was our first time seeing them and we were impressed. The lead singer was leaning into the microphone like Johnny Rotten. She leaped off the stage and got rowdy on the floor for a song. The songs were fast and short. Even though the set was short you felt like you got a good dose of hardcore/punk. The songs had lyrics with a strong point of view. We hope to see them on some punk/oi bills in the future!!.
CAC
Photo: Blowfish
We had to get back to finish the BGN so we left before Crimespree which was hard because we know they put on a wild show. We look forward to this Christmas show for the bands and the free pizza!
Thrash n' Bang carved out their own niche and are a big lift for the local hardcore scene. Check out Thrash n' Bang .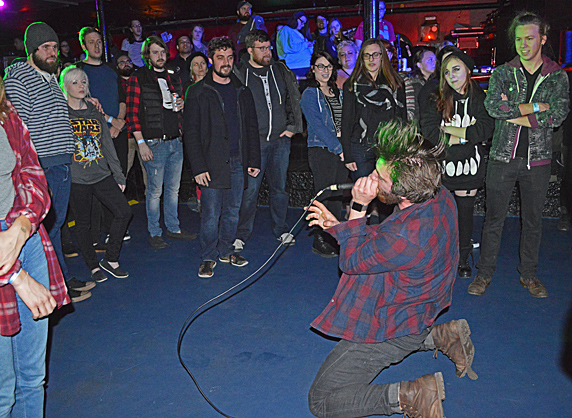 Actor/Observer
Photo: Blowfish
Actor/Observer was a late add on the Envy of the Coast show at the Middle East. Envy of the Coast started in 2005. They had a five year hiatus and re-formed in 2016. This reunion show drew an almost full Middle East. It was an all ages show that started at 6pm and ended at 11pm.
We only wanted to see Actor/Observer. They did not disappoint. They're made for stages the size of the Middle East. They need a little room to roam and the sound is so huge it can fill up any space.
Actor/Observer
Photo: Blowfish
To us it seemed like the raw intensity would be too much for such a young crowd but they got a very good reaction. The volume was overpowering in itself. The trademark sledgehammer slams say everything. It's all energy focused in a single moment. If you are anywhere in that club you are listening. The screaming vocals did the same thing, delivering emotive lyrics that urged you to bring your feelings to the fore. We walked out of the show in a fragile emotional state. This was gut wrenching music. They do it every time too.
Lead singer and frontman Greg Marquis is often off the stage. He's on the floor, climbing the speakers, standing on the drums or hanging from the pipes. We love that the guitarist and bass player shared the vocals to give Greg a rest, thus keeping things at top intensity. They all sang in a similar manner so if you weren't looking you couldn't have known the singing was being passed around.
After the set the thought - what band would want to follow this? It's no secret we love Actor/Observer. It was like a Christmas present to ourselves to be able to see them.
More band photos below the show listings.
---
And in other news.....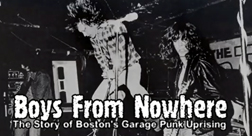 Boys From Nowhere got a great review on the Film Threat website. They say the " film pulses to the punk aesthetic, rapid blasts of snapshots over the frenzied soundtrack, random mixing of color with the black and white images, messy edits, and best of all the miraculous performance footage inside the clubs. It's a masterful work to enjoy, an archival document to pore over, but above all else will make the old rage rise up to meet the new rage so you haul out your vintage vinyl and turn that shit up. Maybe break something." Read it all here .
The Boston Globe did an article with a bit of interview on the Jay Hale photo exhibit at the Middle East….pretty interesting- you can read that here.
Double neck guitar from Walmart! Just sayin'…. "Double necks design is very special and cool enough....Fit for professional or personal use, great for party.".

The Hi-End posted two new songs on their Bandcamp page - Nervous Breakdown b/w Looking For Some Kicks and, yes, they are worth a good listen..or many!! Have a listen here.

If you're not following us on Facebook you are missing a few things we posted lately like: A photo of Digney Fignus at the door at Cantones, the Punk Past which is the goings on 5, 10, 40 years ago, and a link to info on the XTC documentary coming up on Showtime. Like us on Facebook!

Jeff Hudson got a rude Christmas gift - Lyme disease. He warns on Facebook that ticks are still out there. He's getting the shots and hopefully caught it early enough. Best of luck Jeff!!

There is a Jonathan Richman show at the Somerville Theatre for March 2, 2018. Tickets are here, CLICK. Jonathan is more popular than ever. That last time we saw Jonathan was at The Middle East in 2014 it was so GREAT...and packed!!!. And in case you haven't read it before here is our Jonathan Richman intrerview from 1980.

At Lemmyfest III on Dec 29 there is a tribute to The Damned called The Damnedsels. They are Justine Covault, Emily Grogan, Gay Hebert and with Guest star - Dave Tree. Facebook event page.

PA's Lounge and The Cantab make the top two spots in a list of dive bars by Hidden Boston ….. YEAH!!

And we leave you with a few Christmas songs.....

The I Want You have the Christmas song of the year for us. We have it on our Top Ten Songs. "I Know What You Don't Want For Christmas (It's Me Right?!???!???)"

The Bruvs plays "Little Saint Nick"

Rebuilder playss "X-Mas PunX"

The Showcase Showdown - "Merry Christmas I Fucked Your Snowman"

So...Ho Ho Ho and Merry Christmas to you all...Here's Willie Loco Alexander doing "Santa Claus is Coming to Town"!!
---
Here's some good shows coming up .....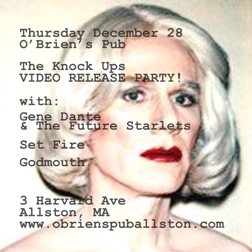 December 26 (Tuesday) KCUF, Loser's Circle, The Essays at O'Brien's Pub

December 28 (Thursday) The Knock Ups, Gene Dante And The Future Starlets, Godmouth, Set Fire at O'Brien's Pub

December 30 (Saturday) LemmyFest III with Iron Fisted, The Scrooges, The Damnedsels, Keith Bennett at Once Ballroom.

December 30 (Saturday) The Hi End are on Crash Course For The Ravers on WMFO 91.5 1PM-4PM with Brian Young

December 30 (Saturday) When Particles Collide, Old Jack, Petty Morals at The Lizard Lounge

December 30 (Saturday) 3 Parts Dead, Z28, Test Meat at Koto in Salem

December 31 (Sunday) NYE BASH with Today Junior, The Way Ways, Salem Wolves and DJ sets by Johnny Stevens + Champagne toast at midnight at The Automatic - new restaurant in Kendall Square. FB page here. Get there early this place is small!

And further out we have...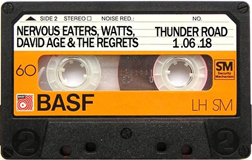 January 6 (Saturday) Skytigers, Whoopi Sticks, Crowfeeder, Rarig's Kid at UnChARTed in Lowell FB page for directions etc
January 6 (Saturday) Nervous Eaters, Watts and David Age & The Regrets at ThunderRoad FB page
January 6 (Saturday) Highway Chapel are at Cantab Club Bo Ho
January 6 (Saturday) Fur Purse Album Release Party with Whore Paint, Shepherdess, sister at The Midway
January 9 (Tuesday) The Hi-End, Ski Bunny and Monty's Lobster at OBrien';s
January 13 (Saturday) Stop Calling Me Frank, State of The Union, The Johns, Angel Martins at The Midway for a early show at 4:00 PM
January 13 (Saturday) Lyres, Paul Collins Beat, Boston Cream at Thunder Road FB PAge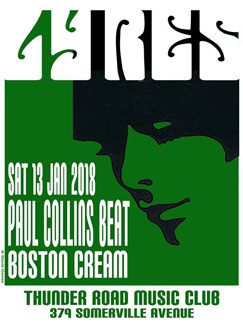 January 13 (Saturday) Pop Nite w/ Greg Allen's Fringe Religion, Tiger Bomb, Pop Gun - at Bayside Bowl Portland, ME. FREE SHOW!
January 14 (Sunday) The Black Souls, Crunch Time, I Wish I Could Skateboard, Vanishing Point at The MIdweay for a early show at 4Pm
January 20 (Saturday) -Five Bands Five Bucks! Matinnee at The Midway! with The Grommets, Cotton Candy, the invisible hours, Kermit's Finger, The Instamatics at 4PM
January 20 (Saturday) Muck & The Mires, Tiger Bomb, Duck & Cover at The Dover Brick House, New Hampshire. 8:30 PM
January 20 (Saturday) Punk Rock at the Chit Chat with Jonee Earthquake, The Radiator Rattlers, The Grubs, The Imposers and The Lipstick Boys at the Chit Chat in Haverhill.
January 21 (Sunday) Punk Benefit Show for American Cancer Society with Electric Street Queens, DNZL, Jerry's Got Jokes, Color Killer, Whoopi Sticks at The Midway 4PM matinee show....check out the FB page for info on the Benefit!!
January 22 (Monday) U.S. Bombs, Wimpy Rutherford & The Cryptics, The FUs - at the Dover Brickhouse Dover, NH - Here's the FB page
January 27 (Saturday) Red Mantis, Silver Screams, Wrought Iron Hex & Greylock at O'Brien's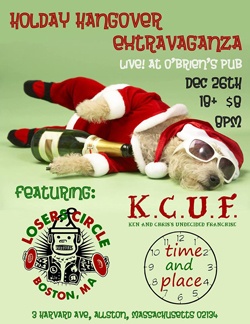 January 27 (Saturday) Il Mostro, Mercury On Mars, Uncomfortables, Silver Screams at O'Brien's Pub
February 2 (Friday) It's a double shot of The Dirty Truckers with Michael Kane & the Morning Afters, The Dirty Truckers (first shot), Tad Overbaugh, The Dirty Truckers (2nd shot) at O'Brien's
February 3 (Saturday) Isolations, Rictus Grin, WIMP, Ratz, Whoopi Sticks at Club Bohemia at The Cantab
February 10 (Saturday) The Classic Ruins, TJ Wheeler, Black Cat Road at Bayside Bowl, Portland ME. Free Show! Starts 8:30 Sharp!
February 11 (Sunday) The Thigh Scrapers, State of The Union, Pop Gun, Lily Black for a early show at 4PM at The Midway
February 15 (Thursday) Major Stars, Black Helicopter & Henry Owings at Once Ballroom
February 17 (Saturday) Crunchtime, State of the Union, Little Billy Lost & the Cocks of the Walk at Tavern at the End of the World
February 23 (Friday) The Dirty Truckers "Best of" double shot release party with very special guests: Tad Overbaugh & The Late Arrivals and Michael Kane & the Morning Afters
February 24 (Saturday) A Bunch of Jerks, Muck & the Mires, Jay Allen & The Archcriminals, Hambone Skinny at The Midway 9PM show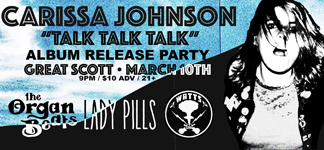 March 2 (Friday) Damon & Naomi, Thalia Zedek and Kevin Robert Thomson at The Lily Pad Inman Square 7-10PM
March 2 (Friday) Fat Togue Music presents! .Black Helicopter, Blackletter and more TBA- check the FB page for updates.
March 10 (Saturday) Carissa Johnson Talk Talk Talk Album Release at Great Scott also onteh bill: The Organ Beats, Lady Pills, and Watts!
March 23 (Friday) Barrence Whitfield & the Savages at the Middle East!! FB page and tix link here.
CONTACT US AT....misslynbgn@yahoo.com -Send us your gig listings, your news and anything else ya got!! You want your CD reviewed?? Contact us for that too.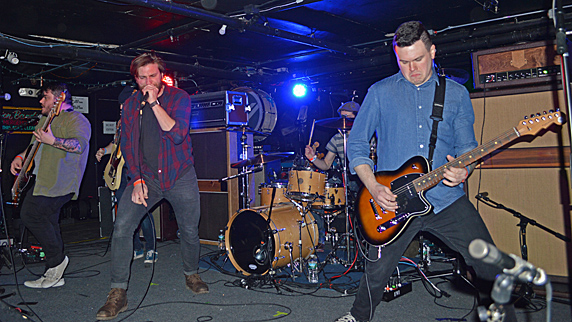 Actor/Observer
Photo: Blowfish
Actor/Observer
Photo: Blowfish
CAC
Photo: Blowfish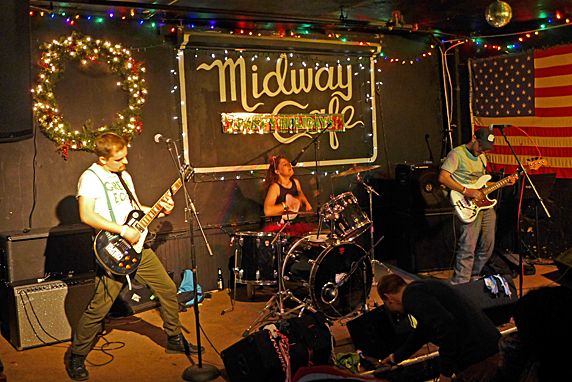 Sewer Buddies
Photo: Blowfish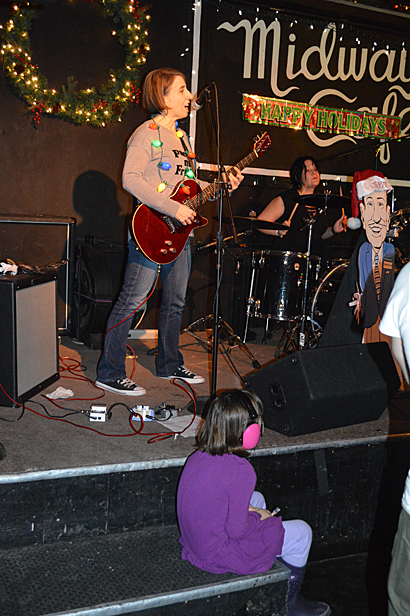 Grommits
Photo: Blowfish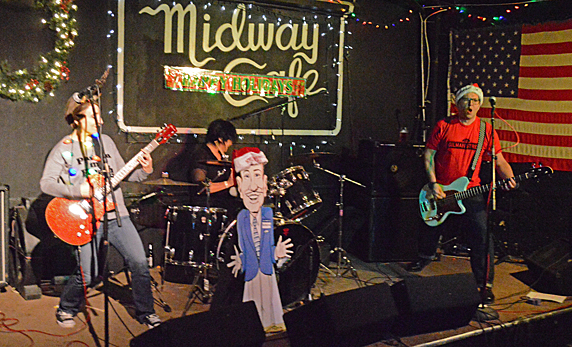 Grommits
Photo: Blowfish