The BGN News Archive
December 28,2015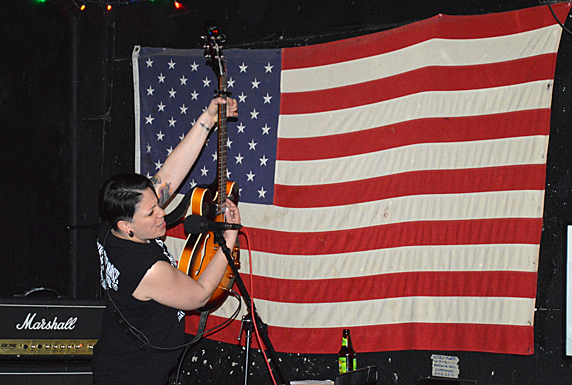 Lucky United
Last Sunday after we put the BGN to bed for the week we got out to the Thrash n Bang 5th Annual Christmas Party. We went last year. It's music we like and free pizza too. Slimedog and Andy who are Thrash n Bang take the opportunity to have some of their favorite bands play. I heard about Bad Movies last year and Mike Worm, from the band, gave me some CD's that revealed a punky band with a female singer who had a voice that reminded me of Kat Arthur of Legal Weapon.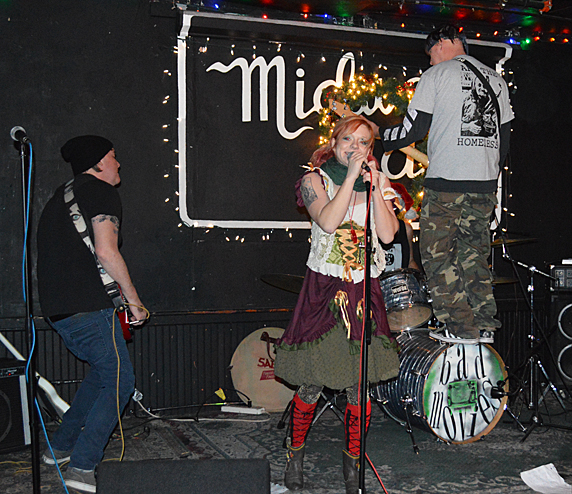 Bad Movies
Live the band gives the singer a punk backdrop where she shines. She has stage moves, her own look and a sunny personality that bumps up against some nihilistic lyrics. She's very expressive as she sings. She just has the whole package. It was hard not to be impressed. At one point she even jumped off stage and moshed a bit. I don't see Bad Movies doing a lot of gigs but I think they should be out there a lot so people could hear them.
They ended with a Christmas oriented Oi To the World - Video Here.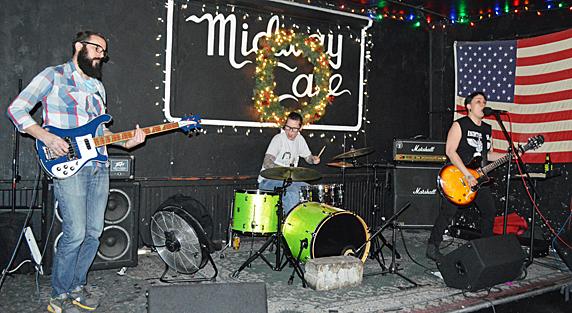 Lucky United
Next was Lucky United who we've seen a few times. We love the way they stamp their own identity on the music. Leader Jenn Lombari writes songs that stick and display her full throated vocals to good effect. A year ago they had different members but this line up, that I also saw in November at O'Briens, is a winner. Jenn (yes another Jenn) ,on drums, hammers it out unceasingly as the bass does some class melodic runs. I like them more every time I see them. They started by playing a cover of Letters From Cleo's Christmas Song WTFAMP (Where The Fuck Are My Presents) which they delivered with more punk venom than the original. That will be the musical Christmas moment I will remember this year. Here is a video that captures just the last chorus of WTFAMP and then another original song. They closed with another Christmas song; a most enjoyable set. They are from Providence but play around Boston often enough. They are great people and a hard working outfit.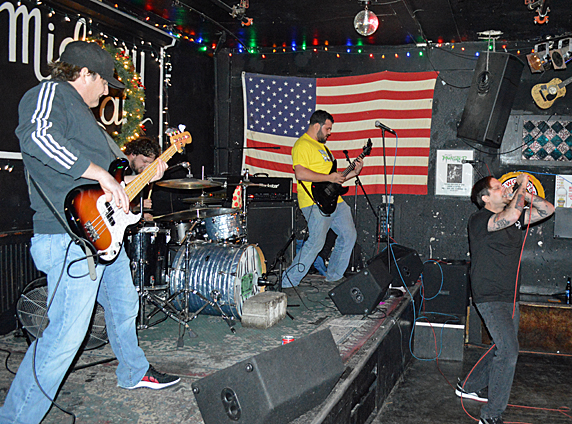 Honest John
Also from Providence is Honest John doing full out hardcore. The lineup looked changed since I saw them last at TT's and it's all for the better. This show was loud and hard and had the momentum they didn't have last time. The singer was on the floor and in the middle of the moshing when that started. They do lots of short songs and I like that. My ringing ears told me it was a good set. I called it quits then but there were more bands to come. This is my favorite Christmas tradition now. I don't want a tree or presents - I want Punk Rock for Christmas. Great idea Thrash n Bang!!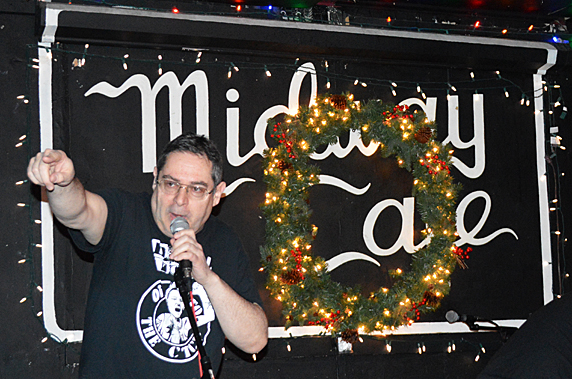 Slimdog oversees the Party
In other news.....
Nite Slice is kaput for now but they left this song which is not exactly about Christmas proper but about the "Allston Christmas" - the time in September when people leave furniture outside for the benefit of new student apartment dwellers.
Here is a radio interview with MOB before their Oberon show recently. It's very good. It's 27 minutes long.
James Straight and the Wide Stance gave a final goodbye with a formal announcement of the band breakup on Facebook. Their CD is still available at amazon though and worth the $$. We'll miss them. They've had some memorable shows, no question.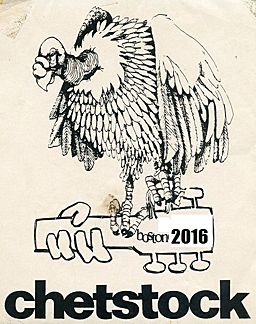 We all mourn the recent loss of Chet but.....Chetstock 2016 will be Friday February 12th at Once Ballroom @ Cuisine En Locale!! They will also be filming a documentary with lots of interviews and great Chet's stories. The response from Bands has been overwhelming. 7 Bands on the bill so far. Should be a great event to remember our pal Chet and Chet's Last Call.
it looks like the Bosstones did up their RAT oriented Hometown Throwdown with lots of attention to detail. They had a reproduction of the Rat stage sign on stage and the old Rathskeller sign overhead. There were pictures of Mr Butch and Mitch mimicking stain glass windows.
Some bad news was that John Felice ended up in the hospital so the Real Kids can't play their night. And we hear it is also John's birthday! The Real Kids did play NJ last week and have some shows coming up in Tokyo in May as well as European dates. Best wishes John for a full and total recovery!!
Our thoughts are with long time scenster Renee Divine whose husband died suddenly over the holiday. We have some of Renee photos from back in the day posted on the BGN.
ugh so.......
Here's some good shows coming up this week.....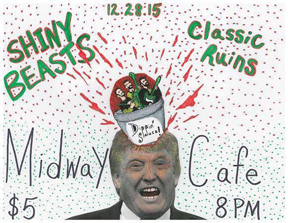 December 28 (Monday) Hometown Throw Down with the Mighty Mighty Bosstones, The Outlets and Stranglehold at the House of Blues
December 28 (Monday) Shiny Beasts, Dippin' Sauce and Classic Ruins are at The Midway
December 31 (Thursday) New Year's Eve Party at The Plough and Stars with Today Junior
December 31 (Thursday) New Year's Eve at O'Briens with The Scrooges, Quiggs and Gaskco.
December 31 (Thursday) New Years Eve Celebration with Hallelujah The Hills, The Barbazons and Milk at Great Scott
December 31 (Thursday) At The Midway they are staying true to their QUEERAOKE!!! Women's Dance Night - All are welcome - ring in the new year with The Midway folks!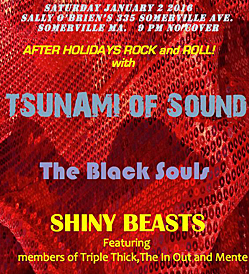 January 2 (Saturday) The Petty Morals celebrate their newly released EP Marked Women at Great Scott along with The Organ Beats, Watts, and Stars Like Ours
January 2 (Saturday) Tsunami of Sound, Black Souls and Shiny Beasts are at Sally O'Brien's
January 3 (Sunday) Roy Sludge is at State Park in Kendall Square this is a regular evening show.
And out in the the future we have.....
January 8 (Friday) My Own Worst Enemy, When Particles Collide, Overlake and Gene Dante and The Future Starlets are at the Midway
January 9 (Saturday) Mr Airplane Man and Vapors of Morphine are at Atwoods
January 15(Friday) Thee Sonomatics and The Black Souls are at Beatnik's, Worcester (433 Park Ave)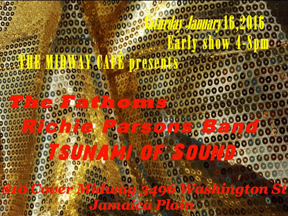 January 16 (Saturday) The Fathoms, Tsunami of Sound and Richie Parsons at the Midway
January 16 (Saturday) Roy Sludge is at Sally O'Brien's - this is a 6PM show.
January 16 (Saturday) OC45, Point Blank, Meat Depressed, The FUs at Koto in Salem.
January 17 (Sunday) an afternoon show 4- 8 PM at The Midway with Trusty Sidekick, Black Souls, The First Supper and The Jiblantos
January 22 (Friday) Goddamn Draculas, Red Sky Mary and Watts are at Johnny D's
January 23 (Saturday) Brian Young's A Crash Course for The Ravers with feature Nancy Neon and Friends. 91.5 1-4PM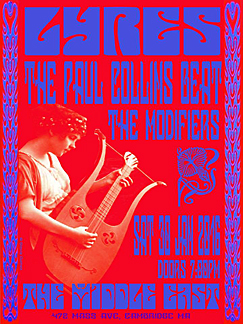 January 29 (Friday) The Dictators - NATUR - Neutral Nation are at The Parlor Newport, Newport RI (FB page for more info)
January 30 (Saturday) The Dictators - Lenny Lashley's Gang of One - Nick and the Adversaries - Neutral Nation are at Great Scotts
January 30 (Saturday) Lyres, The Paul Collins Beat and the modifierS are at The Middle East Up. BUY TIX here
January 30 (Saturday) Reddy Teddy is playing at a 10 Jam for Ink Jam Tattoo in Arlington . 6-10 PM at the Knights of Columbus, Arlington MA. Check out the FB page for more info.
February 17 (Wednesday) Poison Idea, Child Bite, The FUs, LIVVER and Profit Margin at The Midway
CONTACT US AT....misslynbgn@yahoo.com - Send us your gig listings, your news and anything else ya got!!
Bad Movies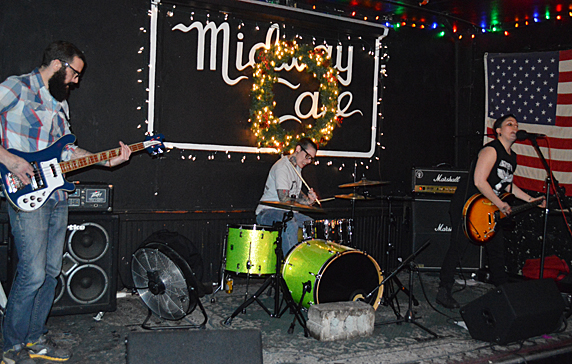 Lucky United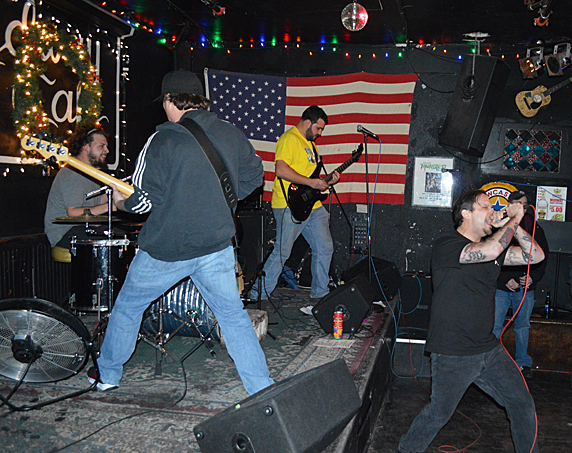 Honest John