Past Journal Entries ...Click Here
Link to The story of a Lyre Retyre PART I
The Lyres Chronicles - Part II
The story of a Lyre Retyre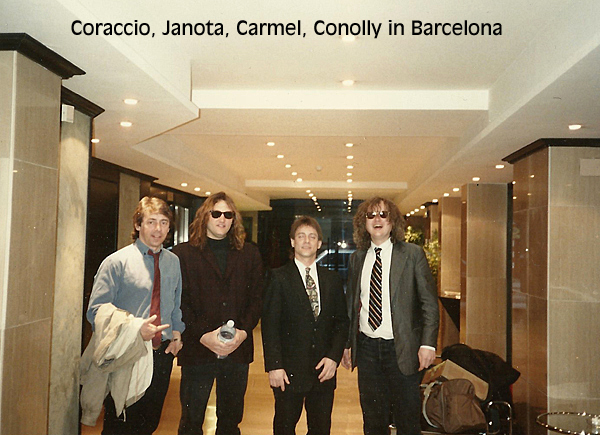 Besides knowing how to play, being a Lyre required commitment.
At first I didn't know so much travel would be involved--none of us did--but it pleased me that there was. Before I joined the Lyres, I had never been out of New England. My very first time flying was to a gig in Los Angeles. Almost thirty years old and never been in an airplane! In one of those new huge jets with a promotional piano bar, we all hung around, drinking, singing and smoking. "Why do people hate flying so much? Flying is great!" I gushed to the pianist. He looked at me like I had three heads. I thought all flights were like that! I soon learned to dislike flying as much as the next guy: we flew to Europe so many times I lost count. There's nothing like a 9 hour flight to Holland to turn your brain into runny mush.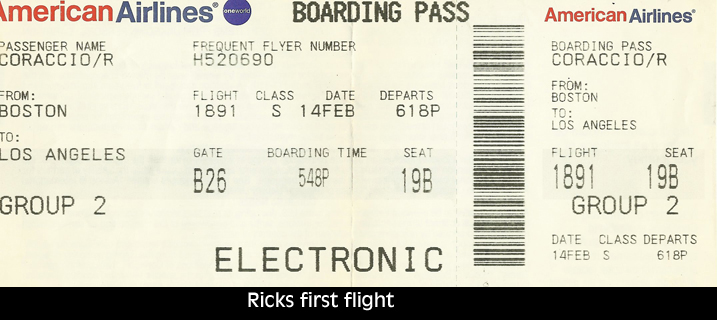 In the old days, we brought our own amps overseas. I didn't like the extra work and worrying about uncaring baggage handlers. I watched in horror as my Fender amp came tumbling end over end down the luggage ramp to the carousel, busting power tubes and ripping the transformer clean off the chassis, right before a huge concert, opening for R.E.M. at the Lyceum in London. I managed to scrounge up replacement tubes, and with some donated hardware and my Swiss Army knife, I reattached the massive transformer. However its wiring was a mess and time was short. In desperation, I jammed the frayed end of the misbehaving wire into the hole that it came out of. Not only did the damn thing fire right up, it worked perfectly for the rest of the tour!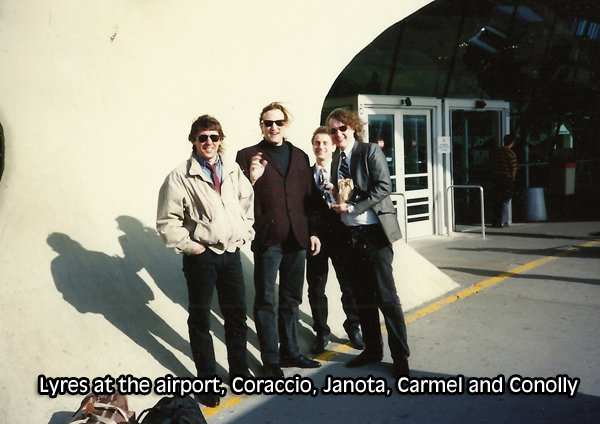 We once toured Europe completely by train! Our first class Eurail passes let us ride any train in the system. First class meant one of those little private rooms, just like in the movies! It was nice, relaxing. You could get up and walk around if you wanted, or close the door and sleep. Every once in a while a lady would roll up a cart full of food and booze. So civilized! One of my favorite train rides carried us through the scenic mountains between Oslo and Trondheim, Norway, on board the "Champagne Coach". Every twenty minutes the PA system would come alive with the sound of a champagne cork popping followed by polka music, the signal that someone would soon appear to refill our flutes. By the end of the long trip everyone was deliriously happy. Even though not every trip was so bubbly, I liked traveling by train. What I didn't like was dragging my hungover ass to the station every morning after late night gigs. There was no flexibility in the schedule; European trains are always on time.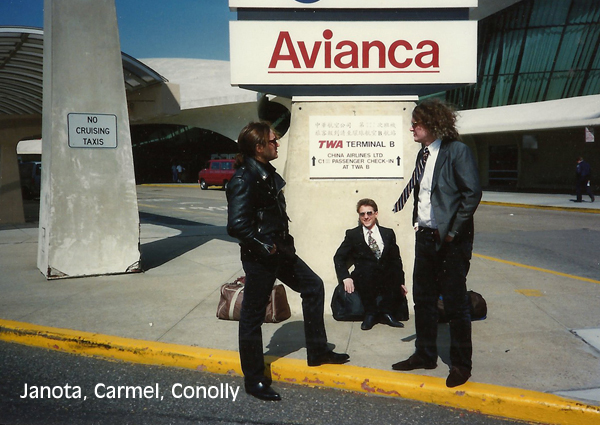 After a few trips bringing our own amps, we decided to avoid the hassle by hiring a van, driver, and equipment. No muss, no fuss--just get to the airport, bass in hand. Occasionally we even rented the guitars to avoid the kind of customs fiasco we had at Heathrow airport.
"Passport please. So, what brings you to England? "I'm here with my band to play a club in London." "How long are you staying?" "One night." "Right. Off you go. Step over there please. SECURITY!" Apparently the English don't like you earning money in their country, especially if you're not staying long enough to spend it. They confiscated our passports and marched us through the busy airport, depositing us into a starkly lit room along with a dozen or so hardened criminals like us. We sat there trapped for hours. The chairs, cold steel and hard plastic, couldn't have been more uncomfortable. A bearded man in a turban and some kind of gown-like garb had urinated where he sat and the whole place reeked. Nobody spoke English except for one young dude from Tibet. He offered me a cigarette from a crumpled pack. I gladly took it and lit it up. "What are you here for?" I asked "They think these cigarettes are marijuana," he said. "Wonderful." I immediately stomped out the smoke. "They're not, just smells like it, really got them mad!" he smiled, proud to be pissing off the authorities. I moved to the other side of the room. He followed. "Check this out," he crowed, pulling a large ornate bong out of his backpack and holding it up for all the world to see. "I'm so screwed," I thought to myself while I looked around for a rock to hide under or some other way to distance myself. Seeing my reaction he tried to calm me. "No no, it's okay, it's brand new, the bowl is clean, unused, perfectly legal, they can't do a damn thing!" "Except hold me in this disgusting room with you for another 12 hours." I thought.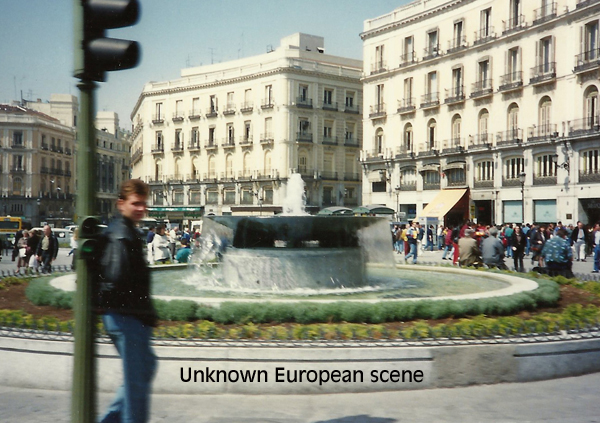 Eventually, a crisply dressed customs official herded the band into a little office to announce we couldn't play the gig because the manifest wasn't in order. The promoter had failed to submit a list of all the equipment we planned to bring into the country. These guys were really worked up about this, like we were the Rolling Stones or something. Jeez! It was a small night club. I was only going to make about fifty bucks, all of which I would probably spend at the bar. They let us stay the night at our hotel so I did get the chance to walk through downtown London and see some of the sights. The next morning we were deported.
Even when things went wrong, it was still fun. Like the time the alternator on our rented van crapped out, killing the battery. Because it was a diesel, all we had to do was get it started and it would run all day until we shut it off. We had to park it on a hill so we could roll it down and push-start it. If there was no hill, one of us had to stand in front of the van, hood open, and holding jumper cables in the air. Sooner or later a sympathetic driver would stop and give us a jump. This worked great for a week or so, until the drive shaft fell off while we were taking an exit from the highway. It clattered loudly under our feet, then whipped off to the side and rolled down an embankment. The poor little Peugeot came to rest directly across the street from a tavern. "Who's up for a beer?" someone asked. We sent the driver for a replacement, grabbed our guitars and piled into the tavern. We played darts and drank beers with unpronounceable names until our driver returned with another van. After transferring the equipment we pushed the sad little broken Peugeot down into a ditch and watched it disappear into the thick shrubbery.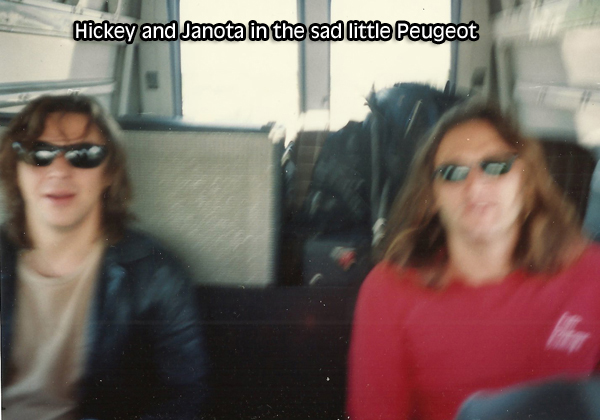 Here's one of my fondest memories. It was in September 1993. We were staying the night at a little inn somewhere in Germany. The place was old, probably older than the United States, and the beautiful interior had lots of leather and dark polished wood. It reminded me of a fine German coo-coo clock. Lots of drawers and doors. A friendly married couple ran the inn. He was a large man with cheerful blue eyes and round red cheeks; she was a fit, handsome woman with her long blond hair in two braided pigtails. Hansel and Gretel all grown up. They kept the bar open late for us, pouring big steins-full of strong German beers, feeding us pickles and sausages, and asking questions about life in America. When they found out we were musicians, Gretel disappeared into the back room and returned with an old acoustic guitar. Our guitarist, Jack Hickey, snatched it right up and started strumming old Beatle songs. We drank and ate and sang and laughed until three in the morning. It was magical.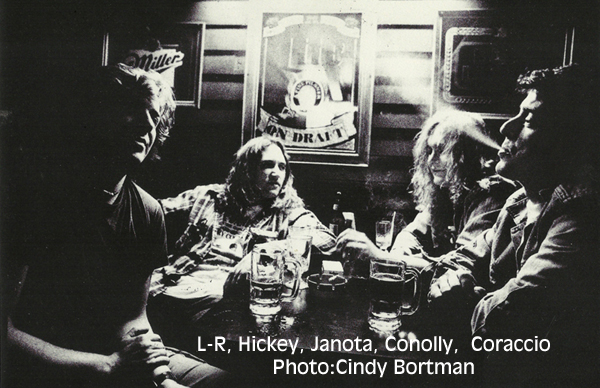 That particular tour, with Jack Hickey on guitar and Jim Janota on drums, lasted from September 2nd to October 11th. It was our longest. The Noah's Ark tour--forty days and forty nights. There was only one day off and I got to spend it in the amazing city of Ghent, Belgium. On that day, I woke early and walked for hours on end, soaking in its visual treasures. That tour taught me the kind of commitment it took to be a Lyre.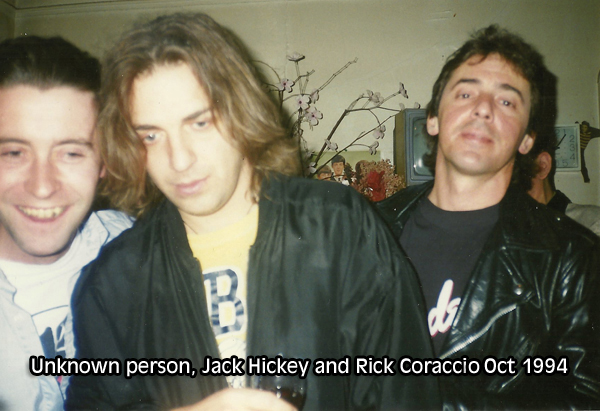 My boss wouldn't grant me a leave of absence so I quit. Was it worth it? Oh yeah. Totally. That's what I say now. But when I got back to America, the economy was tanking, and it was hard to find work. For the first time in my life I was unemployed. The $75 per diem the tour paid me didn't last very long once I got home. I went out on a limb, but in the end it worked out fine. I eventually found a job as a mechanic at the local Subaru dealership, setting me on a path I followed for several years. And the tour gave me some great memories. But memories, like old photos and artifacts, mean nothing without the stories behind them. Stories live forever, but only if you tell them.
Stay tuned for part three in which the Lyres get strip searched at the Swedish border.
This entries' song is......
"Everybody's Lookin' At You"
Written by Rick Coraccio
Performed by THE SHAMBLES
Dave Sczepaniak-- bass,backing vocal
Artie Sniederman-- lead vocal
Steve Aquino-- guitar
Paul Murphy-- drums
Rick Coraccio-- guitar, backing vocal
---
home | interviews | photos | features |BGN issue list | reviews
links | contact us
Copyright © 2013 Rick Coraccio. All rights reserved.