The BGN News Archive
January 18, 2021
RIP Sylvain Sylvain!!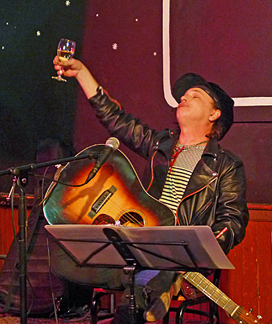 We knew Syl had cancer for the last 2 1/2 years, there was a funding drive to deal with the medical expenses.
We saw him at the Midway for that choice gig with Glen Matlock in 2014. He was so full of life, and that New York sass, it's hard to imagine him being diminished in any way. It all came out in his talking. His stories were so good that at the Midway it was hard to choose if your wanted to hear the next song or another story.
The NY Dolls were at the pivot point of change that was the origin of punk. It wasn't an easy ride, we all know that from the stories they have told through the years.
One of our favorite comments from Sylvain in an interview was when he said that people told them time and again that they couldn't write a good song. He said, "what if we believed them?" To have that confidence, in the middle of what must have been confusing and challenging times filled with negativity directed at them, is what makes Sylvain and the Dolls worth our hero worship.
Miss Lyn talks about the Dolls during their reunion show at the Paradise in 2008 and Here's our page on the Sylvain show at the Midway in March of 2014
Here's an article in Spin magazine and here is David Johansen on Losing Sylvain Sylvain: 'I Have a Heavy Weight On My Chest'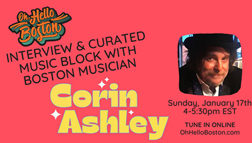 Corin Ashley will be interviewed on Oh, Hello Boston web radio show on Sunday January 17 between 4-5:30 pm. There will also be a 'curated' music block involved. Oh Hello plays a wide variety of Boston music. A recent set had Linnea's Garden bumping up against the Young Snakes. Tune in here Oh Hello Boston.
Red on Red Records has signed Linnea's Garden who will release two singles and an EP shortly.
The Midway has three benefit live stream shows lined up to help them through the quarantine period. The dates are 1/18, 2/7, and 2/28. The first show on Monday Jan 18 will be from 7-9 pm and will be headlined by Rick Berlin.
The Midway has been doing live music for over 30 years. We've spent many a night there and in the last few years we've spent loads of Saturday and Sunday afternoons there.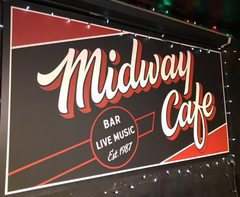 They've done some creative booking. During some of Easy Ed's Rockabilly shows we thought we had died and gone to heaven, it was so convivial and the music so full of positive energy. The Real Kids residency in the summer of 2014 were like going back to the 70's being in a small group of knowing fans and seeing one the all-time greatest Boston groups.
We have to help the Midway get through this!!! There is an end to this but it's not now, we have to get through a few more months. There's no giving up now. here's the Facebook page for these shows
And hey bands out there!!!!!: If you want to be part of a future live stream (remotely or from Midway Cafe) email TinyOakBooking@gmail.com!! Come on we wanna see you up there!
Donate directly to Midway here: Paypal at Tickets@MidwayCafe.com... also venmo @midwaycafe....you can buy Giftcards @ $20 ($25 value) and Midway T-shirts $15.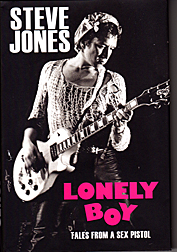 Director Danny Boyle (Trainspotting and T2, Slumdog Millionaire and Yesterday) is producing a six part TV show on the Sex Pistols. It's based on Steve Jones' memoir Lonely Boy. The show will be broadcast on the FX station in America. Toby Wallace, recently seen in Australian film Babyteeth, will play Steve Jones. John Lydon is to be portrayed by Anson Boon. Read more here. And Some more info on The Playlist. And what ever happened to the Just Kids series on Showtime based on Patti Smith's book??

Also...if you haven't read Steve Jones' Lonely Boy you really should! There is a reason so many reviews cal it the best rock'n'roll biography ever written. It is so honest and told in Jones' true voice. Besides the fact that it's abotu the Sex Pistols it is a really great; gripping, entertaining, funny, heartbreaking heartwarming and surprisingly well written read. Get it on Amazon.

Juliana Hatfield is scheduled to play her album Bed in it's entirety at Q Division studios on January 23 at 4 pm. Last time she was at Q Division to play Become What You Are she played it twice, that was outrageous. The Facebook event page is here: https://www.facebook.com/events/226892652251966/

We featured a John Powhida video last week and he's got another this week. The whole idea of producing music and being creative during quarantine is a whole subject that might be worth a documentary in the future. Some seem to actually flourish during these times or at least produce constantly when many others most are blocked or just sit it out. Actually the quarantine thing is the subject of John's song and video called "Backed 2 Bed".

It seems John can find inspiration absolutely anywhere and can fashion an elaborate composition tout suite. The music has John's signature arrangement style along with his verbal twists of phrase that makes you listen closely. John has his old bandmate Brett Rosenberg on guitar on this. The video on YouTube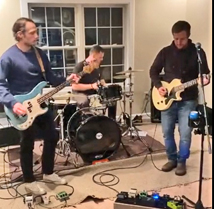 There has been a real slowdown in the live streams these last few weeks. The 'rona is ragging so it's probably for safety's sake which is the way it has to be.
The Graneros managed to do a live set on Instagram this past Saturday on the Boston Stream Party site. Graneros are a trio who we were zeroed in on as the quarantine hit. Some of their songs seem to burn from within – that's one way we can describe it. The Instagram video is not posted to watch now as far as we know. But check out Boston Stream Party here. You should listen to Graneros last EP on Bandcamp to get a hit. The song "So Cold, So Cold" has that burning quality that we mentioned.
---
CDs/ Music.....
Terry Kitchen, who was in the Rumble with Loose Ties in 1986, has a new album called Lost Songs with 16 tunes. Terry now plays a well-crafted folk style now. The lyrics are story driven. The song "Nickel Bag" has a moral that hits todays zeitgeist square on. How did Jonathan Richmond not write a song called "Walk Around the Block"? The album is on iTunes and here on Spotify" https://open.spotify.com/album/6lJgnBZkLNynnUKkbUwKzt
Randy Black and the Heathcroppers release their eleven cut album entitled Many Moons. Like all of Randy's work the songwriting is superior, the guitar work is distinctive and an aura of tastefulness marks it all. The album includes the song we went fanatic on – "The Sadness". Hearing that done live for the first time left us awed and drained. There is so much relatable emotion in there! That was when we understood the power of the Heathcroppers - Randy, Larry on drums and Matt on bass.
The album also includes "One and One is Three" which is done by the Back Porch Carousel group. Many Moons was recorded at Woolly Mammoth and Minehan sneaks into the recording here and there. Here's the Bandcamp page for the LP.
Johnny Angel has been slowly releasing songs that will be an album when finished. The current song is "Stir Crazy". The material in Pipes of the Pandemic as it's called is overflowing with critical and satirical jabs. The instruments are mild acoustic so the lyrics are what's it's all about. You know Angel has that acerbic side since the Swinging Erudites album and if you ever talked to him.
Rum Bar puts out more music than anyone these days. We're always trying to keep up with the releases. Then they put out those big compilations that spotlight a section of what they're doing. That's the case with Rebel Rousers. It has 23 cuts that are almost all cranked up rock and roll some are alt country or garage.
One of the first songs to stand out is a song called "Never" by Jenny Dee & Several Men of Mystery. That's Jen D'Angora's unmistakable voice talking on a country song. It's a notable vocal performance. She shows a lot of control and she throws all sorts of nuances in her pronouncing of the words. Between this and Jen's work in the Shang Hi Los we would say she's doing some of her best work ever.
Mono in Stereo's "Different Kind of Man" sounds like early Bruce Springsteen.
Tom Baker shows up twice in Dirty Truckers songs and then closed out the compilation with the Rolling Stones acoustic No Expectations". It's the Truckers' "Turn Your Head Around" that has the best setting for Tom's voice.
We also liked The Lemon Drop Gang's "You'll Come Running" this off their current album. It seems like a garage ballad to us, if that's possible. It does its work and gets us into a mood.
Ever since "Sway Little Player" hit us like a ton of bricks we were wondering what the rest of the Shang Hi Los material would be like. "Skipping Records" was the next piece of the puzzle and it was very much in the same retro style of "Sway". Now we have Kick It Like A Wicked Bad Habit, a five song EP. The songs "Funeral Home Mint" and "Stay" have that fifties/sixties vibe also. In addition they have some of that same tasty guitar work. They close the EP with a cover of "Saturday in the Park" , Chicago's 1972 hit.
Now we know that the whole Shang Hi Los sound was thought out beforehand. It's a show of the talent of the whole group…talent and some magic.
Coming up.....
Virtual/ Streaming/Online Events.....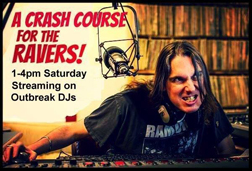 Wednesday January 20- 8:08 PM- Crow Follow & Linnea's Garden present: Band 4 Band Video Drop x OVV. FB page.
well if we can't have music we have some cool film events.....
Saturday January 23- 9-11.30 PM How cool is this?? Watch The Evil Dead with live commentary by Bruce Campbell!! "Have you ever dreamed of watching your favorite movie with the star from that flick? Now is your chance to hand over the remote control to Bruce Campbell and let him guide you through The Evil Dead like you have never experienced it before. Relive the movie through the eyes of the star - pausing the action to explain scenes, tell unknown stories about the action, or provide funny tidbits of trivia... straight from the source. Bruce Campbell, legend, actor, producer, writer, director, best-selling author…cult hero." FB event page.
CONTACT US AT....misslynbgn@yahoo.com Send us your gig listings, your anything else ya got!! You want your CD reviewed?? Contact us for that too.
---