The BGN News Archive
February 22,2016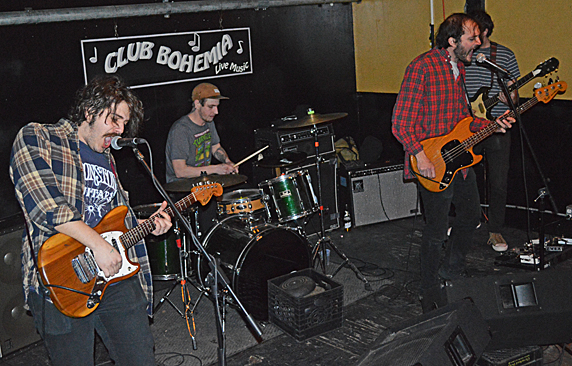 Nice Guys
Photo: Blowfish
To check out something new Blowfish went to O'Brien's on Monday:
Tongue Party from Minneapolis, MN was on a 33 day tour…half of it in the northeast…in the winter! I wanted to reward that.
They play a noise packed punk. All the tones are low. The guitar doesn't sound much brighter than the bass and drums. To this they add a synth feeding in low roars and rumbles with the occasional high squeal. The synth was a homemade box controlled by simple light switches, it did the job. The woman who controlled it had her back to the audience the whole time. They did have some rhythm figures to hold on to.
Tongue Party
Photo: Blowfish
They did something seemingly simple which added a lot to the show. They set up 4 colored lights that flashed alternately and made for a cool light show. Here's a video from O'Brien's that shows that….
The set was only about 15 minutes long but gave me the dose of rock I wanted. I counted eighteen people in the club but they all moved up front and gave as hearty a response as they could. I thought that was great.
The next band was Effzero who were prog. That's not my thing and I left. That's one of the problems I've had with some O'Brien's gigs lately; the bands on the bill aren't compatible. I've skipped a few shows because of that.
Friday we descended in the cave like ambience of the Cantab Club Boho and it was for a good cause. Head VS. Heart organized a show called PAWS:REWIND to benefit Cats and Dogs. We thought it was a good idea.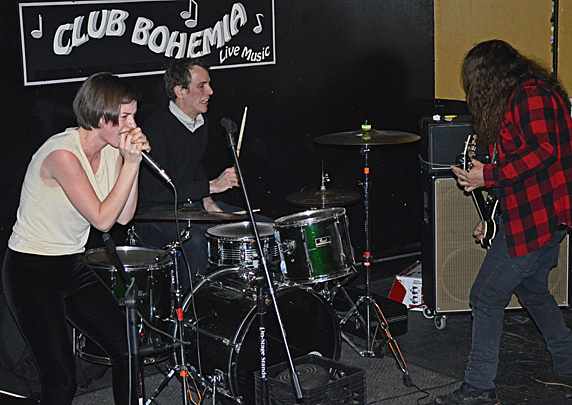 Think Tank
Photo: Blowfish
The club was full (it was a young crowd) and giving rapt attention to Think Tank from Brooklyn. They were doing some free form music and noise jams. It had more the feel of a performance piece than music set. The drummer jumped up and played some sax, the guitarist drowning in feedback would yell along in sympathy with the singer who was just vocalizing with no words. For a minute at the end the singer pulled out a cello and played about three notes (?). This is stuff that doesn't go down easy. This is what they sounded like - on BANDCAMP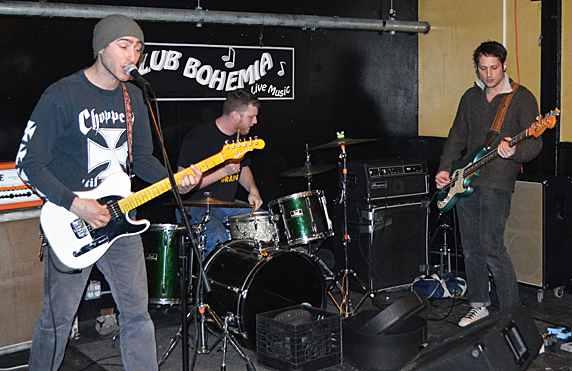 DCDR
Photo: Blowfish
DCDR had a problem. Their full name is Dead Cats Dead Rats which is not a great name for this benefit show for animals, thus billing themselves with the initials. We've been trying to see them for a long time and keep missing them.
They had a roughhewn sound that betrayed the thought that goes into the music. There was more sophistication with chord movement than a punk attack would suggest. One song was based on a fifties progression. Single note playing was succinct and memorable. There were mid song changes in rhythm and dynamics. One song had a fast ¾ time section. All this would go by you with a casual listen because it just sounds punky. I also liked the singer's voice which was distinctive.
By the end of the set I had heard a lot and was very impressed. We will check out these guys again. Here's their Bandcamp page. This is a video of DCDR from the show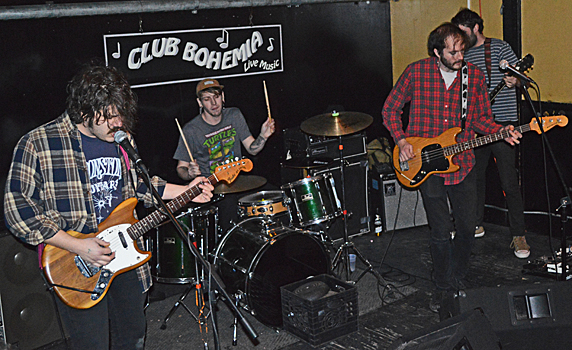 Nice Guys
Photo: Blowfish
Nice Guys we had just seen last week at the ME Up. Again they make me feel good with their rock and roll spirit. I can't catch what they're singing about and they just about hold things together but there is no denying their energy. In a flash the singer/guitarist is in the middle of the club dancing as he's playing. If I had a party I would have them play. (Oh that's funny Blowie! You would never have a party - hey folks here's what he thinks of parties-ML)
Nice Guys on Bandcamp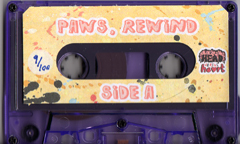 Nice Guys have about four cassettes out. All the groups at the show have cassettes out now. The compilation for the Cats and Dogs is on cassette. Now that the world wants music to be digital and in the cloud we have the contrary movement back to cassettes. I was initially resisting this trend but now I'm on board. I see the fun in it. It seems like it's easy to make a small run and the printing of the cover insert and labels can be done on computer. It offers full control and that DIY motivation we love. Most times they sell for $5 rather than $10 for a CD, so I'm for that. Head versus Heart is a small cassette company in Boston. They do short runs, like 30 cassettes, for $75. They are two people who operate out of their apartment. Pretty cool!
In other news.....
The Forz, who get more fans every show with their Anglophile rockin', are raising money for their next CD with Kickstarter. Visit their Kickstarter page to donate by preordering the album! Just $10 gets you the album!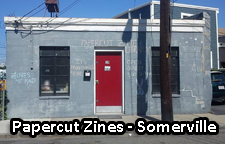 Here's something we care about- the Papercut Zine Library. Their mission is to warehouse all the hardcopy zines they can get to preserve that coolest of communication methods. Turns out they had flooding problems because of that torrential rain and freezing a few weeks back. Now they need help to fix the soaked 'zines and presserve more. You can help 'em out at their You Caring fundraising site. And you can visit the Library ever Sunday between 2-7PM!! They are at 10 Ward St Somerville, that's the newest super hip area Boynton Yards...after checking otu their 'zines you can get a couple beers at the Somerville Brewing Company next door.
Ed Moose Savage is having an art show of his mothers paintings "After the Stroke" runs from March 1 to 12…it's at the UnchARTed Studios in beautiful downtown Lowell! Check out the Facebook page
Hey musicians!! There's a new music site called Orfium where you can upload your music, share or sell and they say you have complete control without any crazy long contracts etc...if you've used Soundcloud ReverbNation or Bandcamp you might want to check out this new way to sell your music!
Check it out here: Orfium.
Mike's Monster Guitars has a spiffy new website...please do check it out!: Mike's Monster Guitars
Here's some good shows coming up this week.....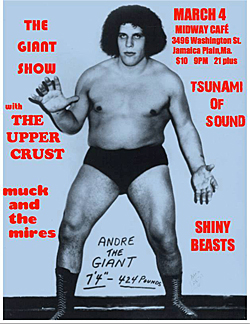 March 3 (Thursday) Bret Milano's Book Release Party (reschedged from a while ago) is at Store 54 - he'll do a short reading and John Powhida will perform as well.

March 3 (Thursday) The movie Lemmy is playing at the Regent Theater - 7:30 start time

March 4 (Friday) The Upper Crust, Muck & The Mires and Tsunami of Sound are at The Midway

March 4 (Friday) the concert film Ziggy Stardust and the Spiders from Mars is playing at the Regent Theater as a special Bowie tribute!! 7:30PM Here the FB page and Buy tix here. This is an added show (it's also playing on Sunday!)

March 5 (Saturday) Jeremy & The Harlequins and The Connection are at The Plough & Stars (Great show! )

March 5 (Saturday) Hopelessly Obscure and the Black Souls and Tiger Bomb at the Bayside Bowl in Portland, ME

March 5 (Saturday) Liz Borden Band, Tiger Bomb, Thrust Club and The Empty are at the Spotlight Tavern in Beverly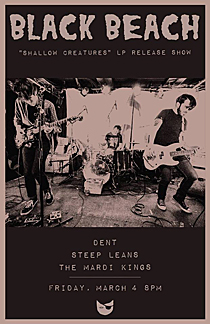 March 6 (Sunday) Come over to Atwood's to celebrate the birthday of Sue M., from My Own Worst Enemy!! She's also debuting her band Sue's Guitar (Sue and Joshua Pickering)..this show is 4-6PM.
March 6 (Sunday) the concert film Ziggy Stardust and the Spiders from Mars is playing at the Regent Theater as a special Bowie tribute!! 7:30PM It's followed by the movie Lemmy is playing at 9:30 start time Here the FB page and Buy tix here.
March 6 (Sunday) Thee Sonomatics, The Hip Swayers, are playing at the WCUW Spring Fund Drive at The Front Room, 910 Main Street Worcester (4 - 7 pm)
And out in the future we have.....
March 12 (Saturday) This should be good- The Boston Bizarre - Oddity Market 12-7PM at Oliver Best's Vintage Market in Allston...check the FB page for listings of vendors as they are secured.
March 12 (Saturday) Thrust Club, the Liz Borden Band, Tiger Bomb and the Empty are at The Spotlight Tavern in Beverly
March 16 (Wednesday) Battalion of Saints, Phobia, Nomads and I am Become Death are at Great Scott.
March 17 (Thursday) celebrate St Patrick's Day with Highway Chapel at The Cantab Club Boho
March 19 (Saturday) The Devil's Twin and Diablogato are at O'Brien's
March 19 (Saturday) Greg Allen's Fringe Religion is having a record release party at The Midway also on the bill are The Disquiets, Jesse Ahern and the Roots Rock Rebel Review and Paul Hennessy this is a 4PM show.
March 19 (Saturday) Lux Lives! A celebration of all things Lux and The Cramps is back this year at The Baysside Bowl in Portland, ME featuring
The Gamma Goochies, Thee Ice Picks and Video Nasties - also music by DJs Ty Jesso and Kogar the Swinging Ape -(FB page)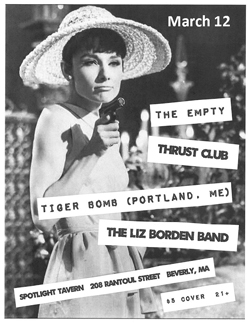 March 19 (Saturday) The Worried, M.O.T.O. and The Hi-End are at The Parlour in Provi RI.
March 23 (Wednesday) Girls Rock Boston is putting on a show with Girls Rock Campaign Bands, Ursula, Gay Sin and Gravel you an keep up to date on
the bands playing here
March 25 (Friday) OK whoa....this is gonna be a wild night...go if you dare...S&M punk band GASH is at PA's Lounge...also on the bill is DISIPLINE: Boston queer BDSM Punk.
March 26 (Saturday) A Crash Course For The Ravers (1-4PM WMFO 95.1) has Four Point Restraints as guests.
March 26 (Saturday) Bob Colby starts up is show series at Store 54 for 2016 (his last full year in Boston!!!) with Found Audio and Future Carnivores.
March 26 (Saturday) Trusty Sidekick and Shiny Beast (who are AWESOME!!! read our review here) at The Tavern at The End of The World! Sets start at 10PM and there's NO COVER
March 28 (Monday) The Goddamn Gallows, King Sickabilly Trio, and Outlaw Ritual are at The Middle East Up.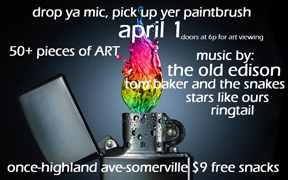 April 1 (Friday) "Drop Ya Mic and pick up yer paint brush" is a show of Musicians' art work at Once Lounge...check out the FB page..the list is looooonnnnggg. Providing music for the event will be The Old Edison, Tom Baker and the Snakes, Stars Like Ours and Ringtail. $9 cover with free apps, art at 6PM music about 8:30.
April 1 (Friday) Kenne Highland 60th birthday party at The Cantab Club Bohemia
April 2 (Friday) Kenne Highland 60th birthday party at the midway (this is his actual birthday!) An afternoon 4PM show -looks like Hixx and Afrika Korps - more info to come
April 2 (Friday) the night show at The Midway is Wussy and The Thalia Zedek band.
April 3- 22 (Friday) Rock n Roll Rumble at Once Lounge
April 5 (Tuesday) The Legendary Shack Shakers, The Pine Hill Haints and Diablogato are at Great Scott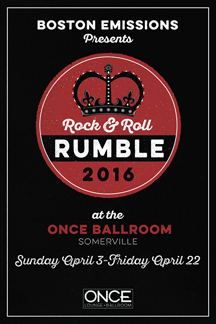 April 7(Thursday) Andysocial and The Antidotes, Jagger Holly, Mongorellis and Jimmy Jacked are at Koto in Salem
April 10 (Sunday) Hey Ho Let's Go- the Ramones and the Birth of Punk - retrospective opens at the Queens Museum in New York! (it runs thru July 31)
April 23 (Saturday) The Real Kids with Stop Calling Me Frank and The Knock Ups at the Midway
April 29 - May 1 (Thur- Sat) The Abbey Lounge Reunion!! at Sally O'Brien's - So far some of the bands are The Konks, Heavy Stud, Spittz, The Decals, The Swinedells, Coffin Lids, The Dents, The Tampoffs......the list goes on and on and on...more info soon. FB page soon too!
April 28, 29 & 30 (Fri- Sun) Is the Atlanta Mess Around in you guessed it Atlanta GA at Earl's...Kenne Highland will be down there as the Gizmos are playing the Mess Around on Saturday 4/30. Real Kids are doin' the Mess Around on Friday 2/29! FB Page and more info here.
May 7 (Saturday) A Crash Course For The Ravers featuring The Cal Cali Band! That's WMFO 95.1 FM 1-4PM
May 13 (Friday) Barry & the Remains, Lyres, Cal Cali Band and Muck & the Mires are at ONCE Ballroom -This show STARTS at 8PM The Remains are on at 9:30.
May 14 (Saturday) We loved him...he was unforgettable so the show goes on...Joe Coughlin Memorial- Johnny & The Jumper Cables and Classic Ruins more to come
May 21 (Saturday) A Celebration of Life of Keith Brooks (friend and hardcore music lover) will be at The Midway - on the bill: The Struggle, Honest John, Words Of Truth, CHEECH, Straphangers, and DOT RATS -This show runs from 4PM to Midnight.
CONTACT US AT....misslynbgn@yahoo.com - Send us your gig listings, your news and anything else ya got!!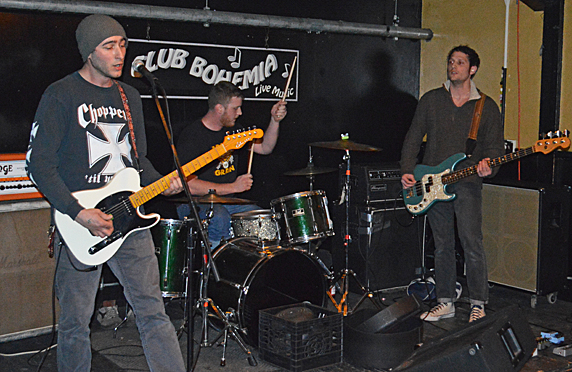 DCDR
Photo: Blowfish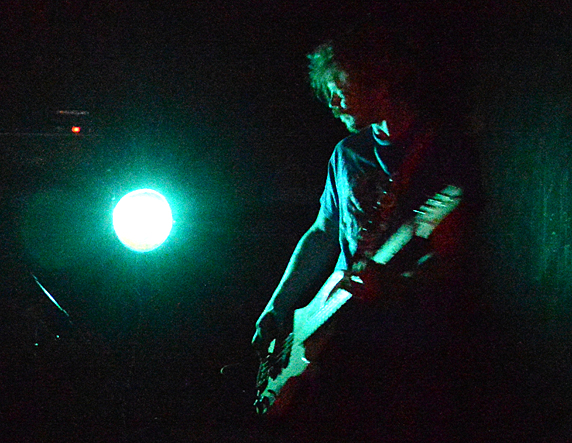 Tongue Party
Photo: Blowfish