The BGN News Archive
March 7,2016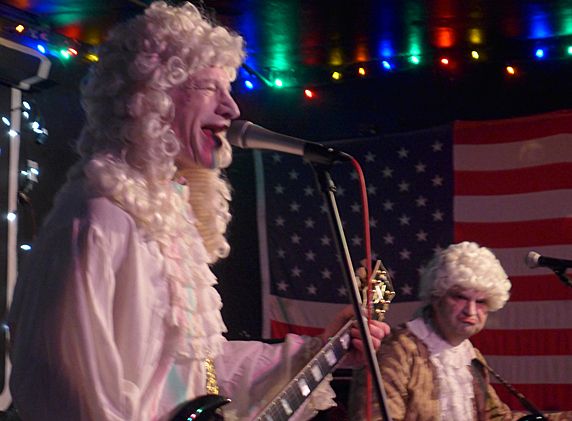 Upper Crust
Photo: Blowfish
Brett Milano had his long awaited book signing for his recently released Don't All Thank Me At Once: The Lost Genius of Scott Miller at Store 54 in Allston this past Thursday night.
Store 54 is a great space, particularly for the intimate reading and acoustic mini-sets on tap. The bibliophile and muso crowd filled the rows between the records. The price is right rotating stock of cool and classic ephemera, from deco lamps to snazzy spats, from crisp vintage clothes to bric-a-brac worth dusting, keep the eyes busy and look great on display. And of course there's the vinyl…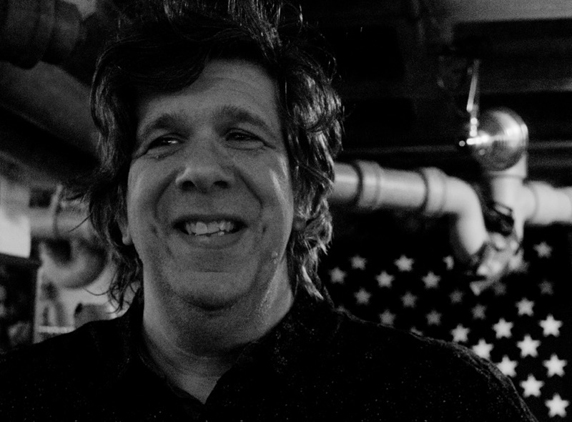 Brett Milano
Photo: John Keegan
Brett turns out to be an engrossing reader. His sonorous voice is enough to make you want to listen all night. His well-paced, clear roll through the book's introduction resonated with a storyteller's ear for the emotional arc of the sentences. He peppered the written words with sly, smart asides that invited the mostly in the know crowd to step into the book with him.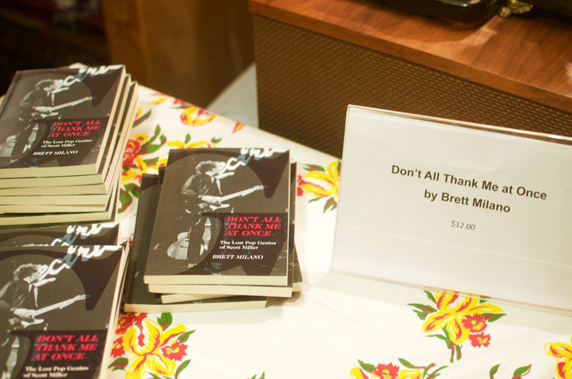 Brett Milano
Photo: John Keegan
It's probably not far from true to say that if you were familiar with Miller's bands, Game Theory and The Loud Family, you were in the audience. On the other hand, if you happened to stumble in from Harvard Avenue or were just showing up on a friend's invitation, Milano's take on Don't Thank Me All At Once's introduction sent you home with a book in hand and a resolution to check out Miller's reedy voiced, literate, chiaroscuro oeuvre. Miller was a thinking man's music creator and that makes him an interesting subject and Brett's writing is straight ahead, not grinding any critical axe. He nails a concept in a few lines and moves on to the next.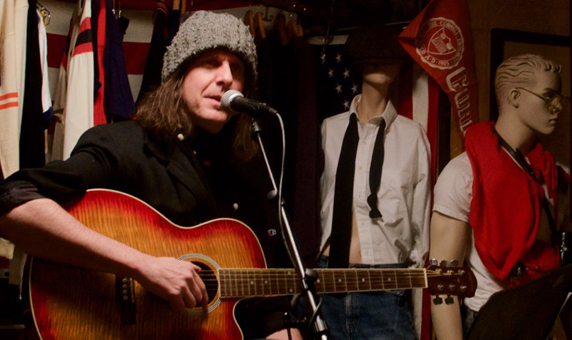 John Powhida
Photo: John Keegan
And music there was. John Powhida had the right voice and charmed the crowd with a ramshackle acoustic run through of three Miller tunes including "He Do The Police in Different Voices" and "Jimmy Still Comes Around" and three Miller related covers, Todd Rundgren's, "I Hate My Frickin' ISP", Prince's "Paisley Park" and Bowie's "Fantastic Voyage". Linda Jung and Sean O'Brien ended the night with the bittersweet ballad, "Regenisraen".
Blowfish also went across the street to O'Brien's: and saw just a little of Rawstrum whose singer did a lot of screaming - we like screaming. Video of Rawstrum's last song.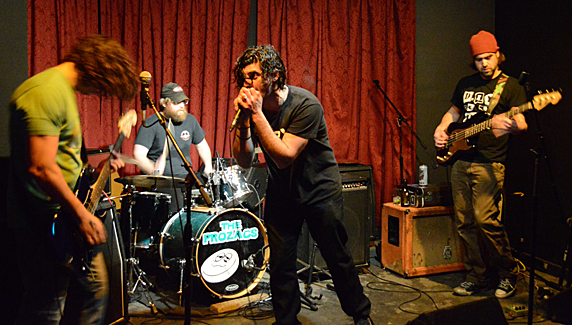 Rawstrum
Photo: Blowfish
Prozacs were next. They started about 2002 and had tons of personnel changes and sort of fell apart not long ago but then picked up again. They play pop punk and they play it with the amps roaring and fast. Sometimes they change it up and play faster still, almost to hardcore speed. With music that fast you have to be 100% committed and that speed gives another exciting edge to the set. The songs were breezy pop with lots of oohs and aahs in places instead of lyrics. Video of The Prozacs at O'Brien's.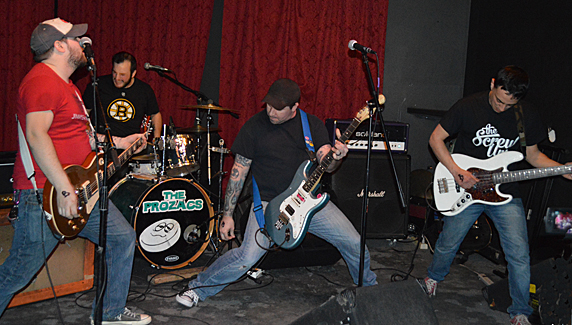 Prozacs
Photo: Blowfish
Everyone in the band was talking to the audience between the songs. The drummer who was pounding furiously claimed humorously that he was sweating and getting nipple rash from his shirt like a marathon runner. The lead singer and main member Jay Gauvin was interacting with people in the audience all the time by pointing out specific people he knew and dedicating songs to them. He even dedicated one to Blowfish!!
All the friendly talk coupled with the uplifting songs made for a super enjoyable set.
Saturday we took in what looked like a sure bet at the Midway with Shiny Beasts/Tsunami of Sound/Muck and Mires/Upper Crust. The full club confirmed that others thought the same thing. The snow slowed us up a bit and we missed our latest favorite Shiny Beasts. They're half Triple Thick and half a perfect complement to those guys. It's sort of poppy garage. We're always on the lookout for their gigs and will catch them soon - as you should.
Tsunami of Sound
Photo: Blowfish
Tsunami of Sound play their surf music right through the winter. It's so wrong and so right. We've seen them a few times but we've never seen them get the reception they got this night. People were cheering for them all along. They play a traditional surf repertoire which they jack up a bit here and there. The faux fire pots add to the kitschy mood. Rick Sanger on drums was an attention getter. He mugged and did funny moves as he drummed clean and strong with an easy off handed manner. They earned an encore from the fan filled audience.
Muck and the Mires
Photo: Blowfish
We know what to expect from Muck and the Mires. The first thing you do with them before they start is take a big breath, because once this band starts up it doesn't stop for one second until the end. Sure enough it was a manic pace. Tonight not only was there no stopping between songs but Linda on drums was starting the next song as the last chord of the previous song was still ringing. You felt like you are living inside the movie Hard Day's Night and can't get out, not that you would want too.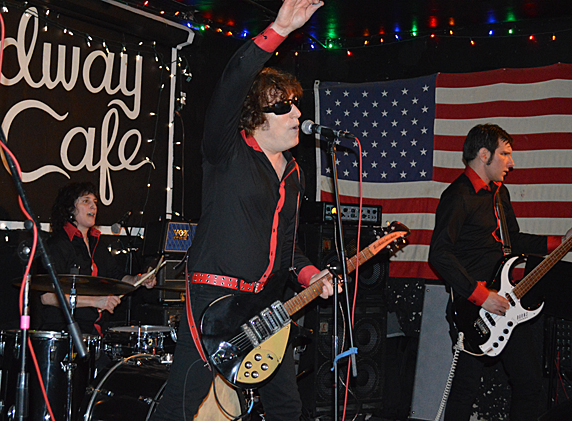 Muck and the Mires
Photo: Blowfish
Muck and the Mires are one of the best arguments for going to a club. To be immersed in the sound and the songs live can't be duplicated any other way. Those Evan Shore originals come out one after another and each one you would claim as your favorite. The rhythm section was pumping everything up with urgent excitement. Evan was running back and forth and the lead guitar was like an untamed beast. It was a roller coaster of rock and it always is with them.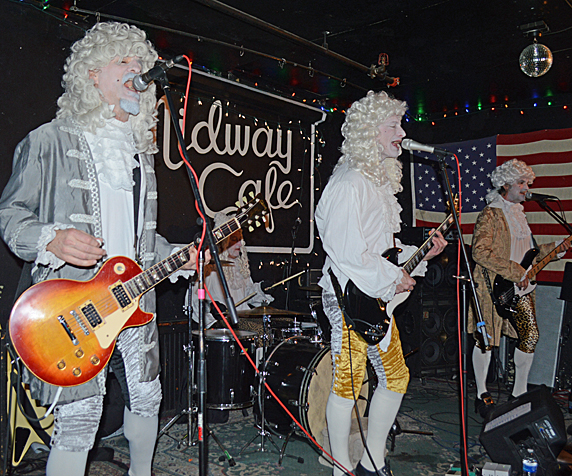 Upper Crust
Photo: Blowfish
It always seems like it's a special occasion when the Upper Crust plays and I guess it is. No matter how many times you have seen them you have to laugh as they get up there in costume. Looking at them up close you can see they are Louis XIV from wig to shoes. They were doing the on stage patter in the hilarious stiff upper lip patois.
They're all musicians who know their stuff and deliver the rocking background to the class conscious lyrics. It never feels so good to be looked down upon as at these shows. It's fun, fun, fun until daddy takes the Tudors away.
How did this ever start? Who cares, I guess.
They just topped off the night of four bands who make it all worthwhile getting out there…even on a snowy day.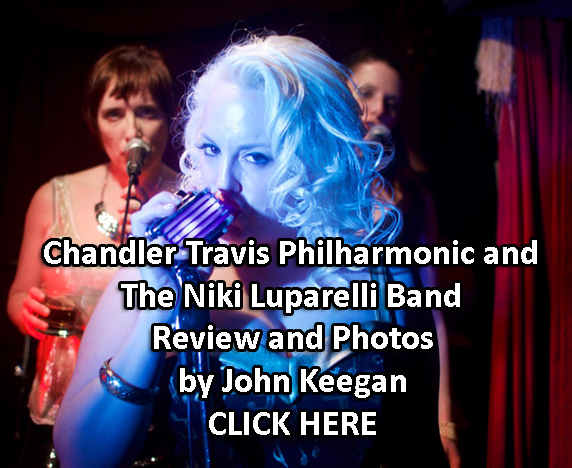 Chandler Travis Philharmonic and
The Niki Luparelli Band
CLICK HERE
In other news.....
Tommy White has been in LA laying down some tracks for ex Cramps bassist, Fur Dixon. Now back on the East Coast, Mr. White will be playing with Unnatural Axe next Saturday night March 12 in Brooklyn NY at The Grand Victory.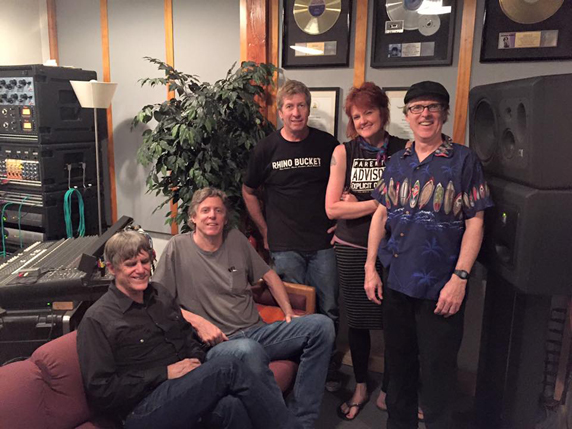 (R to L) Tommy White, guitar, Fur Dixon, guitar and vocals, Dusty Watson, drums (Dick Dale, Lita Ford, Concrete Blonde) Dennis Moody Producer-Engineer and Dave Provost, bass (Dream Syndicate,Gene Clark, Davie Allan and the Arrows) at Dennis Moody Recording, Mixing and Mastering (photo by Jose)
Firebrand Saints in Kendall Square has been quietly having music for awhile now but they are starting a new FREE monthly event called "Know Your Scene" at Firebrand Saints in Kendall Square starting this month. They will be featuring two local bands and will have a free custom poster with a digital download of two songs from each band. Kick off show is Saturday March 26 with Zip-Tie Handcuffs and Idiot Genes. GREAT idea!! Facebook page. This monthly program is being headed up by EyeDesign.com, check 'em out.

The Connection is celebrating their 5th anniversary as a band The Rum Bar Records helps them celebrate with an expanded CD release of their very first vinyl recordings. order today! All Rum Bar orders come w/ New England's Newest Hit-Makers BUTTONS!!! Order here!!
(Friends in Europe can order direct from: Sugar & Spice mailorder today!!)

The Forz, who get more fans every show with their Anglophobe rockin', are raising money for their next CD with Kickstarter. Visit their Kickstater page to donate by preordering the album! Just $10 gets you the album!
There's still time to catch Ed Moose Savage's art show of his mothers paintings "After the Stroke" which runs 'til March 12…it's at the UnchARTed Studios in beautiful downtown Lowell! Check out the Facebook page
Here's some good shows coming up this week.....
March 10 (Thursday) Club Linehan A Go Go are at The Cantab Boho

March 12 (Saturday) This should be good- The Boston Bizarre - Oddity Market 12-7PM at Oliver Best's Vintage Market in Allston...check the FB page for listings of vendors as they are secured.

March 12 (Saturday) Thrust Club, the Liz Borden Band, Tiger Bomb and the Empty are at The Spotlight Tavern in Beverly

March 16 (Wednesday) Battalion of Saints, Phobia, Nomads and I am Become Death are at Great Scott.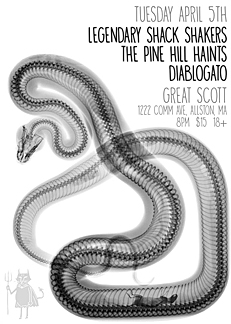 March 17 (Thursday) celebrate St Patrick's Day with Highway Chapel at The Cantab Club Boho
March 19 (Saturday) The Devil's Twin and Diablogato are at O'Brien's
March 19 (Saturday) Greg Allen's Fringe Religion is having a record release party at The Midway also on the bill are The Disquiets, Jesse Ahern and the Roots Rock Rebel Review and Paul Hennessy this is a 4PM show.
March 19 (Saturday) Lux Lives! A celebration of all things Lux and The Cramps is back this year at The Bayside Bowl in Portland, ME featuring
The Gamma Goochies, Thee Ice Picks and Video Nasties - also music by DJs Ty Jesso and Kogar the Swinging Ape -(FB page)
March 19 (Saturday) The Worried, M.O.T.O. and The Hi-End are at The Parlour in Provi RI.
And out in the future we have.....
March 23 (Wednesday) Girls Rock Boston is putting on a show with Girls Rock Campaign Bands, Ursula, Gay Sin and Gravel you an keep up to date on
the bands playing here
March 25 (Friday) OK whoa....this is gonna be a wild night...go if you dare...S&M punk band GASH is at PA's Lounge...also on the bill is DISIPLINE: Boston queer BDSM Punk.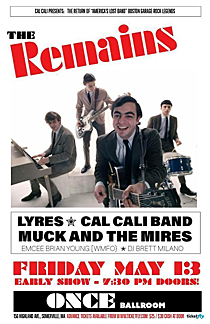 March 26 (Saturday) A Crash Course For The Ravers (1-4PM WMFO 95.1) has Four Point Restraints as guests.
March 26 (Saturday) Bob Colby starts up is show series at Store 54 for 2016 (his last full year in Boston!!!) with Found Audio and Future Carnivores.
March 26 (Saturday) Trusty Sidekick and Shiny Beast (who are AWESOME!!! read our review here) at The Tavern at The End of The World! Sets start at 10PM and there's NO COVER
March 28 (Monday) The Goddamn Gallows, King Sickabilly Trio, and Outlaw Ritual are at The Middle East Up.
April 1 (Friday) "Drop Ya Mic and pick up yer paint brush" is a show of Musicians' art work at Once Lounge...check out the FB page..the list is looooonnnnggg. Providing music for the event will be The Old Edison, Tom Baker and the Snakes, Stars Like Ours and Ringtail. $9 cover with free apps, art at 6PM msuic about 8:30.
April 1 (Friday) Kenne Highland 60th birthday party at The Cantab Club Bohemia
April 2 (Friday) Kenne Highland 60th birthday bash at the midway (this is his actual birthday!) An afternoon 4PM show with The Korps, Moose & The Mudbugs, Jiblantos, HIXX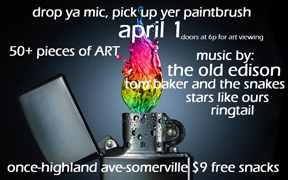 April 2 (Friday) the night show at The Midway is Wussy and The Thalia Zedek band.
April 3- 22 (Friday) Rock n Roll Rumble at Once Lounge
April 5 (Tuesday) The Legendary Shack Shakers, The Pine Hill Haints and Diablogato are at Great Scott
April 7 (Thursday) Andysocial and The Antidotes, Jagger Holly, Mongorellis and Jimmy Jacked are at Koto in Salem
April 8 (Friday) Woooo yeah this is gonna be a GREAT show: Little Steven's Underground Garage presents Soraia , The Connection, The Black Souls, Kris Rodgers & The Dirty Gems at The Midway!!
April 10 (Sunday) Hey Ho Let's Go- the Ramones and the Birth of Punk - retrospective opens at the Queens Museum in New York! (it runs thru July 31)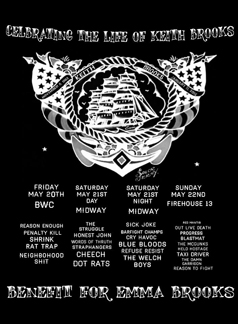 April 23 (Saturday) The Real Kids with Stop Calling Me Frank and The Knock Ups at the Midway
April 29 - May 1 (Thur- Sat) The Abbey Lounge Reunion!! at Sally O'Brien's - So far some of the bands are The Konks, Heavy Stud, Spittz, The Decals, The Swinedells, Coffin Lids, The Dents, The Tampoffs......the list goes on and on and on...more info soon. FB page soon too!
April 28, 29 & 30 (Fri- Sun) Is the Atlanta Mess Around in you guessed it Atlanta GA at Earl's...Kenne Highland will be down there as the Gizmos are playing the Mess Around on Saturday 4/30. Real Kids are doin' the Mess Around on Friday 2/29! FB Page and more info here.
May 7 (Saturday) A Crash Course For The Ravers featuring The Cal Cali Band! That's WMFO 95.1 FM 1-4PM
May 7 (Saturday) At the Midway - both Day & Night Shows= ALL DAY!! Easy Ed's Variety Hour 10th Anniversary Party!!! starring The Cranktones, Johnny Carlevale and His Band of All Stars (Special Reunion Show), The Barley Hoppers, The Bop Thrills, Easy Ed's Record Hop and guest DJs and much much more!!!
May 13 (Friday) Barry & the Remains, Lyres, Cal Cali Band and Muck & the Mires are at ONCE Ballroom -This show STARTS at 8PM The Remains are on at 9:30.
May 14 (Saturday) We loved him...he was unforgettable so the show goes on...Joe Coughlin Memorial- Johnny & The Jumper Cables and Classic Ruins more to come
May 21 (Saturday) A Celebration of Life of Keith Brooks (friend and hardcore music lover) will be at The Midway - on the bill: The Struggle, Honest John, Words Of Truth, CHEECH, Straphangers, and DOT RATS -This show runs from 4PM to Midnight.
CONTACT US AT....misslynbgn@yahoo.com - Send us your gig listings, your news and anything else ya got!!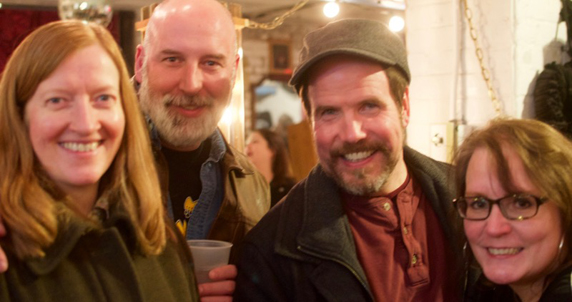 The Brett Milano book release party at the Store 54
Photo: John Keegan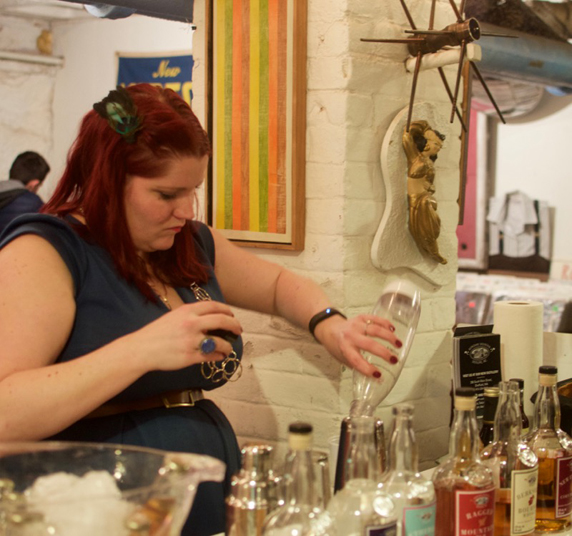 The Brett Milano book release party at the Store 54
Photo: John Keegan