The BGN News Archive
March 21,2016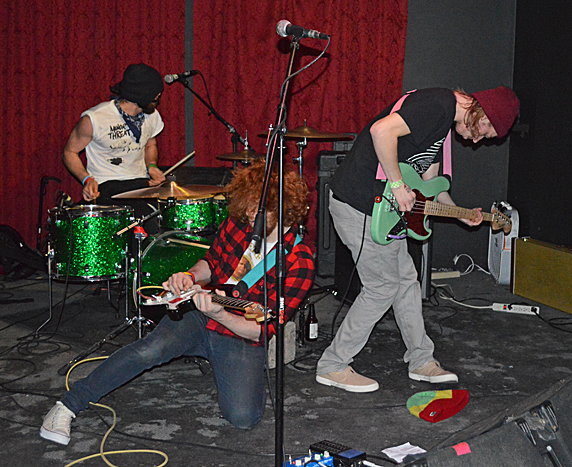 Today Junior
Photo: Blowfish
It was sort of a dead night at O'Brien's on Thursday. I just slipped in to hear at least one set of something.
I caught Answerman. The band formed in 2010 although the members have much longer resumes. I then see on their Facebook page that they are calling it quits after just two more gigs. Even though there were only 15 people knocking around they gave a spirited set. I think a lot of a band that expends all that energy regardless of the size of the audience. Every audience member wants a good show, otherwise it's a wasted night. You can see by this video that they were giving a high energy set: Answerman at O'Brien's video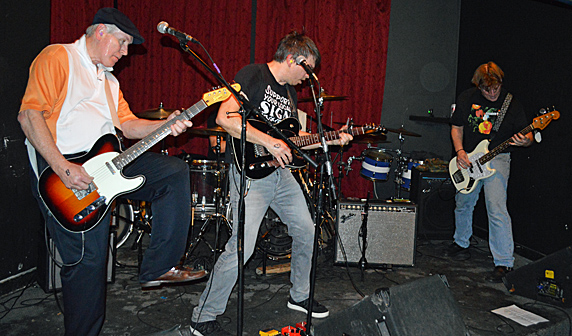 Answerman
Photo: Blowfish
I found the music hard to peg. On their website they say they are "a blend of post punk, dream pop and psychedelic soundscapes bringing to mind early Pixies, Luna, and My Bloody Valentine". I don't know, to me they sounded like a bunch of guys just hammering it out in a garage somewhere - and that's not a knock. It was loose garage punk that had the love of rock and roll in it. Their last two gigs are Saturday April 9th at The Midway and Wednesday May 4th at The Middle East Corner. Check out Answerman Bandcamp page.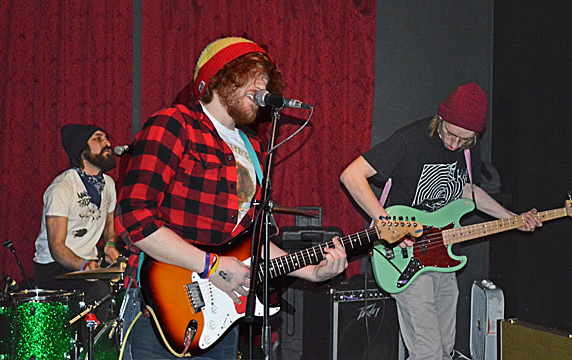 Today Junior
Photo: Blowfish
I find myself going to O'Brien's more and more where I might have gone to TT the Bears in the past. To prove the point it was O'Brien's again on Friday for Today Junior (Here's their Today Junior Facebook page). It's no secret that Today Junior is one of my faves. It seems to me that even after a few years they still haven't received the attention and the fan base that is commensurate with their live act.
Friday they played better than ever. The main sound is thick and jangly. On top the main vocal has an emotional quality to it. They add some background vocals which are always the same high ooo's that become an identifiable signature for them. Lead singer and guitarist Harry O'Toole often ends up doubled up or on the floor during a solo adding drama.
Here are two videos of a new song called Blunt Breath and and older song Tiger Eyes - both from the show.
What can a person do but spread the word and hope people come around?
One extra thing that happened Friday just before I got there was a taping by Channel 4 that was on the news spotlighting the cessation of late night T service and its effects on bands like Today Junior and bars like O'Brien's. Today Junior on TV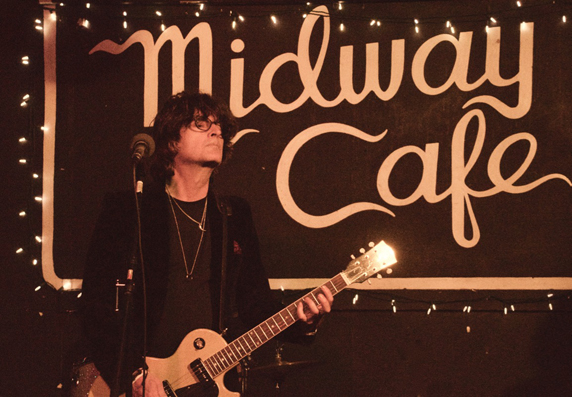 Greg Allen's Fringe Religion
Photo: John Keegan
One thing I like better than seeing a group at night is seeing one in the daytime. I love the 1 pm and 4 pm shows. Saturday had the Greg Allen's Fringe Religion CD single release party at the Midway for a 4PM show. There was a good crowd as they launched into their first song. They played like four guys on a mission. It was a roar with a point to make that went for three songs without stopping. There was real passion there. It came from the bottom up with the bass and drums playing hard and making a strong center infused with energy.
I don't think I've ever been more surprised by a group I thought I knew. I've seen them a few times but this time was different. It seemed like a whole new ballgame for this group. They decided to make this gig matter and it did to everyone that was there, at least. They were getting a great response with whooping appreciation with one impressive song after another.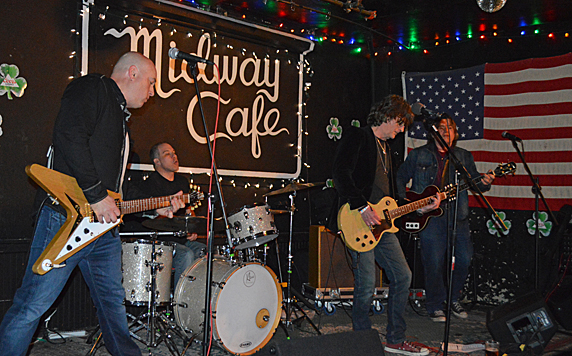 Greg Allen's Fringe Religion
Photo: Blowfish
The first song Elevator Girl was from the new CD single and that was a winner. The whole set was full of notable songs. Greg spent many years in NYC and was in a group with Johnny Thunders and some of that rubbed off. Greg's songs often have some person's story or situation that seems based on life and that gives them some heft, again not unlike Thunders or Reed.
The other times I've seen Fringe Religion Curt Florzcak on guitar was always playing solos that would toggle between structured and melodic to slash and burn. On Saturday it was slash and burn only, he was unrelentingly incendiary. He was jumping around and giving it all and I was thinking "his guy has another gig later in the night in Providence with his other new group The Hi End!", but he was not holding back one iota.
What got into these guys? I don't know but they should keep at it.
Here's a video of the song Beautiful Too from the show.
Saturday John Keegan also got to the Store 54 show with Stupidity from Sweden. Sadly we heard this week that Store 54 is closing at the end of May! Well there are still some Bob Colby shows and a giant Flea Market closing sale on April 16 to look forward to! We have the story of the Stupidity show and photos both by John Keegan below.
In other news.....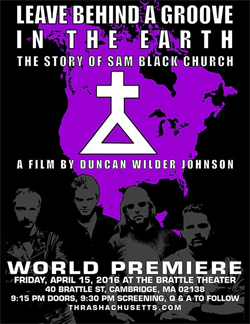 The Duncan Wilder Johnson documentary on Sam Black Church; Leave Behind a Groove in the Earth is finally done an the world premier is at The Brattle Theater Friday April 15th at 9:15PM...there'll be a Q&A after the screening too! Check out the sneak peak here
Here's some good shows coming up this week.....
March 23 (Wednesday) Girls Rock Boston is putting on a show with Girls Rock Campaign Bands, Ursula, Gay Sin and Gravel you an keep up to date on
the bands playing here
March 25 (Friday) Petty Morals, Muck and the Mires and Jenny Dee and The Deelinquents AND Sidewalk Driver are at Once - that's one great lineup!!
March 25 (Friday) OK whoa....this is gonna be a wild night...go if you dare...S&M punk band GASH is at PA's Lounge...also on the bill is DISIPLINE: Boston queer BDSM Punk.
March 25 (Friday) The Evil Streaks, The Skags, Genki Genki PAnic and The Martians at Koto in Salem
March 26 (Saturday) A Crash Course For The Ravers (1-4PM WMFO 95.1) has Four Point Restraints as guests.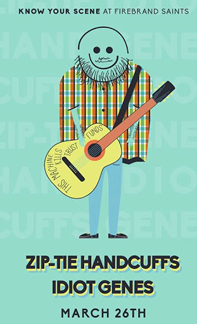 March 26 (Saturday) Roy Sludge is at Atwood's for a 4PM show.
March 26 (Saturday) A Know Your Scene event at Fire Brand Saints in Kendall Square with Zip Tie Handcuffs and Idiot Genes Here's the FB page
March 26 (Saturday) Bob Colby starts up is show series at Store 54 for 2016 (his last full year in Boston!!!) with Found Audio and Future Carnivores.
March 26 (Saturday) Trusty Sidekick and Shiny Beasts (who are AWESOME!!! read our review here) at The Tavern at The End of The World! Sets start at 10PM and there's NO COVER
March 28 (Monday) The Goddamn Gallows, King Sickabilly Trio, and Outlaw Ritual are at The Middle East Up.
April 1 (Friday) "Drop Ya Mic and pick up yer paint brush" is a show of Musicians' art work at Once Lounge...check out the FB page..the list is looooonnnnggg. Providing music for the event will be The Old Edison, Tom Baker and the Snakes, Stars Like Ours and Ringtail. $9 cover with free apps, art at 6PM music about 8:30.
April 1 (Friday) Kenne Highland 60th birthday party at The Cantab Club Bohemia
April 2 (Saturday) Kenne Highland 60th birthday bash at the midway (this is his actual birthday!) An afternoon 4PM show with The Korps, Moose & The Mudbugs, Jiblantos, HIXX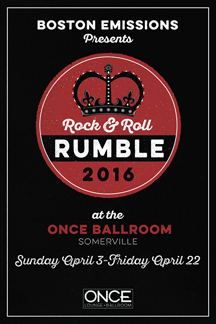 April 2 (Friday) the night show at The Midway is Wussy and The Thalia Zedek band.
April 3- 22 (Friday) Rock n Roll Rumble at Once Lounge
April 5 (Tuesday) The Legendary Shack Shakers, The Pine Hill Haints and Diablogato are at Great Scott
April 7, 8 & 9 (Thurs-Sat) Rock'n'Roll Rumble at Once
April 7 (Thursday) Gail Corcoran is putting on a show at Koto in Salem with Andysocial and The Antidotes, Jagger Holly (members of the Hollywood Blondes and The Spastic Hearts), Mongorellis and Jimmy Jacked
April 8 (Friday) Woooo yeah this is gonna be a GREAT show: Little Steven's Underground Garage presents Soraia , The Connection, The Black Souls, Kris Rodgers & The Dirty Gems at The Midway!!
April 8 (Friday) Bastards, The Worried, Greg Allen's Fringe Religion and The Sugar Cones at FH13 (That's Firehouse 13 in Provi, RI
April 10 (Sunday) There's a killer matinee show at Firehouse 13 in Provi with The Freeze, The Nervous Eaters, Neutral Nation, Bad Motherfucker, The Scrapes Starts at 2PM Here's the Facebook page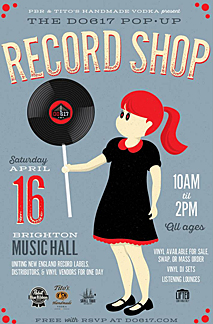 April 10 (Sunday) Hey Ho Let's Go- the Ramones and the Birth of Punk - retrospective opens at the Queens Museum in New York! (it runs thru July 31)
April 15 (Friday) The Sam Black Church doc Leave Behind a Groove in the Earth has its world premier at The Brattle tonight, doors at 9:15PM. (Tickets)
April 16 (Saturday) 11AM- 6PM Store 54 Store wide Clearance Sale!!! Bid a fond adieu to the lovely place today! Check out the FB page
April 16 (Saturday) 2nd Annual Pop-Up Record Shop is being held at Brighton Music Hall: "Presented by PBR and Tito's Handmade Vodka and with special support from Small Town Brewery, the Pop-Up Record Shop was started by Do617 to highlight independent New England record labels who deal primarily in vinyl. With many of the larger record stores around Boston focusing on larger exclusive releases this time of year, local record labels tend to get shut out of the process. We have invited some of New England's best labels, small record stores, and vinyl distributors to display their wares in the center of one of Boston's creative hubs. THIS EVENT IS FREE WITH YOUR RSVP!" RSVP here It's 10AM - 2PM all ages!
April 15 & 16 (Fri & Sat) Rock'n'Roll Rumble Semi's at Once
April 17 (Sunday) The Freeze, The F.U.s, Silver Screams, Destroi!, Profit Margin are at Koto in Salem. (Here's the FB page)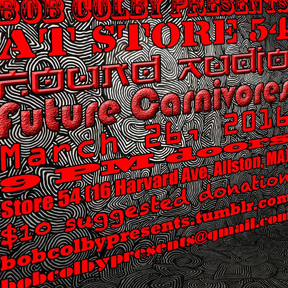 April 22 (Friday) Rock'n'Roll Rumble Final Show at Once
April 23 (Saturday) The Real Kids with Stop Calling Me Frank and The Knock Ups at the Midway
April 24 (Sunday) There's the "Generic Punk Show" at the Spotlight Tavern in Beverly with Fishhead, Rockin' Bob Punk Band, Barroom Heroes, Sliver Screams, Mongorellis, Screw Cart, Profit Margins and The Off Whites. This is an afternoon s and all ages show- it starts at 3PM
April 28 (Thursday) The Abbey Lounge Reunion!! at Sally O'Brien's Night 1 -Red Zone Cuba 7:40, Classic Ruins 8:20, Triple Thick 9:00, The Charms 9:40, The Decals 10:20, Heavy Stud 11:00, The Drags (NobleRot) 11:40, and The Rudds 12:20 (FB page)
April 29 (Friday) The Abbey Lounge Reunion!! at Sally O'Brien's Night 2- Frigate 7:00, Jay Allen & Archcriminals 7:40, Malibu Lou 8:20, The Dirty Truckers 9:00, The Swinedells 9:40, The Acrobrats 10:20, Spitzz 11:00, The Tampoffs 11:40 and The Konks 12:20
April 30 (Saturday) The Abbey Lounge Reunion!! at Sally O'Brien's Night 3 - Schnockered 7:40, Asa Brebner 8:20, The Downbeat 5 9:00, Red Chord 9:40, Jordan Valentine 10:20, Coffin Lids 11:00, The Dents 11:40, Sugabomb 12:20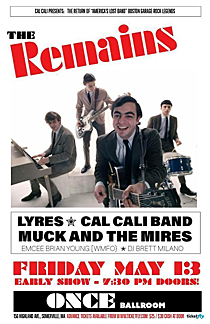 April 30 (Saturday) Michael Graves, Diablogato, 138, The Martians and You Scoundrel are at Once
April 30 (Saturday) The Upper Crust and Haley Thompson King are at Store 54
May 7 (Saturday) A Crash Course For The Ravers featuring The Cal Cali Band! That's WMFO 95.1 FM 1-4PM
May 7 (Saturday) At the Midway - both Day & Night Shows= ALL DAY!! Easy Ed's Variety Hour 10th Anniversary Party!!! starring The Cranktones, Johnny Carlevale and His Band of All Stars (Special Reunion Show), The Barley Hoppers, The Bop Thrills, Easy Ed's Record Hop and guest DJs and much much more!!!
May 13 (Friday) Barry & the Remains, Lyres, Cal Cali Band and Muck & the Mires are at ONCE Ballroom -This show STARTS at 8PM The Remains are on at 9:30.
May 14 (Saturday) We loved him...he was unforgettable so the show goes on...Joe Coughlin Memorial- Johnny & The Jumper Cables and Classic Ruins more to come
May 21 (Saturday) A Celebration of Life of Keith Brooks (friend and hardcore music lover) will be at The Midway - on the bill: The Struggle, Honest John, Words Of Truth, CHEECH, Straphangers, and DOT RATS -This show runs from 4PM to Midnight.
June 11 (Saturday) The Upper Crust, Thee Fabulous Itchies, The Hi-End and Shiny Beasts are at The Midway - there's a lot going on this night- check out the FB page.
CONTACT US AT....misslynbgn@yahoo.com - Send us your gig listings, your news and anything else ya got!!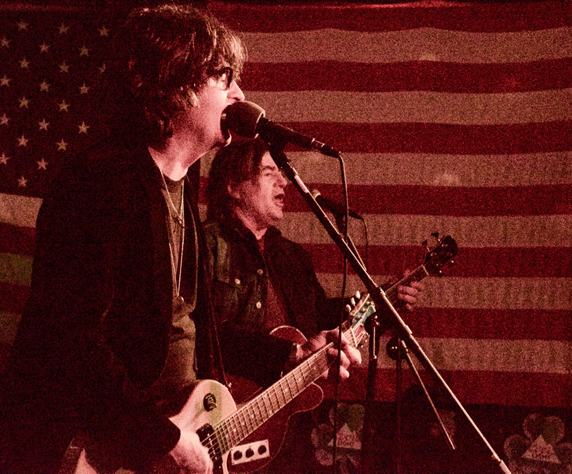 Greg Allen's Fringe Religion
Photo: John Keegan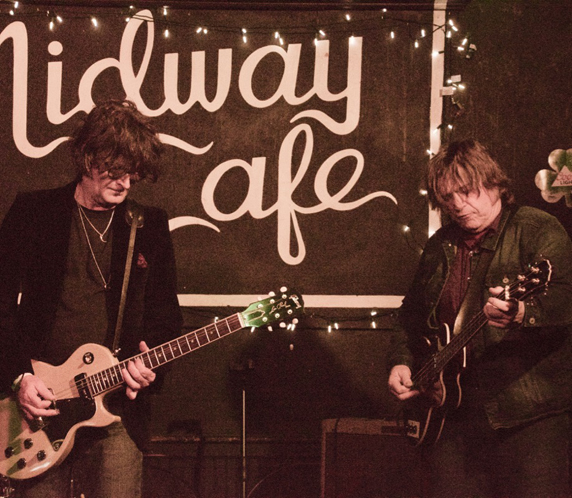 Greg Allen's Fringe Religion
Photo: John Keegan
Answerman
Photo: Blowfish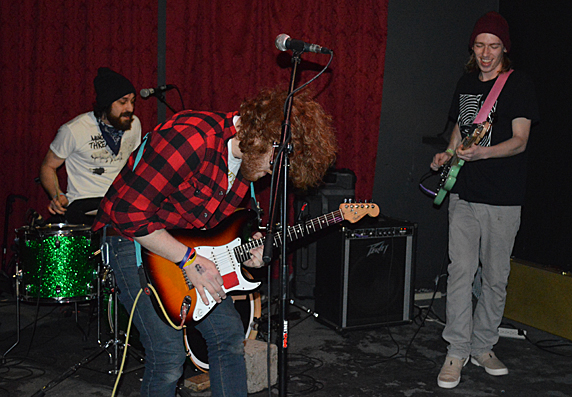 Todayi Junior
Photo: Blowfish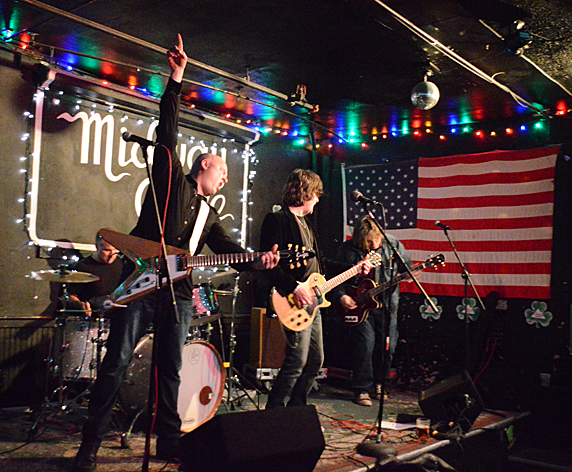 Greg Allen's Fringe Religion
Photo: Blowfish