The BGN News Archive
June 7, 2021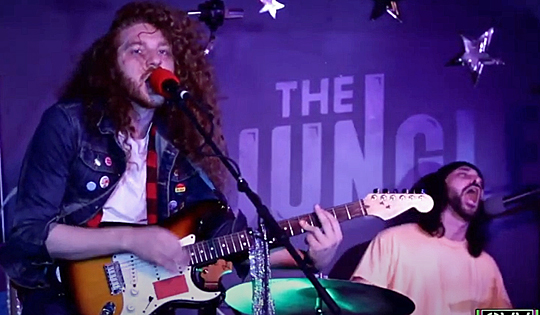 Today Junior

JJ Gonson of Once is relentless ... and that's awesome!!! Her answer to the pandemic was to be active in exploring any outlet possible. Even as the economics of the shutdown caused her to lose the physical Once Ballroom, she just went into the 'what's-the-next-step mode'. The Once Virtual Venue was the most active and inventive of all the live streams. Now, with things re-emerging Once comes out with the news that a new physical Once site will be announced in June and be active in July. Here's the press release.
If the club is going to be active in July that means it must be set up as a club now .... Let the guessing begin. Could they walk back to the old location?
Keeping the focus on Once… they did a live stream from The Jungle this week with Today Junior, a group we've paid much attention to.
Opening was Dutch Tulips, we've talked about their song "Sick Middle" before and we liked their album Double Vision on Bandcamp The benefit of seeing a band live, even virtually in this case, proves the value of that because we got a better understanding of the group.
One the first things we noticed is that they don't play fast, they get a mid-tempo grove going and dig down on that. The chords sit on the grove too as the focus goes to the vocals. They have a lot of colorful back up singing that adds to the sound significantly.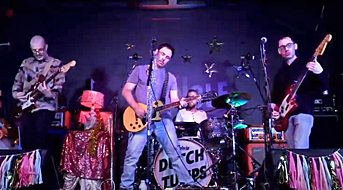 Dutch Tulips

You can hear the words most of the time which is good because they have interesting lyrics. One song especially had a Velvet Underground "Sweet Jane" feel to it.

For the second time, the first being Paper Tigers, we have come to love a new band via the live stream. Some people say they aren't fans of the live streams. Yeah, they do have limitations but you can get a lot from a quality live stream. This stream had an excellent sound mix. It had a loud group sound but you could hear the individual instruments including the bass (which can be problematic).

It was different seeing Today Junior through the computer because their live sound is so enveloping that it can't be recreated through computer speakers but it did give us another perspective. We loved seeing guitarist Harry doing all that chording while we tried to figure it out exactly what he is doing.

Today Junior weren't playing that much in the year before the pandemic. We're hoping that this live stream is an indication that they'll be around more this year. They did announce that they had a new album ready to go before the pandemic but held it back and played a few songs from that. One song "Summer Heat" will be released on June 25 on Spotify.
| | |
| --- | --- |
| Midway Livestream | The Grommets |
The Grommits and Trusty Sidekick had a live stream at the Midway on Thursday.
Trusty Sidekick has Tony Kaczynski and it was nice seeing him on stage in a group context again. Tim Carey is the frontman and the band revolves around him. He's very animated when he sings. He makes it feel like there's a good story behind every song.
The Grommets are from the Midway neighborhood. They just go down the street to the gig. They sound so much like an early Boston punk group in the seventies that you almost have flashbacks.
They actually covered Wreckless Eric's "Whole Wide World" but changed it up a bit. There were a few punky tunes that were raw gold. They also wrote a song about Doyle's, which they mentioned is now a big hole a across the side street! Sad.
John Sox was the guest on the NYHC Chronicles podcast. He's talking a lot lately.
He said that the FUs will have some new songs coming out on vinyl only; the EP will be called Death Squad Nostalgia. People are inquiring about shows for the band and he's open to that. John said he's lost 35 pounds. He didn't like the photos he saw online and decided to do something about it.
A lot of territory is covered in this two hours interview. There were a lot of memories brought up: the first time the Misfits played in Boston on a bill with the FUs, the DOA show at Cantone's where Springa tore the ceiling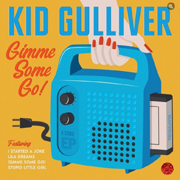 down, the controversy with a Maximum Rock'n'Roll interview, the explanation of the generic cover of the My America LP. They go over the transition to Straw Dogs and there are some cool photos from the Media Workshop in 1981.
Kid Gulliver will have a virtual video release show of their new EP on Friday June 18 from 2 to 2:30pm. The EP is sort of a hit before it comes out if we judge by the singles they've released …"Beauty School Dropout" and "Boy in a Bubble". We're looking forward to this!!
Facebook event page
We've been feeling like this lately….The Melvins doing "I Fuck Around". That's their negative take on The Beach Boys "I Get Around". This is off the Melvins' latest album Working With God. Click here for "I Fuck Around" on Youtube.
The Linda Lindas were on Jimmy Kimmel and received a lot of attention in the news feeds again. Everyone loves this group. We super hope this media spotlight is inspiring young people everywhere. There should be an uptick in punk bands at some point with this. 2021 - time for a punk resurgence!...again!! YEAH!!! Story about the Kimmel performance.
Dany Laj and the Looks are on Rum Bar and they play some glorious pop. We talk about their album below but here we draw your attention to their video for the song "You and Me". It has a tropical backdrop to the sunny tune.
The Reverb website has an article that mines the memories of producers Chris Thomas and Bill Price on the recording of Never Mind the Bollocks.
There's a video that has Price at the recording console talking about how things were done and illustrating by changing the faders. There were maybe 16 guitar parts on "Anarchy in the UK", he reveals. It's a lengthy piece and worth the read: Read it here.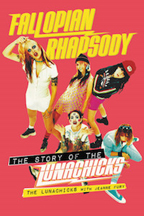 The book Fallopian Rhapsody: The Story of the Lunachicks is out now. There is an adapted excerpt from the book on the LitHub website. It's some wild tales of being on the NYC punk scene and how they used to hang out at the clubs and surrounding area. It's all unsavory fun.: "We were born weirdos, and New York offered no resistance to that. We thrived here. In hindsight, our New York was a fucking hellscape." Read more here! You can get ther book here!
New shows are being posted like crazy. The Psychedelic Furs had that wonderful show in Salem at the Catholic Center in 2012. Miss Lyn saw them at The Cabot Theater in Beverly in 2018 and now they are back at the Cabot on Friday June 4 Tickets: Click Here.
---
SHORT CUTS.......
O'Brien's announced they are now open as of June 5th!
Union Tavern has started having bands playing....hopefully some bands we know soon would be great!!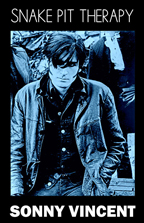 Sonny Vincent just released his first book Snake Pit Therapy, "a rough and tumble collection of memories, poetry, and fiction from Sonny Vincent, the legendary underground rock 'n' roller. ... Get ready. His writing debut is fast, raw, and wild." Sounds good...available at Far West Press for a mere $10 and from Amazon
111 Places in Boston That You Must Not Miss is a new book written by Heather Kaplow and others...Features interesting and unusual places not found in traditional travel guides.......they mention some cool places ...first place on the list is Hilken Mancini's 40 South Street Vintage, an Aerosmith apartment, The Boston Hassle Flea, The Lily Pad, Nuggets and a ton of other places too good to miss. Its available on Amazon and at Brookline Booksmith
Not enough cryptic intake this week in the Kenne Highland at Large column? Lucky you there's a little more in the Club Bohemia short interview with Kenne who is their 'Artist of the Month' – read it here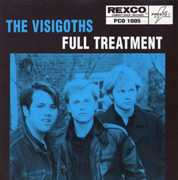 Another reminder that Presto Records is releasing new material every week. The last batch was of the Visigoths. The links to the music are here!
The Dig did a short interview with Juliana Hatfield on the occasion of her 19th album entitled Blood. For interview - click here.
Clay Fernald from the Middle East is now with Secret Boston Facebook page. They are an advertising entity that uses a large mailing list and social media presence to drive interaction with entertainment businesses. Dig magazine describes them as "Boston's only digital social zine". Clay knows how to work in the social media sphere, so it's a good match up. The story at the Secret Boston website.
RADIO...................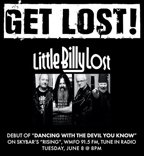 This week Skybar on his Rising show he will be playing the premier of the new song "The Devil You Know" by Little Billy Lost. That song is killer!! We assume he will also play the new song by Smitt E Smitty (who is also Little Billy Lost's drummer) titled "Tall Man Dreams". We think this song is where all of Smitty's signature moves all coalesce and he's got a video of it in addition.
Rising is on WMFO at 8pm on Tuesday. You can hear it streaming at WMFO here.
PODCASTS.......
Blowing Smoke with Twisted Rico had three guests this last week: Eric Martin and Phil Caruso of The Neats with Rick Harte. They're friends and the talk is friendly and freewheeling. It was one of the most enjoyable podcasts we have heard this whole year. All you Boston music fans should give this a listen. These guys were living the Boston punk life.
---
CDs/ MUSIC........
Dug McCormak has a single out; "Better Than Alright (I Like Love)" , in front of the release his album House of Watts on June 20.There's a bit of "Lust for Life" beat and characteristics echoed in the tune. We like it when the heavy distorted guitar kicks in halfway through. It's so down and dirty – it rules.
Nat Freedberg adds another in his Thursday line up of new songs for his forthcoming album. This one stops you short with the title alone – "Stuck Inside a Coffin With You". The song chunks along with slow country bends by Hansen. It's a macabre metaphor for a relationship gone real sour.
We saw Dany Laj and the Looks at O'Brien in May 2018. Even though we knew nothing about them it was obvious they had a history of some kind. They were pop via the 70's for the most part. Rum Bar mentions the Pezband in their description and that's the vibe we get. Laj however has a wide range of influences and that comes through too.
As you listen and the pop songs pile up one after another you realize this guy has the gift. He's like Joe Prozac, they just have the knack for pumping out the quality tunes. If you like this style of pop you will have many favorites on this album. We will be playing this over and over.
"You and Me" has the video we show above and it's a nice representative song. We have this on our Top Ten Songs.
We saw Ringtail in 2017 at O'Brien's. They were hard to peg. Their Bandcamp page has tags of both 'shoegaze' and 'stoner rock' as descriptions. We hear more of the shoegaze in their newly posted song "Drug Pudding". They remind us of some English 80's bands with the well done guitar tones.
Wrought Iron Hex isn't pop, they're the opposite of pop. It's blistering guitar work that marks "The Ode". They don't distort things to the point where you don't get the riffs. They got a red hot recording; this will melt your ears. We like a dose of this to wake us up.
Little Billy Lost are a group of veteran musicians with chops to spare. In "Dancing With the Devil You Know" they put the song first, like they always do. It sounds like they have a 12 string guitar adding to the mix. The recording is a solid Minehan/Wooly Mammoth job. This the first release leading up to an album. We have this on our Top Ten Songs.
---
Here's some good shows coming up (live stream and actually LIVE!! .....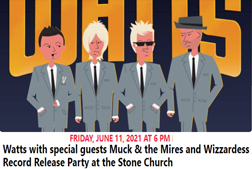 June 10 (Thursday) The Sheila Devine is at the Sinclair - Tickets
June 11 (Friday) Watts record release party. with guests Muck and the Mires and Wizzardess at the Stone Church in Newmarket, NH. Tix & more info here.
June 11 (Friday) Linnea's Garden and Home Despot are doing an outdoor show at The Jungle but it is sold out already, sorry!! But you can see Linnea at Dusk.....
June 12 (Saturday) Record Store day!!!
June 13 (Sunday) The Pond is Good Enough for you Mess-Around 2-5PM - Jerry Lehane will stream live from the pond in his backyard with a couple of sets out on the water as well. Special guests include: Eric Martin with Dave Fredette and, Peter O'Halloran and The Hired Men, A guest band featuring Jerry Lehane, Ed Reimer, and Tommy Long ..... And of course your hosts Justine and her Black Threads, Tom Baker and Jay Allen and his Archcriminals FB page!!
June 13 (Sunday) Phantom Ocean, Linnea's Garden, and Heather Rose In Clover at Dusk! Outdoors, 4PM!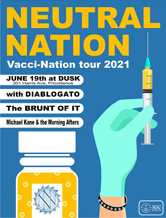 June 17 (Thursday)at the Midway it's M8 with Motel Black this is a LIVE show 40 people - Max. Masks and social distancing required
June 17 (Thursday) Color Killer at Union Common Marlborough Ma @ 7PM. outdoor show.
June 18 (Friday) Kid Gulliver "Gimme Some Go!" EP Release/Video Show - at Dusk in Provi, RI. ...this is an EARLY 2PM !!!! FB page.
June 18 (Friday) E w/ Omoo Omoo at Nova Arts in Keene, NH. FB page
June 19 (Saturday) The Jacklights and Double Star Live stream from The Midway Cafe FB page
June 19 (Saturday) Diablogato, Brunt of It, Neutral Nation and Michael Kane & TMAs at Dusk for an outside show - doors 6PM.
June 24 (Thursday) This should sell out fast – Tommy Stintson of the Replacements will be doing an outside house show in Mansfield, MA on June 24 with his current duo set up called Cowboys in the Campfire. Tickets at Eventbrite.
June 24 (Thursday) Adapter Adapter, Rawstrum,Waiver Wire at The Midway - a LIVE night time show! set times on FB page.
July 2-4 (Fri-Sun) It's the Northeast Comic Con is in Boxboro. They have some music lined up with NRBQ, Tsunami of Sound, The Fools and Barrence Whitfield. Not to forget Cowboy Mach Bell on his book tour. There's a LOT happening at this, for more details go to the NE Comic Con webpage page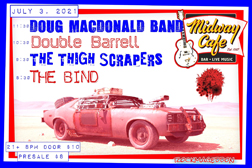 July 3 (Saturday) Doug MacDonald Band, Double Barrell, The Thigh Scrapers, The Bind at The Midway - this is a LIVE in person show!! 8-1AM. FB page
July 17 (Thursday) Thalia Zedek is celebrating the 20th anniversary of her first solo album Been Here and Gone by performing the entire album at the Midway. Also on the bill will be Richie Parsons and Eric Martin. 6:30 doors…The FB page
July 23 (Friday) At The Breakaway in Danvers Guns of Brighton as special guest in a Motley Crue tribute show.
August 6 (Friday) End of Summer All ages hardcore show with The Woods, Witchita Hangman, Half Mast, Mont Clair, Rocket Gods and Loser Birds,at the VFW post at 95 Essex St. Whitman, Ma - 6PM. FB page.
August 14 (Saturday) an evening with legendary rocker Robin Lane in support of her nonprofit Songbird Sings, which helps trauma survivors heal through songwriting and music. Performers include: Kid Gulliver, Justine and The Unclean, Nightspell,
The Jacklights ... and of course Robin Lane! FB page.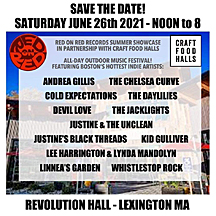 September 3 (Friday) Rebuilder, Choke Up and Old Soul at the Sinclair - Tickets
September 3 (Friday) The Zulus rescheduled show at The Paradise - doors 8PM, music 9PM. FB event page
September 11 (Saturday) Guided by Voices at the Sinclair. Tickets.
September 12 (Sunday) Mark your calenders! Frank Rowe's 70th Birthday Party featuring Classic Ruins and friends (more info soon) - at the Midway

September 16 (Thursday) Bob Mould is at the Paradise - Tickets here
September 19 (Sunday) It's the return of Tubefest -New England Surf/Instro Showcase! Lots of surf and instrumental bands for your enjoyment! Tubefest Facebook page. This will be an afternoon/early evening show
September 24, 25 and 26 The New England Shake Up is back. The rockabilly festival will happen this year in Framingham. The line-up of bands is way long. They also have a picnic record party 11AM-4PM on Saturday the 25th with Barrence Whitfield spinning vinyl. Get more details and ticket info on their website.
September 30 (Thursday) Nervous Eaters/Barrence Whitfield/Willie Loco and the Boom Boom Band/Carissa Johnson at the Paradise . Get Tickets Here!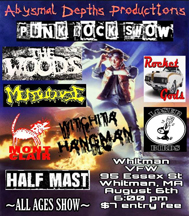 October 4 (Monday) Gary Neuman at the Paradise Tickets
October 14 (Thursday) Ministry at the House of Blues. Tickets
October 31 (Sunday) Dropkick Murphys At Hogan's Run again 7-11PM...best Tessie costume wins a free drinks bracelet for the night. FB page.
November 19 (Friday) Joan Jet & the Blackhearts will be at the Chevalier Theatre in Medford Square. Tickets.
November 27 (Saturday) Dinosaur Jr. at the House of Blues on Saturday Nov 27. Tix
March 13, 2022 (Tuesday) Reigning Sound at the Sinclair Tickets: https://www.axs.com/events/402182/reigning-sound-tickets
CONTACT US AT....misslynbgn@yahoo.com Send us your gig listings, your anything else ya got!! You want your CD reviewed?? Contact us for that too.
---