The BGN News Archive
July 1, 2013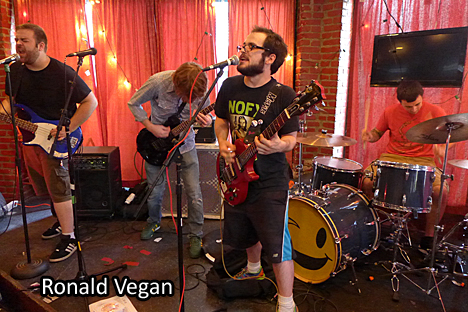 We missed a few shows we probably should have hit Friday and Saturday but then being rock deprived checked out some Sunday action. We saw a flyer late in the game for All Asia. It seemed like not only would they have a whole day of music (3 PM to 1AM) but endless pancakes too. Yes, endless pancakes.........sorry, I drifted off.
All Asia has had a move in the offing for a while. They are going to end up on Prospect St. They will still have bands. Their booking has been wide ranging. They have been good for new bands. We have seen Third Rail, The Pat Leonard Memorial Show , and the John Nikolai's notorious photo show. They even took on Kilslug. All the while you might see the owner walking around offering a taste of their dumplings, that's unique.
The décor always seemed sort of newish to me but on this day I could see that time has taken a toll with torn seats and much graffiti and stickers on everything. They had a nice leak going on in the middle of the floor. Maybe an AC problem. They did have free pancakes up the wazoo along with packs of Chili flavored Wheat Thins and samples of Scope mouth wash, which you would need after the Chili Thins.

I didn't know but on Sundays they have a group called the Shop Productions putting on gigs comprised of bands that otherwise do basement shows. Now I know. I don't see any contact info for them outside of Facebook.
As we look around we see the pancake eating crowd today is a younger bunch.
We caught Quip who were not our cup of tea, then Ronald Vegan who were a better brew. They could play pretty good and seemed to have a wide range of influences but they didn't gel live, at least to me. They sound better to very good on their recordings ... Ronald Vegan on SoundCloud.
We called it quits there. This was our second week of midday gigs. Not the worst thing.
OK so here's some stuff coming up that you might like ....we're into July...
Friday at Radio UP: Greg Allen's Fringe Religion at10pm, The Idlers 12a, Strange Avenues 9pm, Pieces 11pm.
This coming weekend: Awesome Day Festival at O'Briens with Cult 45 and The Humanoids on the 6th....
Bob Colby's Second Thursday on 7/11 at Club Bohemia at the Cantab has Viva Gina, When Particles Collide and a couple of other bands...
Fleshtones at Church on Friday the 12th with Special Guests The Split Squad (feat. Members of The Fleshtones, The Plimsouls, & The Baseball Project) and Shepherdess....
and The Beachcombovers are having a CD Release Party this same night at Sally O'Brien's in Union Square Somerville! Tsunami of Sound is also on the bill...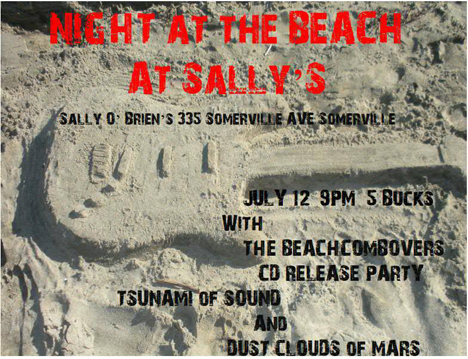 And the Sour Do Dah's are at Radio Down...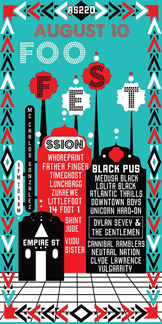 The Neighborhoods are at The Ocean Mist in Mantunuck, RI on the 13th
Terry Brenner has things rollin' up on the North Shore with The Beachcombovers (with belly dancers!!) at Seaport Cafe in Salem - Saturday July 13th
Petty Morals on the 19th at Great Scott
July 19th is a good night at Radio too! Downstairs are Vapid Dissent, the McGunks and Chris Brat's new band Duck and Cover!!...Upstairs is Cult 45 ......
Jenny Dee and the Deelinquents and Corolla DeVille at Spotlight Tavern in Beverly - Saturday, July 20th
Duck and Cover plays again on July 29th at O Brien's with the Pity Whores!
The Late Risers Club had a wild night with fantastic music last year for their 35th Anniversary. Now for their 36th year they are going to have night at the Middlesex Lounge on Wednesday July 31 at 8PM. Free beer called LEFT OF THE DIAL by Notch Beer. They will have LRC DJ's spinning (try to stop them) and some rock and roll trivia.
Sonny Vincent is coming back to town!!! He's at Radio (downstairs) on Wednesday July 31st!! and he's sharing the bill with The Classic Ruins- awesome! In August there's Moose and the Mudbugs at Seaport Cafe in Salem - on the 3rd
Friday August 30th The Queers are at Church (with The Dwarves )
Pere Ubu is at Brighton Music Hall Saturday, September 4th!!!
A follow up to our GG Allin Remembrance show last weekend we were sent this photo below. Was there a conversation there between GG and Joe?
EMAIL US AT.......misslynbgn -AT- yahoo.com