The BGN News Archive
July 5, 2021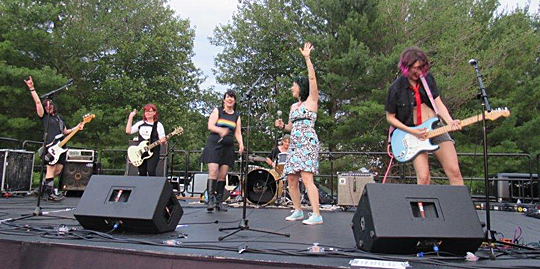 The Red on Red Records Summer Showcase
This week we have a couple of great features for you to check out!
The Red on Red Records Summer Showcase at the Craft Food Halls, Lexington, MA ....with photos and words by none other than Eric Law!
"As live music (indoors and outdoors) begins to ramp up again I had been anxiously awaiting Red On Red Records Summer Showcase. Held in partnership with Craft Food Halls in Lexington, MA, in the parking lot of Revolution Hall, this all-day outdoor music festival featured 10 of Boston's hottest bands, including seasoned veterans and a couple of debuts.
Red On Red Records is the label set up and run by Justine Covault. The roster of bands she's quickly assembled is nothing short of amazing! She said there were 200 tickets sold in advance. People were coming and going all day, so it was hard to say how many walk-ups there were but there were never more than 150 there at any time. What we got was a solid 8 hours of rockin' good times."
To read the whole report and see all the photos - click the photo link below.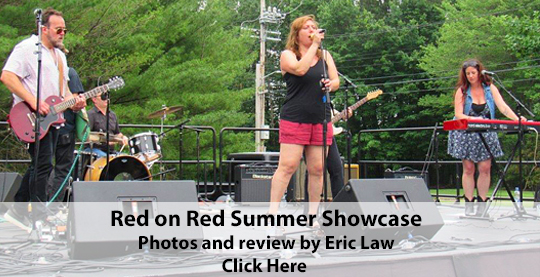 And John Keegan played ...and wrote about ...and photographed ... the Henry M III Beach Bash in Wellfleet AND the Al Janik and the Plastyczny Ser Orkestra Polka Party in Salem, MA (you just can't keep a good man down and John is OUT there everywhere!!)
Check out his slide show above and that and the whole write can be seen by clicking the photo link below.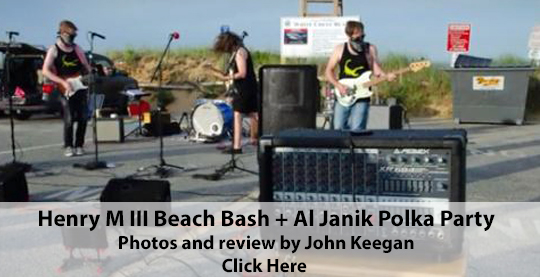 And..... we now have our BGN Gig Listings on its very own page (Thank you Tracy White Wendland) which is here. It's also still below the news so you can still scroll down if you want to!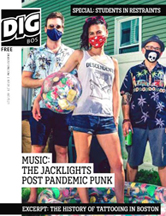 The Jacklights make the cover of Dig Magazine with an interview inside. Congrats!! Read it here.
The Dents were profiled by Jim Sullivan on the WBUR website. Jen and Michelle come across as very realistic and practical, good qualities to have these days. They've persisted through the years and now will headline the Rum Bar Boynton Yards Once venue as an album release party.
Tickets for the show at Eventbrite.
The WBUR article is here.
Gene Dante has a new single coming out: "She's Outside" it's "sung from the perspective of someone on the verge of being seduced -- possibly overcome -- by a bemusing force," Dante says." The Publisist website whips up excitement for the song…we think Gene would like that expression. Stay tuned for his album out in the fall DL/UX. Article in the Publisist website
SHORT CUTS.......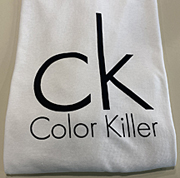 Color Killer has a new t-shirt on their Bandcamp merch page. The design looks like a Calvin Klein script... you know...they have the same initials. Funny. And its only $10!! Their Merch page
Zip-Tie Handcuff are back in action. They will be playing the Once Boynton Yards venue on August 7, Saturday with Boston Cream, Nice Guys and Rick Rude.
Then they open for the Meatbodies for four gigs on the east coast in September in NYC, Baltimore, Cleveland and Fort Wayne, IN. Zip-Tie Handcuff Facebook page
Brian Coleman over at Buy Me, Boston has a series of Greeting Cards with images of local ticket stubs on them. They're $21.98 for ten cards. To purchase go GoodRoadGoods.
VIDEOS...........
A few weeks ago the Bands, Beer and Banter video show ran the video "50's Love Song" by Evil Felipe . This week Evil Felipe released a new song and video of "Figuring It Out". The music is another appealing indie sounding gem. It has a comfortable groove and it leads you to a snappy chorus. The lyrics are a confessional that should speak for a lot of young people. We think it's very important in that way. The guitarist scores again with a warbled cutting tone during the solo.
If you have to use a backdrop for the video during the pandemic why not use it by interacting with it. In the video the band does their own coloring job on it. Evil Felipe formed in 2016 and are from Central Mass. They come across as intelligent, talented and fun loving. What's not to like here?
---
RADIO.......
We heard the song "Driving Me Insane" by Nasty Rumors from Switzerland on Ron Spangler's Late Risers Show last Monday. We die for catchy punk like this. We put it on top of our Top Ten Songs.
Another good one was "Communication Breakdown" by the Real Sickies from Edmonton, CA.

Joanie Lindstrom had a set by fellow DJ Olga in tribute to Mateo Williams the Late Risers Club DJ that died last week. She later did a set for Mateo of her own. On Friday DJ Mook on the LRC did a whole show of music that Mateo played on his show.
Lately there has been a few deaths of very young people, like Mateo, on the scene and it's shaken people more than usual.
To hear the LRC shows go to the WMBR archive page and hit up the Thursday or Friday LRC show. The Late Risers Club also have a remembrance on their blog.
CD'S.........
We liked the New York group New Math back in the early 80's. They were in between new wave, punk and pop. Problem was they only had two EPs released. They've just posted the rest of their recorded material on Bandcamp!! Even then it's only nine songs. Everything sounds smart and snappy.
"Johnny's on Top" has a little of Jim Carrol's "People Who Have Died" in it.
We had to go at the Dug McCormack album Several Nudes again because, hey, it's 39 cuts long. This time we're just going to concentrate on the songs under two minutes long.
That takes us to cut one right off the bat. "The Loneliness of Anger" starts with a slow tempo and a piano/synth combo. Dug gets a good big piano sound throughout this album. The song has a delicate calmness to it…until the 1:10 mark where it sounds like he takes a chain saw to the recording. Maybe the early part is the Loneliness and the end part is the Anger.
"Juicing" has a soundtrack feel to it as do other cuts but the skipping drumbeat keeps your ear awake and tuned in.
"Always the Best" is a punk song that urges you that it's"Always the Best to Be Your Best".
Back in the early 80's the airwaves were freer and you could play songs with obscenities. Then they would have loved the tune "Bucky's Adventure (expletive)". It's very funny because it is obscene. It joins a long list of songs with short sound clips that have a tradition in punk.
"NewPukeBrush" has that big piano sound Dug gets. There's a high vocal or synth line in the background that makes an interesting combo.
"NIGHT LUNCH" again has the piano/synth sound but this time there sounds like a heard of animals tromping through the back. Sounds like it's odd but that's what makes these tracks so intriguing.
That's a few of the less-than-a-minute songs in an attempt to get a handle on this large album.
The early NYC group The Mumps only had two singles to represent them. Now that has changed. Omnivore Recordings has released an album full of recorded material. It's 14 tracks and available in both CD and vinyl. Here ya go.
---
Here's some good shows coming up .....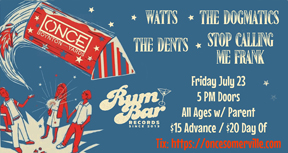 July 10 (Saturday) The Only Things, The Instamatics, Go No Go, Kermits Finger at The Midway for a 3PM matinee show.
July 17 (Sunday) Thalia Zedek is celebrating the 20th anniversary of her first solo album Been Here and Gone by performing the entire album at the Midway. Also on the bill will be Richie Parsons and Eric Martin. 6:30 doors…The FB page
July 17 (Sunday) DYR FASER, Margaret Garrett, New Aura at Once @ Boynton Yards - music at 7PM
July 18 (Saturday) WHOA "mega-show" is right!!! In Provi, at the Scurvy Dog: Droplets, Midnight Creeps, Diablogato, Killer Kin, Pony Boy, 123 Astronaut, The David Tessier All-Star Stars (A.S.S.), Gamma Rage, Jodie Treloar Sampson and Steve Demers, Death Pesos, IonEye....FREE and music STARTS at 2PM with IonEye! FB page.
July 23 (Friday) A Rum Bar Records Summer Showcase with Watts, The Dogmatics, The Dents, Stop Calling Me Frank at Once at Boynton Yards. Doors at 5 music at 6. ALL Ages (with parent)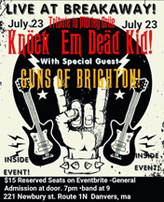 July 23 (Friday) At The Breakaway in Danvers Guns of Brighton as special guest in a Motley Crue tribute show.
July 25 (Sunday) Neighborhood Shit, Reason to Fight, Cannibus Crypt, DNZL, Inserrector at The Midway starts at 3PM
July 26 (Monday) Disco Volante, Grasshopper Green, Speedfossil, Will DePiano at The Jungle 7PM
July 30 (Friday) Muck and the Mires, The Hi-End, Modern Day Idols - the First rock and roll show BACK at The Square Root Roslindale!!!
July 30 (Friday) Motel Black, Gene Dante & TFS, M8, The Jacklights are at Ralph's Rock Diner
July 31 (Saturday) Walter Sickert & the Army of Broken Toys (Matinee) 1:00 pm - 4:00 pm - ONCE Somerville @ Boynton Yards.
July 31 (Saturday) Walter Sickert & the Army of Broken Toys - 6:30 pm - 11:59 - ONCE Somerville @ Boynton Yards.
July 31 (Saturday) The Savtones Return with special guest Marco Giovinno on Drums at The Porch in Medford. FB page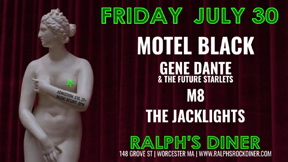 August 5 (Thursday) No Small Children, Thrust Club, Bad Larrys, Tiffy - ONCE Somerville @ Boynton Yards - a 6PM show. FB page
August 6 (Friday) The Furniture, Today Junior, Children of the Flaming Wheel + special guests Garden Party at O'Brien's
August 6 (Friday) End of Summer All ages hardcore show with The Woods, Witchita Hangman, Half Mast, Mont Clair, Rocket Gods and Loser Birds,at the VFW post at 95 Essex St. Whitman, Ma - 6PM. FB page.
August 7 (Saturday) Nice Guys, Zip-Tie Handcuffs, Boston Cream, Rick Rude at Once @ Boynton Yards a 6:30PM show.
August 13 (Friday) Liz Borden (w/Stormtress), Gene Dante & The Future Starlets, Little Billy Lost at Once at Boynton Yards. 6PM Doors, Music at 7PM Tix etc here.
August 14 (Saturday) The Winter Project, A Bunch of Jerks, HIXX, Screwcart at The Jungle, 7:30 doors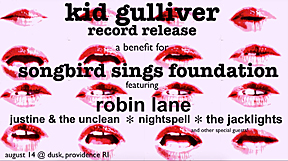 August 14 (Saturday) an evening with legendary rocker Robin Lane in support of her nonprofit Songbird Sings, which helps trauma survivors heal through songwriting and music. Performers include: Kid Gulliver, Justine and The Unclean, Nightspell,
The Jacklights ... and of course Robin Lane! FB page.
August 14 (Saturday) Sidewalk Driver, Freezepop, Worshipper at the Sinclair FB page
August 14 (Saturday) The Mal Thursday Quintet with special guests Tiger Bomb at Sun Tiki Studios Portland, ME FB page.
August 19 (Thursday) Kenne Highland's Air Force is at The Jungle.
August 20 (Friday) Bonecrusher, The Welch Boys, Riotgun at The Midway - doors are at 10PM.
August 21 (Saturday) Mad Painter, Penny Outlaw, Shotgun Waltz, Glowbox at The Midway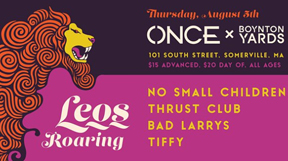 August 29 (Sunday) Johnnie G & The Royalty, Camelopard, The Stigmatics, Vanishing Point at The Midway MATINEE show.
September 3 (Friday) Rebuilder, Choke Up and Old Soul at the Sinclair - Tickets
September 3 (Friday) The Zulus rescheduled show at The Paradise - doors 8PM, music 9PM. FB event page
September 4 (Saturday) Actor|Observer, Girih, Dreamwell at O'Brien's
September 10 (Friday) The DollyRots at the Middle East Up.
September 11 (Saturday) Rock and Roll Yard Sale, Union Square, Somerville
September 11 (Saturday) Guided by Voices at the Sinclair. Tickets.
September 12 (Sunday) Mark your calendars! Frank Rowe's 70th Birthday Party featuring Classic Ruins, Unnatural Axe, and friends (more info soon) - at the Midway

September 16 (Thursday) Bob Mould is at the Paradise - Tickets here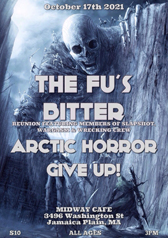 September 17 (Friday) The Dents, Duck and Cover, Fullmoon Vagrants, Deprogrammer Cult at The Jungle
September 18 (Saturday) Martin, Morell, Fredette are having a residency at The Midway. These are early shows - 3-7PM
September 19 (Sunday) It's the return of Tubefest -New England Surf/Instro Showcase! Lots of surf and instrumental bands for your enjoyment! Tubefest Facebook page. This will be an afternoon/early evening show
September 24, 25 and 26 The New England Shake Up is back. The rockabilly festival will happen this year in Framingham. The line-up of bands is way long. They also have a picnic record party 11AM-4PM on Saturday the 25th with Barrence Whitfield spinning vinyl. Get more details and ticket info on their website.
September 30 (Thursday) Nervous Eaters/Barrence Whitfield/Willie Loco and the Boom Boom Band/Carissa Johnson at the Paradise . Get Tickets Here!
October 4 (Monday) Gary Neuman at the Paradise Tickets
October 14 (Thursday) Ministry at the House of Blues. Tickets
October 18 (Sunday) Martin, Morell, Fredette are having a residency at The Midway - 3-7PM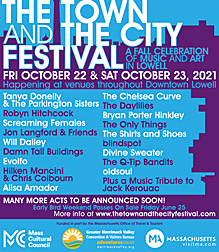 October 22 & 23 (Friday & Saturday) The Town & The City Festival, Lowell. Music by: Tanya Donelly & The Parkington Sisters, Robyn Hitchcock, Screaming Females, Jon Langford & Friends, Will Dailey, Damn Tall Buildings, Evolfo, Hilken Mancini & Chris Colbourn, Alisa Amador, The Chelsea Curve, The Daylilies, The Shirts and Shoes, Daisybones, blindspot, Divine Sweater, The Q-Tip Bandits, The Only Things, oldsoul, and Brian Porter Hinkley. Website for tix & info ... FB Event page.
October 31 (Sunday) Dropkick Murphys At Hogan's Run again 7-11PM...best Tessie costume wins a free drinks bracelet for the night. FB page.
November 11 (Friday) Hardcore Stadium and Grayskull Booking Presents: Slapshot - Celebrating 35 Years of Hardcore Day 1- Stars & Stripes, Noi!se, COA, Patriot, Violent Way at Sonia - (already sold out!!)
November 12 (Saturday) Hardcore Stadium and Grayskull Booking Presents: Slapshot - Celebrating 35 Years of Hardcore Day 2 -Slapshot, Sheer Terror, Death Before Dishonor, Pummel, Count Time - at The Middle East Down. (already sold out!!)
November 19 (Friday) Joan Jet & the Blackhearts will be at the Chevalier Theatre in Medford Square. Tickets.
November 27 (Saturday) Dinosaur Jr. at the House of Blues on Saturday Nov 27. Tix
March 13, 2022 (Tuesday) Reigning Sound at the Sinclair Tickets: https://www.axs.com/events/402182/reigning-sound-tickets
CONTACT US AT....misslynbgn@yahoo.com Send us your gig listings, your anything else ya got!! You want your CD reviewed?? Contact us for that too.
---