The BGN News Archive
July 25,2016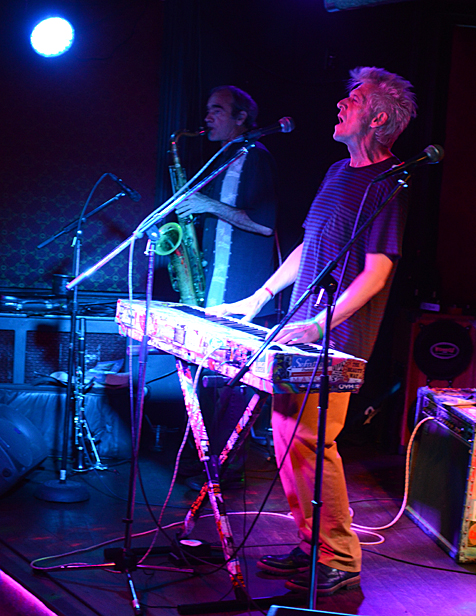 Willie Loco
Photo: Blowfish
I was a little reticent to go out Friday with the temperature being 97 degrees. What would the Cantab be like on a day like that? After a round of thunderstorms I headed out. To my delight the Cantab was cool with the AC. That allowed me hear the Rockin' Bob Punk Band/Psycho/Screwcart/4 Sids show in comfort. I missed the openers the 4 Sids self-described as 'just a bunch of cool dudes'.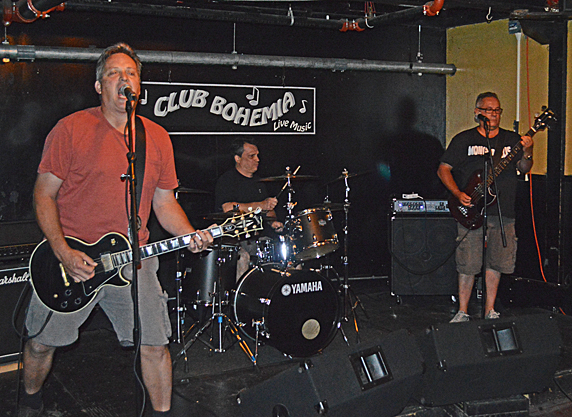 Rockin Bob Punk Band
Photo: Blowfish
I knew what to expect with Rockin' Bob Punk Band. We last saw them in the waning days of the Beachcomber. Bob Cenci gets a classic tone with his Les Paul through a Marshall with a Hiwatt head. The bass and drummer are solid. Then it's a matter of songs and Bob got the goods there. Never Trust a Terrorist I remembered from last time. He dedicated one song to his friends called Hey Scum Bag. That one was funny and memorable. The best might have been I'm Offended, one of his newer songs. It's a hit on all the thin skinned people in social media it seemed. It did mention Facebook. When the group hits a catchy refrain they sit on it and that works big for me. Even just a couple of these songs made the trip out on a hot night worth it.
The set list: Gun Mounted Drone, I Bleed, Gotta Minute, Hey Scum Bag, Comfort Zone, Chained/Unchained, Offended, Terrorist, Almost Gone, Lost (Jerry's Kids song).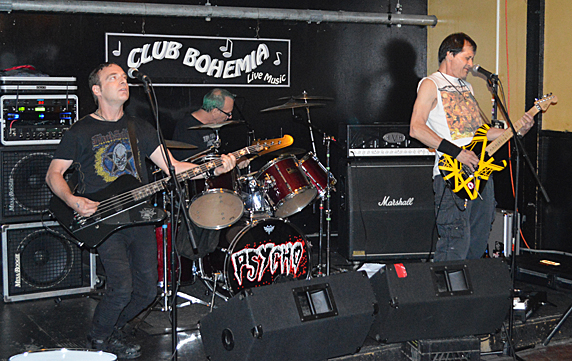 Psycho
Photo: Blowfish
Psycho! They are still going. They give the best synopsis of their situation on their Facebook page:
"PSYCHO has been around since 1981 !!! started as a punk band and just kept getting more and more extreme !!! Now we play vicious speed thrash grind !!"
I would say that is all true. They did a mix of those music styles while keeping up some sarcastic asides all the way through the show. Like this, "If you don't like us the door is over there and you can suck me off on your way out." They talked among themselves between the songs too like there was nobody listening. Weird, but that's all part of what this group has always been. They want to be an irritant to anything conventional and they are.
The guitarist had an axe that looked like a Van Halen design. He had all the metal riffs and squealing feedback in control. The bass player was notable. He also sang a few songs throat style. You can hear that in the clip below and also check out how fast, busy and all over the drum set the drummer is. They did one song that was 20 second long. I like that and wish there was more of that being done by groups out there. They had two more gigs before the weekend would be over.
Psycho lives.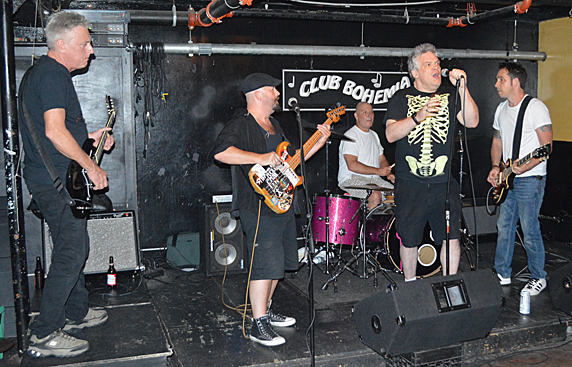 Screwcart
Photo: Blowfish
The main band I wanted to see was Screwcart. This is the newish band by local character Rico Petroleum from Killslug. They posted a song called Cheese Wheel that was dark and a little odd as they got overheated about a 'cheese wheel, motherfucker". That song is a good idea of what they do. The rhythm section keeps things loose and the guitars swirl around with a wha wha tone or dig in with sharp jabs. It's not any genre I can peg.

Screwcart
Photo: Bob Cenci
The bass player was excellent and that made three very good bass players in a row for the night. The lyrics like Cheese Wheel can seem trite but they never come over that way because Mark Kennedy delivers them with menace. Indeed, Mark is the ace in the hole here. He has a presence about him on stage that comes out ultra-strong when he sings or even talks through a verse. The first song they did called maybe Screwcart Counts judging by the chorus was just Mark riffing over a jam talking about coming to the club and who was playing on the bill but then he punctuated with the threatening demand that "Screwcart counts". It was like a negative version of the Sgt. Pepper's intro.
They got loser as they went along and seem to run out of songs as Mark jokingly complained that the other guys said, "Oh no, WE don't need a song list." In the end Rico bailed when his guitar went out of tune?! The rest of the band ended with a Johnny B Goode style progression where Mark gave some power yells to end it all.
There weren't a lot of people there but I had a good time.
| | | |
| --- | --- | --- |
| Rockin Bob | Psycho | Screwcart |
Saturday had one of those bills at the Spotlight in Beverly that makes you want to move to the North Shore. It was Willie Loco, Nervous Eaters and Real Kids. That sounds like a dream bill from 1978. I actually looked for that bill in our GIG LISTINGS from the seventies. The Real Kids played with the Nervous Eaters many times but the only time I see the Real Kids/Eaters/Loco combo was at the Marc Thor Benefit on September 11, 1977.
I got to the gig with the help of Steve and Griffin O'Donoghue. That made the whole operation very easy. Willie Loco was on as we walked in. Willie was in a trio format with Mark Chenevert on wind instruments And Jim Doherty on drums.

Willie Loco
Photo: Blowfish
The last time Willie played in Boston was for the Pipeline 25th Anniversary show at the Paradise in 2014 and before that as part of the TT's The Bears 40th Anniversary shows in 2013. Two more gigs in 2016 were March at the Lizard Lounge and a July appearance at the Lily Pad.
Seeing Willie play brought home how much the Boston centric fans are missing. Willie was the heart and soul of the Boston punk scene during it's creation and growth. No one else come close to being responsible for the energy and enthusiasm the scene generated. The early Willie Loco and the Boom Boom shows were where the group of people who became the scene first came together. For a few years those shows basically were the scene. Willie is responsible for the Boston Groupie News by urging Miss Lyn to take it on.
All these thoughts came flooding in as Willie played some of his songs that are in our DNA by this point; Dirty Eddie, Hit Her With the Axe, Looking Like a Bimbo, and Radio Heart. He also did Shopping Cart Louie and then the more jazzy, beatnik style material that are suffused with his creativity. He comes across as still vital and in the moment while being able to still bring home the old material.
I know all the North Shore people know this but I had to be reminded. It got me all nostalgic and gave me a pang of loss in how much we have missed having Willie in our midst in Boston.
The Spotlight reminds me of TT the Bears a bit in it's two room set up and size. The club was full. There were a few faces from Boston but it was mostly a North Shore audience headed by the main man himself: Terry Brenner. People were up and dancing through the whole thing. Much more than a comparable Boston group.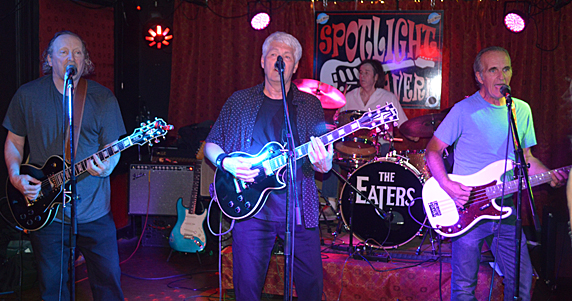 Nervous Eaters
Photo: Blowfish
The last Nervous Eaters gig at the Midway was a trio because Rob Skeen was ill. Rob was back in the lineup and the scene was set for the Eaters to do their thing. I think they get competitive and in a bill like this they bring on their top game. They began with two songs I believe were new. I wanted to rewind them and hear them again because they were worthy new additions. The first song especially had a few twists and turns. It wasn't a simple progression. Steve has thrown in songs like this at every gig. They must have enough for a new CD by now.
One thing was evident even with the new material , they were playing in top form. The whole group was pulsating in unison. It was generated from David McLean on drums and Rob's bass. If you back to some of those old Eaters videos you can hear Rob playing that steady heartbeat back then. It's not just the notes but how he plays them; simple but in the pocket.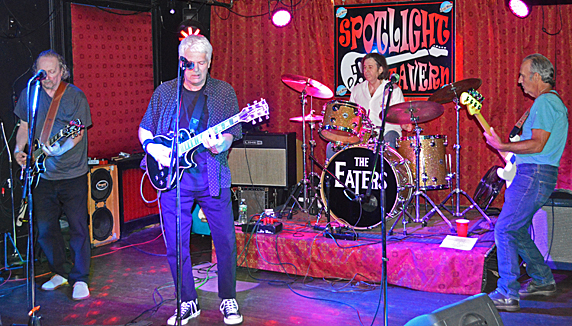 Nervous Eaters
Photo: Blowfish
So when they got to the favorites the crowd was primed and reacted with dancing as they played On the Avenue, I'm a Degenerate, Shit for Brains and Last Chance. Then it was 528 their latter song about the Rat. That one always gets me misty as they sing about some of the people now gone. That and seeing Willie had me in a mood and when they played Girl Next Door I was completely enthralled by the set. I talked to Eric Law later and Griffin who both thought that Girl Next Door was special too. People often talk about the sleazy I'm a Degenerate side of the Eaters but there's so much emotion and humanity in the songs also. It's a combo that makes the group and songs resonate. Then they play the song that never ever fails - Loretta. It makes everyone feel like "number one" and left the crowd with a high as they wait for the Real Kids.

Real Kids
Photo: Blowfish
We have been pleased seeing he posts from Europe as the Real Kids finally did their tour over there. Those poor European bastards have had to wait 33 years to see and hear the Real Kids between tours. It looked like they went crazy at the shows. It was even an eye opener to have the Real Kids book a show so close to coming home. No need to rest evidently and there sure was no fatigue at this show. The group looked and played better than ever. We have seen them a lot these last few years and can vouch that the European Tour and the California festival got them tighter than ever. John looked particularly healthy. Even after the show he had tons of energy left.
They did a familiar set. Starting with Better Be Good, that song just gets better and better as the years go by, Then Bad to Worse, She Don't Take It, Tell Me, Do the Boob, My Baby's Book and Shake Outta Contol. They changed the pace with Fly Into Mystery. That is sentimental favorite which was even more touching in the context of this show.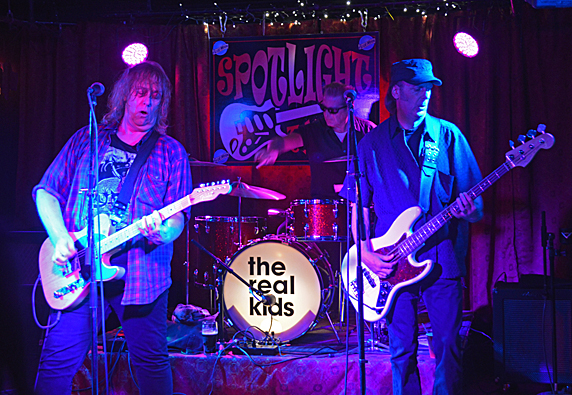 Real Kids
Photo: Blowfish
What they didn't do and was revealing is the songs that Billy Cole usually plays with the 12 string Baby Blue and Don't Talk To Strangers. One assumes they wanted to streamline the set and make it faster and more pointed because that's what it did. This set was a rocking blaster. The tempos were all much faster than when played before that tour.
Judd Williams made a compelling figure as he seemed to hover over the drums playing all the fills we have come to know from listening to the records. The mix was very good for Dickie Oakes as you could hear and feel his warm tone on the bass as some of his smooth runs seem to physically pick up the songs and gave them a ride.
Cole was a little less loud but his interaction with John is always what makes the Real Kids sound and that came through.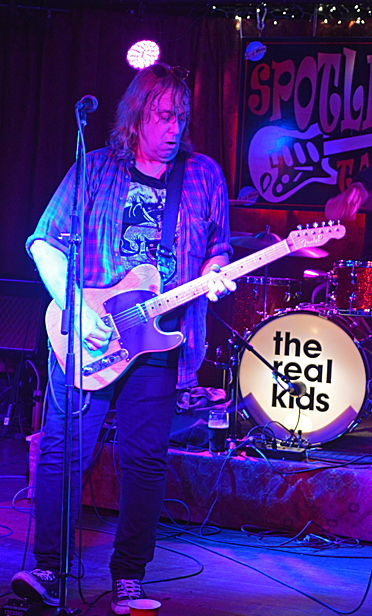 Real Kids
Photo: Blowfish
John himself looked so healthy, that was number one, then he sang and especially played with clarity. His soloing technique is a combination of early rock and rockabilly with accents on chording and leading tones. That sounds dry but put it this way; when you hear him playing there is no doubt it's him. He has his own voice on guitar.
That came to mind as they swung into All Kindsa Girls and the dance floor filled up. They did an encore of Reggae, Reggae.
Again we get to that familiar point where it's useless to talk about it, you had to be there. These lucky people at the Spotlight do get to be there as all three of these groups play here regularly.
I was very happy to get to this club especially on this night. I'm left with that feeling of wonder of how much we have gone through as a scene and how long it's been. It's 40 years on and we still can have nights like this. It's a little nostalgia but a lot about the music that means something and moves us now as well as then.
And in other news
Bob Colby has dropped the info on Facebook that he intends to do a few shows at the Lounge at Once. This is a neat comfortable room (full of seats). We saw the Trinary System/Minibeast show there. His first show will be with Mr. Airplane Man and The Land of Enchantment on Monday October 3.
Every now and then people discover an actress they see is Anne Golden and she had a career in punk. We saw her many times at the Rat singing for the Shirts. Here's the article that talks about her now since she's on Orange is the new Black.
There is a photo book out called Outside the Lines it has "Lost photographs of punk and New Wave's most iconic albums". They have the photographers comment on the sessions with extra photos from the shoot. They have Ramones, Iggy Pop The Jam, Blondie, Ultravox and our faves the Damned. See the photos below.
| | | | |
| --- | --- | --- | --- |
| Cover outtake | Rat Scabies | Capt. Sensible | David Vanian |
This is a publicity release that has news about 999 one of our most favorite English punk bands.
UK Punk Icons 999 Unleash A Raucous Box Set Of Unreleased Live Performances!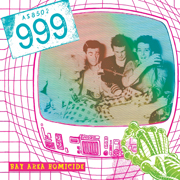 Los Angeles, CA - The UK underground explodes onto US shores with this epic release from punk band 999! Bay Area Homicide, a Limited Edition 4CD box set, features previously unreleased live performances recorded at historic venues around San Francisco during 999ís monumental US tours in 1979 and 1980. This masterful collection includes raucously frenetic versions of the groupís smash hit singles, Homicide and Emergency - plus fan favorites Inside Out, Hollywood, and Boiler! Each of the 4CDs comes in an individually designed wallet and the whole set is packaged with a full-color booklet featuring liner notes by renowned music journalist Dave Thompson. Bay Area Homicide comes to stores July 23rd courtesy of Cleopatra Records.
Here's some good shows coming up .....
July 29 (Friday) The Warning Shots, Duck & Cover, Quiggs, and Tenafly Vipers are at the Greek in Union Square (FB page)
July 29 (Friday) For you folks on the Cape Sidewalk Driver and Jenny Dee & The Deelinquents are at The Red Nun in Dennis Port! (more info here)
July 29 (Friday) Tavern at the End of the World....It's already July and Bad Lieutenants are about to have their first gig of the year. Along with the Manglers.
July 30 (Saturday) Your Friend Fest 2016 at Once....music comedy vendors and friends all together at Once - there'll be things going on both up and downstairs. Bands: The Knock Ups, Psychic Dog, Mercury on Mars, Thrust Club and the debut of Rrrright? (Jess Jacobs and Jasmine LaRue)
July 30 (Saturday) For you folks on the Cape who missed 'em last night- Sidewalk Driver and Jenny Dee & The Deelinquents are at The Beachcomber in Wellfleet
July 30 (Saturday) CANCELLED The Humingbird Syndicate at In a Pig's Eye in Salem has been CANCELLED
July 30 (Saturday) Rocket from the Crypt and The So So Glos are at the Sinclair
July 31 (Sunday) Bryan Ferry at Blue Hills Bank Pavilion
August 1 (Monday) The Schisms and Sassy Goose both from Austin TX along with The Knock Ups are at the Midway. This should be an interesting show!!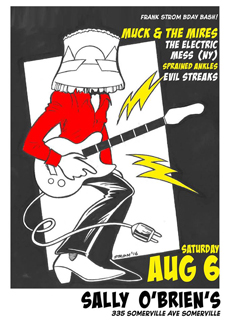 August 2 (Sunday) The Struts at Royale. They put on a great show. Discribed as "big... bombastic... quintessentially British" They have some quality videos that show you how they rock....It Could Have Been Me
August 3 (Wednesday) David J. of Bauhaus and Love and Rockets fame reads from his memoirs Who Killed Mr. Moonlight? at Symposium Books in Downcity Providence. Event is FREE and his book will be available there. More info here
August 4 (Thursday) David J. of Bauhaus and Love and Rockets fame will be performing in a living room style show at Firehouse 13 in Providence. Tickets must be purchased in advance HERE Aug 3 & 4 are David 's ONLY New England appearances.
August 6 (Saturday) Muck & The Mires, Electric Mess (NY), The Evil Streaks and the Sprained Ankles are at Sally O'Brien's
August 6 & 7 (Sat & Sunday) The Boston Rock Opera presents Stardust to Blackstar: The Lives of David Bowie at Once Ballroom: a concert dedicated to the late rock god David Bowie. "David Bowie taught us all so much about performance and stagecraft. If B.R.O. is going to, like Lazarus, rise up again then it should be to honor and celebrate his amazing music." The night begins with fellow B.R.O. co-founder Mick "Mondo" Maldonado directing and performing Bowie's "The Rise and Fall of Ziggy Stardust and The Spiders from Mars" with a full band and guest vocalists. Following that, is an original live arrangement of Bowie's final opus work "Blackstar" performed by an all star band and chorus under the direction of Either/Orchestra's Russ Gershon. The evening continues with a celebration of songs from Bowie's vast catalog as even more Boston musicians take the stage to perform.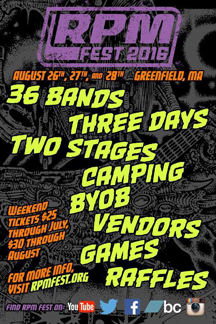 August 11 and 12 (Thur/Fri) Rock Fete Des Femmes at Once in Somerville. This is two days with four groups a night. Thursday: Erin Harpe and the Delta Swingers, Abbie Barrett & Band, Stars Like Ours, The Other Girls. Friday: Sarah Borges, Jenny Dee & The Deelinquent, Andrea Gillis Band, Ruby Rose Fox.
August 12 (Friday) The Handymen are at The Plough & Stars
August 13 (Saturday) FRANK ROWE's 65th BIRTHDAY PARTY!!! starring: Kenne Highland, Stop Calling Me Frank, The Dogmatics, Classic Ruins, Richie Parsons Band, and The Stigmatics (Randall Gibson's new band) - at The Midway
August 13 and 14 (Saturday and Sunday) Foo Fest This is a two day festival on the street outside AS220 the art collective that runs the festival. There's always oddball acts and a wide variety of rock groups to check out. The line up is on their Facebook page
August 15 (Monday) X are at The Brighton Music Hall - nice venue to see them!!
August 19 & 20 (Friday & Saturday) The 4th annual Boston Fuzzstival takes place on August 19/20 at The Middle East Downstairs. Fuzzstival is a celebration of our regional music scene and local music community. Bands are Doug Tuttle, Lyres, The Monsieurs, Mr. Airplane Man, Mini Dresses
Painted Zeros, Black Beach and a whole lot more...check out the FB page for updates etc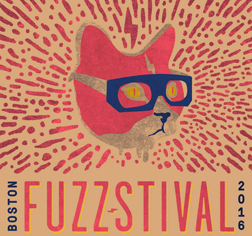 August 20 (Saturday) The Road Devils C.C. Boston Massacre Pre-Party!!! featuring Taxi Driver, The Hi-End AND MORE!!! FB page for more info as it develops
August 20 (Saturday) There's a great daytime (4-8PM) show at the Midway with The Lost Riots, The Scrapes, Whoopi Sticks, Go Blank and Point Blank
August 20 (Saturday) The Upper Crust, Devil on Horseback, Watts, Gymnasium at The Middle East Up.
August 20 (Saturday) Warn The Duke, Diablogato Dan Webb & The Spiders and Bundles are at O'Brien's
August 26 (Friday) Pop Gun, Fireking, Greg Allens Fringe Religion, and MOTO are at The Spotlight Tavern in Beverly
August 26 to 28(Friday) The RPM Fest this is in Greenfield, MA. It's a three day festival where you are invited to camp out, bring your own booze and just carry on enjoying the music. The music is a combo of "rock, punk and metal" they claim. The Humanoids are performing. Check the RPM Facebook page for ticket info.
August 27 (Saturday) Put on your heavy duty boots for a night of six punk pounding bands at the Middle East Up including Blanks 77, The Parasitix. Opposition Rising, The Murder, Mooseknuckle, DestrOi. That's a great name - DestrOi. Facebook page.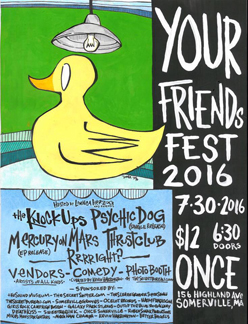 August 27 (Saturday) Idiot Genes, Duck & Cover, Silver Screams and Jack Widows at O'Brien's
September 1 (Thursday) Thalia Zedek Band, Minibeast, Black Helicopter and Positive Negative Man at O'Brien's
September 17 (Saturday) Huntingtons, Mongorellis, 138, and Profit Margin are at Koto in Salem.
September 27 (Tuesday) Buzzcocks at the Royale ...they played this very room back in 1980! And we were there then too!
Sep 29 to Oct 2 (Thurs to Sun) 4th Annual Rat Beach Party Nantasket Beach The fourth and maybe the last judging from a post on Facebook. They are following their template of all day shows on Sat and Sun and that is one of the great things about this along with the South Shore location at the C Note in Hull. There are some of the same bands as past years and they are always open to any band with a member who played the Rat.
Click here for the full line up for the four days. Notice it says FINAL Rat Beach Party at the top.
September 29 (Thursday) Barrence Whitfield & The Savages and Diablogato are at ONCE Ballroom
October 15 (Saturday) Idiot Genes, Duck & Cover, Chanticlear and Jack Widows are at O'Brien's
October 15 (Saturday) The Upper Crust, Hickoids, The Grannies & Devil On Horseback at Once
October 21, 22 & 23 (Fri., Sat & Sun) The Boston Rock Opera presents Hair at Once Ballroom.
September 1 (Thursday) Thalia Zedek Band, Minibeast , Black Helicopter, Positive Negative Man are at Great Scott
CONTACT US AT....misslynbgn@yahoo.com - Send us your gig listings, your news and anything else ya got!!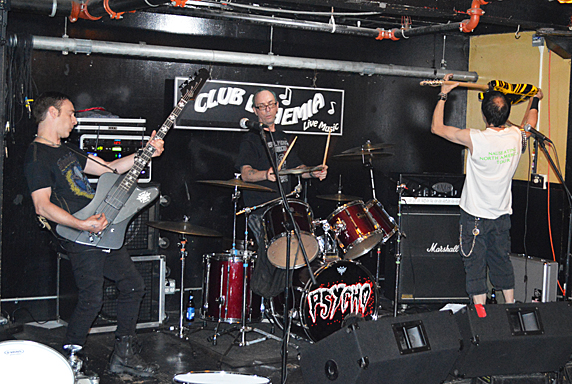 Psycho
Photo: Blowfish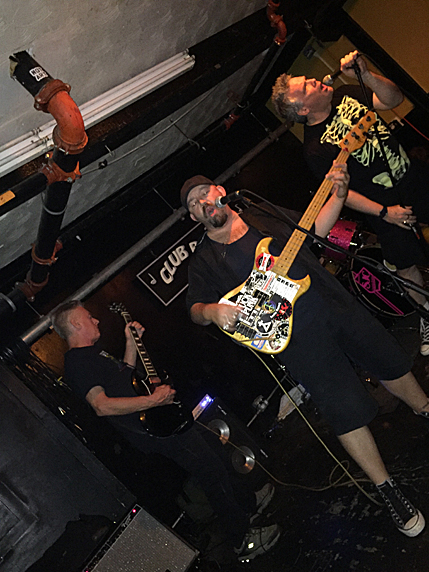 Screwcart
Photo: Bob Cenci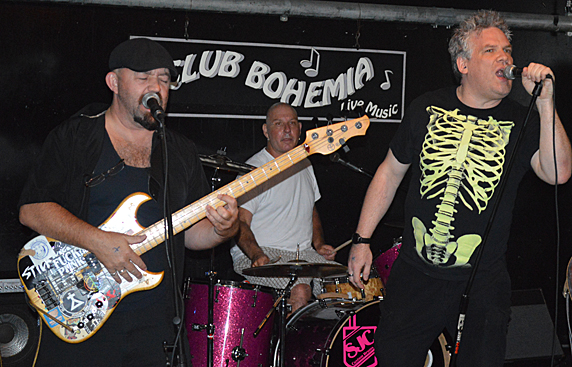 Screwcart
Photo: Blowfish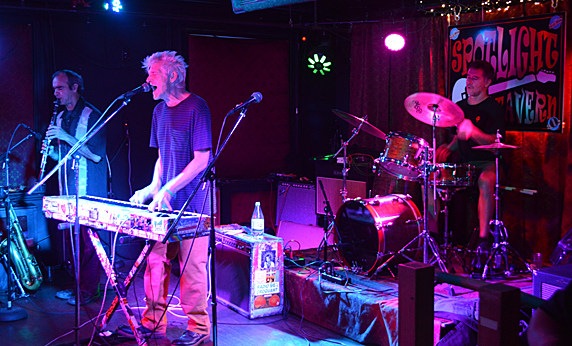 Willie Loco
Photo: Blowfish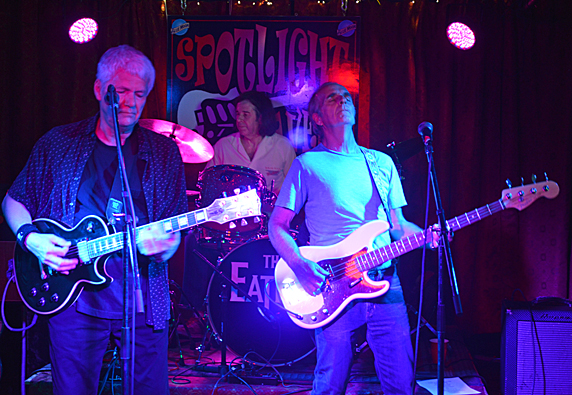 Nervous Eaters
Photo: Blowfish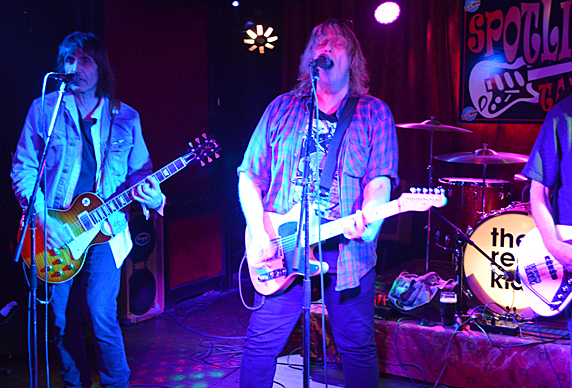 Real Kids
Photo: Blowfish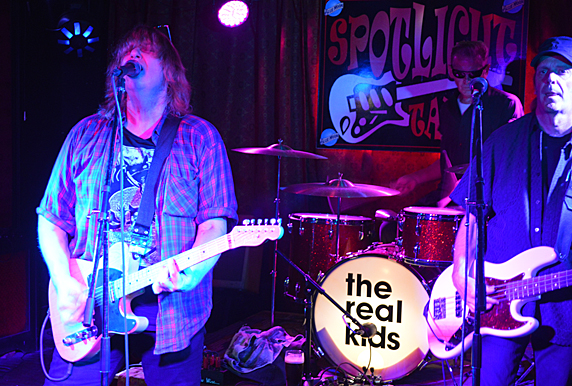 Real Kids
Photo: Blowfish