The BGN News Archive
August 8,2016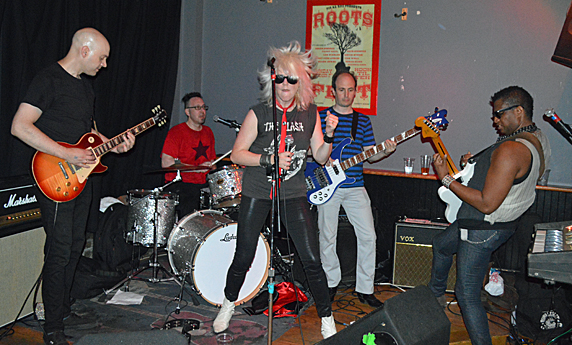 The Electric Mess
Photo: Blowfish
I checked out the Struts at Royale on Tuesday. I enjoy the Struts music and the videos but everything I like got swallowed up in the big rawk show. Or maybe I did. I'm not used to the big production values and the distance away from the band. The video below represents well what I was seeing and hearing.
| | |
| --- | --- |
| The Struts | Struts video at Royale |
That came into relief on Saturday as we hit Sally O'Brien's for a full night of garage rock up close.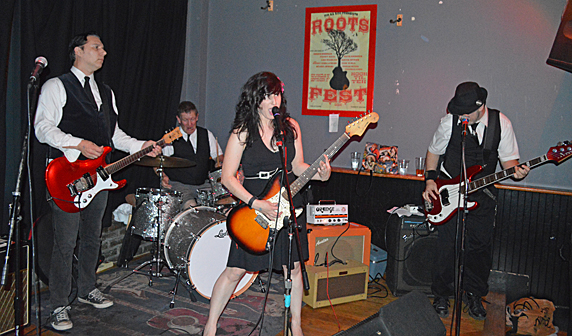 Evil Streaks
Photo: Blowfish
Evil Streaks have their act down pat. They have a dressed up look that belies their low brow garage sound. Singer Myra looks sedate in a black dress but puts a snarl to her vocals that cover subject matter that's often death and Satan. One song was about dropping a dead body by the side of the road while the music had a chirpy tone. They covered the Cramps "New Kind of Kick". With the guitarist playing a red Ventures Mosrite you knew they had to do an instrumental and they did. The overall sound reminded me of The Charms. Check out their Facebook page: Evil Streaks
They had the crowd dancing and the crowd continued to dance for every group after. Sally O's has its own crowd of dance maniacs no matter what kind of music is playing...they were there tonight too.
The Electric Mess
Photo: Blowfish
The Electric Mess had the same garage thrust as the Evil Streaks but being from New York it was faster, louder and in your face. They added more punk into the garage. The guitarist was playing something else altogether and the bassist had the chops for a Yes cover band but still the overall sound had the cheesy overtones. The lead singer was blonde and Blondie like. She would stare at the audience and just yell at points; loved that!!!
On top of the sound was the roller rink organ. The organist was like a second front person. He added the keyboard the way they SHOULD be added to a punk band, they fit right in and moved the sound another level up. He grabbed attention many times with his playing, singing and stage moves. Not easy when your competition is a dynamic Blondie look alike.
Video of The Electric Mess at Sally O'Brien's.
Check out their Facebook page
We had two fun rocking groups and we knew what was ahead with Muck and the Mires.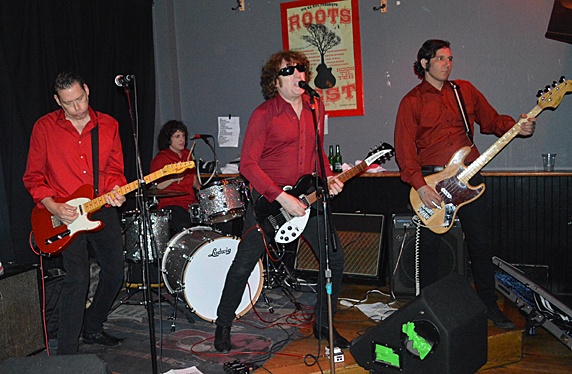 Muck and the Mires
Photo: Blowfish
The Mires deliver their music regardless of the venue...or even the country. Getting the show in intimate Sally O'Brien's is maybe the best you can get – sorry Royale. We've seen them so many times and we love it always. We go through the same thing every time. We get swept away with the rushed segue of songs where Linda starts the next one before the current one even ends! We declare a song our favorite until the next one starts and realize maybe that one is our favorite, until the next one…etc. Then you realize the next song is a new song and OMG that one is great too!!
The bass was very prominent in the mix and made it easy to hear the drive and melodic lines that he gives. Then there's always Linda on drums doing her magic...and then she sings while doing it too!!??!

There was still The Sprained Ankles to go but we were rocked out. This was a perfect bill - all the bands were a perfect fit. It was so much of what we love that we felt like we were wallowing in it. Great night!!
While we were at Sally O'Brien's John Keegan was at a sold out show at Once. It was Stardust to Blackstar: The Lives of David Bowie done by the Boston Rock Opera. We have his report here....STARDUST TO BLACKSTAR.
And in other news......
We want to remember Linda Garrow Highland who passed away this past week. Linda was a complete and total music lover, especially John Cale. She and Kenne Highland had many wild and memorable parties at their house in Somerville, inviting loads of local musicians and scensters. Linda was brilliant and she was also caring, kind, patient and funny. She had been living in Austin, TX these past several years but everyone here kept in close touch with her because she was such a great person and friend. RIP Linda Garrow Highland. We send a shout out to her fiancée Bob Bechtol as well, our hearts are with you Bob.


Podcast Garage
Now Allston....it just keeps getting cooler and cooler now there's Podcast Garage - part recording studio, part co-working space, and it's the first of its kind in Boston. Podcast Garage is a new community podcast recording studio and educational hub in Allston dedicated to supporting audio makers at all levels. It just opened this past week. You can read more on Boston.com. It's located at 267 Western Avenue (Lower Allston over by the Harvard Stadium area) The recording studios will be available to rent for 15 minute increments, but the co-working space is free for anyone to use. Many of the free networking events will focus on technology, distribution, and marketing, and will be hosted by industry leaders. Here's a calendar of events for August. Check out their website where you can sign up for their newsletters, reserve studio space etc: Podcast Garage.



There are a million punk songs, this is just one.


99% is Shit by the Cash Pussies is an oddity from 1979. The song begins with a sound clip of Sid talking and saying the title line.
It's just a take off on Sid and the whole punk thing but still has the English punk sound.
This record was not rare and is still only worth $5 or $10 on Ebay. The story of how it came to be is here..

Cash Pussies
"99% is Shit"
We mentioned this before but want to mention it again...The Kickstarter project for the film Boy Howdy! The Story of CREEM Magazine which explores the seminal music magazine from its 1969 launch in Detroit to the untimely death of its publisher Barry Kramer in 1981. Check out the project and the film trailer here. We can't wait for the film to come out and come to Boston!!
How punk helped kickstart a sexual revolution - There's a new book coming out Showboat: Punk / Sex / Bodies explores punk's progressive message of sexual liberation through rare posters and contributions from the movement's legendary pioneers. You can read an interview with its editor, punk archivist Toby Mott on i-D
Here's some good shows coming up .....

August 9 (Tuesday) Illegally Blind Presents: Zig Zags, Black Beach, Midriffs, and Big Mess at The Middle East Up.
August 11 (Thursday)& August 12 (Friday) Rock Fete Des Femmes at Once Ballroom with Erin Harpe and the Delta Swingers, Abbie Barrett & Band, Stars Like Ours and The Other Girls on Thursday and Sarah Borges, Jenny Dee & The Deelinquents, Andrea Gillis Band and Ruby Rose Fox - solo with The Steinhams on Friday
August 11 (Thursday) Brian Carpenter & The Confessions and Fireking are at Tavern at the End of the World
August 12 (Friday) The Handymen are at The Plough & Stars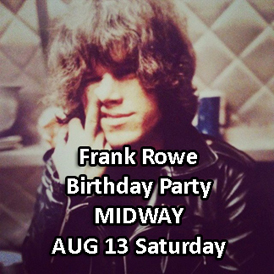 August 13 (Saturday) FRANK ROWE's 65th BIRTHDAY PARTY!!! starring: Kenne Highland, Stop Calling Me Frank, The Dogmatics, Classic Ruins, Richie Parsons Band, and The Stigmatics - at The Midway
August 15 (Monday) X are at The Brighton Music Hall - nice venue to see them!!
August 19 (Friday) Hopelessly Obscure, Tsunami of Sound and Tokyo Tramps are at Sally O's! cover is only $5!! FB event page
August 19 & 20 (Friday & Saturday) The 4th annual Boston Fuzzstival takes place on August 19/20 at The Middle East Downstairs. Fuzzstival is a celebration of our regional music scene and local music community.
Friday (6PM doors) you have Lyres, The Monsieurs, CREATUROS, Mr. Airplane Man, Dent, NICE GUYS, Patriots, Midriffs, Scully, Kid Mountain, Birthing Hips
Saturday (2 PM doors!) is: Quilt, Doug Tuttle, Mini Dresses, Major Stars, Ghost Box Orchestra, Painted Zeros, Black Beach, BOYTOY, Las Rosas, Ravi Shavi, Sunwatchers, Jaw Gems, Way Out, Zip-Tie Handcuffs, High Pop, Bat House, Weakened Friends, Milk, Beach Toys...check out the FB page for updates etc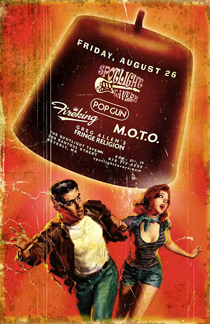 August 19 (Friday ) Hopelessly Obscure, Tsunami of Sound and Tokyo Tramps at Sally O's!
August 20 (Saturday) The Road Devils C.C. Boston Massacre Pre-Party!!! featuring Taxi Driver, The Hi-End AND MORE!!! FB page for more info as it develops
August 20 (Saturday) There's a great daytime (4-8PM) show at the Midway with The Lost Riots, The Scrapes, Whoopi Sticks, Go Blank and Point Blank
August 20 (Saturday) The Upper Crust, Devil on Horseback, Watts, Gymnasium at The Middle East Up.
August 20 (Saturday) Warn The Duke, Diablogato Dan Webb & The Spiders and Bundles are at O'Brien's
August 26 (Friday) Jenny Dee & The Deelinquents are at The Plough
August 26 (Friday) Pop Gun, Fireking, Greg Allens Fringe Religion, and MOTO are at The Spotlight Tavern in Beverly
August 27 (Saturday) Idiot Genes, Duck & Cover, Silver Screams and Jack Widows at O'Brien's
August 27 (Saturday) Fuzbrains Presents: The Time Beings, The Hopelessly Obscure, The Flipsides and The Performers at The Hotel Vernon in Wistah!!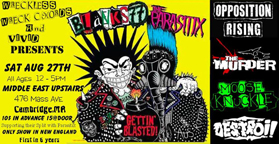 September 1 (Thursday) Thalia Zedek Band, Minibeast, Black Helicopter and Positive Negative Man at Great Scott
September 9 (Friday) Worshipper, Zip-Tie Handcuffs and The Devil's Twins are at ONCE
September 9 (Friday) The Black Cheers, See This World, Problems With Dragons and The Dead Simple are at The Midway
September 10 (Saturday) Cheetah Chrome , Unnatural Axe and Crank County Daredevils are at The Middle East Up
September 10 (Saturday) PowerSlut, Viva Gina, The Land of Enchantment, & The Very are at ONCE Lounge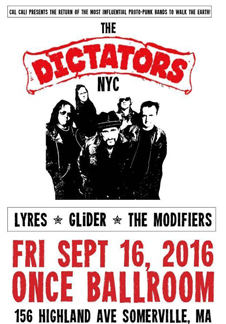 September 16 (Friday) Cal Cali is bringing the Dictators to Boston!! YAY! Line up: The Dictators, Lyres, Glider and The Modifiers at Once
September 17 (Saturday) The Swindlers CD Release Party with Centerlink, The Swindlers, The Low Babies and Billy Dodge Moody at The Midway
September 17 (Saturday)
September 17 (Saturday) Huntingtons, Mongorellis, 138, and Profit Margin are at Koto in Salem.
September 18 (Sunday) Another Sunday Night Mess Around at The Plough
September 27 (Tuesday) Buzzcocks at the Royale ...they played this very room back in 1980! And we were there then too!
September 29 (Thursday) Barrence Whitfield & The Savages and Diablogato are at ONCE Ballroom
September 29 (Thursday) through October 1 (Sunday) The "Rat" Beach Party in Hull. Check it out on Facebook for bands and times etc
October 1 (Saturday) 6th Annual Upstart Fest Featuring: The Queers, Svetlanas, The Fantastic Plastics, OC45, Kyle Trocolla - at the MIddle East Up...whew!! That's gonna be a killer show. We saw the Svetlanas at the 2013 Upstart Fest and they were great!! NOTE: this is an EARLY shows doors are at 4PM. FB page
October 8 (Saturday) for those of you who were Ska fans- An Evening with Dancin' Randy's Ska Punk Time Machine at Great Scott
October 14 (Friday) The Time Beings, The Black Souls, Craig Bell (of Rocket From The Tombs/Mirrors/X__X) and Shiny Beasts - this is a show not to be missed!! At the Midway!
October 15 (Saturday) Idiot Genes, Duck & Cover, Chanticlear and Jack Widows are at O'Brien's
October 15 (Saturday) The Upper Crust, Hickoids, The Grannies & Devil On Horseback at Once
October 21, 22 & 23 (Fri., Sat & Sun) The Boston Rock Opera presents Hair at Once Ballroom.
November 9 (Wednesday) Illegally Blind and League Podcast Present: Shonen Knife, Shepherdess, and Birthing Hips at the Middle East Up
CONTACT US AT....misslynbgn@yahoo.com - Send us your gig listings, your news and anything else ya got!!

Muck and the Mires
Photo: Bob Cenci
The Electric Mess
Photo: Blowfish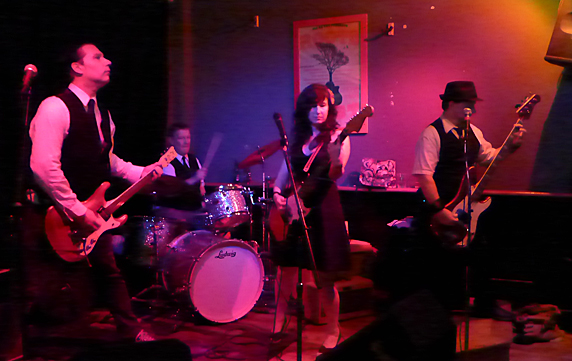 Evil Streaks
Photo: Blowfish