The BGN News Archive
August 31, 2020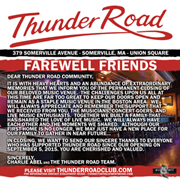 And another club closes…..this time Thunder Road in Somerville. Previously it was Radio and before that it was Jaspers. There's a long history of a club at that location. Gigs of interest were interspersed with Grateful Dead cover nights and such but we had some good times there.
Some great shows were Lyres, Paul Collins and Boston Cream in 2018 .... The Grip Weeds in 2018 ..... Barrence Whitfield solo show in 2019 ... and there was a cool local band line up with Justine and the Unclean, Watts and Sidewalk Driver in 2018 ... In December of 2019 we went to see Color Killer and got a first look at the crazy Louzy who we loved.
We all know that this is probably the beginning of this still. What will the club landscape look like after this is all over? But we have a firm belief it will come back as strong as ever at some point.....live music will remain important to people out there!!
| | |
| --- | --- |
| The Plough and Stars | New outside dining |
Then we saw this:
They've been going since 1968 and they don't want to shut down now. That's the message from The Plough and Stars. Starting Sunday 8/30 they are opening with 10 tables outside. They even have a kids menu. In the kitchen is chef Jim Seery.
Their posts on Facebook show them determined to get through this time and be there when the shutdowns are all over. It's inspiring really. We liked hearing the words and it makes us more optimistic. We need turn arounds like this to keep our spirits up.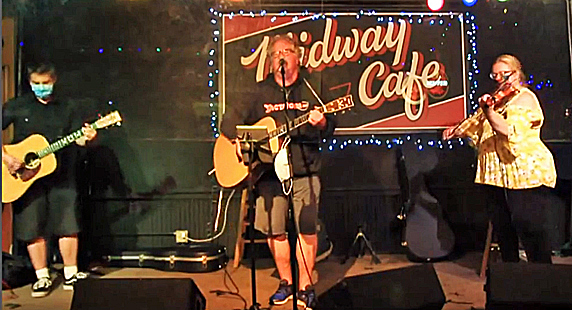 Richie Parsons
It felt like old times to see Richie Parsons on stage at the Midway even if it was just on streaming video. Later Richie posted on Facebook about how good it felt to him also. Richie was backed up with Doug Harper on acoustic guitars and Elisa Birdseye on viola.
They covered several of Richie's bands in the set list: "No Surfing in Dorchester Bay" by the Gremmies and he even went back to a Tomato Monkey's tune, "Fire Escapes." Then it was songs from Richie's solo records: "Love Letters", "Blue Sands", "When your dancing", "Rainy Day", "Mixed Tape" and "Winter's Dream." A couple of covers were Talya Zedek's, "She's All I Need Now" and the final song which was an unexpected cover of Willie Loco's band, The Lost's "Everybody Knows".
Wonderful set. The audio was just about the best we've heard from these Midway sessions. You can hear on the Midway page
And speaking of Willie Loco...he now has his own official webite!!! Willie Loco Alexander.com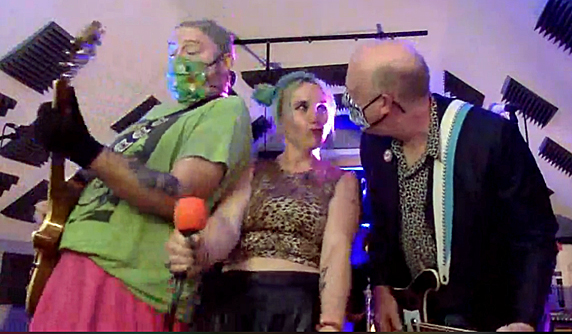 A Bunch of Jerks
Saturday A Bunch of Jerks broadcast from their recording studio, with visuals and audio both improved since last time. There was a good balance and guitar was sharp and you could hear vocals, drums and bass – all clear. A Bunch of Jerks have been one of the most faithful to keeping the gigs coming – one way or the other. All their viddies are full band and full volume and that is much appreciated!! This time the stream cut out with the second song (Moonage Daydream) and they got it going again but on the wrong page. But both sections are up on the A Bunch of Jerks page now.
To show that the pandemic hasn't mellowed them out they played a new song called "Motherfucker", an abrasive and unapologetic rocker. They ended with "White Girl, Wasted" which somehow sounds like a punk hit from years ago – instant classic!!

JJ Gonson and Jim Sullivan
Once Virtual Venue has been keeping the video events rolling. One of the things they're doing is a series of interviews of local critics by JJ Gonson. Last week it was Jim Sullivan, the major rock critic in the area for so many years. Jim has a ton of interesting stories. Even his early days ramping up to being a critic intersects with people and places that are notable. He's first step into the Boston area was connected to writing for Sweet Potato, then soon enough the Globe.
When you listen to Jim you realize that no matter how many shows you've seen, Jim has been there too and has been behind the scene talking to the performers. He has many stories from those interactions. Listen here.
The Field Day/Grownup Noise show from last week is also posted now. You can watch that on Yout Tube. Lisatening to Field Day we got hooked on the chorus of "I'm Finished With You". Here's the song on Bandcamp.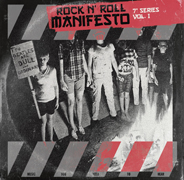 Lou Mansdorf of Rum Bar Records sent out an email about this four song EP put out by the Rock n' Roll Manifesto radio show.
All four songs are blistering rock. The EP is on Bandcamp.



And that lead us to the Rock n' Roll Manifesto radio show which can be found at RnRManifesto. They have a nice easy webpage. The shows are right there and downloadable too. The shows are packed with hard rocking tunes.

Here's a welcome idea to fill up your down time; the Regent Theater will have a "streaming world premier" of the Chet's Last Call documentary on September 19th.
Check the Chet's doc FB page for more info.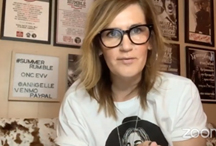 This week the Rock & Roll Rumble Takeover stream was a two day show. DJ Anngelle played videos from Rumble players of old. It was a way of putting this years' Rumble to the side and hope for next year. On Friday she played vids by Blue, White Dynomite, Gene Dante, Petty Morals, Quintaine America, The Old Jack and the Cave In video that was shot so it looked like they broke into Mr Music in Allston and picked up instruments and played - the film looked like it was from the security camera – great vid!!
Anngelle was playing a Til Tuesday song and the stream got cut off by YouTube! Playing a major label video/song can be a no-no. She also shows a clip from MTV when they covered the 1990 Rumble. That Rumble had Iggy Pop doing a solo set. Watch the Rock & Roll Rumble Takeover here.
Saturday was day two of the Rumble Takeover. This night had four groups playing. John Powhida, When Particles Collide, Luxury Deathtrap and Time Wolf.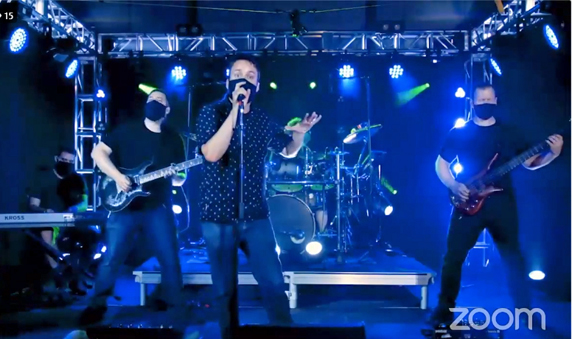 Time Wolf
Time Wolf's video had mulit-cameras and excellent sound. The whole thing was done with some expertise. The group play a progressive post punk. Here's their Bandcamp page. Luxury Death Trap were more low key with the trio joined via a split screen. Even though the video was just a split screen the quality was better than most and the sound was clear again. All the songs were slow burners. Their Bandcamp page. The John Powhida video was filmed in the bathroom with just an acoustic guitar. That was a step down in quality from the previous two vids but then again he's John Powhida, a man of much talent. He played a Rudd's tune and a few new ones of his own.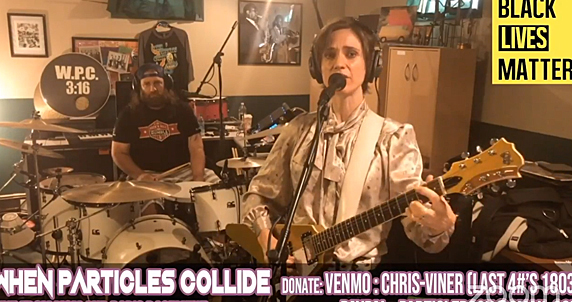 When Particles Collide

When Particles Collide from Maine brought some welcome rock into the mix. They're just a duo but with the guitar cranking they put up a good amount of volume.

The Late Risers have been playing the new album from The Reflectors a lot. Nothing stuck in our heads until Joanie played "It's Alright" last Thursday. It's ballsy rocker. Here's the song on Bandcamp.

She followed that with a Hambone Skinny cut "Devil Done Took My Baby". There's one thing about Hambone Skinny – nothing else out there sounds like them, so they stick out. They were one of the first to play out again with that Poarch gig a week ago. Here's the song on Bandcamp.

Joanie also played The Woggles new 45 called "Nothing More to Say". It's only on vinyl at the moment. It's got that Woggles sound. You can't hear it on Bandcamp but you can buy the vinyl here.

For the first time that we can remember Jon Macey has written and performed a political song. it's "We Want Love" by the Hummingbird Syndicate. This is the exact time for a video like this. And its a quality video. There are some quick live shots but most of the video is fine resolution shots captured from other sources. The shots often enhance the lyrics or clarify specifically the things they are referring to.

The sound is typical of some of Hummingbird Syndicate's material; crisp guitars and the vocals smooth as silk with a wispy feeling. If you hadn't see the video and didn't zero in on the lyrics too close, you might take it as a love song . Part of that genius is the sixties feel to the music as the subject matter is totally about right now. The video ends quoting a sixties political figure (we won't give away the name here). The song and video are a wonderful twofer.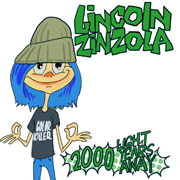 Jon has been in a few groups through the years but basically never stopped. He's done is so much sterling song writing and recording along the way. This effort is unexpected and totally successful. It's on YouTube.
We were just up from our third nap of the day and brushing potato chips off our lap when we went to the computer to find out that Lincoln of Color Killer had recorded another song and video ALL BY HIMSELF. It is a cover of Green Day's "2000 Light Years Away". Geesh, Kids today! Now, where are those chips?
You can watch the video on Youtube ...it's cool because it looks like all three Lincolns are in the room at the same time and there are shots of when Lincoln shared hte stage with Green Day back when he was just a kid in 2017... and The song is on Bandcamp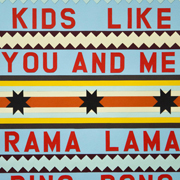 Kids Like You And Me seem to be stepping up their podcast frequency with the pandemic. They released two episodes this week.
The first interview was with New Bedford figure Mike Mountain. We've always been so Boston centric that we find it interesting to hear the stories from people discovering punk in the rest of the state. The second podcast is with Natalie Hoffmann of Nots. She's from Memphis and you learn a lot about that scene from her.
Both interviews can be accessed on their ArchorFm page: Kids Like You and Me.
---
Coming up.....
Online/Live Streaming stuff....
Live shows.....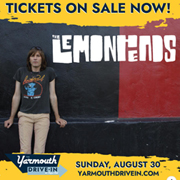 Saturday August 29 8PM Diablogato will be playing in the parking lot of Dusk (Provi, RI) on Saturday, August 29th at 8PM. There are specific safety guidelines to adhere to...but hey it's LIVE! Here's the FB page. with info and guidelines for attendance. This is a live event.
Sunday August 30 The Lemonheads are playing the Yarmouth Drive In. That's going to sell out. You can get ridiculously expensive tickets here.
Saturday September 27th 8-10 PM - Atomic Fez Fundraiser for Once in Somerville. It's a A virtual video performance by fourteen of New England's best artists and bands including Little Billy Lost, Smitt E. Smitty & The Feztones, Lynda Mandolyn (Tiger Bomb), Dan Kopko, Jennifer D'Angora, State of The Union, Gene Dante, Emily Doran (The Gala), Jim Gerdeman (The I Want You), John Powhida, Muck and The Mires, Kid Gulliver, Lily Black...FB PAGE!!
October 28 (Wednesday) Einstürzende Neubauten - The Year of the Rat Tour - The Wilbur Theater Facebook Page
Thursday December 17 -7-9:30PM - Talkin' to Dracula and his Crew: Goth subculture and horror, a lecture - Miskatonic Institute of Horror Studies Brooklyn NY FB page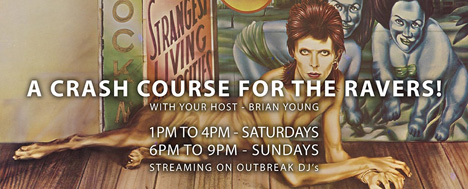 January 16, 2021 (Saturday) New Date - The Schizophonics, Muck and the Mires at ONCE Lounge Early Show: 5:30 PM – 8 PM
February 17, 2021 (Saturday) Rescheduled - Swans w/ Anna von Hausswolff at the Paradise
April 19, 2021 (Monday) Rescheduled - Dead Can Dance at The Wang Theater
April 29, 2021 (Thursday) Circle Jerks Plus Special Guests at the paradise (this is a rekedged show) FB page
CONTACT US AT....misslynbgn@yahoo.com Send us your gig listings, your anything else ya got!! You want your CD reviewed?? Contact us for that too.
---