The BGN News Archive
September 7, 2020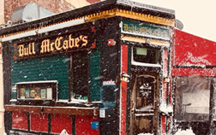 Another club in Union Square is closing. This time it's Bull McCabe's. The Vanyaland article is cringe-worthy because the reasons for shutting down because are all the ones we have heard repeated over and over. This does not bode well as we go forward with no change in the coronavirus situation.
The story about the Pour House at 907 Boylston St. being sold was all over the news on Thursday. Not one of the stories mentioned that it used to have punk rock in the basement when it was the Honey Lounge. It lasted maybe two years tops but it was a comfortable dive while it lasted and one of the few times punkers could go into the city proper to hear music. The Pour House had good chow at reasonable prices along with the booze. It was a desirable hang out in its time.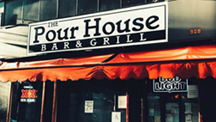 What's really chilling is that FOUR resto/pubs in that area of Boylston Street are ALL closing: The Pour House, McGreevy's, Lir and Whiskey's. Though there was no music at the other places or the Pour House in recent years it is still unsettling.
Mainvest, the group behind saving Great Scott, sent out an update ... They are very enthused about the potential move to the site of the old Pizzeria Regina in Allston. The've raised the fundraising goal from $200,000.00 to $350,000.00 to further ensure success. Great Scott owner Carl Lavin said the new club looks like it's going to happen and rates its chances at a 7.5 in a scale from 1 to 10. Let's hope so!! read more here.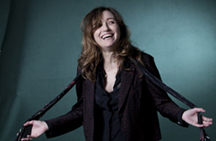 Viv Albertine of The Slits has written two memoirs of her time in the punk scene. Now they'll be made into a TV series. We read the first memoir Clothes, Clothes, Clothes. Music, Music, Music. Boys, Boys, Boys, published in 2014. It was a welcome change from other punk musician memoirs that are more about drugs than music. Her second book To Throw Away Unopened, was published in 2018.The Slits did things differently and that shows in Viv's retelling. As time goes on the Slits look more and more important. There are no details as to where the series will view but its going to be directed by people associated with the film Carol and the series Patrick Melrose which was great! Anyway, Right now it's something to look forward to.
Also in the works is a biopic on The Replacement, based on Bob Mehr's bio The Trouble Boys. We were just talking about that book a month ago! But the passing mentions of Boston would not rate to be included here. The scripts are being worked on and they have actors: Nat Wolff for Paul Westerberg and Owen Teague for Tommy Stinson. You can read more on the Consequence Of Sound website.
We're still wondering if and when the Showtime series based on Patti Smith's Just Kids will surface!!
We didn't see this coming but the Kurt Baker Group has an album After Party coming out. This album is done with his band from Maine. Glide magazine has the debut of "Over You", a cut from After Party as well as a short interview with Kurt.
When we first saw Kurt we were bowled over. Never had we got a blast of perfect pop from someone we had only just heard about. That was in 2012 at Great Scott. We've seen him many times since. It seems like every person in his group goes on to their own career, like Connection and Geoffrey Palmer. We have to wait till October 23 before the whole album is released on Wicked Cool Records. You can pre-order After Party here.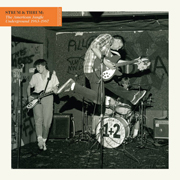 Captured Tracks is releasing a 2 part compilation of some 80s jangle pop called Strum & Thrum: The American Jangle Underground 1983 – 1987. There are two Boston bands included: Salem 66 and The Vandykes. We all remember Salem 66 but the lesser known Vandykes had Frank Dehler of Unnatural Axe in the band.
Strum & Thrum will come with an 80+ page booklet that has an extensive oral history of the '80s indie scene, an introduction by Captured Tracks label head Mike Sniper, and tons of archival images and ephemera. Again we have to wait 'til October. The 28-track collection will be released in a limited Orange Vinyl edition on Record Store Day's "Day Drop" on October 24. It will be issued digitally and on CD and Black Vinyl on November 13. More info here. And the Spotify playlist is here.
JJ Gonson runs ONCE/Cuisine en Locale but she is also a well-known photographer and has had gallery shows. We covered one here. Now JJ has many of her photos in the re-release of Elliot Smith's second album. The photos will be lined up in a 52 page book that comes along in the package. Super impressive!! Congrats JJ!!
Here's a Globe article, if you get by the pay wall and another article from Consequence of Sound.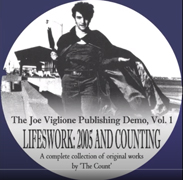 Joe Count Viglione is using the quarantine time to archive his large collection of recordings. He recently digitized his version of the Velvet Underground tune Foggy Notion, recorded live at The Club in the 70s. As with all things Joe there is some history here, he says: "Jonathan Richman taught John Hovorka and Fred Pineau the song, which was after Joe V. taped The Kids down at the Rat, December 4, 1974 as the pre-Real Kids were playing Foggy Notion. John Felice had learned it as a member of The Modern Lovers." Also of note: Paul Blowfish of the Boston Groupie News plays guitar on the tune! It's a driving high energy take on the song. Check it out on Youtube!!
South Shore punker Mikke Worm got an interview in Punk Globe. Mikke plays in Worm, has a label (Wreckless Wreck Chords) and has booked some amazing shows. We interviewed Mikke in 2018 Read The Punk Globe interview is here.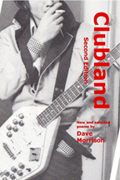 Dave Morrison's book Clubland still stands by itself. It's the only poetry book focused on rock and the Boston rock scene. We reviewed it here. Well, Morrison is going back to Clubland and do a reading from the book at the Camden Opera House on September 13 at 2pm. You can catch the reading on the Camden Opera House Facebook page. You can purchase the book here.
Weakened Friends are starting a Patreon page called The Friend Zone. The Patreon site is a way for artists to present content on the web that can subscribed to for a monthly fee. The band states: "By joining, you'll gain access to exclusive recordings, demos, behind the scenes videos, photos, merch, blog posts, and other ridiculous content that no one else can see/hear/experience!!!! Since we can't tour right now, we wanted to stay creative, this is a nice way to do that while keeping connected with all of you. This is also the very best way to support our band right now, as we embark on releasing our next record." Sounds like a good idea, especially in this Covid shutdown!!

Here's a video from the band explaining what they'll do in the Friend Zone. Here is the Weakened Friends subscription page. They have three levels, $5.00, $15.00 and $25.00 a month. If you go to the subscription page you can see that the band is going to be working hard fulfilling all the perks of membership.
Videos......
Here's a welcome idea to fill up your down time; the Chet's Last Call documentary is having a streaming world premier emanating from the Regent Theater in Arlington, MA. Here is the FB events page.
Green Day's Billy Joe Armstrong has done a series of cover songs during this quarantine period. His latest is "Whole Wide World" by Wreckless Eric, an inspired choice. That song holds a favorite place among all the many great punk singles. At a time when punk was criticized for only being three chords, "Whole Wide World" was written with two chords. It's performed so it's obvious that there are only two chords. The chorus is the same two chords drawn out a bit. So, you know, if you have a problem with that, too bad.
The lyrics couldn't be any simpler. You can just imagine the scene where his mother actually said, "There's only one girl in the world for you, And she probably lives in Tahiti." That whole predicament where you're looking for someone and it's not happening, and you can't even imagine it happening, is so real especially when you are young. The song so perfectly captures that vulnerable emotion.
We can't see anyone improving on Wreckless Eric's version and we don't think Billy Joe's version does but it's a good version. It's nice to hear some real muscle in the guitar in his version.
It was a welcome surprise to see Eric living in America and having local shows. It was one of those things you thought would never happen. We saw him a few times, here's the time at TT the Bears
---
On the Radio.....and podcasts
In the August 28 version of Boston Emissions Anngelle Wood played Plumerai. We were swept away by their dreamy atmospheric sound when we saw Plumerai live even though they were a long way from punk. They changed their name and moved to Brooklyn, but they crop up sporadically. Their latest song "Like Water" was released in August. It's in the same vein as the earlier material. Here it is on Bandcamp: Like Water.
We like listening to Crash Course for the Ravers. Brian Young plays his faves and always some unexpected choices. Last Sunday he played The Dandy Warhols' "Not If You Were The Last Junkie On Earth" which has such a great anti-drug theme. It's the thought that drugs are passé and maybe you are too if you are doing them. It's the first video below.
Brian also played the lesser known song "That's It" by The Cars. It's just a little less produced but there's no mistaking who it is. Brian says he found it as an extra track on a rerelease of Candy O. It's the middle video below.
Then he pulled out an old punk hit from The Pointed Sticks from Canada called "Out of Luck". We haven't heard that in ages!! It's a snappy 2:17. It's the third video above.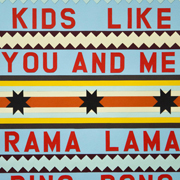 Kids Like You And Me log in another podcast. This week it was with the legendary Mickey Bliss of Club Bohemia.
Mickey makes the point that the Cantab and other clubs are up for sale but there's no one out there buying clubs in the middle of this quarantine. There is still a possibility that when the shutdown is over the Cantab will still be there ... Possible. They get Mickey talking a lot about his early years before punk as well as his introduction to punk.
Listen to it on the Kids Like You And Me podcast page on AnchorFm
---
CDs/ Music....
Rum Bar released a single by the Lemon Drop Gang entitled "Georgie". It's an answer song to the sixties song "Georgie Girl". That seems to go by the by as the band digs into their garage crunchy sound. We love how the guitarist strums those chords, and the trebly tone. Here it is.
Every time Death Pesos releases a song the riffs seem to get bigger, which is to say the riff is huge on "Jade Axe" their new song on Bandcamp. The quarantine didn't put a crimp in their recording quality. This new song sounds crisp and powerful. They are so much a stoner rock group that the lyrics include the line, " We stop and smoke herb". Listen here.
We think how this Covid shutdown has slowed down the career of a group like Death Pesos, a band that was getting better with every song release and show. "Jade Axe" shows they could blast the back wall off any club now!
We talked a while back about the new collaboration between James Williamson (Stooges) and Deniz Tek (Radio Birdman). They just released their second single called "Jet Pack Nightmare" from the album. In this one Williamson really has that Stooges sound. You can hear it hear it here. and read info on the release on Glass Onion.
---
Coming up.....
Virtuaql/ Streaming.....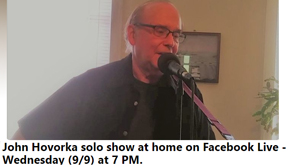 Wednesday Sept 9, 7PM - John Hovorka solo show at home on Facebook Live - Link

Saturday Sept 19, 7 PM – 9 PM Chet's Last Call doc streaming from The Regent Theater. Link.

Saturday Sept 26, 8PM Virtual Atomic Fez Fundraiser for ONCE in Somerville (Read more in our interview with Smitt E. Smitty.) FB event page.

Live shows.....

October 28 (Wednesday) Einstürzende Neubauten - The Year of the Rat Tour - The Wilbur Theater Facebook Page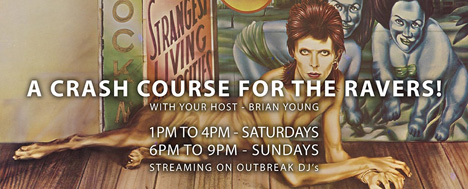 Thursday December 17 -7-9:30PM - Talkin' to Dracula and his Crew: Goth subculture and horror, a lecture - Miskatonic Institute of Horror Studies Brooklyn NY FB page
January 16, 2021 (Saturday) New Date - The Schizophonics, Muck and the Mires at ONCE Lounge Early Show: 5:30 PM – 8 PM
February 17, 2021 (Saturday) Rescheduled - Swans w/ Anna von Hausswolff at the Paradise
April 19, 2021 (Monday) Rescheduled - Dead Can Dance at The Wang Theater
April 29, 2021 (Thursday) Circle Jerks Plus Special Guests at the paradise (this is a reskedged show) FB page
CONTACT US AT....misslynbgn@yahoo.com Send us your gig listings, your anything else ya got!! You want your CD reviewed?? Contact us for that too.
---