Their best song was The Other Night which had a great garage/psych mix.
Nancy Neon got on stage and played tambourine and it was not just for show that tambourine helped the songs. I don't know if it was because Nancy was on stage and they got inspired but that song had the best playing of the night also. I think every song should be on that level, that would be something to shoot for.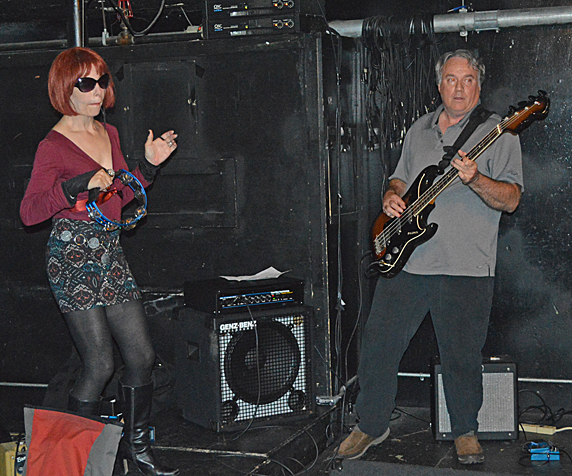 Nancy Neon with the Downtowners
Photo: Blowfish
And other story of the night was seeing Nancy Neon, who has gone through the mill since Billy Borgioli's death, looking go-go girl great and healthy. She never looked better on stage and she helped the group rise to its best moment of the night. She's in a clear state of mind and doing very positive things. She's helping the Downtowners and she knows the ins and outs of this kind of thing. They have a show lined up for Portland at the Bayside Bowl and more coming.
Arthur Freedman was there as was Henry from The Shiny Beasts. That would be a very good bill…Downtowners and Shiny Beasts!

Last year I saw the Dirty Fences at the Awesome Allston Christmas. This year was very similar; it was hot and sweaty but hey that's life. This year had the Blake Babies headlining. But Blowfish went early: The crowd was on the small size at that point (I'm sure it got full with the Blake Babies). I caught Weakened Friends. We saw them a couple weeks ago at the Fuzzstival.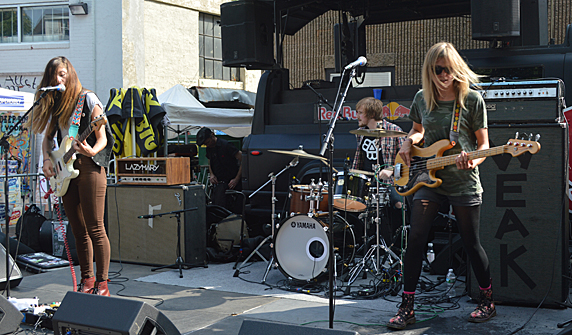 Weakened Friends
Photo: Blowfish
I was glad to hear them again and catch a full set. The guitarist was using some pedals that gave her guitar a dirty tone and her amp was not up to the volume. At the beginning I felt like I was hearing all speaker farting. That amp looked old and had duct tape on the front of it. The sound got better, or I got used to it, and enjoyed the set. But with this group , it's really the bass player who holds it all together. She's solid, she's got energy and plays lines that anchor the songs.
It was a dirty punky set done with conviction. It was hard to get the small crowd to go too wild but they went over.
| | |
| --- | --- |
| Weakened Friends | The Very - Do the Boob |
Saturday night's benefit for Bob Colby had a warm friendly feeling to it. It was because of Bob, of course, and the cozy lounge setting at Once was a suitable place.

Bob will be moving to NC soon, and that brings up a few things that involve us all. One, he won't be here and there's lots of groups who will not get some attention with his nod, then the whole idea of us as a group getting older and retiring. Getting older hasn't stopped some of us from still clubbing but it has for a lot of others – along with life (family situations, health, etc.). Then there is that whole economic reason to split the area; it's cheaper where Bob is going and the winters are a non-issue there. We're all thinking about these issues but tonight it's all about Bob …and the groups he's lined up.
The Very
Photo: Blowfish
The Very have Julie Kantner from the Fertile Virgins. She's been in many bands since then. The Very are low key and their attention is on the songs. Initially it came across as alright indie music to me, then there were 5 songs in the row at the end that made me think, 'this is an EP I'd love to have". The first song that stuck out was Road To Hurt which was a simple song of fate that hit its target. Other songs were Perfumed Apocalypse, Sneak Attack, and one with a winning title – I Only Love You When I'm Drunk. How can that not be a country song? At the end of their set they played Do the Boob, that was cool.
Talking to Julie later she said she was going to record some songs at Wholly Mammoth. And here's a case where Bob's booking lead me to a new band.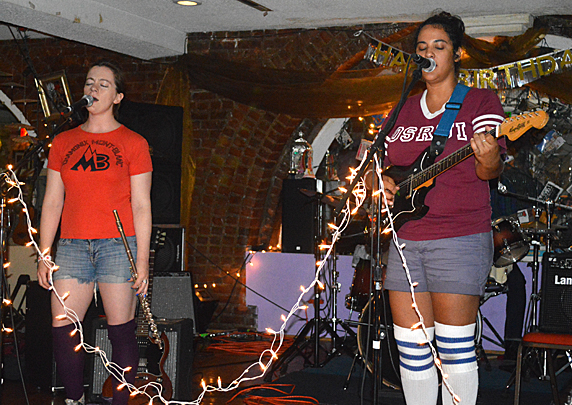 Land of Enchantment
Photo: Blowfish
Land of Enchantment were dreamy pop. The vocals were excellent. They had a flute player who was effective in sustaining the dreamy mode. I don't think they reached the Cocteau Twins plateau (who could) but they made me think of them. If you're in the right mood this group would be perfect.
Viva Gina
Photo: Blowfish
Then there was Viva Gina. They quickly broke the mood both sonically and visually. They looked and acted almost like anime characters. It was a cartoon party on stage. They describe themselves as being about "Sex, violence, and unicorns". Songs were Your New Girlfriend is a Slut and Crotch Punch. Wacky and fun. They have four songs from a WMFO On The Town with Mikey Dee show on Bandcamp Enjoy the view.
Saturday Miss Lyn and John Keegan went to the Middle East Up to check out the Cheetah Chrome/Unnatural Axe show.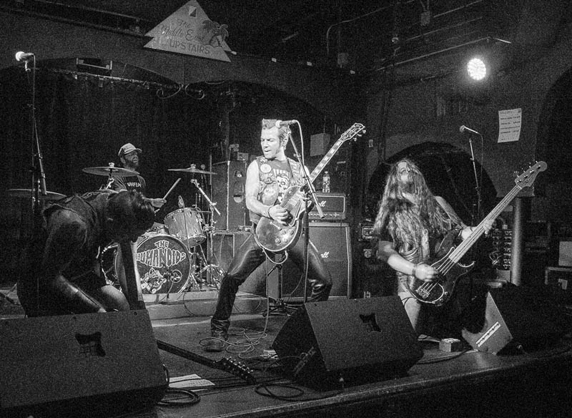 Humanoids
Photo: John Keegan
We walked in while The Humanoids were on stage, they were added to the line-up only a couple days before hand. Tatted to the max these guys were pounding out some serious metal sounds...sort of by way of punk. They were fast and loud and even though there were a total of 10 people in the audience for this early show they delivered a wild and screaming set. They were having fun up there too which added to the whole effect. The lead singer had a serious vibrato that he used to punctuate the lyrics and of course there were blistering guitar leads all over the place too. Though they are serious metal they seemed to be seriously tongue in cheek too. They were fun to watch and listen to. I've been wanting to see these guys and I'm glad I finally got the chance.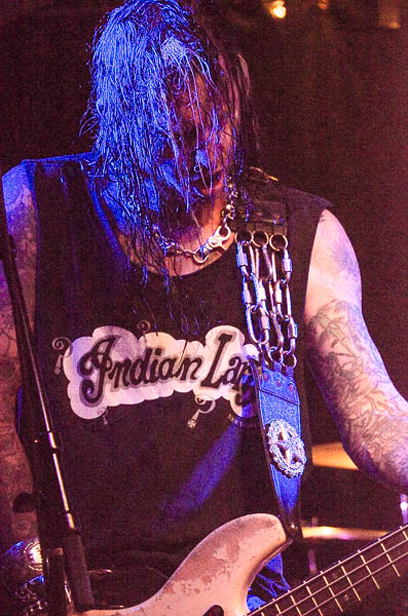 Billy Velvet
Crank Country Daredevils
Photo: John Keegan
They were the right choice to get us ready for the next band The Crank County Daredevils. Never heard of 'em, why would I? They're in a genre I never paid attention to....But I'll remember them now!! Holy heavy metal these guys are sleaze all the way. I thought the Humanoids were tatted up...these guys are covered all over and looked like the type you do not want to mess with. The bass player Billy Velvet is the star of the show - frankly I could barely take my eyes of him!! There doesn't seem to be much that's velvet about this guy (unless of course it's off stage and maybe behind closed doors) - he's a bad bad bad boy dripping in your usual sleaze metal accoutrements: handcuffs, bullets, leatherchaps, bracelets, cuffs, patches and long wet hair that stuck to his face and made him look even more menacing. As he played he was mouthing some words..and I swear they were "mother fucker...mother fucker...mother fucker"...with a sneer that made him look like he was holding himself from a fight. Oh I just love those bad boys!!! But besides all that, his bass playing was commanding and he added riffs that not only highlighted the tunes but sewed them up tight.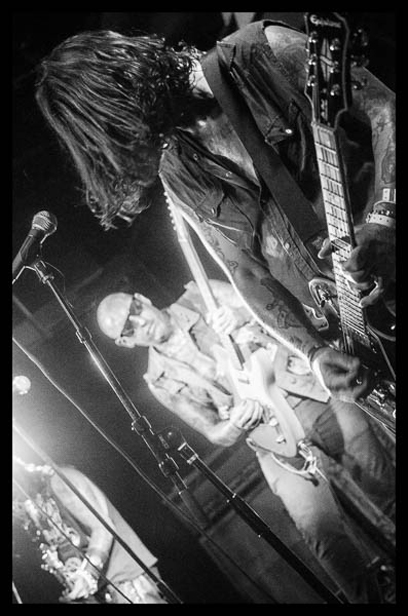 Crank Country Daredevils
Photo: John Keegan
The lead singer's voice travels through a mile of grit and gravel up his throat to finally arrive as a screaming rasp - perfect for their sound. He emphasizes the lyrics with a fist by the mike and his middle finger up. The lead guitar player was a serious and pretty boy who was delivering the wailing leads throughout. And the drummer was a little guy but no less menacing as he stood stone faced outside the club when they weren't on stage....but when they were this guy pounded out killer beats and booms. Whoa...what a set. I'm jealous of Roy who moved to Ashville, NC...coz that's where these guys hail from!! And as Joanie Lindstrom said after the set "I wasn't sure what to think at first but by the end of the set I was won over!!"
Metal Dave Glessner in a 2004 review on JukeBoxAlive.com summed them up perfectly with "...these North Carolina dirtbags sound like Faster Pussycat splitting an eight-ball with Motorhead." Yup, and I loved every minute!!
Richie Parsons of Unnatural Axe
Photo: John Keegan
Now...after being pummeled by the CCDs I thought "How will our guys Unnatural Axe sound after that????" They started their set with Can't Wait for the Summertime and of course they look like clean cut regular guys so it was a totally different feel. But soon enough, as in after 2 songs, they ramped up and were the Axe we know and love. Richie Parsons smashing beer cans into his forehead and pouring beer on himself and spewing it on the audience, got us riled up and in the mood. You know, appropriate behavior for the likes of They Saved Hitler's Brain and Tonight We Fight. They also covered the La Peste song Truth which was a great choice and nod to a great band!! Another nice touch was that just as their set started a swarm of local fans came in and stood up front. There was a little "Farewell" note on their Facebook page for the event and I was fretting that this might be the last time we'd see these guys but Tommy assured me it only meant Farewell to 2016. So they won't play anymore gigs this year, but happily they will be back in 2017.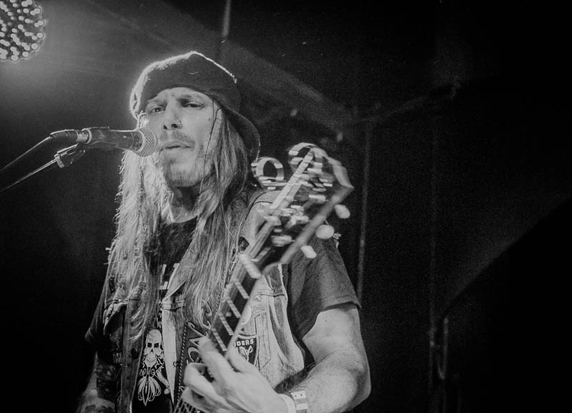 Cheetah Chrome Band
Photo: John Keegan
OK so all night we've been waiting for Cheetah Chrome. Those early days with the Dead Boys were great times for me...and for all of us that were there. How long has it been?? 39, 40 years? Wow. I remember the very first time they played at the Rat. Stiv was crawling around on stage, cutting himself, they were so exciting and punk was so new. To me, when I hear a Dead Boys song I will always hear and see Stiv up there coz there will never be a replacement for him but Cheetah did just a few DB tunes - Sonic Reducer, What Love Is, and one of my faves, I Need Lunch. For some strange reason the mix on his vocals went south and it was hard to hear him singing. But many of his new tunes had that full deep, almost melodramatic, guitar sound that the Dead Boys had (Thank you Jimmy Zero - I wonder what he's doing now??) I was hit with a few minutes of melancholy thinking about how unfortunate it is that Stiv is no longer with us but the positive thing is that, in the past, we saw Cheetah go through some depths and back and now he's doing so well. I hope to see him up there on stage many more times!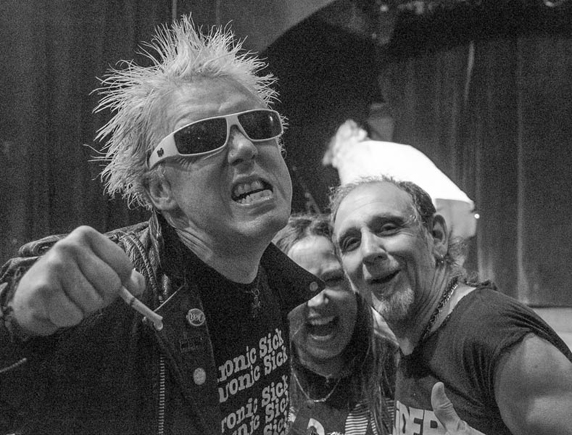 Opie of Nothing But Enemies
with Sara and Cal
Photo: John Keegan
We also met an interesting character in Opie, lead singer for Nothing But Enemies. We wish they'd play out sometime soon!!
It was a hot and sweaty night - literally and figuratively.
In other news......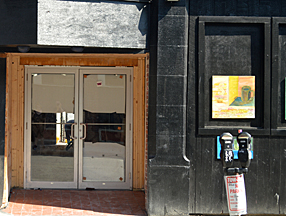 Juliana Hatfield of the Blake Babies was asked a few questions by DO617 as a lead up to Allston's Awesome Christmas show mentioned above:
What is your favorite Boston venue to perform at?
JH: I think the Middle East upstairs was always a good time. I'm not even sure they are still booking bands there?

Hmm, If she doesn't know that she probably doesn't know that TT the Bears is gone. Last week we went by and it still looks like they are working on the renovation to the new club.

Check out Henry Rollins on Ru Paul Drives. Ru Paul drives Henry around LA and they talk about missing out on love: Part 1 & Part 2
He also drives John Waters
Here's an update from Sonny Vincent on his family who were in the tragic fire. Please, if you have not donated yet do so now. Thanks!!



There are a million punk songs, this is just one.


It's short. It's a little stupid. It treats a serious subject lightly. So why are we paying atteniton to it?
Because we are punkers and are attracted to songs like ths. Something that is catchy and sounds like it was made up by a bunch of friends in a basement. Not everything have to be a monumental statement a la Bruce Springstein or U2. And it's not that we want things to be amaturish but we're not scared away by it either.
Erin Has A New Hobby is off a sampler from 2003 called Road to Ruin. The label for this song was Whoa Oh Records. I can't find much on Teenage Sensation Glasses except a few videos on YouTube.
These guys learnt well from the Ramones. It's popped up and lighter but basically a short Ramones' burst. The tone and attitude come off as high school level but I hope the 'crack and heroin' isn't a high school problem.
Best not to worry about it and go along for the bouncy ride.


Teen Sensation Glasses
"Erin Has A New Hobby"
Here's some good shows coming up .....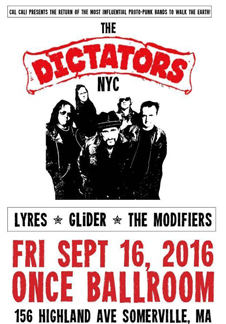 September 13 (Tuesday) The Verb Hotel will open its doors for the public to see the updated archives they have on a wall there, curated by David Bieber. David will speak about the archive. It's at Hojoko, Fenway's neighborhood rock and roll Japanese tavern, located right off the hotel lobby. Tuesday night's event will be open to the public, but space is limited. There will be a reception and meet-and-greet with Bieber from 8-9 p.m., and the live music will start at 9 p.m. The event will benefit Girls Rock Campaign Boston. The bands are Radio Compass, Stars Like Ours and Abbie Barrett & Band
September 14 (Wednesday) FREE Roy Sludge Trio outside at the Rockin' the River show at The Cambridge Side Galleria Mall...at the Canal Park area. 5:30-7:30PM COol!!
September 14 (Wednesday) Ten Dollar Mistake, Hambone Skinny, The Ghost Boys, Tom Beyer are at PA's Lounge
September 16 (Friday) Cal Cali is bringing the Dictators to Boston!! YAY! Line up: The Dictators, Lyres, Glider and The Modifiers at Once The Stigmatics have just been added to the line up! Here's the FB page. and TICKETS!!
September 16 (Friday) Beantown Boozehounds, The Skels, The Pubcrawlers, The McGunks are at O 'Brien's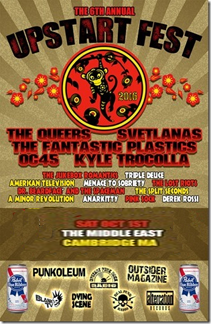 September 17 (Saturday) The Downtowners (see review above) (and featuring Miguel D'Amore!!) visit Brian Young and A Crash Course for the Ravers on WMFO 91.5 1-4PM
September 17 (Saturday) The Cranktones are doing an early evening show at Atwood's Tavern starting at 4PM Facebook page.
September 17 (Saturday) The Swindlers CD Release Party with Centerlink, The Swindlers, The Low Babies and Billy Dodge Moody at The Midway
September 17 (Saturday) Dot Wiggin of The Shaggs will meet fans and sign CDs and albums at Newbury Comics' Harvard Square location. More info on Pitchfork
September 17 (Saturday) Magic Shoppe, Dyr Faser and Violet Nox are at Lilypad - music starts at 10:30
September 17 (Saturday) Huntingtons, Mongorellis, 138, and Profit Margin are at Koto in Salem.
September 18 (Sunday) Rockerzine's Rock n' Roll Trivia Night with Erin & Brett at Zuzu. Check the FB page for upcoming details!!
September 18 (Sunday) Another Sunday Night Mess Around at The Plough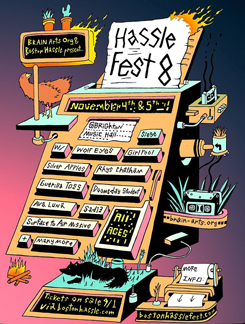 September 18 (Sunday) Huntingtons, Mongorellis, Meat Depressed, Cretins and The Prozacs are at Firehouse 13 in Providence RI for a daytime show 2-7PM
And further out......
September 22 - 24 (Thurs- Saturday) Fitz Fest II – organized by Fitz Ross, a Boston-based video production and show promotion company – will hold shows at three different venues and feature performances from bands like Funeral Advantage, Black Beach, Saccharine and Rye Pines. the shows will be at Great Scott, O'Brien's and the Middle East Upstairs. For list of all bands each night and where check out Allston Pudding.
September 22 (Thursday) Highway Chapel at The Cantab Club Boho!
September 22 (Thursday) Yes on 4 Benefit Show with The Martians, You Scoundrel, Aneurysm, Whoopi Sticks and Limited Freedom at O'Brien's starts at 7Pm
September 23 (Friday) Morgan Delt, Doug Tuttle, Mass Gothic and Beach Toys at the Middle East Upstairs
September 24 (Saturday) Boston Dyke March Punk Benefit with Knock Ups, Gravel, C.E. Skidmore and Yooth Decay See more info on their FB page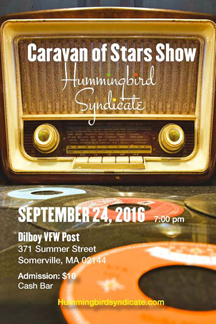 September 27 (Tuesday) Buzzcocks at the Royale ...they played this very room back in 1980! And we were there then too!
September 29 (Thursday) Barrence Whitfield & The Savages and Diablogato are at ONCE Ballroom
September 29 (Thursday) through October 1 (Sunday) The "Rat" Beach Party in Hull. Check it out on Facebook for bands and times etc
September 30 (Friday) The Barbazons are putting a stop to the band for an indefinite period..to celebrate they are having a final show. Also on the bill Ravi Shavi (gotta see these guys!!) along with Earthquake Party and Bong Wish its at the Middle East Upstairs FB page
October 1 (Saturday) 6th Annual Upstart Fest Featuring: The Queers, Svetlanas, The Fantastic Plastics, OC45, Kyle Trocolla - at the Middle East Up...whew!! That's gonna be a killer show. We saw the Svetlanas at the 2013 Upstart Fest and they were great!! NOTE: this is an EARLY shows doors are at 4PM. FB page
October 2 (Sunday) All Ages Matinee Show with The Big Sway, Oh The Humanity, Gant, Spillers, Crow Feeder - $10 *NOTE: 1 PM Doors
October 3 (Monday) Bob Colby Presents: Mr Airplane Man and The Land of Enchantment at ONCE Lounge - He will present occasional shows at this venue now...These shows are taking place as part of ONCE's "Taco Monday" series, which means two things: 1) You can have some great food beforehand (starting at 5). 2) The shows have *no cover*, but donations to performers are encouraged (no set amount, whatever you can do). Look for the big silver bucket, every dollar that goes in there goes to the artists!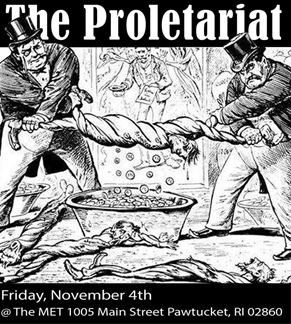 October 7 (Friday) State Of The Union, Watts, Pop Gun, and The Knock Ups are at Koto in Salem
October 7 (Friday) Quiggs, Diablo Gato and Tom Baker & The Snakes are at Opus in Salem
October 8 (Saturday) for those of you who were Ska fans- An Evening with Dancin' Randy's Ska Punk Time Machine at Great Scott
October 14 (Friday) The Time Beings, The Black Souls, Craig Bell (of Rocket From The Tombs/Mirrors/X__X) and Shiny Beasts - this is a show not to be missed!! At the Midway!
October 15 (Saturday) The Stigmatics (Randall Gibson's new band) will be on the Crash Course for the Ravers with Brian Young on WMFO 91.5FM 1-4PM.
October 15 (Saturday) Idiot Genes, Duck & Cover, Chanticlear and Jack Widows are at O'Brien's
October 15 (Saturday) Panzerbastard, The Crosses (Dan Kubinski of Die Kreuzen), FUs, and The Pragmatics at PA's Lounge
October 15 (Saturday) The Upper Crust, Hickoids, The Grannies & Devil On Horseback at Once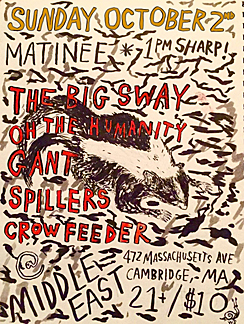 October 21, 22 & 23 (Fri., Sat & Sun) The Boston Rock Opera presents Hair at Once Ballroom.
October 21 (Friday) Fuzbrains Presents: The Time Beings, The Hopelessly Obscure, Glider and If We Go At All at Ralph's Rock Diner in Worcester!
October 27 (Thursday) Panzerbastard, Churchburn, Ritual Blade, and Upheaval @ O'Briens
October 28 (Friday) The Vooduo, (from CA), The Crimson Ghosts, The Skeleton Beats & The Outsiders are at Koto in Salem
November 3 (Thursday) The Proletariat are at Once: "After a 33 year hiatus, legendary Boston punk rock band The Proletariat has decided to reunite for a few select shows . Original members Richard Brown, Peter Bevilacqua and Tom McKnight will be joined by guitarist Dan Sanders(from the Providence band Idle Rich) and will reunite for a series of shows in Fall 16. The reunion comes on the heels of the vinyl rerelease of the bands groundbreaking debut "Soma Holiday" on SS Records." Tickets!! Friday 11/4 they are in Pawtucket at The Met.
November 3 (Thursday)Wolfman And The Brimstone Boys, The Evil Streaks, The Devil's Twins and Damnation are at Opus Underground in Salem #8 brings together several broad ranging underground legends - Silver Apples, Wolf Eyes, Rhys Chatham, and Massachusetts' own, Siege - with mysterious contemporary underground delights such as Girlpool, Guerrilla Toss, Willis Earl Beale, Ava Luna, Doomsday Student, Sad13, Macula Dog, IAN Sweet and many more!!!!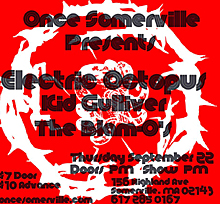 November 9 (Wednesday) Illegally Blind and League Podcast Present: Shonen Knife, Shepherdess, and Birthing Hips at the Middle East Up
November 10 (Thursday) The Sonics will be at Fete Music Hall 103 Dike St, Providence, Rhode Island 02909 - Here's the FB page
November 23-26 (Weds- Sunday) 4 Nights! Jonathan Richman featuring Tommy Larkins on the drums at the Middle East Up. FB page It was an amazing night when we went in 2014. And for fun read our 1980 interview with Jonathan
December 3 (Saturday) Muck & The Mires will be on A Crash Course for the Ravers with Brian Young on WMFO 91.5 1-4PM
December 10 (Saturday) Thrash'n'Bang Christmas Party at the Midway
CONTACT US AT....misslynbgn@yahoo.com - Send us your gig listings, your news and anything else ya got!!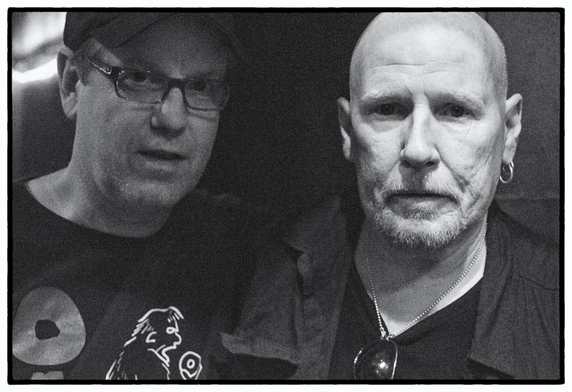 Eric Law and Cheetah Chrome
Photo: John Keegan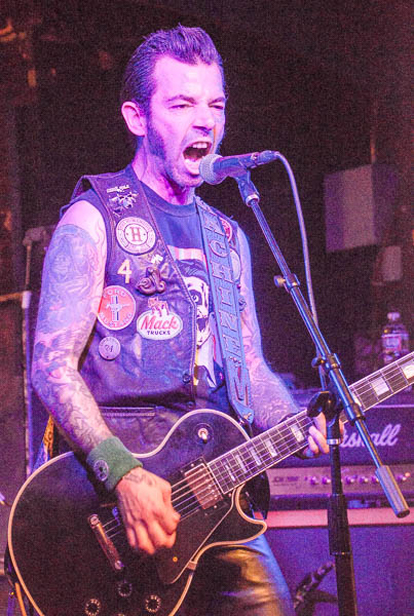 Humanoids Johnny Machine
Photo: John Keegan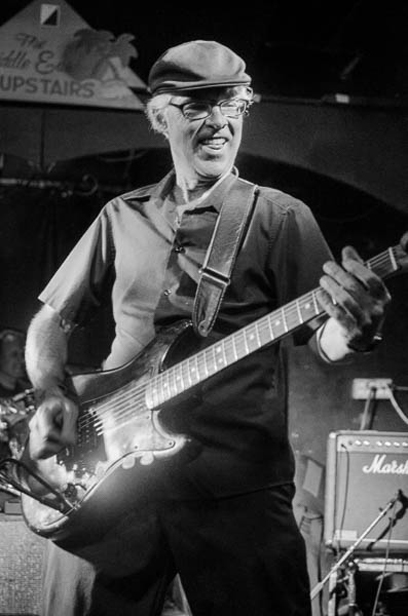 Tommy White-The Axe
Photo: John Keegan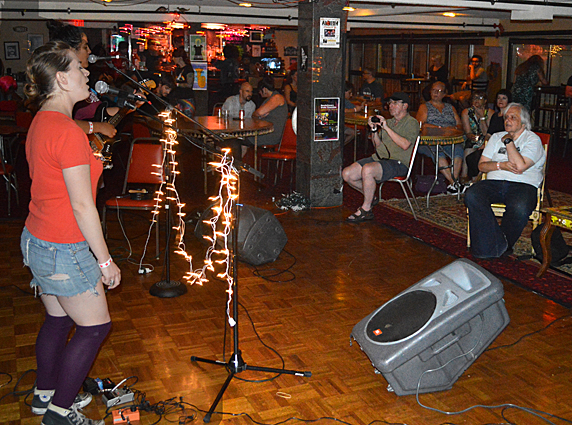 Bob Colby listening to Land of Enchantment
Photo: Blowfish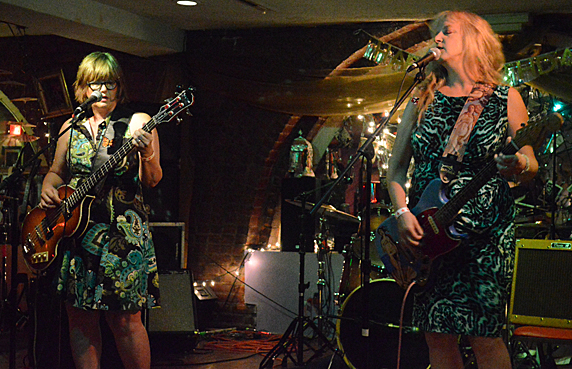 The Very
Photo: Blowfish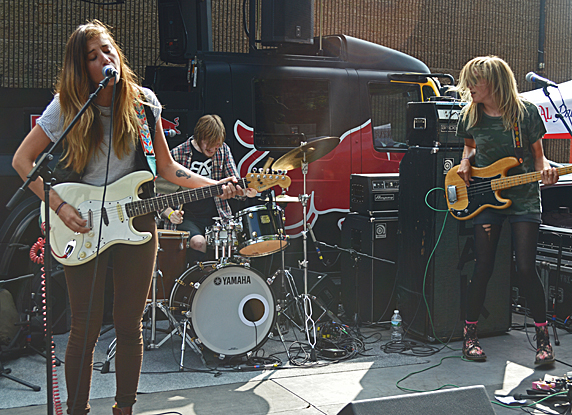 Weakended Friend
Photo: Blowfish
Viva Gina
Photo: Blowfish