The BGN News Archive
October 12, 2015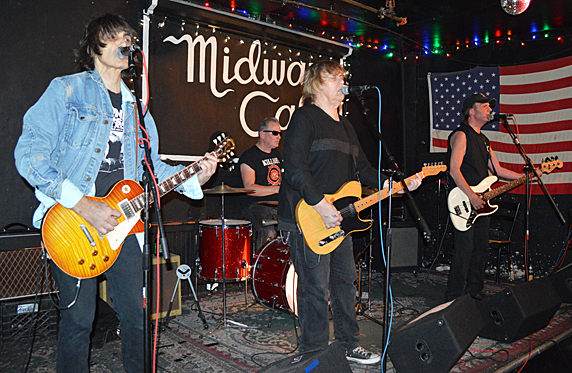 Real Kids at the Midway
In the larger halls this week we had Kraftwerk and the Zombies. The 3D Kraftwerk show really impressed people. Then there was the Honk Festival going on in Davis Square. Bob Colby and Brenda Wheelock were clearly seen in the photo on the front page of the Globe where they had an article on the changing club scene. Globe article. Hey, tell us about it!
Arthur Freedman was at the Chameleons show at the Middle East down and said that show was a winner and he was impressed with openers The Milling Gowns.
The Milling Gowns have drummer Allen Esser. He has a nice resumé: formerly of Primitive Romance, Glass Set, Drumming on Glass and occasional DJ on Wzbc (Pulsebeat with Rav Sundays 10-midnight). Milling Gowns Shows coming up: Sunday, November 1 at the Midway 4-8:30 PM and Jacques Cabaret Underground: Saturday November 28.



Mark Burgess of Chameleons Vox.
Photo: Arthur Freedman




Singer Mark Rimbach of The Milling Gowns.
Photo: Arthur Freedman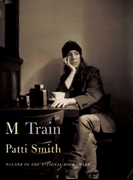 Patti Smith did a book reading at what we used to call Jordan Hall at the old John Hancock building. Questioning someone who went Saturday I found out that Patti Smith had a full hall. At the beginning Joyce Linehan presented her with the Patti Smith Day in Boston Proclamation. Patti talked about her Jazz Workshop gig a bit and of another earlier Boston show where there was only a handful of people (which included the Paley Brothers). I never knew of that show. She read excerpts from the book. The title M Train she explained means Mind Train which is the way she thinks of her creative thoughts. Then she took questions. There was a wide range of people young and old. She ended by having the whole audience sing Because the Night.
We had a busy week outside of the rock this week but did get to the Real Kids on Saturday at the Midway..
Stop Calling Me Frank preceded the Kids. They are a fun loving loose sort of bar band. Their main time was late 80's maybe. Their music roots go back to the 60's mostly. One catchy song was trumpeting the benefits of drinking after work. They had another song where they were yelling "Save the Whales" over and over. I got a laugh out of that. They have their own thing and have some distinctive songs. Here's a video by John Doherty that captures their spirit .
The club was full and people were responding to Stop Calling Me Frank. They seemed to have many fans there. The crowd also gave the previous band The John's a good response. I just caught the end of their set.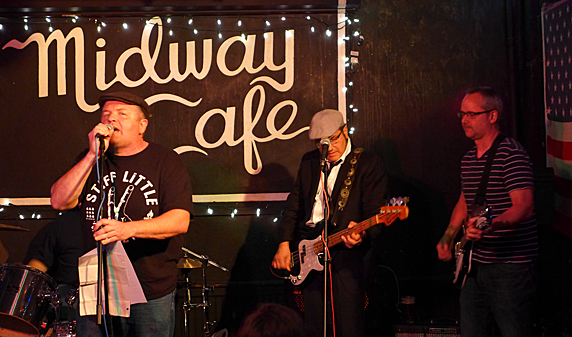 Stop Calling Me Frank
John Felice looked reddy to play and he and the rest of the group was in similiar spirits. This was the same line up we saw at The Billy Borgioli Tribute with Judd Williams on drums. It looks like Judd may be the drummer now. Judd plays differently than Randall and that affects the overall sound. Judd is more nuanced. There is more variety in the playing and Judd is right there for the more rockabilly influenced songs. They began with She Don't Take It sounding full on and at the top of their game. She Don't Take It is a representative song from the resent Shake...Outta Control. All the resent gigs are centered from that material. The 2015 songs sit right next to all the classics as equals. Then as a further indication of the Real Kids current momentum they played a brand new unrecorded song and that was one of the highlights of the set. The songs keep coming. John has said he's got plenty of new tunes. They also have already recorded a few things in preparation of the next CD. Other highlights are the Kinks' She's Got Everything and All Night Boppin' where Dickie on bass dug into a moving bass line and gave it life.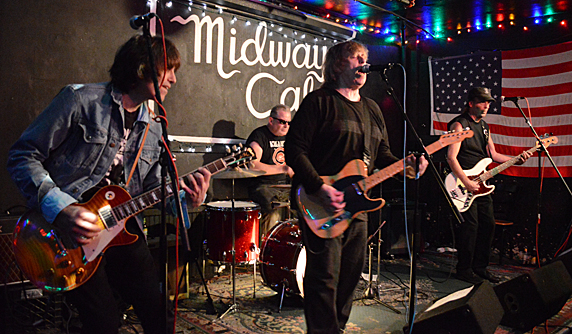 Real Kids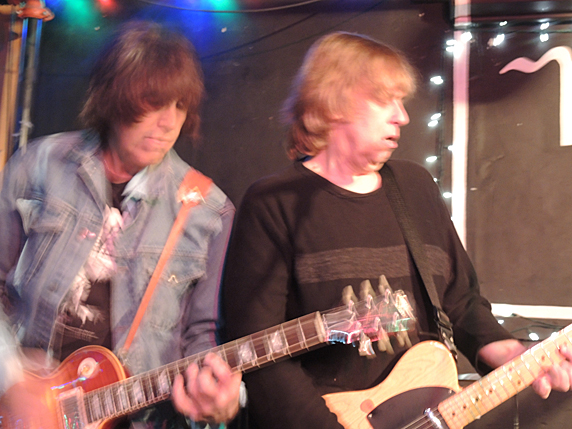 Real Kids
Photo: Arthur Freedman
The covers have become a thing because the band makes them their own. Billy Cole picked up the 12 string as they do the Beau Brummels Don't Talk to Strangers and The Beatles You Can't Do that. John was in good voice and the guitar work was sharp. He did many string pulls with a clear tone. The Telecaster was made for this style and I was eating it up. The last song is the always powerful Who Needs You that they have rearranged. It started slow and low and slowly adds power, volume and emotion and ended pouring out the angst. It was a worthy ending. The crowd wanted more and they got Baby Blue and Reggie Reggie as encores. Great show and I had my Real Kids fix.
We have more Real Kids photos from Arthur Freedman.... Photo One, Photo Two, Photo Three, Photo Four, Photo Five.
At the show was Nancy Neon and it was great to see her. Also a fan who came from France, Cretie Sizaret. She saw the Real Kids back in the early eighties when they toured France and played to big audiences, according to her. She says there is still load of interest and people would love to hear them over there.
Litehouse
The third annual Rat Beach Party was a four day event starting on Thursday. I made the last day on Sunday. Even from the sidewalk outside the club I could hear the powerful voice of Clara Wellons of Litehouse calling like a siren. She was completely ON and captivating. I heard about three songs and they were cover songs which the group likes to do.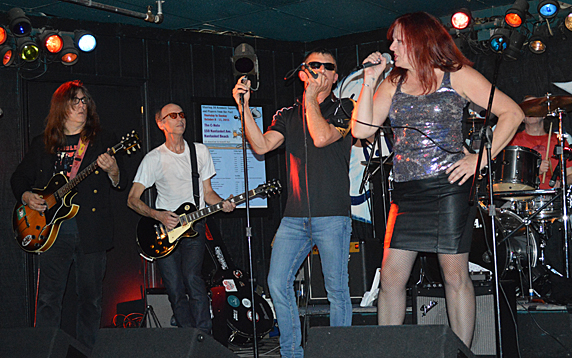 Black Souls
Most of Litehouse stay on the stage because they are also the members of The Black Souls. We have seen them before and they did the same thing at this show but at a higher level. Everything was sharper and more developed. The main focus is Kim and Cam Ackland's singing. Their dynamic onstage is like the great duos of the past: Sam and Dave, The Righteous Brothers, or Sonny and Cher. They sing alternating lines that are a dialogue between them. This is not something we usually get. This is being done to some obscure rock/soul/blues tunes. Stow Kelner on bass was a standout with soulful playing. Matt Burns has never sounded better. He was in that real sweet spot combining rock and soul playing.
It was a set of upbeat party music. I have to think they will gain fans as they get heard.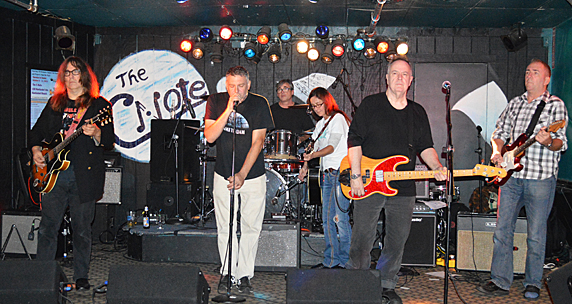 Trusty Sidekick
This was a chance for me to catch Trusty Sidekick which I have narrowly missed a few times. This band also has Tony Kaczynski from Fireking in it which guarantees it will be interesting.
They play a genre defying brand of rock. It reminded me a bit of Stop Calling Me Frank I saw the day before who also played a broad version of rock. It's hard not to pay attention to the demonstrative lead singer. He has a bit of the storyteller's lilt to his singing that comes from the lyrics which seem to be telling tales and anecdotes. It's very engaging. Once in the lyrics he mentioned "ashtray heart" which is a Captain Beefheart reference. Later he threw Spongebob Squarepants in there. One memorable chorus of "home is where the heart is" had an emotional punch.
The overall group sound featuring three guitars was dense and driving. There's a lot to like in this unique band. Brian Young on Crash Corse for the Ravers have spotlighted them many times.
Brian was also doing the intros for the night and Michael Weddle joined him onstage to relate the news of the Rat Scholarship fund.
Highway Chapel
Lately we got a sad news that James Straight and the Wide Stance were breaking up. Those shows at the Magic Room were classics. Joe Fagan from the group now has a new effort called Highway Chapel. Austin Powell the bassist from Wide Stance is included with Kate on drums...well suitcase and symbol. It's a low key trio with Joe on electrified acoustic.
I'm used to Joe playing a dirty guitar maybe standing on a chair so I'm surprised as he gives subtle versions of country rock favorites. He plays Dead Flowers, Honky Tonk Woman, Knocking on Heaven's Door and Dear Prudence. There's lots of nuance in the vocals as he changes the melody lines to make them even more country. This was a big chance to take but it all works.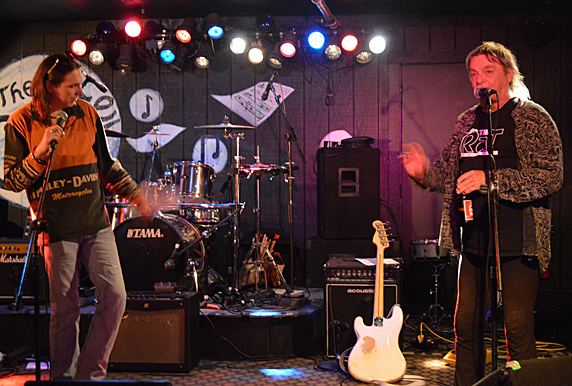 Brian Young and Michael Weddle
The group fits on this bill which showcases disparate bands with open arms. Kudo's to Michael Weddle who gave four days of rocking on the rock poor South Shore. Two of the days were 11 and a half hours long. This year the Rat Beach Party moved from the Red Parrot to the C Note. The C Note is proving to be a better fit. Weddle says the owners are amenable to setting up a one a month Rat night. He also says he's building up the Rat Scholarship fund and at some point will set up a scholarship at some music school in Boston.
Other News........
Trophy Lungs just put out a video of a song from their new CD Day Jobs. Their last video of Dad's Away On Business was very well done as is this one. The song Bathroom Graffiti is about remembering people who have died. The song tugs at your heartstrings but the performance is full of energy. The video is posted here... www.absolutepunk.net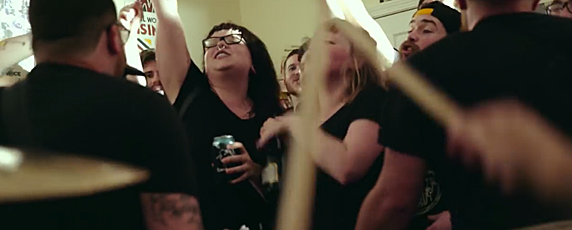 Trophy Lungs video of Bathroom Graffiti
Club dates:
October 12 (Monday) Today Junior, a band we are big on is doing a lot of shows this October. This show at Firebrand Saints is with Gooch Palms and Everthing and Everyone. Today Junior are back at the same club on October 31.
October 13 (Tuesday) Bent Shapes, The Kickback, and Birdwatching are at O'Briens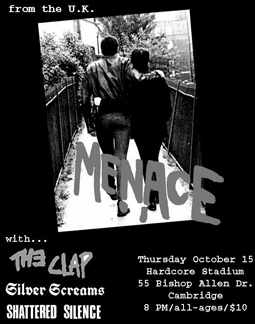 October 15 (Thursday) Menace (UK), The Clap, Silver Screams and Shattered Silence are at "Hardcore Stadium" which is The Elks Lodge at 55 Bishop Allen Dr in Cambridge. This is an all ages show!
October 16 (Friday) Ghost Box Orchestra (their EP Release Show), Major Stars, Soft Eyes and Boom Said Thunder are at The Middle East Up
October 16 (Friday) There is the Spooktacular at the Out of the Blue Gallery. They claim to "have many spooky and non-spooky animations, films, and experiments with images to kiss your eyeballs with!"
October 17 (Saturday) A Crash Course For The Ravers & Brian Young will feature Greg Allen's Fringe Religion! That's WMFO 95.1, 1-4PM
October 17 (Saturday) As part of Crash Safely 2015 a Benefit for MS at The Midway are The Sprained Ankles, The Dents, Muck & the Mires, Phil Aiken Army, Gymnasium
October 18 (Sunday) Ringo Deathstarr, The Membranes and Magic Shoppe are at The Middle East Up
October 23 (Friday) As part of Crash Safely 2015 A Benefit for the National MS Society the Middle East Up has Township, Watts, Unnatural Axe and Fireking - that's a GREAT show!!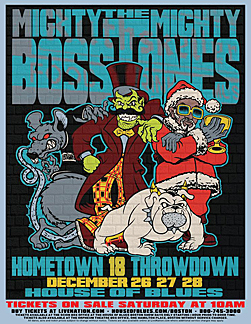 October 24 (Saturday) Greg Allen's Fringe Religion along with Jane Lee Hooker are at Johnny D's FB page This should be an amazing show folks!! Check out this Jane Lee Hooker viddy.

October 24 (Saturday) M.O.T.O., The Black Souls, Thee Sonomatics and Apollo Blue are at The Midway FB Page

October 25 (Sunday) - TRiPLE THiCK, Pat Todd & The Rankoutsiders (ex-Lazy Cowgirls), Thee Itchies and Hambone Skinny are at The Midway - Kenne Highland will be joining Triple Thick on a few songs too.

October 25 (Sunday) The early show has Rockin' Bob Punk Band (Bob Cenci of Jerry's Kids), Broken Stere and Jason Bennett & The Resistance

October 29 (Thursday) Illegally Blind is throwing a Halloween Party with Vundabar, Creaturos, Televibes, Mini Dresses, and Wakes at The Middle East Up

October 31 (Saturday) a Halloween Show at PA's Lounge with All The Rest Burlesque, Women's Wrestling by: BLOWW along with music by The Deaf Cats and Strangers with Knives


October 31 (Saturday) a Halloween Show at the Midway with The Satanics, Devil On Horseback, The Drawstring Lamps as Dead Kennedys, Ian Cat & the Crimsons as My Bloody Valentine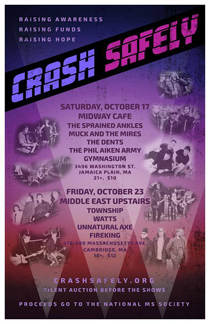 October 31 (Saturday) Halloween Show at O'Brien's with PJ Harvey by Mud Dive, Hole by The Knock Ups, The Smiths by Four Point Restraints and The Pretenders by lotsa folks
November 6 (Friday) at PA's Lounge: L.S.C (Light.Sweet.Crude), Happy Little Clouds, The Knock Ups and Easy Reasons
November 10 (Tuesday) Jonathan Richman with Tommy Larkin on drums will be at the Somerville Theater. Its a 7PM show. Tix are $21. We saw Jonathan and Tommy at the Middle East Up in March last year and it was FANTASTIC!!
November 11 (Wednesday) International Pop Overthrow is at PA's Nov 11- 15 Day One starts at 7:30 with Trick Wallace Trio, Natalie Flanagan, The Eric Barao Band, Marriage Material, Bedford Davis and SHIRR FB Page for all days
November 12 (Thursday) International Pop Overthrow at PA's Day Twostarts at 7:30 with Skyler and The Brit, Oberon Rose, Richie Parsons, The Tripping Souls and Powderhouse
November 13 (Friday) International Pop Overthrow is at PA's Day Three: starting at 7:30 with Corin Ashley then Michael Oliver & The Sacred Band, The Forz, Big City Rockers, John Powhida, Fireking and 1.4.5.
November 13 (Friday) NoBunny, The Monsieurs, Nice Guys and Gym Shorts are at The Middle East Up.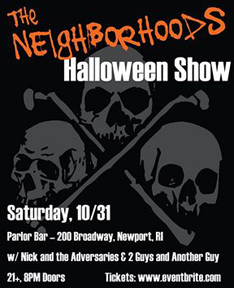 November 13 (Friday) The Furs, Tom Baker and the Snakes, The Blue Ribbons and Peter Buzzelle and The Academy are at The Midway (FB page)
November 14 (Saturday) International Pop Overthrow is at PA's Day Four starts at 7 :30 with Arthur Nasson then Cliff Hillis, Lannie Flowers Band, The Brigands, London Egg, Watts and Dave Rave
November 25 (Wednesday) It's Thanksgiving Eve...what better time to head over to the Brighton Music Hall for an amazing line up of The Flamin' Groovies, Muck & The Mires, The Connection and Fireking!! WHOA!!Tix here.
November 25 (Wednesday) Another Thanksgiving Eve party over at the Sinclair for the The Daykamp Poster and Photo Show featuring The Sheila Divine, Sidewalk Driver and Weakened Friends.
December 4 (Friday) Kermit's Finger, Penis Fly Trap, Padded Hell and The Unstables at O'Brien's
December 8 (Tuesday) Oh Oh OH!!! Rocket From the Tombs is at the Brighton Music Hall!
CONTACT US AT.......misslynbgn@yahoo.com - Send us your gig listings, your news and anything else ya got!!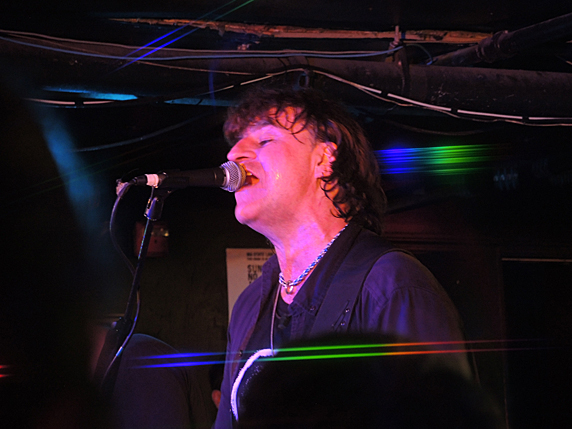 Mark Burgess of Chameleons Vox.
Photo: Arthur Freedman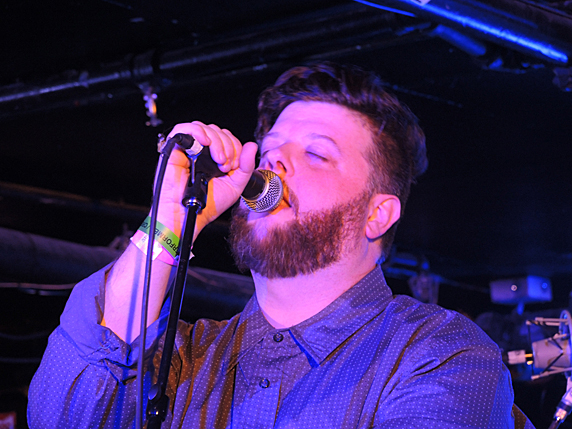 Singer Mark Rimbach of The Milling Gowns.
Photo: Arthur Freedman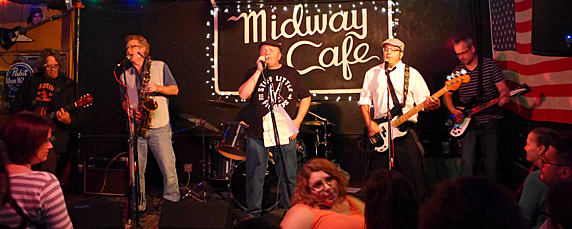 Stop Calling Me Frank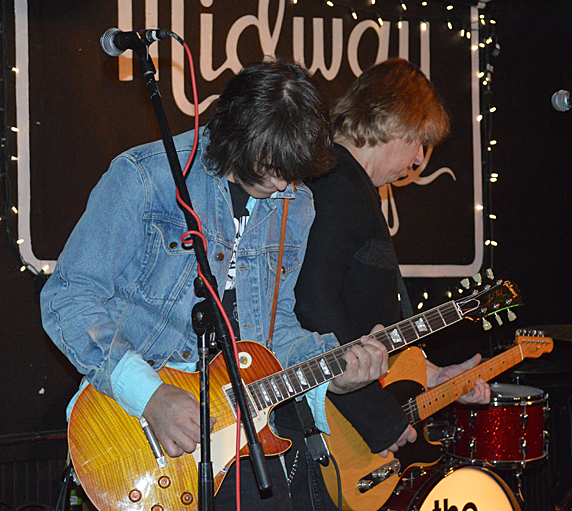 Real Kids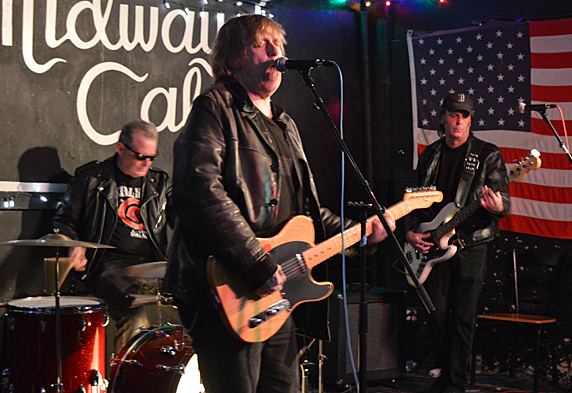 Real Kids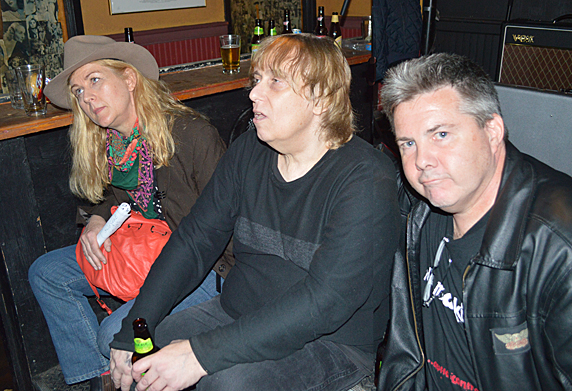 Cretie Sizaret , John Felice and Richard McCarthy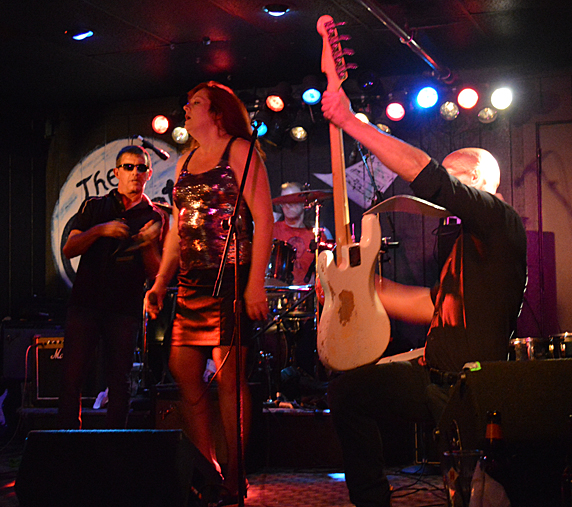 Black Souls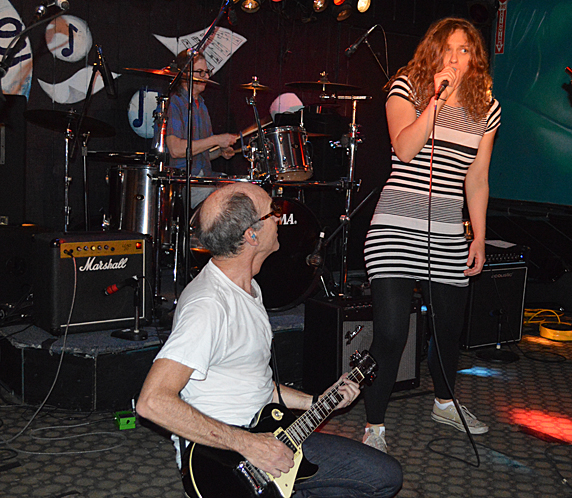 Litehouse
Brian Young, Tony Kaczynski and Kim Ackland