The BGN News Archive
October 20, 2014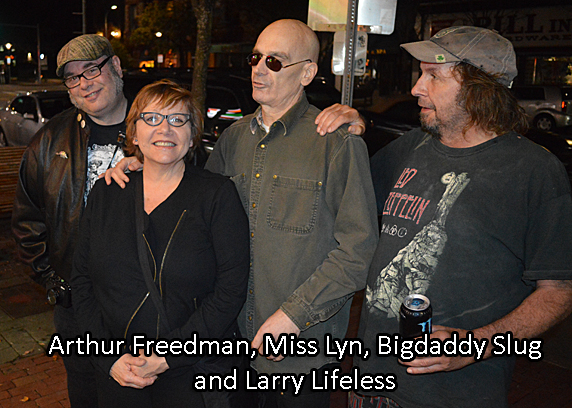 It's not in our usual punk territory but we saw and loved Plumerai. Now they have a new name; DRLNG and were having an EP release party at the Davis Square Theatre. The Davis Square Theater is very comfortable; plenty of seats and climate control. With Cuisine en Locale we now have two new patron friendly clubs. The other times we saw Plumerai (DRLNG now) they were on well put together bills and tonight was the same.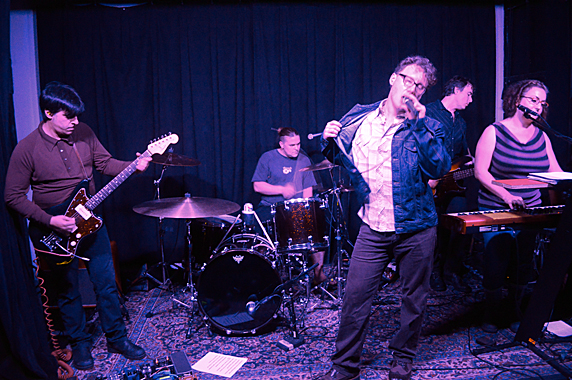 Cooling Towers had some of the same qualities as DRLNG. I'm late finding them as they have been around for since 2010 and played the Rumble in 2012. Tony Savorino was playing guitar but looks like he was a replacement for the original guitarist. I've seen him in some of his other groups (Black Fortress of Opium)and loved his playing but for whole group experience this one is the one I think works the best. They are like an 80's New Romantic band that got transported to the present. They have fine musicianship all directed to the songs and the songs are all catchy and full of emotion. On top of that they have a real winner in a strong singer. He gives some low key dramatic flourishes to the performance while his vocals are clear and expressive. Check out this video of the song Hard Headed Woman, it captures how they come across live. Here's the Cooling Towers web site.
There were less than 20 people there for Cooling Towers' set and then about 35 for DRLNG's set.
DRLNG is the new name being used by the band formerly known as Plumerai, but that does not reflect any change in their music in any way. They still have the airy vocals and the shimmering curtain of sound as a backdrop like when we saw them at Radio and PA's Lounge Lead singer Eliza Brown is a unique entity and the whole feel of the group originates from her romantic French slant to singing and performing. As the music floats by in an acoustic fog and Eliza's voice swoops up and down you are transported out of your workaday world. It's very European and adult feeling. Where's the attention for this group? The songs would be perfect soundtrack material also.
Two good groups turned around a rainy Thursday.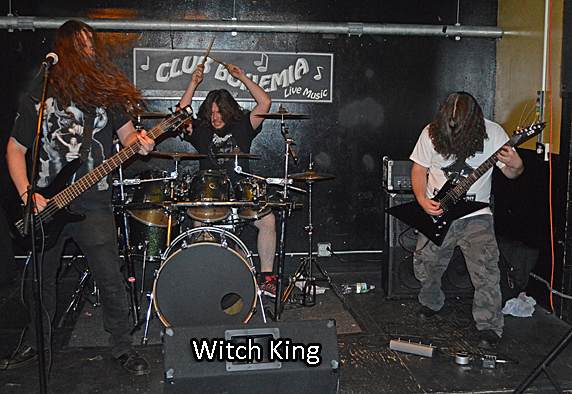 It was a 180 degree turnaround for Saturday night as we stepped down into the Club Bohemia at the Cantab to hear some death metal bands and Kilslug. We came for the Kilslug the death metal was just extra. We're not a fan of the throat singing slogging genre but we gave it a listen and found things to like about Witch King. The singer not only sang in the big evil Cookie Monster voice - he announced the songs in it! I think one lullaby was called Satan and the Sluts of Sodom but I might have misheard. This was a trio with not much soloing. The drummer was the focus for us. He had some moves. One thing he did was a rapid rap with one drum stick to make a machine gun sound rather than do a straight two handed roll. It was a signature riff. The smallish crowd gave them a good hand.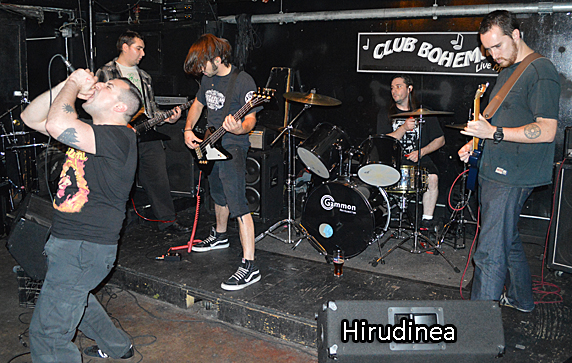 As Hirudinea came up the crowd grew a bit. Hirudinea started out where Witch King left off but upped the ante by upping the volume and the tempo. Starting from a death metal point they slowly changed and were hardcore by the time they finished. I liked them more in the hardcore vein. The singer was pumping out the vocal with mucho energy. The set was about 15 minutes. Short and sweet.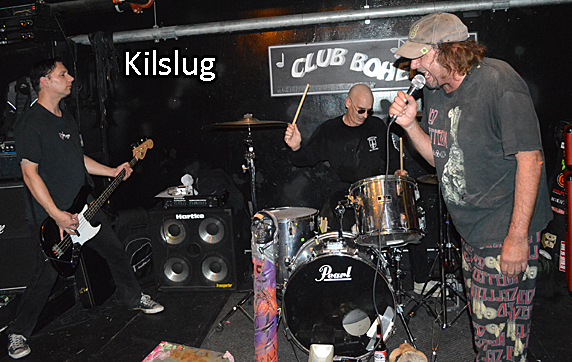 Again the crowd grew a bit for Kilslug. We caught them last at the Presidents Club in Quincy. The excitement grows as the Kilslug legend precedes them, all that is personified in the unlikely front man Larry Lifeless. This guy you would pass in the street and not think anything off is transformed into a raving volcano spewing a vituperative spiel. Maybe you wouldn't pass him tonight without a look because he's wearing a Led Zepplin shirt and Led Zepplin pajama pants...along with his purple crocs. Tonight they have John Darga on guitar again. We were told it's hard for him top make many of the Kilslug shows since he's spending most of his time doing White Dynomite shows. The band plays heavy riffs in sync that bottom out with a clipped chord or two. The riffs are good and the effect is impressive. The mid tempo music moves enough so it's never dull and with Larry nothing is ever dull anyway.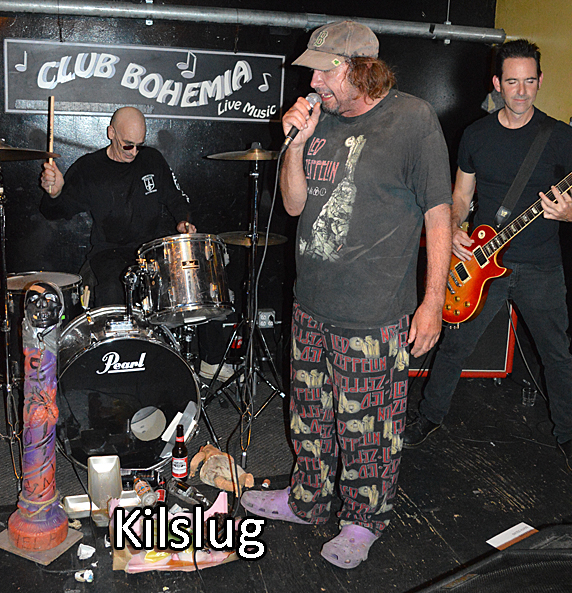 Up front the Kilslug fans are doing some crazy things to some props that were on stage. The rabid devotes hug the stage so it's hard to see what's happening but some dolls get drop kicked a few times and a photo of a pope/bishop gets ripped up. This reminds me of Murder Junkies where the edgy fans inject another level of unpredictability and possible danger into the gig. Eventually it looks like a roadside shrine in front of Big Daddy's drums. Near the end a putrid smell permeates the club. Is it coming from the stage? What are they doing up there we think. But no, it's the mens room and it's backed up. Kilslug, always an experience.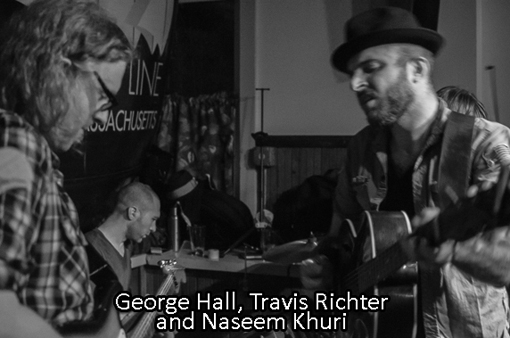 In other news:
Also happening at Club Bohemia at The Cantab through October 26th (Saturdays at 3PM, Sundays at 7PM) is a musical play being show every Saturday and Sunday: J.A.S.O.N.....it's a "A comic adaptation of the Argonautica and Euripides' Medea, this bloody tale is told as a one-hit wonder. Myth, mayhem and murder spill out onto the stage as a punk rock band leaves destruction in its wake during a five-month tour. This production features performances from Boston performers Liz Adams as Medea, Daniel Boudreau as Peleus, Kim H. Carrell as Heracles, Rick Chason as Nestor, Tim Hoover as Orpheus, R. Benton Orzalli as Meleager and Emma Walker as Atalanta. It's all sex, drugs and rock 'n' roll channeled through a classic Greek myth. Sounds interesting to us!! Check out more on their FB page and their blog.
Carl Biancucci bass player extraodinairre of bands such as Classic Ruins heads off to Merry Olde England this week to hit the recording studio with his USA/UK band Shotglass Killers. Maybe, just maybe...local producer Brian James (The (original) Damned) will pop by the session...it's happened before. Stay tuned. You can read Carl's previous London trip diary from when he payed at the lengendary 100 CLub with The Shotglass Killers and Brian James and Rat Scabies!
And uh oh!! The Tiki Spookout planned for Saturday Oct 25 at the Portland, ME Bayside Bowl got all spooked up coz the bill was The Beachcombovers, The Flipsides, The Aquanauts with WMPG FM DJ Matt Little spinnin' spooky vinyl atween sets but Beachcombover Tommy White now has a big boo boo on his finger! Here's the official news release: "A tragic work related accident has sidelined guitarist and bandleader Tommy White.
While preparing to film the prestigious MIT Symphony, Mr. White's left index finger was lacerated by a piece of camera equipment. He was rushed to the MIT Infirmary where he was operated on by MGH's Dr. Eli Miloslavsky. In a statement to the press Dr. Miloslavsky said "He screamed like a little girl when I jabbed him with lidocaine and pried out the broken fingernail." The Beachcombovers would like to thank the fans for all the flowers, telegrams, stuffed animals and cards.
Unfortunately, we have to cancel our last performance on the "All Washed Up Tour at Bayside Bowl in Portland Maine on Saturday October 25."said Beachcombover spokesperson "Bitchin Bruce Boardbuster". "We hope to be back in the spring, when Tommy is expected to fully recover." Refunds are available at the shoe return desk of Portland's Bayside Bowl."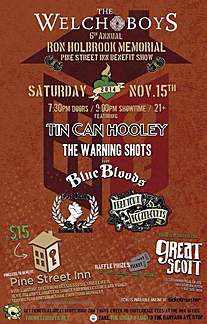 And coming up this Sunday Oct 26th is a special show at The Middle East UP with a Refuse Resist Reunion to Benefit Brendan White (please read below!) , The Blue Bloods, Taxi Driver, BarRoom Heroes - This is a matinee with 1PM doors, also it's all ages ALL AGES
From the promotors of the show: "Please join us in supporting Brendan White, former bassist for Refuse Resist. In the early morning hours of March 18th, 2014, Brendan was a passenger in a vehicle that lost control while driving and crashed off the road into a nearby ditch. Brendan broke four bones in both his arms, had two corrective surgeries and was hospitalized for over one week.
Once released, Brendan required four months of physical therapy to regain functional use of his arms. Once an avid boxer and musician, his abilities continue to be limited and has still not been able to return to his previous hobbies or able to work close to the capacity he was able to before the accident. Brendan has suffered through tremendous personal and financial losses as a result of this incident. Let's pull together and see if we can help him out with the enormity of this tragedy by lessening the burden of his medical and living expenses for his young family. If you cannot attend the Sunday Matinee, please continue to spread the word."
Here's some good gigs coming up:
On Crash Course for the Ravers (WMFO 91.5FM) on Saturday Oct 25 they have some cool guests with The Pity Whores and The Skeleton Beats (who we really like) as well as the happy newly wed couple Andrea Gillis (Andrea Gillis Band & Gilly's Throwback Snacks at Brass Union) and Marc Pinanski (Township) ...should be some good conversations in those 3hours!!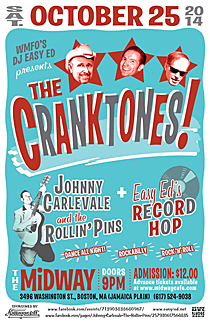 October 25th we can see The Cranktones at The Midway again kids...it's WMFO's Easy Ed presents:- The Cranktones, Johnny Carlevale & The Rollin' Pins, plus Easy Ed's Record Hop!!! - great night!!! These are fun gigs with a friendly group prone to dancing….. And Easy Ed doing the DJ thing between sets….Here's a video we took last time they were there….check it out here!
Also on Saturday, October 25, at Copperfields there's compilation CD Release Party for Chris Atwood's radio show The Alternative on WATD featuring: James Straight and the Wide Stance, A Fifth Column, Ruby Rae, and The New Frustrations. That little radio show is getting bigger by the day. It's a gr3eat compilation disc and you can purchase it here. And check this out The New Frustrations song Biggest Lie got chosen as song of the week on the German Internet Radio show called NBT Music Radio! Congrats guys!
it's a busy Saturday - also on 10/25 we have The Nervous Eaters, Richie Parsons and Asa Brebner at Sally O'Brien's in Union Square Somerville.
And also on the 25th -in Inman Square at the Lilypad there's a interesting gig with The Foreign Resort (from Denmark!), Magic Shoppe which incluldes Kris Thompson on bass and Boom Said Thunder.
And happily there's Free Sludge at State Park in Kendall Sq The Roy Sludge Trio play so it's Roy with Duke Levine, guitar and Jim Haggerty, upright bass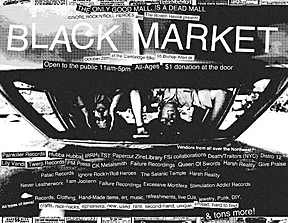 Hey check this out Boston Hassle & Ignore Rock'n'Roll Heroes bring us the FIRST ever Art/Record/Flea/Artisinal Market!!! Black Market will happen on Sunday Oct 26th Cambridge Elks Lodge, 55 Bishop Allen Dr., Central Square Cambridge. It's on from 11am-5pm. It's All Ages but the BAR will be open for 21+. There are DJs all day long, upstairs and downstairs AND the $1 entry (gets you automatically entered into a raffle for tons of prizes + FREE STUFF offered up by local businesses/ record labels ETC). There's over 60 vendors : Painkiller Records, Hubba Hubba, Papercut Zine Library, Boston Compass, Static Frame/ Phoebe BH, High Tension, Lisa Markham, Amy Plante, Holy Calamity Studios, Infinite Scroll, Dave Ortega, Cindy Veasey, FSI collaborations, Death/ Traitors (NYC), Distro 12, Lily Vandi, Twerp Records, PM Press, CK Metalsmith, Failure Recordings, Queen of Swords, Harsh Reality, Give Praise, Patac Records, Ignore Rock 'n' Roll Heroes, The Satanic Temple, Never Leatherwork, I am Joolien, Disposable America // True Believers Fan Club, Amadeus Mag, The Henna Project, Gentlespersons Gently, Alisa Kharakozova, Bacteria Field, Dripping Dream Vintage, Great Success, Lightning Willow Farm, Creature Den, Boston Kendama & Anastasia Hard, Kitty Hemp, Skele-Tone Records. Excessive Mortifera, Stimulation Addict Records, Boston Hassle, Bodies of Water arts and crafts, Alison Gordon, Zoard Tyeklar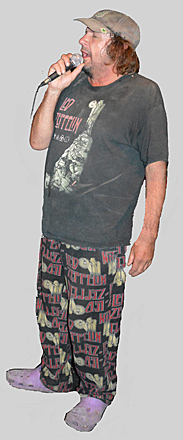 Saturday Nov 1 Kenne Highland and the Gizmos will be in Cleveland, OH for The 6th Annual WCSB Halloween Masquerade Ball
with: The Gizmos (original 1976 version), X_X (w/ John Morton of Electric Eels), All Dinosaurs and Counter Intuits
Sunday November 2nd Tha Neckbone, Hardcore Stadium, and Vivi'D Present: Sheer Terror w/ Stars and Stripes, The Peacebreakers, MFP, and Honest John are at The Middle East Down. Here's a viddy of Sheer Terror when they played in Boston in 1989!
Friday November 7th there's the Cal Cali Band-along with Tsunami of Sound, -The Last Ones-(Ric Corraccio back in Boston!) at Sally O'Briens, Union Sq. Somerville
Whoa this is so totally worth the trip to Beverly!!! Willie Loco Alexander/ Nervous Eaters/ Real Kids - Saturday, November 8 at The Spotlight Tavern in Beverly, Massachusetts Here's the FB page
In November Bob Colby has his Store 54 show with When Particles Collide and Powerslut on Saturday November 8th
Roy Sludge is doing another Sunday 4-8:30 Pm show on November 9th at The Midway!
Cavestomp ! & King Yum Records Present: Lyres with Special Guests Wicked Cool Recording Artists Cocktail Slippers, The Connection, TRiPLE THiCK on Friday, Nov 14, 2014 at The Middle East - Up. This is one amazing line up!!
Also on Nov 14th over at The Midway you will find The Upper Crust ,The Weisstroauts, Tim Lee 3 and My Own Worst Enemy - that should be a great show!! And an interesting mix to say the least!
At The Midway - November 16th (Sunday - Day Show): The Humanoids, Mama Ladilla, The FUs, Chin Strap This is a matinee - it goes from 4- 8 PM and its all ages!! AND only $6 to get in!!!
Mark yr calendars for this one!!: December 12th (Friday): The Real Kids , The Titanics, The Nectarines - at The Midway
Also on The 12th its Dial M for MUCK at Church - It's a Muck & The Mires Record Launch Party!! Also on the bill are Daddy Long Legs (Norton Records -NYC), The Dogmatics and Thee Itchies.
CONTACT US AT....misslynbgn @ yahoo.con Send us your gig listings, your news and anything else ya got!!