The BGN News Archive
November 24, 2014
A few weeks ago I caught a few songs by Today Junior at O'Brien's. It made me want to see a whole set so I could tell what they were really doing. That got me to TT's on Tuesday. I saw the tail end of DadFight's set. It was just enough to appreciate the fact they were rocking. I looked around and counted; there were 35 people there.
From Today Junior's first song I was intrigued. Now that I could see what the guitarist was doing I could see how unique he was. The songs are comprised of plentiful moving chords. It seemed like a chord a measure. He was playing major, minor, seventh, minor seventh, sixth and more; and then on top of that he was moving fingers to give leading tones. I don't think I've seen anybody use their pinky as much as this guy. He's comfortable playing the full neck from the nut to the top frets. The beauty of it was that the songs didn't sound disjointed, jerky or jazzy, it was rocking. His craft made it all flow. I wasn't expecting this. By not using any worn out conventions of songwriting or playing he sounds distinctly modern.
The lyrics are sparse but I liked what I heard. The best three songs were his three new ones which tell me he's going in a fruitful direction. I remember more individual moments in songs than whole songs but I don't know exactly what that means. The drummer and bass keep everything exciting yet still grounded enough. The drummer ended one song by hitting on two drum rims; a creative attention getter. I don't know where this guitarist comes from but he's learned his craft. I'll be following them to see what develops.
Time again for the International Pop Overthrow which was at O'Brien's this year for four days. The IPO is the creation of David Bash who has done this for 12 years in Boston and a few more years before that in other cities. We've caught it now and again but real pop fans should always hit it.
When I walked into O'Brien's on Wednesday the whole audience was crowded into the bar area. Usually there are people all over the floor area and standing in front of the stage. Maybe that was because they are filming all the bands as a part of a documentary called The Power Pop Movie.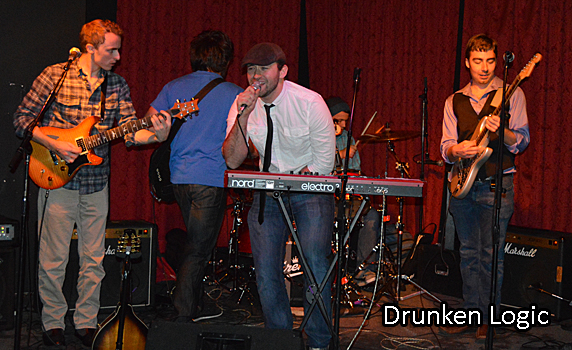 On stage was Drunken Logic. They played two power pop beauties and I was thrilled, but then they played four songs that misfired. One being a cover of Benny and the Jets – ah, no thank you, not for me. They revealed that they usually play in a cover band and I think some of that sensibility came through, in not a good way. But it was quality playing and singing and those two songs were winners.
The Eric Barao Band play a sophisticated arranged type of pop. They tag Jon Brion on their Bandcamp page. Jon is the main practitioner of this style for a long time. One member of the band was in Paula Kelly's band. Paula was doing this in Boston in the early 2000's. Eric Barao Band's CD was produced by Bleu and done over at Ducky Carlisle's studio. We saw Ducky playing drums with Asa last week.
The music was precise (two players had music sheets in front of them) and lush as you would expect. I think some are Berkeley players. I liked it. It's hard for something like that to go bad. Check out this video of Running in Place which is a good example of what they do.
That was just two out of six bands that were playing. Bash knows how to pick them. And it wouldn't be any different when I went back the next day.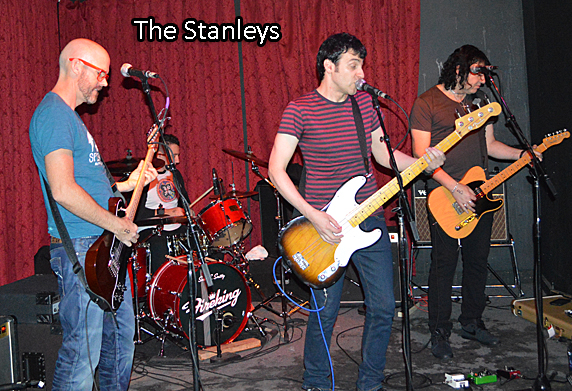 Classic Ruins were scheduled to play with The Stanleys from Australia (which has a whole world of notable pop groups) on Friday in Worcester and Carl Biancucci said they were something to catch. They were playing the IPO on Thursday, so back I went to O'Brien's. Carl was there too. The Stanley's attack pop music from the rock end of the spectrum; it's almost all major chords and from there it's catchy songwriting, upbeat tempos and fine singing. The lead singer has a sunshine personality and that Australian accent. It's all to love. I could have listened to them for hours.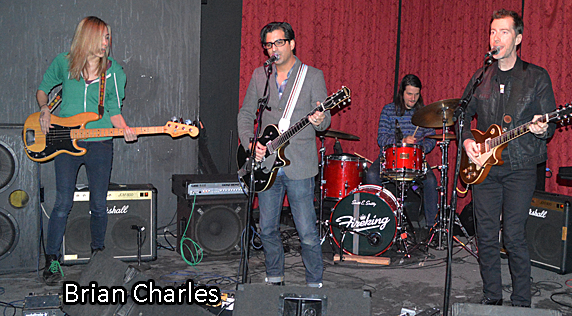 Brian Charles is guitarist for Sheila Devine and Dear Leader but tonight is doing some solo material. Which was very well developed songs. He had a guitarist throwing in the juicy riffs and he had the rhythm section from Field Effect who were a complimentary fit for him. Their playing made me want to see the Field Effect who won best song last year in the Boston Music Awards for Ogunquit ME. It was another rewarding set for the IPO.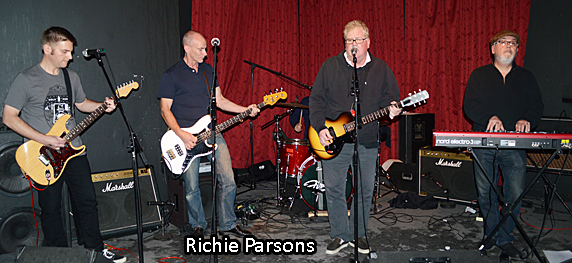 Richie Parsons was playing the IPO the next day so back I go again. Richie's band had Brother Cleve, Doug Harper, and Frank Dehler. He played his Honey and Tears material that fit so well into this IPO setting and he played two Band 19 songs for variety like he did at the Middle East. I didn't think this audience needed the Band 19's harder sound, two more songs from the CD would have been fine. That's what I would have wanted to hear.
One of the revealing things about the night was hearing Frank Dehler play more melodic lines than he would play in the Unnatural Axe and with a more sophisticated touch. His multi-measure ascending and descending lines give the songs the movement they need. You could see the shift in playing when he attacked the Band 19 material. Doug Harper on guitar had some nice moments with inventive fills.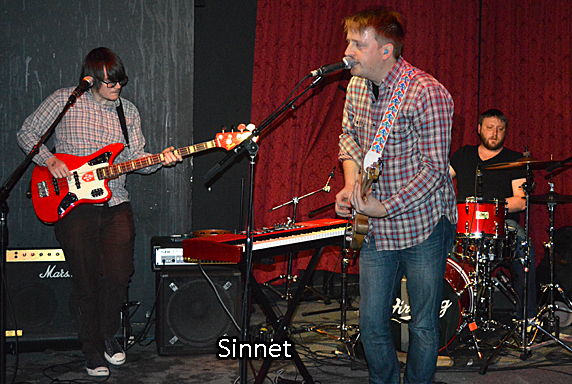 Sinnet, that followed, had a more quirky Indy music take on pop. It was lighter. The lyrics seemed like they would be interesting but live I was missing them.
I was talking to Justin Fielding who was there, he's a local guy and he's doing the Power Pop Movie (Check out his blog here and his production company site ). Justin knows and loves the pop scene. One of his previous films, Inventory, has several songs by Shoes. (If you are a Shoes fan, you are salivating now.)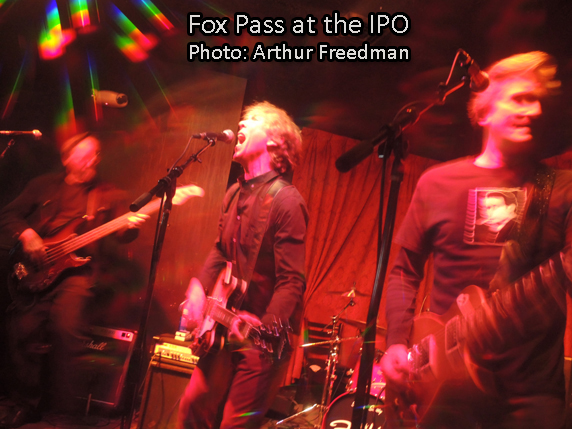 Saturday night at the IPO had the best line up yet with Brigands, Fox Pass, and 1.4.5. but I had done my pop duties and hit an early hardcore show at the Midway. Luckily Arthur Freedman was there and got a pic of each band for us - the two others are at the bottom of the news.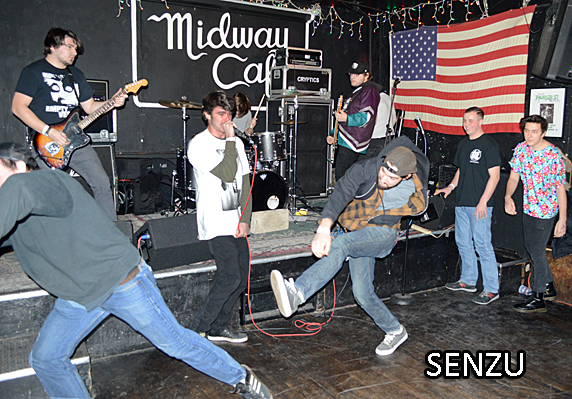 At The Midway Senzu did a good palate cleansing for me with some fast and furious core. In between songs they let the guitars feedback and did some bass rumbling so there would be no let up on the ears. The lead singer was standing off the stage in the pit but did a Miles Davis thing by mostly keeping his back to the audience. The guitarist and drummer were doing syncro head banging. The guitarist was so vigorous he almost fell down dizzy. The mosh crew had a new twist, they ran in a group of three and four straight across the room at full speed and hit the wall – then back the other way. It's a new dance craze!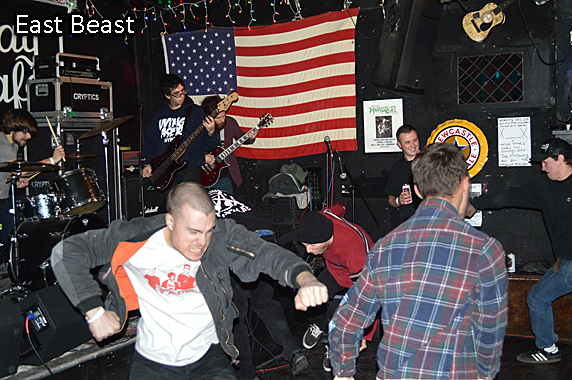 The drummer stayed on stage for the next group East Beast. These sets seem so short that this time I checked the clock and found that this was a ten minute set. I love the way they just leave the mic for anybody to take and sing and they do. The drummer was completely bushed. He was breathing heavy and gulping water; these core shows are brutal on drummers and singers.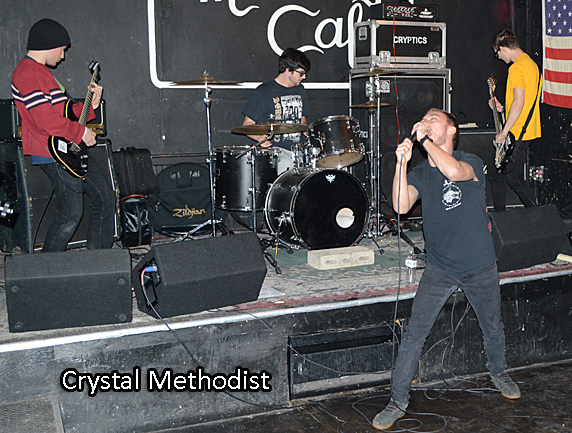 I love the name of the next group, Crystal Methodist. They had an attention getting lead singer. He had a very clear voice and you could hear the words, a novelty for live core group. It was another ten minute set. I liked the songs I hear on line by the group on BANDCAMP/Crystal Methodist.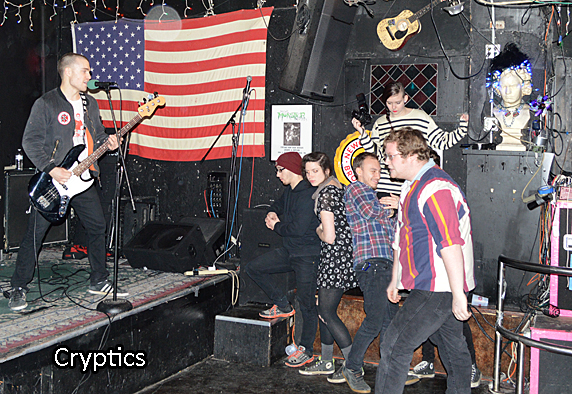 Cryptics are from New Hampshire and just got back from a tour. The set was a bit longer, about 15 minutes. This group was much less manic than the previous ones with some more traditional sounding music. I liked them best when the material was more hardcore. Like the Crystal Methodists before them you could understand the words. You can hear this on their recordings (check it out here).
I saw four groups and was out by 8pm. Midway as always had a friendly feel and the afternoon crowds are younger. These shows are all ages usually. There were about 45 people there which is good for these things.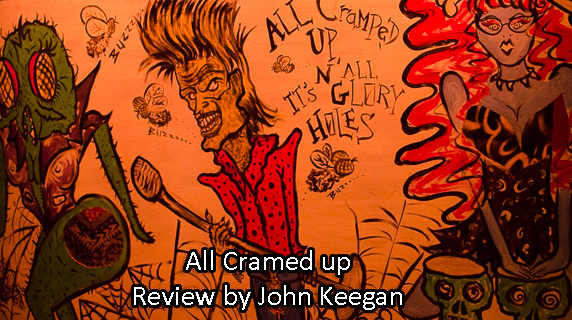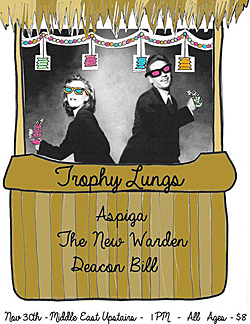 In other news Jim Seery is saying goodbye to his booking days. He's announced he's retiring from booking as he has done for lo these many years. Thank you Jim for all the great shows!!!
From a story in the Boston Globe Mission of Burma is opening for the Foo Fighters when they play Fenway park next summer! I love what Roger Miller said about what will be his first visit to the park!!: "To me, organized sports seems slightly absurd. It's sort of like a form of stylized warfare." MOB plays on July 18th.
Be sure to check out John Keegan's review of Let's Go To The Rat which played at The Brattle Theater last Sunday. Also check out Kenne Highland at Large this week where he menions the film as well. These two guys are doing a Sisckel and Ebert on this one.
OK so what's coming up for shows?? Well its Thanksgiving week so things slow down around the turkey day......
But it's starting wild and wooley over at the Midway...
Monday, November 24- The Midway has The Wrong Chaneys, The Low Babies Kermit's Finger and Padded Hell. Larry Litigot is the drummer of Padded Hell and he says "I play in a really cool unpopular band called PADDED HELL with Mike Mahan - the original guitarist for Anal C*&t (AC). He's gotten better at singing and playing but I still do the brunt of the vocals while drumming. Along with our signature song I Hate The Beach...we'll finally be playing our Thanksgiving Dinner song at an appropriate time on the calendar."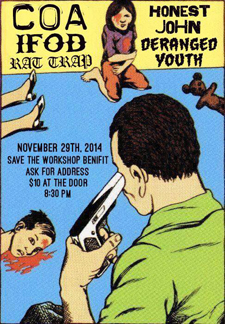 Saturday December 6th - The Midway has two great shows: Daytime show (4-8:30PM) with The Tenafly Vipers, Silver Screams, Quiggs and Give Up! then a night show with X _ X, The Major Stars, Corn Mo and the Gondoliers are at the Midway
Monday Dec 8th - there's punk rock burlesque at The Midway with Dinah DeVille, Hellbent Hussy, The Bloodstains and a bunch of hot babes invite you to join us for an evening of studded leathers and ostrich feathers, and everything in between. I have a feeling this one will have a Christmas theme...should be quite entertaining!!
Weds., Dec 10th - A Keep Safe Boston event to will benefit Planned Parenthood League of Massachusetts and features 2014 Boston Music Award nominees Parlour Bells and The Color and Sound, Corin Ashley (of The Pills!), The Rationales,
Mark yr calendars for this one!!:
December 12th (Friday): The Real Kids , The Titanics, and The Nectarines (Rough Francis had to cancel) - at The Midway
Also on Dec 12th its Dial M for MUCK at Church - It's a Muck & The Mires Record Launch Party!! Also on the bill are Daddy Long Legs (Norton Records -NYC), The Dogmatics and Thee Itchies.
Dec 13 James Straight and the Wide Stance have a NYC gig at the Alternarock Festival - check it out here
Sunday Dec 14th - Roy Sludge Trio are at The Midway for a daytime show 5-8:30PM. Always a great show!!
Before Sludging it u p you can go to TT's!!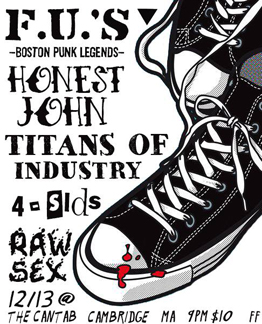 Sunday Dec 14th - It's TT's annual Rockin Holiday Flea Market & Bloody Mary Bash from 11AM- 6PM. They are saying it 's back and it's bigger and there'll be tons of awesome vendors selling vintage, vinyl records, music memorabilia, handcrafted jewelry, art, collectibles clothing AND there's killer bloody mary's and hot dogs and a visit from Santa!! Get yourt cool holiday Gifts here. ,Mars Man and Eric Law will be there selling vinyl too and Andrea Gillis will be proffering Gilly's Throwback Snack! And this year's Flea is supporting the MSPCA and they are asking that though the Flea is Free bring an item that's on their wish list (you can see that here)...you know, dog treats, cat treats, Feliway, cat beds, toys etc.....it's gonna be a fun day!
December 19th (Friday) there's a exciting show at TT's first off SPiTZZ are playing their first show in 2.5 years!!!, also on the bill are the Blue Bloods, Duck & Cover (having their vinyl release celebration), Quiggs, and Silver Screams - this will be a great show folks!!
December 20th (Saturay) Jittery Jack and Bloodshot Bill are s at Atwoods Tavern on Cambridge St. in Cambridge (near Lechmere). It's a Rockin' Holiday celebration--and you'll be able to pick up a copy of Jittery Jack's new 45 "Something Wicked This Way Comes" and Bloodshot Bills "Stuffin Her Stocking" at the show. As an added treat - Easy Ed spins the platters early, late, and on the breaks.
Yikes now we're into the new year here
Friday Feb 13th - Tim Catz' 50th Birthday Party featuring White Dynomite, The Humanoids, Muck And The Mires, Worshipper and DJ sets by DJ Slim Jim at Great Scott's
CONTACT US AT.......misslynbgn @ yahoo.con Send us your gig listings, your news and anything else ya got!!