The BGN News Archive
December 30, 2013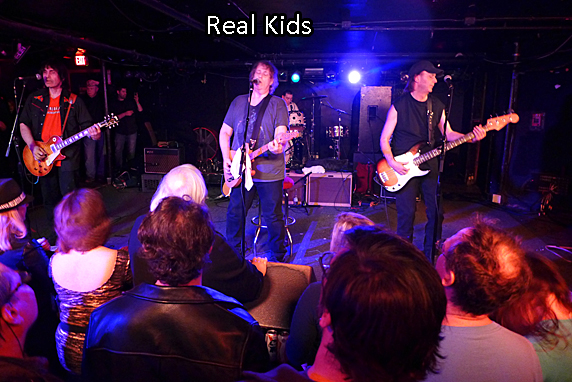 In the last few weeks the prospect of a Real Kids gig had everyone revved up and full of expectation. The recent New York gig further increased the fervor. The Nervous Eaters have lined up a series of gigs around New England with the Kids. It immediately seemed like a great pairing and the mostly full Middle East down proved it. And what a crowd it was, full of punk veterans that came from all over and then a noticeable number of dressed up young punkers who looked like a leftover from a Casualties' gig. Last time I saw a mix like this - never.
The long time punkers we saw - Paul Murphy and wife, Michelle Heber from the Bristols, Jimmy Birmingham, Chris Parcellin, Frank Delher and wife, Bob Colby (right up front and center), Ed Moose Savage, Michele Meadows and Larry, Kim and Cam Ackland, Rich Harte, Billy Borgioli and Nancy Neon, Greg Reibman, Michael Scott Stewart, Richee Johnson, Judy Wilburn, Malibu Lou, Evan and Linda Shore , Jimmy Harold, Billy Connors, Arthur Freedman, Mickey Bliss, Cheryl Eagan-Donovan and husband, Perry Adler, Joanie Lindstrom, Eric Law, Helanie Saad, Brett Millano, Mary Jo Felice and Maria, Jimmy Felice and Marilyn Felice.
Jimmy Harold looked healthy after his hospital stay last summer. He was constantly approached by formal Rat habituates who explained how much their lives were so much better because of the experience. He had a half dozen beers lined up that were bought by adoring fans.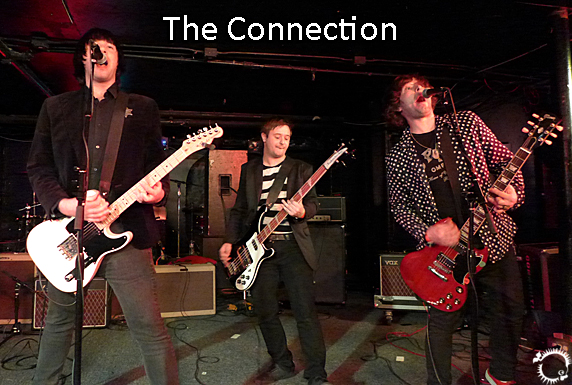 There were three groups announced for the gig but the day of the show they had 5 bands listed. No matter to us, we missed the first two. The Connection was a suitable pick for the bill. They proved their worth opening for the Flaming Groovies a month ago. The last couple of months have seen their gigs go from marginal to main supporter. It would be great to see them headline a full pop bill. They put in an immensely entertaining set. They have lots of energy in their brand of pop with a great mix, as all the bands have as the night goes on. You can hear some both 50's and 60's influences in the songs with a modern sheen. It's a frothy formula that delivers a fun set. We expect we will see more high profile gigs for them from now on - they've arrived.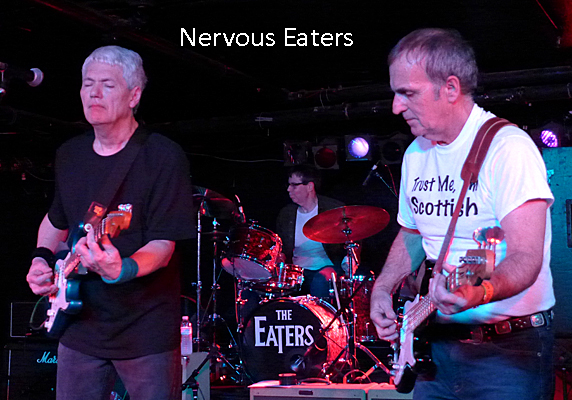 The Nervous Eaters have been gigging regularly so we have a good idea how they will sound. They had their current lineup intact which is Steve Cataldo, Rob Sheen, Allen Hebditch and David McLean. They are in top form and clearly loving the large audience. Last time we saw them at the Midway the audience was very small. What a difference a good high profile gig is. They do their mix of old and new tunes. They sang 528 about the Rat with Jimmy Harold looking at them from the back of the stage. You Smell Like Fish, Degenerate, Girl Next Door, and Shit for Brains were all there and more leading up to the closer Talk to Loretta. There were those treble shedding leads from Steve and a few from Alan. Great set. Hearing all the memorable songs from the different stages of the Eaters 37 year career makes me think that they are due for a CD collection of those songs.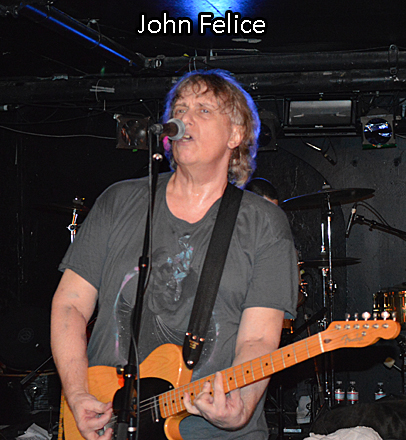 During the night we had heard that John Felice had been at the hospital the night before for some serious issues and indeed we see him walk on stage with a cane. There is a stool for him to sit on. It takes him a long time to set up his guitar and get comfortable. He marshaled his strength and gave a shaky start to All Kindsa Girls. The song got better as it goes on and it has all the Real Kids trademark sounds, John's voice and the interplay of guitars with John and Billy Cole. The new(er) rhythm section is strong and stable just what is needed tonight. Dickie Oakes was on bass and the notable Randall Gibson (x-Flies,Scruffy The Cat) was on drums. They help keep things in line. Even though he uses the stool regularly and seems weak at times John's singing is strong and they end up putting in a really great and long set. It seemed to go on and on..like a gift! A parcel of songs you know and some brand new ones that are very strong: that new CD sounds like it's going to be worth the wait.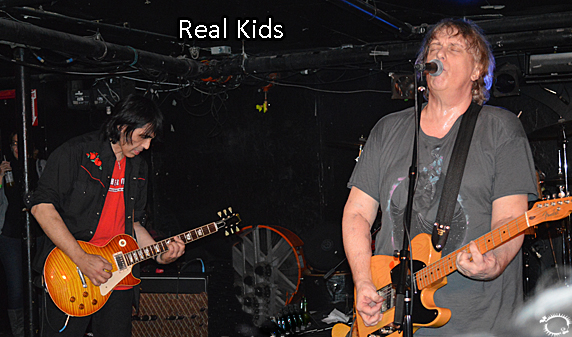 There a some slow songs and some of those are older tunes that have been slowed down like Common At Noon. Too many I think but they all have the sound' we love. Just Like Darts was one of those and that was moving. Another was out of left field: a cover of Jonathan Richman and the Modern Lovers Fly Into the Mystery. John was in the Modern Lovers for a spell but people seem to forget that. John also dedicated a song to ex-Real Kid Billy Borgiolli and forever Real Kid Alpo. It was maybe 1 or 1:30 before it was over.
We got the Real Kids set we were hungry for. And the Real Kids get another chapter in their legend, and they do seem like they are in legendary status these days along with the Rat. Rick Harte says he's mixing the final song and that he will bring everything to NYC on Jan 6 and 7 to get mastered. Then getting the art work finalized and then we got some new Real Kids to play.
OK folks....We finish off the year this week...whew!! ...You have probably heard that Patti Smith is paying New Year's Eve for the First Night event...this would be a great way to bring in the new year...
And you can go Honky Tonkin' for New Year's Eve with Girls Guns and Glory doing Hank Williams tunes 12/31 at The Lizard Lounge!! they are also performing on 1/1/14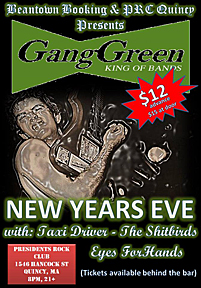 and its coming at us in full force...the New Year.... Saturday January 4th there's a show at Great Scott's with a brilliant theme..We Got The Beat - A Boston Lady Drummer Showcase with The Monsieurs , Petty Morals, Apple Betty, Post Modern Authors and Thrust Club
Also on Saturday Jan 4 there's an early evening 7-10:30 show at The Middle East Up is the 2014 Punk Rock Kick Off with Burning Streets, Cradle to the Grave, OC45 and The Warning Shots......
On Thursday, January 8th Club Bohemia has The Kenne Highland Clan (8 pm), The GraveDancers (9 pm) and GrimeWave (10 pm) and Michael Weddle's new band Climate Change (11PM) ....
And here's what should be a very interesting night: January 18th at Club Bohemia at the Cantab.The Count Viglione along Kenne Highland doing the entire White Light White Heat lp in their Midnight Sťance for Lou!!!
Put this event in your calendar now folks - Monday March 3rd.Gail C. and Babysitting Calamity Booking present The Sheckies, The Pity Whores, Jimmy Jacked, The Labor Pains..not only is it a great bill but Gail C will be having one of her fabulous bake sales so arrive hungry, see a great show and leave with a wicked sugar high!!
Brian Young, Crash Course for Ravers, who has a whole career going on as a 'host' will be the host at the Cracker/Camper von Beethoven show at the Middle East on Friday January 17.
EMAIL US AT..misslynbgn@yahoo.com