The BGN News Archive
March 14,2016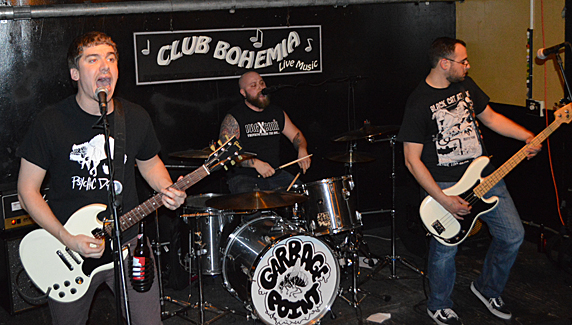 The Digs
Photo: Blowfish
Bent Shapes have built their popularity with plentiful shows since their beginning in 2009. At their album (Wolves of Want) release party at Great Scott's on Thursday they were rewarded with a full club. That must have made them feel good.

Sport
Photo: Blowfish
Before them Sport played their version of indie rock. The music was as low key as was their stage presence. The songs were worthy and the singer delivered them with a capable voice. The guitarist was doing a lot of single note lines that meandered and colored the tunes. They got a very good response.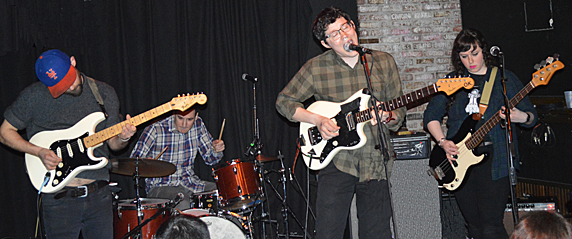 Bent Shapes
Photo: Blowfish
I wanted a little more oomph which is what I got from Bent Shapes. We've seen them a few times at the Middle East and TT's and once in Ringer Park in Allston. The comparison with Sport illustrated their strengths; more volume, assured playing and livelier songs. They may be indie and nerdy but they rock. I like that the songs are not all just straight love songs. They stick in today's concerns with social media and the way electronica affects us.
The song that first interested me in them was their cover of "Bridgeport Lathe" by the 2X4's. They do it faithful to the original. We have this video - its' horrible with the visual but you can hear how they have come to own this song. Video of Bridgeport Lathe.
The cover of one of our old favorites is just one reason for us older Boston music fans to listen to them. The younger audience at Great Scott's doesn't know that, they just like them for those snappy original songs.
Friday it was over to the Cantab and down the subterranean cavern of Club Bohemia. Mickey Bliss was at the board. Has anyone gone day after day for years running a club like Mickey? It's staggering when you think about it. I think I've seen a lot of music. How much has he seen? And remember he booked the Kirkland for years before this too!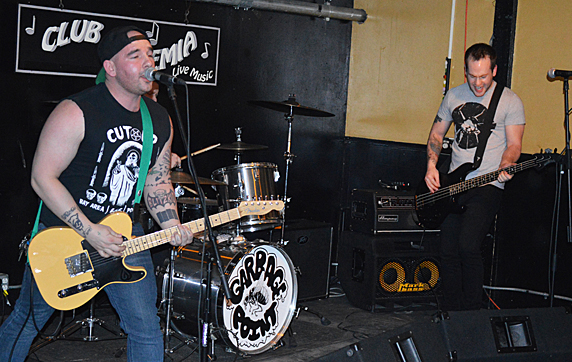 The Weakling
Photo: Blowfish
This was a night of some hard hitting bands. They all had similar qualities; they were loud, had strong drummers and were a cut above the usual. The Weakling were a trio doing pop punk that reminded me of the Prozacs that we saw last week. Not quite as fast and furious but close. There wasn't any dynamics; it was just full bore all the way. There was no denying the drummer as he propelled the revved up group.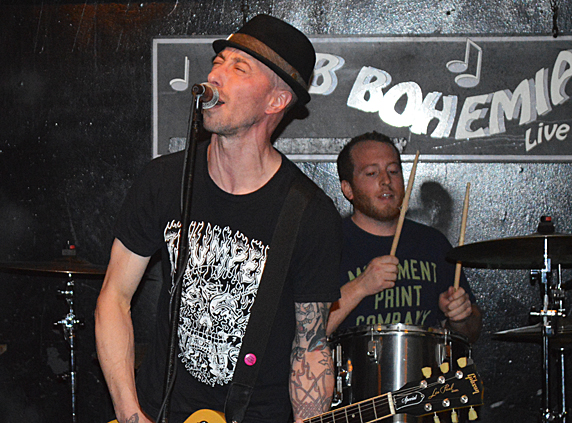 Stray Bullets
Photo: Blowfish
The club was full and I contributed that to the next act, Stray Bullets who have Jon Cauztik from The Have Nots who were in the 2009 Rumble. They have the ska thing going. They kept the ska in the background mostly at the beginning so when they pushed it to the fore it was like a release and the crowd loved it. They had dancers from the get go. They weren't moshing per se but ska skipping with maybe a little moshing. They were having a great time. The material was strong. When you do the ska beat with precision like Stray Bullets did it will grab you. Check 'em on Bandcamp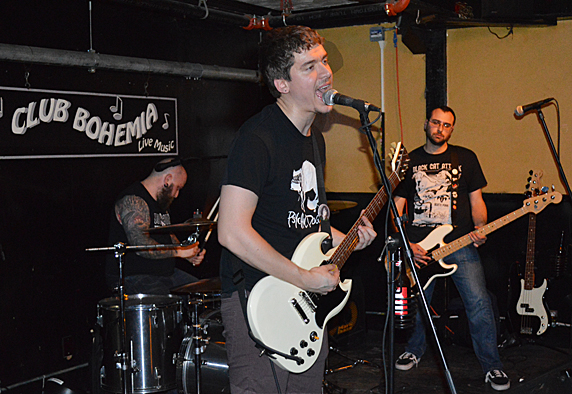 The Digs
Photo: Blowfish
We found out a week ago that the leader of The Digs, Jeff Demas, has a connection to the old punk days - his uncle was Matthew MacKenzie of Reddy Teddy. That got our attention big time. He's interested in hearing stories of Matt and there are many. It also turned out that the bass player was Andrew Dedousis who was in Drunk Nuns, a now defunct group we enjoyed many times.
The Digs have a lot going for them. Jeff is a strong front man. He seems comfortable on stage and had comments about what had gone on before him and he drew out people in the audience.
The overall sound of the group was powerful with a wall of guitar, made with full chords not two note power chords, punctuated with the third strong drummer of the night. He was strong and able to throw fast fills in too.
They don't slot into a genre and they use this description for themselves - "too rock for punk, too punk for rock". The songs were not simple and very wordy. Jeff's voice was a focus as he sang not simple melodies. They spotlighted their newest tune and that one was the best to me. It had chord rolling by very fast and a nice hook in the melody in the chorus. They are on the Head Vs. Heart compilation (Check it out here!!) that we talked about last week. Check out The Digs on Bandcamp
They had a lot of positives and they'll need them coz they're headed for the Rumble this year.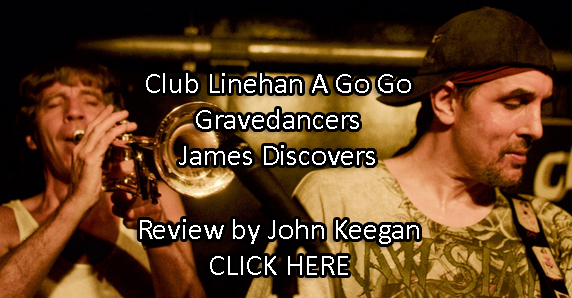 Club Linehan A Go Go, Gravedancers, and James Discovers
CLICK HERE
In other news.....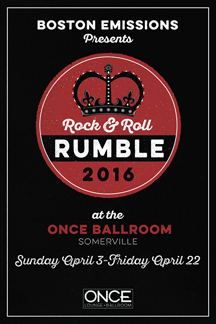 Speaking of the Rumble - line up has been announced: 21st Century Fighters, Analog Heart, Abbie Barrett, Big Time Hill, the Black Cheers, Choke Up, Courage Cloak, the Devil's Twin, the Digs, Eric Salt & the Electric City, Field Day , Goldblood & Associates, I Was Awake, Idle Pilot, Jack Romanov, Johnny Blaze & the Pretty Boys, Junior Classics, the Knock Ups, the Longwalls, Salem Wolves, Shatner, UsLights, Weakened Friends, and Worshipper. Good luck to all the bands!! The Rumble will be at Once this year.
We covered Brett Milano's book release party last week . The book- Don't All Thank Me At Once: The Lost Pop Genius of Scott Miller - is available on Amazon - Just click here to buy it!!
And speaking of books from Boston....Johnny Angel talks about Looking For Lady Dee with Jim Sullivan - check it out here. And here's our own Q&A with Johnny 'bout the book
Roger Miller of MOB is now teaching guitar. He does it via Skype and maybe in person. He has an ad in Craigslist
Here's some good shows coming up this week.....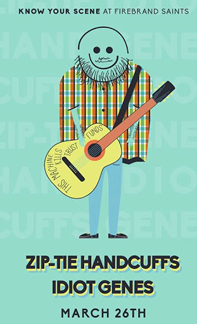 March 16 (Wednesday) Battalion of Saints, Phobia, Nomads and I am Become Death are at Great Scott.
March 17 (Thursday) celebrate St Patrick's Day with Highway Chapel at The Cantab Club Boho
March 19 (Saturday) The Devil's Twin and Diablogato are at O'Brien's
March 19 (Saturday) Greg Allen's Fringe Religion is having a record release party at The Midway also on the bill are The Disquiets, Jesse Ahern and the Roots Rock Rebel Review and Paul Hennessy this is a 4PM show.
March 19 (Saturday) Kitty Power Presents: A Spring Equinox Show with: A Bunch of Jerks, Violet Nox, Endation, Tracy Chevrolet, Sound Shaman, Jha D (spoken word), and visuals by Video Joe and DJ MSG - at the Out of The Blue Gallery in Central Square Cambridge (FB page for event)
March 19 (Saturday) The Rationales, Jason Layne/Sunken Armada, Eddie Japan and My Own Worst Enemy are at Great Scott
March 19 (Saturday) Lux Lives! A celebration of all things Lux and The Cramps is back this year at The Bayside Bowl in Portland, ME featuring
The Gamma Goochies, Thee Ice Picks and Video Nasties - also music by DJs Ty Jesso and Kogar the Swinging Ape -(FB page)
March 19 (Saturday) The Worried, M.O.T.O. and The Hi-End are at The Parlour in Provi RI.
And out in the future we have.....
March 23 (Wednesday) Girls Rock Boston is putting on a show with Girls Rock Campaign Bands, Ursula, Gay Sin and Gravel you an keep up to date on
the bands playing here
March 25 (Friday) Petty Morals, Muck and the Mires and Jenny Dee and The Deelinquents AND Sidewalk Driver are at Once - that's one great lineup!!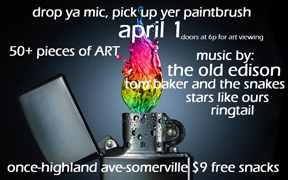 March 25 (Friday) OK whoa....this is gonna be a wild night...go if you dare...S&M punk band GASH is at PA's Lounge...also on the bill is DISIPLINE: Boston queer BDSM Punk.
March 26 (Saturday) A Crash Course For The Ravers (1-4PM WMFO 95.1) has Four Point Restraints as guests.
March 26 (Saturday) Bob Colby starts up is show series at Store 54 for 2016 (his last full year in Boston!!!) with Found Audio and Future Carnivores.
March 26 (Saturday) Trusty Sidekick and Shiny Beast (who are AWESOME!!! read our review here) at The Tavern at The End of The World! Sets start at 10PM and there's NO COVER
March 28 (Monday) The Goddamn Gallows, King Sickabilly Trio, and Outlaw Ritual are at The Middle East Up.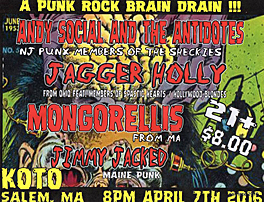 April 1 (Friday) "Drop Ya Mic and pick up yer paint brush" is a show of Musicians' art work at Once Lounge...check out the FB page..the list is looooonnnnggg. Providing music for the event will be The Old Edison, Tom Baker and the Snakes, Stars Like Ours and Ringtail. $9 cover with free apps, art at 6PM msuic about 8:30.
April 1 (Friday) Kenne Highland 60th birthday party at The Cantab Club Bohemia
April 2 (Saturday) Kenne Highland 60th birthday bash at the midway (this is his actual birthday!) An afternoon 4PM show with The Korps, Moose & The Mudbugs, Jiblantos, HIXX
April 2 (Friday) the night show at The Midway is Wussy and The Thalia Zedek band.
April 3- 22 (Friday) Rock n Roll Rumble at Once Lounge
April 5 (Tuesday) The Legendary Shack Shakers, The Pine Hill Haints and Diablogato are at Great Scott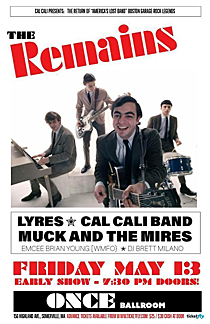 April 7, 8 & 9 (Thurs-Sat) Rock'n'Roll Rumble at Once
April 7 (Thursday) Gail Corcoran is putting on a show at Koto in Salem with Andysocial and The Antidotes, Jagger Holly (members of the Hollywood Blondes and The Spastic Hearts), Mongorellis and Jimmy Jacked
April 8 (Friday) Woooo yeah this is gonna be a GREAT show: Little Steven's Underground Garage presents Soraia , The Connection, The Black Souls, Kris Rodgers & The Dirty Gems at The Midway!!
April 8 (Friday) Bastards, The Worried, Greg Allen's Fringe Religion and The Sugar Cones at FH13 (That's Firehouse 13 in Provi, RI
April 10 (Sunday) Hey Ho Let's Go- the Ramones and the Birth of Punk - retrospective opens at the Queens Museum in New York! (it runs thru July 31)
April 15 & 16 (Fri & Sat) Rock'n'Roll Rumble Semi's at Once
April 22 (Friday) Rock'n'Roll Rumble FinalShow at Once
April 23 (Saturday) The Real Kids with Stop Calling Me Frank and The Knock Ups at the Midway
April 24 (Sunday) There's the "Generic Punk Show" at the Spotlight Tavern in Beverly with Fishhead, Rockin' Bob Punk Band, Barroom Heroes, Sliver Screams, Mongorellis, Screw Cart, Profit Margins and The Off Whites. This is an afternoon s and all ages show- it starts at 3PM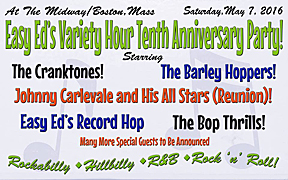 April 28 (Thursday) The Abbey Lounge Reunion!! at Sally O'Brien's Night 1 -Red Zone Cuba 7:40, Classic Ruins 8:20, Triple Thick 9:00, The Charms 9:40, The Decals 10:20, Heavy Stud 11:00, The Drags (NobleRot) 11:40, and The Rudds 12:20 (FB page)
April 29 (Friday) The Abbey Lounge Reunion!! at Sally O'Brien's Night 2- Frigate 7:00, Jay Allen & Archcriminals 7:40, Malibu Lou 8:20, The Dirty Truckers 9:00, The Swinedells 9:40, The Acrobrats 10:20, Spitzz 11:00, The Tampoffs 11:40 and The Konks 12:20
April 30 (Saturday) The Abbey Lounge Reunion!! at Sally O'Brien's Night 3 - Schnockered 7:40, Asa Brebner 8:20, The Downbeat 5 9:00, Red Chord 9:40, Jordan Valentine 10:20, Coffin Lids 11:00, The Dents 11:40, Sugabomb 12:20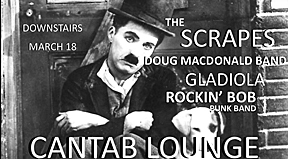 April 30 (Saturday) Michael Graves, Diablogato, 138, The Martians and You Scoundrel are at Once
May 7 (Saturday) A Crash Course For The Ravers featuring The Cal Cali Band! That's WMFO 95.1 FM 1-4PM
May 7 (Saturday) At the Midway - both Day & Night Shows= ALL DAY!! Easy Ed's Variety Hour 10th Anniversary Party!!! starring The Cranktones, Johnny Carlevale and His Band of All Stars (Special Reunion Show), The Barley Hoppers, The Bop Thrills, Easy Ed's Record Hop and guest DJs and much much more!!!
May 13 (Friday) Barry & the Remains, Lyres, Cal Cali Band and Muck & the Mires are at ONCE Ballroom -This show STARTS at 8PM The Remains are on at 9:30.
May 14 (Saturday) We loved him...he was unforgettable so the show goes on...Joe Coughlin Memorial- Johnny & The Jumper Cables and Classic Ruins more to come
May 21 (Saturday) A Celebration of Life of Keith Brooks (friend and hardcore music lover) will be at The Midway - on the bill: The Struggle, Honest John, Words Of Truth, CHEECH, Straphangers, and DOT RATS -This show runs from 4PM to Midnight.
June 11 (Saturday) The Upper Crust, Thee Fabulous Itchies, The Hi-End and Shiny Beasts are at The Midway - there's a lot going on this night- check out the FB page.
CONTACT US AT....misslynbgn@yahoo.com - Send us your gig listings, your news and anything else ya got!!
The Digs
Photo: Blowfish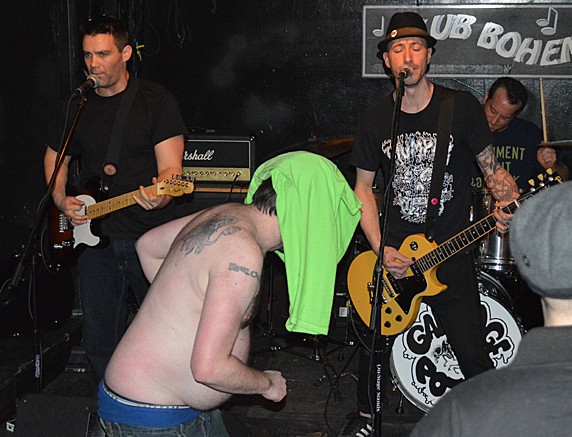 Having fun dancing to The Stray Bullets
Photo: Blowfish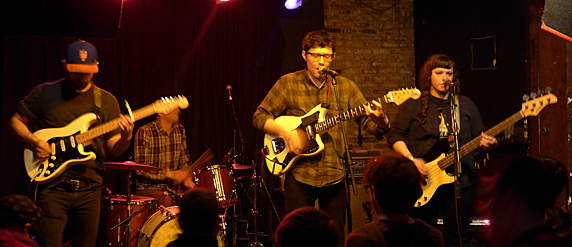 Bent Shapes
Photo: Blowfish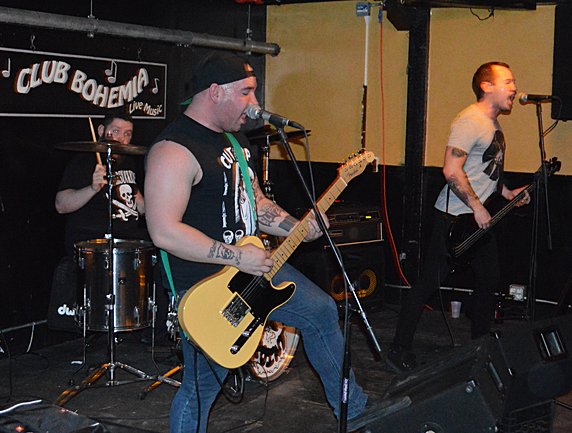 The Weakling
Photo: Blowfish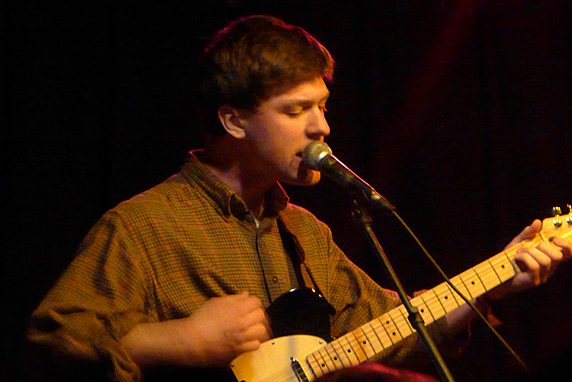 Sports
Photo: Blowfish