The BGN News Archive
May 12, 2014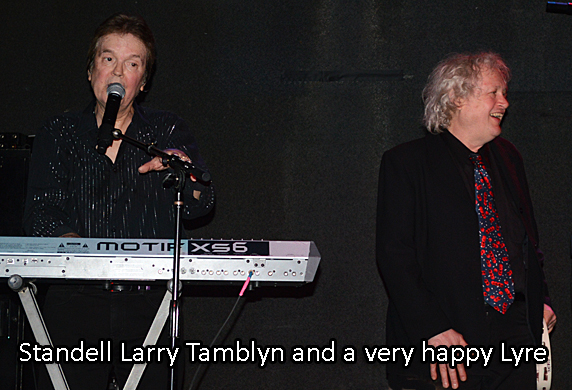 The Standells cancelled a Middle East gig last year when, sadly, one of the band members, Dick Dodd died in November. It was a wait before we got this Brighton Music Hall replacement. In a way the wait has been since 1966 when Dirty Water was a hit. I never got to see them 'til now and this is actually their first major tour since the '60s. There's been a lot of dirty water under the bridge since then.
The first shocker of the day was the empty-ish club. It was only about one third full at the most. What, no interest? Even with Lyres? Well, the people voted with their feet on this one. To me it was a worthy outing for Lyres alone.
The Brighton Music Hall renovated the old Harper's Ferry by painting the walls and gleefully demolishing every seat in the place. Someone has said that the only place to sit down in that place is the hopper. I guess it's just us oldies that would complain about that but the Rat had seats, Cantone's had seats, The Club had seats.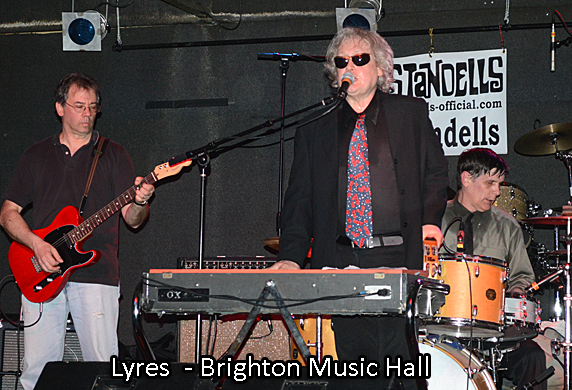 Lyres put in a good set. I loved it too death but some people complained about the sound. Which is shocking since Mono Man is such a perfectionist. I didn't recognize most of the songs because they are obscurities but all nicely done. I've gotten the same kick out of the Lyres all through the years. I become more convinced of Jeff Connolly's musical genius every time I hear them. Jeff said his ears were ringing and he wanted to do some softer songs. They just came off a Spanish tour and that could have contributed to that. They did Help You Ann which was funny because they knew The Standells do a cover of that song (at minute 8:30) but they did it anyway.
One thing that was off-putting was that the stage is five feet high and it seemed like the band was way off somewhere not like the wonderful Rosebud where we saw them or Precinct where you could get right next to them.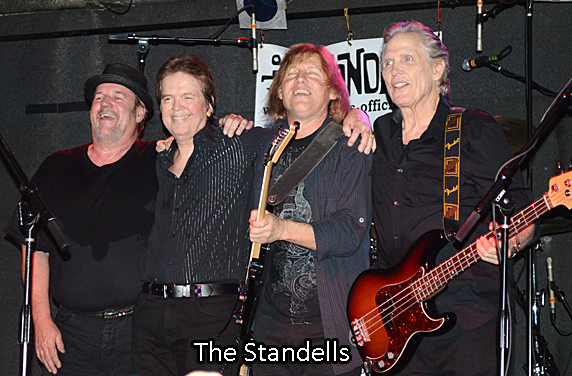 The Standells came up in not too much time. Word is they set up their instruments for their set then wouldn't move anything one inch for the opening band, even though it was the Lyres!! Down to two members the original sound was not strong. A new guitarist was playing a lot of wankery which was way out of line. There were long tedious guitar solos in every song, sometimes two! Fact is for this band there shouldn't have been any solos! As the show went along you could see that they consider themselves a working band with new material. I don't mind that per se. The new songs were alright but the ratio of new to old was around 4 to 1 or higher. I wanted more of the old stuff.
They played Good Guys Don't Wear White, Try It, Dirty Water and covered Wild Thing and Pushing Too Hard. The bassist played in the original version of Love so they played 7 plus 7 is and Hey Joe. They closed by playing Dirty Water again and invited Jeff Connolly up on stage to help out. You could tell Jeff was happier than hell. He was grinning like I've never see him before. He was transported to garage heaven for a song. That was a pleasant sight to see!
I heard the songs I wanted but in the end it was a disappointment to me and to many in the crowd, but I had to go, we had to go.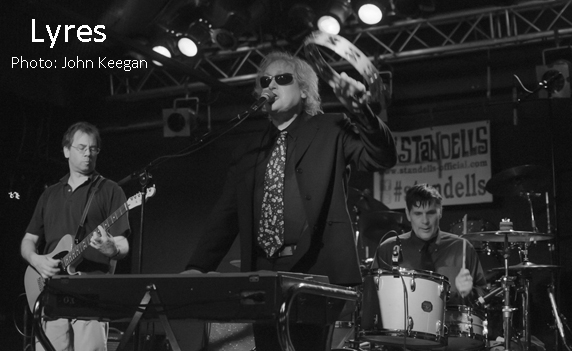 Saturday night: there was a lot of Facebook chatter on where to go this night. There were so many great gigs you had to choose. We went for the Store 54/O'Brien's bar hop which meant we missed the JoeFest at the Midway and James Straight and the Wide Stance at the Cantab with Hixx for the Hixxstravaganza.
The show at the Cantab. Photos by Arthur Freedman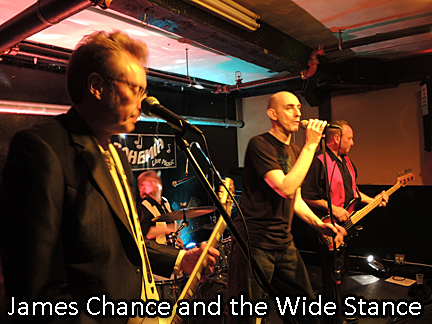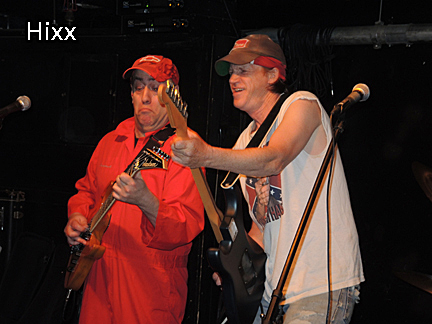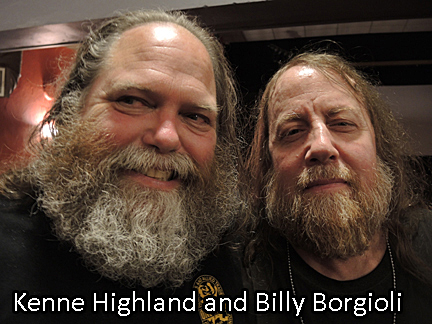 It was more rockabilly at O'Brien's. Yeah, we know, we have seen a lot of rockabilly lately. But hey, right from the beginning of punk, rockabilly has been in the mix; starting with Robert Gordon, The Cramps and The Stray Cats. Tonight is another night with Easy Ed playing the songs in between the acts. That really makes the night special. We knew Jesse (von Kenmore) Mayer was drumming in a new group DiabloGato and they were playing when we got there. I recognize the singer Drew Suxx from Cradle to the Grave but he also played with Jesse in the New Alibis (great CD).
Knowing how Jessie hits the drums we are expecting the music not to be...delicate. And that does proves to be so. It is rockabilly but on the edge of rock. Drew has had odd instrumentation for the type of music he plays in Cradle to the Grave and tonight he does it again with an alto sax. It adds a rumble in the low end that is different, for us rockers anyway.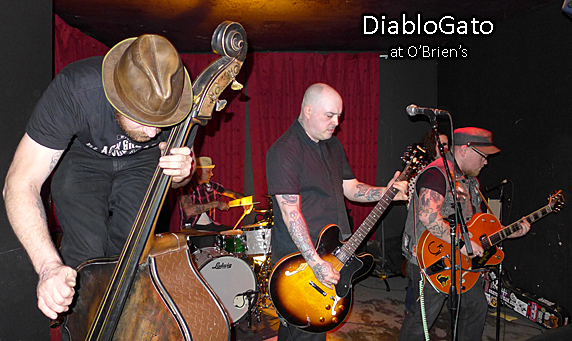 We enjoyed the set and then loved Easy Ed's tunes that lead into Johnny Carlevale and the Rollin' Pins. They were more straight ahead rockabilly, they do a great cover of Freddy Cannon's Tallahassee Lassie! We got involved in Johnny's easy going demeanor and the antics of the standup bass player who trimmed his bass with rubber industrial flooring and spent a good amount of time standing and sitting on it. It was a hoot. The guitarist had a nice Gretch and like all rockabilly players, it seems, knew how to play it. Judd Williams on drums is THE guy for this music although he plays everything. He cut a dapper figure in his deep red suit jacket and shades as he showed us all the tricks in the drummer's handbook. I love the tapping on the drum rims.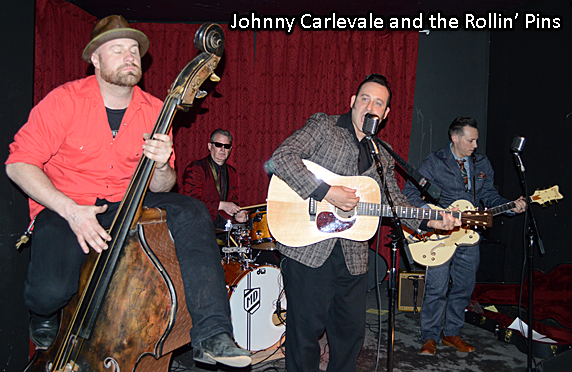 Then we were in a dilemma - we wanted to hear the whole set but it was a sure bet the Upper Crust were on stage at Store 54 across the street....we cross the street.
Store 54 was full and per usual for a day like this one - hot and steamy. The Upper Crust was putting out the attitude on stage. They had the whole act going on; the elaborate dress, the scowling, the clever lyrics, the aristocratic airs, and not to forget, the rock. This was fun, fun and fun. You have to experience the Upper Crust, all description falls short. We stayed till the end of the set then talked to a few people at this unusual music space.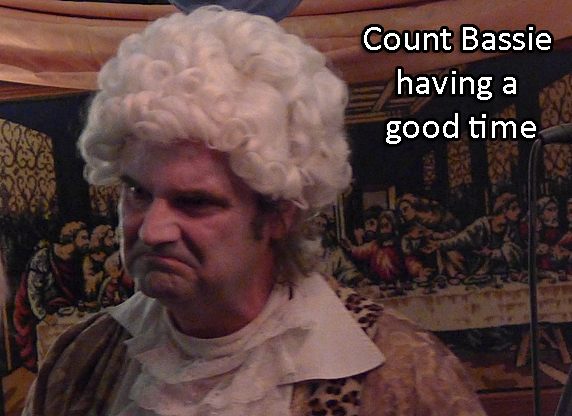 Then it was back across the street again to catch Jittery Jack. They are much esteemed in their peer group and for good reason. Amy Griffin the guitarist has a sharp tone and a million riffs to keep things cooking and if that doesn't do it then Jittery Jack (Kevin Patey) will. He cuts a smooth figure on stage and is constantly moving. Between the two they add an excitement factor other groups don't have. It's a big difference. In addition it's Judd Williams on drums again - what a strong group. The audience responds big time and they get an encore in a time-tight night because people were yelling pretty loud for it. With that we call it a night.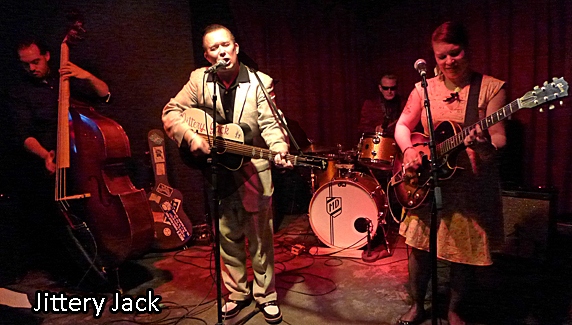 On Sunday it's another day of music as Miss Lyn heads over to check out Roy Sludge at The Lizard Lounge. Such a great way to spend a Sunday afternoon! It seems holidays are the best time to see Mr. Sludge, last time it was Easter, this time it's Mother's Day. Roy starts out by warmly wishing "Happy Mother's Day to all you Mother's out there" and paying tribute to Moms. But that sentiment slowly falls aside as he ends the set by addressing us all as 'you mothers'! He loves us so and we know it.
The Sludge Trio have an impressive repertoire of songs so there's not a whole lot of repeated tunes each time. Today they did a lot of instrumentals and a cover of the Ramones Beat on the Brat sung just like Joey Ramone sings it but, of course, it was a very fast country version. This is a band of three amazingly talented musicians, and it's enough to watch them play and listen to the songs and Roy Sludge's great voice but the on stage patter and the Sludge humorous asides between songs is entertaining too. When I see a set of theirs I'm singing all their tunes for the next couple of weeks! They stick with you they're that good!
At the showing of Looking for Johnny

| | |
| --- | --- |
| | |
It seemed to be a pre-Looking for Johnny stop for many of us too. Eric Law was there with Sandy Neades (she was back in town visiting family who she had in tow) , Jay Allen, Michele Meadows and Larry, Kenne Highland and Mike Quirk all ended up at the Regent Theater too.
So yeah, then it was off to Looking For Johnny, Danny Garcia's documentary on Johnny Thunders. (Danny also did The Rise and Fall of The Clash.) It's no big secret that many punks worship Johnny. That combo of style, songwriting and distinctive guitar playing doesn't happen often. Local Billy Rath who played in the Heartbreakers still draws crowds. That's how much people care, if you can't see Johnny you see someone who played with Johnny.

For this showing we also got to see a very rare set by The Daughters who were the backup band Johnny for a while. Joe Mazzari ( Two Saints) and Simon Ritt (The Darlings) are in the band. They did 5 songs and covered Chatterbox and Ask Me No Questions. Simon also announced they had a few unreleased Johnny songs that he allowed them to cover and they did one of those.
Looking For Johnny is chocked full of interviews from all connected people as well as some great film clips. The soundtrack had lots of recordings by Thunders. Barely a frame went by without talk about drugs but that's the story. It's a sad story and sadder because we know it's coming and sadder still because we see that same story close at hand in others. A big reveal was that Johnny had a form of leukemia and that might have been the actual cause of death. Along with that was the fact he was robbed that last day of everything he owned.
One warm moment was when Billy Rath, brought to the theatre by WMFO DJ Brian Young, was seen in the film for the first time - it generated a hearty round of applause.
The last few minutes of the film are talking about Johnny's great song writing talent and Sylvain Sylvain tells us that Bob Dylan said You Can't Out Your Arms Around a Memory was such a great song he wished he'd written it!!
The overall weight of the story and the music it summons up have stayed with me, and will for a while. I'm glad I saw this with this crowd who know Johnny, his music and the ins and outs of life in the rock world where it all happens. This was the place to be tonight. The film will be playing in Gloucester at The Cape Ann Community Cinema this Thursday , May 15th with another appearance by the Daughters and a Q& A with Danny Garcia.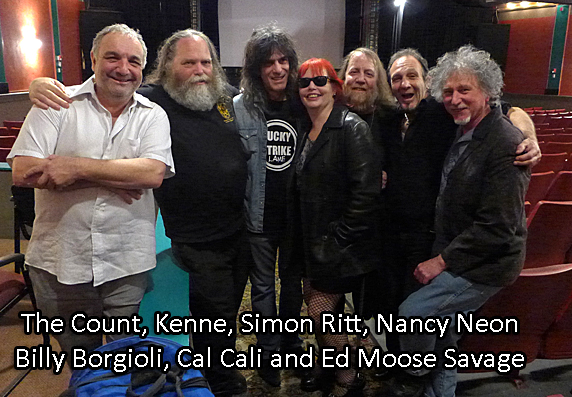 There were all sorts of people from the scene at the theatre: Jan Collins, Nancy Neon, Billy Borgioli, Ed Moose Savage, The Count, Joe Tortelli, Judy Wilburn, Michele Meadows, Larry, Eric Law, Mike Quirk, Patricia Colley Moore, and a big surprise and blast from the past John Patingalo!! He was in a number of bands along the years but one of my faves will always be the MIA's. ........
Also Kenne Highland was there with us throughout this day, he slept & snored through much of it but as always he's got some great and very fun to read insights!! Read his Kenne Highland at Large column here.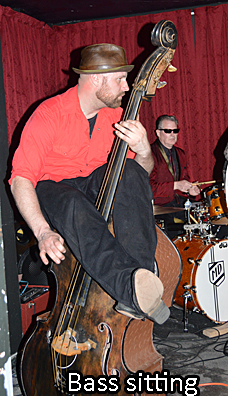 In other news:
The upcoming film we've been telling you about Punk The Capital has a kickstarter campaign. Remember all the great bands that came out of the scene - Bad Brains, Minor Threat, Slickee Boys, Half Japanese, White Boy (one of the coolest bands ever!)....so check out the Kickstarter campaign and maybe donate some money!! If not just watch the 5 minute trailer...it's chock full of great clips and they start out with The Standells Good Guys Don't Wear White!
Pipeline on WMBR is having a big anniversary (their 25th!) and a big anniversary celebration sometime this fall. Bob Dubrou told us a few details at the Standells gig. There are going to be 25 bands and in that group there will be 18 reunions. The club is being lined up. We will talk to Bob and get more details soon. There were a few musicians talking about their reunions during the show. The excitement begins. We'll keep you updated!
And for upcoming shows we want to mention.....
This week there's......
This Tuesday May 13th at The Lily Pad in Inman Square there's an interesting show. For Together Fest Thrust Club and Sleep Crimes will doing a set together, they share the lead singer for both bands. So every other song they'll alternate band sons and will also be doing some together as a megaband. Via App will close the night with an electronic set.
Thursday May 15th at RedStar Union is the Andrea Gillis Band and others rounding out the bill.
Also on Thursday at Church are (in order of appearance) The Demographic, Duck & Cover, Math The Band and Peelander-Z
And of course, this Thursday if you are up on the North Shore you'll want to head to the Cape Ann Cinema to see Looking For Johnny
Friday May 16th Bob Mould is doing his DJ show called Punk Rock Fancy at The Sinclair at 10:30PM.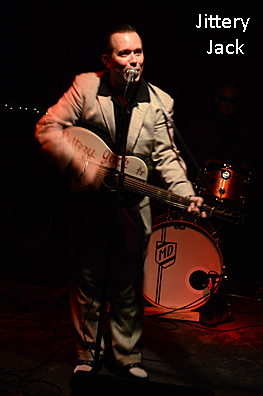 It's a killer weekend over at The Midway on Friday, May 16th with The Other Girls, BrownBooze (featuring Rod van Stoli and Jordan Valentine of BrownBoot!!! she's in town for a couple shows this weekend -see below too) ) and
OK people mark your calendars for May 17th there's a lot going on that day:
First off its Somerville's Porchfest this Saturday the 17th....you can ramble all over the city and see a ton of bands playing on people's porches. You can get a map on the Porchfest Site and plan you trip accordingly if you like. Places to stop might be to see My Own Worst Enemy playing at 60 Adams Street or Kingdom of Love at 31 Thurston Street. Also there's Power Slut at 32 Stone St, "Musicians from 5 Roots rock bands" at 65 Boston St, Guns of Brighton at 62 Elm, Poor Everybody - Hope and the Husbands - B.L.O.W.W at 11 Pearson Rd and Walter Noons but the list goes on and on and on......and while you're doing that......
The famous Q Division Yard Sale...just Davis Square in Somerville.....this one'll be the 4th Annual...is Saturday May 24th (PLEASE NOTE DATE CHANGE)........ its on from 10AM- 2PM. They say to expect: instruments, audio gear, stomp boxes, belt buckles, vinyl, cables, light bulbs, and much more. But they usually have a lot of items other than musical instruments and paraphernalia as well.
It's supposed to be warm but raining this Saturday so check your weather apps & sites and check sites for Rain Dates as well!
You know it's summer when Cal Cali is back in town and he's back to celebrate his birthday on May 17th at The Tavern at the End of the World with Asa Brebner, Richie Parsons Duo and Emily Grogan. And to get you in the mood there's a special Crash Course for the Ravers with Brian Young and special guests Cal Cali (and band members) along with Emily Grogan. (WMFO, 91.5FM 1-4PM)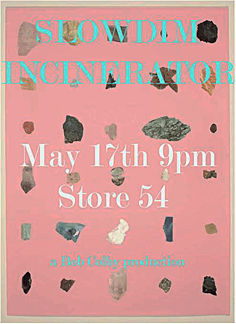 We know you've missed the Bob Colby shows that were at The Cantab on Thursdays and at The Rosebud before that...well Bob's back at it and on May 17th at Wayne Viens' Store 54 his first show there will feature Slowdim and Incinerator. Bob says: There may also be a short opening set, we'll tell you about that when we know more. We're glad to see you back Bob!!

Al Janick's St. Stanilaus Polka Party on May 17th...this year its at Anthony's on Highland Ave in Somerville and he's got his Plastyczny Ser Orkestra consisting of world famous musicians like , Kevin Hensleyski on Guitar, Matt Burkeski on Drums and Shaun Wolf Wortiski on Bass...along with The Warsaw Marching Accordion Army and the Horny Karkow Horns...and if that weren't enough he also has special guests The Pierogi Triplets (Jordan Valentine & Jenny Dee)!!!

Also on 5/17 over at the Midway in JP is The Beantown Boozehounds, The Sprained Ankles, The Black Cheers and Spectacle.....

are we done yet? NO...Saturday there's The Roy Sludge Trio at the 2014 Lexington BBQ Festival @ Hastings park in Lexington. Even more info here. You can Sludge it up between 3-5 PM.

And if you are up in the North Shore on May 17th...there's a good show at The Spotlight Tavern in Beverly with Pop Gun, Cadillac Heart, The Classic Ruins and the Brigands.

And if you're south of Boston, namely Providence there's a really good show on the 17th at Firehouse 13 with
King Sickabilly and his Full Moon Boys, Slaughter Daughters, Johnny Carlevale & the Rollin' Pins, and The Red Pennys.

Out there in the future we have.....

Thursday, May 22 at The Middle East Up......... The Woggles with Muck and the Mires, Lyres - whoa what a show!!!!
Saturday, May 24 at 6:00pm The Spot Underground (101 Richmond St, 2nd Floor, Providence, Rhode Island 02903) has punk extravaganza going on. It's featuring Boston and Providence hardcore with DYS, The FUs, The Loud Ones, Words Of Truth, Honest John, Penalty Kill, Futile Justice
also on the 24th at Store 54 there's Beware the Dangers of a Ghost Scorpion and Thalia Zedek
Thursday May 29th at Red Star Union is When Particles Collide, The Self-Employed Assassins and Sara Rabdau
Also on May 29th is the On The Town with Mikey Dee 25th Anniversary show at TT's. Playing will be The Unholy III, The Rationales
, The Wrong Shapes, Corin Ashley & friends and Butterknife. Get your tix now!
Saturday May 31st ...there's a great afternoon hardcore show at (4pm - 8pm $7.00) with Foulmouth, Dot Rats, Ache, Traces of Empire, Honest John. Dot Rats are on our Top Ten, as the number one song this week. check 'em out!!
And at The Midway starting at 9Pm is The Splinters, Black Fortress of Opium, Rotary Club (NYC), and Yankee Power
There's also WMFO's DJ Easy Ed Presents: Lynnette and DJ Easy Ed's Honky Tonk Dance Party, with The Pioneer Valley Pioneers, Honky Tonk Masquerade, as well as Easy Ed's Record Hop at the Canadian-American Club, 202 Arlington Street, Watertown, MA. Doors 8:00 pm to Midnight. DJ Easy Ed kicks off the event followed by sets from The Pioneer Valley Pioneers and Honky Tonk Masquerade. Admission is $12 at the door.
Sunday June 1 at The Middle East down is The Cro-Mags, Anti Nowhere League, Taxi Driver and Neighborhood Shit. This is an early show folks, doors are at 6:30PM
Also on June 1 there's an all ages matinee The Wet Hot Bostonian Summer Show at The Midway with PowerSlut, Happy Little Clouds, Band Without Hands and Wet Dress. Looks like fun! This is a 4-8:30 PM show!
Watts are opening again for Cheap Trick at the Hampton Beach Casino on June 5.
Saturday June 7th Paul Robinson and Patti Moore are putting on a benefit for Autism and the organization Surfers Healing. Its at The Dog Bar in Gloucester and playing will be, from New York, Drive aka Talk Of The Town, Funbucket, Inge Berge, Girl On Top, Cripple Cove Quartet, and more TBA. This is a daytime show, Noon - 6PM More info here.
and it looks like John Felice definitely IS doing well...The Real Kids are at The Middle East down on June 15th with Lyres, Classic Ruins and Cadillac Heart!!
Echo and The Bunnymen are at the Paradise August 14th!!!
In August John Lydon hits Boston in a huge production of Jesus Christ SuperStar , he's playing King Herod...man I want to see that show!!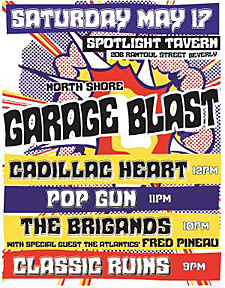 We finally get to see Dave Minehan with The Replacements since they are on the bill for the Boston Calling Show in September (5,6 & 7) later this year!
The 2nd Annual Rat Beach Party is already well in the planning stages...its set for September 14th& 15th and here's a list of bands so far: Saturday night- Red Parrot Beach Bar starting at 7PM: Hardwired -- Heavy Weddle & Sweet Release -- Severance (or Band To Be Announced) -- JetSet -- Billy Rath & The Street Pirates -- Open Jam to close
Sunday afternoon/evening: Red Parrot Function Room, Beach Bar and Back Room Lounge starting at 12:00 -- The Beachcombovers (Function Room) -- Hardwired (Beach Bar) -- The Boize (Function Room) -- Gino Caira Band (Beach Bar) -- Count Viglione Love & Flame (Function Room) -- Hixx (Beach Bar)-- State of Union (Function Room) -- GraveDancers (Beach Bar) -- The Derangers (Function Room) -- The Workers (Beach Bar) -- Liz Borden (Function Room) -- Kenne Highland Clan (Beach Bar) -- Slow Children (Function Room) -- Pop Gun (Beach Bar) -- Gyro Lula (Function Room) -- Moose & The Mudbugs (Beach Bar) -- Tsunami of Sound (Function Room) 8:30 -- Masters of The Obvious (Beach Bar) -- Red House (Beach Bar) - Real Real Bayou Band (Beach Bar) -- All-Star Jam led by Cindy Daley, formerly of Lovelace.
September 14th -a Sunday daytime show- at the Midway will bring us The Members!!
October 5th - a Sunday daytime show at The Midway will bring us The Vibrators!!!
CONTACT US AT........misslynbg@yahoo.com Send us your gig listings, your news and anything else ya got!!